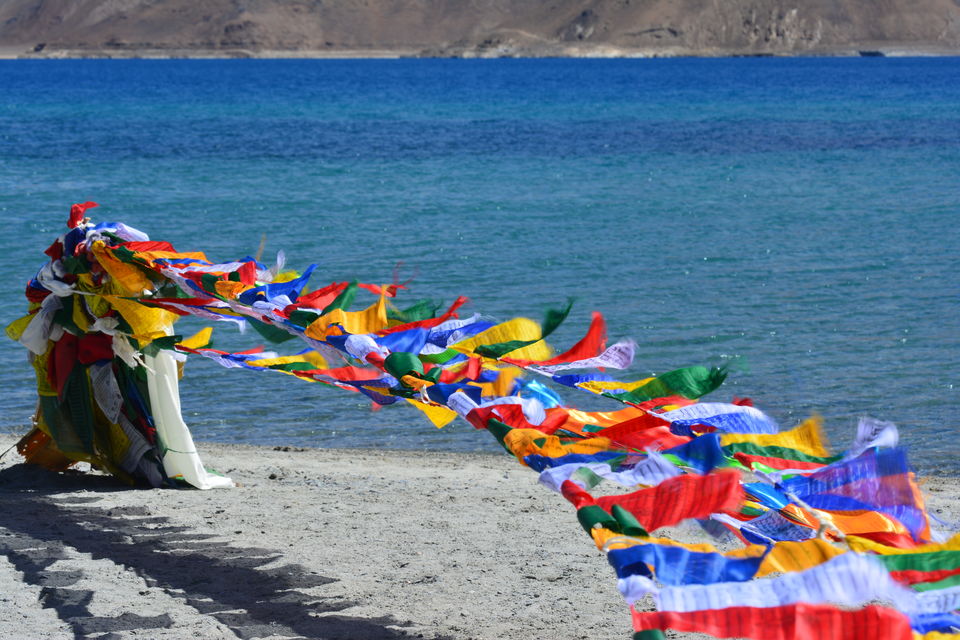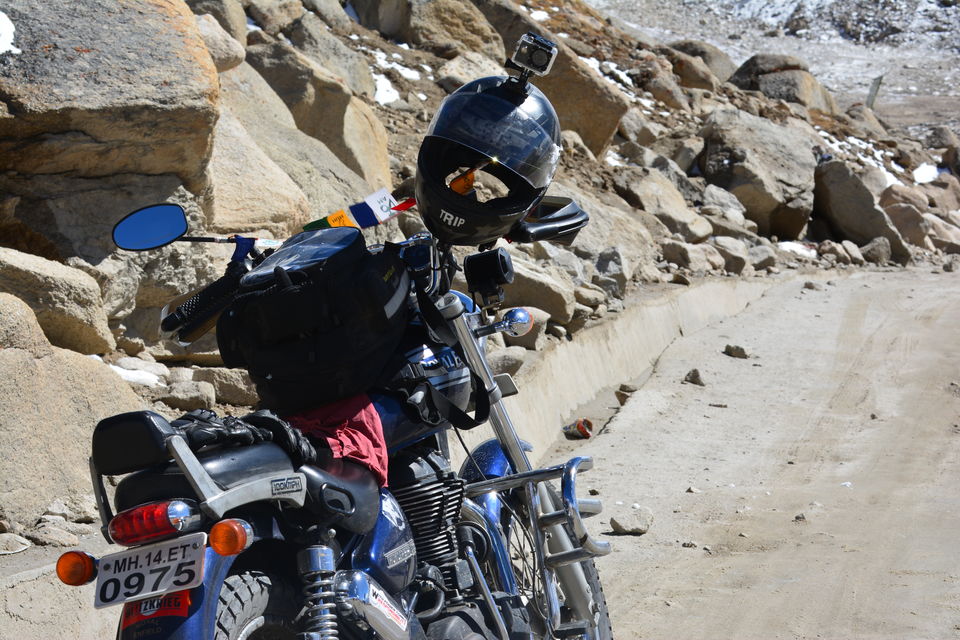 Many people wonder or the common question that I was asked when I ear-marked my ride of my life with my true companion 'Royal Enfield Thunderbird 500' is that 'why solo'??? 'You don't have any friends???' 'Riders generally come to Ladakh in group….How can you come alone by taking such a big risk???' Then I had something in my mind- I had to do it solo the first time i will be getting LEH'd. No backups, me and my automaton did Kashmir(with the issues going on there), raining and freezing Zojila Pass, minimal O2 levels at Khardungla, chilling and biting cold at Changla Pass, no man lands encountered at Morey Plains, Sarchu Pass, Magnetic Hills, deserted at Nubra valley, minus temperature readings at Pangong Lake, full moon lit Baralachla Pass, an inch away from a fatal fall at Benihal, bumpy ride across Rohtang Pass and meeting new people, seeing raw beauty of mother nature and how small we are in front of nature with ice capped, colorful and instantly changing shades of the Himalayas.
After having completed my ride I still can't believe myself that I have done it and obviously there was never a day I rode, went as I had expected. So I will suggest not to do this ride SOLO because of the hurdles I encountered. It will not be always that you get lucky and you will not face any problems. Like a minor puncture can disappoint your ride in a long way. Then there are many technical things that can upset your bike and trust me, alone, in those terrains you are helpless and what to do next is beyond imagination. I started my trip from Pune on 8th of September and back to Pune on 22nd September. I had done all my preparations in 2 days as it was a sudden plan, which I executed to my best of my capabilities. Actually the route itinerary and the required general knowledge about the places were in mind from a long time, the only thing that was pending for me was execution. It's not that I do not ride in a group, I do have Royal friends and have done together a lot of rides. But then what I feel is, SOLO has its own charm especially in these places where I am solely responsible for every action and its reaction. I can go in my own sweet pace, stop wherever I want and take breaks according to my requirement. But when we see the other side of the coin, if there is any issue with a bike then think of the situation. So, we should know our bike well to be very specific every inch of its behaviour, maintain it well and have faith on it.
I can share with you some basic tips and tricks for my bike. When I decided to undertake this journey I had done 42,000+ kms with my bike in about 20months. Yes, I had done a lot of riding and had thrown it in every possible situations. For example I always try to keep a good level of fuel that is more than 6ltrs so as not to pressurize the fuel pump. As the tank capacity of my bike is approx. 20lts, I used to refill my tank after every 400kms. Still every time there would be about 6ltrs and an average of about 30kmpl under decent riding conditions, which I knew through my previous riding experience. Carry extra clutch and accelerator wires. In such one would be using a lot of clutch, so be specific on gear changes and have a basic practice to replace a clutch wire. The overall idea of not stressing the clutch is because it has an adverse effect on the clutch plates. The same way be easy with the throttle because to replace an accelerator wire for a Thunderbird 500, one needs to go a mechanic. But that doesn't mean that we will not carry an extra one. Another important spare is Spark plugs. Have basic idea and practice of how to replace or clean the carbon on it and the basic tool kit required for the same. Carry extra fuses because the size of fuses used in Thunderbird 500 is not easy to get. For a break down, first step is to check the assigned fuse for a specific purpose (battery, main fuse, fuel pump, electrical etc) in the left side tool box and if it is gone, one should be able to identify that and replace with the correct ampere fuse. I do carry an extra tube set for my tyres. But in reality it's not a single person job when there is a puncture. One need to tilt the bike towards right and simultaneously other should take the tyre out. So the best way to tackle this situation is with a pump. The moment you encounter a puncture pump air and go ahead. Repeat the same till you find a puncture repair shop. But then reaching the puncture shop doesn't finish your job. Common thing you will hear is that there is a disk on the rear break so they cannot take it out and again install them properly. So I had practised a lot to uninstall and then install the rear break assembly if in such situation. The best thing that can happen to a rider is not to encounter a puncture and I was lucky enough to not get a single through this whole journey of 6200kms. So I prefer button tyres with good amount of grip for my beast so as to reduce the chances of puncture but in the end, we can only hope not to get a puncture. I had used Motul Fully Synthetic Oil for my journey and it's the best as one doesn't need to change the engine oil for about 9000kms. I addition to this carry extra engine oil for a top-up if the engine oil level drops. In the end do a proper servicing of your bike and take care of the basic things like break-pads, cone-set, front and rear bearings, chain and chain links and sprocket condition, condition of fork and swing arm should be greased properly, condition of spokes and most important of all, battery, all nuts and bolts tight and wiring should be taken care of with a bit of presence of mind all the way.
It was a last moment plan, as I got a small gap between my jobs. Initially I was thinking that season is gone and most probably I have to plan this next year. But then next year there was go guaranty will I get a free window of about 20 days to do this ride. This was the mentality I was having on 5th of September. Then did some R&D about the situation in Srinagar, climatic conditions in Ladakh and said to myself 8th it will be. Made a list and ticked off at around 9pm on 7th evening. I had planned to start early at about 4am but when I finished all my purchasing's such as medicines, required eatables, daily necessary things for me and bike and the hilarious task of packing them all it was around 11pm and I was really tired and needed a good sleep just to calm my nerves.
Things I carried on the move:
– Royal Enfield Thunderbird 500 (marine)
– Basic spares for the bike as mentioned above
– Tool Kit
– 40lts saddle bag
– 40ltrs Wildcraft Rucksack
– 20ltrs water proof Quechua bag
– 5ltrs Quechua handy bag
– 18ltrs Dirtsack tank bag
– LS2 combat Helmet(both tinted and clear glass)
– Cramster all season touring jacket(with liner)
– Cramster Twister Touring gloves
– Scoyco Summer gloves
– Scoyco knee pads
– Royal Enfield Full Riding boots
– Quechua raincoat
– Nikon d5200 dslr (18-55 mm and tamron 70-300mm lens)
– Action Camera on helmet (SJCAM 5000)
– Volt USB charger on bike
– Normal Phone and an extra one in case of emergencies
– All chargers for the above appliances
– Power Bank
– Thermal Wears( Jacket & Windcheaters)
– Woolen cap and gloves
– Sun glasses
– Extra pair of shoes and slippers
– 5-7 pairs of Undergarments, kerchiefs and socks
– 3 jeans, 2track pants, 5-7 t-shirts and shorts
– Blanket and bedsheets
– Protein bars, Biscuits, chocolates and a bit of eatables as per requirements
– Medicines particularly Diamox (for AMS), other for cold, cough, headache, dehydration, loose-motion, allergy, painkiller, first-aid box, Glucose and other basic ones.
(For me these things were more than sufficient throughout my ride).
I will be starting late, I had that in my back of my mind the moment I went for sleep at around 1:30 am. The late was due to the last moment planning that I had to execute before going into 'My ride of Life'.
My friends gave me a lot of inspiration and last moment see off…and after that I went for sleep probably for the first time so many things were in my mind and simultaneously I had to sleep as well. Finally managed some sleep and got up at around 6:30am. 4hours of sleep was quiet Ok. One thing I want to advice all is never start a long ride without any sleep or proper rest. There is no substitute for sleep. Next was to complete the last moment packing that included the daily used items. I freshened up and by 7:30 am was all set to venture out. First kept the saddle bag and rucksack down near my bike. The instance I kept my luggage beside my bike, I got a nod from it saying 'I am ready'. It's a bonding that every biker has with his/her bike because I had a question for myself, as it was not just me who will be riding, it was we who will be riding together and face everything together thrown to us together. I suddenly felt more confident while I was staring my bike for about 30 secs. I went up and was geared up and carried the tank bag and a small bag to be placed over the rucksack. Gosh, I will be travelling with the maximum amount of luggage till date. To very frank the monotonous and tiring task of the day was to load your luggage every morning and then unload it where I took a halt at night. This used to take 45mins approx. and a lot of energy every day, especially after riding for about 800 kms a day and then unloading your luggage at the end of the day and then carry them to your room. But none the less I was aware and most importantly mentally prepared for all as these were the part and parcel of biking, particularly this long.
So wishing myself 'All the very best'… Here we go………….