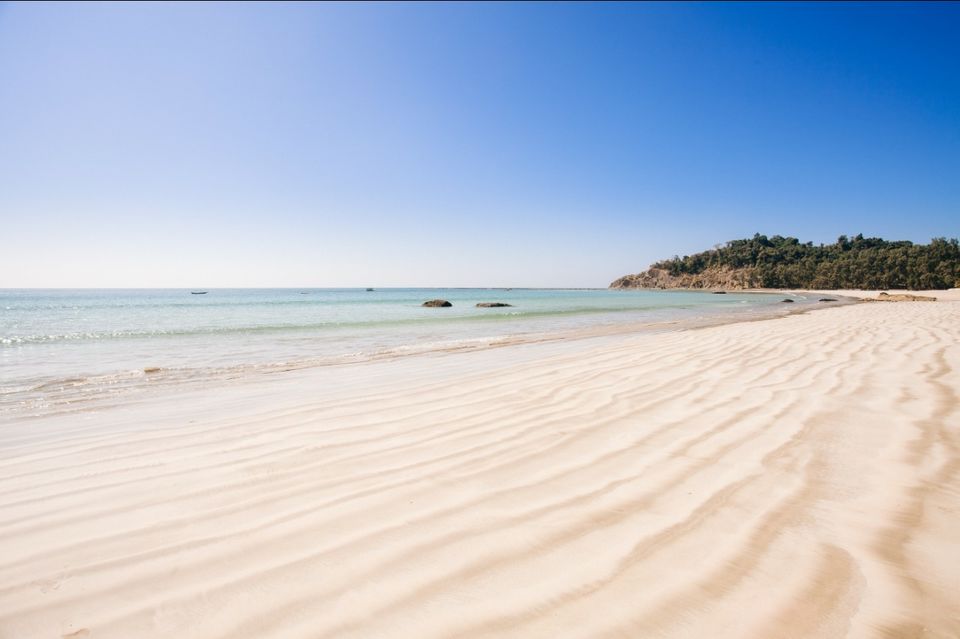 Wait ! Did you say 90 RS Bus Fare ???
Yeah, It's awesome and unbelievable.
I visited this most peaceful Beach at the costal area of West Bengal. I witnessed it two years back and that was my first time here as a visitor or you may say traveller.
Those days I was very much busy & frustrated during my daily 10 to 7 office schedule. I was looking for some rest and I found by Google Baba that there is a Beach near my city which is at the costal area of Bengal and it's convenient to visit within a short time. So I got a way to escape. That was a Saturday, I went back from my office and was thinking about it. After getting fresh, I went to have a cup of coffee with Google Baba. Within a minute he gave all the information and I just summed up my tour plan for it. I called one of my crazy friends cum brother and explained my plan for backpacking. He just replied, " Let's go for it ".
Yes, this is the Beach of Bakkhali at the costal area of West Bengal towards Bay of Bengal. The most peaceful Beach I've ever witnessed in Eastern India.
How to go:
I booked bus tickets for two of us at that Saturday evening. That was Wbstc Official Website. The route has to be searched from Dharmatala to Bakkhali. For your information, Dharmatala is just beside Esplanade Metro Station in the heart of the city of Joy Kolkata. Yes, bus fare was only 90 RS per head inclusive of all formalities. Thus you can book ticket to return back also. So now, we are done with the preparation to arrive on next dawn.
Bus departure time was 6 am. So I wake up at the earliest and arrived for Dharmatala. We entered the depot and the bus departed at the right time. The route of 330 km had to be covered within 7 hours but the driver was a repealed Casting actor of Dhoom and he crossed it within 5 hours. We reached Namkhana Vassal ar around 11 am and then we waited to cross the vassal. But now a fly over has been made so no wait for crossing the vassal. After that we reached Bakkhali Bus Depot around afternoon. We didn't book any hotel online coz it was not necessary there. The day was Saturday, 30 April; next day was 1st May, holiday. We just utilized those two days for a short tour.
We visited the Beach side market and got the taste of pre evening moment at the restful beach of Bakkhali. After coming in the evening Beach side became colorful for the Beach side shops and stalls. We went to a Two Star nearby restaurant cum Bar and had some food and beverage and then came back to the hotel room to take some rest coz it was enough for the first day.
I forgot to tell you that we got a Toto Driver as our companion, his name was Mantu; he was from the locality and he drives Toto. We planned last day to visit Frazerganj today around 4'o clock so that we can experience the sunrise there beside Sunderban Forest.
Yes, you can see the Sunderban on the opposite when you'll go to the Launch Ghat.
At Frazerganj, you can visit a place just nearby the Launch Ghat where fishermen are mowing fishing net together. A fishing net according to them are minimum 500 mitre long and they are mowing it with naked hands only, trust me you can see what is the definition of dedication. You will catch crocodile breeding, different kind of fish breeding location there.
Most important glamour of the whole tour, according to me it's a must visit thing that is to visit Jambu Dwip from Frazerganj by Launch. Jambu Dwip is around 25 km from the Frazerganj Launch Ghat. You will have to go by Launch through the very restless Bay Of Bengal. Because I don't know swimming, it was a hell view experience for me when the demonic waves was hitting our launch. But it's an amazing feeling to experience the life of fishermen. Jambu Dwip is a very big abandoned island. The land is full of red Crabs .
You can click so amazing photos for your Instagram, But you can't step out on the island. Section 144 has been enacted there by the Indian Government for some unknown reason.
If you want to see this Island and the waves go through my YouTube channel: Travel Khyapa
So after watching it for a few minutes we came back to Frazerganj.
Next day at early morning we arrived for the renowned Henry's Island. We took our Toto Master Mantu with us and went there. The Henry's Island is dramatically decorated by nature as you can't imagine about the gate of the Beach of Henry's Island. You're supposed to walk across a small jungle route to reach the point.
Henry's Island has another peaceful Beach side about which I'm taking now. The water here is slightly greenish and sand is clean and dense. If you're with your girlfriend or Wife, this is the best place to propose your partner in front of the pleasant nature.
So this was our last day here coz we had to return by the bus at 1:30 pm. *Remember, the last bus from Bakkhali to Kolkata is at 1:30 pm.* So you have to take it anyhow.
On the way, when we were again crossing Namkhana Vassal we got a glimpse of the ancient folk music culture of the countryside of Bengal. An unknown folk singer with his handmade instrument called 'Dotara' made by pumpkin came into our bus and sang two-three heart touching songs for us. All passengers were fascinated by his performance. I don't know whether you can see him till the day or not.
But you can see his performance here in my YouTube Channel : Travel Khyapa
This is it.
We returned back from Bakkhali to our City around afternoon 5:30'o clock.
Expense:
*In the whole Bakkhali, there is only one ATM
There is a hotel named ' Babylon '. Inside the entrance gate on the right corner you'll get a small ATM counter of Punjab National Bank
We were two boys as I said earlier, and we enjoyed at the level of full satisfaction.
And, remember that we lived there 2 Nights/3 Days.
Still our expense was individually 970 RS
Frequent Searches Leading To This Page:-
bakkhali sea beach west bengal, bakkhali beach distance from kolkata, bakkhali beach kolkata west bengal, bakkhali beach kolkata, west bengal tour package