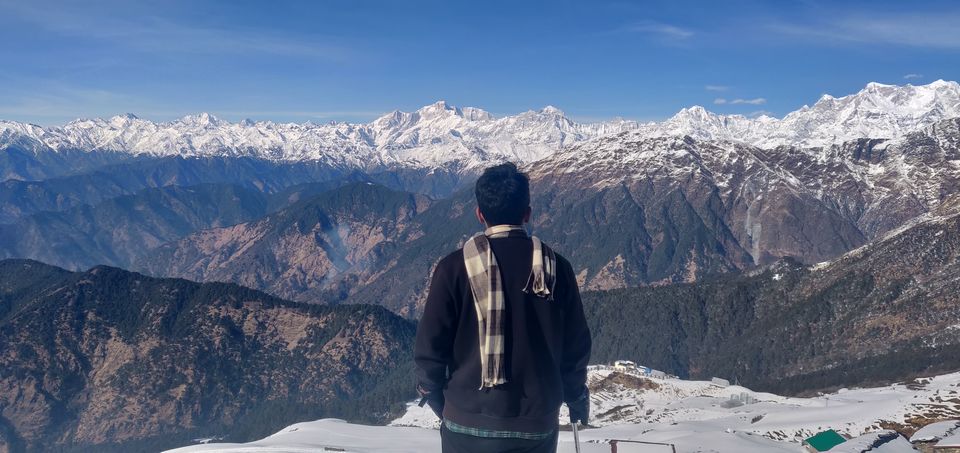 ---- THE CHOPTA TRAILS ----
"The long distance hiker,
A breed set apart,
From the likes of the usual pack
He'll shoulder his gear, be hittin' the trail
Long gone, long 'fore he'll be back"
MJ Eberhart
Ever since the first pictures of snow covered mountains and valleys started spamming my social media walls, I made up my mind to do a Himalayan trek as early as possible. Putting aside New year to spend time with family, I decided to take a break from work on the 2nd week of Jan and registered for the Chopta trek.
This wasn't my first rodeo in the Himalayas, so had a fair idea on what I was going to face going so early in the year. Not surprisingly, I found out only 3 people had registered for the trek, one of them being a college friend.
Meh.
I'm a guy who runs around the country alone. 3 is like a crowd.
So here's how it went
____________________________________________________________
Day 0 - The Beatles Connection
Location: Tapovan, Rishikesh
It was good to be back in Rishikesh after almost a year. Surprisingly, I could remember every nooks and cranny of the place like it was just yesterday.
Taking residence in a kick ass amazing hostel situated right next to the Ganges, we offloaded our luggage and took a small tour around the Laxman Jhula. With temperatures approaching 'one t-shirt not enough', I had a feeling the next few days were going to be frosty.
___________________________________________________________
Day 1 - I Can't drive 55 / Sammy Haggar
Location: Sari village
Altitude- 6,600 ft
As per the plan, we were picked up by the TTH team at Rishikesh to reach our base camp in Sari.
Now on my last trip to Joshimath base camp for the Kuari pass trek, a tempo was arranged and it was fairly comfortable enough to sleep through the entire ride. Now smaller group, smaller ride. After 8 hours of winding roads and major lumbago, we reached Sari base camp. A small intro session followed by a Pahadi dinner (much love), I tucked in knowing that this was the last day of the trip I would be able to sleep like a baby.

___________________________________________________________
Day 2 - These Boots Are Made for Walkin' / Nancy Sinatra
Location: Deoriatal
Altitude- 7,800 ft
The day started with fresh snowfall. The rookies were delighted, taking pictures and videos. I grimaced. It had a way about it. Beautiful, yes. But like many things/people, beauty was deceiving. I had a brief flashback of the sleepless nights of the previous trek. Knowing this is exactly what I signed up for, we geared up and the trek officially began.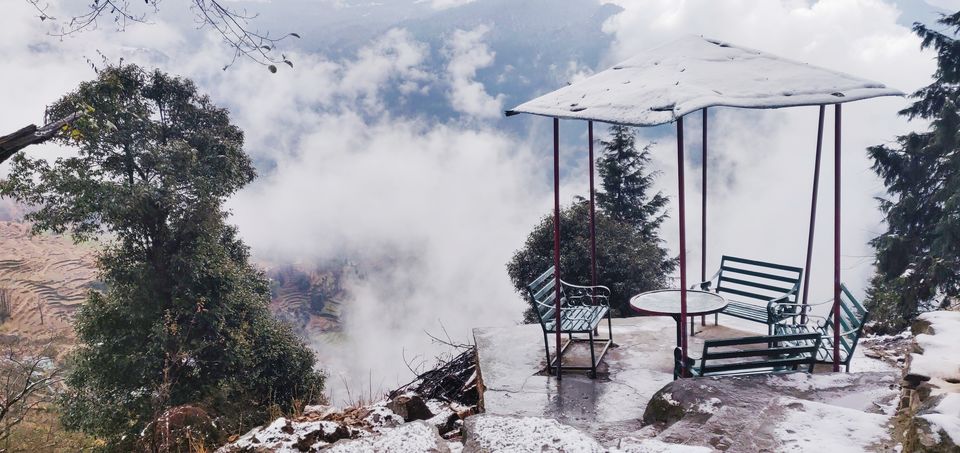 The path was an easy climb with a few chai shops here and there. The trail bended through a forest of silver oak and rhododendrons trees. After a hike of 3kms, we reached the Deoriatal camp. A quick lunch later, we proceeded to the lake nearby. From here we got a brilliant view of the Chaukambha peak. According to the locals, the lake is believed to be the "Indra Sarovar" referred to in the Puranas by wandering Hindu mendicants.
An early sunset and a quick plummet in mercury, I returned to my tent and crept into my sleeping bag with a plan to get up late night to do some night photography. Unfortunately, a cloudy sky hid all the twinkling stars and the results were not very impressive.
"If not today, maybe tomorrow" I thought.
That was pretty much the last night I was able to take my DSLR out of my bag for the entire trek.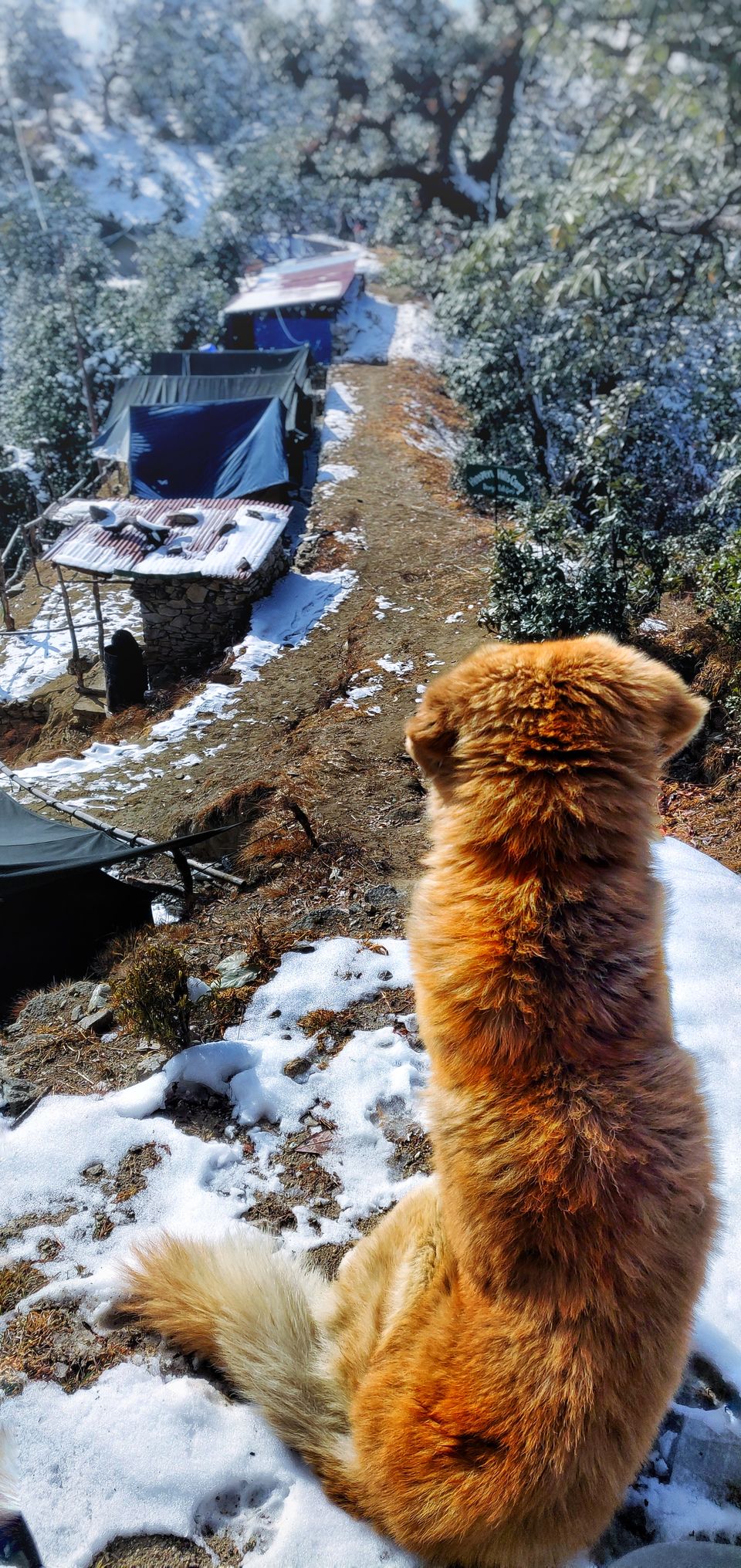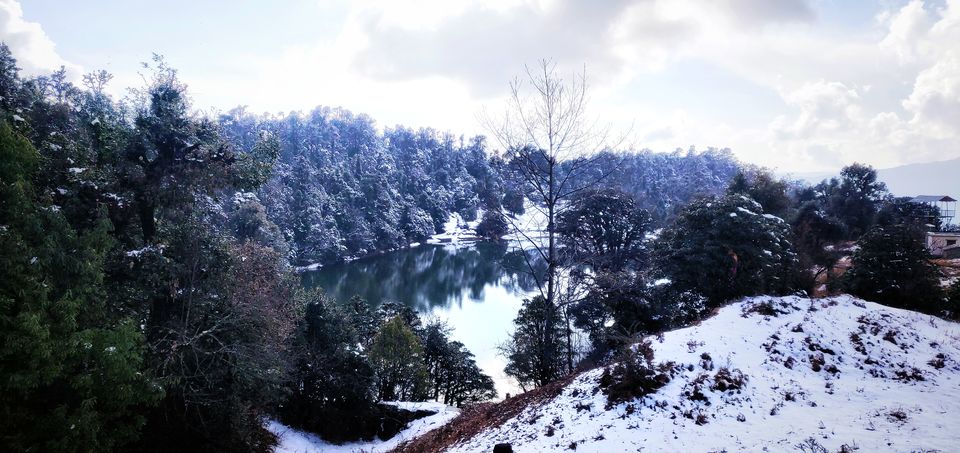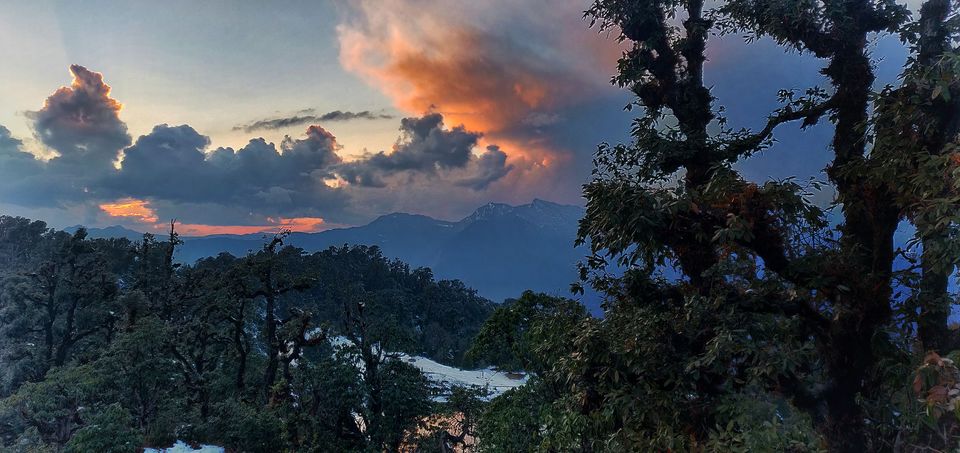 _______________________________________________
Day 3 - Highway to Hell / ACDC
Location: Baniyakund
Altitude- 8,700 ft
Special mention: I turned 24
After around 3 hours of sleep, I woke up just in time to catch a bit of sunrise peeking through the mountains. It took a friend's phone call to remember it was my birthday today. Not a bad way to spend a birthday. Solitude and peace.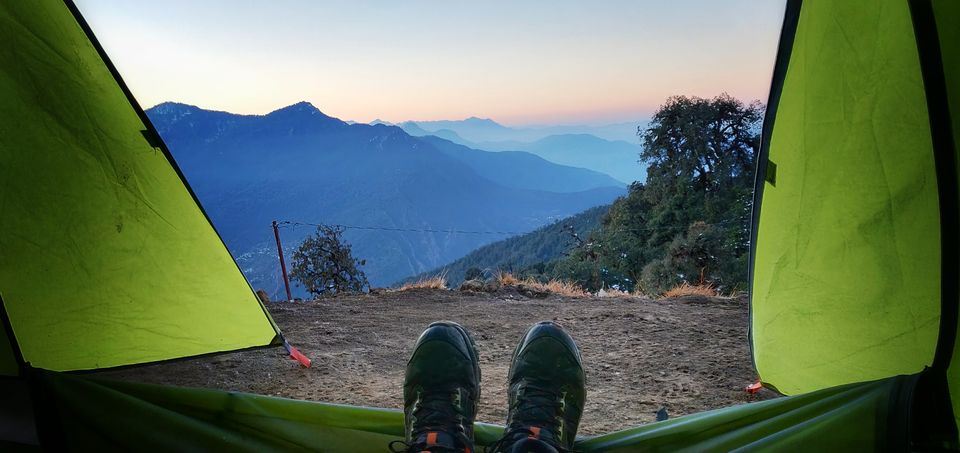 A breakfast and a small brief about the day's path (which in retrospection, I should have listened more carefully), we merry bunch of 5 set off with little idea that this was going to be the most difficult day of the trek.
The path was easy in the beginning. Green meadows, bright sunshine, intermittent 4G signal, it was almost like a walk in the park. I had messaged one of my previous trek mates this trek was very easy compared to the Kuari pass trek which we had done in Feb last year.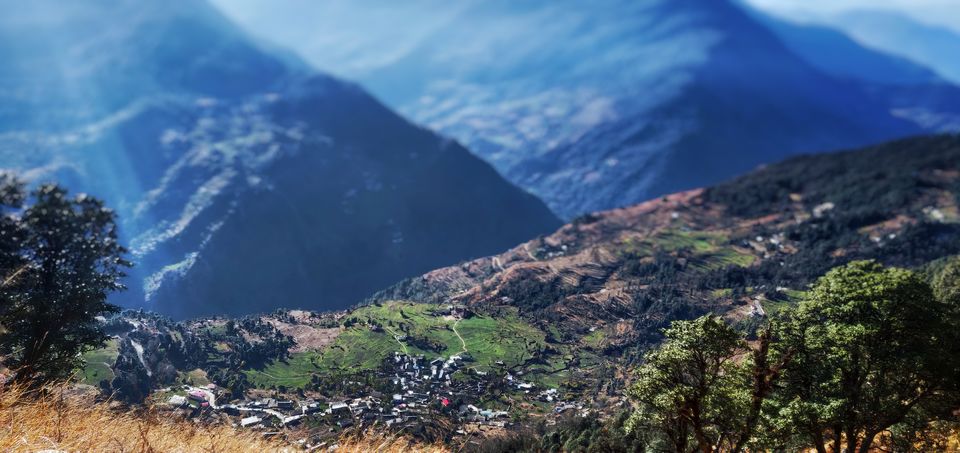 Then came the paths covered with foot deep snow. The temperatures were dropping and we were still pretty far from our next camp. We trudged ahead, slowly with heavy steps with hope that the path gets better ahead.
Close to nightfall and out of the tree line, we came across the concrete road which meant we were approaching our base camp soon. Unfortunately, the road turned out to be a curse in disguise. It was entirely covered with an almost invisible layer of thin ice. Atleast when we were trudging in the snow, we had a grip of sorts. It was almost impossible to walk on the ice road without taking baby steps. To add to our woes, temperatures had dropped to sub-zero and we had to rely on head torches.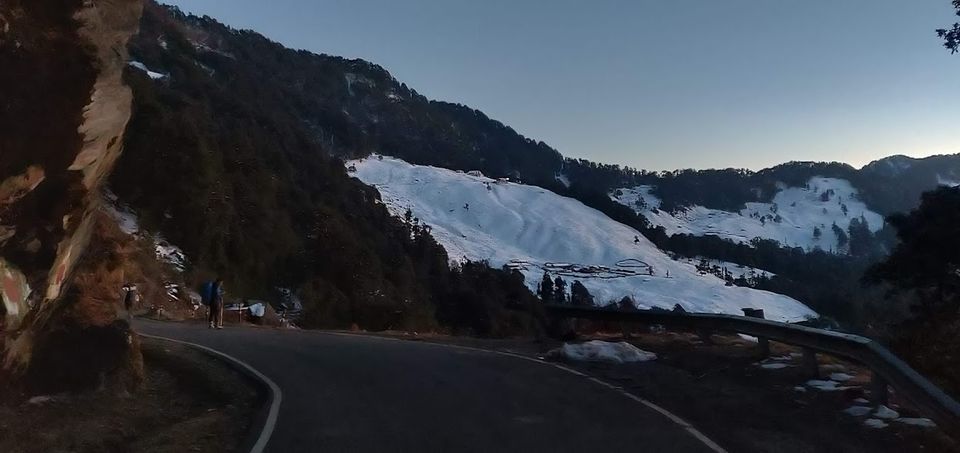 Now like I said before, this wasn't my first rodeo in the Himalayas. But somewhere in that road, I lost it a little.
I saw the glimmering head torch light of my trek leader who was walking quite a distance ahead. From that distance, the lights made it look like some sign of civilization was ahead. Almost like a mirage. But on reaching there, I realized I was just imagining it. In addition to this, I started hearing drum beats and some form of music directly below the road we were taking. To top it off with a cherry on top, I started randomly laughing for absolutely no reason and started spooking my team mates. The lack of oxygen was messing with my head and I semi consciously baby stepped ahead.
After what seemed like eternity, we approached civilization. The camp owner, knowing our plight readily offered us rooms instead of the usual tents. I would have dropped to my knees and worshipped him if I had any energy left. A hot dinner later, I tucked into my extremely comfortable blanky, thanked the stars, remembered it was my birthday, questioned my sanity and slept off.
__________________________________________________________
Day 4 - Stairway to Heaven / Led Zeppelin
Location: Chopta – Tungnath
Altitude- 13100 ft
The worst was behind us. The day started with a plate of hot Maggi and multiple cups of chai. Considering the events of the earlier day, we started a bit later than planned and we set off with renewed gusto.
This was the most picturesque day of the trek with the path leading to Tungnath dotted with small shrines and houses. We came across other groups who had taken the easier road of driving till Chopta village and heading to Tungnath.
On the way to Tungnath, we caught a glimpse of a small village in the distance. I was genuinely surprised that it was Sari, the base point where we had started from. I admired the distance we had covered from then till now and knew it wouldn't have been the same if we had drived all the way to Chopta.
4 hours upwards, we had finally reached Tungnath temple – the highest shiva temple in the world and the highest of the five Panch Kedar temples. The temple is believed to be 5000 years old. It has a rich legend linked to the Mahabharata (google it, it's interesting).
The familiar feeling of being on top of the world resurfaced and I gladly soaked in the sun and the view. After a quick lunch, our trek leader came with the innovative/daft idea of body sliding all the way down. The snow was deep enough that we wouldn't get hurt if we were a bit careful. Initially staring at our antics, other groups followed us the same way. We managed to get down the summit by 1.5 hours.
Painful ? Slightly.
Better than walking down all the way ? Anyday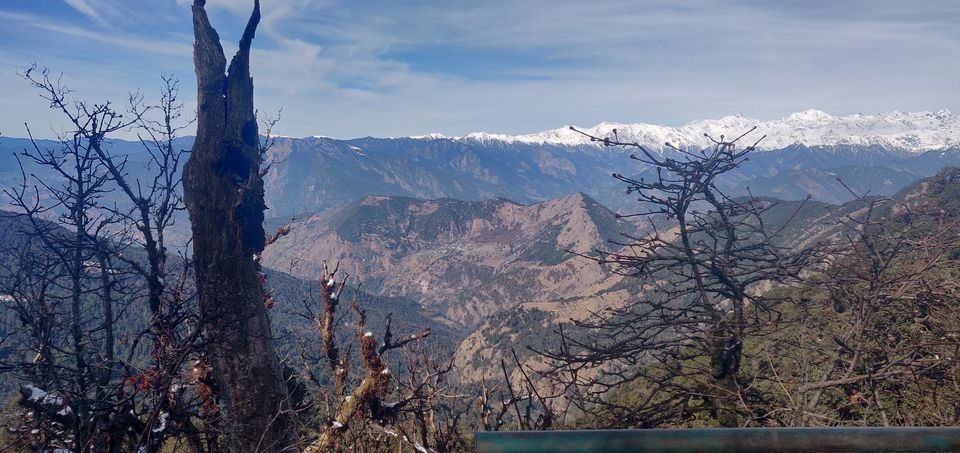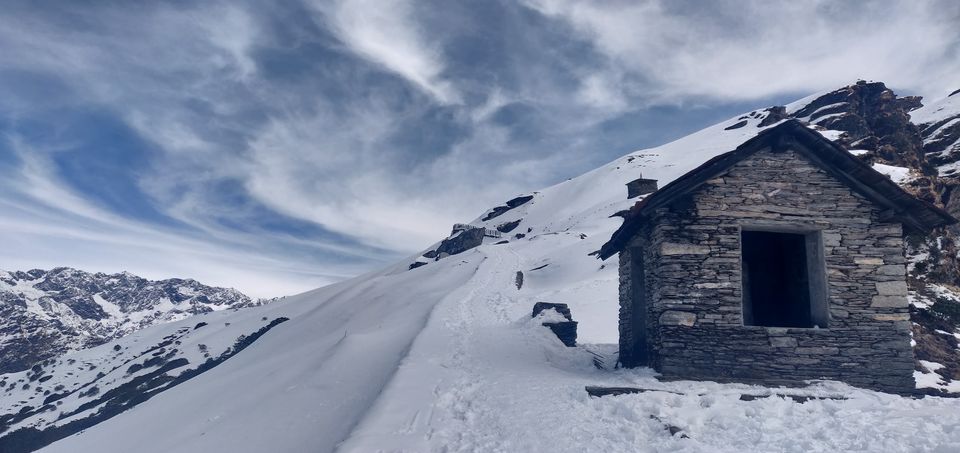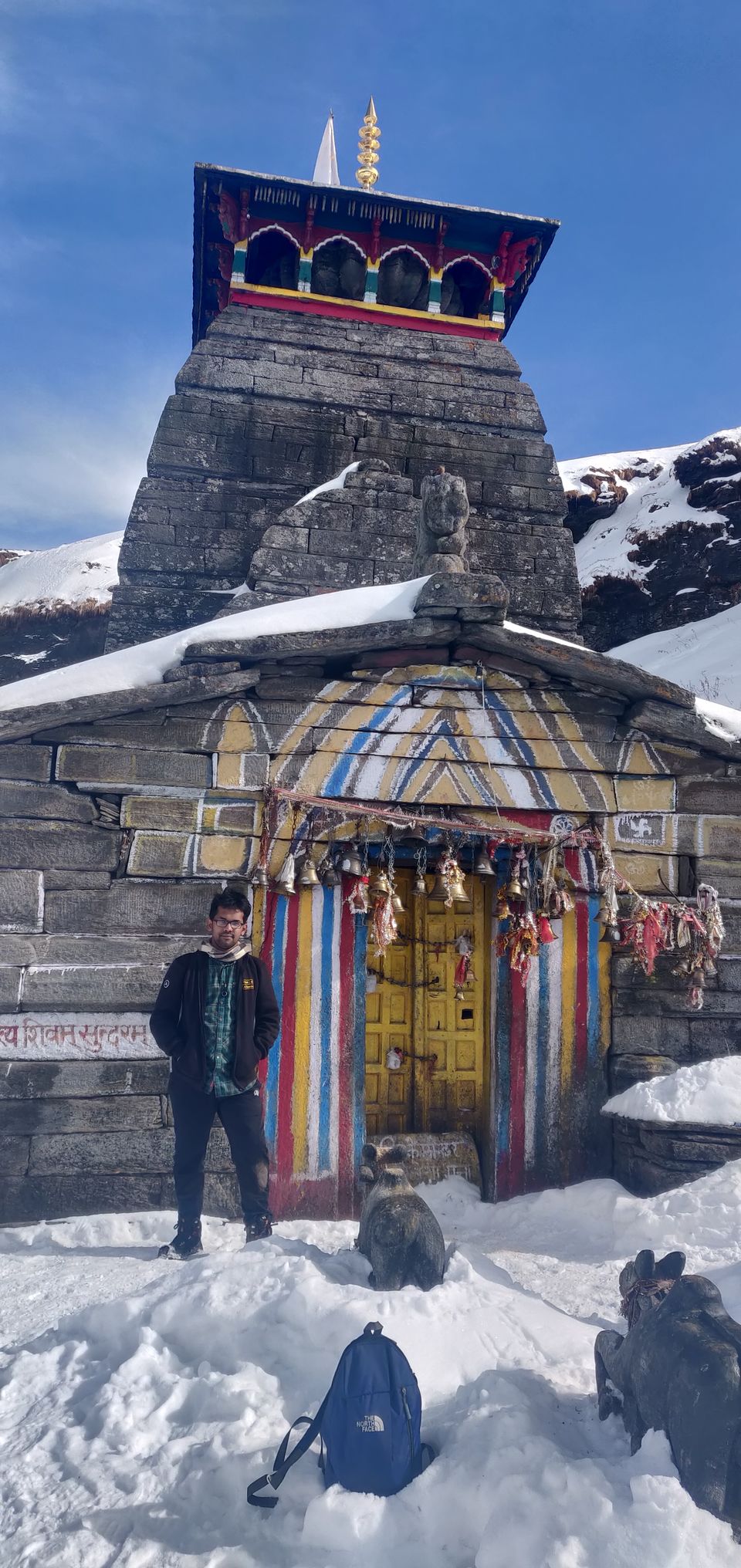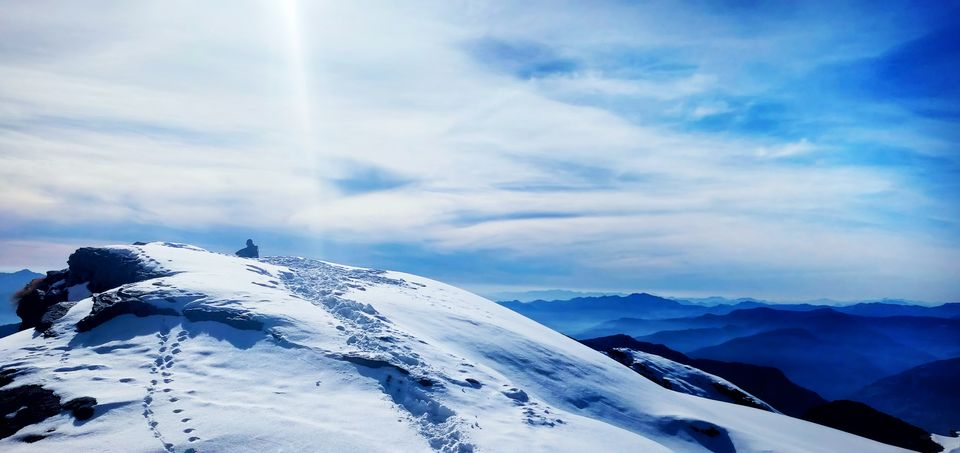 _________________________________________________________
Day 5: Take me Home, Country roads / John Denver
Location: Rishikesh
To be honest, after the events of the last four days, I didn't even mind the bumpiness of the drive back to Rishikesh. There was a tinge of sadness to leave this spectacular place, but at the point of time, I would have killed for a hot water bath and fresh clothes.
We were greeted by the familiar light of the Laxman Jhula as we approached Rishikesh late in the afternoon. Bidding farewell to the rest of the team and with memories to cherish for a lifetime, I happily crawled to the hostel.
___________________________________________________________
Epilogue:
Thanks to TTH, the trek leaders, guides, cooks and helpers for making this a memorable birthday trip. These memories will be cherished forever.
Trek leaders: Manu Rawat and Shankar Bhandari
Trek team: Sandy, Sharan, Tejas
Until next time,
Sandeep Venkatachalam
More stories on my instagram and fb profile
https://www.instagram.com/sandy.pathfinder/
https://www.facebook.com/sandysvenkat