The year was 2016 and in the month of September, my brother sent me an Instagram direct message with the information of a Dharamshala (Himachal Pradesh) trip. It was supposed to take place in the month of December and around 40 seats were available, at first I was skeptical about it as I will not be knowing anyone in that trip but I decided to try it as it was a brand new experience for me (big shout out to my brother who paid for my trip).
December came and I was very excited with the prospects of going to a new place and trying out my DSLR camera which was also gifted by my brother on my birthday. I reached the boarding point which was Majnu ka Teela, Delhi and called up the tour organizer and he told me that we are running a bit late but some guys have reached and they are at Ama's Cafe which was like a 10 minutes walk from the bus stand. I walked up to the place and met some people who were waiting there and we instantly connected and thankfully I am still very much in touch with those people. Finally, we left for Dharamshala in the bus and after some chatting and dinner it was time to sleep.
We reached the city at early hours of dawn and it was super chilly. All we could see was the glimmering lights of the mountain city soaked up in a beautiful silence. Day started to break and the first visuals of the city were in front of us and I was awe struck.
The trip started the same morning after some rest and breakfast, we started with local markets first getting to know the food, the people and the culture. The place was bustling with people doing their chores, setting up their business, the buddhist monks passing by in their trendy sneakers. I got busy doing some street photography taking some guidance from my friends and time passed by. It was a great first day to get comfortable and acclimatize. We ended the day with a proper Tibetan cuisine which I got to know I am not a big fan of.
There was plenty on the table the next day and Photography was growing on me, although I have always admired photography but here I was getting a wide range of subjects and landscapes to click also I was getting to learn from my fellow mates. I was itching up to go out as on the itinerary of that day it was the St. John's Church, HPCA Stadium and Naddi Point.
We first reached very beautiful St. John's Church surrounded by many Deodar trees maybe that is why it is called St. John's Church in the Wilderness. Beautiful Victorian architecture, very peaceful though you may not want to stay there till dark (it is not haunted or something but it will surely make you feel scared amidst those big deodar trees and the lone standing church).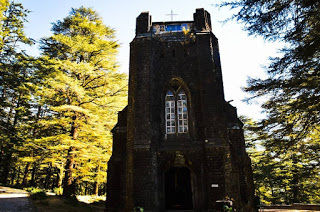 Being in Dharamshala and not visiting the HPCA Stadium specially when you are cricket fan will be a sin so that was our next stop and boy o' boy it was splendid, nestled between the beautiful mountains it looked so surreal and i found myself clicking as many pictures as I could.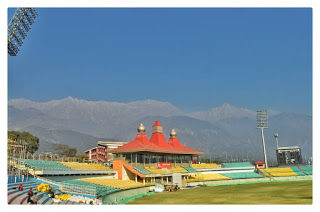 As the day was coming to an end, we rushed to the Naddi point famous for it's sunsets and surely it did not disappoint. I am a sunset chaser and always click whenever I witness a beautiful sunset but that evening in Naddi was something else, it blew my expectations. I was so overwhelmed and possessed with the view that I decided to keep my camera away for a while and just watch nature showing all its glory. I found a spot and sat there eating some noodles and looking at the horizon, so beautiful that it is still etched in my mind vividly.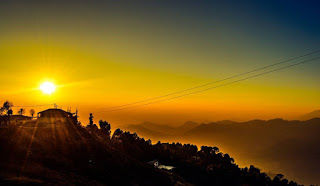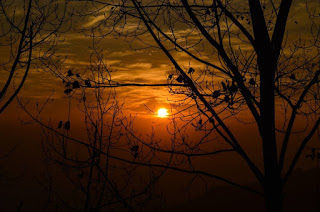 Came back to hotel and my love for photography was growing with every picture I clicked.
As Dharamshala has a very significant Tibetan population and his holiness Dalai Lama resides there so missing out on the Dalai Lama Temple was not an option. On the way, I met a monk and asked him for his picture which he very delightfully accepted, he did not know Hindi but was well versed in English and he asked me to show him what I had clicked. I showed him his picture and I asked him how is life here to which he replied "Life is very simple wherever you go, it is Us who complicate it". Obviously, I was not expecting a reply like this but it stuck to me.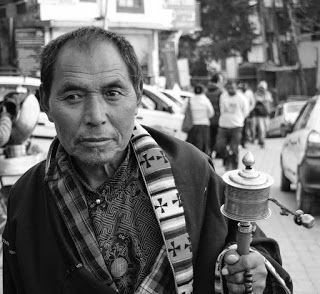 We explored the temple silently, clicked some pictures with proper permission and started to hike to Morgan's Cafe for some delicious thin crust pizza. It was an astounding evening.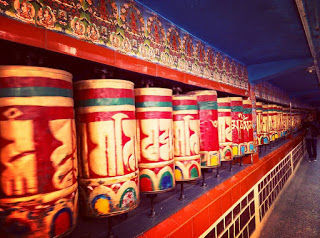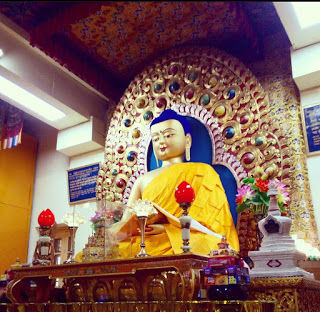 It was the final day of the trip and it was reserved for leisurely stroll around the city, shopping and stuff but someone said in the previous night to visit the Triund which is approximately a 9 kms trek. Some people decided to go to Triund while some were in the mood to chill and stayed in the city only.
As we had to board the bus for Delhi in that same evening, we had to start at dawn and fortunately we did start on time. This was the pivotal decision that I decided to join the guys for the trek as I love doing treks and hikes.
When we started to trek, I got to view the city and the Kangra valley from the vantage point. As I trekked higher whatever settlements were visible started to vanish and only huge deodars were visible and in the side the scary gorge. I was getting exhausted because the last portion of the trek was difficult and I was wearing my normal sneakers which were not helping my cause but finally we made it to the top and I was spellbound with view I had in front of my eyes.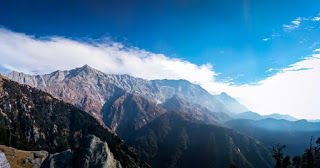 All the exhaustion and the pain vanished when I saw the Triund peak, the sky was so blue, the air was so clean and the view was so mesmerizing that I clicked almost a 100 pictures and even posed for some, come on I had to get clicked with those beautiful peaks.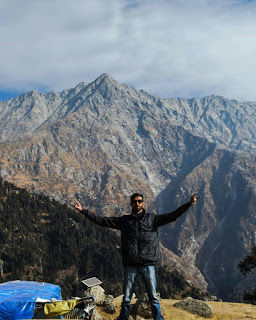 Those mountains made me fall in love with them and that started my never ending affair with them. So huge yet so humble. I even got myself inked with a beautiful mountain on my arm.
Finally, closing on this long memoir, I'd like to reflect that this trip to Dharamshala made me understand how much I love photography, it made me realize how many ways are there to get a good picture, you may get a good picture standing straight up or in some cases you might have to squat or even lie down to the ground to get a proper angle and perhaps same goes with our lives also.
That is why this trip to Dharamshala will always remain the most important trip of my life.
Keep it simple and silly and remember You need Mountains, Long Staircases Don't Make Good Hikers.