Rajasthan, its havelis and resorts have been the very definition of extravagance since time immemorial. Majestic properties all across the state have retained Rajasthan's royalty while giving us an unmatched luxurious experience. Joining this elite group of hotels is the recently inaugurated Alila Fort in Bishangarh which should be your next tryst with opulence. Alila Fort has even found a niche in National Geo Travel's list of 'Must Visit in 2018', so what are you waiting for?
Ideal For:
The property is ideal for all those who love exploring the unseen interiors of Rajasthan and at the same time, seek to experience the royal life.
About Alila Fort, Bishangarh:
Standing tall, majestically amidst the rustic setting of a small village in Rajasthan, the first sight of Alila Fort almost seems like a dream. Donned in warm lights, the fort stands out, glistening in gold underneath the azure sky. This is sure to be a view that you will remember forever. Bishangarh village is located conveniently close to Pink City, Jaipur and was a part of Maharaja Jai Singh's empire in 16th century. Alila is the only Warrier fort in Rajasthan to have been converted into a heritage resort of such grand proportions. The architecture is reminiscent of Gharana architecture that is influenced by both, Mughals and the British.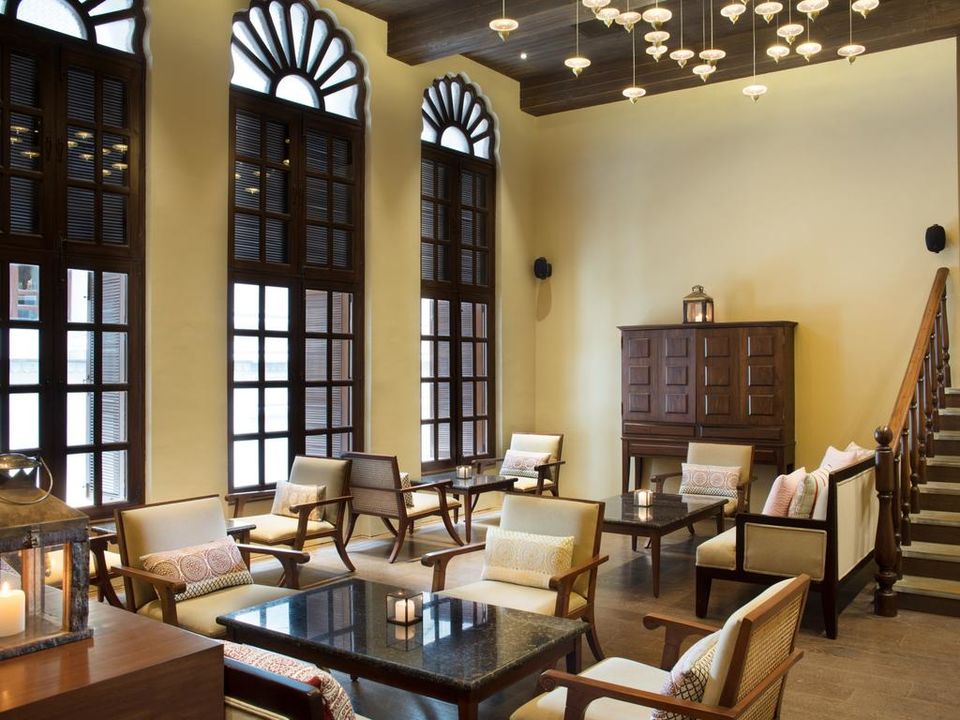 Apart from palatial halls and labyrinthine passageways, the resort's uniqueness lies in its rooms which are all starkly different from each other. Each room is carefully tailored and designed with different themes, so even if you're visiting again, be sure that your experience will be new every single time. The resort also boasts of picturesque lawns, aangans and balconies, the vantage points from where you can enjoy a beautiful view of the entire village.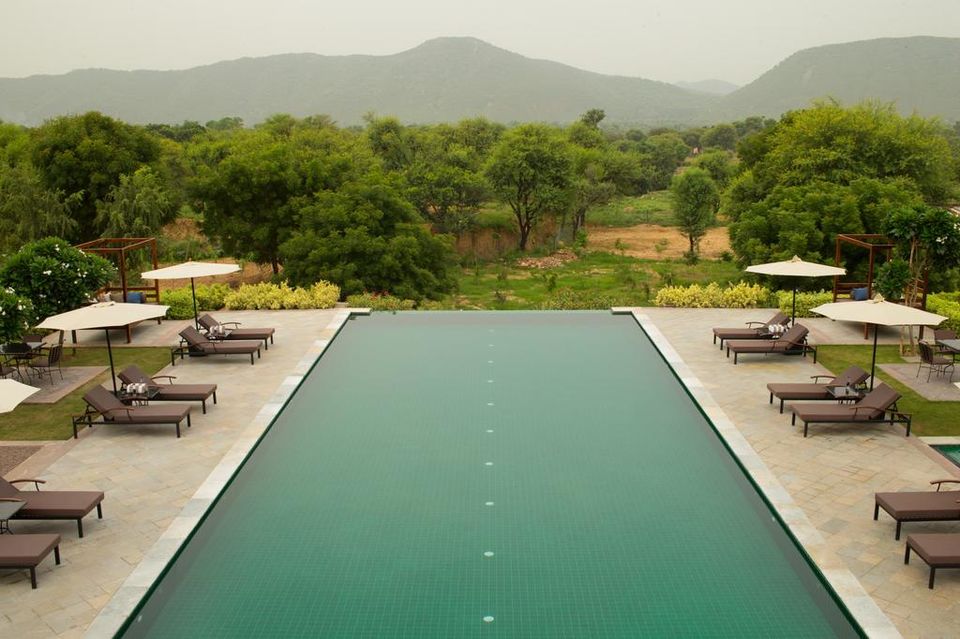 The swimming pool at the resort is absolutely gorgeous with the magnificent fort at its background, making it look like a million bucks.
Rooms: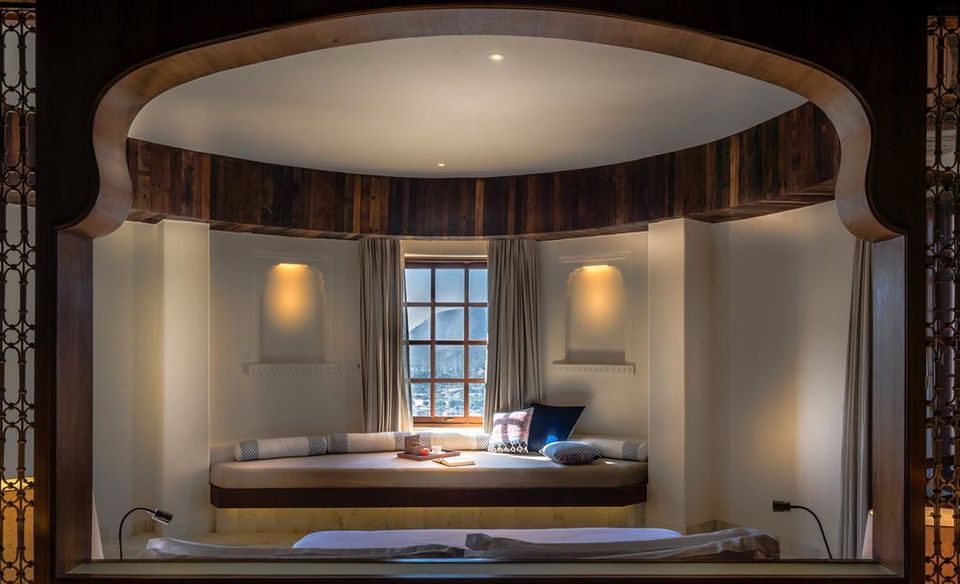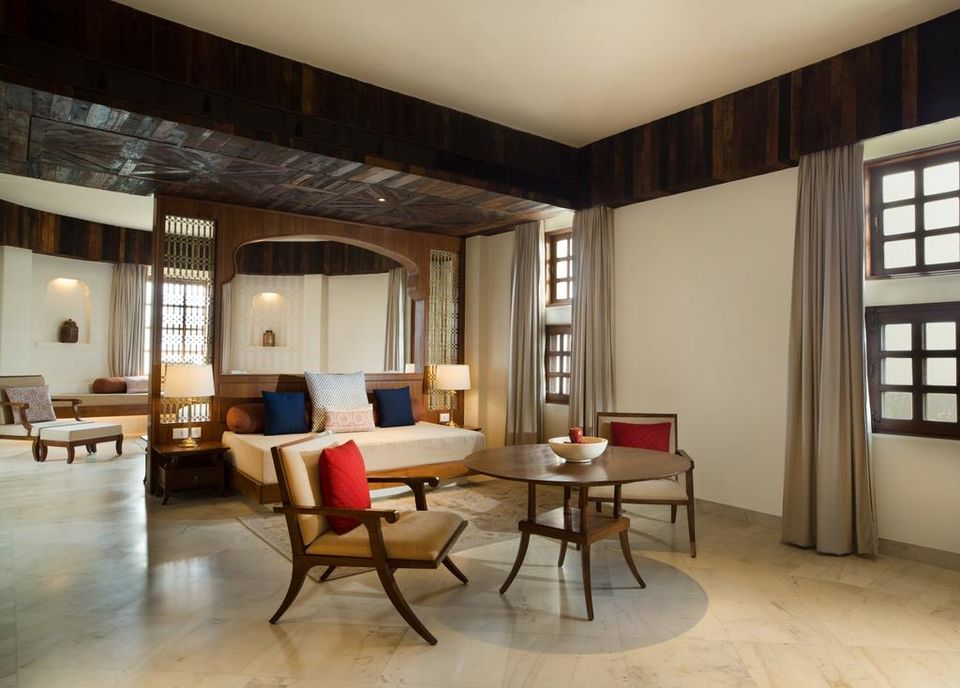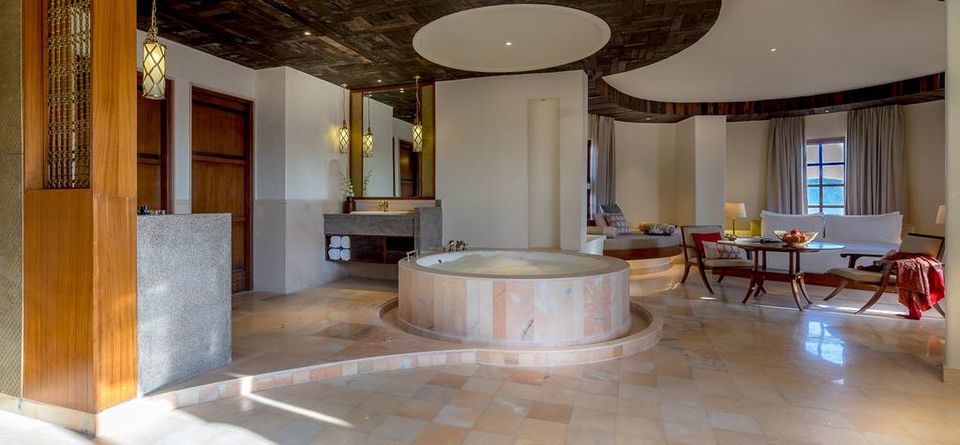 You can choose from a variety of rooms: heritage room (₹18,000). royal suite (₹20,000) grand suite (₹24,000) , regal suite (₹26,000) and presidential suite (₹57,000). This cost includes breakfast but is exclusive of taxes.
Food: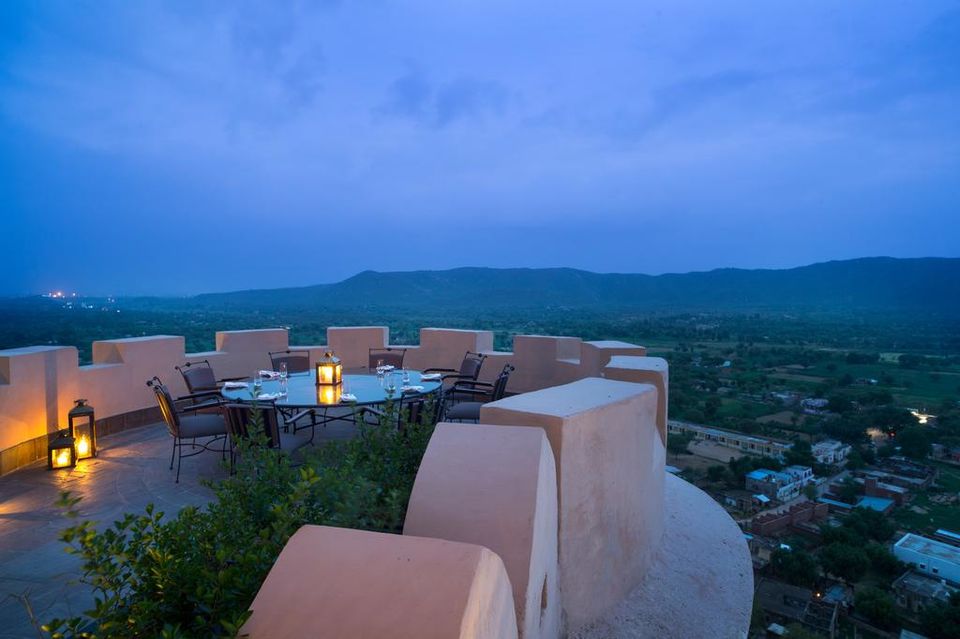 The restaurant at Alila is aptly named Nazaara, located on a rooftop of the fort. Enjoy delectable Shakhawati and Bishangarhi food that is prepared by experts; experience Rajasthan with every morsel you take. Nazaara also specialises in hunter cuisine with live sandpit and fire pit. Do try their pit-roasted zameeni murg, a Marwari methi with kebab spices, wrapped in banana leaf, laal maas which is a local Rajput lamb preparation and silbatta kebab, a hand-crushed lamb delicacy.
Best Time to Visit:
Rajasthan tends to get unbearably hot during summer, so the best time to visit Alila Fort Bishangarh is between October-April. During this period, you can fully enjoy the outdoors and explore the village around.
How to Get Here:
Air: The closest airport to Alila Fort Bishangarh is Jaipur International Aiport in Jaipur. From the airport, Alila is only 45km away.
Rail: The closest railway station to Alila Fort is also in Jaipur, which is well connected with New Delhi. You can take the Shatabdi that starts at 6am from New Delhi and reaches Jaipur by 10:30 am. From here, you can hail a cab to Alila.
Road: If you're driving down from Delhi, follow the route: Delhi–Gurugram–Rewari–Neemrana–Behror–Kotputli–Shahpura–Bishangarh. The distance between Delhi-Alila Fort is 233km and will take you about 5 hours to reach.
Things to do Around the Property:
Journey around Bishangarh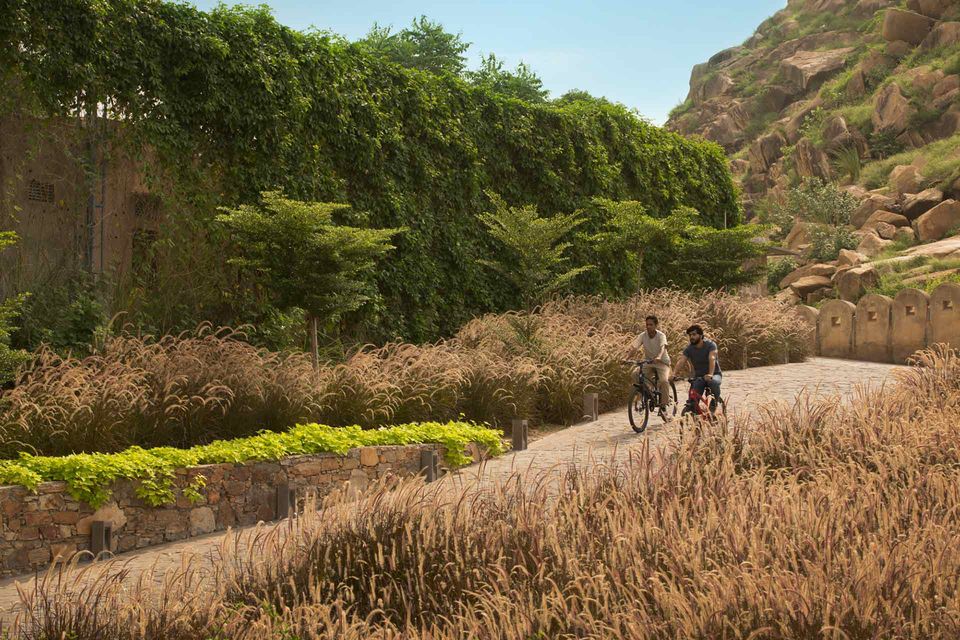 The resort organises tours and trips around various themes such as enlightenment, history, adventure, gastronomy, agriculture, on the basis of which your trip around Bishangarh will be personalised. Cost: Starting from ₹4,000.
Rajasthani Rasoda Masterclass
Held within the resort, at this workshop, you learn to cook with homegrown vegetables, learn about Rajasthani food and the culture around it. You must experience this class if you're a foodie and passionate about cooking new cuisines. Cost: ₹3,000.
Since Jaipur is also only 45km away, you must visit the renowned forts and monuments around Jaipur. Here are a few places you can cover in Jaipur.
Know of more such heritage properties? Share your story with us on Tripoto and inspire an entire community of travellers with your words.