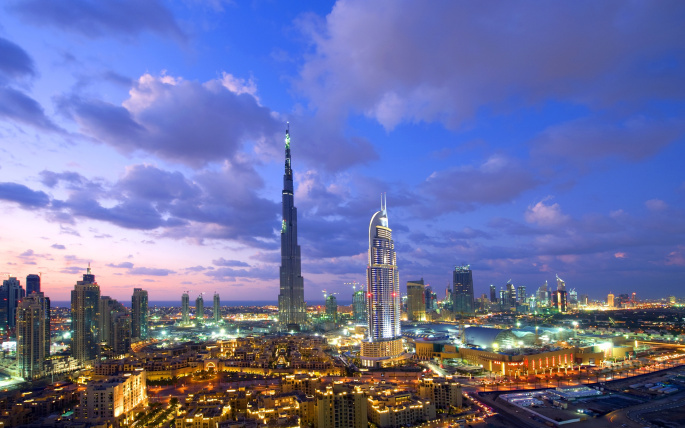 UAE is made of the 7 emirs of Abu Dhabi, Ajman, Fujairah, Sharjah, Dubai, Ras al-Khaimah and Umm al-Qaiwain.
My third international trip this time was to Dubai and Abu Dhabi. With the year approaching an end, and the holiday season coming up, my travel soul was nudging me to take one more trip. My friend at work, Nandini, who also wanted to go somewhere, just anywhere, spoke to me and suggested 'Dubai'. My response (as always) – Let's Do This Thing..!
It's very important to be comfortable with your travel partner – the best of friends are not always the best travel buddies (take my word on this). There are just so many things that can go wrong if you choose a wrong travel companion. For example, you might want to try some adventure sports and explore as many spots as you can, whereas your friend might want to lounge around on the beach. You will be spending a lot of time with this travel buddy of yours – airports, buses, metros, sharing a meal in a restaurant, hiking, etc. so please make sure, you're with someone who you can have a conversation with – someone you can stand! Nandini and I had already done one trip together in June 2016 to Thailand (I plan to write about that vacation too – sometime soon) and I knew she is a great travel partner – we can both sit by the river or on a hilltop and gaze at nothing for hours without a word and be absolutely comfortable. We both travel light, we don't kill time sleeping during travelling, we love to walk and explore the city, try local cuisines and ditch Indian food and we don't judge each other!
Once our destination was finalized, we sat together to make the itinerary keeping in mind what we both want to do on this trip. Burj Khalifa, Burj Al Arab and Abu Dhabi's Sheikh Zayed Mosque was on both of ours list. Nandini loves theme parks and I love scary rides, so we decided to go to the Ferrari World and IMG World of Adventure. D'Pauls (travel company) helped us with a few other add-ons to this itinerary like the Dubai city tour and the Abu Dhabi city tour. Skydiving is another attraction in Dubai which we were very excited about but all the tickets were sold out by that time – thanks to our impromptu travel plans! Well, someday we shall live for the clear blue skies…Someday we shall fly…
For now, we were all set to celebrate the holidays and flew on 24th of December to Dubai. After a refreshing shower, we dressed up fancy to visit the 'Burj Khalifa'. A trip to Dubai is incomplete without "ticking this box" – We were at the 124th floor of the tallest structure in the world, standing 829.8 m (2,722 ft) tall.
Palm Jumeirah – an artificial archipelago in the Persian Gulf shaped in the form of a palm tree was billed the 8th wonder of the world. You can sail around Palm Jumeirah in a yacht or a speedboat, take a stroll or just sit on the rocks and listen to the waves.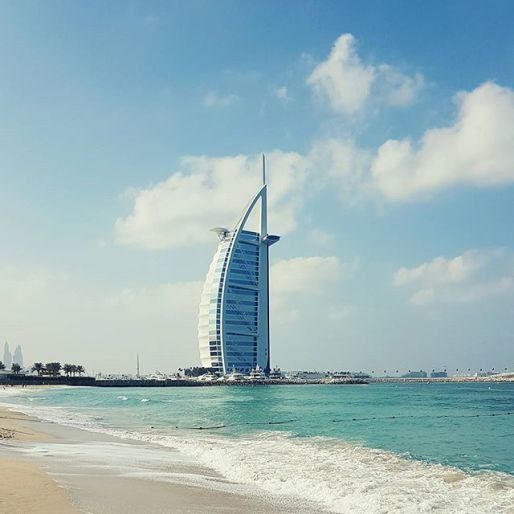 The best thing about my Dubai trip were the roller coaster rides. When we decided to go to the Ferrari World (@ferrariworldabudhabi), I immediately knew I wanted to try the rollercoasters. It was my first time even trying a rollercoaster ride – so it's funny that I headed straight to the Formula Rossa– the world's fastest rollercoaster. 240km/h in 4.9 seconds!! This picture was taken by my friend, Nandini from the observation area – she is scared of these rides – I wished she would've tried it cause it was amazing!!
Next I headed to 'Flying Aces' – another roller coaster ride – now that I had done the world's fastest, there was no stopping
I was stuck in a really long queue and my turn would've taken ages – I had second thoughts of turning back and passing on this one but then this German man in the queue told me that he had tried the ride before and it is better than Formula Rossa – now I had to do something! I cut the line, spotted a family right in front of the queue and asked if I could go and they happily allowed (perks of smiling when making a request)
I sat right in front for both the rides and it was the best thing in the world!
Flying aces was surely better than the Rossa and I wished I had my video of the ride but here's the link to the YouTube video of the Rossa – all of you should try this once in your life…!
There are many other rides that you can try here and if rides is not your thing then you can learn the history of Ferrari, try go karting or 4D adventures or visit the interactive exhibition of cars from 1947 to the present day.
After an eventful day we were all set to explore the nightlife of Dubai. We headed to The Backyard by Swim & Tonic for drinks – a garden style pub with picnic tables and reclining sofas that look out over to the Dubai Canal.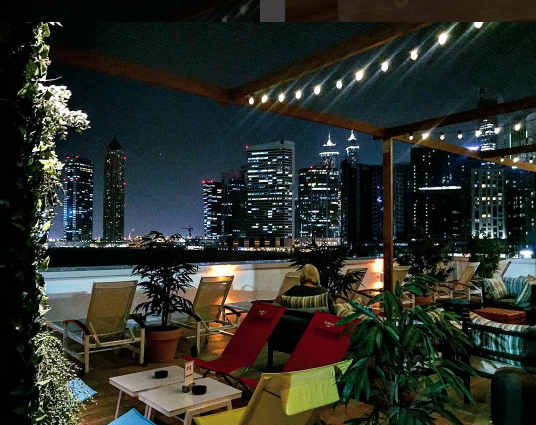 We chose to visit the IMG Worlds of Adventure the next day, an indoor theme/amusement park. There are various rides to choose from. You can also meet your favorite characters in the Meet and Greet zone including Spider-Man, Thor and the Powerpuff Girls. While Nandini was here to relive her childhood watching her favorite cartoon characters come alive and to meet Santa Claus in person, I was game for the Velociraptor roller coaster – this one is not for the faint hearted, an absolutely thrilling ride!
Since this was our last night in the UAE, we decided to go to the Jumeirah Beach Residence (JBR) where 40 sandy colored towers light up the marina skyline at night. The sandy shores of Jumeirah beach offer al fresco dining – we chose to sit at 'Shake Shack' and this is my personal favorite for the best beef burgers I've had till date.
We also tried the catch sticks at Catch 22 – you can choose from a variety of them – I liked the Teriyaki Salmon the most.
JBR is also known for its stylish boutiques, handicraft shops, community events, supercars and a leisure walk along the waterfront. We noticed the 'Turkish Ice cream' stall here that is famous for its vendors playing tricks with the ice cream cone before finally serving it to the customer. People gather around the stall to watch his pranks and make videos that go viral on social media – I'm guilty of one myself :)
We were fortunate to be in JBR at 8:30pm as it was time for the fireworks and boy was it amazing! The sky was illuminated with beautiful lights and sparkle – a night full of stars.
Lock Stock & Barrel bar was next on our list. A party place that hosts live music bands. This was a perfect place to let your feet tap and groove on their music. A must visit for sure :)
After dancing away the night, we were starving so we headed to the famous Lebanese eatery – Zaatar w Zeit. We started with 'Hummus & Crackers' which is mashed chickpeas blended with tahini sauce, served with chopped grilled vegetables and toasted multicereal crackers on the side. The 'Pepperoni Pizza' was made of beef slices and fresh mushroom with tomato sauce and mozzarella cheese. Back home in India, I am known to always order Pepperoni which is made of pork but this one with beef was something else. I am definitely going back for more!
If you're here, you should definitely try the 'Manakeesh', it is a popular Levantine food which consists of dough topped with thyme, cheese or meat. Very similar to a pizza, it can be sliced or folded. The 'Turkey and Cheese Wrap' was my favorite – a classic combination of melted cheese topped with slices of smoked turkey, pickles, lettuce, tomatoes and mayo mustard. I had two of those on a full stomach and wished I could pack more for the flight back home…
It was almost morning once we had satisfied our food cravings and it was time to go back to the hotel with heavy hearts and so many memories.
From rooftop pubs and sizzling beach clubs to fancy cocktail caverns and concerts under the stars, Dubai's shape-shifting party spectrum caters for just about every taste, budget and age group.
If you're planning a trip to Dubai, I hope this blog is helpful and if you already have been there, do comment below with more suggestions and places we could visit next time we are there.
Thanks for stopping by :)
This post was originally published on Himadri Negi.
The Dubai Fountain – the world's largest choreographed fountain system, is another attraction that delights thousands of visitors every day. It shoots water up to 500 ft into the air accompanied by a range of music that fills the air. The show airs every half an hour between 6pm and 11pm – make sure you hold the perfect spot and don't miss the view!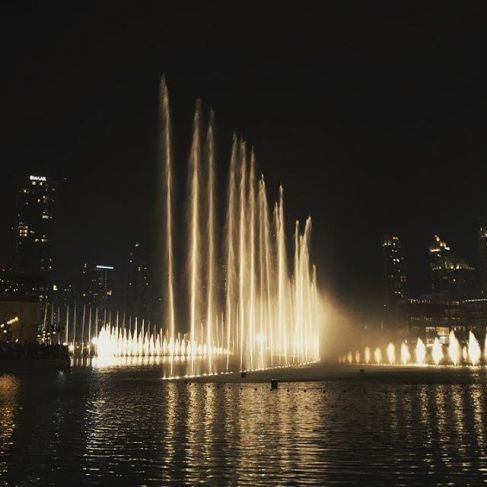 Dubai city tour was booked for us for the next day. Dubai has birthed the world's tallest building, an island shaped like a palm tree, a huge indoor ski paradise, the world's largest and the region's first indoor butterfly garden and sanctuary for over 15,000 butterflies from 26 species, the world's fastest roller coaster and with other grand projects in the pipeline, it also won the bid to host EXPO 2020!! Visiting Dubai feels like a trip to the future with superb infrastructure. Our next stop was the Jumeirah beach and the first thing you notice apart from the beautiful blue water is the 'Burj al-Arab' – the fourth tallest hotel in the world!!
To be a little touristy we went for the Desert Safari which is ideal for a memorable evening. Driving through the dunes, we arrived at the traditional Bedouin style camp for a traditional entertainment filled night. You may try the camel ride, mini sand boarding, henna tattoo, dressing up like the locals or just relax on the carpets and cushions with an aromatic sheesha (hookah/water pipe). We sat near the center stage (the performance area ) and watched a belly dance performance by two gorgeous ladies – for a second you do feel the need to go back home and try a few of those steps yourself! Desert Safari under the twinkling Arabian stars is an experience one should not miss.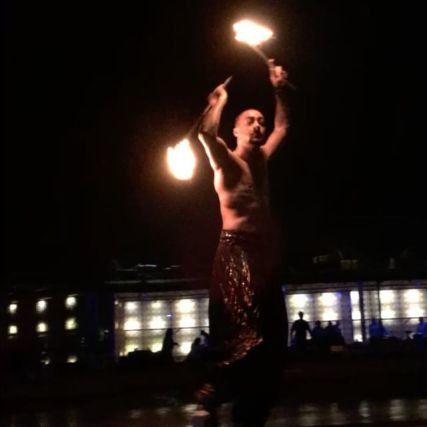 We dined at Barasti Beach Bar that offers great music, delicious food and drinks with a superb beach front location. It's best to visit here during the day to enjoy lazing in the sun while you're served your drinks, but if, like us, you're here at night, you can enjoy some live band performance and the cool breeze with food that is a treat for your taste buds.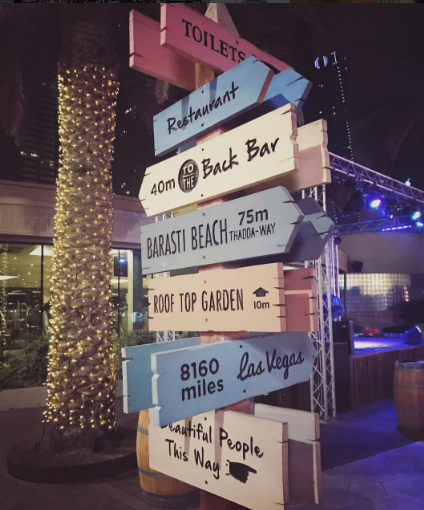 We set out for Abu Dhabi the next morning and after a small tour of the city, we took a stop at the famous and beautifully made Sheikh Zayed Grand Mosque. Originally a school for the study of Quran, the mosque also is the final resting place of the late president of the United Arab Emirates, Sheikh Zayed bin Sultan Al Nahyan. Delicate floral designs decorate the mosque made of Greek marble – I was in awe of the architechture. The etiquette of the mosque requires all visitors to be fully clothed and the clothes should be loosely fitted and not clinging to the body. We wore abeyyas that the tour guide provided us – it's a onetime experience which I secretly always wanted to have as a child. Next, we went to the Ferrari World
Our next stop for the night was the Rodeo Drive pub – the Wild West cowboy world. You can play beer pong or ride the mechanical bull or dance your way through the night.