A city that de­fies description, Banaras, Varanasi, is one of the oldest continuous settle­ments on the Gangetic Plains. Its sa­credness is renowned, but it's also a great cultural centre, giving us such culi­nary gems as the paan, the kachori, the jalebi and the thandai; the Banarasi sari, handicrafts such as the carpets of Mirzapur and an unique river-side archi­tecture of ghats, temples, shrines, pal­aces and mosques.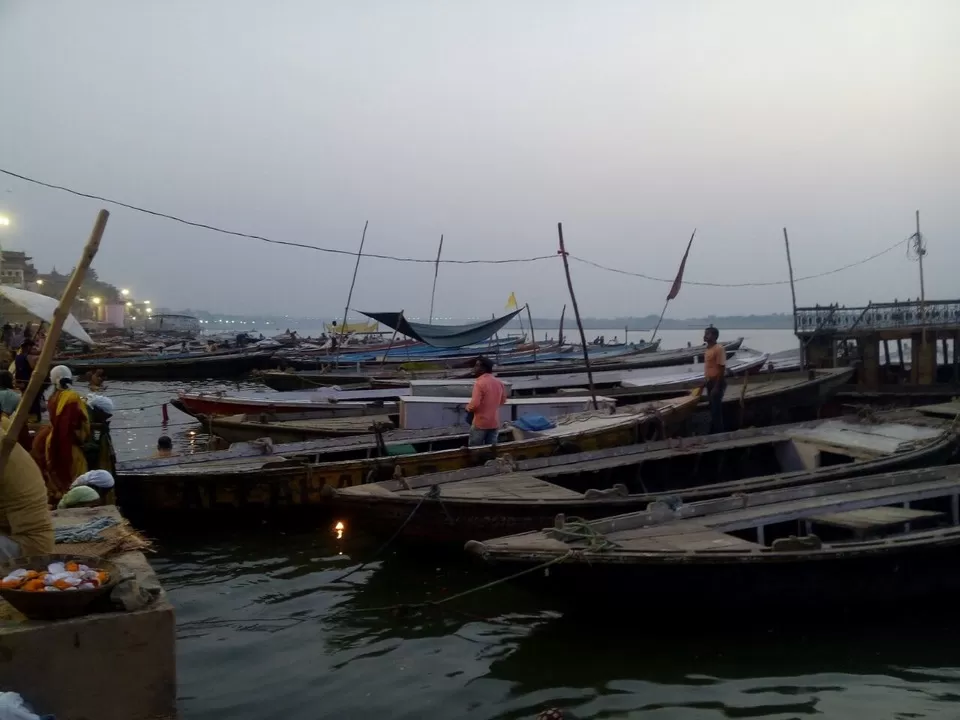 My recent visit recalled the first encounter with this place. At that time I only knew anything about Banaras was BHU- a popular university. This was for the first time I was encountering this city or coming out of my shell.
Crossing that crowded lanes, I can remember Mark Twain lines "Banaras which is older than history, older than tradition, older than legend, and looks twice as old as all of them put together."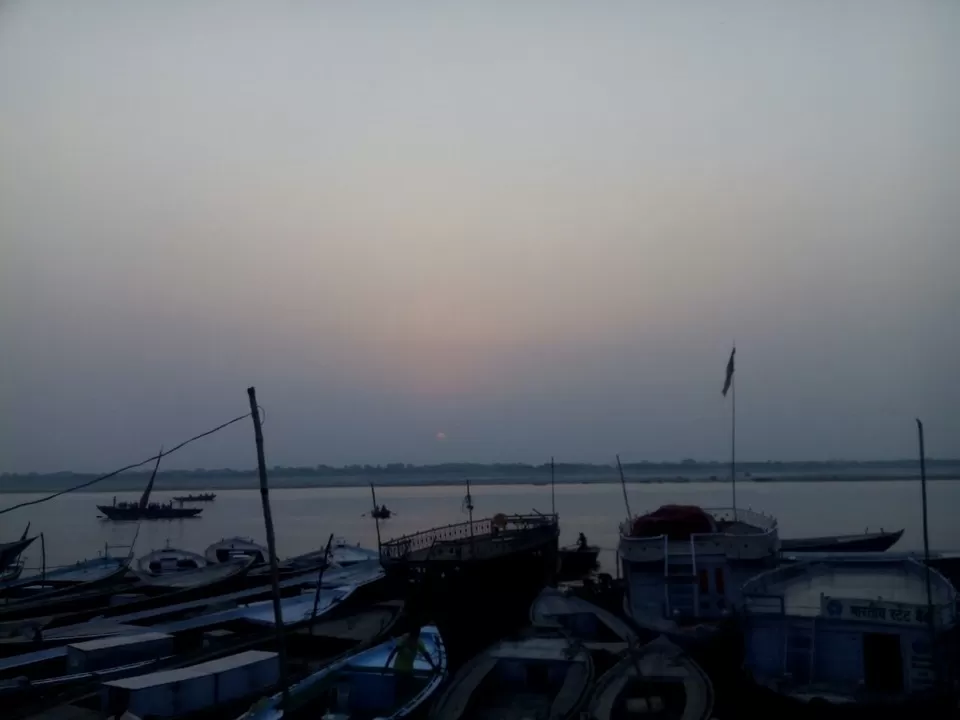 Add gorgeous sun­rises and sunsets, the nearby marvel of Buddhist Sarnath, not to mention leg­endary fortresses like Chunar, and you get a city that's a world in itself.
Benaras wakes up along its ghats with the first glimmer of light in the east. There are over 80 ghats, and it makes sense to start your day at one of these. The easiest way to get a feel of the river is to hire a boat and slowly cruise up the river, watching the ghats come alive. Make sure that you're in the boat before sunrise. The almost empty ghats are magically filled with a sea of people as the sun rises.
To the locals, the holy river is like their personal pool and the ghats their courtyard. They come to exercise or do yoga on the banks, take a bath in the river or offer their prayers before returning home. Then there are the constant streams of visitors who come to take a dip in the river, make flower offerings to the sun god and the river goddess before winding their way to the famous Kashi Vishwanath temple for the morning prayers. As boat-loads of camera-toting tourists cruise down the river, young children jump off high points on the ghats to be photographed and earn a few coins. One of the striking features that you must take note of during the boat ride is the architectural layout of the old buildings overlooking the ghats.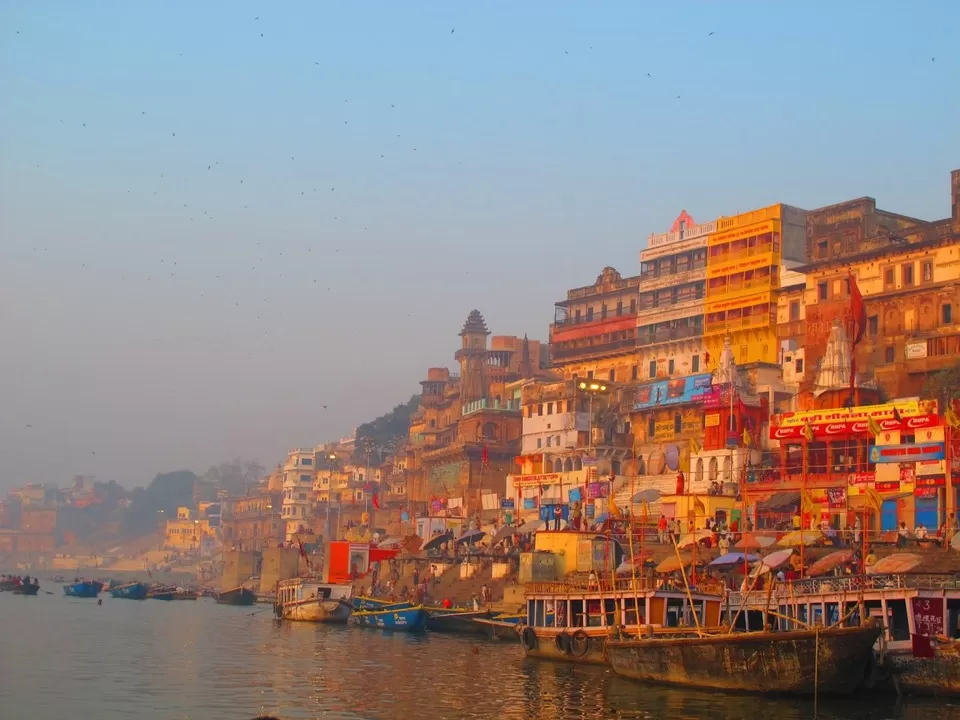 Most of the modern ghats stretch is from the 18th century, and you'll find that most had been built by a wealthy benefactor, who gave the ghats their name as well. Beyond the central Dashashwamedh Ghat, on the southern stretch (the river flows north in Benaras) lies Prayag Ghat, Ahilyabai Ghat (built by Queen Ahilybai of Indore), Darbhanga Palace and Ghat (built by the Darbhanga royal family of Bihar), Rana Mahal Ghat (built by a ruler of Udaipur), Chaushat Ghat (with temples dedicated to the 64 Yoginis), Mansarovar Ghat (built by Raja Man Singh of Jaipur) and Rajghat (built by the Marathi ruler Balaji Peshwa Rao, To the north of Dashashwamedh Ghat, lies Man Mandir Ghat (where Man Singh of Jaipur built an astronomical observatory), Mira Ghat (built by Rani Meerabai) and Lalita Ghat (named after a beautiful wooden temple built by a Newar family from the Kathmandu valley).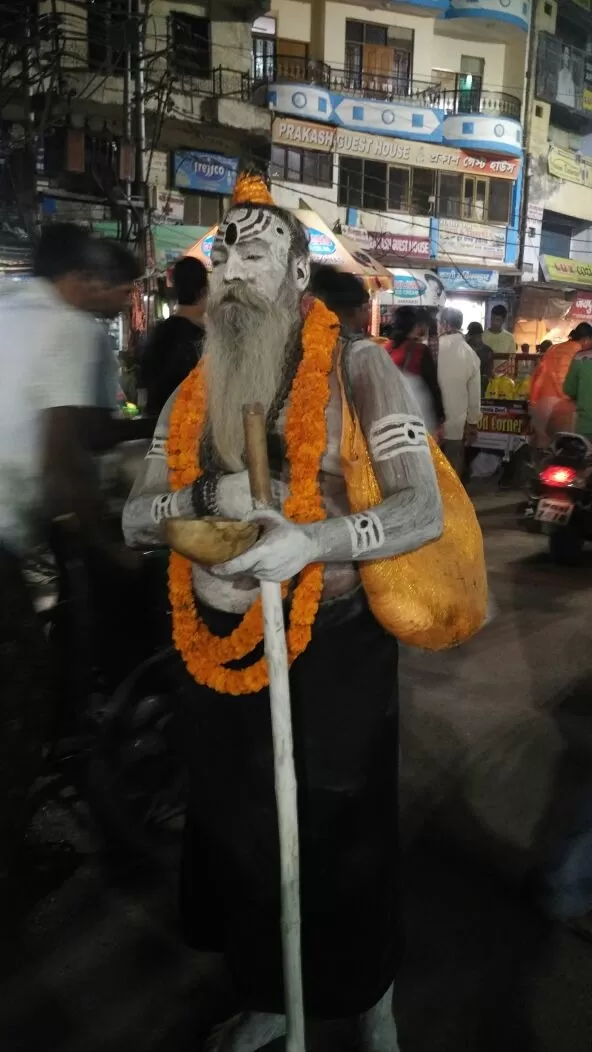 The Becharaj Ghat has three Jain temples as it was built by the Jain community. On either end of the over 5km stretch of ghats, lie the two burning ghats: Manikarnika and Harishchandra. In between, there are innumerable ghats and temples, each with their own tale. There are ghats dedicated to poet Tulsidas and noted Hindi litterateur Munshi Premchand.
Varanasi have something for everyone. This is also a paradise for the foodie, the one who loves street food. People here break their day with famous poori and sabzi. In India every part has their own breakfast which has been followed by decades.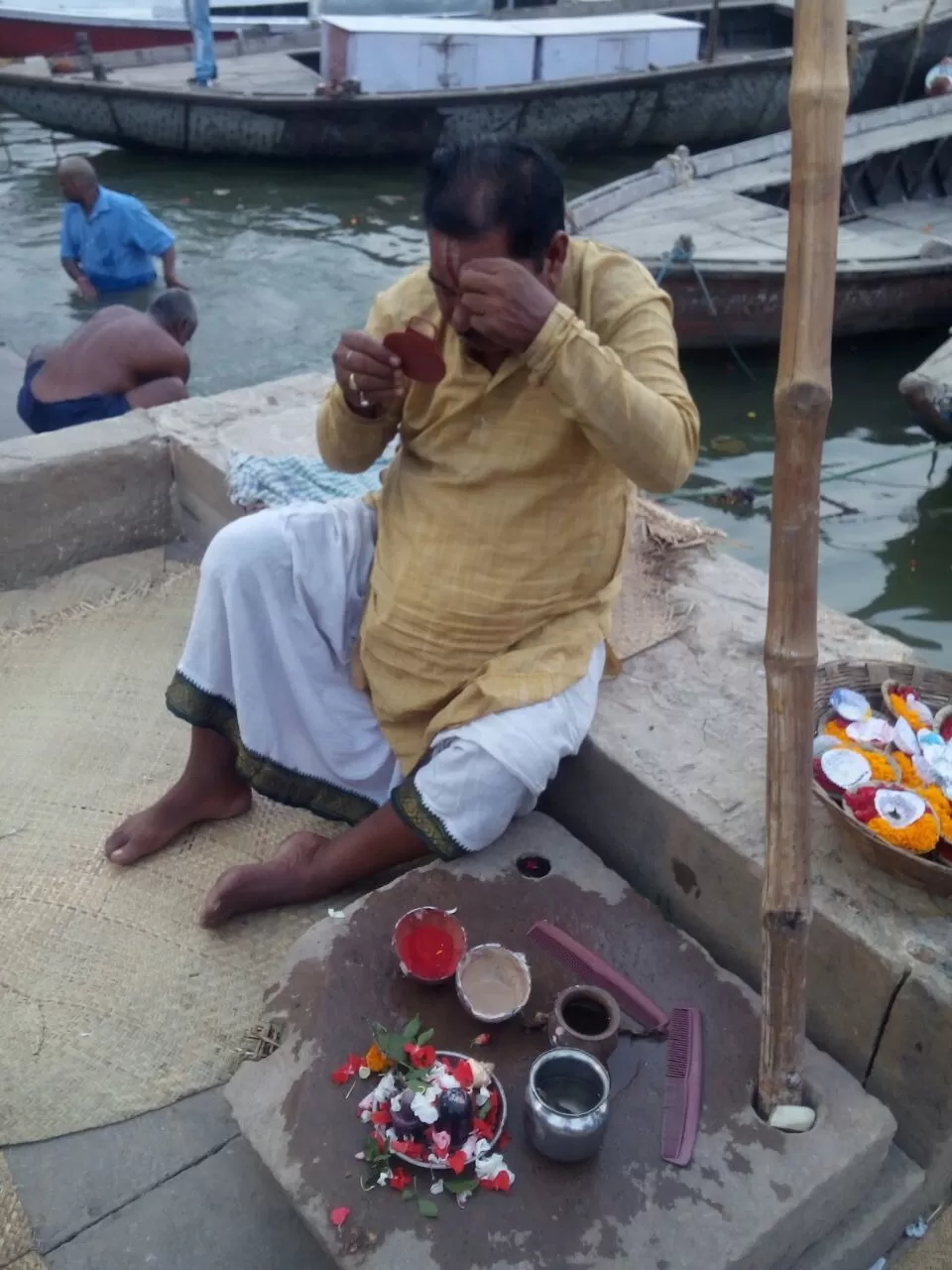 A faith-sustaining breakfast of kachoris is as much a ritual here as an early-morning bathe in the Ganges.Roadside stalls across the Old City open from first light, their charcoal stoves burning bright in the gloom.
This place has extraordinary aura which makes it different from other. India's oldest city which is still carrying itself the way it was created. In order to make the most of this place, I realised it's essential to remember—at all times while you are there—the antiquity of the place and also the fact that it is constantly changing. The city has been continuously inhabited since about 1000 BCE but as Richard Lannoy, a scholar and an artist rightly said, "Banaras has repeatedly been destroyed and then rebuilt from nothing but rubble. It has not lodged its history in buildings. The real past of Banaras is a past of the mind, upon which nobody sets any store other than in its capacity to inspire the present. Its imperishable elements are the moments of human experience."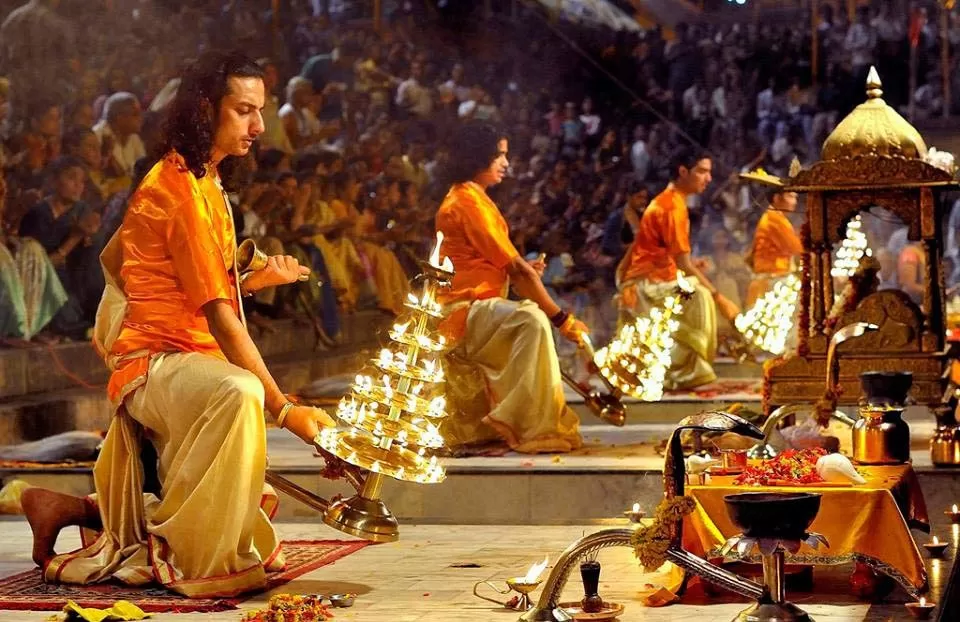 A must to do activity on your list should be boating in the holy river. I did that both in the morning as well as in the evening, and both the times, it was a different experience.
It is fun to compare the Ghats, how one looks so different from the other, though they stand next to each other.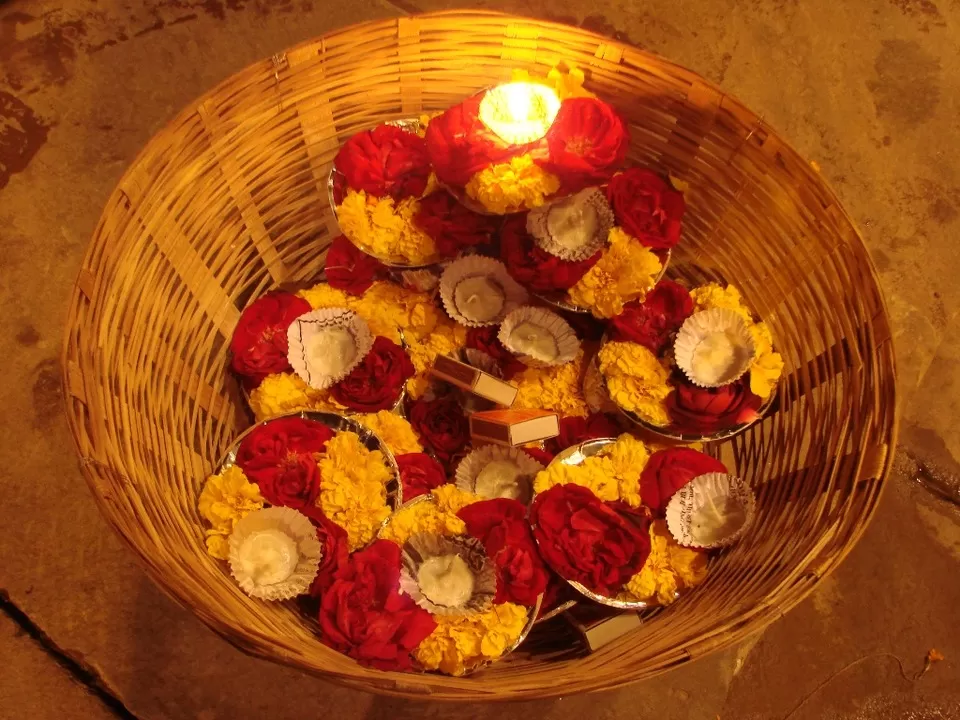 You will be surprised to know that the Ghats have a personal character. Some are colorful, some have the old silk factories since ages, some of them are used to perform the last riots and some are just there, looking old and freckled with time.
Starting with a nightmare and ending with memories of a laid back city where people move at their own pace. They don't wish to hurry up, they don't prefer going to offices, they are fine with what they do, and that is live life slowly.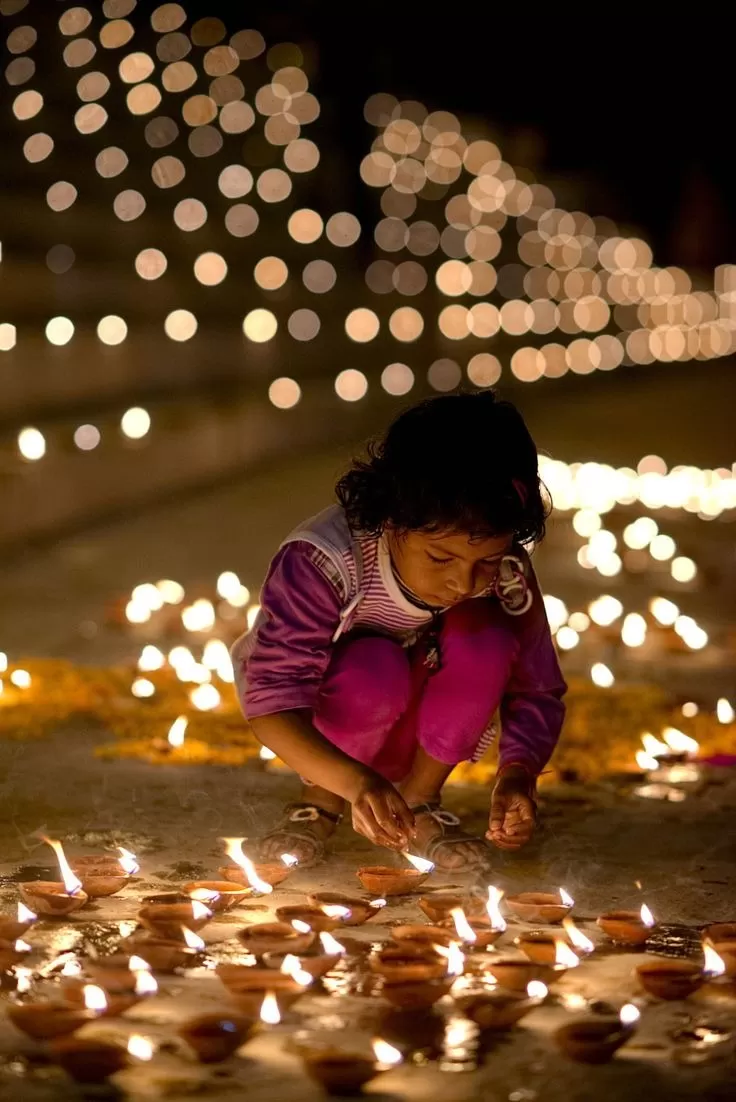 The famous Ganga aarti (Hindu religious way of worshiping) along the Dashashwamedh Ghat is a choreographed, well-rehearsed act of Pooja which over the years is attracting millions of tourists across the world. Yes, it is not fancy, but you won't mind experiencing it once. Its hymns chanting give goosebumps.
How can one miss the queen of silks, but with time her sheen have wore a faded look. Her shine has frayed and younger rivals has now become the new darlings of the evening.
Not many would know that this fabric gained popularity under the Mughal rule. As its name tells about its origin, Varanasi, a city which is also called Benares or Banaras. The saris are among the finest saris in India and are known for their gold and silver brocade or zari, fine silk and opulent embroidery. The saris are made of finely woven silk and are decorated with intricate design, and, because of these engravings, are relatively heavy.
With the nation's top designers coming together to recreate the magic of Banarasi weaves with a contemporary twist, the princess of silks may get its lost glory.
If you love visiting temples, if spirituality is your thing, be my guest, places of worship are like everywhere. Well, I am not that much of a religious person, so for me Banaras was all about observing life being lead at a different pace amid Ghats, boats and food.
This post was originally published on Wanderer's Diary.