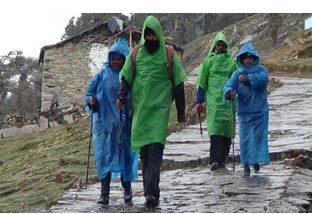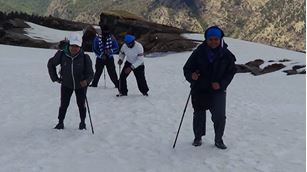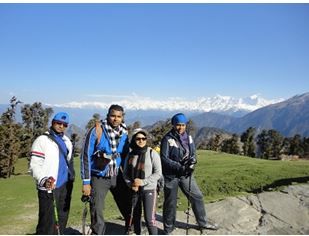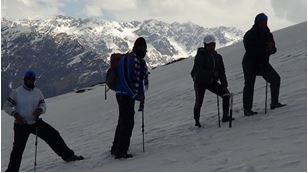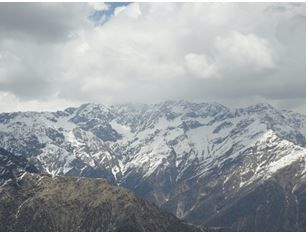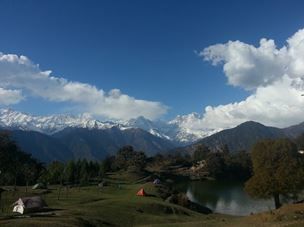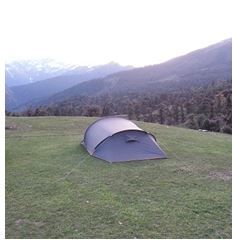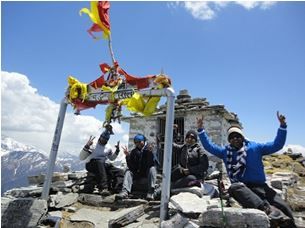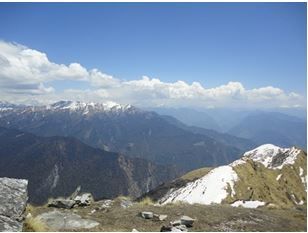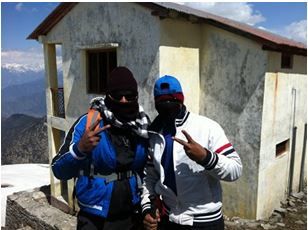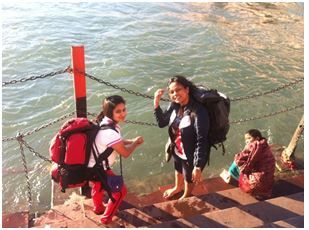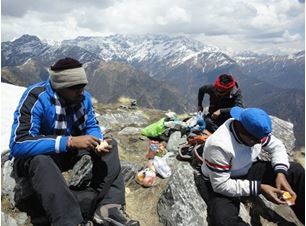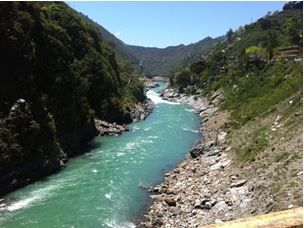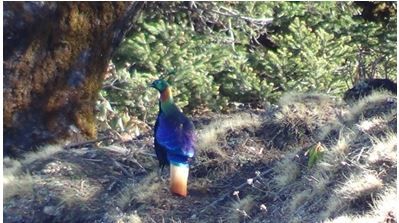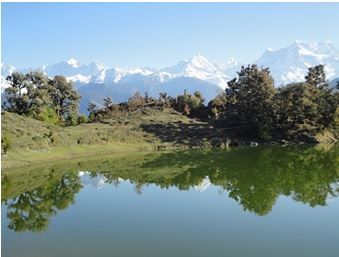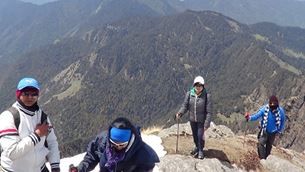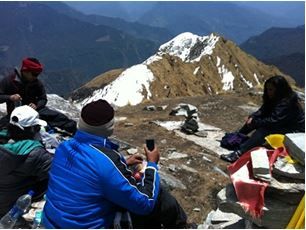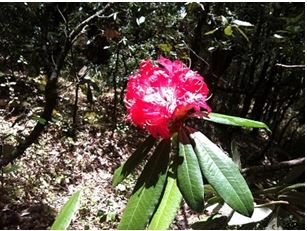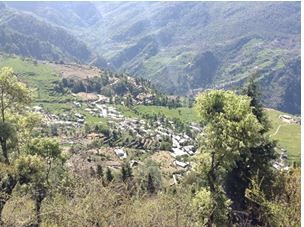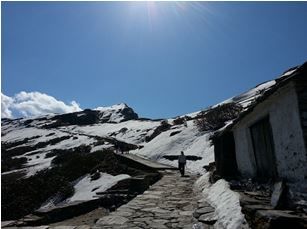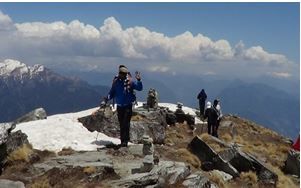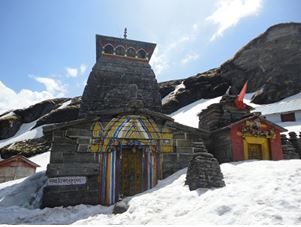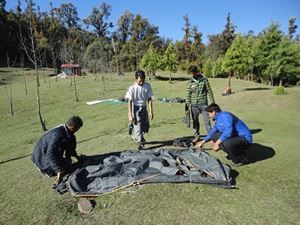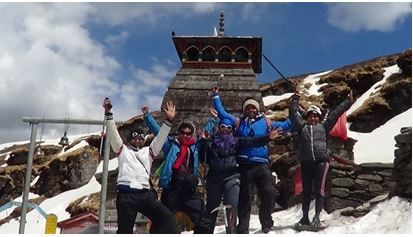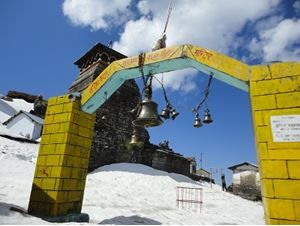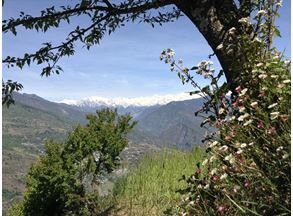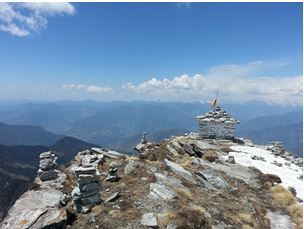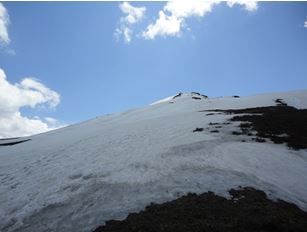 Catching up with old friends is always a great joy. It is tough finding space in the middle of our busy lives, separated by many miles and responsibilities. But often it only takes an occasion, an event, or one person's crazy plan, and it is always worth it. The trek to Himalayas in April 2014 was one such event where we reminisced on the old memories while indulging into the beauty of Himalayan range.
Day 1: Reaching Rishikesh  in the morning after a long drive from Delhi to Haridwar, followed by an eventful night in Haridwar and then finally managing to reach our trip organizer's (Paddle India) office.
Hunger pangs had already started to set in our stomachs and minds as we hurried to park the car and get ourselves and the luggage into the 4x4 Marshall and get set Go!!! This was going to be fun as we realized it in a few minutes time, recollecting our memories of River rafting in Rishikesh and trekking in Uttarkashi while we drove out of Rishikesh to head towards Ukhimath, the first destination.
On the way we could see the destruction caused by one of the nastiest natural disasters in the time period of 2013. Rudraprayag was still preparing itself for the upcoming Kedarnath Yatra with still many broken and washed away roads and buried and hanging houses.
Ukhimath is a small and quiet Himalayan town. We got took to the streets after freshening up to enjoy the cool breeze (a relief after coming from the scorching heat of the plains) and to have a splendid view of the Himalayas during sunset.
Our guide, Chandan, instructed us to carry only essential belongings in a day pack (a small back pack) and put the rest luggage in the car (Oh!! What a relief) which will arrive at our camping location next day at Deoriatal.
Day 2: So the day arrived to start our trek. Four adventurous souls, all set to conquer the heights took to the roads after a sumptuous breakfast of unexpected variety of items ; thanks to Paddle India for helping us gain a few hundred grams weight rather than losing during the trek… :-P.
 Oh, what a dreadful thing it looked like for the first few kms to both the girls (lack of any physical activity for years) but slowly it became enjoyable with the help of the two brave boys accompanying us. Climbing through the small hilly villages and stopping at some points to capture the magnificence of the Himalayas is fun.  
Chandan, our guide was a happy free soul hopping and skipping ahead and singing bollywood songs and entertaining us all throughout.
We walked through the forests of Rhododendron, the famous flower of Uttarakhand.  After moving up almost 5-6 kms, we could feel the hunger pangs again setting in (Seemed like some monster had entered us for those few days of the trek). Finally, after lot of cribbing and moving ahead another 2-3 kms Chandan decided to give us the much needed lunch break. We sat for about an hour and gorged on the packed lunch provided (Paratha, Pickle, Juice, Orange, Chocolate, Eggs-what more does one need).
 All charged up, we got up to complete the remaining 2 -3 kms of the trek and realized, so wise it was of Chandan to have pushed us and complete major part of the journey before lunch break. Our body was refusing to move further and felt like lying and going off to sleep after such a fulfilling lunch. Still we dragged ourselves by picturing the beautiful Deoriatal Lake as seen in the pictures as our destination.
Just after a few more kms walk we witnessed a breathtaking view of the mighty Himalayas in front of us and the picturesque Deoriatal.
 All the effort was totally worth it!!!
We slowly settled down after much photography n posing. Our tents were already there before our arrival. So we were saved from the pain of putting up of tents. After enjoying the exquisite sunset we had dinner at a nearby shop (sort of a dhaba) run by a local. The hot food served was amazing.  The sight of the star studded sky (like never seen in the cities) in the night made us forget everything else and we drowned in deep sleep bidding goodnight.
Day 3: The morning scene was filled with tranquility indescribable in words.  Completely soaked in the natural serene beauty, we were ready to move for the day.
The boys tried their hands at packing of tents and getting a feel of a real trekker and after breakfast started our downward journey to sari village.
 This part of the trek wasn't that difficult and we enjoyed the walk thoroughly, stopping by some small waterfalls (streams running down the hills).  By evening, we reached Dugalbitta (a few kms downhill of Chopta), our next stop. We set up our tents and freshened up and went on for some clicking and eating.
 We called the day off quite early because of 3 reasons mostly – firstly we were actually quite tired, secondly it was damn chilly at night and we couldn't just stay outside for longer time and lastly we had to start the next day quite early as the last day of trek was actually the testing day for us all.
 Day 4: The next day with the rising sun, we woke up with immense fortitude to summit Chandrashila. The trek starts from Chopta (which is generally quite crowded during the tourist season) to Tunganath and further up to Chandrashila.       
The way upto Tunganath is a paved road with hand rails as well (because it is a pilgrimage site) but definitely quite steep.  We took around 3 hrs to reach Tunganath. The roads and slopes were still snow covered towards the end of the way. 
Tunganath Temple is one of the Panchkedars and is the highest Shiva shrine at 3800 mtrs. We halted and strolled at the temple for a while. The temple was still closed owing to heavy snow cover.
1.5 kms further up was the Chandrashila peak. The zigzag paved path to Chandrashila was buried under snow and so we had to go straight up the steep gradient on the thick snow. Now that seemed a herculean task as none of us had a prior experience of walking on snow.
We geared up ourselves with all warm clothes that we had to save us from the chill.
We two girls were actually terrified while walking on the snow. The snow was somewhere soft leading to our feet getting stuck and somewhere hard and slippery. It seemed life threatening to us amateurs!!!
At various points we thought of quitting, but thanks to our supportive friends and the guide that we continued on our ways keeping our fears back.  At places we took a side route (to avoid snow) that required trudging over small shrubs along the edge of the cliff. One slip and down the cliff we fall. Still it seemed safer than the slippery snow.
Finally after a lot of hurdles we made it to the top and reached the gates of the temple of Ganga devi safe and sound. It was 4000 mtrs altitude and the sense of achievement was thrilling.
The summit offered a spectacular 360 degree panoramic view of some of the highest peaks in India like Nandadevi, Trishul, Kedar Peak, Bandarpunch and Chaukhamba Peaks. The eerie silence, in which even buzzes of a distant fly was clearly audible, coupled with heavily overcast sky and such magical environs created mystifying atmosphere.
We rested, relaxed, had our packed lunch and fed the crows while basking in the glory of our achievement and literally forgetting the fact that we had to traverse down the same snowy dangerous path.
After satiating ourselves we started our downwards hike. Few of us slid on the snow with the rain jackets and had fun.
While walking down to Chopta the weather became cloudy. Few minutes later we felt the snow beads falling on us and we were so surprised and equally cheerful because it was the first snowfall that many of us were experiencing. It actually completed our experience.
In some time we reached the main road where our vehicle was waiting near a shop and had some hot tea and maggi (so delicious it felt in such a weather) and went on towards Rudraprayag for the last and final night stay.
Day 5: The last leg of our journey had to start. We started from Rudraprayag and reached Rishikesh by afternoon and after having lunch, started our drive back to Delhi depending on our only driving buddy who was also down with fever and cold.
So that marked the end of this 4 days long trekking trip. Though an amateur easy grade trek but was refreshing enough to fuel us for another few months to go.