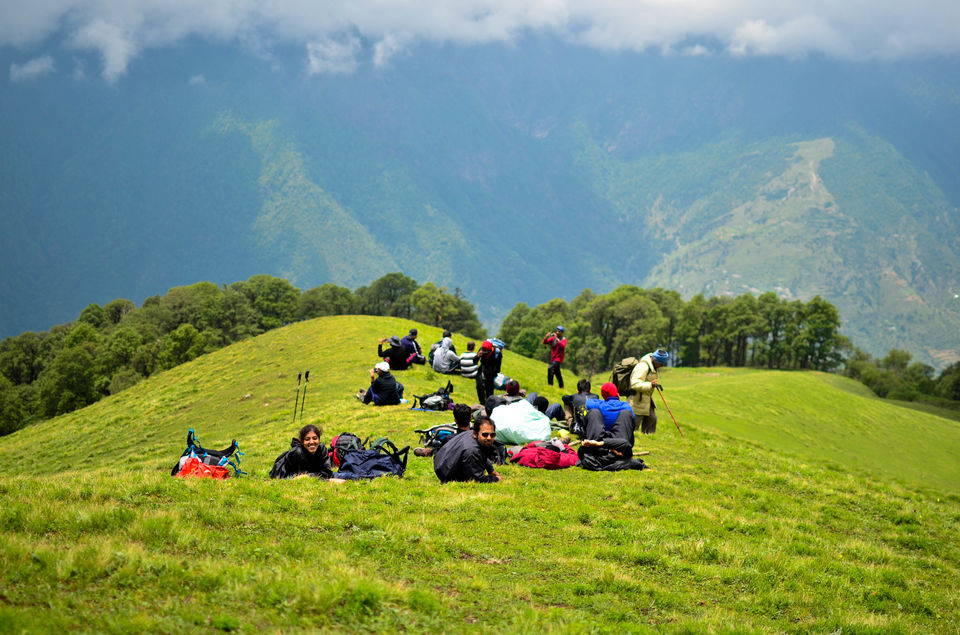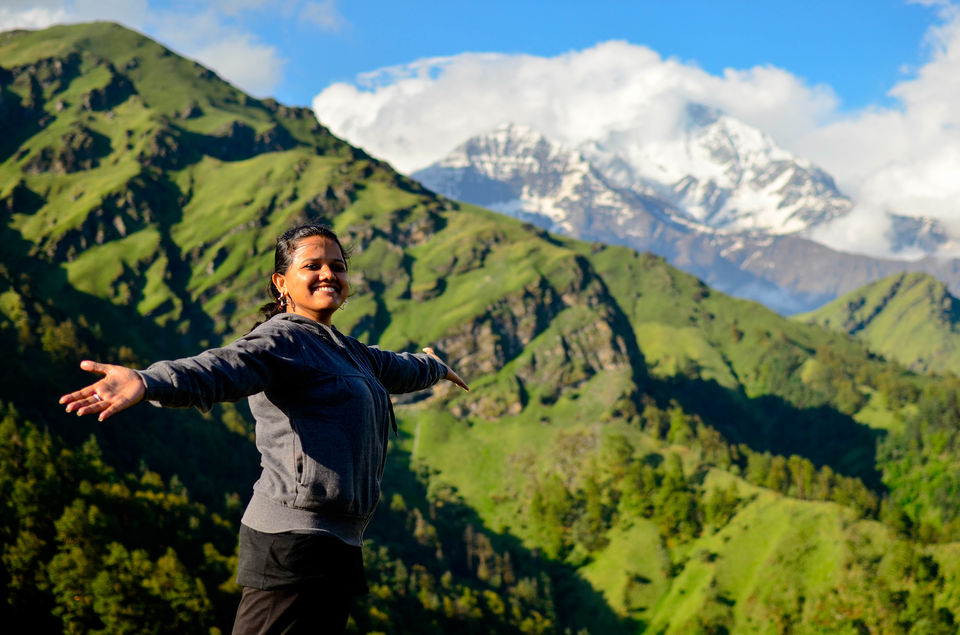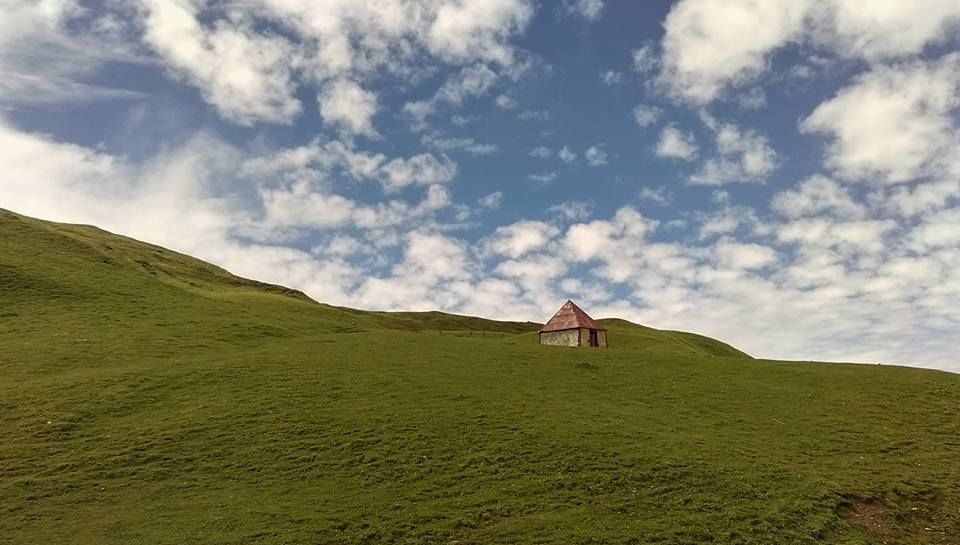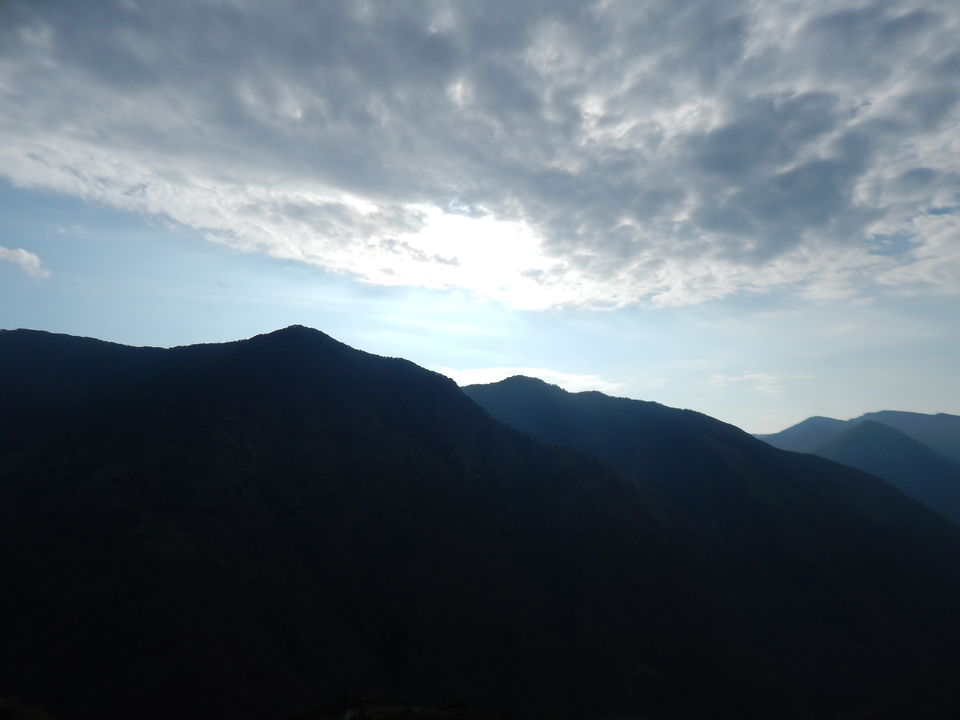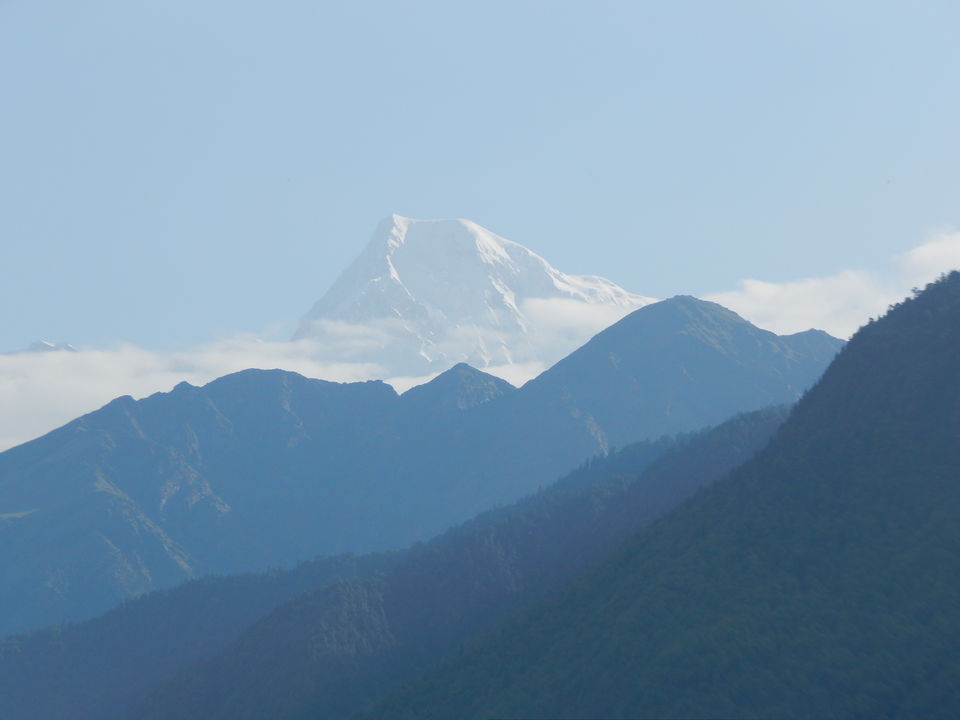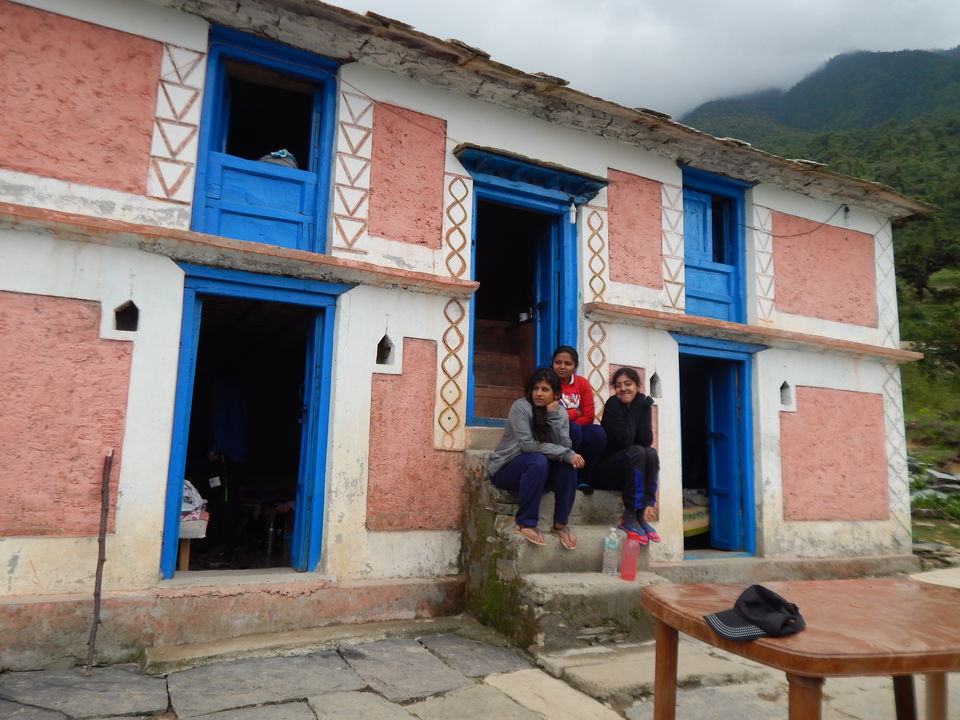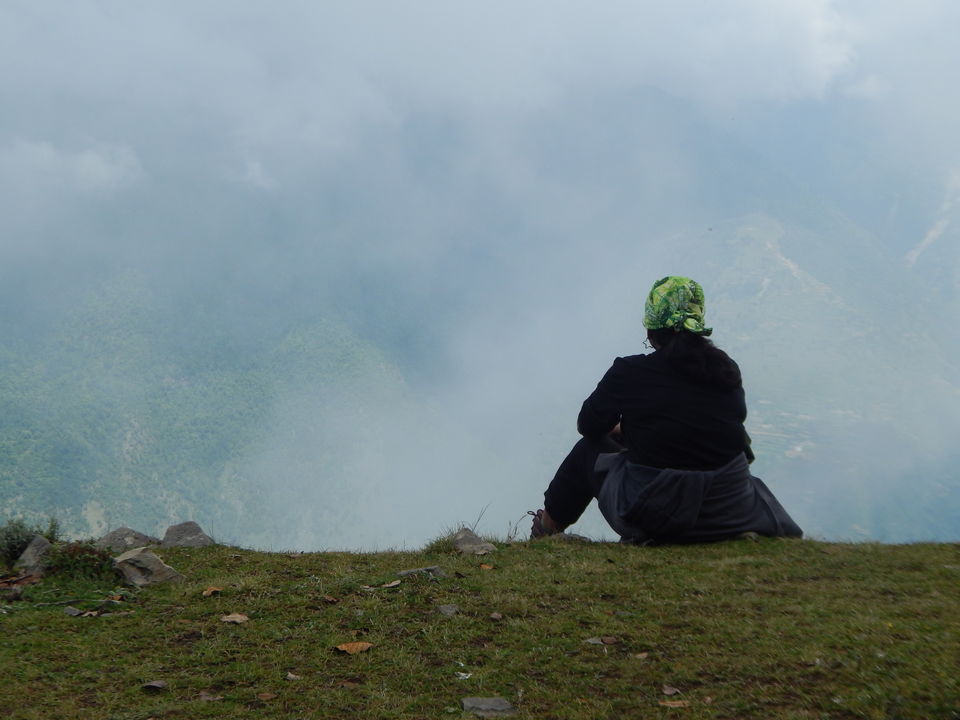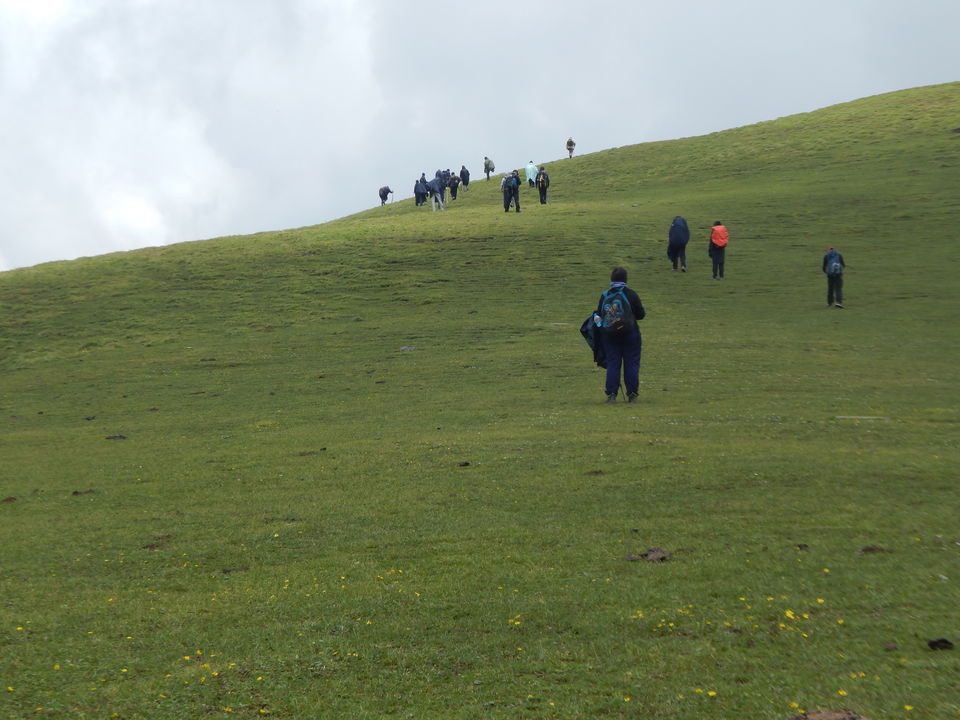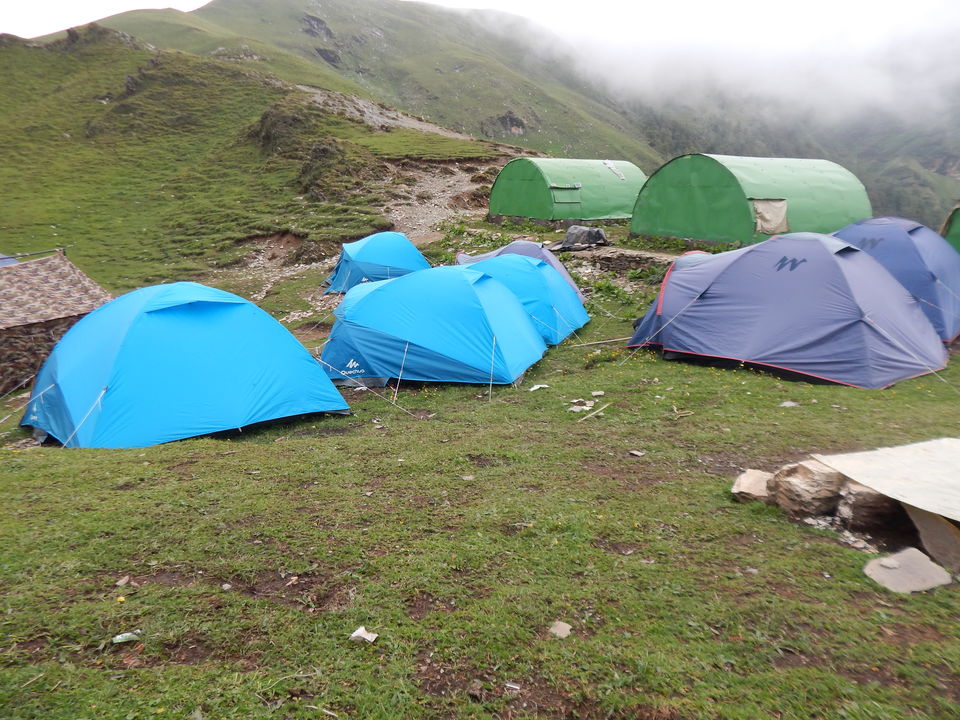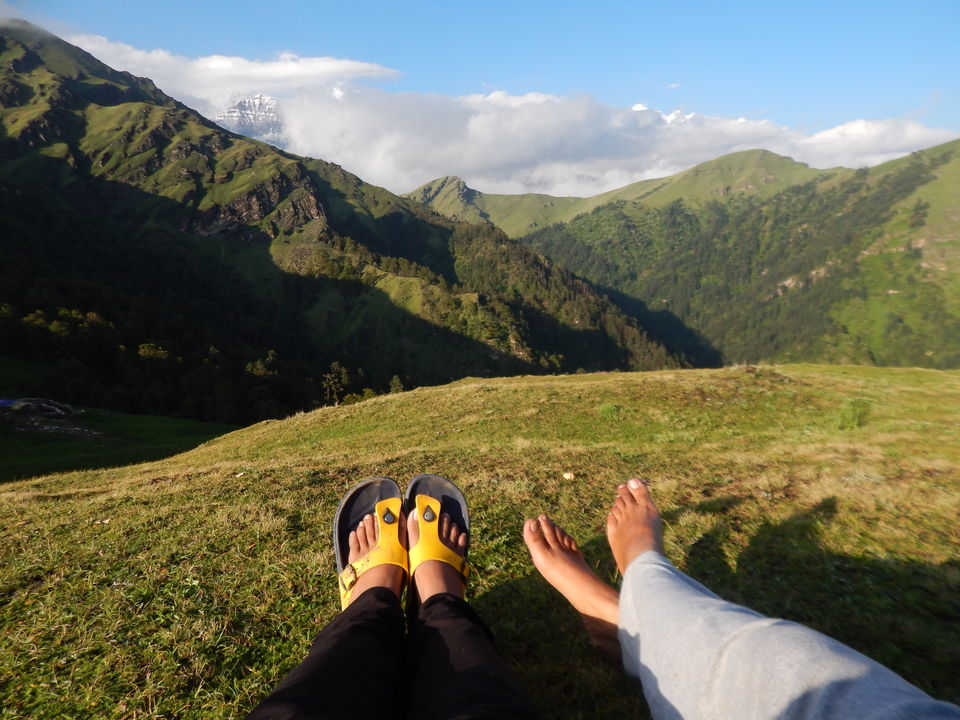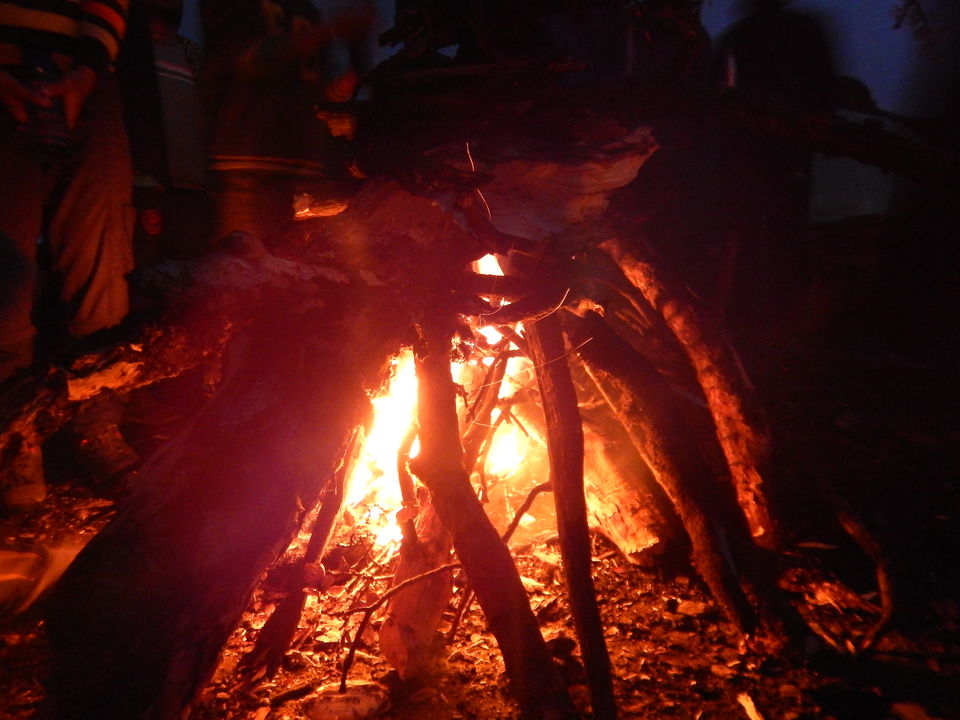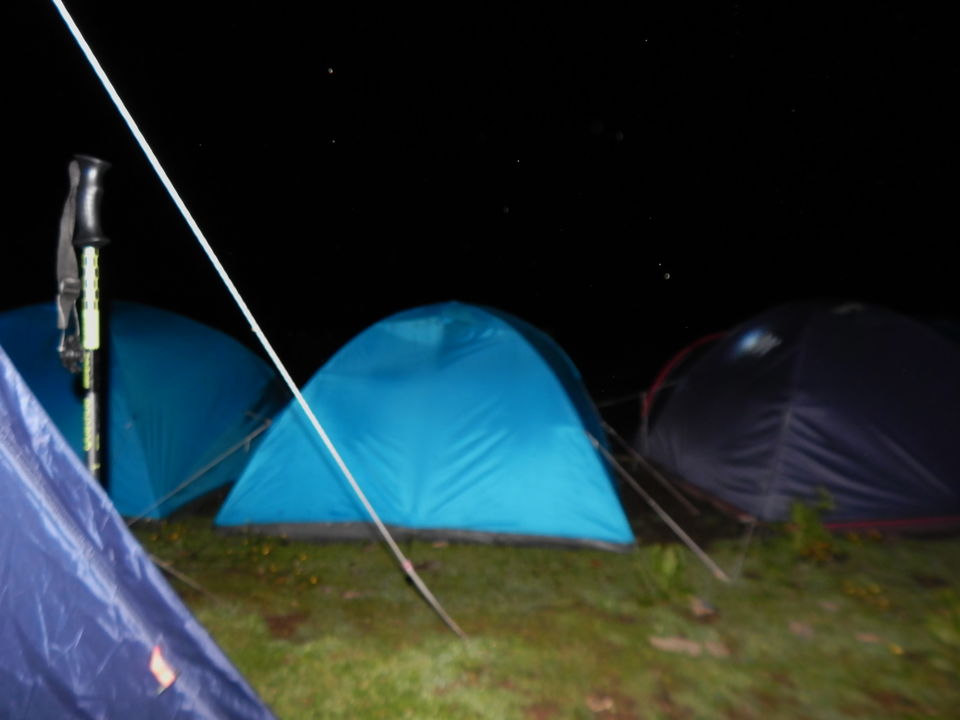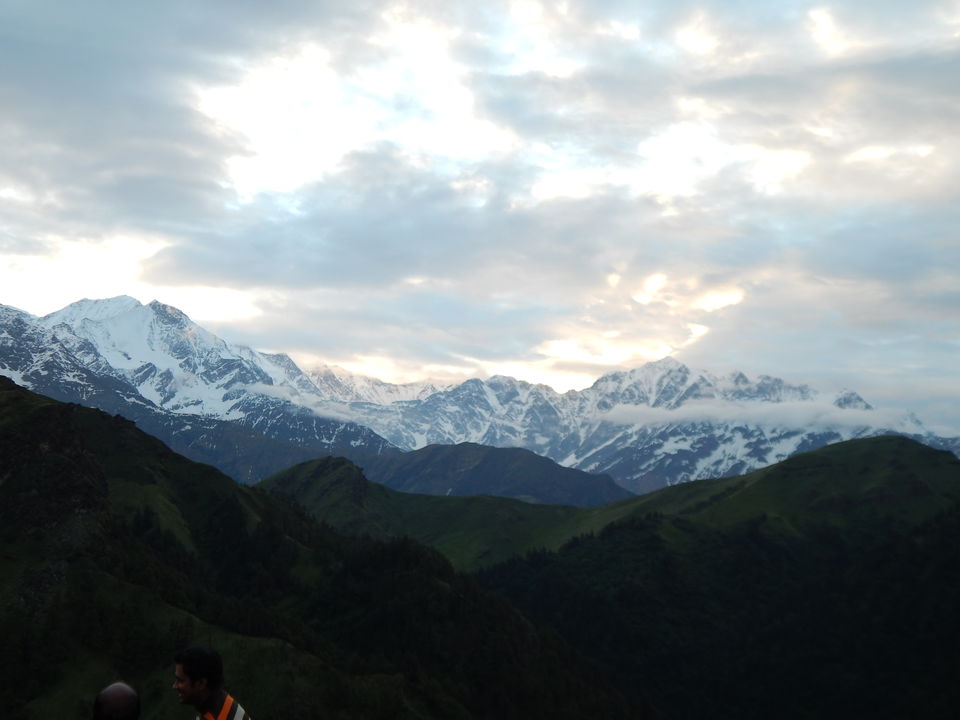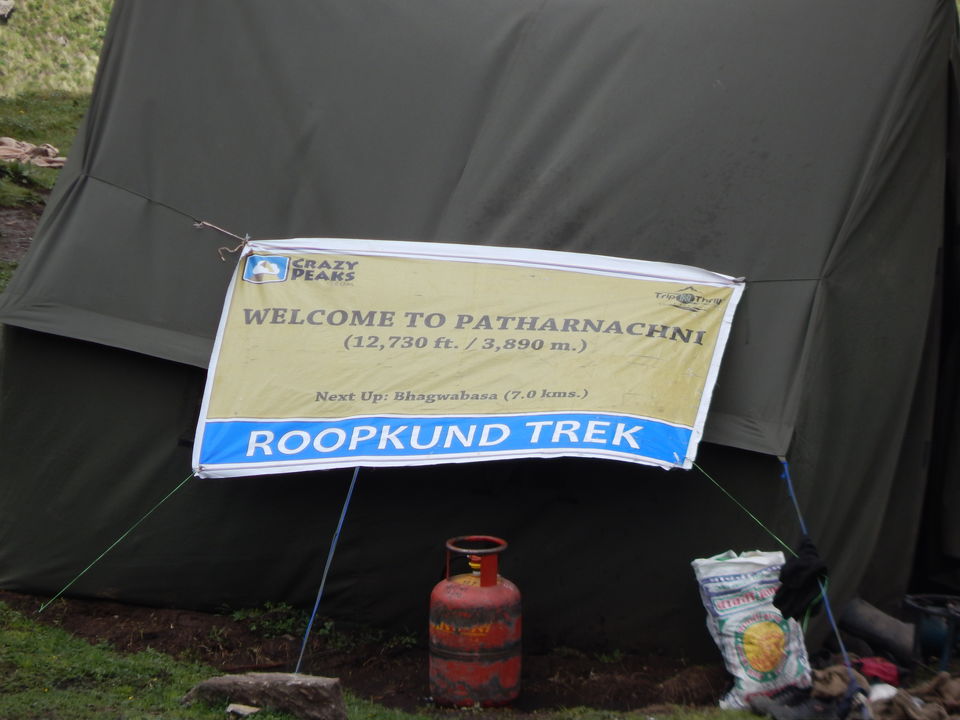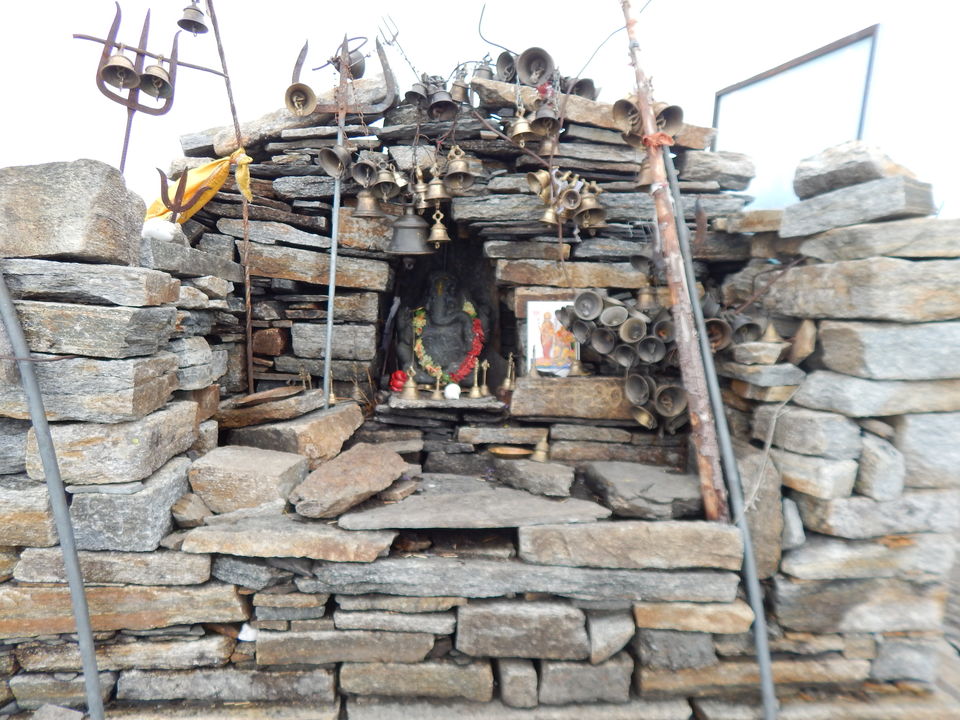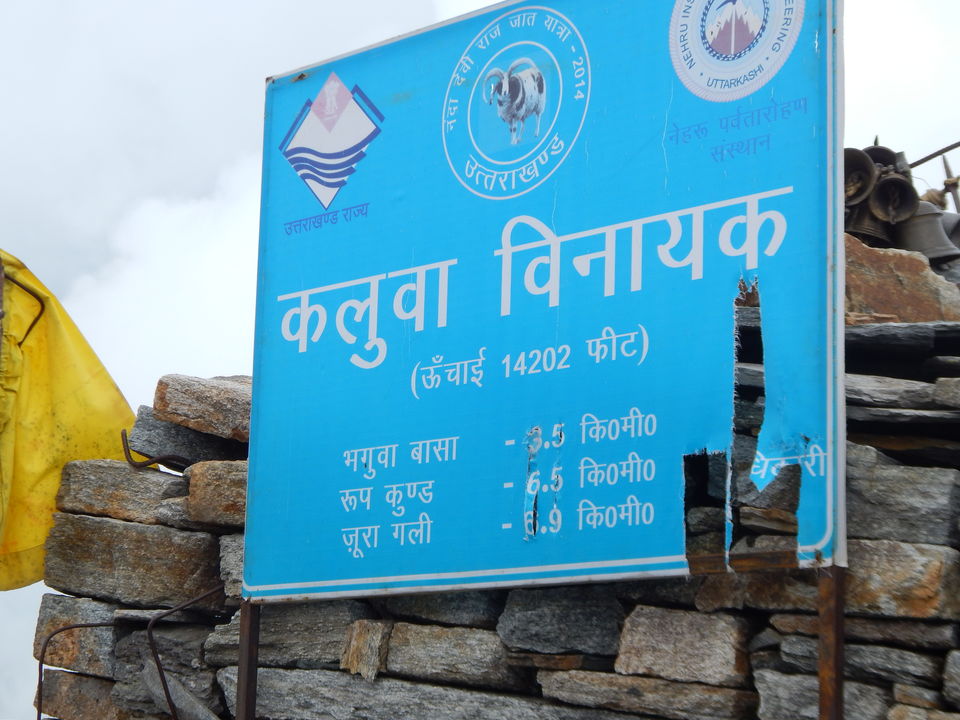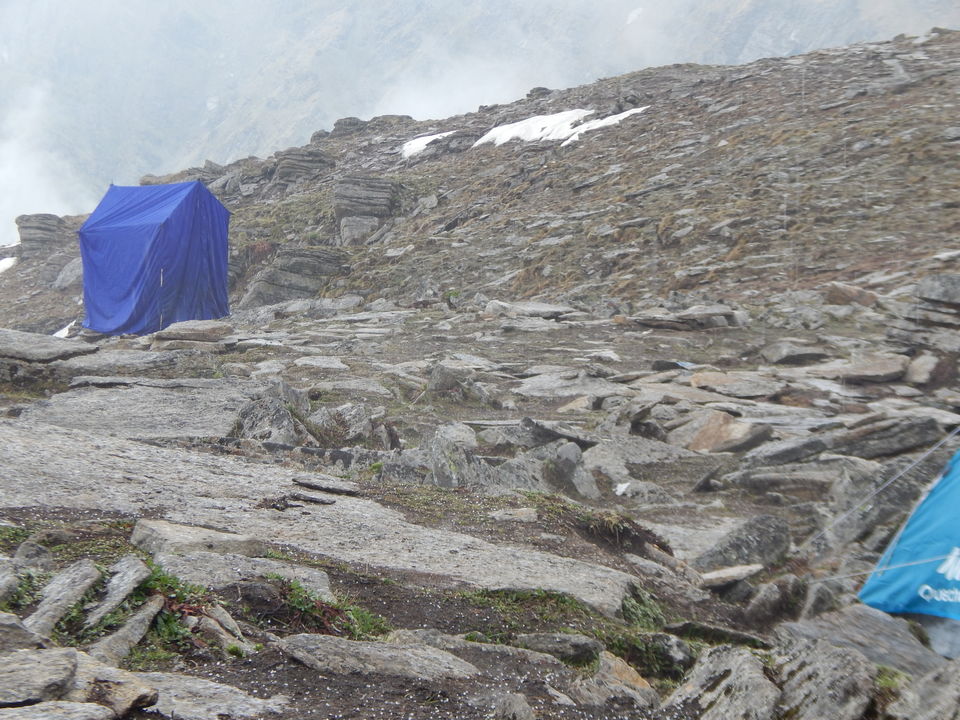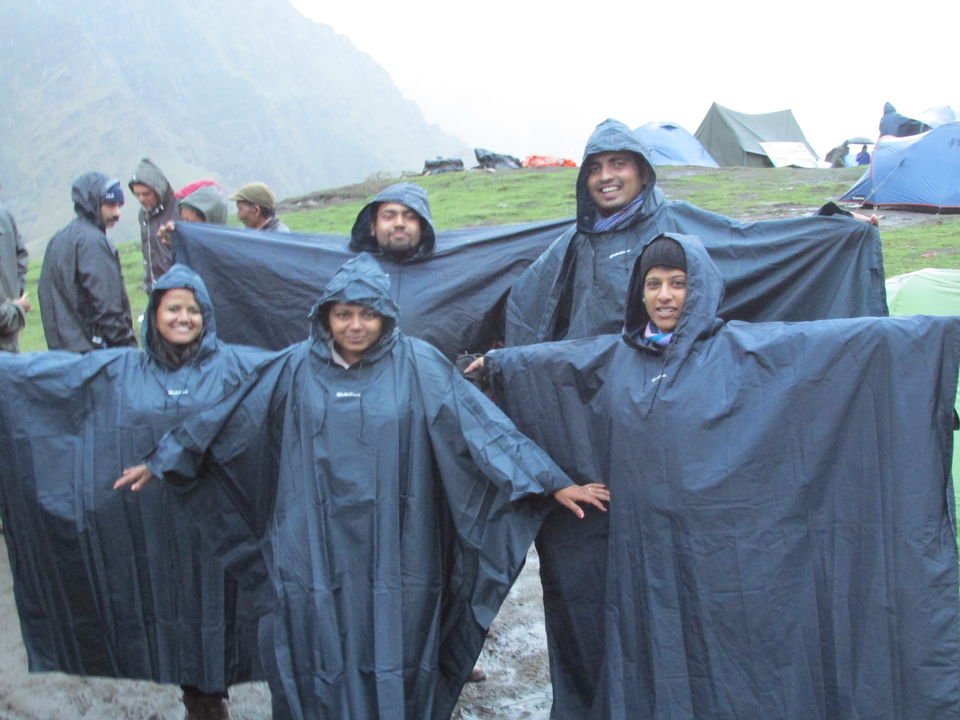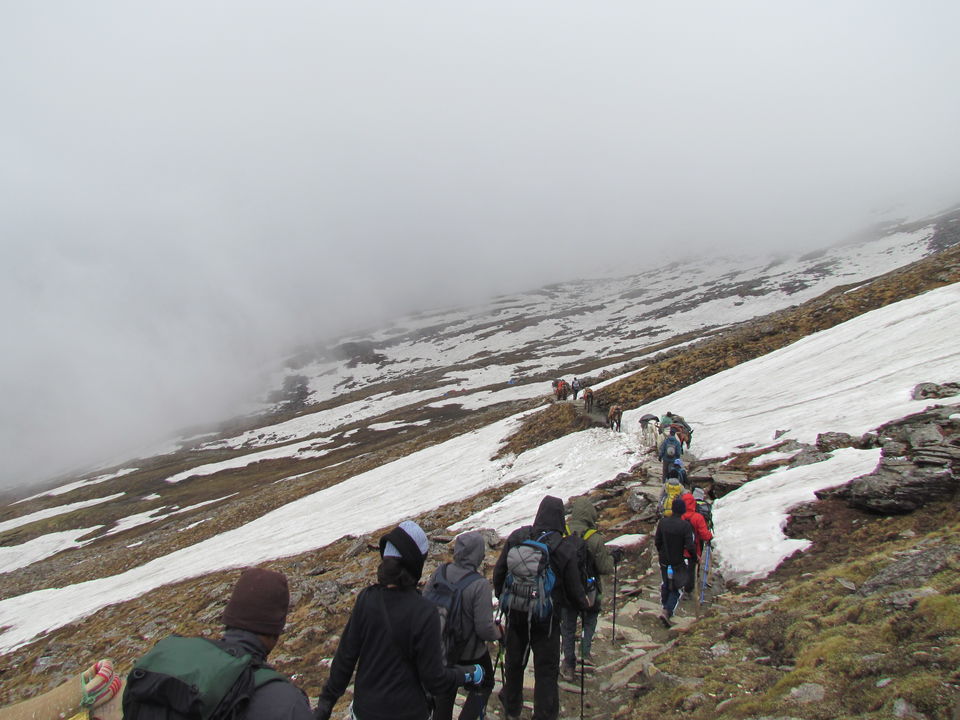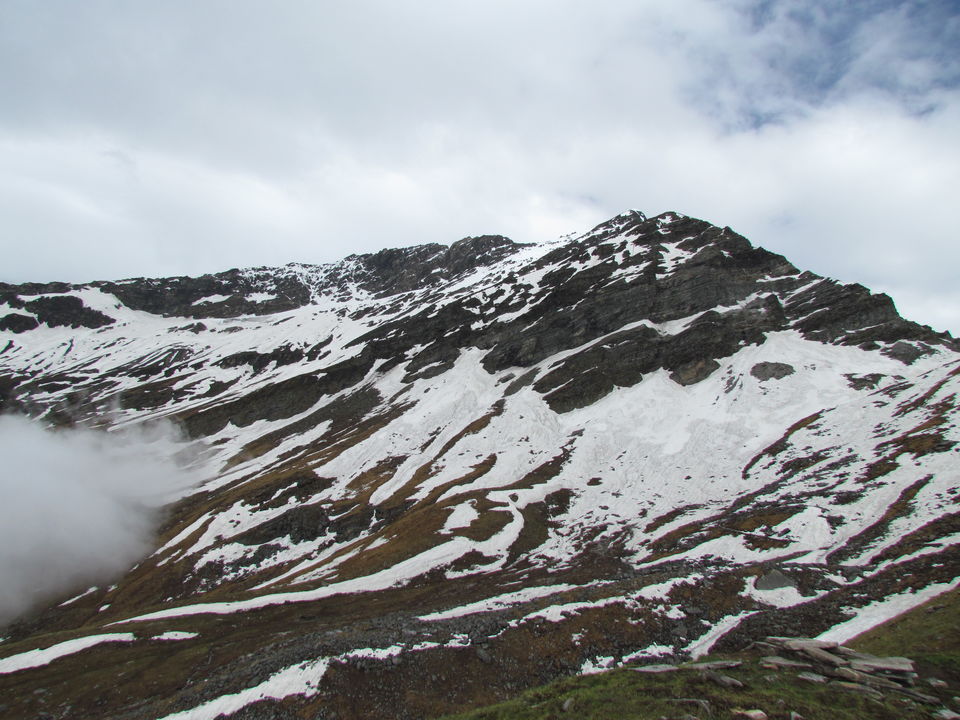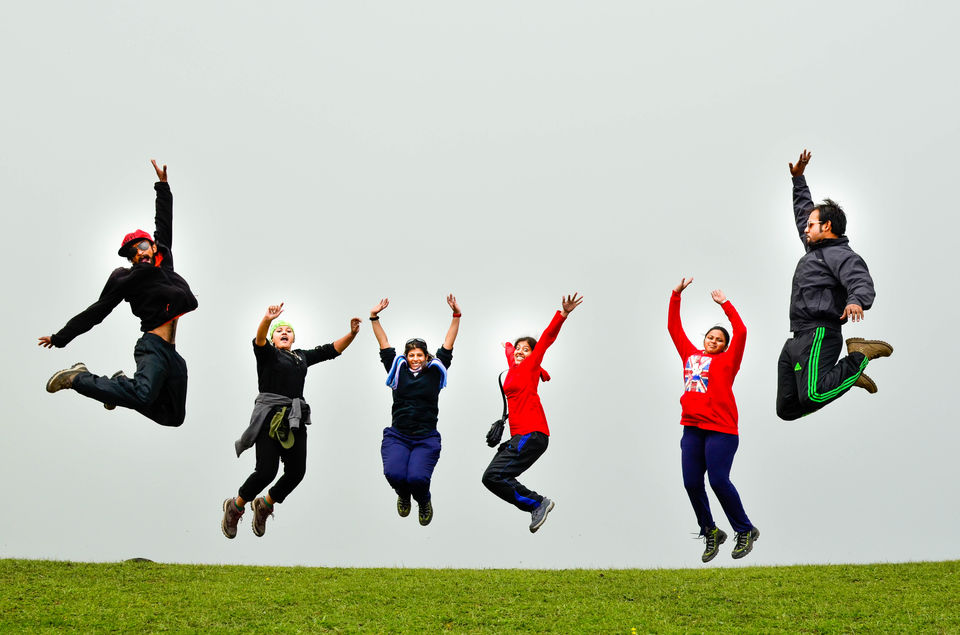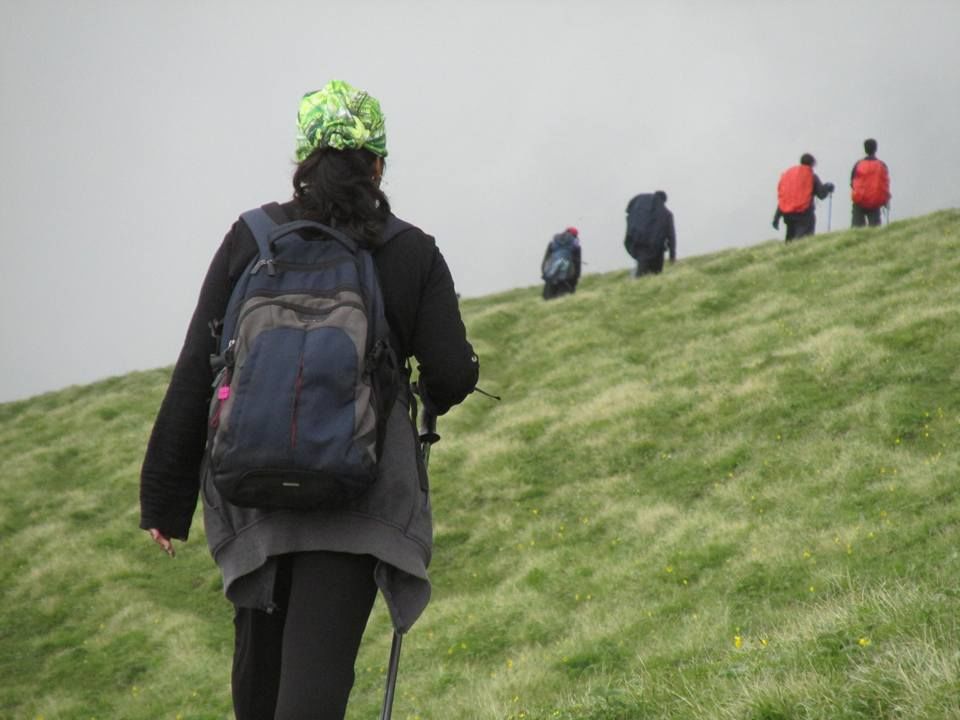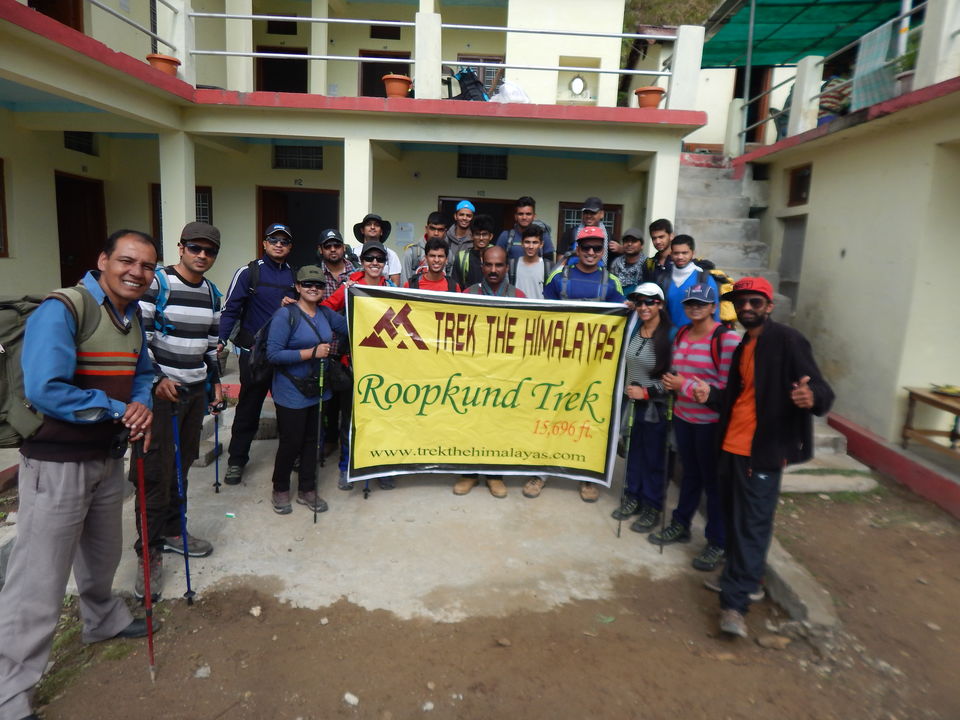 It was in April 2015 that this idea of trekking crawled into my mind. I started researching online and came across this website 'Trek The Himalayas'. I went through all the treks and asked Hema to choose one between Har ki doon and Roopkund Trek. She read about both and chose Roopkund (she was fascinated by the idea of skeletons). So, we booked it for 21st to 27th June,2015. Three girls, I, Hema & Aditi on this trek. We waited and counted for days. The Trek company had mailed us the pre-requisites (Trekking pole, trekking Shoes, track pants etc.). Somethings are really necessary. Somethings are not. Truth is...u don't care about dressing up there. All you see is the cold and heights. Take layers of clothing. Wipes, Tissues,Trekking shoes n poles are a must n a torch n a water bottle. Hire a mule definitely. Carrying yourself up those mountains is big task, let alone a bag.
So the day came. We had a train from Baroda till Delhi and then from Delhi till Kathgodam. The TTH team picked us up from Kathgodam. Its a good 10 hrs drive from there. Uphill and Downhill. Along the narrow roads on the mountains. Finally we reached the TTH base camp at Lohajung. We were served tea and snacks. Small orientation was held and we were introduced to our Trek Leader Hardik. We were accommodated into a room for four. Only one more girl, Chanchala was there apart from us. Ours was a group of 20 with 07 kids from Baroda, one elderly uncle and other IT guys.
We started our trek the next day at 8 a.m with two guides and one leader . After walking 2-3 kms on the road, we went downhill for about 1.5 hours. Now came the tough time. We had to travel all that 1.5 hours downhill time uphill now. It tests you really. Those climbing ups...it really takes u down. You start counting your steps. You say a 100 steps and then I will stop. Then u say 75 and then I will stop, then 50, and 25 and then a time comes when u wanna stop and breathe at every step. No matter how many times the trek leader says 'Keep walking', you wanna stop, sit down and breathe. The oxygen level gets to you. You stop noticing the beauty around you. You just wanna get on after that. Complete that walk and reach. But it will test your limits badly. Keep your pace is my advice to you.
Finally, we reached Didna village at about 1 or 2 pm. It was a beautiful cottage home stay on the mountain. Juice was served. Rest was offered..;). (But no sleep). Sleep apparently gets to your head and you get headaches , nausea and you don't get acclimatized soon. We were served home made lunch dal chawal roti sabzi..all of which was decent. Then we all got busy playing cards and UNO. I and Hema made evening tea for all on the chulha. We all went for our acclimatization walk after that where we had to collect dried up branches for a camp fire.We brought back some and had that camp fire. It was raining for most of the evening. After dinner, we slept at 9. It was really cold. It is this day when you start getting the headaches. It goes on forever after that. Sometimes more, sometimes less. But it is there.
After the first day, you don't get to take bath. Lohajung is your last bath for the next 6 days. The next day we woke up at 6, freshened up, had tea and headed for Ali Bugyal. It had rained all night so the path was slippery. After the first day, you get to the idea of climbing so it is just wait and walk after that. You enjoy the scenery too. It was foggy and cold. We started with quite a few layers in the beginning but the layers came off as we walked. We got heated up. Up we went through small jungles and reached the meadows that day. The valleys look beautiful. The clouds passing through you. The cold. The sweat. You start enjoying what you are doing. The meadows came and we saw the first glimpse of our tents. This was my first experience of tents and sleeping bags. It was really exciting.
The walking time on the second day too was 8 - 2 p.m. Some reached before , some reached after, but all reached at their own pace.
We were served lunch by the crew there. There were two toilet tents. A big ditch was made in the toilet tent where you had to do your stuff and hide it with the mud. ..:D It is all yucky now..but there..we had to do what we had to do. It rained again after 3 p.m. It was very cloudy. But at 5, the clouds moved and we got the first glimpse of the snow-clad Himalayas..just behind the green ones. It is mesmerizing..That Mahadev song literally starts buzzing in your mind and you start imagining someone really sitting there with a snake on his shoulders and Ganga in His matted hair...:). We sat there looking at the mountains.
Acclimatization walk, campfire and dinner was done like the night before. We slept in the tents and mind it...it was really very very cold. I never thought I would wake up before the fixed time of 6 a.m. But a voice of one of our team members..hey look at that beauty...woke me up. I mustered the courage and woke up to peep outside my tent. It was beauty in superlative degree. Golden mountains..Sun-rays reflecting off the top of the snow-clad mountains and shimmer reaching my eyes. I couldn't blink my eyes. I thought I might miss this beauty for a second. It was really very beautiful. There are moments which say you didn't commit any mistake doing something and it was this moment that declared this trip memorable and the headaches perfunctory.
After breakfast the next day, we started walking again through the long trails of meadows. It was all meadows that day. A little uphill and a little down. We had lunch that day on the go. Soyabean Roll and boiled egg. We reached the other part of the meadows Patthar Nachani at 2 p.m. Lunch was served. There was one stall of Maggi and Omelletes there. Do try that. Hot maggi in that cold. Perfect combo. People played volleyball on those heights that day and UNO inside tents. It rained all day after that and got really cold.
The next day was steep uphill walk towards Bhagwabasa. You will hit the first trail of snow there. Half way, you reach Kalua Vinayak Mandir. And steep way across that will reach Bhagwabasa on the rocks !! The tents are placed on the rocks. The surface of the tents seems uneven. The weather was really bad after reaching that place. We got to practice in the gaiters for walking in the snow. But we couldn't take our journey further. The weather had turned cruel on us. We had planned to start the walk to Roopkund at 3 a.m in the morning. But it rained all night . And it rained all day. We couldn't go ahead. We waited for the rain to stop. But it didn't. At 11 a.m. in the morning, in those heavy rainfalls, we headed downwards to Patthar Nachani again. It was a hell of a journey. The rains gushed in and made us wet from top to bottom. We could barely hold our bodies. The trekking shoes were soaked with at least 2 liters of water which made it heavier. Every now and then a strong wind would blow and our ponchos would fly off our bodies. It was all out of control. However, we reached the tents of Patthar Nachani at 4 p.m. We entered, changed into dry clothes(which was a difficult task) and were served tea inside the tent. Dinner was served and we were called at 8 once twice or thrice. I didn't care. I was inside and didn't come out. My bladder was full but still..I didn't come out till 6 a.m. in the morning when I couldn't control any more. As a matter of fact, no one had had dinner the previous night. All were fettered up in their tents. No one could come out due to the 'Zero' degree temperature outside. Guys, I heard, had collected whatever food items they had with them, shared evenly and slept quietly. The food items included Glucon D and a few chocolate bars..:D. Imagine eating Glucon D for dinner. But the cold does not let you do anything at all. We kept shivering for hours before we fell asleep. The sleep too was not a good one. Every now and then, I woke up due to the storm outside.
The next morning, we started our onward journey to Lohajung at 10 a.m. It was still raining but luckily it stopped in an hour. The path of the meadows and jungles all were slippery. But we had to walk down. We had our lunch again on the way. And finally reached Wan village from where we were taken to Lohajung in a car. The night at Lohajung basecamp was spent eating, getting drunk and revisiting the journey.
We headed to Kathgodam the next morning and reached by 5 p.m. The train journey from there was enjoyable too. We knew all our team mates well by then. Everybody had a common stoppage at Delhi. So we all had the same train.
We said our byes at New Delhi and we three girls came back on 28th morning. The day was spent resting...!!! LONG RESTING!!!!
With memories only, I look back and wanna do it again !
You think that this Trek would be easy for you...go n try!
You think that this Trek would be difficult for you...go n try!
Whatever u do, wherever ...do it once in your life...
In treks like this, you get to know what surviving is!! Coz in that tent of Patthar Nachani, with rain thumping the walls, storm hitting to unearth the poles, with a bladder ready to explode, I really thought it was my last night..
But it was all worth it!!