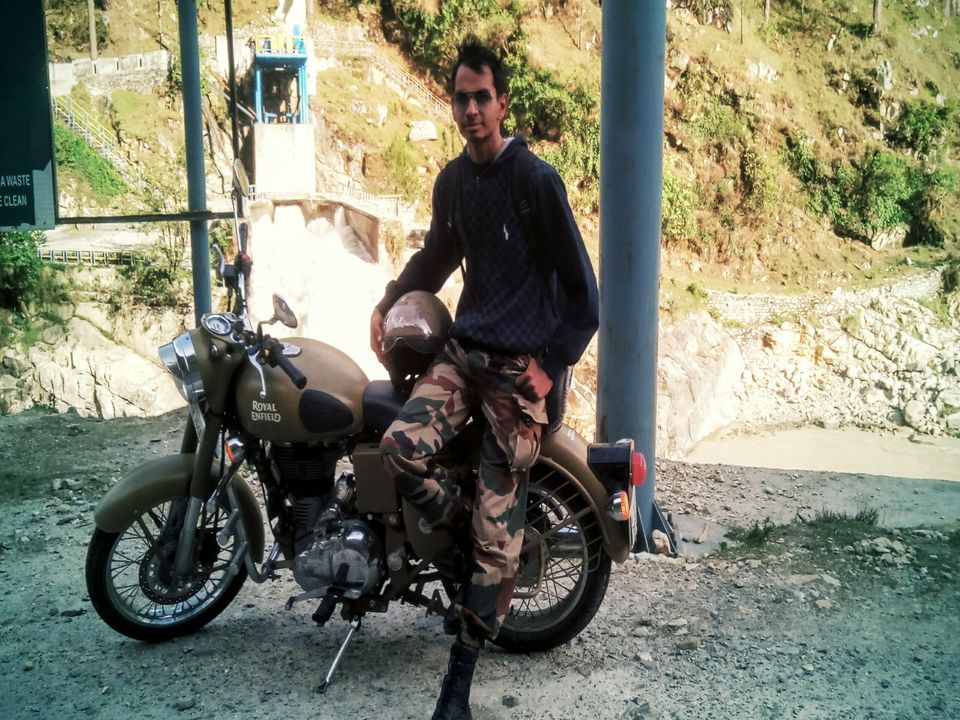 On this independence day, Standing on the terrace I was bit high ;) People were flying kites. They were more interested in cutting other's kites rather than enjoying their own flight. With the sun setting down, the sky was painted in orange colour, The birds flying back to their homes. I stood amazed by the marvelous of the Qutub Minar , surrounded by the green patch of land. Each minute a flight descends as its belly touches the tip of qutub minar in the long distance. The winds were gushing all over. I was standing on the edge of the cliff. I wanted to FLY . One ,two and three, I jumped off the platform. It took me three seconds to realize that I wasn't flying but falling rapidly. Didn't know when that 83 mts is going to end. STOP. Let's go a week behind. 7 panick attacks in 5 days. With enough disappointments and frustrations I had a huge spat with my best friend. I started my bike at 0300 hrs. Being tired to failing to reach every pre fixed destinations of life, I chose to travel now with no destination. I wore my army combat pants and boots which eliminated the last thoughts. I hit the highways, the roads were empty, the sun played hide and seek with the clouds. Though I ve heard all songs in my playlist, I understood it for the first time. I reached a family friends place in Dehradun for lunch. Uncle and my dad served together 12 years back in Delhi. Me and his two kids ,now as adults reminisced the little fun we had during childhood , testing each others memory. The next day I planned to visit mussoorie and stay for the night. Since I don't like crowded place, I took a diversion to bhatta falls. A classy 5 step water falls. The minimal population made it a perfect place to enjoy certain solitude. I trekked along the waters to sit on a stone n the middle of the river. It was bit sunny and I rose to leave.
Reached the view points of mussoorie and recced through the mall roads. It was yet 1500 hrs. I decided to ride further more to escape the crowd. As I started a sign borad pops up- Dhanaulti ( 36 kms). As I reached Dhanaulti, the temperature dropped to around 12 degree celcius. All I had as a sweat shirt and every time the wind blew , cold crawled through my face. A nice room for 500 bucks. I had two cups of chai and sat in the corridor facing the step civilization. Few bunches of houses here and there inbetween the valley. I ate half kilos of chicken all by myself and squirmed into the cozy blankets. I switched on the Tv to watch ABD smash all balls over the boundary. He was then playing for RCB. I woke up as the morning sun warmed up the air. The owner said, I should visit tehri dam before leaving
. As it was just 30km from there, I thought of reaching dehradun by night after visiting the dam. Riding in the mountains made me excited but was also time taking and needed a lot of alertness. As I reached Tehri small huts from outskirts turned to tall buildings in the city. The dark, dew filled pine forests dismantled into a barren lands with the river kissing the cheeks of the city. I got reminded of my dream of riding in such places when I saw " Jab thak hai jaan" . With the realization of dream come true, I got the feeling of " I need this more". I decided to travel further. I saw a sign board – Uttarkashi (100 kms) . Being a south Indian I thought it is the HQ of kashi. The roads were filled with rocks and were dusty. If you get trapped behind a bus you will feel like riding in a dessert storm. OH! Wait! I was indeed riding in a dessert storm ( 500cc) :P . I reached Uttarkashi by 1400 hrs and had lunch. It is then I realized that there was nothing else but a commercial hub from where roads to Yamunotri,Gangotri and Badrinath diverged. I ahd my first BT of the trip. I saw nearby places. The nearest was Yamunotri (60 kms). I knew I would reach there well before dark. Following Google maps ,I rode up a hill which paryed its way from the highways. The hill had recent slide ,and roads were just pebbles ,leaves and branches. After pushing through really hard ,I met villager who said that this village is last and there are no roads beyond. With more frustration and anger kicking in, I rode down. I didn't want to go back with a boring travel story. After an hours travel gone waste, a sign board pops – Gangotri (96 kms). I made a quick calculation according to which I will reach my destination by 1830 hrs. Little did I know my driving mathematics was equally bad as my original math. After an hour's ride I just completed 35kms. Being a chai addict ( Thanks for the army background. Be it 46 degrees or – 2 degrees, we need chai). I had to shut down my eyes every time a tea stall passed by. The curvy roads reduced my speed and I had to push hard. Technically I should have reached my destination, but I was now sitting in a tea shop with 50 kms more to go. The shop had a bench on the edge of the cliff. Far down below was the mighty ganges. The gushing of the river echoed through the valleys to create a noise. My freezing fingers got relaxed by the warmth of the cup. I felt lik a a king when I said to those rivers, we both started at same place, look where you are now. I bought a pair of woolen gloves and throttled. The roads got darker but the skies were bright. I didn't know if the sun was setting down or I was moving towards the sun. When the roads blushed,it became cold enough to make me shiver but when she smiled at the sun, the warmth was like seeping in your mothers lap. As time passed, energy drowned and I started to felt exhausted. Loneliness crept at times. Had to snort the two drops from nose, 15 minutes once. Light reflected suddenly from distance peaks. They were covered with snow. The view stopped my breath for a second. All the energy came back. The thump of my Enfield echoed and synced with my heart beat.It started getting dark .When everyone was descending, I was the only one to ascend. There was a last check point with few resorts. Gangotri was just 5 kms ahead. Since I didn't want to waste time, thinking 5kms should harly take 15 mins to reach. I travelled up without stopping. Suddenly the beautiful BRO roads vanished. The road was filled with sand and rocks. Pitch dark it was, the 25 mths ahead of me was visible from the minimal headlight. Forget how it looked in my back. Praying to all imaginary God(s) out there, 5kms after 3 0 minutes no sign of life. With slight fear kicking in I decide to recce for another final 2 kms. If its same I shall return to last check point. Being a bit selfish and addicted to the riding at 3 kms there was light. Joy was all over the place! OMG! I forgot how human civilization is! As I entered the arch, a guy asks me, " bhaiya, room chaahiye kya?"
I replied " kajdhd hadhuh juaaa?"
" Bhaiya aap kya bol rahe ho ?! ?! ?! "
I rubbed my palms. My body got way too acclamatised to the cold. An then asked him " kambal hai kya?"
when I sent the pictures to my mom. She got jealous. The month my mom and dad travelled through the same route I took. Everyone would be happy yo go back to their childhood if possible. This is my childhood cause my life has just begun. I am not a tourist nor a wanderer ,I travelled through time.
I checked into a small room.Had dinner and ended the night with two cups of chai. It was too noisy. I thought there should be some kind of waterfall nearby. I had good sleep till 0800 hrs. I went to a restaurant to have breakfast. I picked up my chai and went to the balcony where the noise came from. I was shocked to see the river tearing the Earth apart just 30mts beneath me. I was surprised. How did the river come up so close? Did it climb when I was sleeping? There was a small temple where the crowd rushed, demanding for things from God. And there I was sitiing by the river side, staring at the flying snow from the peak tip. I felt the presence of God in nature. From pollution to scented air, pine forests to snow clad mountains, streams to river. Such a journey was unprecedented.I played "Tom and Jerry" for a while with the freezing river. Though I wanted to trek the 18kms to Gowmukh the starting point of river Ganga, I didn't as I didn't have enough clothes to keep myself warm. I had to return and it was as beautiful the ascent was. Within minutes of return journey, first accident took place. A sudden back break and I slipped to my right. My legs got trapped underneath my bike. Instead to struggling to move I just laid on my back to face the clear blue sky. The sun made my face warm. I was just like that for 10 minutes before the first passery came to help. I rached uttarkshi by lunch. I called my Dad for the second time in whole journey. With no network in mountains I could just inform my mom. My dad mocked how I got selected for Officers training back in 2013. I reached Dehradun by night. There were so many beautiful things. A bridge from where you can see two big streams join to form a river together. One was all muddy and the other was crystal clear blue. But the most beautiful thing than nature is humanity. With labourer's on road, their kids were playing. My few chocolates to them brought smiles on their faces. That my friend is how beautiful heaven would look like. After getting few scolding from aunt I got to have tasty home cooked dinner. After 2 days of rest I planned to leave Delhi. With a little embarrassment of sudden expenditure got my Dad's call. He encouraged me to ride to Rishikesh and said its one time thing. The next day I headed off to Rishikesh, with adventure being my basic need of life I couldn't do the famous river rafting as I was alone. I rode 13 kms ahead on hills. I was standing on the edge of the cliff. I wanted to FLY . One ,two and three, I jumped off the platform. It took me three seconds to realize that I wasn't flying but falling rapidly . A jerk and I defied gravity for a while. I went up again shouting in excitement. I did India's Highest bungee jumping. Do you remember M

r.Bean? The episode where he has to jump into the swimming pool from the board? Such funny things happened in our training academy. Because of my medical condition I never got an opportunity to be there. I always had this question. Would I have jumped or backed off and then jump when the ustaad kicks you into the pool :P . Finally I got my answer. I wouldn't have backed off! I reached the ghats for thr evening arthy. It was eye pleasing and spiritual. But I came back ith one question. "Why do we pollute the river we just prayed?" The trip of no destination turned to be a trip of achievements. I didn't start this journey seeking answers. I went asking questions. I didn't want answers I wanted solutions. I asked Why did I leave engineering? I asked why did have to get medically boarded out from the army after one year? Why am in Delhi? Why friendships end? Everyting happens for a reason, right or wrong is debateable. For me all of it happened for mr to be there at that point of moment. Just in "Present" to " Live". I reached Dehradun by night and left for Delhi the next day. The Empty highways and my playlist once again. When I came back the problem were still there, but I had solutions in mind and the confidence to face it. I missed something, the trip being in "past" , I miss the weight of facing problems. That weight is left in past. I watched the border movie without crying which is more difficult than bungee jumping. We always want to cut other kites, even if e fly high we want to be controlled by the string. Have you ever wondered how beautiful our life would be if we are kites with no strings. They flow with the air, ups and downs gently with its own pace. Lets be like kites with no strings. Free and independent. When people question me " Didn't your parents scold you ?"