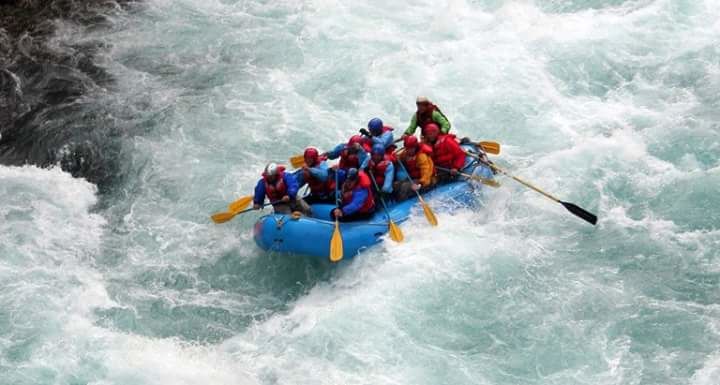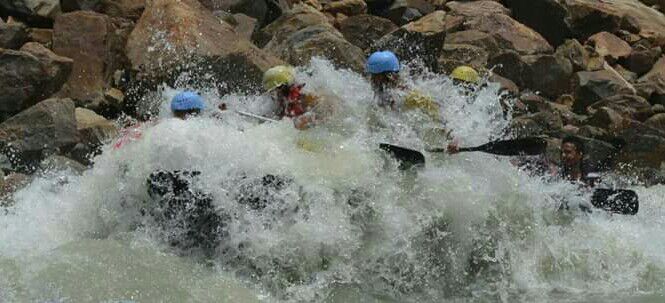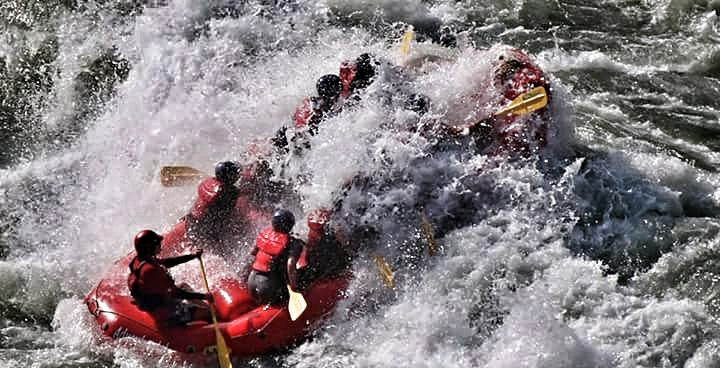 Imagine a new year morning, the temperature is 3 degree Celsius. You are traversing in super cold water, the flow of river ringing in your ears and the blast of chilled air makes your teeth chatter and reminds you of the line "Brace yourself winter is coming". Occasionally your heart flutters when the rapids of the river takes you down but then you are out and you laugh out aloud at the exhilarating experience. What if I tell you along with the high charged adrenaline experience you will also wash your sins…!
Well this new year my ultra-adventurous (I -don't- want-to-stay-at-home) husband made sure I do one thing I am scared of - water sports!!. So promising me the serene fields of Punjab he actually took me to the land of wild mountains - Uttarakhand, and when the world was waking up with a bad hangover, we were in middle of river Ganga rafting!!!
Now what is so cool about rafting in river Ganga, well for starters it comes under world's best rafting destination. The river is surrounded by mountains and greenery on both sides and when the rapids are not making you pray for your life you can actually enjoy the serene beauty on both sides. I had the privilege to be in the same raft as the legendary Virender Nautiyal (one of the best rafters, won many awards, saved many lives during Uttarakhand floods… the list is endless) and so I was not that worried about my raft turning in rapids. See the rapids in Ganga are ferocious (3 blind mice and cross fire will definitely give you a taste of water) and if you are not with an expert guide chances are your raft will turn (especially in Roller Coaster which is a Grade-III/IV rapid). Hence one of the most important thing is to select a good rafting company when you try rafting in Ganga.
There are few tips which you can follow
1. Water sports is the most safest of the adventure sports, as whatever goes wrong you will be in water and with a life jacket, hence your survival chances are high (quoted by Mr. Virender Nautiyal) hence when you are in water throw away your worry and enjoy the experience
2. Your guides are experienced, and they will take care that you enjoy your trip and nothing unfortunate happens. Hence trust them and follow the instructions
3. Rafting is a team sport, no one can maneuver a raft alone, hence it is important to paddle as a team. Usually your guide will ask you to mimic the actions of the person sitting opposite to you, do that as it will help balance the raft
4. Listen to instructions carefully, when a rapid is tricky your guide will ask you to sit down, its important to do that otherwise you might fall in water
5. If anything happens and you do fall in water, try to keep your head up and spot the raft, your guide will save you. Usually all the rafting companies have a life guard along with the raft who travels in a kayak to guide the raft and also save you if anything unfortunate happens
6. Please wear sensible clothes, wearing shorts and tshirt is fine (preferably synthetic), but wearing short skirts is definitely a bad choice (speaking from experience of witnessing this). Avoid cotton as once you get wet it will make your clothes heavy
7. Apply sunscreen if you worry about getting tanned.
8. Every raft has a dry bag, so you can give your wallet and phone to your raft guide and he will keep it in the dry bag
9. If you are rafting in Ganga please dip your hand in the river and drink the water, the feeling is awesome
Now there are different routes you can choose to for rafting in Ganga below are few popular routes
1. Brahmapuri to Rishikesh River Rafting
Level: Easy
Length: 9km
Approx time: 1.5hours
2. Shivpuri to Rishikesh:
Level: Difficult
Length covered: 16km
Approx time: 3.5hours
3. Marine Drive to Rishikesh
Level: partially difficult and partially smooth sailing
Length covered: 24km
Time: 4.5hours
4. Kaudiyala to Rishikesh:
Level: Difficult
Length covered 34km
Approx time: 8 hours (this includes snacks and lunch depending on the time you choose for rafting)
Normally rafting comes as a package and you will get to stay at the campsite and enjoy rafting in morning (depending on the slot you take). The stay includes food. Tents are in well-equipped & washrooms are either part of your tent or separate, either ways they are clean and have 24 hours hot water supply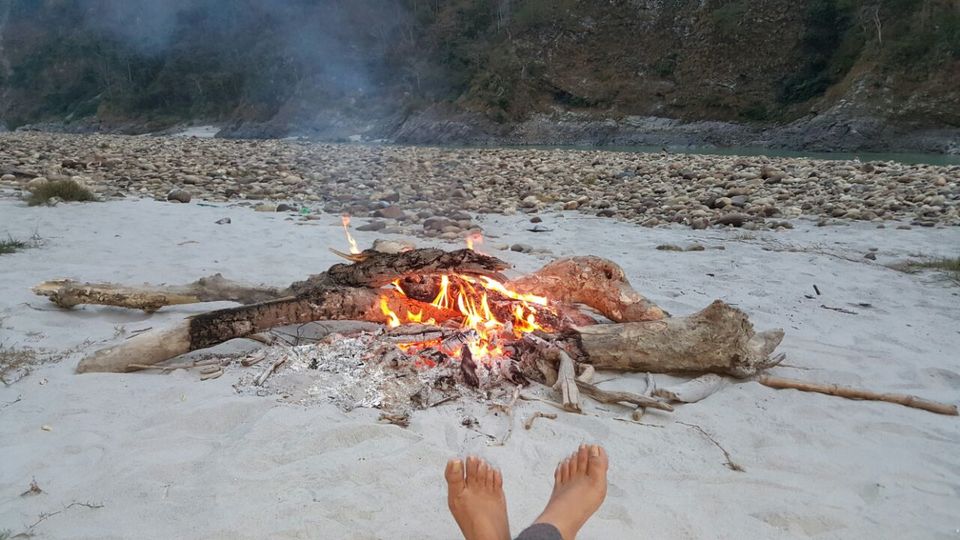 We choose to celebrate 31st by doing campfire at the banks of river Ganga and sleeping under the stars, if the company you choose has a campsite near the banks of river they will arrange for small tents (to just sleep) and campfire for you. Trust me sleeping on silver sand under the stars and hearing the gurgling sound of the river is one of the life time experience and should never be missed!!
Rafting cost varies from the route you choose and the package you select but if you take one night stay with rafting it is somewhere between 1600-2000 per person depending on season. We stayed at Kalindi camp byasi (contact person Mr. Virender +91 9761o09905). The campsite was clean surrounded by greenery and mountains, they also have a campsite next to the banks of Ganga River hence we could spend the night next to the flowing river. If you do visit this place please try their special Tulsi tea.
Frequent searches leading to this page:-
rafting in rishikesh price, rafting in rishikesh season, river rafting in rishikesh booking, rafting in rishikesh online booking, river rafting in rishikesh best time, best river rafting in rishikesh