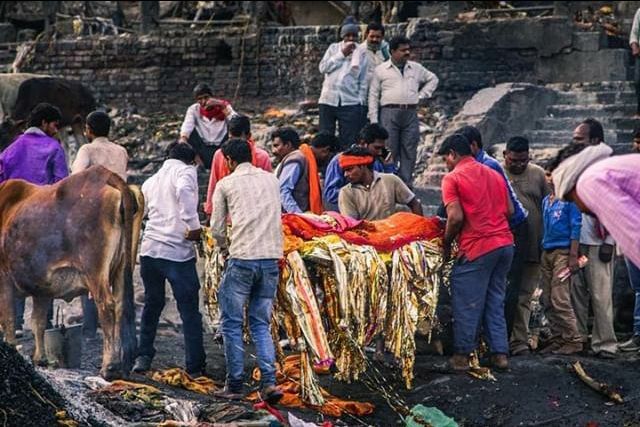 Chaahe Kashi kaho, Banaras Kaho ya Varanasi
Ye nagri sabke dilon mei basti hai.
A city that speaks its history
A city that is rich in culture
A city that embraces you with warmth
A city that leaves you in awe
A city that intrigues your modern mind
And,
A city that awakens your spiritual soul
Let's take a walk back in time.
When I first planned to visit Varanasi, I remember asking a close friend, what is this city like ??? And he smiled, saying "Go with a blank slate."
And that is exactly what I did. I stepped my foot on Varanasi Railway station with absolutely no expectations. I walked in with an open mind to be surprised, shocked, mesmerized, and experience every little moment this city had to offer.
Visiting Kashi was like reading an old book - an old book with a sweet, musky smell that lingers around to give you some nostalgia.
Walking along the streets of Kashi felt like walking into a postcard. A postcard that was sent so long ago.
I was taking a walk in one of the oldest inhabited cities in the world.
I was taking a walk in one of the holiest city of Hindu Culture in the world.
Yes, it was overwhelming. All that history, did feel unreal. But that's the beauty of Banaras, it takes you by a sweet surprise.
A walk on the Ganga Ghats is all you need to distress yourself and get your thoughts aligned.
I spent hours sitting on Dasheshwamedh Ghat, watching Sadhus do their prayers and rituals, some engaged in palm reading, some are busy reading the holy books. It was blissful observing how people worshipped The Holy River of Ganga every morning and evening with no inhibitions. Evenings felt like festival - so lively, so vibrant, The Ganga lit up with hundreds of diyas as an offering by the devotees.
A visit to Manikarnika Ghat, left me speechless. You see life come a full circle. Here, death is celebrated, as it is believed, that you are now free from worldly possessions and are onto something bigger.
Kashi Vishwanath is one of the oldest and the holiest temple of Lord Shiva with huge significance for Hindus. The Mangala Aartti at 3:00am is by far the most memorable day of my life.The divine energy is absolutely soul soothing. The spiritual connection in this city is evident even to an atheist I am sure.
You would often find small groups huddle around the handful of open stalls, sipping on Chai and waiting for the sun to break. 
The sunrise along The Ganges would often paint a canvas in the sky. My mornings began with a realization that a few things are better without human interference.
Varanasi is a beautiful chaos.
Leaving something that has consumed so much of you by all senses, is painful.
Yes, my heart ached a little, but I left Varanasi with a wide grin on my face.
And a bagful of memories.