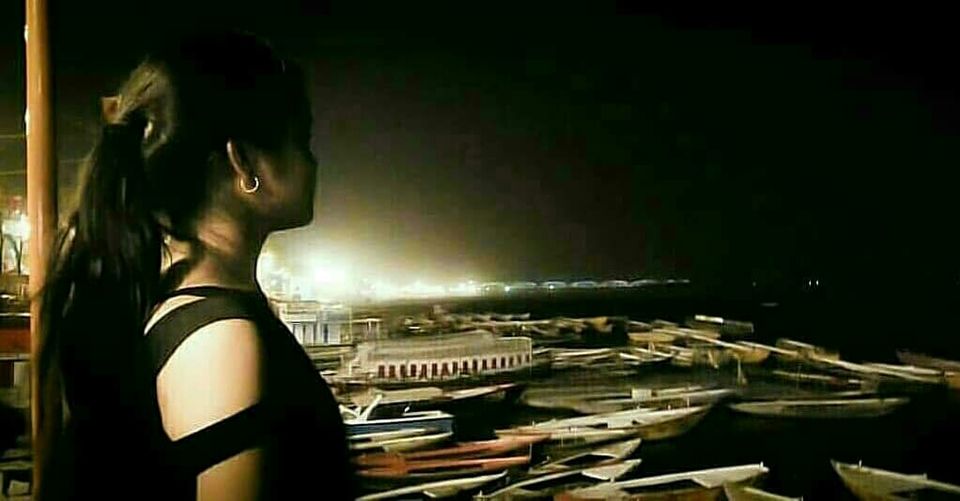 Varanasi is my birthplace and i can't resist to visit Ganga ghats twice or more every month. Earlier i used to hate Varanasi because of its poor maintainence until when i realized it's historical importance. I'm a history student but i had no interest in what was taught in the class. My interest was always in Mythological stories and sites. This had led me to start a youtube channel.
Whenever me or my mother gets tired of worldly affairs the only think that comes in our mind is to visit Ganga ghat. Ganga has become a escapism for us from our worldly matters. Though river Ganga is very polluting, it never fails to give us positive energy and good vibes to face this competitive world.
I'd visited river Ganga early morning, afternoon, evening but never at night after arti (arti - everyday ritual at the Ganga ghats) because people think its unsafe for girls. But as i always say nothing can stop me from exploring. I visited Ganga ghat at night after arti around ten and to my surprise there was nothing to feel unsafe. There were very few people which is rare. Actually the purpose of my visit was to get a peaceful boat ride but the climate was unsuitable. The fast blowing wind might drown the boat. But that didn't let me down instead i sat near the river spend some quality time with the river Ganga. I'm so close to river Ganga that now it's like a part of my family. Whenever i visit river Ganga it never easily allows me to leave but i had to because there are certain work and duties to be performed by me. River Ganga is a big escapism in my life and i'm proud to the part of it.