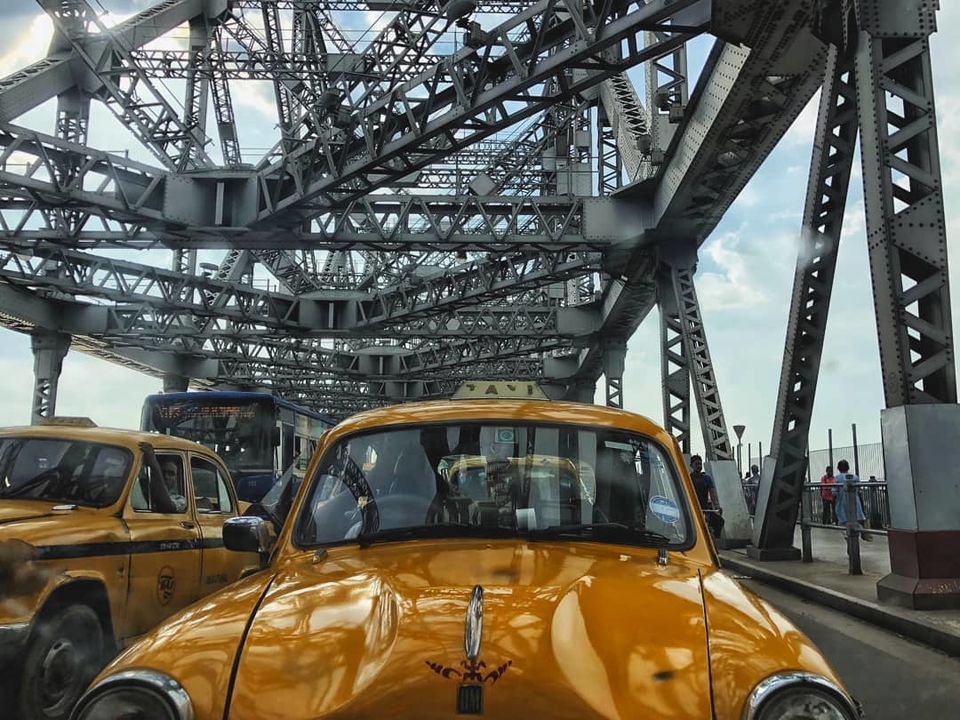 "Time stands still in Kolkata. It has a river so lazy, so massive and so slow, that time forgets itself. It is the best city to fall in love - both in and with. ❤ It has Park Street where people dine and revel, and it has an entire street for books. The city has time to spend, to cherish and to waste."
I have been living in Kolkata for 5-6 years now. I came here back in 2013 when I was getting started with my college. And Kolkata was where I wanted to be, given its proximity to my hometown and it being the hub of CA students.
I remember my intial days in Kolkata, how I was having a difficult time moulding in this overwhelming city life. How I had to ask again and again what people said, when I didn't understood bengali. How difficult it was to commute because even the buses had large bengali letters written all over them. How all the corners of this city looked so similar and yet so different in their own way.
Recently I was in a conversation with a friend who left Kolkata after being in relationship with this city for 6 years and she told me how, badly sometimes, she misses this city.
I have tried to list down things in this list that keep my love alive for this city.
1. Because the smell of books and college street are toxic.
College Street is like the mecca of book lovers throughout the country. There's no book lover who might not have heard about this place. College street is where you can find each and every book that has ever been written. And the cherry on the cake is the prices of these manuscripts. A mere 100 bucks can help you get the best books that are out there in the world right now. Each book here has a story to tell cause no body knows how many hands have turned its pages and how many eyes have seen its stories.
2. Because street food is what your lips carve for.
The street food scene in Kolkata is heavenly. And this is something that every resident here takes pride in. Whether it be the Tibetian Momos or Chinese Noodles. The North Indian Naans or the South Indian Dosas. Kolkata's street has it all and better. The Puchkaas here will make you forget all the Panipuris and Gol Gappes you ever had.
3. Because history here, is charming.
Everything about this city is historic. Once a capital of India, this city has so many stories to tell. Each building has its own charisma and each structure has its own magnificence. Whether it be the world famous Victoria Memorial, the engineering marvel Howrah Bridge, everything is scenic and picturesque. Every street you go into or every turn you take holds something new for you.
4. Because Restaurants at Park Street are aesthetic.
It is surprising how the cafes and restaurant scene in Kolkata has boomed in the last few years. And what's worth noticing is the fact that how diverted and attention worthy the aesthetics at these places are. Restaurants in Park Street are all really happening and the ambiance of these places will take your heart away.
Bonus Mentions - Restaurants in Bhawanipore, Alipore and Camac Street.
5. Because; cheapest transport.
Transport in Kolkata is easy, cozy and light on your wallet. The metros, the buses, the taxis and the autos are all way too cheap. I remember reading an article that said that Kolkata has the cheapest transport in India. Metros in Kolkata are easily accessible and the best way to travel in the city. The buses have been painted in a uniform colour more or less. The trams are slow and will take you back in time. And the yellow taxis, Oh! The yellow taxis.
6. Because Bhootnath has the world's best chai. Period!
Bhoothnath Mandir near Girish Park Metro Station is a crowded spot in Kolkata. People come here in huge numbers on Tuesdays and Sundays. This temple is on the ghats of Hoogly River and has a scenic view overlooking Howrah Bridge. The Chai stall nearby sells chai worth Rs.20 and; boy, oh boy! If you are a Chai Addict, you ought to have one! The sunsets at this place are very lovely do plan your visit accordingly.
Bonus Mention - Chai (and Milk Cola) at Balwant Singh.
7. Because Burra Bazar and Esplanade are street shoppers paradise.
If you are a pro street shopper, you will need to sharpen your bargaining skills and get to these places. They have everything in store for you. Shoes, Clothes, Books, Toys, Bags, this, that. Burra Bazar is a place that is the supplier to many markets in the nearby cities and states.
Bonus Mention - New Market and Chandani Chowk.
8. Because art is the way of living in this city.
I believe that art is in the DNA of Bengalis. It is something that each of them feel connected to. Painting, Singing, Writing, Reading, Playing everybody is good at something and it's like most of them got this from their ancestors.
9. Because afternoons are lazy.
Kolkata sleeps a lot, and this is quite apparent from the fact that the entire city is so quite in the noons. You won't find to many vehicles on road during noon and almost all the shops are shut from 2'o clock till evening. I have always found it quite weird given Kolkata is a metropolitan city. It always looks like everything is so paced and yet so lazy.
10. Because every Durga Puja; Kolkata is like that newly wedded bride.
Durga Puja celebrations in Kolkata are world famous. Entire city comes out from its deep slumber in these 10 days. And its gets to a whole new level of crazy. The traffic, the roads, the footpath everything's jam packed. Entire city lights up with joy and has its soul re-energized. You can't put it into words what's it like to be in Kolkata at Durga Puja.
"I like to believe that the two bridges in Kolkata are symbolic of what this city is and what is has been since forever. It's like everybody in this city is in nostalgia of the present. Everybody is ready to engage in a conversation and has stories to tell."