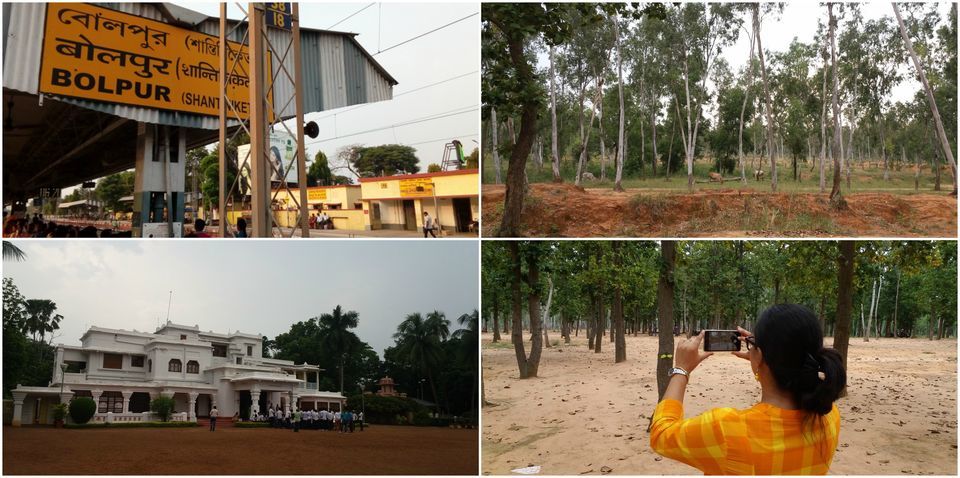 Shantiniketan is one of the popular travel destinations among the Bengalis. In fact, there are some Bengalis who are never tired of visiting this small town located near Bolpur in the Birbhum district of West Bengal. They admire and love this beautiful place so much that they end up visiting it for at least 10-15 times in their lifetime. However, there are also some Bengalis who are yet to visit Shantiniketan, and until my recent trip to the land of Tagore I was one among them.
On 15th September (2018), it was a Saturday, my husband and I boarded the Kolkata-Haldibari Superfast Express from Kolkata railway station (formerly known as Chitpur Station) at 9.05 in the morning. When we reached Bolpur station, the blazing sun was already on top of our head. It was scorching hot. We wondered who on earth plans to come to Shantiniketan at such a time! But after reaching our hotel via an uncomfortable rickety rickshaw (the rickshawwala made such a face that we couldn't refuse), we realized how wrong we were!! The hotel was bustling with tourists. For Bengalis, it doesn't matter whether it's a travel season or not. You name a tourist spot and you will surely find some Bengalis satisfying their travel thirst.
Since we reached at noon and it was only a day's trip, we chose to visit only a few spots. We quickly freshened up, had our lunch at the hotel itself (the food was good) and headed straight to Visva-Bharati University. We strolled around the University campus and clicked a few photographs to freeze a few good moments. It felt amazing to be around an institution which was founded by Rabindranath Tagore.
As we explored the University, we saw a group of students, in their school uniforms, being described by a guide about the institution. It maybe a dream for some of those students to pursue their higher studies here, and the tour of the University that day must have strengthened their dream!
Next we decided to explore the Visva-Bharati museum and the Uttarayan complex which houses five homes where Tagore had lived in. Located just opposite to the university campus, the museum and Uttarayan is a must watch for all Tagore enthusiasts. By the time we reached the museum, it started raining. We regretted for leaving the umbrella back at our resort. However, the rain stopped after some time, making the weather pleasant. We happily explored the museum, Tagore's car, and of course, the Nobel laureate's beautiful houses that set his mood to pen down the immortal creations.
Soon the clock struck 4 and it was time to head to our next destination- the must visit tourist destination, 'Sonajhuri'r jongol', viz. Sonajhuri forest, which is named after the tree 'Sonajhuri'. With tall tress all around, the place looked serene, perfect for long adda, to stroll around, and of course to pose for the camera.
After spending some time amidst the Sonajhuri trees, we started walking towards the famous 'Shonibarer Haat' or Saturday's market. As we reached closer to the haat, we could hear Boul songs, making the ambiance electrifying. And, Oh God, there people seemed to be in a trance where they were on a shopping spree. From saris to bags to skirts to kurtas (Punjabis) for men, it had almost everything. And 'Khesh' seemed to be the current dominant fabric; the market had khesh sari, khesh kurti, khesh bag and what not. But I must say it's a delightful market for the junk jewellery lovers. You will be spoilt for choice, I tell you. The market showcases some amazing craft of local artisans. I realized the haat's demand when I noticed a few passengers carrying big shopping bags at the train the next morning. We too purchased a few stuff from the market. If you plan to shop from here, keep this point in mind that the haat wraps up in the evening, so try to buy the things you want when the natural light is abundant.
After exploring a few popular tourist spots, I really wanted to have tea from a local tea-stall. I am not a person who craves for tea though, but I love the idea of having an adda session over a cup of tea. Plus, when you visit a local shop, mall, or anything, you get the feel of local culture. I wanted to experience the local feel. So, after taking a short break at the hotel, we started walking in search of a local tea-stall, and we found one. It was bustling with students. The stall had a photo frame of Tagore. I am used to watching frames of deities in shops, so this was something new for me. Watching the students immersed in their serious as well as fun filled conversation, I became nostalgic. Years back we too were students and we too would hang out at a tea stall after our classes got over. It made me so nostalgic…
Though I got to see a very little of Shantiniketan, the day ended on a good note. I hope to visit the place once again…
So, with a bagful of beautiful memories, we returned to Kolkata, the very next morning, listening to the Baul tunes, all charged up to kick-start the weak ahead…..