Living in a metropolitan city such as Kolkata there are quite a few who wish to take small breaks with their friends and family. It was quite the similar case with us. Regular work and limited time had made it difficult to go out on a holiday for a long time. However, limited time doesn't mean you cannot have fun or travel to newer places. With just a Sunday in hand we started to search for places and Day breaks where we could spend an entire day and be back to the city on the same day. So the priority was something within 100 kilometres. However, one would be disappointed to know that the internet is flooded with so many options but almost none of them suited to be a place where we could be at. Kolkata certainly lacks places where we could have an adventurous day trip. Nonetheless with almost a day's search along with work we settled to visit the Piyali Islands. The island is about 75 kilometres from Kolkata and takes around 1.5 hours.
Pretty excited and all set, some of us did a small search online for the place we were visiting. However, looking at the pictures we should say it did not appeal to us, rather was not something we were looking for. So the cycle of search began again and we were left with no other option besides Bakkhali Island. The island is 125 kilometres away from the city and it certainly would have been a hectic day out. However, three of us agreed to go for it and start early at 5:30 AM (though half of us were not aware of the change in location).
The day as expected began late where we met at 6:30AM which raised questions that if we could actually go out for a Day trip that far. Moreover, we decided to have breakfast before starting our journey. There were debates as whether we should be going for it or not, but finally we settled to start off. So, the journey began and we took the Diamond Harbour Road from Taratala. The road is pretty straight and although being a single lane it is comfortable to drive along. Also, the small towns and villages on the way along the road which appear at short distances can be congested at times for a speedy drive.
Driving along the NH117 and passing through Diamond Harbour it took us approximately 2.5 hours to reach the Hatania-Doania creek which is about 100 kilometres of the journey. Here the car we were driving had to be lifted through the ferry services to cross the river flowing in between. The entire process took around 45 minutes of our time which was something we were not liking. They charge (Rs.30+160) as toll and charge to lift the car across for a distance of about 130 meters. Once across, we started the drive again through the villages in the island which was a soothing experience as well. The roads from here are quite good and clear, it took us about 40 minutes to reach the Bakkhali beach which is about 21 kilometers in total. We were at the beach by 11:00 AM.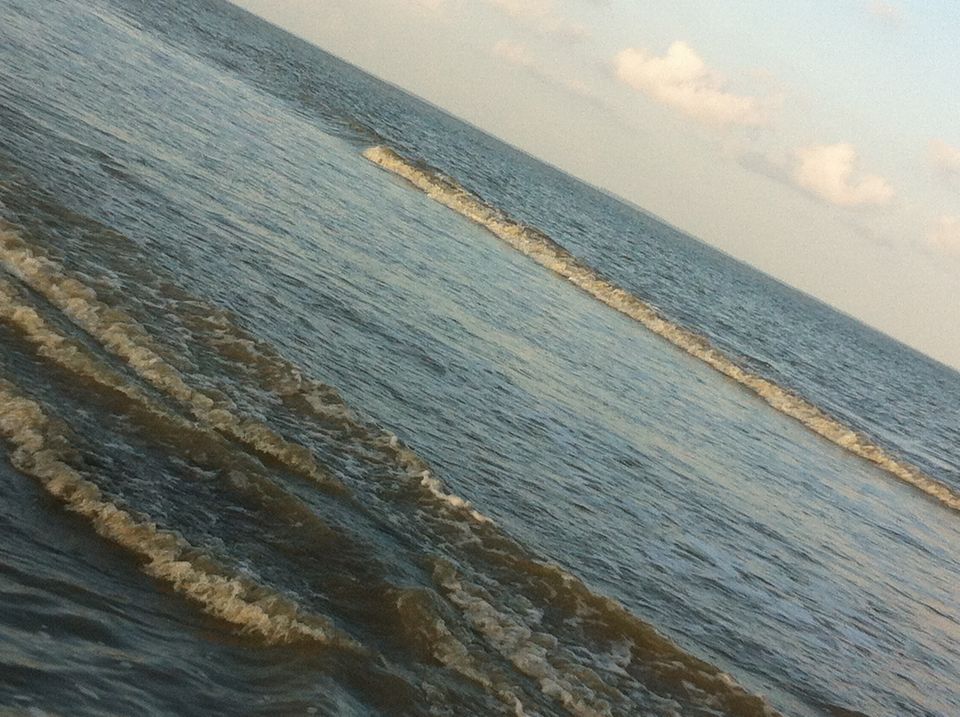 Although, it was September and Monsoons were still around we expected the place to be cooler. However, the place was very hot and humid, but with the beach in front and the small forest of cactus behind we spent about 2 hours wandering and strolling around. After having coconut water (Daap) and Omlette, coupled with some snacks we decided it was time to move away from the island as the heat was getting unbearable. After asking the locals we came to know that Henry Islands and a Crocodile sanctuary were the two places where we should be at. However, it was recommended to us of not going to these places before 4 P.M. in the evening as it was really hot. We decided to have lunch at a hotel but were disappointed as none of them served good vegetarian food. If you are a non-vegetarian Bakkhali Island has several good eateries but in case you wish to eat veg food there are limited options or you would need to place your order well in advance. Left with no options we decided to rent a room at one of the guest houses to relax and have our snacks we were carrying.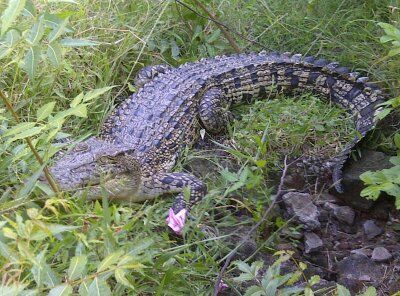 Henry Island the tip on the Iceberg
At 3 PM. We left the hotel and reached the Crocodile sanctuary where we came across a few crocs and a group of Deers. We spent about an hour at the place. Then we decided to move on to the Henry Island which was about 3 kilometers from where we were. It is a diversion on the same road from which we came to the beach at Bakkhali. The road is very narrow which makes it difficult for even two cars to pass simultaneously. But the traffic was negligible so we cruised easily to the Henry Island. They charged Rs.5 per person and Rs.15 for the driver and the car to enter the place. After driving for 10 minutes the road became very narrow and it could only be travelled on foot from there onwards. We parked the car and crossed the bamboo bridge and through the trees we came across the beautiful beach in front. To our surprise it was one of the loveliest sights we could have actually expected. It is a virgin beach and there was not a single person on the beach besides a few cows.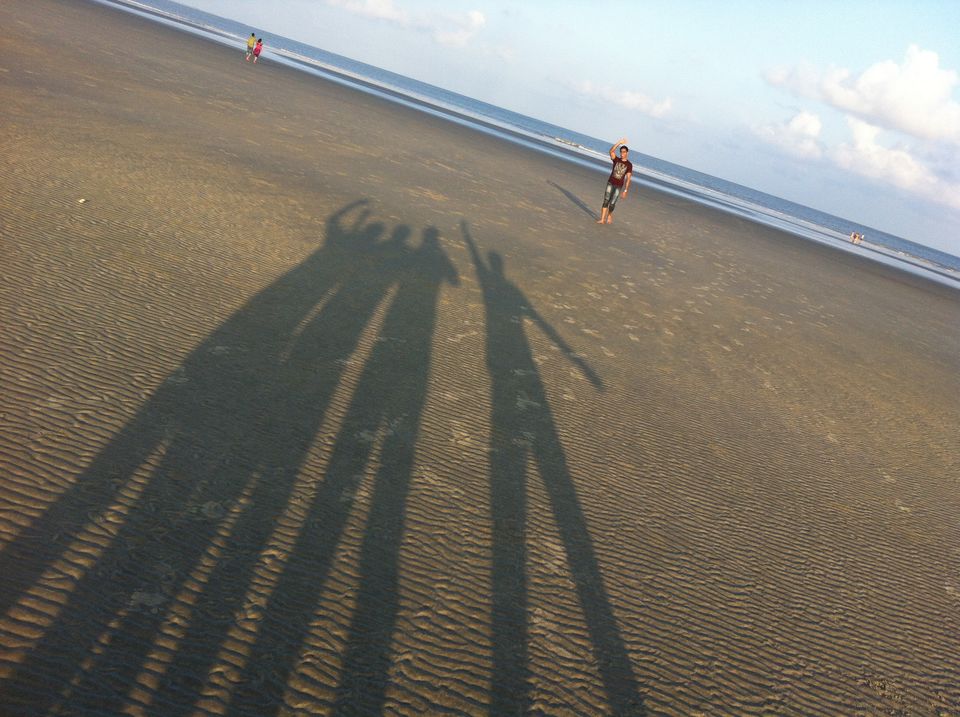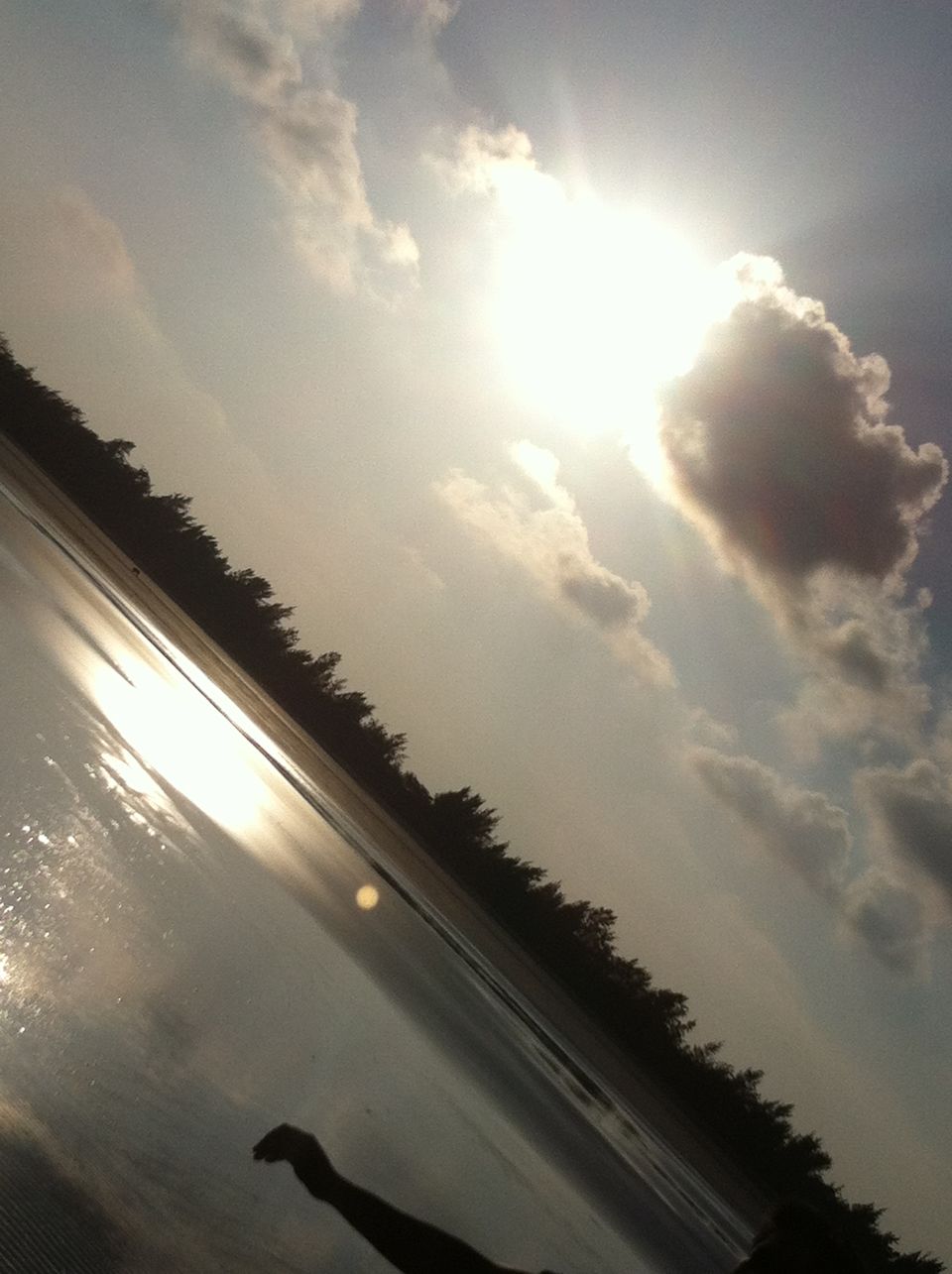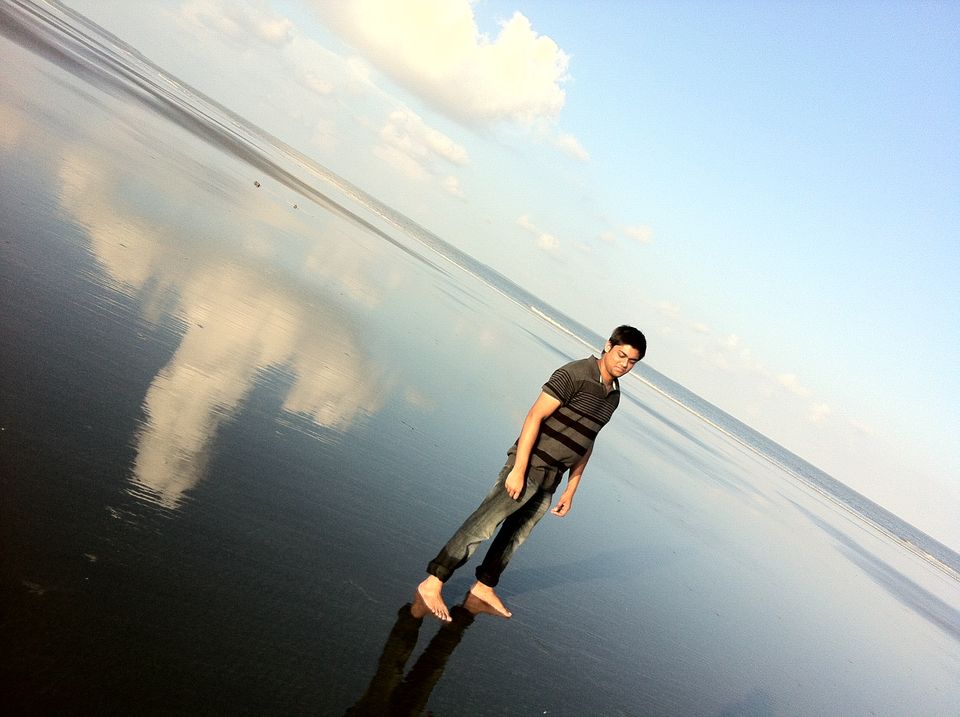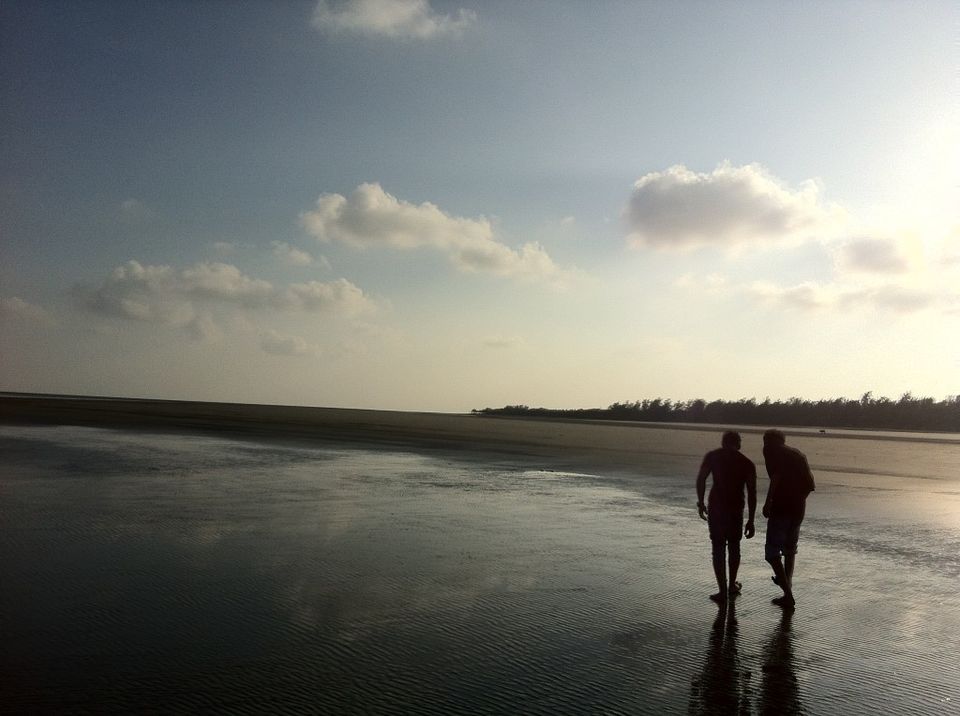 With a few doubts in mind about the place as there were no other people around we started walking towards the beach which is about 500 meters from where we were. A small strip of water body runs through the beach which needs to be crossed before one reaches the waves. There were red crabs crawling across the beach as we walked past the river which is not even knee deep. Being near the waves, the beach and the scenes around looked awesome and we believed it really made our day to drive to Bakkhali from the city. Although we were getting delayed we fooled around, clicked pictures and spent about 1.5 hours at the place. It certainly was a great experience which one might agree with the pictures above.
Our Journey Back to Kolkata
Although, we wished to be there for a longer time, the limited time made us start our journey back to Kolkata. We started at 5:30 P.M. and reached the Ferry in just 45 minutes. However, having few cars to unload it took about an hour for us to cross the river. It was already 7 P.M. and with no lights on the streets we hoped to reach the city before 9 P.M. The drive back was comfortable as well, were we rushed through the dark roads with low traffic and finally reached the city by 9:20 P.M. The day trip was certainly over but we felt it was more than enough which we could actually do in a day. Hence, for all those of you eager to go out for a Day trip near Kolkata, we certainly recommend Bakkhali to be one of the preferred destinations.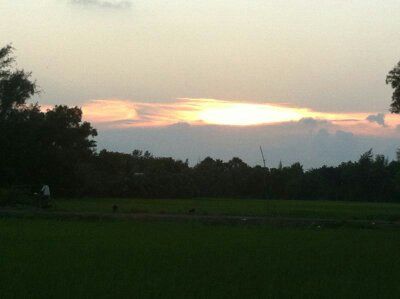 Start early if you wish to enjoy more time at the island. Even a weekend at Bakkhali could be ideal. Carry an umbrella with you as in the afternoon the sun is too strong and makes it difficult to stroll around. If you are a vegetarian then make sure you take your own food, however if you order a few items about 2 hours in advance then you could have some vegetarian dishes to eat. If you wish to stay or eat at Bakkhali, then Bakkhali Tourist Lodge could be a great option. However, there are several other good hotels such as Hotel Deepak or Ananya Hotel which offer decent dining and accommodation options. If possible, drive yourself to the place for a great experience of a day trip. Also, try to have your entire group in a car to enjoy it to the fullest. Lastly and the most important of them all, Don't Drink and Drive and try not to race along the narrow roads as it could be dangerous.