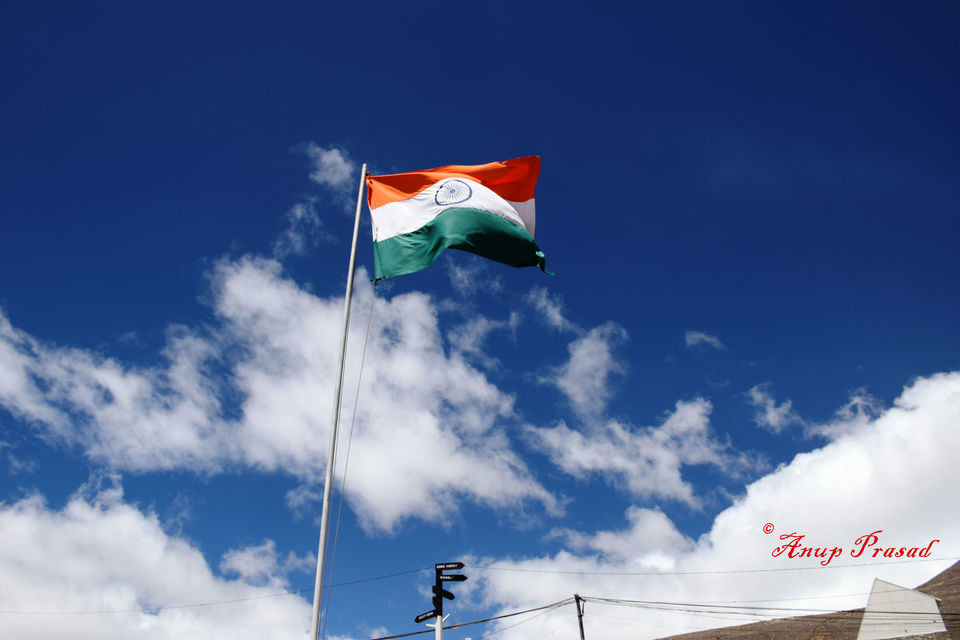 Life gives you a lifetime opportunity once in your life. Recently, during our Sikkim tour, we (me and my husband) got the opportunity to have a close sneak over our army and border forces. Our armed forces are the solution to a majority of the problems in India. War or war like situation, the army will fight (obviously)., natural calamities again our armed forces will come, combating terrorists and Naxals, again the army. Even to rescue a child fallen in bore well, the army comes for the operation. But does anyone realize how they are making our travel to rugged terrain possible. How the border forces are taking toil so that we could have a nice and safe journey. It is because of their endless efforts, our journey remains adventurous and not tragic.
Day 1
It was raining heavily when we reached Gangtok from Bagdogra airport. Next day, we planned to visit Changu Lake and Nathula pass (Indo-China Border). We started early at 8.00 in morning after obtaining the permits. Before the journey proceeds, I would like to tell you that many parts of Sikkim are restricted to access because of the close proximity to China Border. Indians are granted the permit to visit the places including Changu Lake and Nathula pass and permits are checked strictly en route.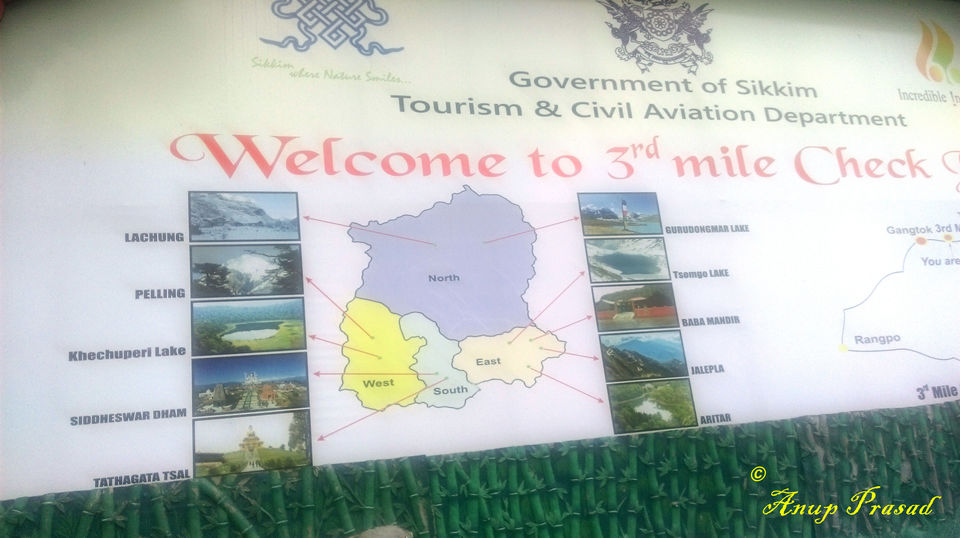 Here, we encountered the first help provided by our border forces, 'Border Road Organization' (BRO). 'BRO', you really are a 'bro' to all of the travellers.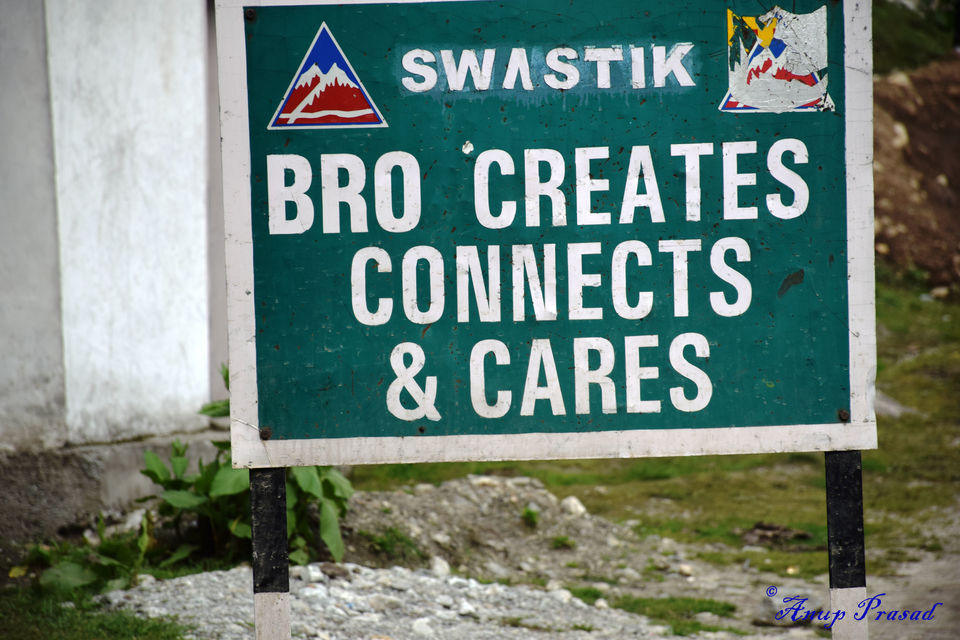 It is 'BRO', who has made the last terrain of India accessible for us travellers. It does create, connect and care as described in their punch line. The witty road signs cited by them on the way to Nathula are funny, yet meaningful and deep. You yourself examine the wittiness of ' BRO'
"Be Mr Late than Late Mr"
"Fast won't last"
"After Whiskey, driving Risky"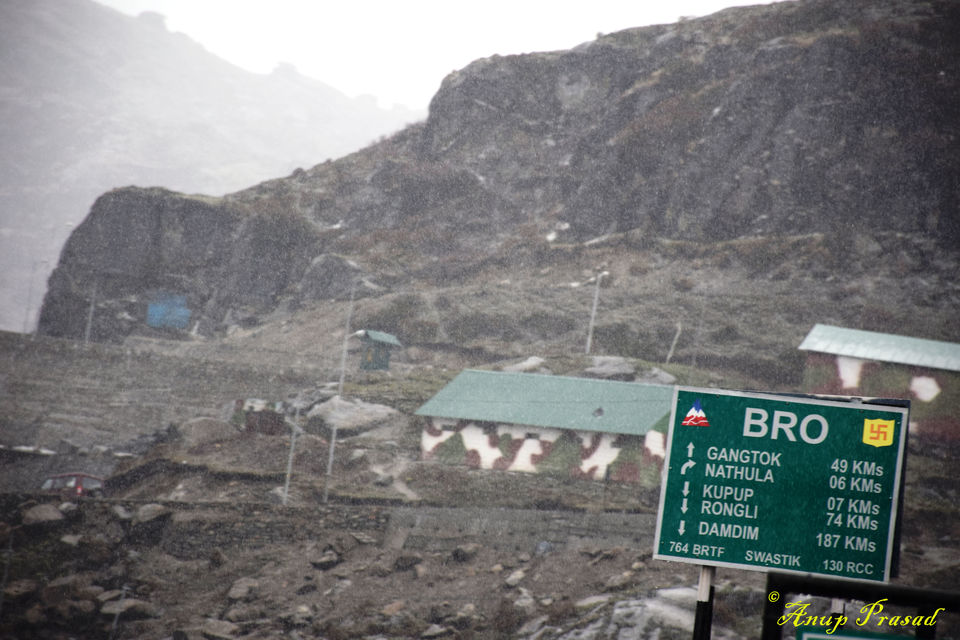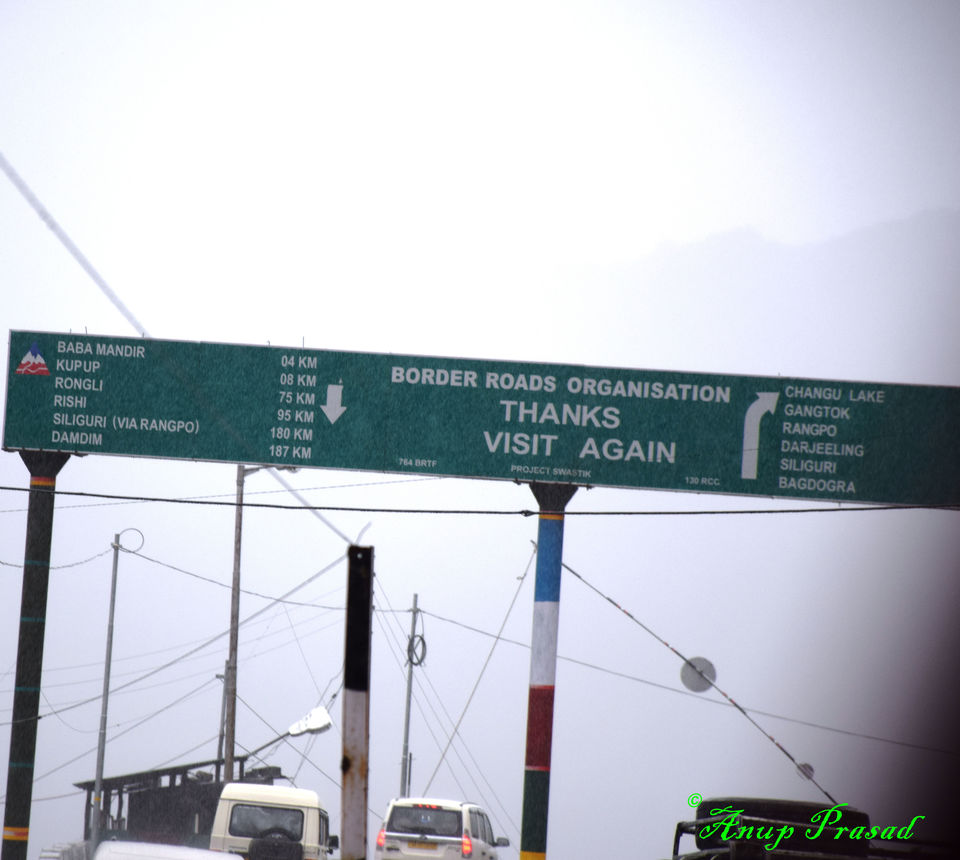 Everything was according to plan till we reached Nathula pass.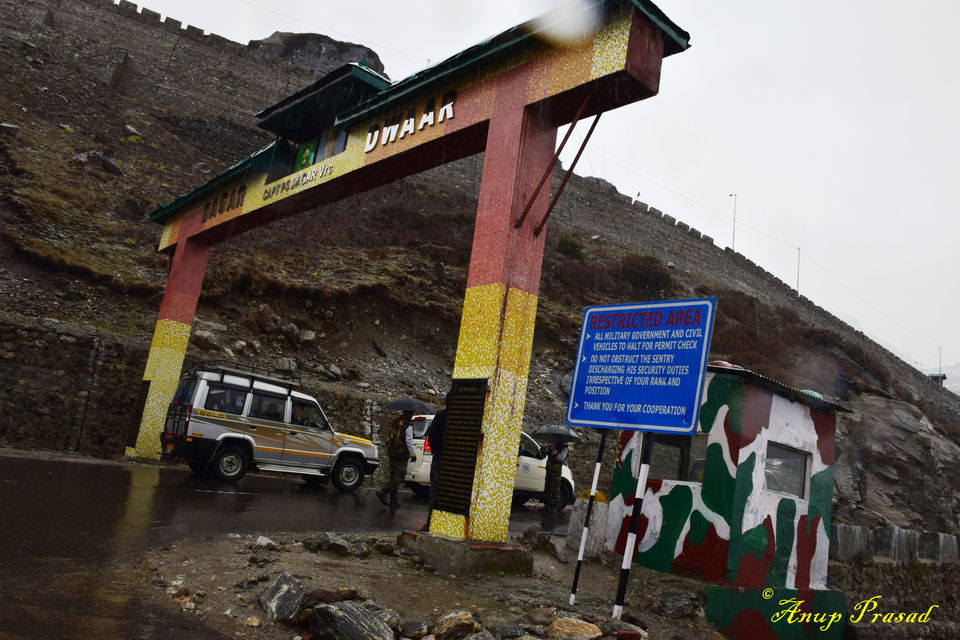 As we started returning from Nathula to Changu Lake (also known as Tsomogo Lake), it started raining heavily with hailstorms. Somehow, we managed to witness the beauty of Changu Lake and stopped nearby to have steamy momos. The temperature has dropped to 4◦C now with severe wind flow, giving you the experience of temperature in minus. Our local driver himself told that he is experiencing this much of cold first time in this year after winters.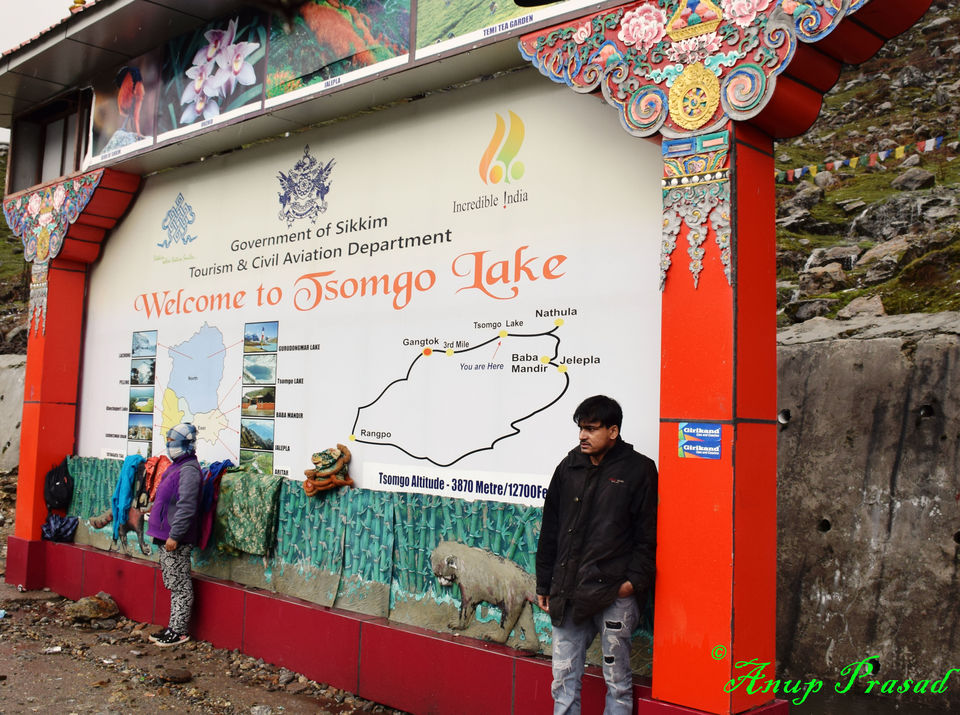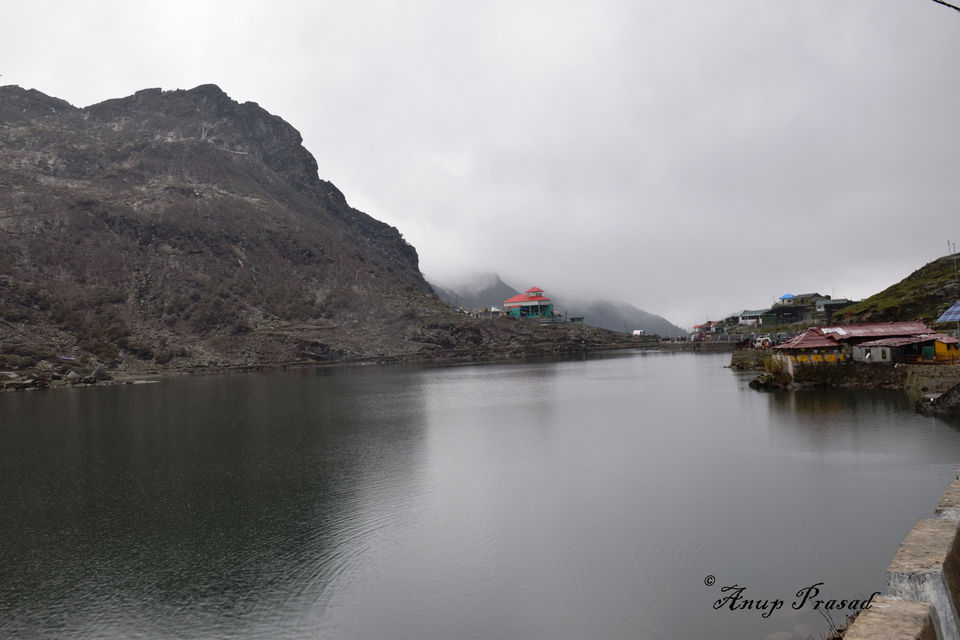 To add to our misery, as we started towards Gangtok, we got stuck in a big jam. A jam that lasted for more than five hours was the result of landslides.
Now we were stuck in jam of around 700 vehicles in freezing temperature between nowhere. It was raining heavily, giving no sign of relief. Finally, after one hour, the rain stopped. Now, I was hopeful that we will reach to Gangtok, as the rain has stopped and the rescue work will be in progress, though not having a single glimpse, what actually has happened. Now three hours passed in the same state of affairs, stuck inside the car in freezing weather. After some times, hunger pangs started knocking my stomach.
What to Do??
What to eat??
It is so cold outside.
Even many tourists did not have proper woollen with them. How harsh they would be feeling??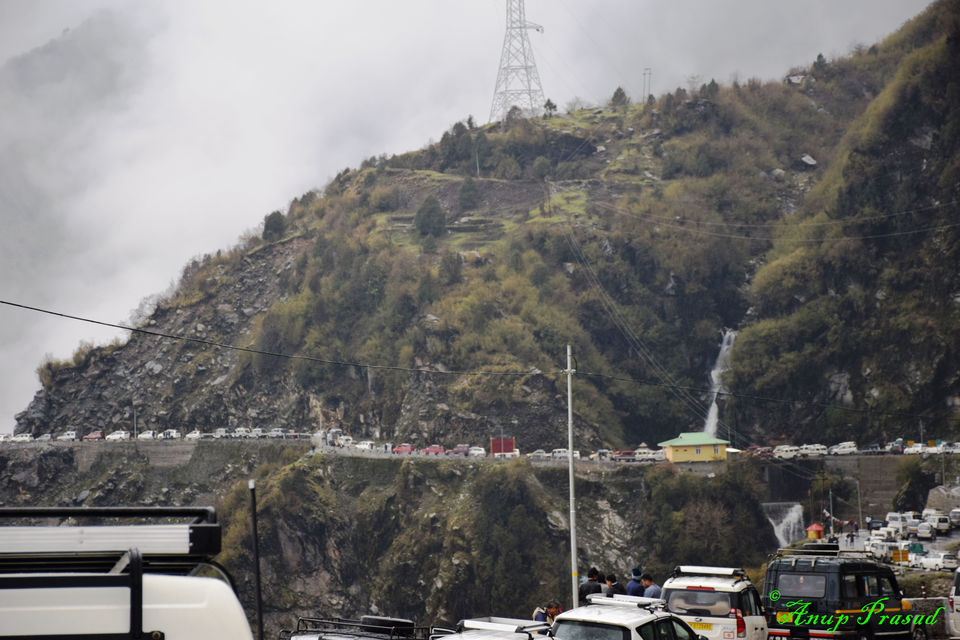 Suddenly, I saw some travellers coming with samosa. I asked my husband to bring something to eat. He left and came back with some sweets.
Now, we came to know that it was army canteen nearby who has come as our life saver.
Due to the landslides, the army had opened their canteen from where, tourists strangled were purchasing eatables and woollens also at a minimal rate. It was a big relief to hunger and cold striken travellers .This is the second experience I had the same day when army has bestowed their care to the travellers.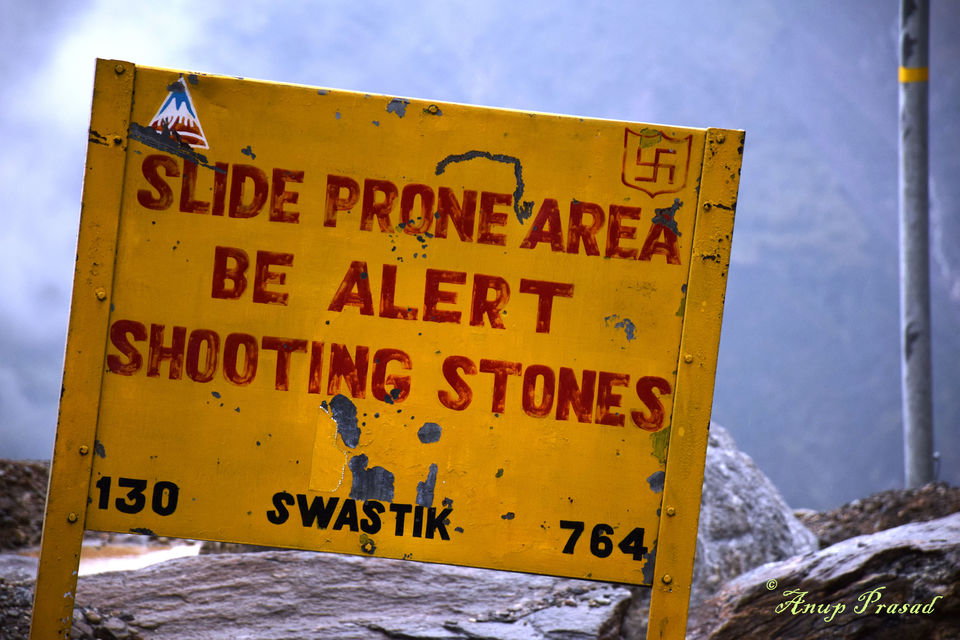 When we were stuck in jam, it was around 2 pm, now it is 7pm. The darkness has prevailed everywhere, but the vehicles were not moving. Suddenly, I saw the lights and movements of vehicles. So happy I was.. ahh!! Finally…The traumatic five hours have passed. But my joy was short lived…after 15 min or so, vehicles again stopped plying. Don't know what has happened this time. Then we came to know that major landslide has occurred here washing away the whole road. After one hour, the vehicles started moving, but as you know, we are always in hurry to reach home. In two lane road, in no time five lanes of vehicles were formed, again creating a man-made jam. But, to our utter relief, as we reached near to the actual site, army was there to make people follow the traffic rules and making the traffic smooth. I bet, without their involvement, it could have taken another two hours to move further.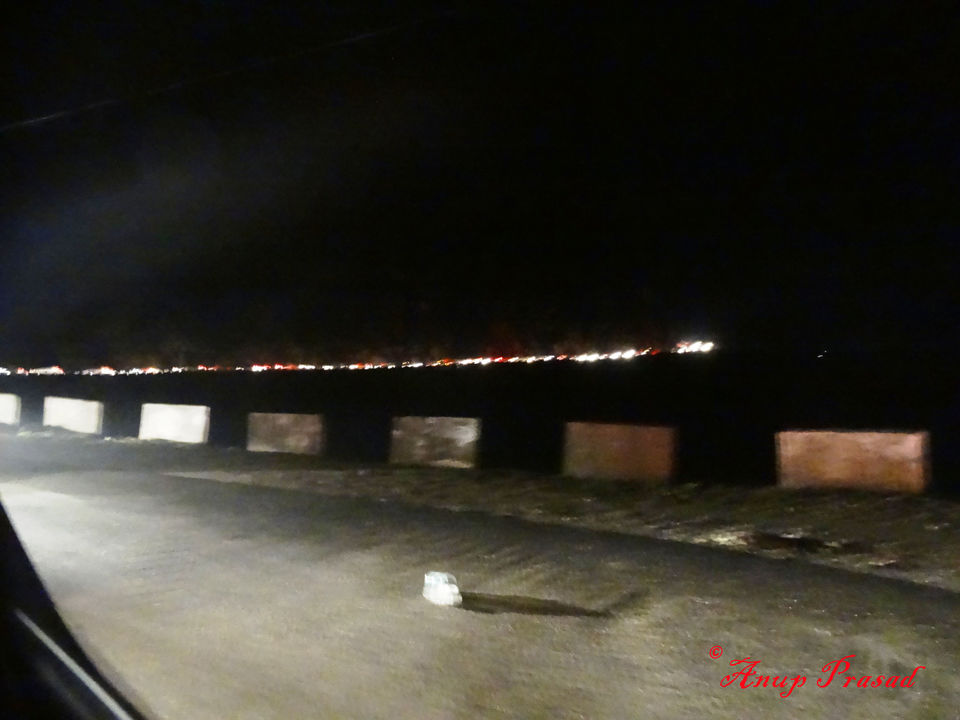 Now, I witnessed the third and most important way how our armed and border forces are making our travel to rugged path possible. One border forces officer hopped in our car as he also had to go to his check post on the way to Gangtok. After some initial conversation, he told that landslide has created havoc at three different sites. Small hillocks with big boulders have fallen on road, making it impossible to move ahead. His vehicle was also being hit by a big boulder while crossing a small bridge. He told that landslides stuck at 1 pm and they started the cleaning operation from 1.30 onwards. Since it was raining heavily, it was very difficult to remove the debris and repair the road, still, somehow they managed to rescue more than 1000 vehicles stranded in the landslide. He also told that the landslide has happened for the first time this year. This was so severe that it was not possible to repair the roads in such a short span of time. He was also thinking to divert the traffic via Zuluk, but as it had snowed in Zuluk, they had no other option left to reopen the road on the same day.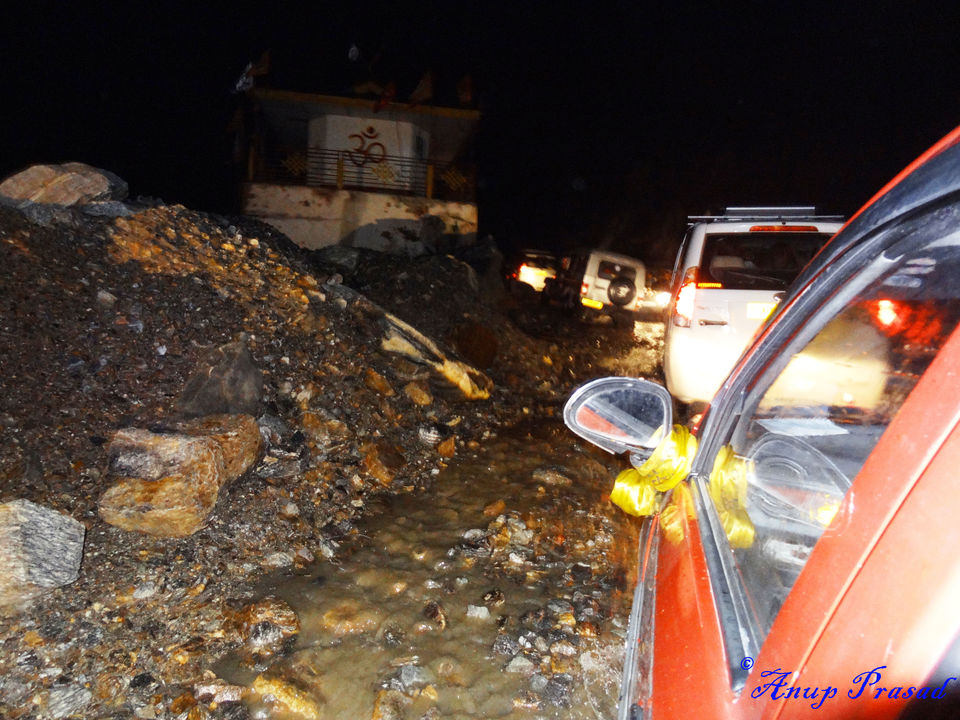 He further told us that once the permit to visit Changu Lake and Nathula pass is granted, it becomes the responsibility of border forces and Indian army to keep the tourists safe and take a close look at their return to Gangtok with safety.
When we asked about the situation tomorrow, as tourist vehicles will again start coming early in the morning from Gangtok, he told that the forces will start their road repairing work in the wee hours, much before the start of plying of tourist vehicles, so that tourists coming here won't have to face any problems. He also described calmly, how hard they work in winters to keep the road running during snowfall.
I am sure, everyone stuck during landslide must be thinking what forces are doing till five hours. Are not our forces capable enough of clearing one small landslide? We were lucky enough to meet the officer, so that we knew how hard our forces are working for the safety of each and every traveller.
Day 2
We were amidst the beautiful snow capped mountains going towards zero point in North Sikkim, suddenly our vehicle broke down. At 14,000 ft again, we were stuck in freezing temperature. This time, we got a lift from a nice family from Gujrat. They could not enjoy the mesmerizing beauty of this small state, because their little son was not well. Again our armed forces came to rescue in this situation also. The place where getting a hospital and doctor is like getting Jinn's lamp, where you don't have any connectivity, army hospital provides us consultancy and medicine so that we could travel safely and reach healthy.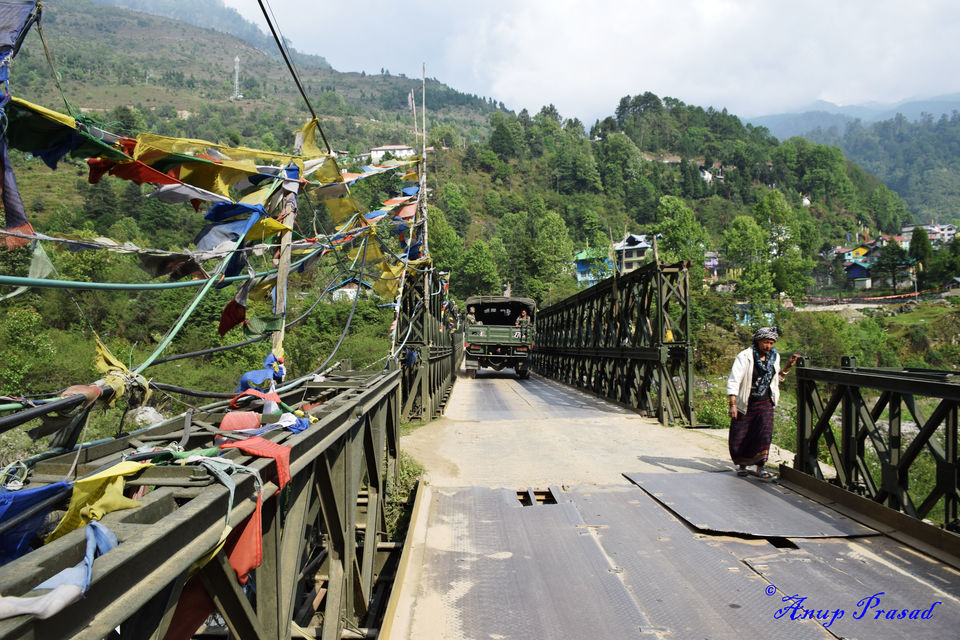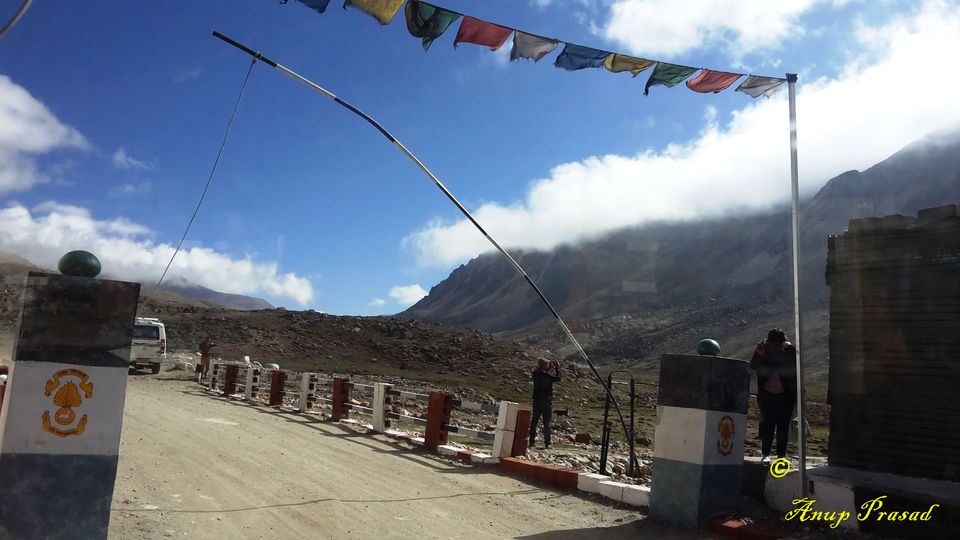 During our way to second highest Lake of India, Gurudongmer Lake, we again became witness how army and border forces are there for us. Now, when I see army check post, I get relieved with a feeling of being safe. After Thangu village, you won't get any human settlement on the way to Gurudongmer Lake. It is Indian army only, with smileys on their barrack, who takes care of basic facilities required including medical facilities and restrooms during the visit to such rugged terrain.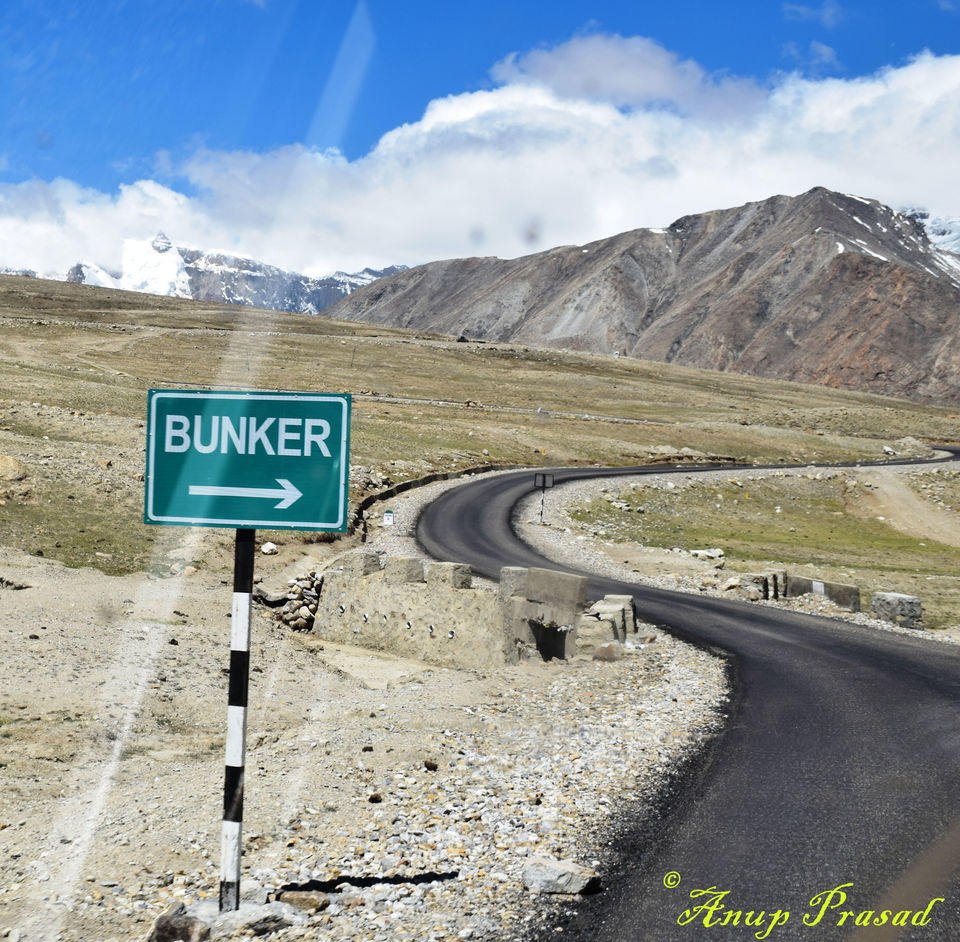 Though the trip to Sikkim, we got stranded in landslides, our vehicle broke down and we were at a very oxygen tension, I came to know about our new travel friend-our army and the border forces. They are our strength in every rugged situation. Their tireless and continuous effort makes our travel possible to every corner of India.
Baba Harbahajan Singh Mandir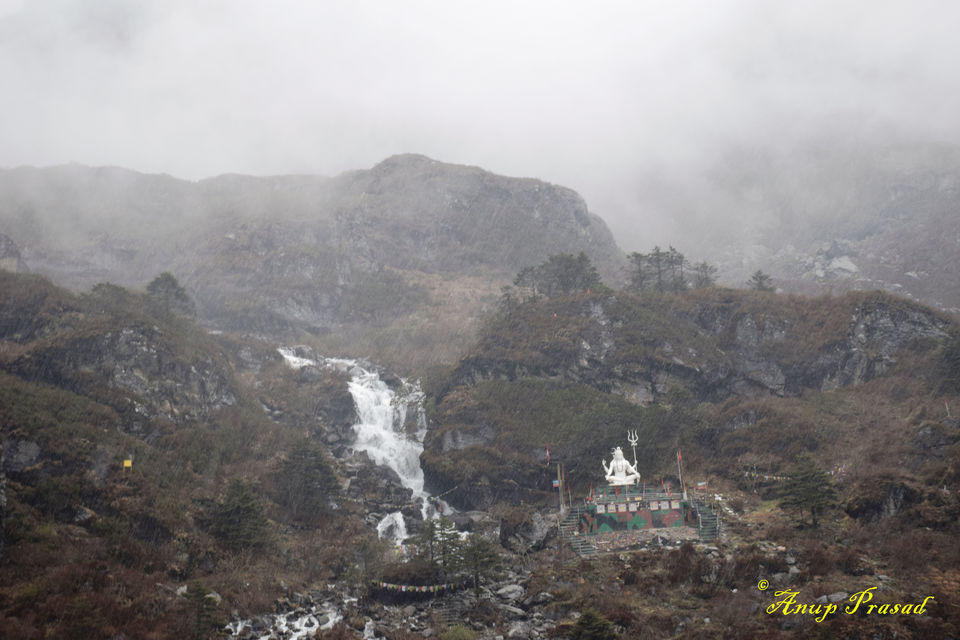 When you are in Sikkim, do visit Baba Harbhajan Singh Mandir. Pay a tribute to the bravery of an Indian soldier, "Hero of Nathula", who lost his life saving Nathula pass in 1967. Surrounding with a beautiful landscape, the shrine of Baba Harbajhan Singh has been built by soldiers of the Indian army. Salute the spirit of bare footed soldiers distributing 'Prasad' in shrine and soldiers equipped with arsenals at border for our safety.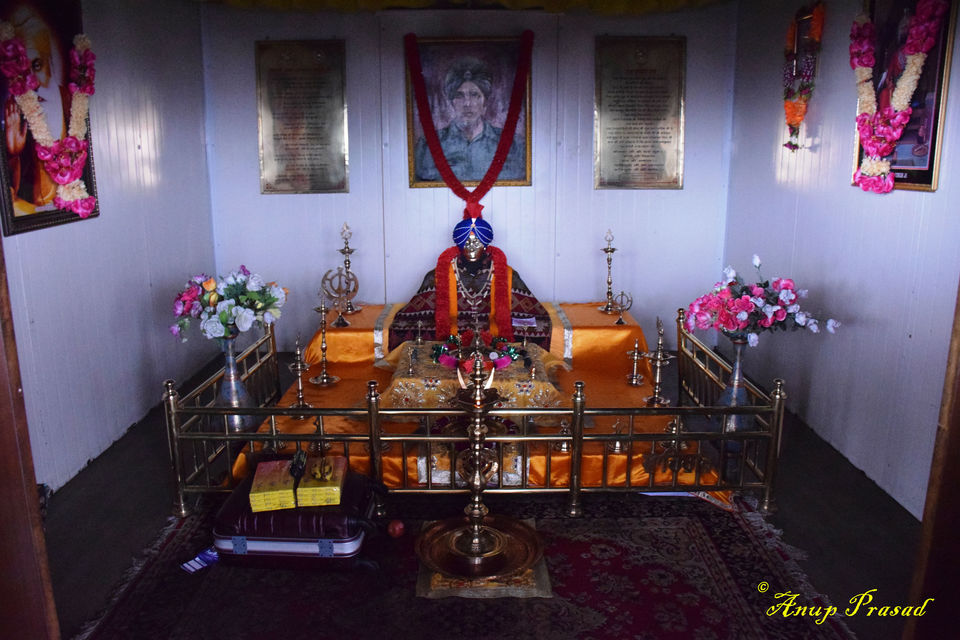 We are always under debt what our forces are doing for us.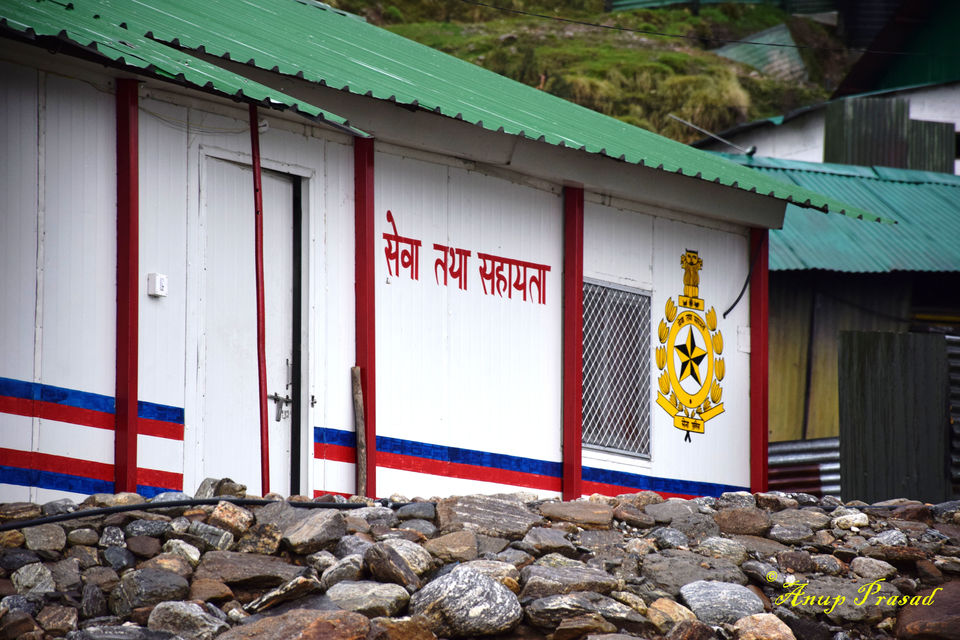 This is a small 'Thank You' from our side to all of them for making our memories sweet and cherished. Do share your stories where you got helped by our forces during travel to rugged terrain.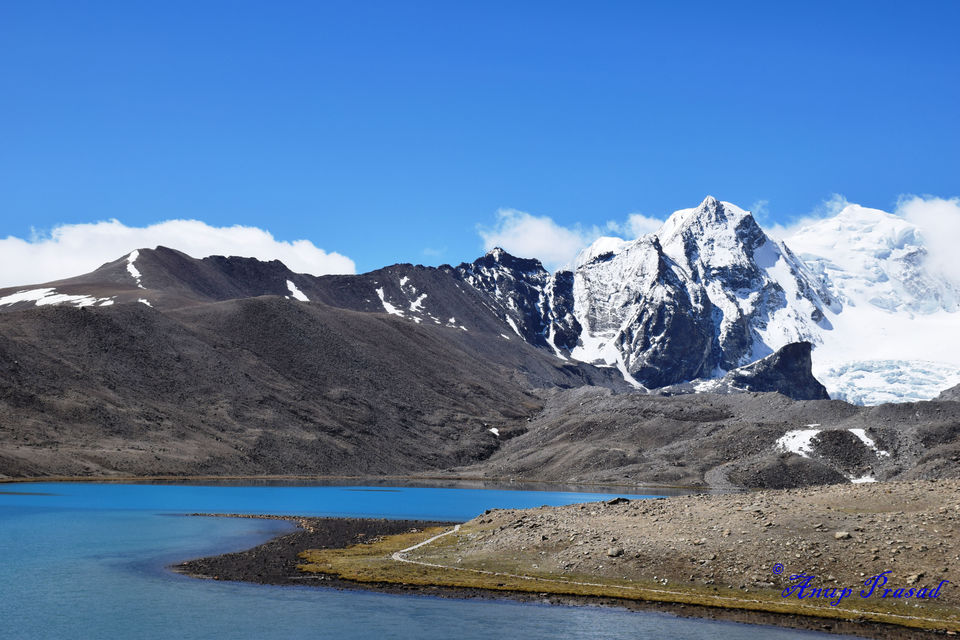 Frequent searches leading to this page:-
gangtok to lachen sightseeing, gangtok to yumthang valley package, itinerary for darjeeling and gangtok, budget for darjeeling and gangtok trip, gangtok honeymoon tour package