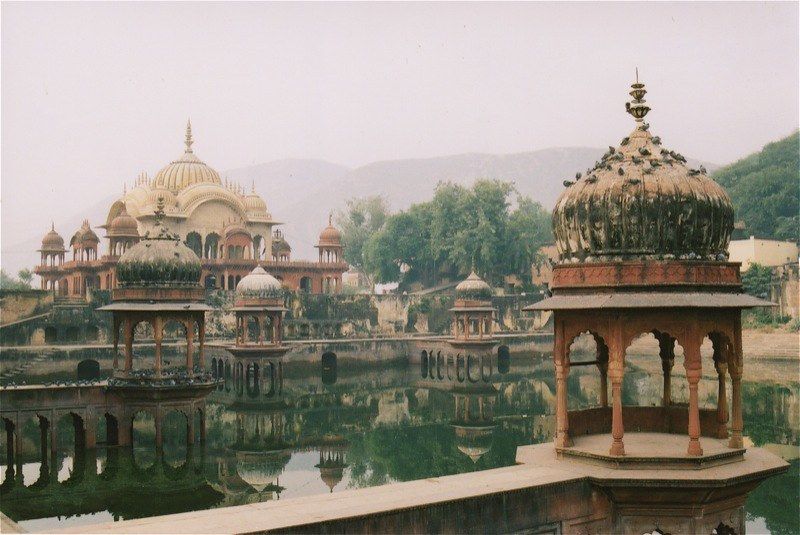 We all wait for the weekend to elope from all the weekday worries, so why not take a quick weekend getaway to rejuvenate? But this time, let's skip the usual Shimla, Nainital, and Rishikesh and choose one of these less explored destinations for an amazing yet budget-friendly weekend getaway from Delhi! With 2020 just a few days away, you should make the most of whatever this year has to offer. So, pack your bags and head to one of the following destinations that suits your ideal getaway!
Imagine lush greenery, clean air and mesmerising views–that's Landsdowne for you. It's a hill station situated in the north Indian state of Uttarakhand and is a great escape for the weekend. This is just the place to spend some calm time amidst hills, even better if there's snow, away from the madding crowd of the capital. It offers a myriad of activities and sightseeing options with the exception of high influx of tourists. On top of that, if you're an adventurous soul, you can even go trekking, cliff-jumping or just camping in nature's lap.
Top things to see and do:
Trek up to the Tip N Top point and witness a breathtaking sunset, visit St. Mary Church and Tarkeshwar Mahadev Temple, grab a cup of coffee at Landsdowne Trip - Travel Cafe, try boating or read a book by the Bhulla Tal Lake.
How to get there:
Round trip cost starting at Rs 500. Take a train or bus to Kotdwar and then take a Bus or Taxi to Landsdowne.
Where to stay:
Rajasthan for most is just Jaipur, Udaipur and Jodhpur, so try Alwar this time for an offbeat Rajasthan weekend. It's situated just a little over 150 km from Delhi and has a rich heritage and ancient architecture in store for you. Once a part of the Matsya Kingdom, one of the sixteen ancient Mahajanapadas, Alwar is slowly turning into a hub for tourists looking for short getaways. Surrounded by the Aravallis, Alwar tells the story of Rajputs through its forts like Bala Quila, Bhangarh fort and City Palace. You can even visit the Sariska Tiger Reserve which is situated at a close proximity and admire the ferocious cats in their natural habitat.
Top things to see and do:
Visit the beautiful Siliserh Lake and Moti Dungri; Taste the local gatte ki sabzi, kachoris and dhoodh ladoos; Shop for terracotta showpieces and silver jewelry
How to get there:
Round trip cost starting at Rs 250. Take a direct train or bus from Delhi to Alwar.
Where to stay: Foji Raj Hotel , Fortview Suites 003
Contrary to what most people think, Rajasthan has much more to offer than forts and palaces. Cradled in the midst of natural beauty and Rajasthani folklore, Bharatpur is the perfect destination for every nature and animal lover. Home to more than 370 species of migratory birds and animals, Keoladeo National Park is a UNESCO World Heritage Sight just outside Bharatpur. Just about 220 km from Delhi, this city offers unparalleled sights of rare birds, animals, fish and even turtles in the heart of Rajasthan.
Top things to see and do:
Bird-watching at the Keoladeo National Park; Shopping in the local markets; Visit the Lohagarh Fort.
How to get there:
Round trip cost starting at Rs 1,000. Take a direct train or bus from Delhi to Bharatpur.
Where to stay:
For those who want to embrace their spiritual side during their getaway, Vrindavan is the perfect destination. One of the oldest cities in the region, it is believed to be the childhood home of the Hindu god Krishna. Dotted with hundreds of grand and glorious temples dedicated to Krishna's devotees, this city is the go-to place to immerse in the religious traditions of North India. A must-visit place in this city is the Prem Mandir, a temple that is lit up with beautiful altering lights every evening and uses modern technology to depict life-like scenes from Krishna's life. Other famous temples that you should not miss are ISKCON temple, Banke Bihari Mandir and Radha Raman Mandir.
Top things to see and do:
Visit as many temples as you can; Try the local jalebi and kachori. Purchase some famous sweets such as pede and ladoos
How to get there:
Round trip cost starting Rs 400. Take a train to Mathura and then a bus or taxi to Vrindavan.
Where to stay:
Welcome to Amritsar, a confluence of the rich history, generous culture and mouth-watering food of Punjab. A city that has lasted the test of time, Amritsar is every food lover's dream and every patriotic heart's calling. Here you will find the holiest shrine of the Sikhs, the Golden Temple, an architectural beauty and spiritual hub surrounded by the Amrit Sarovar, the lake that gives Amritsar its name. Then there is the Wagha border, the dividing line between India and Pakistan, that witnesses a retreat ceremony every evening by the Indian Army. And last but not the least, is this city's amazing food that embodies the generous spirit of Punjab in its parathas, lassi and butter chicken.
Top things to see and do:
Visit the Golden Temple, watch the Retreat ceremony at Wagah Border, Shop at Hall Bazaar, indulge in Punjabi cuisine.
How to get there:
Round trip cost starting at Rs 520. Take a train to Amritsar.
Where to stay:
Blue Eye Backpackers Hostel, Live with Punjabi Family w/ Pool
Now that half your work is done and all you've got to do is make a choice, don't waste more time and book those tickets right away. Have more questions, ask away in the comments. Also, don't forget to write about your weekend getaway here on Tripoto and earn Tripoto credits!
Get answers to all your travel related queries on the go with Tripoto Chat!