I had loved trekking from my childhood. Not that I had done many or any, I just loved the idea of going for a trek. And as you know, Himalayas is the mother of all. So with the only experience of Bandaje Arbi trek in western ghats, I decided to try my first Himalayan trek. This trek gives you a magnificent view of Kanchenjunga and Mt Everest (If you get lucky) and you pass through a national park.
I've registered for Sandakphu-Gurdum Himalayan expedition offered by Youth Hostels Association of India. I had to reach Darjeeling base camp. New Jalpaiguri (NJP) in West bengal was the nearest station which serves as a gateway for north eastern India. You will be surprised by the number of share taxis you get here for Nepal (60 km), Bhutan (100 km), Gangtok (120 km)and Darjeeling (75 km). I reached Darjeeling base camp on 8th morning, where we stayed for a day for acclimatization. Acclimatization is the process of spending some time at a higher altitude for your body to get "used to".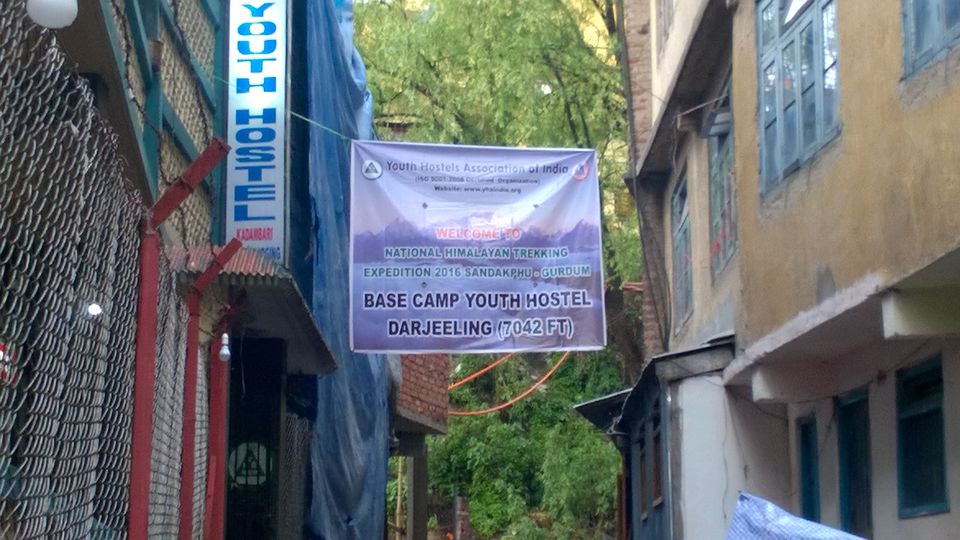 On the second day we were transferred to Maneybhanjan, which is some 24 km away from Darjeeling where we take entry permits. Mind you, one will not be allowed to undertake this trek unless you are accompanied by a guide. We continued in jeep till Dhotrey which is a village at the starting point of our trek.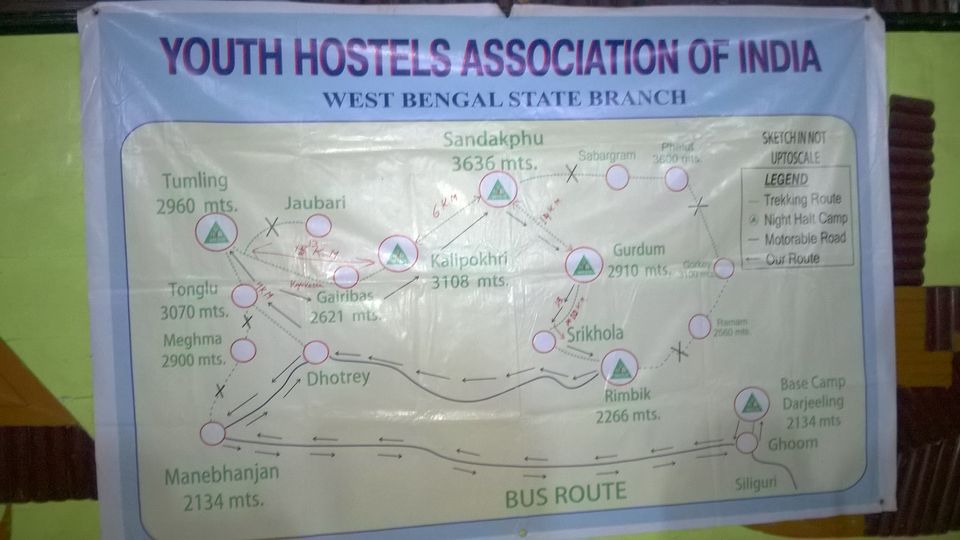 Intially it was fine, walking through mild forests with little steepness, a beaten trek path and after trekking for 5 km we reached Tonglu which was at 3070 mts.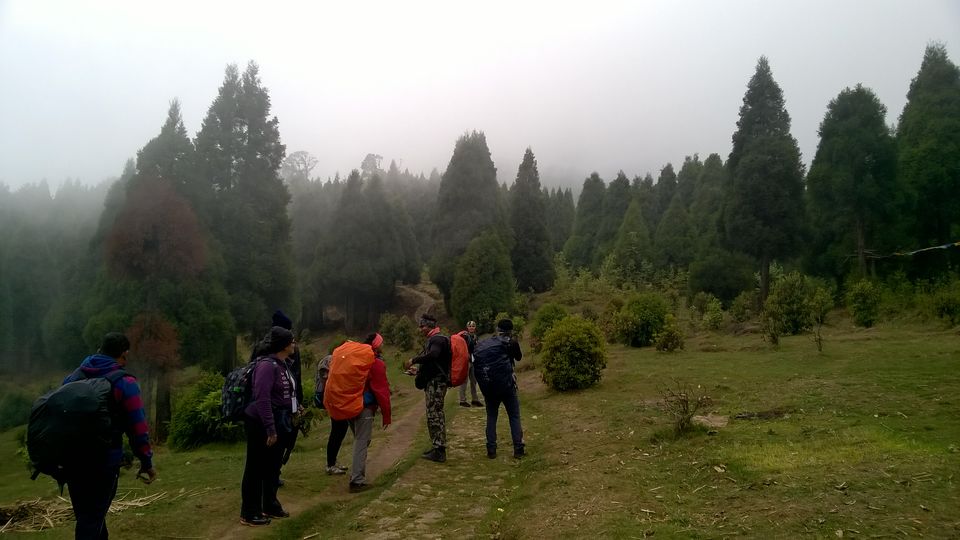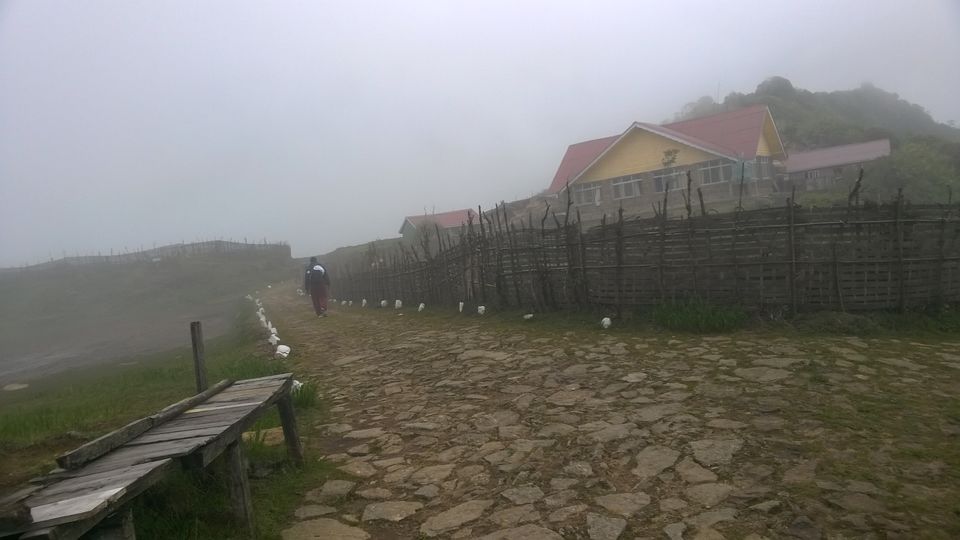 The food through out the trek was mostly roti, rice, dal and aloo. Then it started raining mildly and then severely. The trouble with himalayan treks is that one can never predict the weather. It might rain for a moment and get sunny the very next minute. Once when I asked the guide, would it rain in half an hour, he joked "Yeah I have called and its on its way". Then the remaining trek to tumling of 2 km was quite easy on a slopy gradient. And the camp was excellent one. This was situated in nepal, on the border. There was a milestone in front of our camp which was the demarcation between India and Nepal.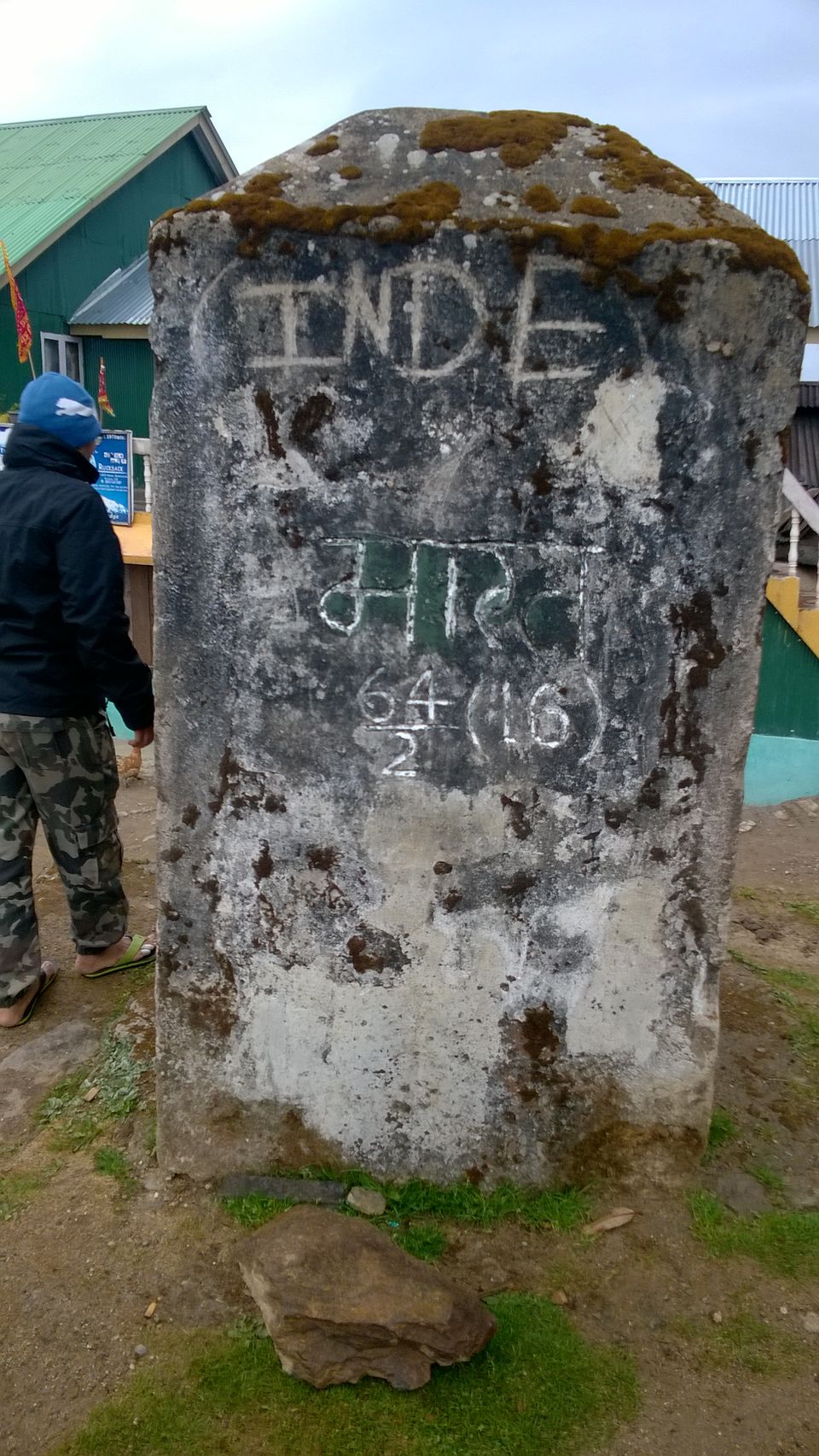 This night we were at an altitute of 9570ft and it was very cold at night. So cold that I woke up atleast 4-5 times. Later when i found out this was the case with most of my fellow trekmates, I felt relieved. Its amazing how inherently sadist humans are..!! We had a camp fire for the first time today and it was lots of fun. We resumed our trek next day and this is when I first caught of glimpse of Mt everest with my naked eyes. Although kanchenjunga was visible imposingly through out the trek, it was everest that swept me off my feet.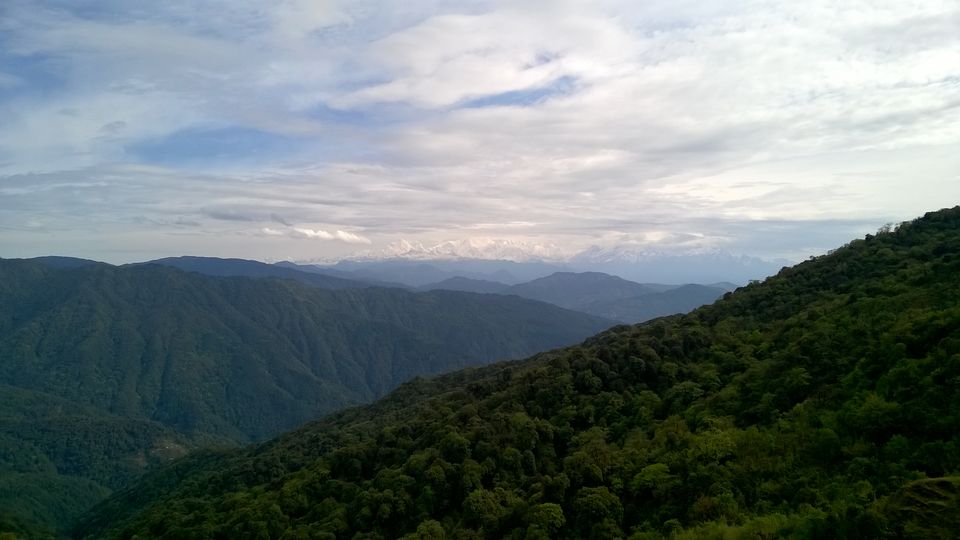 (Kanchenjunga at the centre, to the left are Makalu & Everest)
It was a view I will never forget in my life, for it made my will stronger to climb Mt.Everest. Later we entered Singalila National park. One of the best parts of this trek is that there are many terrains viz. dense forests, steep ascents and descents, rivers, wildlife parks and snow (in winters). On this day, the trek was smooth until we stopped for tea. This is where we saw 1940's land rover that takes people to the Sandakphu. I always wanted to climb a mountain which was inhospitable and accessible only on foot. Hence this was a little dampening for my spirits. Nevertheless, the next 2 km upto the lunch point at Kayakatta was so steep and difficult that I felt that I was finally climbing a mountain, a real one!! Apart from catching magnanimous glimpses of the mountains one peculiar thing about this trek is that you find lots of cute infants. and the best part is that their mothers aren't strict and allow us to play with the kids. So much that a lady on our trek asked one mother, rather by mistake, pointing at her child, how many months ago was he made!! We all had a good laugh. Later by afternoon we reached our camp at Kalipokhri (Kali-Black Pokhri-Lake). The view from there was too good. Although the view of Kanchenjunga was blocked by Sandakphu, the village was worth 2-3 days stay. Finding a lake at that altitude was comforting, if not heart warming.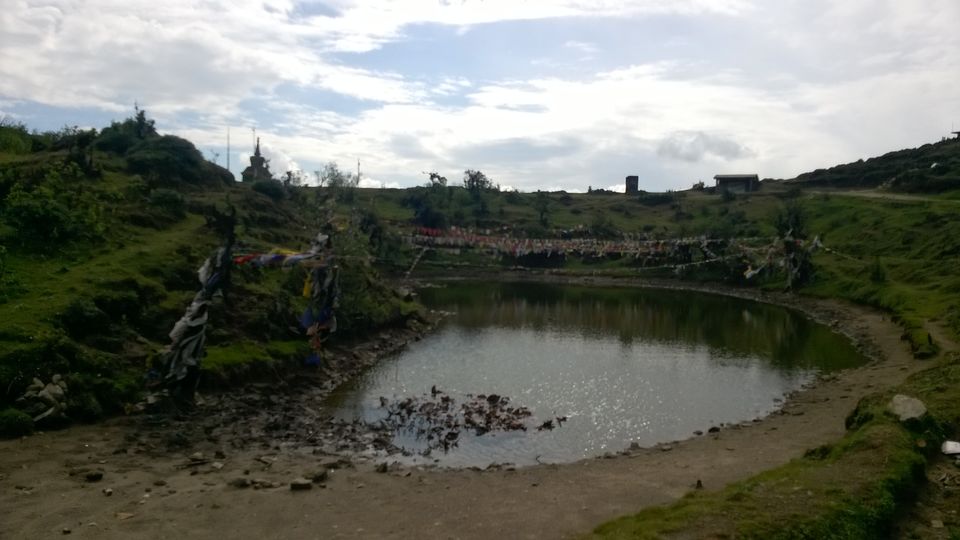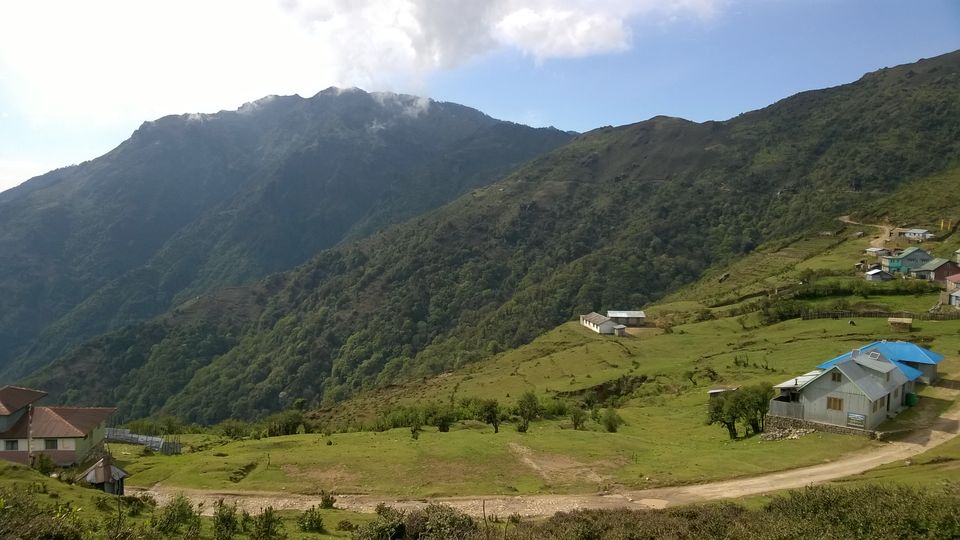 The tall peak to the left was Sandakphu behind which lay the mighty Kanchenjunga. The house on the right with blue roof was our camp. And this was when I happened to take a picture which I found amazing.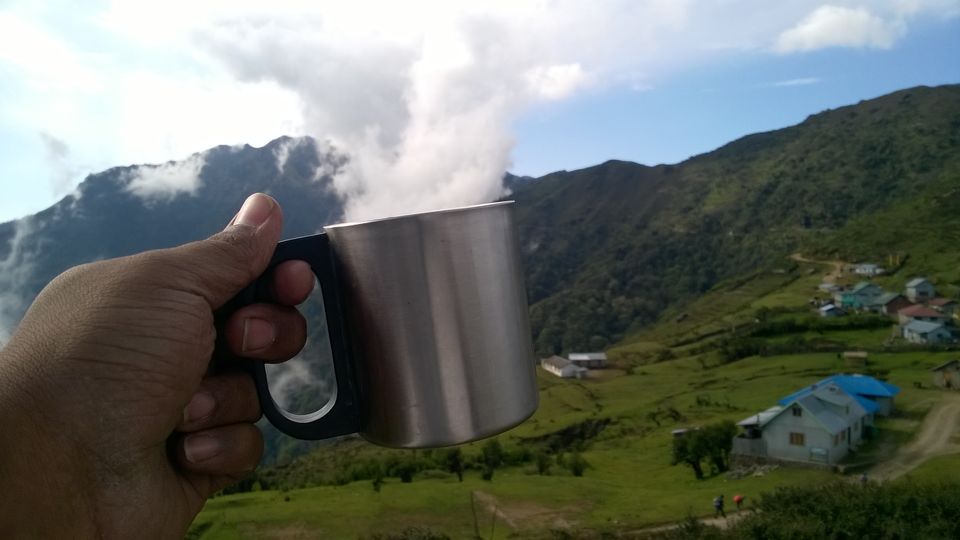 The next days trek was a tough one with much steep ascent up to Sandakphu, the highest point in West Bengal at an altitude of 11,939 feet or 3636 meters. Its a unique experience in Himalayan treks where you happen to sweat from the inside, due to the heat generated during walking and on the outside you are freezing cold. When we reached our base camp, our bodies were emitting steam!! There was sweat due to our trek but the temperature was very low, so as we removed our clothing we could see steam like vapor being emitted from our body!! Happy we were to have reached the peak, but we were equally disappointed not being able to see the mighty Kanchenjunga due to the foggy weather. We weren't able to witness sunset, sunrise or at least catch a glimpse of mountains. But I wasn't worried altogether, because I had not come here to have fun or make merry but to find peace/harmony or equilibrium as few would call it. I always felt when you become happy, you will soon see suffering and vice versa. But when you strike peace, you are in balance. The treks I undertake are in part an attempt in attaining this.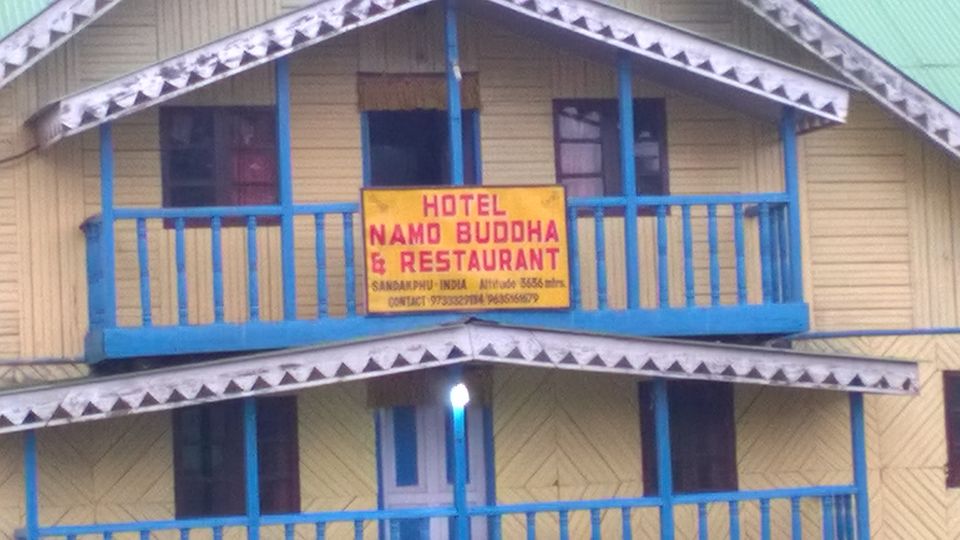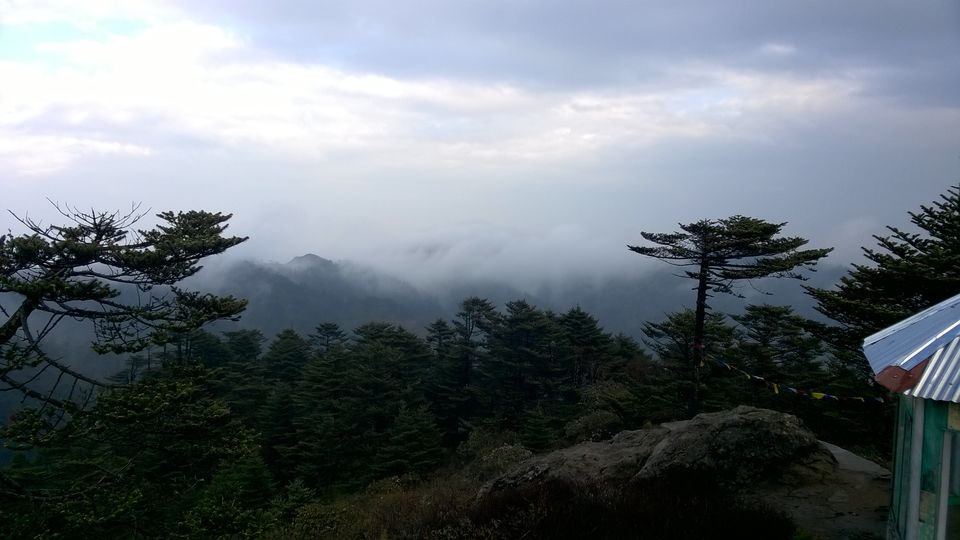 The next day, we started our descent to Gurdum which was at a height of 2910 meters. This was marked by steep descents and our feeling that descent would be relatively simpler was proved wrong. As we went downhill our calf muscles pained and we slipped several times because the path was drenched in rains. We reached our camp in the afternoon just before the rains started pounding on us. There were however, several trek mates behind us, who had taken the beating of the clouds. It was a scenic place and most of the time we could hear the gushing sound of river Srikhola, which we were to cross the next day.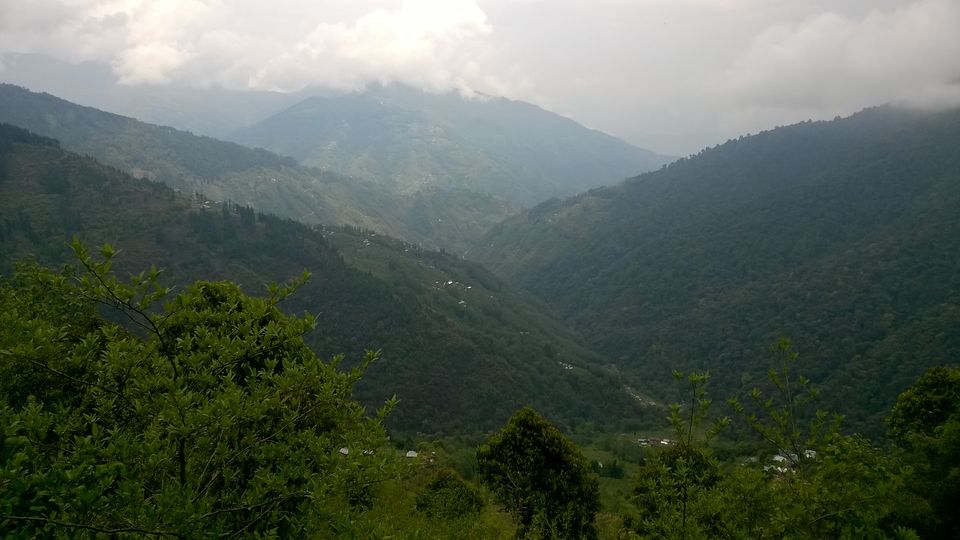 The next day we set off to Rimbick, the first half was through lush forests, river and some ups and downs which were quite scenic. Post lunch was mere stroll on the concrete road. And thus we had completed a much coveted Sandakphu-Gurdum trek which is my first in the Himalayan region.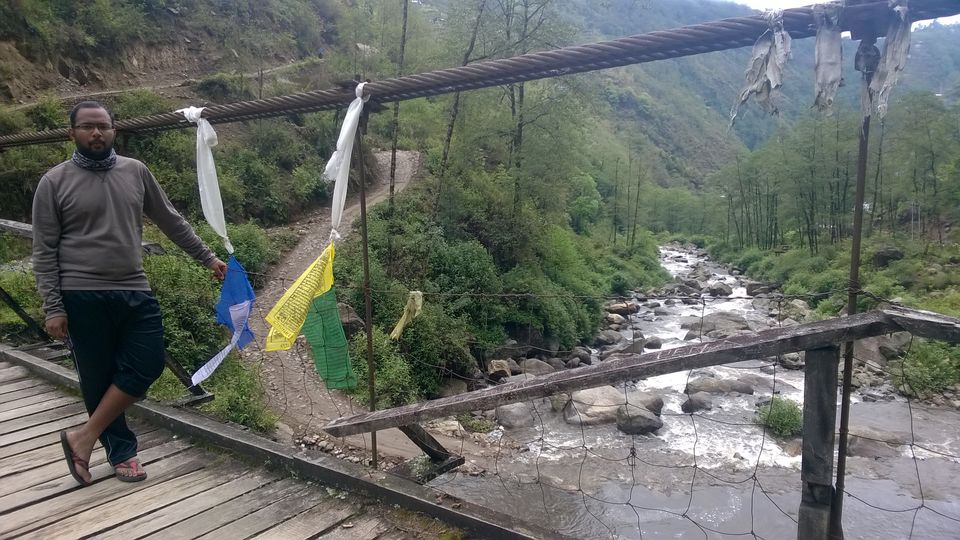 General Info:
This Trek was organised by Youth Hostels Association of India at a cost of Rs.6000 (From Darjeeling to Darjeeling). The food through out the trek was great. Couldn't have asked for better. The accommodation was satisfactory. Further this trek is closed from June to September and can be done in winter as well as summer. Better avoid this trek during monsoon seasons for no hitches. Always keep rain-wear handy.
"Its not the mountain we conquer but ourselves" -Edmund hillary
"Climb mountains not so the world can see you, but so you can see the world."- David McCullough Jr.