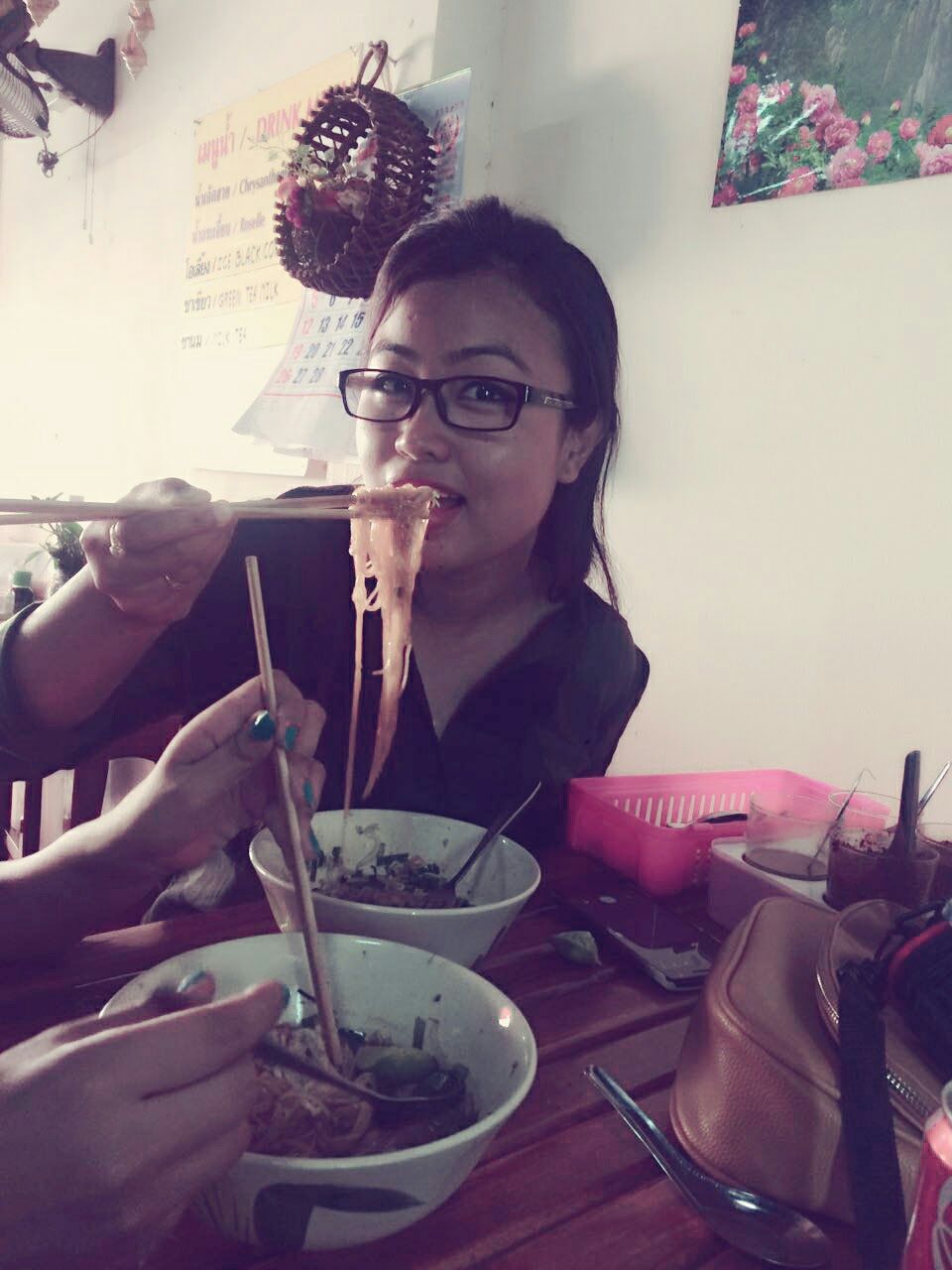 Thailand ..
After a lot of planning finally the dates were set. Well I have been there for three days. No four. Yeah it was a four days three night trip to this great Asian country. It was like a dream come true. Us yeah me with my two best girlfriends Mridus and Kanchu. Like the every next girl I too had a dream of travelling round the world. But I didn't know it will come alive so soon. Thanks to Mridus (my friend) for the ignition.Well we made this successful trip on Feb 2017. And why I am writing this now after these months is because I want to live those moments again.
So where was i. Yes. We had this well plan. Booked hotel ..round trip tickets on hand and off course the extra cash. And here we are sitting on flight to Thailand . Flight is about to take off and we were in dreams. First time flying out of your country. Best thing was we had each other . Proud feeling on ourselves. Hehe look at us. We are travelling abroad. Making our goals successful.
After the awesome long flight we landed .... airport. Welcome to Thailand. Beautiful place waiting for us outside.
It took us almost two hours to done with all the formalities you know visa on arrival ..the long queue. You are getting the idea. Hehe. We get a cab right outside of the airport. They have this really nice arrangements for paid taxis. You need to go to a automatic machine get the ticket and find your taxi no written on it. So it was easy.
Getting taxi done. Ow forgot to add, you get these SIM cards available outside the airport ( relief for parents).
Taxi to hotel was just a ride of 30 min. Really Google helped a lot. A lot . I sincerely thank Google for their awesome features on Google maps. We thought it is enough to know English for communication. But there you go wrong. We tried calling every possible way but the taxi driver didn't even looked back. Uncle, brother , Lang ( Google says Lang means brother in Thai) . No use. He just drived straight. And we were like it's OK let's go. We had this hard time communicating to locals. Somehow the taxi driver took us to our booked hotel BANGKOK68. Yes nice hotel , beautiful receptionist. And room was nice as expected. Three single beds with balconies. Finally we were there. We checked in at 6 am in morning. We planned our four days with really no time to waste schedule but you know when you get these nice bumpy beds. We needed to be energised for the upcoming adventures and we slept till 10 am.
Our first day in Bangkok:
We had this plan of visiting Grands palace and then all three Wat's first. So we took a taxi from outside of the hotel to Grand Palace . We couldn't visit it since that was the time for prayer for the locals and visitors we're not allowed. A person suggested us to take the city tour by the Charo pharay river mean time . Well that was a Good idea to save time. And also we get to ride on the tuk-tuk (like rick saw ) . The tuk tuk driver was nice. We even took selfies with him. Hehe.. he took us to Chao pharaya River and we had a really amazing city tour. You must take this tour since you will get to see the Bangkok city fully. River sides houses also locals carrying goods to sell on the boats. We were busy enjoying capturing views as much as we can. People waving at us as obvious we were there as tourists. Awesome feeling.
We landed in Wat Arun Temple after the tour. This was a Buddhist temple on the bank of Chao pharaya River. Clean and peaceful environment . Properly managed gardens. We spent a good amount of time exploring , capturing photos.
It was after noon and we decided to experience the local food for the first time. There you go girl. I don't think it was a bad idea at that moment . Hehe. There was this local restaurant . I ordered veg noodles for myself and my friends did chicken noodles. Well it was difficult for me to distinguish in both from the look though, I tasted it . Hehe I can't lie since the taste didn't favoured my taste buds. Well actually I wanted to taste the local foods but I guess our first option was wrong. We ended up eating biscuits we had. Don't laugh please . Well apart from the food I have to mention, the restaurant owner was so cool. There was an old lady also. They were so friendly , they even gave us chopsticks as gift .
After this let's go eat local food adventure tired us decided to head for our next destination. Chatuchak Weekend market . In my mind ( there I will definitely have to eat something). That was a really big crowd. We were in Bangkok's busiest place . If you compare it will be like sarojini market of our Delhi. Shops every where. Clothes foods jewelries everything was available. And one thing was noticeable , most of he shopkeepers we're lady. And their fashion level was unbelievable. We were like oh my good look at that girl, look at her skin.. haha as if we were boys stalking at girls. But believe me they have got this beauty. Amazed . We did some shopping on the market. Of course we had to. Girls on .
Everything was eye catching.
I have to say it was a awesome day , awesome place. Can't help the food though. We tried coconut ice cream there which was tasty . Hehe in safe zone. Well being a vegan it was a real difficulty for me in Bangkok days . But I was saved since we already planned and had our instant noodles . Well it's a suggestion for you guys if you are a vegan or can't eat all the meats like my two friends , it's safe for you to carry 2 3 cup noodles with you. We even carried bread and butter for the first day. Thank God. From the first day experience we started eating at the hotel restaurant. That was the safest place for me . I used to mention ten times while ordering that I am pure veg, no egg , no meat ( egg is considered as veg in some places) Full Jay food. Veg is called Jay food there.
After dinner we had no time but to get our bodies some rest , as we were travelling from last 48 hrs and hadn't have enough sleep. I managed to wish My friend Mridus as next day was her birthday. Oh I forgot to mention, we had this planning of Thailand trip on the occasion of her birthday. Cool isn't it. So sorry Mridus we were not able to manage a birthday cake at 12.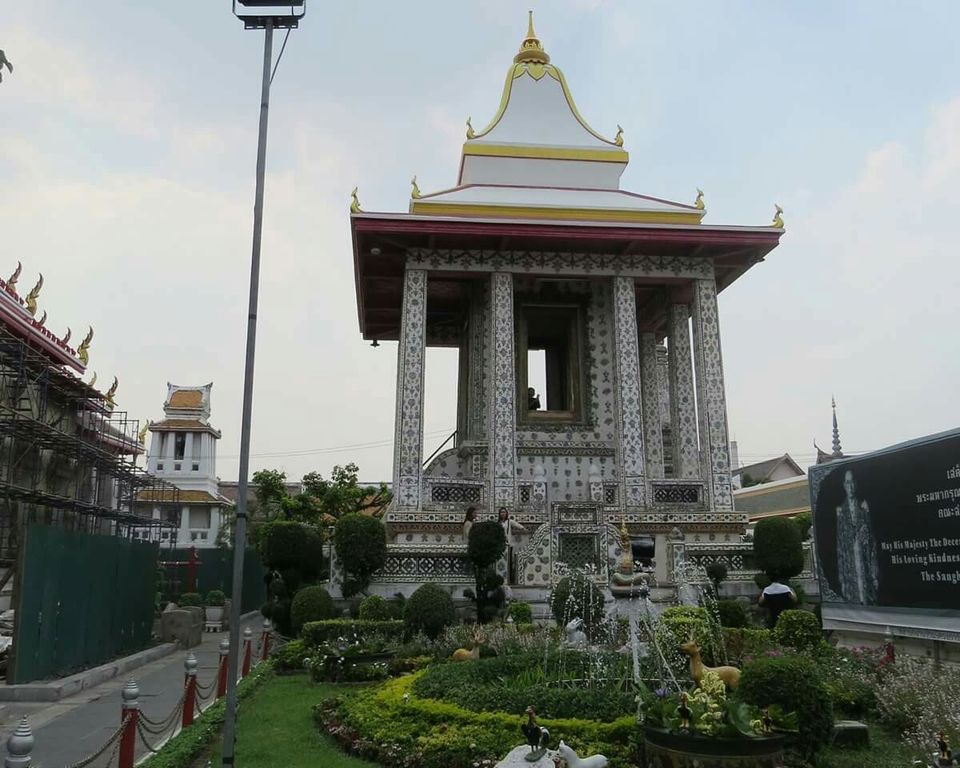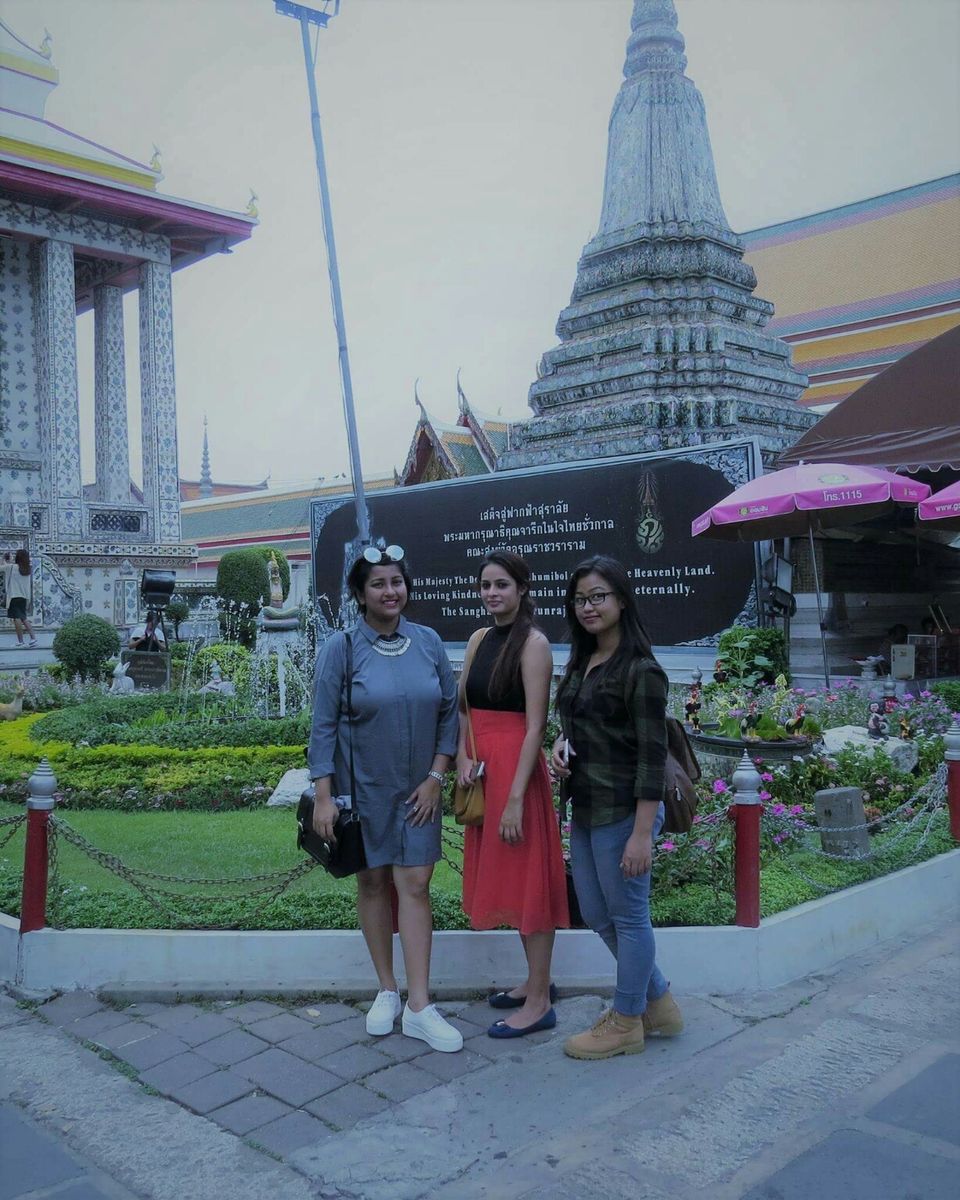 2nd day Pataya tour:
Second day in Thailand. Breakfast in the hotel (since we were scared of eating out). We booked car from the hotel and stated the journey at around 10 am in the morning. This time the car driver was comparatively friendly. Thank God we were saved. After 2 hours of journey we reached pataya. Pataya is said to be the heaven for those who love to experiment, enjoyment at it's full. Cruise lined up with casinos, and we were surprised to see the red light area. Well unbelievable people. We tried para sailing , under water walk and banana boat ride in Pataya. Experienced the thrilling adventures and proud of ourselves.
Return journey from coral island to pataya by boat was awesome . Can you imagine in the mid of ocean and we three alone in the boat. Wow, thinking of that moment makes me alive. Off course the boat driver was there. Hehe.
After this tiring .. adventure in Pataya we were on the way back to hotel.
Now the thing remaining was to find a birthday cake. Mridus birthday and we didn't even celebrated yet. Hard thing was to make cab drive understand what a birthday cake is. Hehe. Tough time. But we did that to. Mridus even sang uncle cake happy birthday to you cake. Hehe stop in a cake shop. Didn't help. We kept looking from the car window in case we miss a cake shop on the way back. Lucky us. We got a really cool cake shop . Comparatively expensive for tourist. But it was your besties birthday. No excuse. We got the cake. We celebrated her birthday in the hotel lobby. We called the available staffs in the hotel. Finally. A happy evening in Bangkok .
Day Three:
We went to SIAM PARAGON on our third day in Bangkok. Thailand's 3rd largest shopping mall. Outlets filled with expensive goods. We were just feeling wooaw.The good thing was we found an INDIAN restaurant ROYAL INDIA and we were like let's do pet pooja.
Ocean world was on the same mall , I hope I will explore that on my next visit to Thailand.
Siam market was same a chatuchak market . It was a road side market . Eye catching items lined up. Off course we had to do shopping. Later night we met some friends of friends and went to NIGHT TRAIN MARKET.
The place was awesome. Really. Crowded with people, music food. Wow. We get to see all the Asian foods , well I was not brave enough to taste though. I tried mango rice ( a sweet dish). Can't help. It was fun there.
Bangkok Trip was fun ,we were loaded with memories. Even though it was difficult communicating people were friendly . Shopping is a good choice in Bangkok if you are real fashionista. Food I can't say since I couldn't eat. I survived on instant noodles and veg fried rice. You can try their local food if you are a brave foodie
Bangkok is a no honking city. So it's good for peace lovers. Well like in INDIA every one is in hurry to catch the train I can't imagine how this city is living. We have a lot to learn from them.
We headed back to INDIA next day after making so much memories. Ours best friendship goals ever. Good thing was we explored everything by ourselves. And we made this trip in less then 70k. We didn't book any tour agencies. I believe this way you get to decide your own time and we get to learn a lot. Only you have to do a little study before the trip.
Awesome awesome. I hope I will make my next foreign tour soon . And I will definitely like to share my experiences.
Till then Live Safe and Be Happy.
- Arunima❤