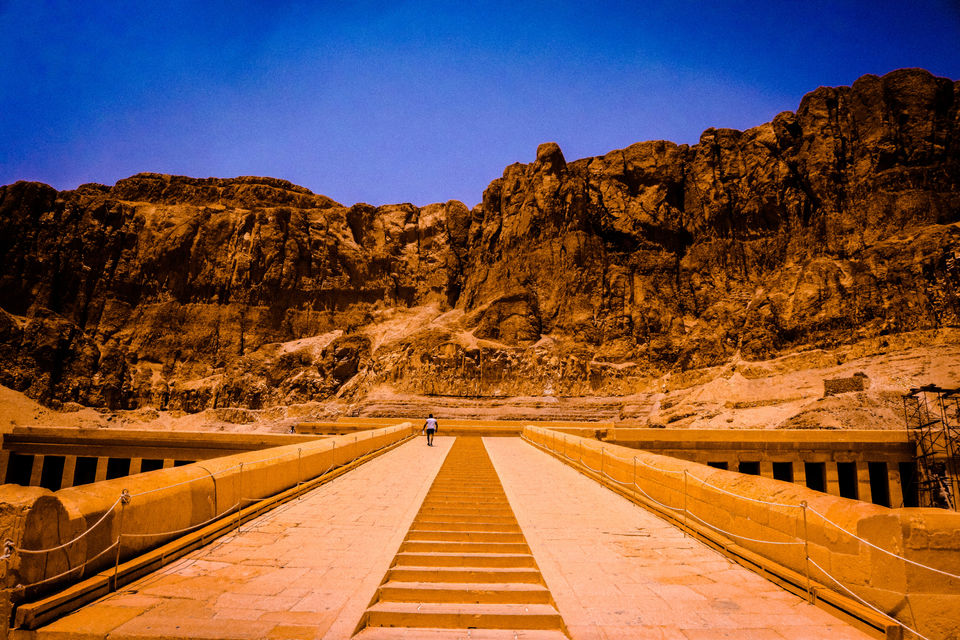 As I stand clueless at the Cairo International Airport, with my heart and mind muddled by the strangeness in the air and the unfamiliarity of the words and whispers gushing into my ears- with no access to the internet to get a hold of the guy responsible to pick me up and with no idea about his appearance.
Passing the test of communicating with the policeman to lend me his WiFi for a minute was like setting the Thames on fire. Soon enough, I was with Mohamed Hassan in his car, heading towards my hostel. It was my first experience interacting with an Egyptian guy. His exotic-accent and sharp features were indeed very appealing.
As we drove through the roads and lanes of Cairo, I was in awe. By and by I felt comfortable around the unfamiliar vibes and figures on the streets and roads. The clamour of the people, the heaving realm of chaos and the subtleness in the style of living of souls passing by, pepped me up for my impending adventure.
It was when I reached Downtown Cairo, I understood why Michael Haag said, "Cairo is an exploding modern metropolis which nevertheless preserves within its heart the finest medieval city in the world..."
It was 37 degrees in Cairo, and I could feel the scorching sun soaking into every fibre of my being. After ascending the three-storey building with a broken luggage and four other hand luggage, I was directed to my room. This dainty room had three individual beds and one ceiling fan, with stressed wall and cracks and no place to move. Surprisingly, I did not complain. Maybe for the fact that I stood by my own words- "it is okay not to know what to expect while you are on the go."
Downtown is busy enough in daylight with people walking down the streets of Tahir Square. As the night seeps in, Downtown Cairo turns into a sprawling city with people strolling around the nooks and dazzling streets. I joined the herd, acting all touristy and at the same time, looking for a bottle of water because I could feel my lips cracking up because of dehydration. It was my first night on the streets of Cairo- with every step I took, the aroma of Turkish coffee wafted heavily through me. There were plenty of cafes down the streets where people huddled up to spend their evening smoking sheesha. Everything about Downtown Cairo demands attention as there are umpteen things to stop by and explore. From shimmering shoe shops to exotic Egyptian attar- from scrumptious street foods to fancy hukkah bars- all Egyptian feels dived inside me at that moment. That was the moment when I could feel the air wrapping me and making me feel more buoyant and exultant.
Downtown Cairo is a gateway to the city centre as well as to the western expansion of Cairo. I stopped by the very famous Tahir Square which was 400 meter from my hostel. I could see Marriot, Nile Ritz Carlton, Ramses Hilton and Four Seasons Hotel which made it obvious that the square was an integral part of Cairo. I was looking for a Vodafone shop to buy a local sim as my stay in Egypt was for two and a half months.
When we travel, we make lists of places we want to visit and things that we want to do. However, I planned on taking things slowly as I had plenty of days to explore. So, I started my venture by catching a glimpse of the one and only, river Nile. One can enjoy the view of the river Nile from the Qasr Al Nile Bridge connecting Downtown with Zamalek or can wander along the magnificent river promenade to catch a better view of the river Nile with beautifully decorated feluccas. The view looks great at night- the fairy light and colourful decors on the cruise and boats look like glowing fish scattered on the river Nile. Felucca rides are the best when one is in a group or doesn't mind bonding with strangers.
Finally, the day comes- the Pyramids of Giza. Located on the outskirts of Cairo, about 10 miles away from Tahir Square, stand the Pyramids. It was a dream come true. It really was, for me. For I had always read about Menkaure, Khafre and Khufu in books or watched them in movies. I took a moment to collect myself while being completely awestruck. Surreal. What made the experience even more amusing was the history and stories behind every brick and stone spread in the vast land. I would encourage a guided tour if one is really interested in hearing the story and its history from the mouth of an Egyptian. It enlightened me about things I never knew could possibly exist.
I had to choose between a horse and a camel to get a closer look at the pyramid. I wish I had an option of not encouraging animal tourism, however, I had none at that moment (please go for bike rides if you can afford it, animal tourism is something that shouldn't be encouraged). As a selfish human being, I put my heavy weight on a poor camel to take me for a ride in the desert, closer to the pyramid. Standing in front of the mammoth pyramids, I was astounded by its prodigiousness.
"Oh! You beauty!", exclaimed my heart. Another beauty was the Sphinx. Yes, there it was, guarding the treasures hidden inside the pyramids. Just kidding. One can easily get inside the pyramids and have the time of their lives while the Sphinx stands bold and daunting. Yes, I found Sphinx beautiful but at the same time was intimidated by the way it was constructed. I can't actually put a finger on whether it was the erosion or the damaged face of the Sphinx that appeared appalling to me. However, I stood there with all my eyes wide open, gawking at the beautiful sight right in front of me.
Egypt with its amusing ancient relics and numerous opportunities for adventure and cultural immersion makes it a place to remember. It is a temple for non-vegetarians. Unfortunately, for vegetarians, the survival takes a toll. I survived on a chocolate croissant, coffee and Koshari. Koshari is a lip-smacking national dish made of rice, macaroni and lentils commingled with spiced tomato puree, garlic vinegar and garnished with chickpea and crisp burnt onions. It is one of the most delectable dishes I have ever tried in my life. Definitely, a must try.
When in Cairo, one must visit the pristine Mosque of Muhammad Ali Pasha located in the Citadel of Cairo. Its enchanting ottoman architecture and an intricately designed cupola with serene surrounding and the view of entire Cairo is breath-taking. What I loved the most in Cairo was Khan-el-Khalili, a lively souk that had motley collections of clothes, antiques and souvenirs. From glowing paintings at night to different sizes of pyramids and pharaohs, from shimmery clothes to traditional scarfs and hijabs, from ravishing belle costumes to spices and masalas- Khan-el-Khalili is a place to be.
My trail took me to eleven cities in Egypt including Cairo- Minya, Luxor, Aswan, Marsa Alam, Hurghada, Alexandria, Dahab, St. Catherine in South Sinai and Ras Sudr. I did miss Sharm El-Shiek, however, each city I went to gave me a reason to come back again. From waking up to the red sea to feeling the adrenaline rush while flying on a hot air balloon, from getting engrossed into the history behind Luxor temple to diving into the river Nile at midnight in Nubian village, from witnessing the sunrise after a 12 hours trek in St. Catherine to strolling down the markets in Dahab, from tasting strong Egyptian coffee to trying on exotic ambrosial attars, from spending hours in the great library of Alexandria to endless broken conversations with locals- ahhh…everything has left an imprint on my heart that I will cherish till my last breath.
There is an inexplicable charm to travelling alone that cannot be understood by those forever in a company. The fact that I was travelling with 21 different nationalities, not only gave a chance to acquaint myself with different cultures and tradition but also helped me make some unforgettable friends from across the globe.
So, when in Egypt, live and explore to the fullest because it is so much more than the pyramids, pharaohs and river Nile.