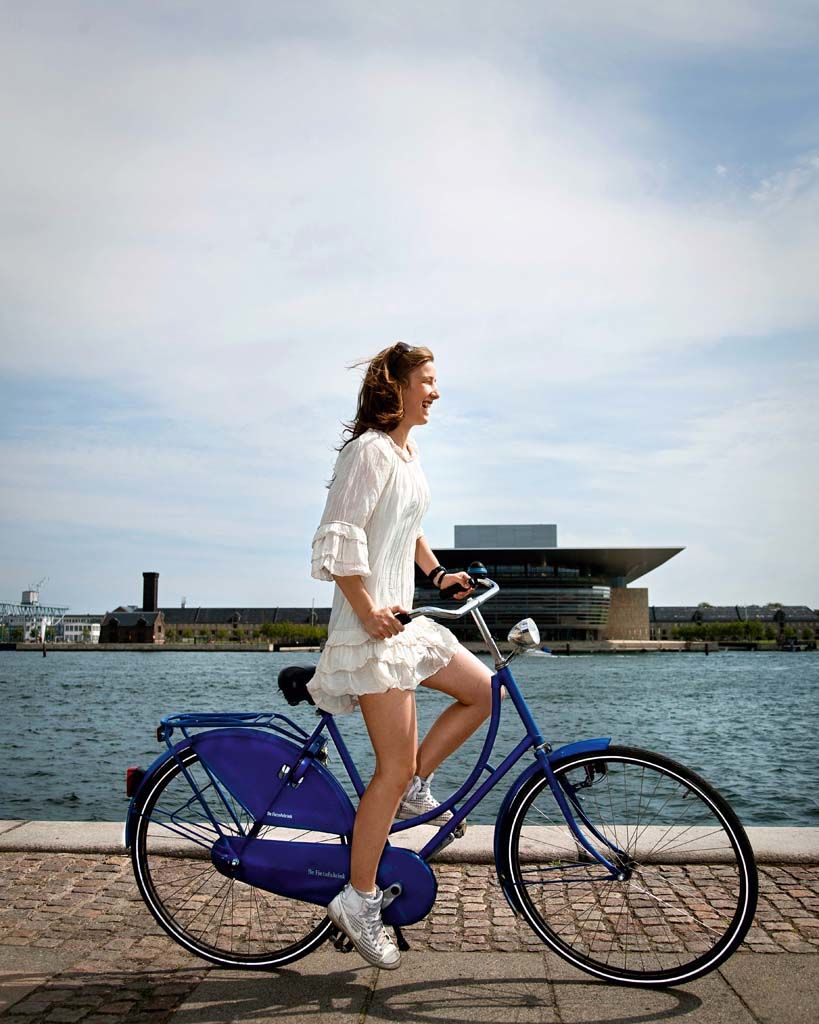 Written by Anwesha Sanyal. Picture Credits : Nikolai Perjesi, Marcus Nilsson.
The Danish capital demands a little loyalty as you leave, by catching you off-guard when it evokes your hidden Viking instinct - The love for sailing.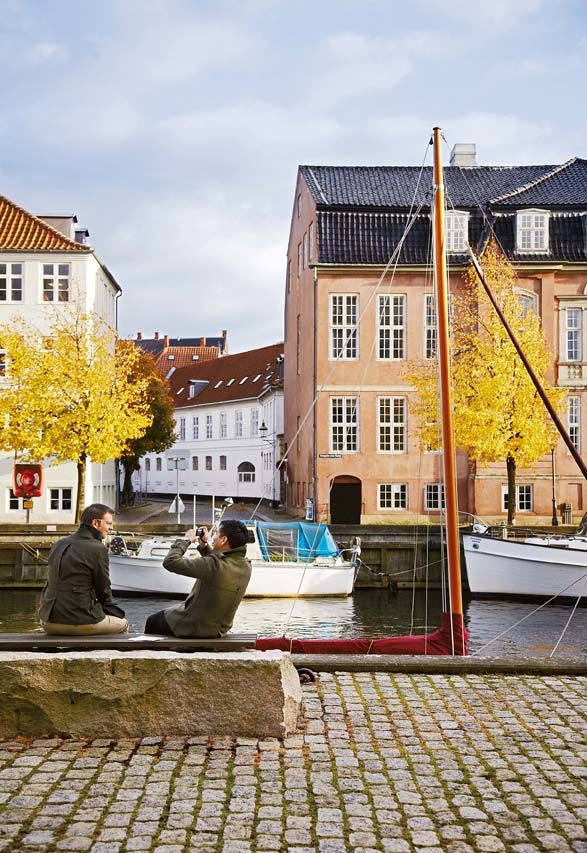 Copenhagen's city centre.
BY: MARCUS NILSSON
"What would it be like to grow up in Copenhagen?" My steps fell on the cobblestoned sidewalk of the hip district of Vesterbro at four in the morning, as I looked around with my tipsy photographic brain to catch the last few glimpses of the night. As daylight breaks, I'd be flying back home. The young chirpy midnight crowd has celebrated another weekend as have I; the forty-something couple now turning an unknown corner has complemented my confidence on a foreign street, and I for one, feel quite synced to the young lot walking back home with a cheeseburger clutched tightly in hand. I gradually lapse into one of those moments in travel, when you shut up, and think in retrospection—when strands of memories become your early morning rays and peak through clock towers, churches, and state buildings to shine beamingly on your experiences in a new city. You can be one of the two kinds when it comes to sailing, I think, you can either love it, or absolutely dread it. I belonged to the latter kind all my life, only to be contradicted unexpectedly, in under an hour.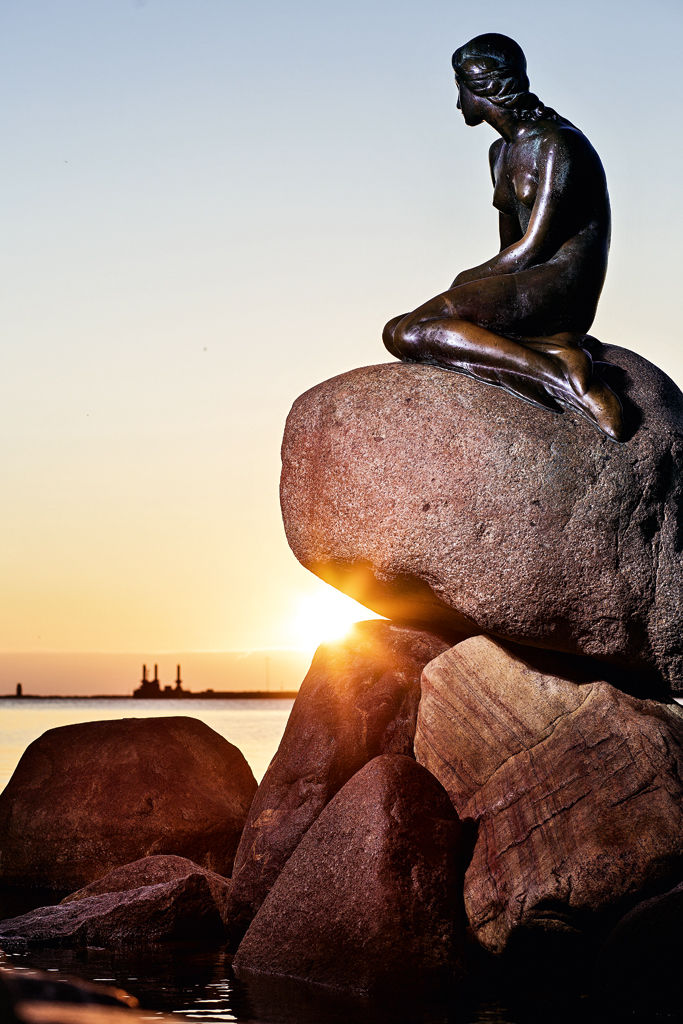 The Little Mermaid
BOAT RIDE
My first encounter with the Danish waters was...gentle. I hopped on to a Stromma boat, one of the biggest shipping companies in Europe, for a guided tour on the canals that come with a dose of two languages, Danish and English. The ferry gently turned multiple corners of historical facades before it exposed itself to the vast expanse of the Copenhagen harbour—the air was light, the wind cold, and below the three layers of clothing, I felt a change of heart. The Opera, the Amalienborg and Christianborg Palaces, the Black Diamond, and the famous Little Mermaid waited patiently to be discovered for the millionth time, so did the hundreds of postcard perfect buildings lining the canal, to be photographed by amateur hands. stromma.dk
DUFFY
A little away on the harbour floated a swanky new Duffy, an electric boat with chic interiors akin to a lounge, with sofas and tables, and equipped with the latest technology for easy manoeuvre. From afar, this seemed to be a spectacular option for intimate picnics on the water that rode a notch higher on the luxury quotient. About ten people on the boat swayed to local music as a little blond, blue-eyed child bent over to touch the water. On enquiring I learnt that the trip on a Duffy was followed by a quick meal at the 'Bread & Wine' café where you are served sandwiches and croissants, and a glass of wine. Another time perhaps, I thought. duffyboats.dk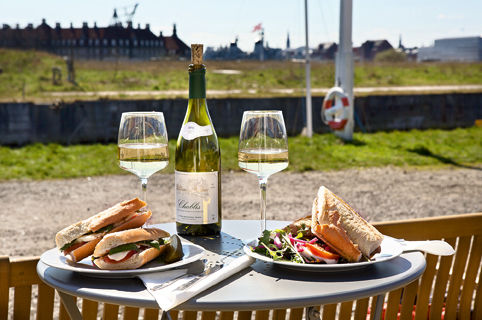 At Bread & Wine after the Duffy Ride
Picture Credits: Rasmus Flindt Pedersen; malmotown.com; courtesy of Duffy boats
FISHING
In Denmark, you want to be nothing less of a Viking, and the delightful way of going about this business, is by 'hunting' for something. Spar Shipping's half- and full-day fishing trips can come handy at times like these. You are whooshed from Osterbro to Sound, where the good catch frolicks under the crystal waters while you jump with equal enthusiasm on the boat, lest your absence of interest dissuade the fish. When the wind indicates an oncoming summer, the sun-kissed deck on the unhurried day becomes a blessing for an aspirant Viking. With a beer in hand, you feel complacent rejoicing the catch that frankly comes with a little bit of help. At least for an afternoon, Copenhagen is conquered. sparshipping.dk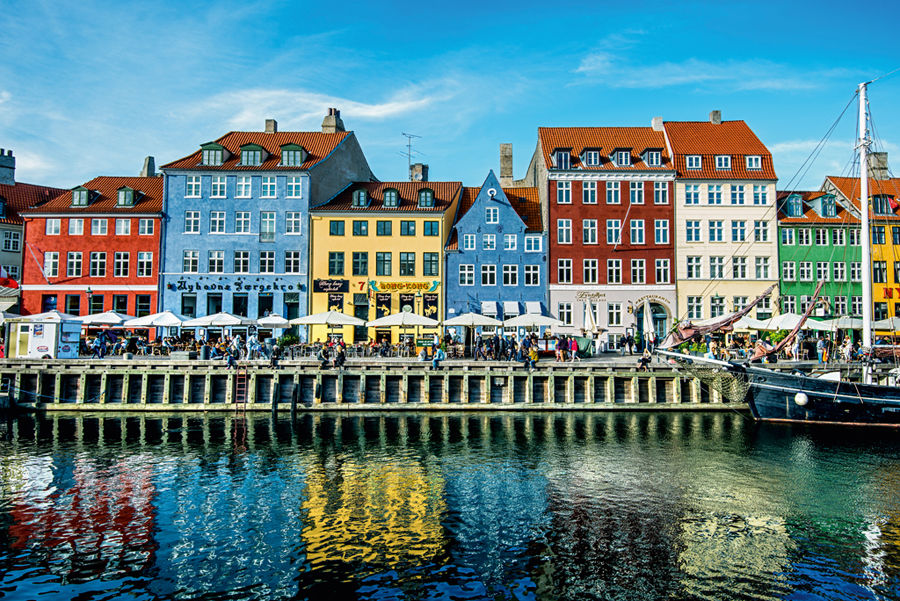 A view of the buildings lining the canal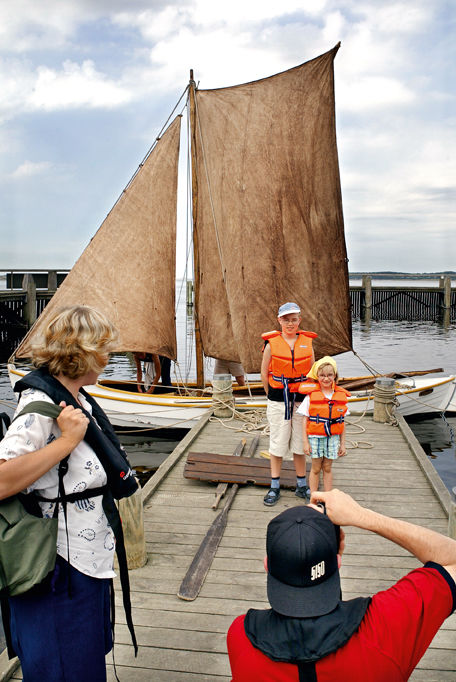 The harbour at the Viking Ship Museum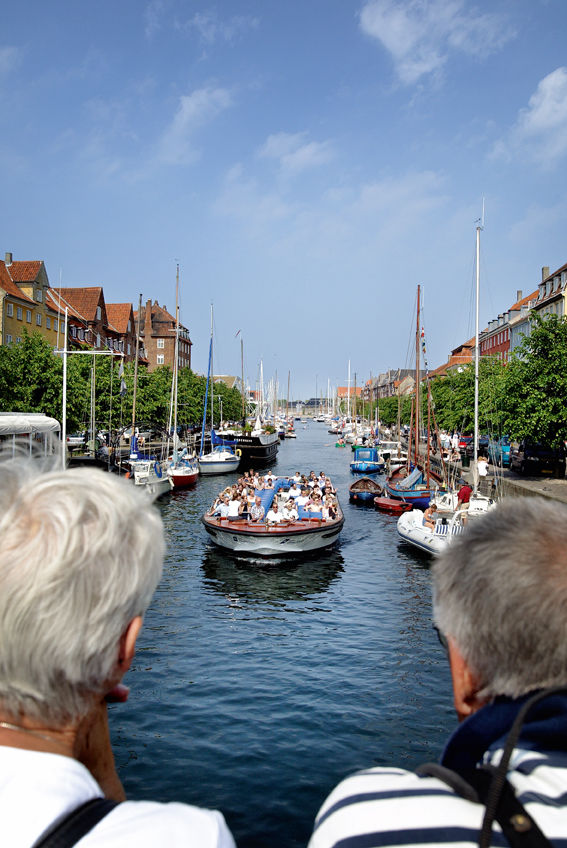 Riding the boat on the canal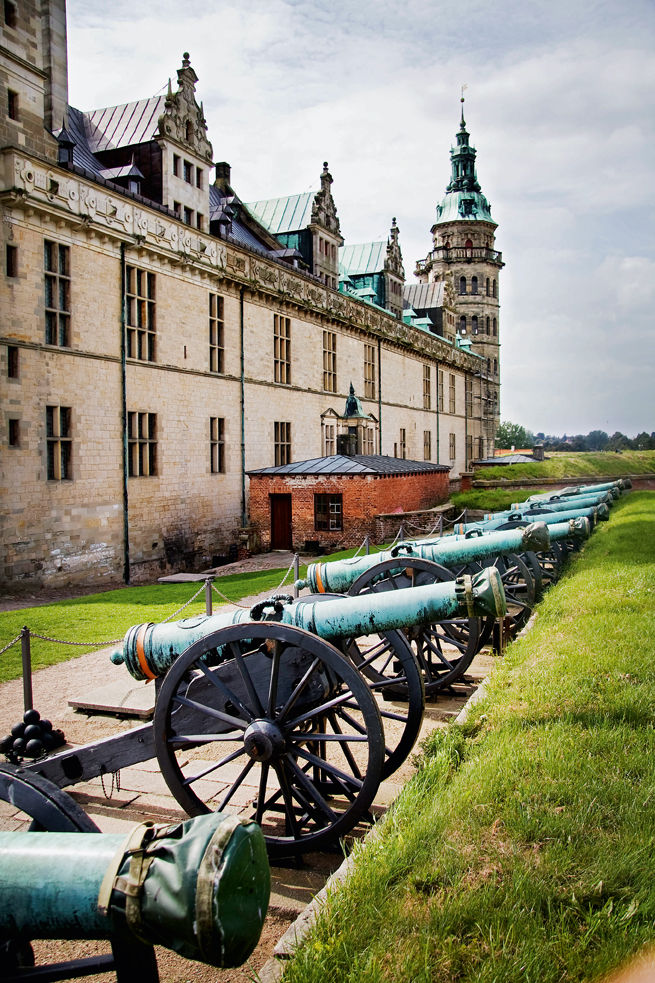 The Kronborg Castle, Helsingør
Picture Credits: caecacph.com/Jacob Schjørring & Simon Lau; Christian Alsing; Ty Stange; Christian Alsing
CRUISING
And that isn't all. The euphoria of being on the water can be quite overpowering, and to satiate a hunger that can't be met on land, a mini cruise can follow suit like a coyote's chase of a roadrunner. Pearl and Crown Seaways—the two jewels of DFDS Seaways—are the navigators of one of the most popular routes for cruises, that between the Danish and Norwegian capitals. It can spoil the daylights out of you with a gastronomic indulgence that requires one to have a large appetite— there are four restaurants and a café—with stellar food that'll make you regret not having more room in your stomach. The 7 Seas Restaurant has a sumptuous breakfast buffet table ready with cereals, meat, salads, and pastries among other things, the Blue Riband restaurant whips up an à la carte lunch, while Marco Polo's gourmet dinner of a six course menu in an elegant ambiance with a selection of wine is a foodie's paradise you would love to discover. There's a sauna, a nightclub, a casino—throwing boredom off the deck. dfdsseaways.dk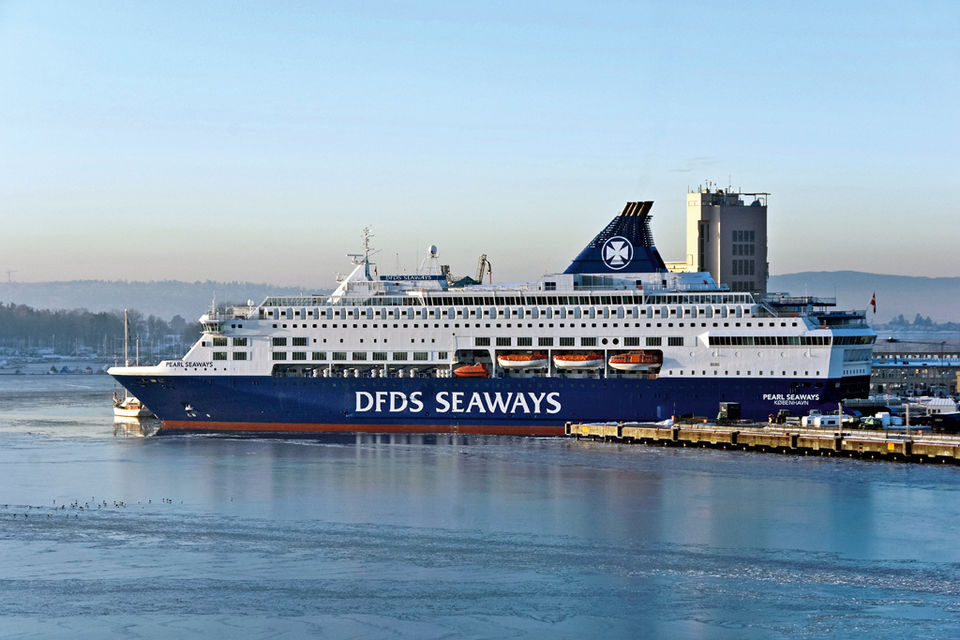 The Duffy sailing the harbour
VIKING SHIPS
But no appointment nudges you at the back of the head like the one at the Viking Ship Museum, the only place in the world where you'd find the ruins of some 1000-year-old Viking ships, and five Skuldelev ships. In the East Room of the Viking Ship Hall, are a model cargo and a war ship where kids amuse themselves by wearing a costume and posing for pictures. This museum also has its harbour, where standing tall and proud, are reconstructed Viking ships, Nordic boats that were used centuries back by the locals for war, trading, transport, and fishing. There are Viking ship rides to be had at the Roskilde Fjord on one of these, and with an advance booking in hand; you put the final nail in the coffin of your own racial attributes. Henceforth, you're one of them. vikingeskimuseet.dk
THE BEST BARS IN TOWN
Copenhagen is packed with social spaces for travellers to embrace nightlife by going bar hopping.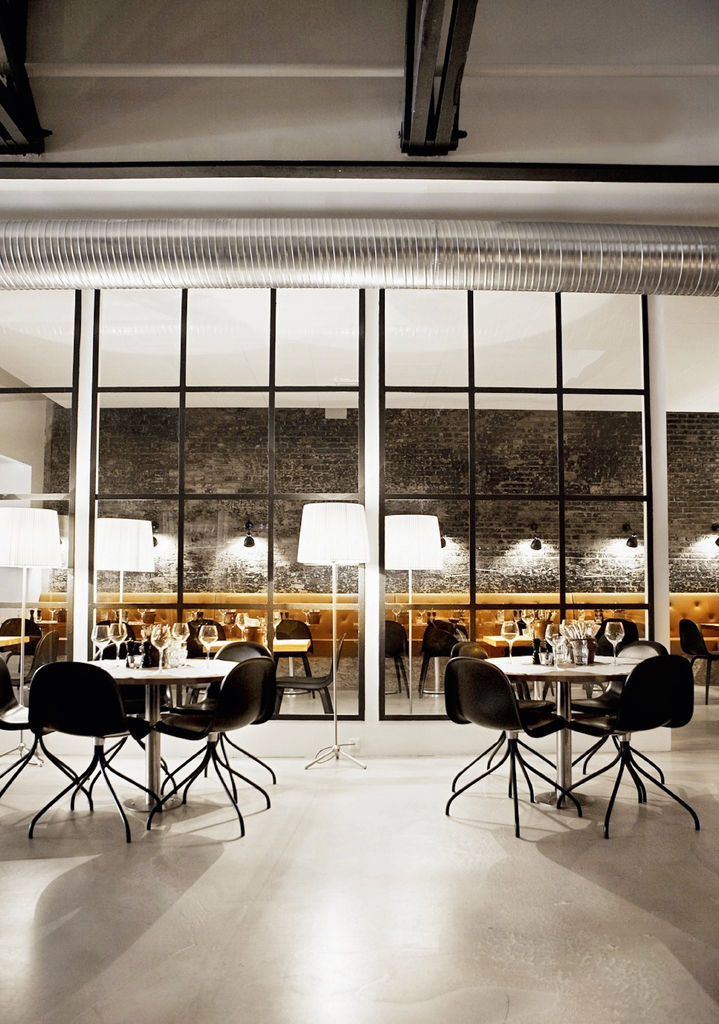 NIMB BAR
Chandeliers, bonfires, and classic furniture, this is a high-end bar for intellectual minds to meet. Especially on winter nights, it gets cosy and charming. 5, Bernstorffsgade.
JOLENE
The eye-catching neon signboard will remind you instantly of Dolly Parton's popular 1974 track. Popular for its loud (read: great) music and DJs spinning popular local tracks, this is where the cool crowd is. If you're lucky, you'll catch a live rock band taking over the scene. 81-85, Flæsketorvet.
1656
Don't expect something right out of a 17th century English play, but definitely the elegance of later years. Think velour couches and Chesterfield furniture and a slow night of innovative cocktails made from seasonal produce. 33, Gasværksvej.
RUBY
Set in an old building dating 1740, Ruby is a popular haunt for its cocktails. The wooden flooring, opulent furniture, and traditional atmosphere sets the mood for a romantic evening. 10, Nybrogade.
DAYTRIPS
Once I establish a fair bit of Viking-ness, it's time to move on, and become a modern Copenhagener. And modern Copenhageners love to be every place else but home on a summer weekend. Being outdoors, soaking up the sun, or making quick daytrips come as naturally to them as making an open sandwich. By this time though, I had reached my moment of spontaneity—if ever during your travel you have to put a last minute addition to your trip, go all guns blazing.
KRONBORG'S CASTLE
And so I did with my trip to the Kronborg Castle in Helsingør by booking the Horatio's Tour. Also known as Hamlet's Castle, this place is a treat for the soul of the literature enthusiast. I stood at its quaint museum shop at four in the evening, when a man came walking through, looking every bit a character from the Elizabethan era. He's Horatio, he explained, and by his gallant demeanour, I dare not address him by any other name. What followed was a jaw-dropping, goosebump-giving spectacle, as Horatio took me through his best friend, Hamlet's life.Down through the dungeons and up to the majestic banquet hall,from hamartia to catharsis in an hour, this is the closest one can get to the 16th century world. kronborg.dk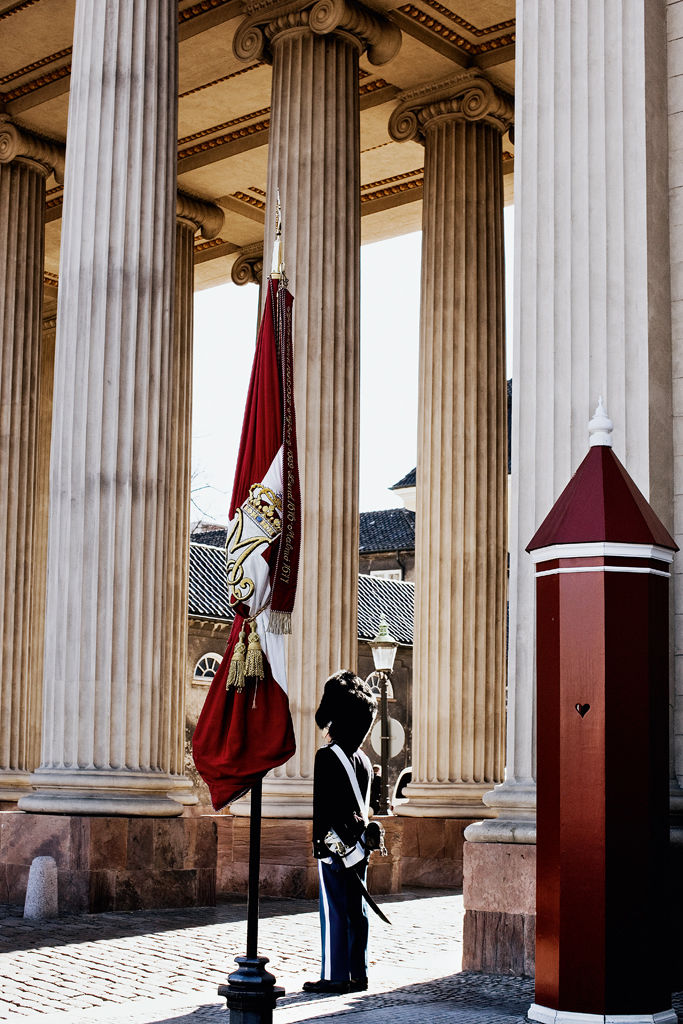 Entry to the Krongborg Castle
MALMO, SWEDEN
Laughing and tripping on encounters with Copenhagen in more ways than one, I arrived at the last day in the city, which by then had become more familiar than I'd admit. And to silence the overwhelming feeling of my departure next morning, I took the train to the Swedish town of Malmo that lies a mere forty minutes away. Astonishingly, Malmo also became my silent detachment with Copenhagen. As opposed to the big city, the lanes in Malmo come alive between its colourful walls and the quiet sidewalks where the locals enjoy sitting in a sunlit café, with espresso and cigarettes acting as catalysts to weekend conversations. I walked through the neighbourhoods to the city centre which is also Malmo's shopping district. In the street between Stortorget and Gustav Adolfs Torg are Swedish fashion and design stores, luxury watch brands, fantastic bakeries, and Swedish chocolate shops by the dozen. But the local thing to do here is to sit at a roadside café and read a newspaper; only it's very difficult to get your hands on an English one.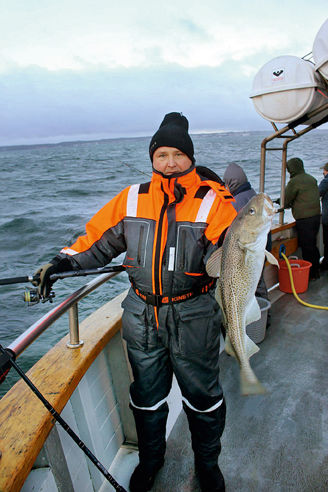 Fishing in Sound
Without warning though, I was anchored in Copenhagen, and the city in me. I recalled my guide announce while pointing at a fountain in Amagertorv on the first day. "This is the centre of the city where everybody meets. When you plan to meet someone, you say, 'meet me at the fountain with the storks.' And they'll know." On my way back now, I know I'm leaving only to be back soon. To meet the city at the fountain with the storks.
Picture Credits: Neel Munthe-Brun; Tuala Hjarnø; John Peter Photography/Alamy/india picture. spar shipping; duffy boats