Journey to the other side
My friend had let the sparkling Umngot River's secret out of the bag to tempt me into taking a trip to 'the abode of clouds', Meghalaya. The idea of losing myself in verdant valleys was enough to get me to book my tickets.
However, the lure of the Umngot river was still there in my mind; a blurry image of tranquil waters and greenery that my mind had conjured up in a poor attempt. What I witnessed, however, far surpassed my expectations.
After alighting at Guwahati airport, we set off towards Shillong - a good four-hour drive with quick pit stops in-between. The town slowly gave way to rolling greens and fluffy clouds basking in carelessly spilled sunshine.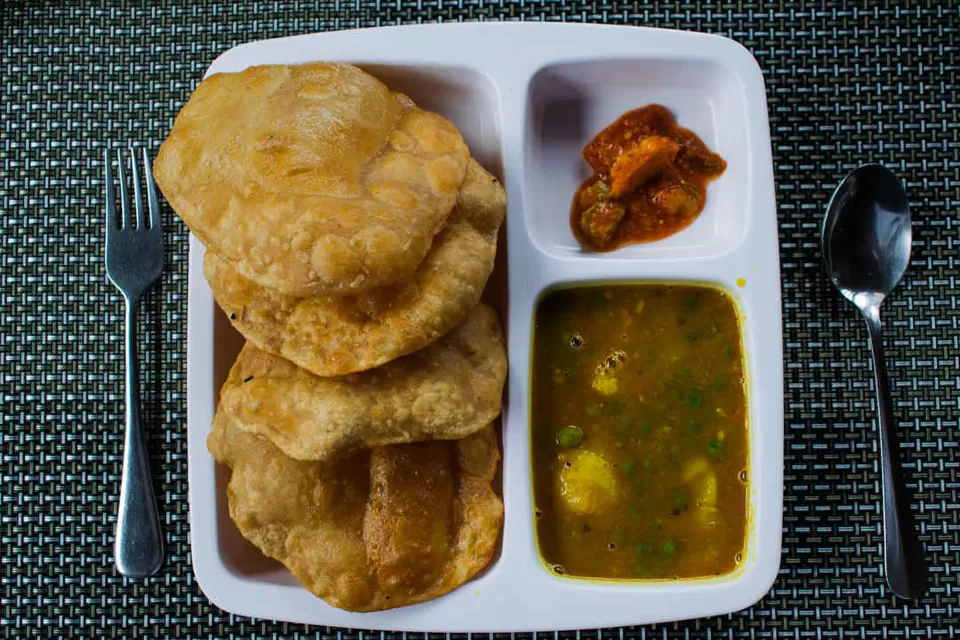 We stopped at an eatery to feast on puris with piping-hot aloo sabzi. We rounded up the meal with a frothy cup of coffee. Our pit-stops became more frequent to look upon glimmering lakes with liquid gold and soaring hills.
First impressions
As the cover of darkness descended over the small town of Shillong, we headed towards the bright lights of Police Bazaar, the shopping hub of Shillong which caters to an increasingly young hipster crowd.
Shoes, belts, chic boots, furry caps and jackets, socks, traditional Khasi handicraft–you name it. They've got it all. Treading through the lively hustle and bustle of the market, we picked up some warm socks and a beautifully crafted miniature wooden tree house.
With shopping bags full and our stomachs rumbling, we wrapped up the night with a drink at one of the many bars scattering neon light out on the streets. Lively band music spilled out from a bar, introducing us to Shillong's happening music circuit. It was only my first day here and I was already enjoying my time away from the city.
Into the heartland
Morning saw us drive down streets dotted with soft pink cherry blossom trees on our way to Shnongpdeng, a tiny village tucked away near Dawki. Last day's exertion loomed over our heads but our driver, Uttam da, knew just what would perk us up. The soft strains of Bihu music filled the car.
There's something about being surrounded by pristine nature that whets your appetite. Stopping at Mylliem, we walked into a ja and sha stall by the roadside, which literally translates to rice and tea stall.
As soon as we sat down, heaped plates of food were set before us. There are no menus at ja and sha stalls. As Kong Kharbangkar described the dishes and ladled more food on to our already brimming plates, we dug in heartily. There was fluffy white rice paired with doh thad sniang (smoked pork), jhur sdieh (aloo and beans sabzi), jhur khleh (salad) and a spot of tungtap (dry fish chutney). The flavours of the dishes were nothing like we'd tasted before.
The plain rice paired with the juicy and crispy doh thad sniang which had a smoky aftertaste along with the spicy dry fish chutney and the comforting jhur sdieh was a riot of flavours in the mouth. The traditional Khasi salad comprising of tomatoes and mint leaves with a drizzle of honey on top, lent the meal a tinge of freshness.
Mission accomplished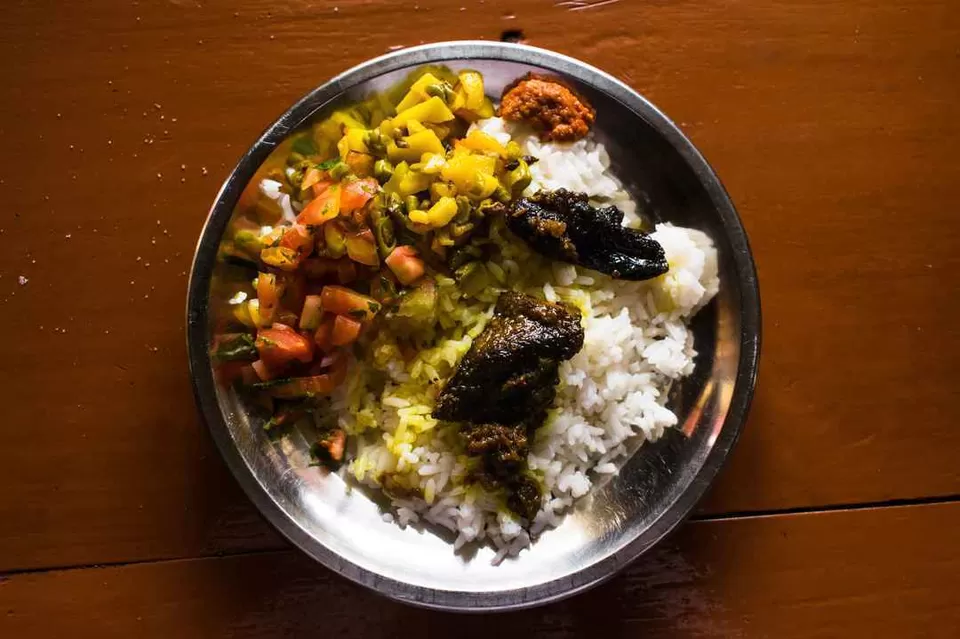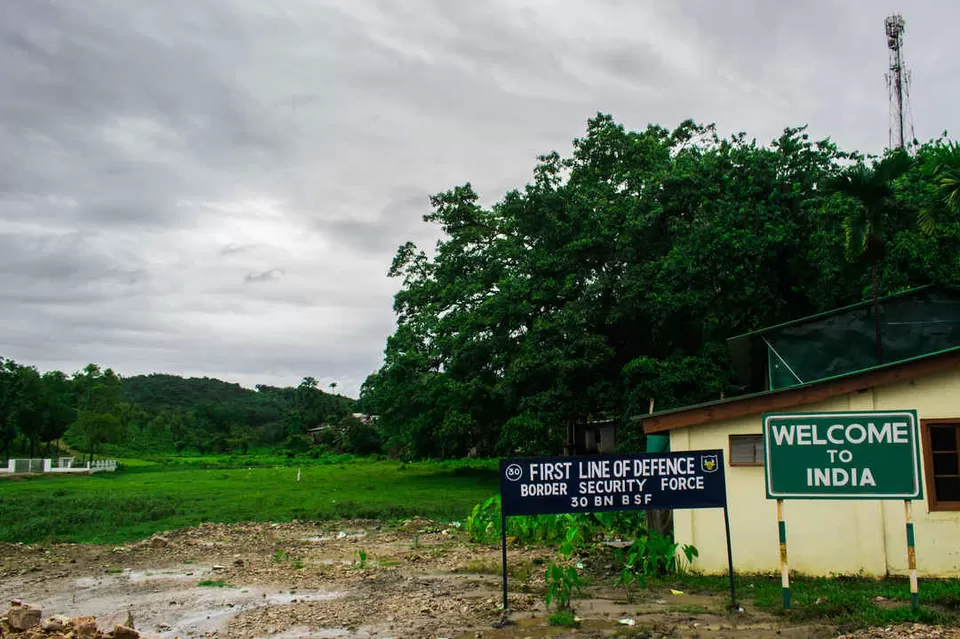 Shnongpdeng's seclusion and exquisite beauty held sway over our hearts from the start. The emerald waters of the Umngot River had a strange subterranean glow emanating from within, giving it a mystical look. The river water is so clear that boats seemingly glide on air. Water rippled around our feet dipped into the cool current and fishes danced around in the sunlit water below.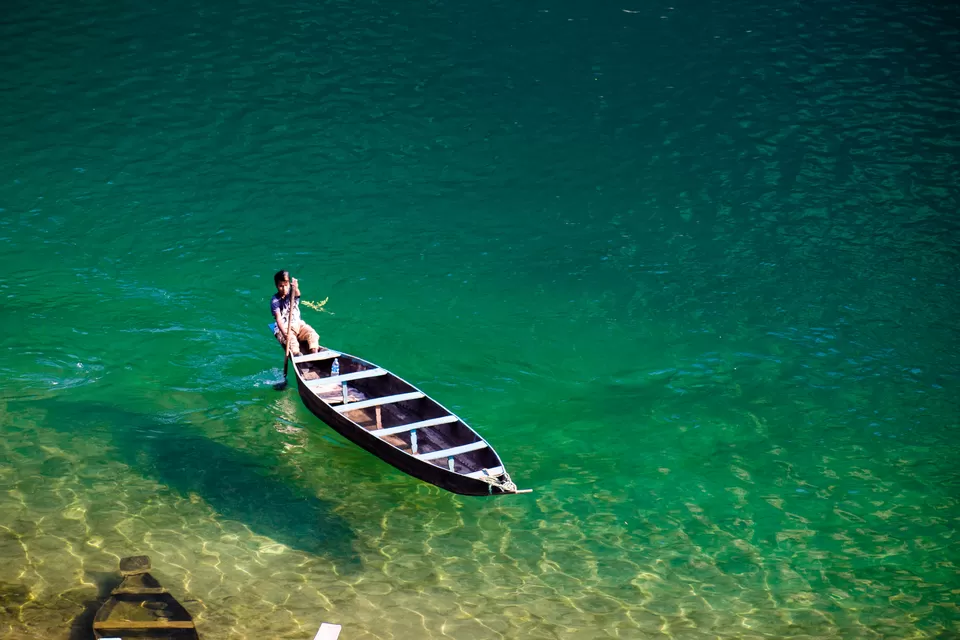 All too soon, we hastened our steps to Cherrapunjee's 7000-stepped Nongriat trek with its famous double-decker root bridges. It was a hard climb for us city dwellers but we stopped at a wooden shack to boost our sagging energy levels with a drink and a couple of KitKats.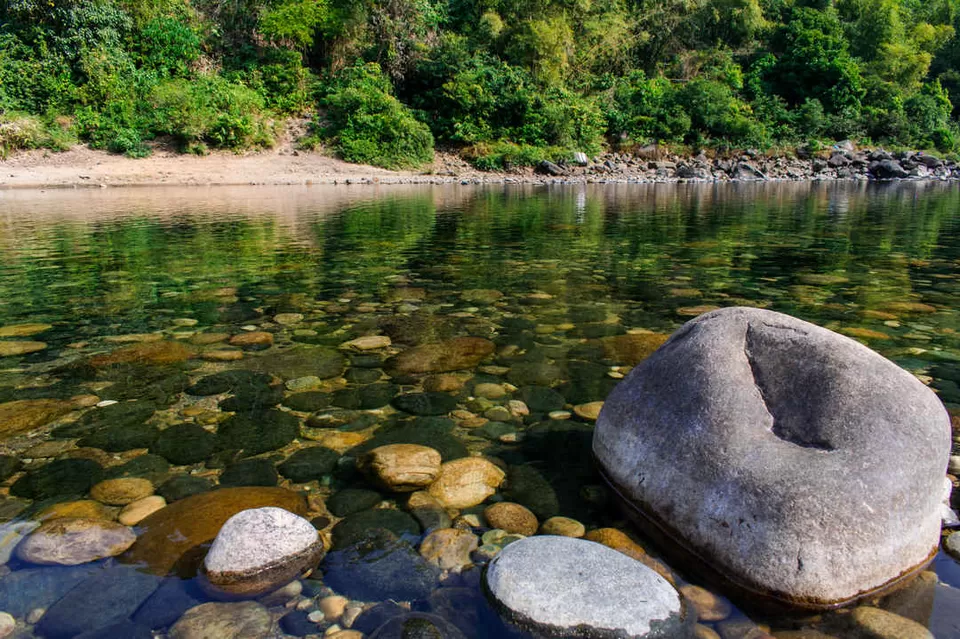 Inky darkness seeped through the forest all too soon and we puffed and panted our way forward. Stumbling over the last step, my bruised body craved rest and my heart ached to be back to the banks of the tranquil Umngot River.
Difficult goodbyes
Uttam da was only too happy to oblige and drove us through misty, winding roads back to Shnongpdeng. Our legs hit gravel and we hastened down steep, treacherous steps towards the bank of the river to our campsite. My body sagged with relief and I stretched out on to the sandy bank in front of our tent. Our camp owner quickly built us a bonfire and laid out a lavish spread on a makeshift table.
Clutching a glass of wine in front of the comforting bonfire, I dug my toes into the sand and stared out at the gleaming river, shifting beneath the soft moonlight. The silence that was once deafening, had become comforting. Serenity seeped through the surroundings and my being. There we were, man and nature in harmony. I had left my worries behind with my phone network.
Travelled to places which were a sight to behold? Narrate your experience here!
Puzzled about what should be next on your travel list? Check out Kitkat Travel Breaks on Tripoto here!
The readers are hereby informed that the views, thoughts, images and opinions expressed in the article belong solely to the author, and Nestlé India Limited assumes no responsibility or liability for any errors or omissions.
Frequent Searches Leading To This Page:-
best time to visit sikkim meghalaya, meghalaya to assam, 4 day trip to assam, meghalaya package itinerary, 3 day trip to meghalaya