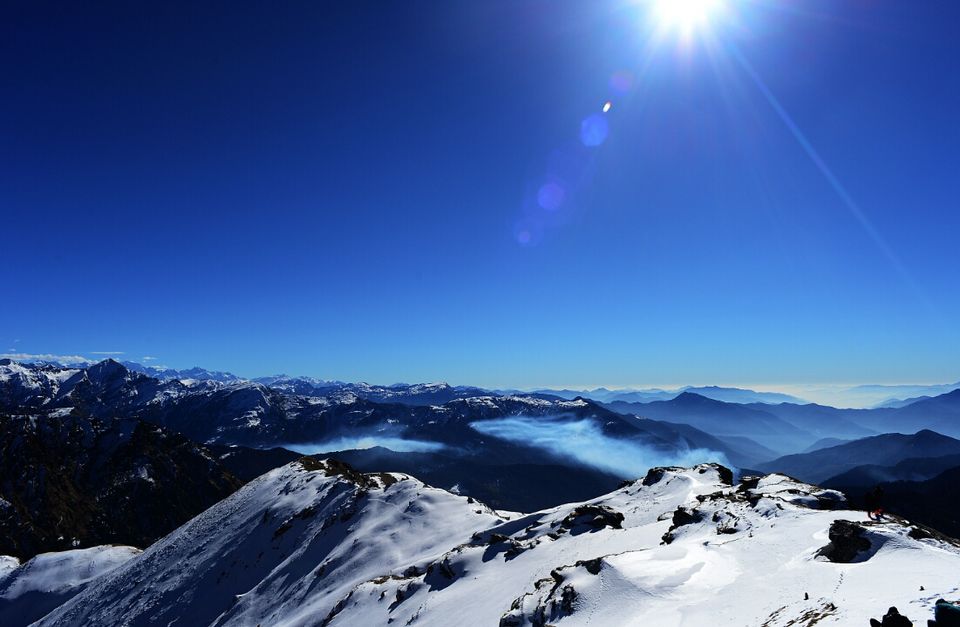 I stepped out of Indigo flight on 29th December and fresh breeze fulfilled my lungs.i stepped into auto to be at my clinic and there was gush of polluted air of Ahmadabad and i instantly remember the gentle wind of Kedarkantha.. When I left Ahmadabad on 22nd Dec evening my heart was heavy. I was missing my friends as I was travelling solo for Kedarkantha trek which I booked in over excitement of trekking but as the day was coming closer I was terrified..What the hell am i doing!!!!I kept asking my self why this is so important to you.My friends told me are you maaaad???you are going in December? ??. I started having second thoughts of postponing it but then i decided to give it a go anyway... I knew if I don't do it now then i won't be able to do it ever.. So that was it..It was decided.I am going for KK trek.. The main reason I selected Kk was that the travelling from Ahmadabad to was easy and from Dehradoon Indiahikes team were going to arrange Traveller till Sankari base camp.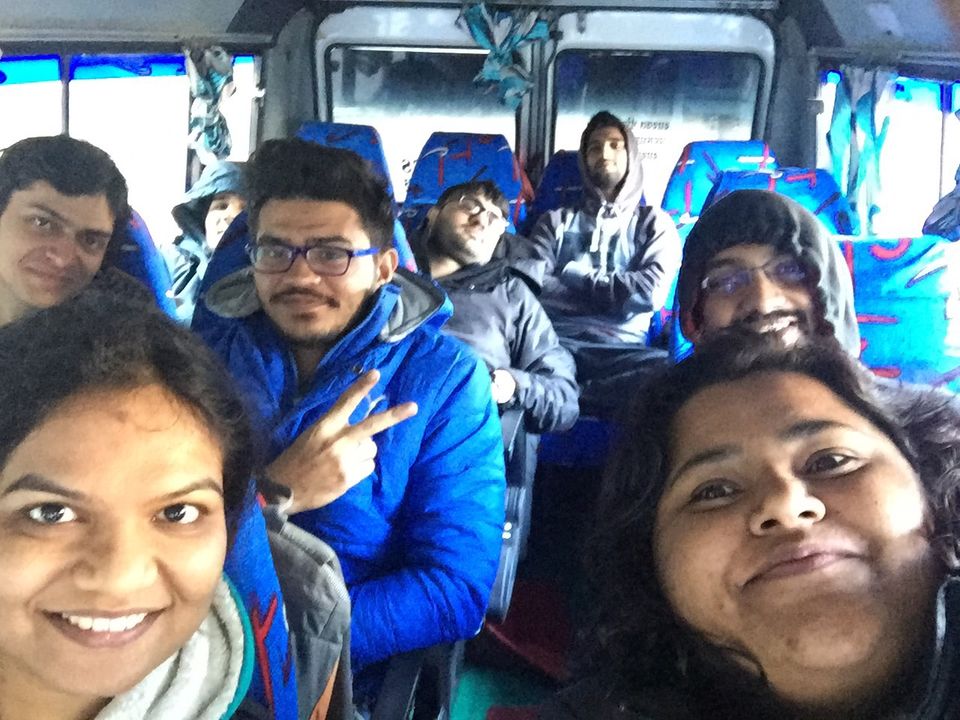 So it was around 10:15pm I was at Delhi railway station waiting for my fellow trekkers to arrive..half of them were already at Dehradoon so I was hoping at least few of them will be there..As our train was going to depart at 11 50 ,there was still time. ..I never read any details about the 5 day program other than how to reach there..never read any blog. I never knew how much cold will be there. I just read that there will be snow and per day kilometers were less compared to other treks...I never even saw the height that it was 12500 feet..i get to know that on last day... (Bloody Hell ...12500 feet!!!) Strangely it never came to my mind about reaching the peak..This is because lifetime of bad travelling experience so actual mental block about trekking was all about how to get there, I was that paranoid about reaching there...
So we reach Dehradoon around 5.30am. The Traveller was ready to take us to Sankari and we were too.The roads were like roller coaster..except for few episodes of nausea and vomiting the journey was smooth. Around 6.00pm we were at sankari base camp.
After introduction and briefing about the trek and dinner we went to respective rooms provided to us. It was super cold. The blanket was so cold it took courage to get into the bed. Finally after few deep breath I collected all the courage I had and jumped into bed and oh...my...god...it i felt chill till my spine,i was shivering whole night. From 30 ° c it went to 7 degree in one day.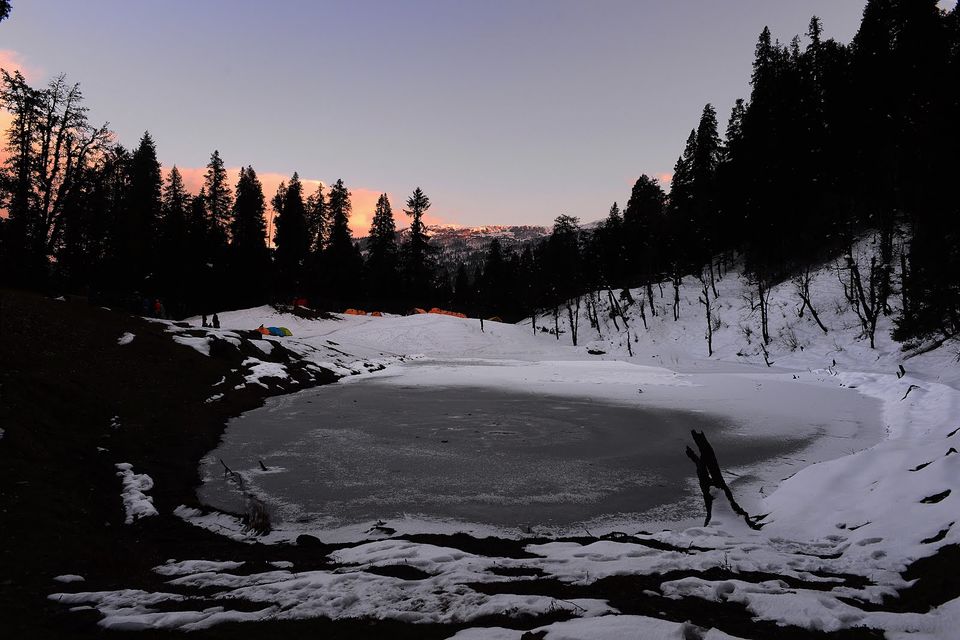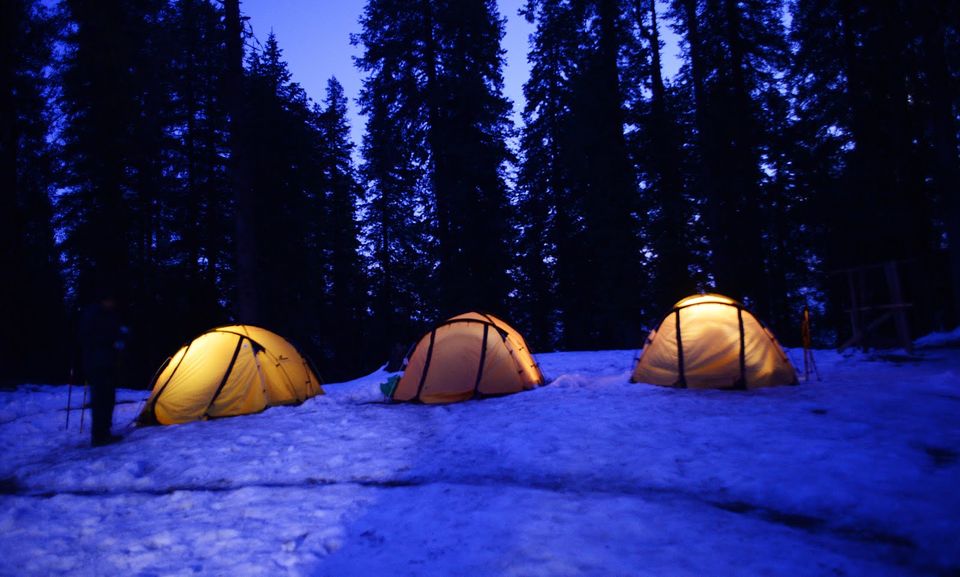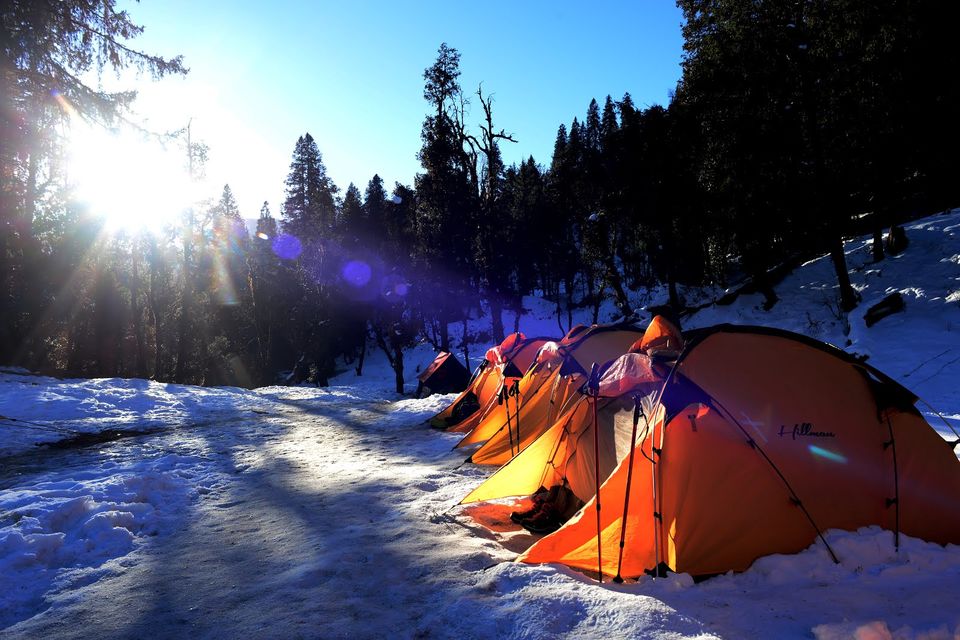 Finally on the next day we were on the way of our new endeavour. I started feeling my own breathing.The sound was never this loud and I realised this isn't going to be a easy task. Whatever. ..i was gonna do it..
The way was covered with dried leaves and fruits of pine trees.The snow wasn't visible yet but we could see the water running through the sides of our path. The land was covered with green meadows and grass. The snow was now seen along the way as we went higher. It was so soft the whole foot went inside. I could eat it ..it was so soft. We were wearing 4 layer and layer was gone as soon as we started walking.
After walking for 4 km i saw first banner of our camp and it was so exiting. We went to our respective tents. It was first time I'll be sleeping in a tent. The camp site was Juda ka talab and it was frozen lake. There was few cracks but people were still standing over a frozen talab. If we had skates we could have done ice skating.
I couldn't sleep because of extreme cold. I spent whole night counting sheep. The next destination was awaiting..the KK base camp. It wasn't long but very steep. I was the last one. It was getting harder. Each step felt like a summit as i was feeling pain in my left leg after i injured myself on the way. I started feeling breathless with each step and i was advised to take deep breath through nose and exhale from mouth. It felt much better after that.
Yay..final KK base camp was visible and it was the prettiest camp site. I felt the camera wasn't doing justice to the site and it felt so small in front of live view. How could someone can imagine the efforts it took to reach there just by watching those pictures.
I once heard the quote that picture is worth a thousand words but it didn't quite feel right for this situation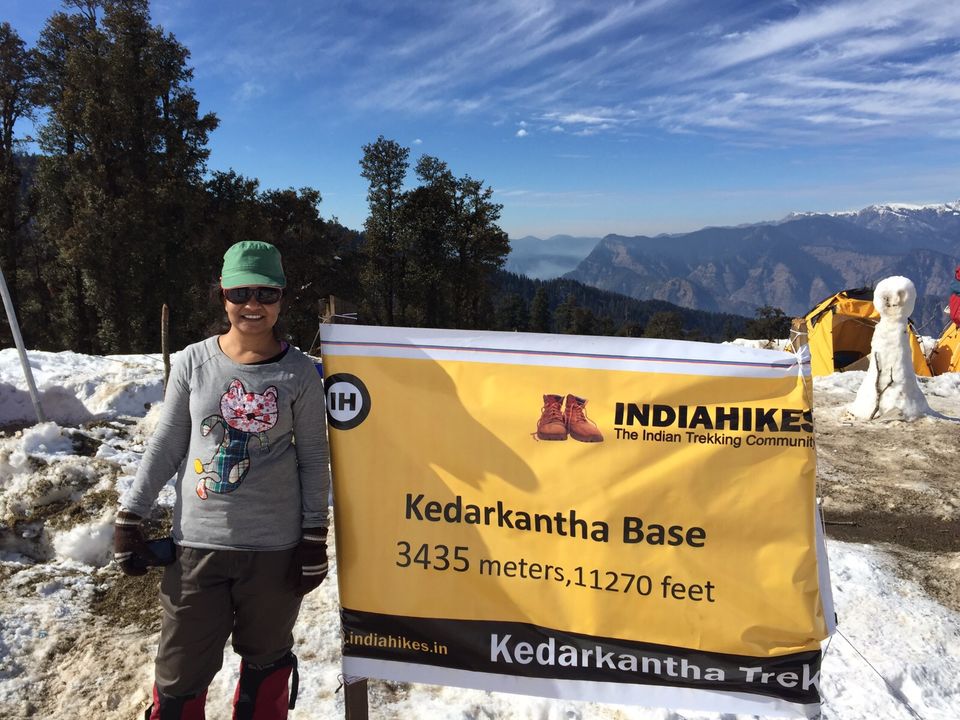 The next day everyone had their own fear as we were going to leave for the summit next day. We were going to leave at 4 30 am and we were awake at 3 30 am put on gaiters and spikes and 4 layers of clothes.We left at 5 am. It was so dark.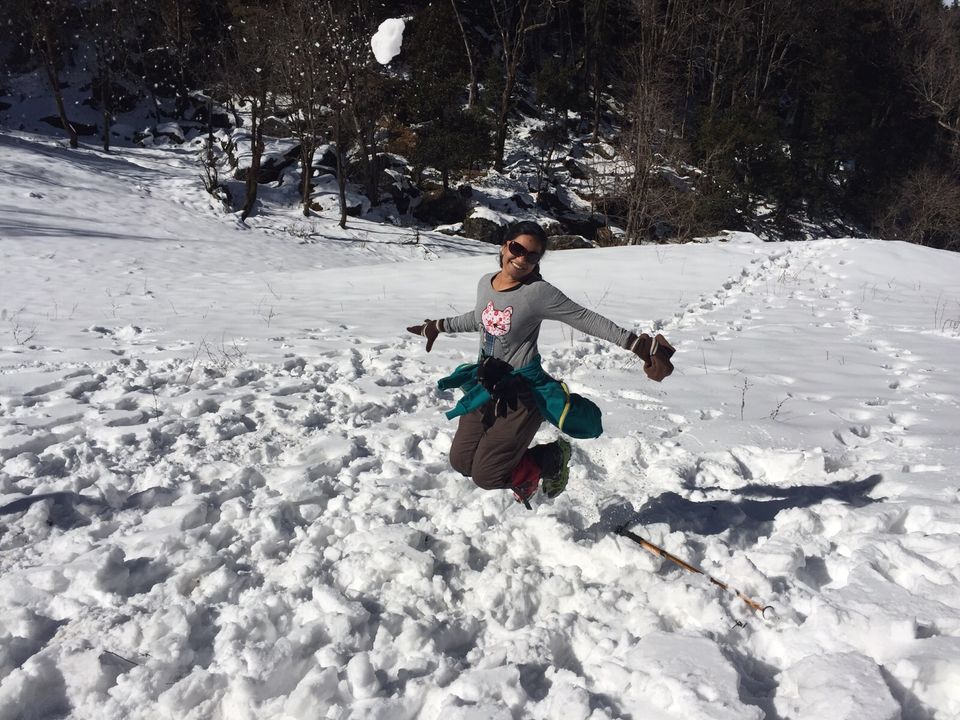 The moonlight was falling on the white carpet of snow looking so divine. And it was full moon. What day could be better than this day for a summit. It was full moon damn it!!! Awesome! !!
As Usual i was 2nd last. With constant consumption of electrolyte I regain some confidence that I could do it. With each step i was repeating. .slow and steady wins the race.. i know it wasn't a race but it was a challenge which i had to complete no matter what. 5:30 A.M. Full moon night, 12500 feet height and trail of Snow with blueish hue Soothing my eyes . what a view it was !!! Right out of God's Calendar .Can Any view in the world be this beautiful ! My eyes rested on the mesmerising scene and I felt, this is what I am here for , to feel each moment and I got lost in the serenity and solitude of dawn. I could hear nothing else than the sound of my own breathing and heartbeat . My thoughts were so loud , my Subconscious was suddenly alive. Every nerve in my body woke up.
After reaching halfway the soft rays of sun Started appearing , dissolving the twilight . The Saffron orange colour was visible On the Summit . it seem so near, I could run and touch it. little did I know, it was like a mirage, the further I go , farer it Went.
The trails were vanishing . We had to make our own way . The winds were becoming harsh Claiming Their territory .Small crystals of snow in that orange light looked like diamonds were raining from the sky or we were surrounded by millions of lightning bugs. It was like a scene from some fantasy Disney world .
Now way was steep and dangerous. I stumble for few times . layer of snow was like There was no bottom and if I Step On it, I'll fell into a Rabbit hole.
Summit was still so far. The last peak was The hardest.
Finally mountains bestow their kindness and we were on the Top of KK Summit. but I was on the top of the world, it felt like Seven steps in heaven. If I have to guess heaven would be exactly like this.
Light current of thin air fulfilled my lung with satisfaction and Joy of doing something which seem impossible few years ago. But finally I broke all the barrier, snatched the opportunity, travelled solo and completed the trek . My Dream came true. Stepping out of that train till stepping on that stone was the journey of self realization and achievement.
During those Five days on mountains, the relationship between group of Strangers transformed into life long friendship with a common denominator " Passion For mountains"
In those five days on that mountain without any network coverage I felt connected to me more than ever,and I am in Love with mountains and I am addicted .
I am back in Ahmadabad for 2 days now but I left my heart on that peak!!!
Can not wait to Go back and fall in Love all over again !!!!!
This blog was originally published on 'WALKING SHOES'