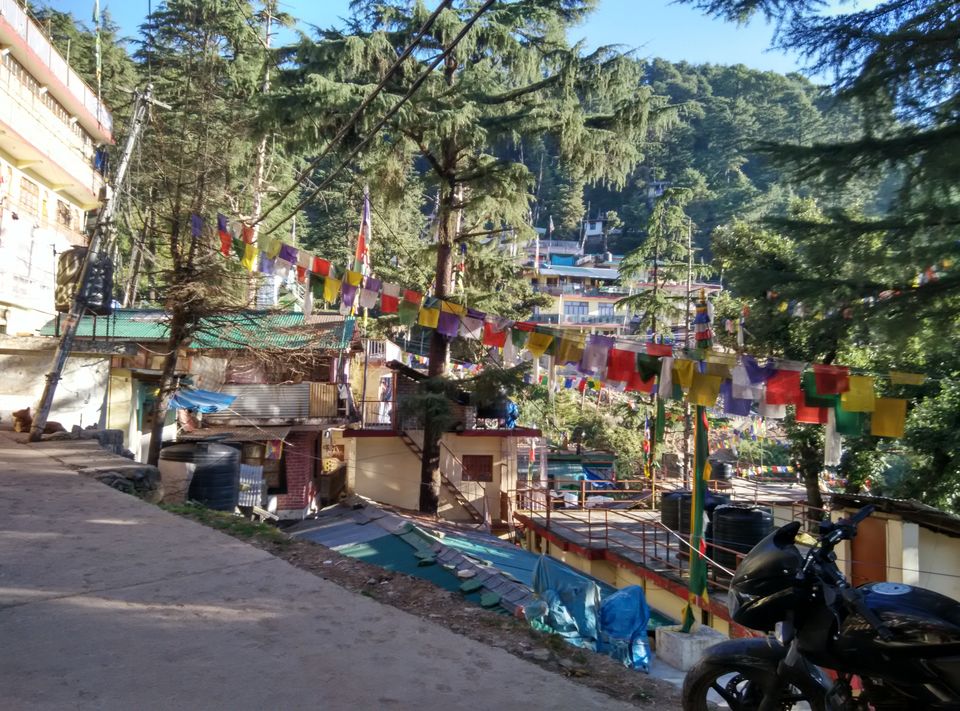 If we were meant to stay at one place, we would have been born with roots.

– by someone interesting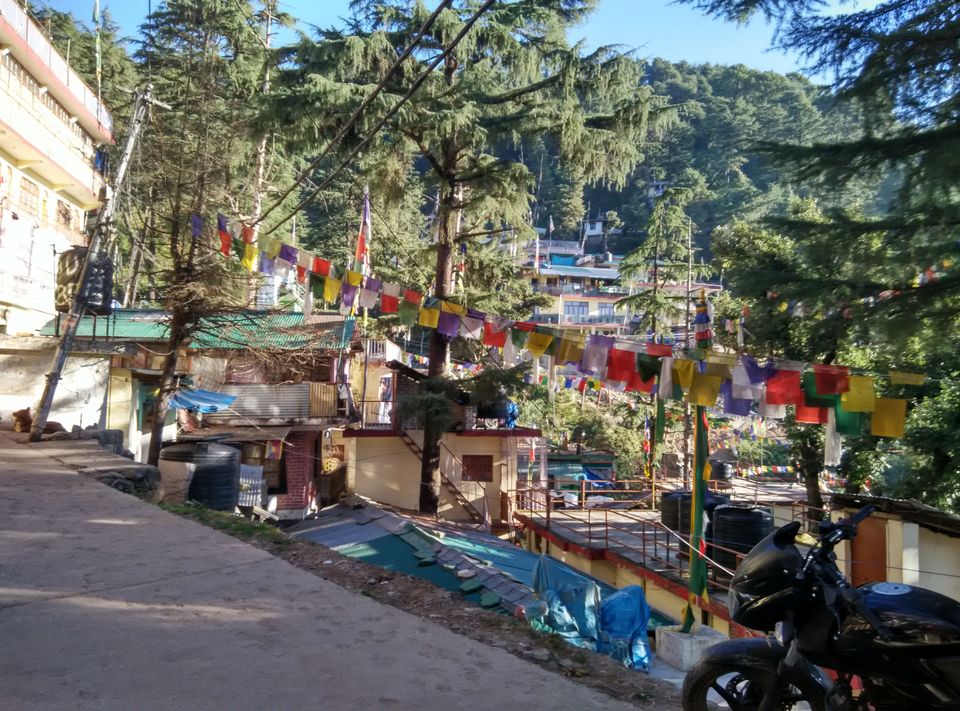 I am a guy who few years back was afraid to go alone in darkness and now here I am with my First Solo Trek experience.
"Living your dream" is a far better than dreaming itself. The thrill is unmatched, the satisfaction exemplary and priceless feeling. It all started last Thursday well past midnight when I booked my tickets to McLeodGanj almost explaining and convincing myself to clear all second thoughts that I had about the trip. Solo trek - okay. McLeadGanj - better. 11400 feet - Off I go.
My Advice to First Timers: If you are planning for a Solo Trip, just take the leap of faith, take that very difficult and all important first step, it will all fall in place trust me, it usually is meant to.
After this soul stabilizing trek, if there was one thing I had in mind to do, it was to urge more and more people like me to go ahead on this treasure hunt of elegance, beauty, distilled quietness and serenity. So without any further delay, trust me I would be much happier sharing my experience, here is how it went -
I already had some information about this place and all I had to do was spend one more full day in collecting as much information on the internet. I must admit though that few hidden and interesting places were uncovered during my travel on the bus. A face-to-face discussion with someone experienced has its own advantages and adds that many more layers to your excitement.
After my experience I feel it's better to create a questionnaire in advance before getting details, so that you do not miss out on those awe-inspiring spots, if you have limited time.
My bus reached McLeodgunj at 7:20 AM, since there is nothing open at this point of time other than some breakfast and tea stalls, it's best for you to grab a little and get started. If you are not planning for a hotel, you can use the public toilet (pretty much maintained) just few steps away from the road at the right side of Main Square on the way to the Monastery
The trek can start from the Main Square(road going up besides the CCD), after a few steps take the road going towards Dharamkot from the diversion of Dharamkot and BhagsuNag or there is an option to take an auto till Water Tank(Dharamkot – 2KM) or till the end of road (3 KM). I chose to walk right from Main Square, enjoying the amazing view of City- the beautiful houses, shop, kids playing around and local people.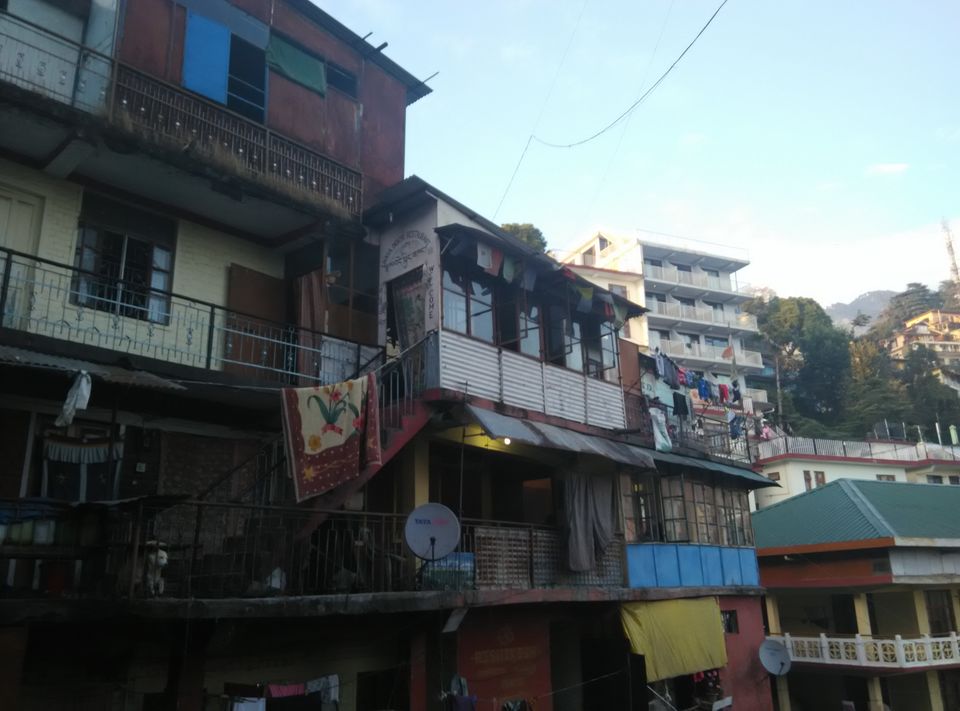 Once you reach the Water Tank (you can find a fruits and confectionery store here) you can actually avoid walking the next 1 km on road by taking a shortcut on the rough right just after the school ("Way to Triund" is written on this school wall).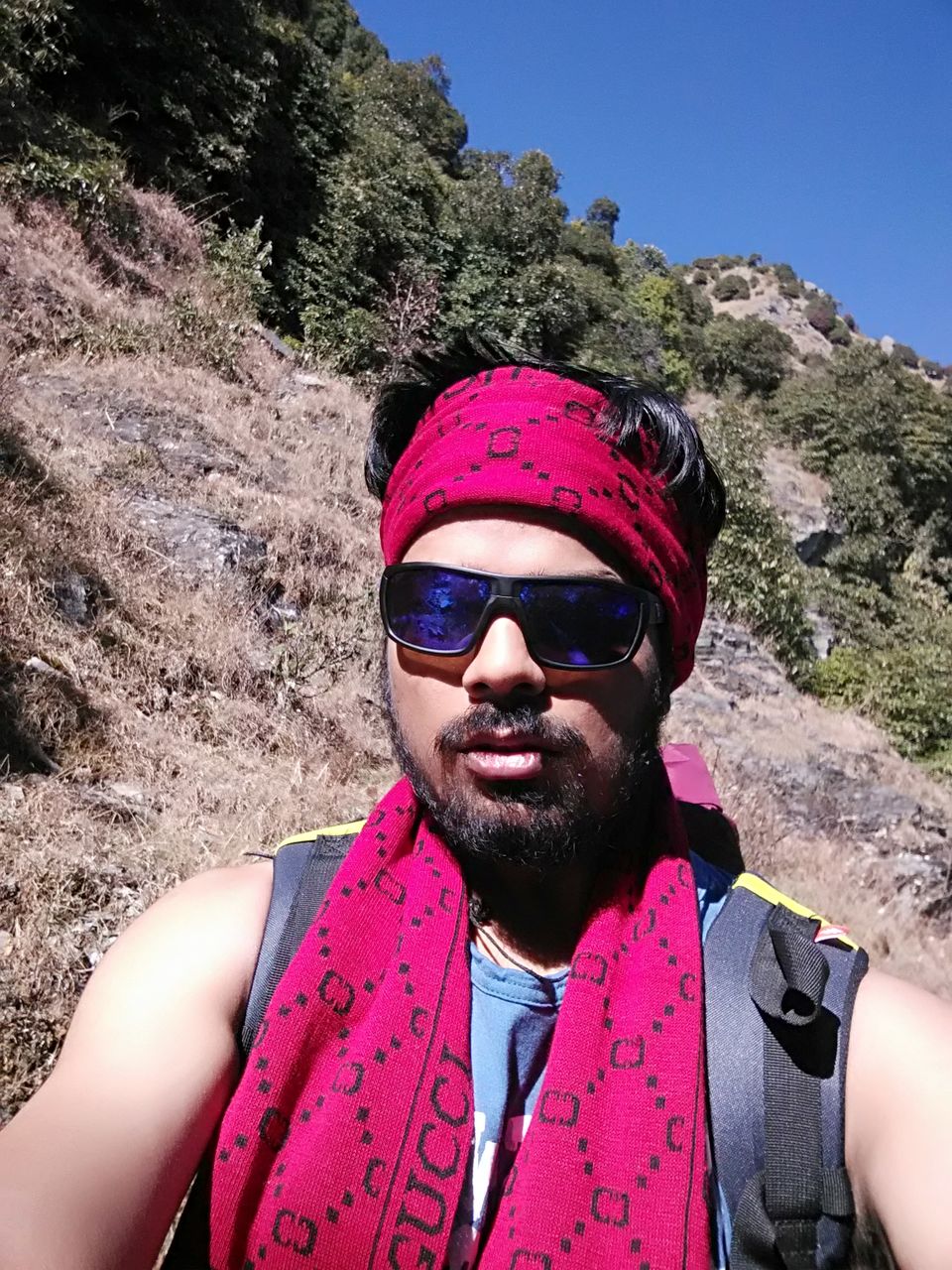 The trekking actually starts at this point with full of small beautiful rocks. It will take around 3 to 5 hours from here depending upon your fitness to reach the Triund Hill.
They say it's the journey that makes it more enthralling and not the destination. The biggest contributors to my journey were the people I met on this trek. First I met a beautiful Spanish girl Sofia. No not the typical picture you painted in your mind, infact on the contrary Sofia was a little girl from Spain riding on a pretty graceful horse Guddu.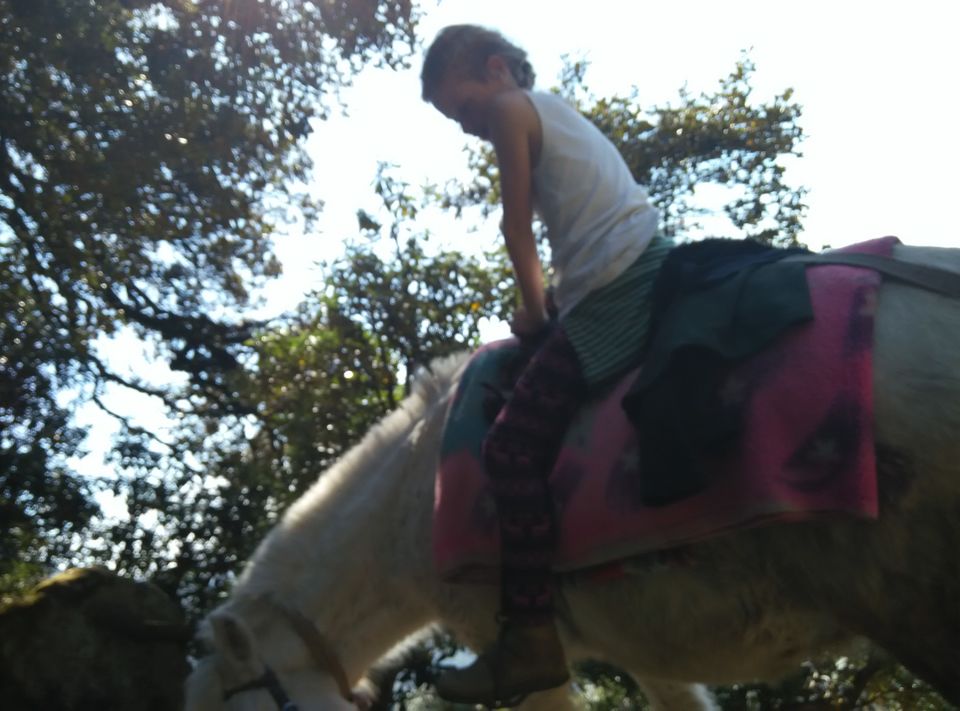 After a while of chit chat with her and her mom along the trail I moved forward and met a monk - Shadhav, "I just came to drink tea all the way long though it is costly here than in the city" were his words.
The next hour with this monk just went unfolding lots of religious thoughts, me telling him about Jainism and listening to him talk about Buddhism. Eventually we found that we were lucky to meet the perfect match for each other to discuss on the usually very sensitive topic of religious beliefs, since he was keen to know more about Jainism and I had just started reading about Buddhism a month back.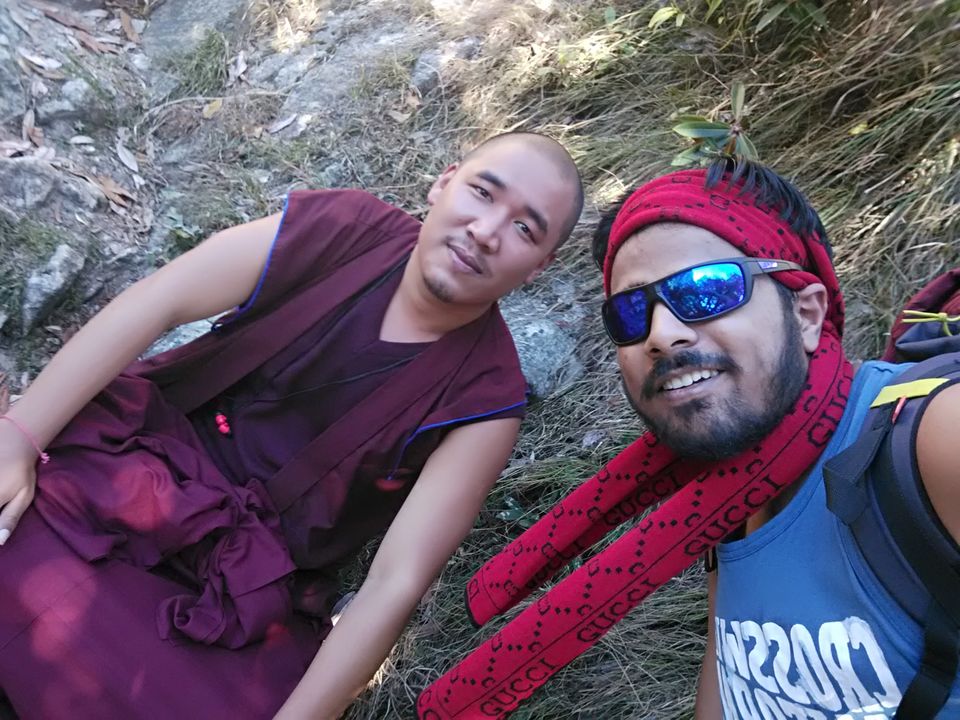 After cleansing our minds from the few doubts about our respective religions, we split as he moved up with his own pace which I couldn't maintain and he needed to go back to his monastery in time.
Communicating with few more trekkers from England, Spain, Delhi and Japan and other local guides I finally reached Triund, OMG what an amazing view. I just kept my bag on the ground walking towards the other side to have a better view and sat silently with my eyes firmly on the snowy peak.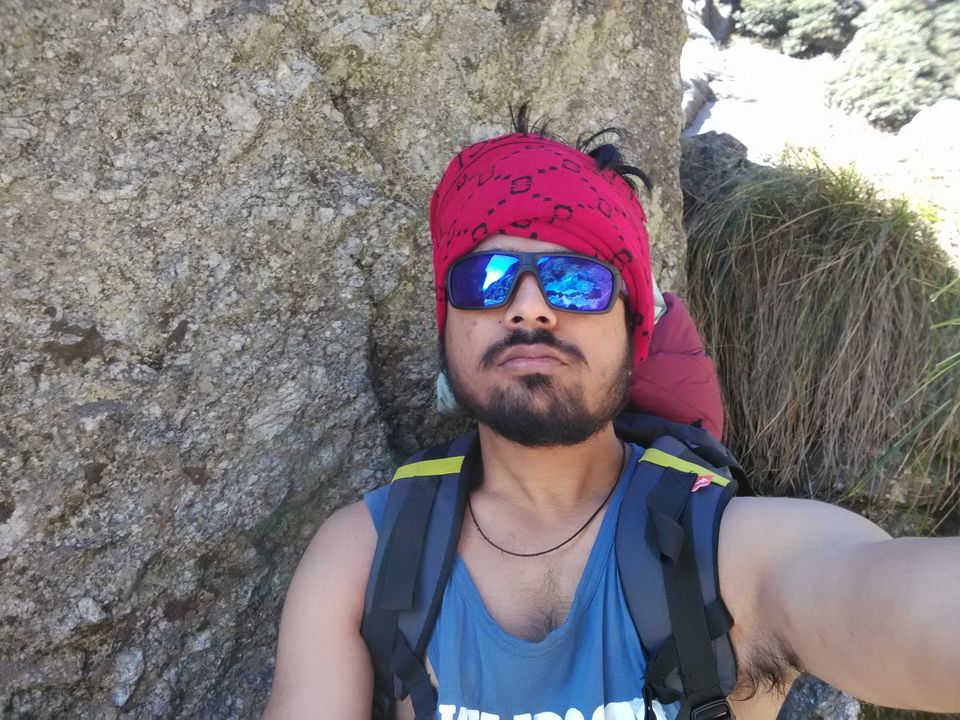 The night was approaching and with it the conditions were getting intense, the subzero freezing breeze. Oooooooooo I was craving for some good hot food and even hotter beverages. But guess what even at that altitude ~9760 ft. you can have multiple options for food and camping equipment at Triund – I had a meal of Dal-Chawal served with pickles which was surprisingly tasty as compared to my other experience of mountain food. As far as camping equipment is concerned, even if you come empty handed to this place you will get all equipment available to stay at night.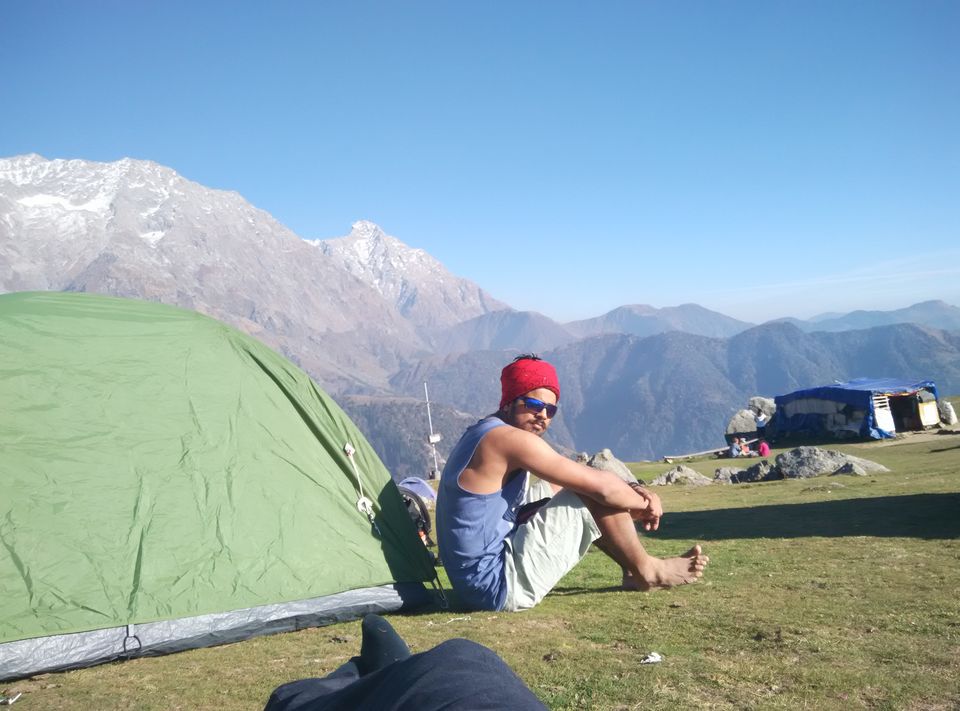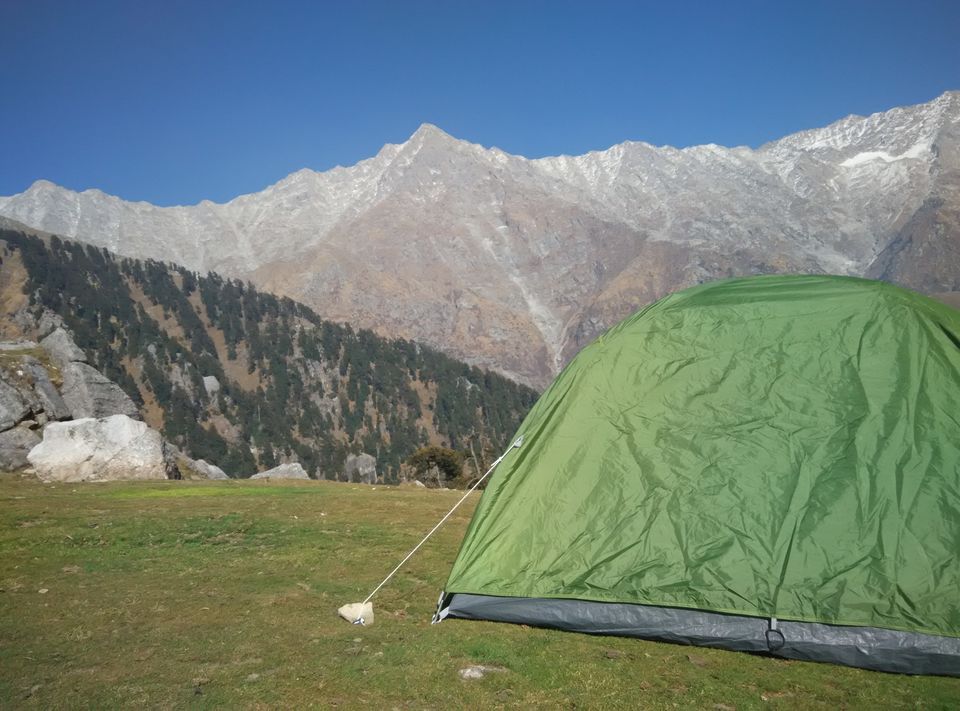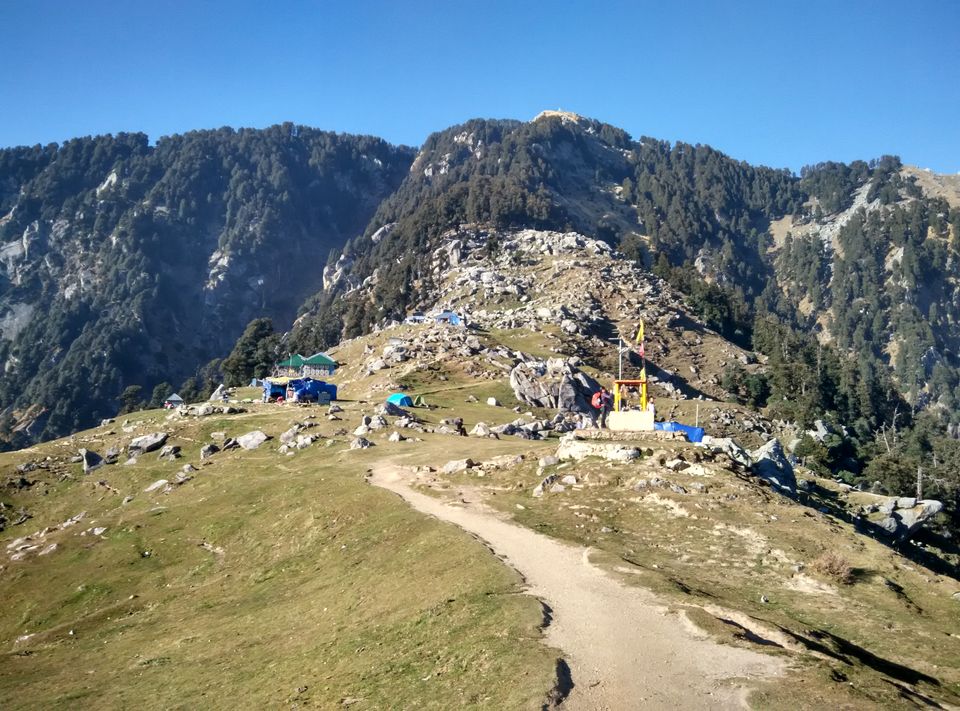 I had an unforgettable journey, the view at the top was by far the best that I had ever seen and all in all I was closing in on one of the best trips I have ever had in a long, long time. But a pleasant surprise was in store for me when I met a guy Vikas (another solo trekker from Bangalore) who told me about Indrahar pass (3-4 hrs trek from Triund), so i started again.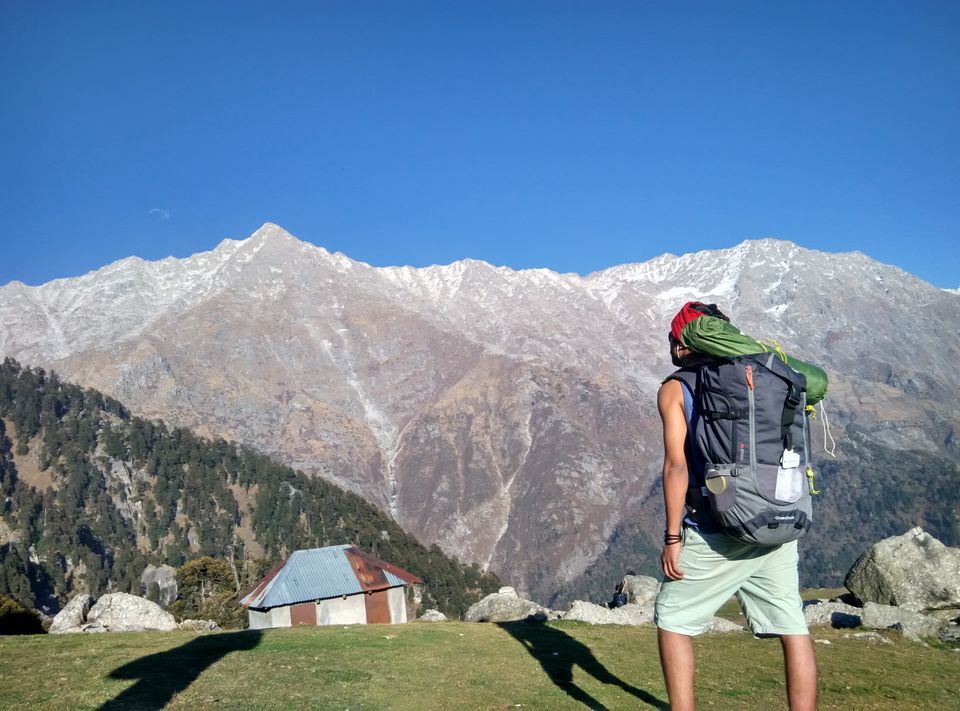 I was just waiting for that bit extra and I got a reason to prolong my stay at the top in the heart of almost the best natural beauty I had ever witnessed. I quickly folded my tent, talked to a few more local people about the way to Indrahar, and decided to stay at Snow Line Cafe for the night so that I can start for Indrahar Pass early in the morning, since it is not recommended to be at Indrahar in the afternoon due to intense fog.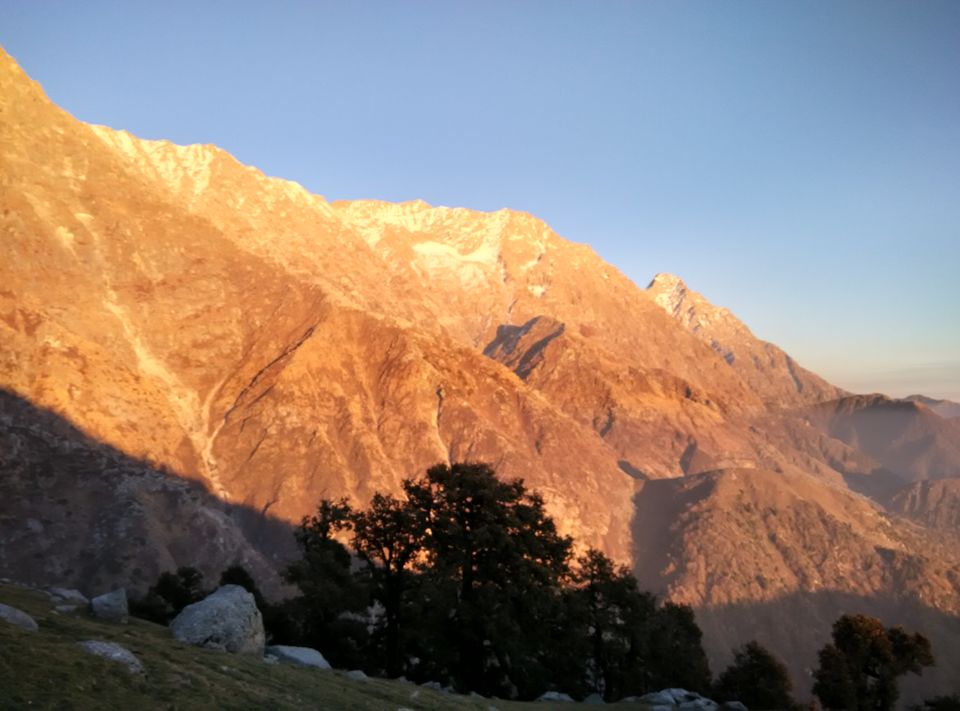 A beautiful trail to Snow Line Cafe was just an amazing experience, and the best part was that this place is hidden from all the noisy crowd of Triund. I could see only one tent here.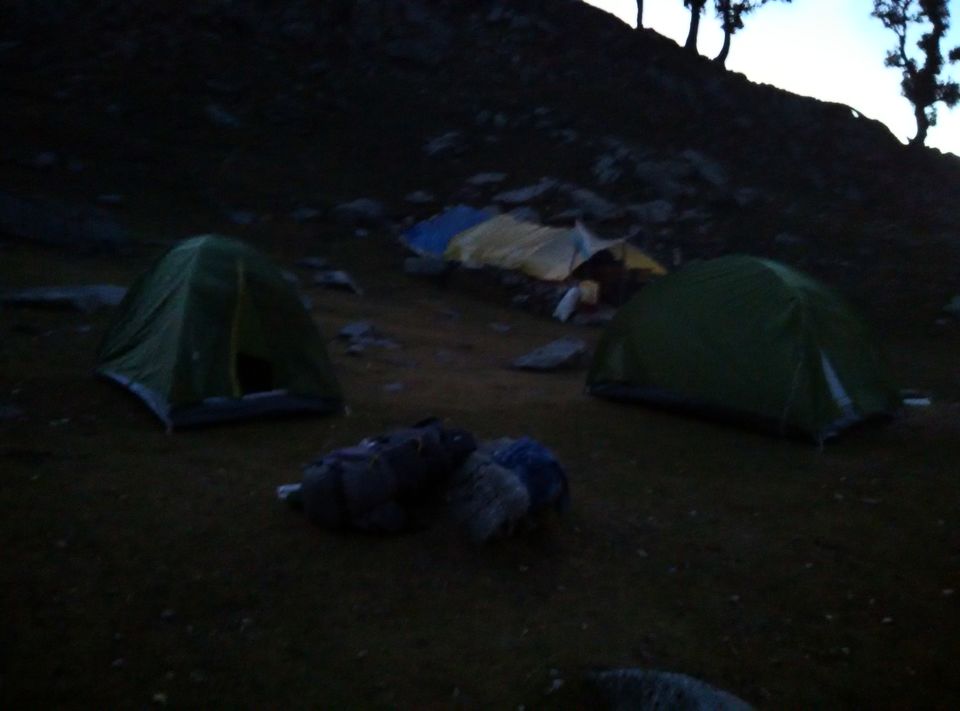 Approaching this lonely tent , I met a great photographer and a buddhist meditationer who was living in McleodGanj for the last few months. After an introductory chit chat and sharing experiences, she helped me in fixing my tent. This is the time for a bonfire,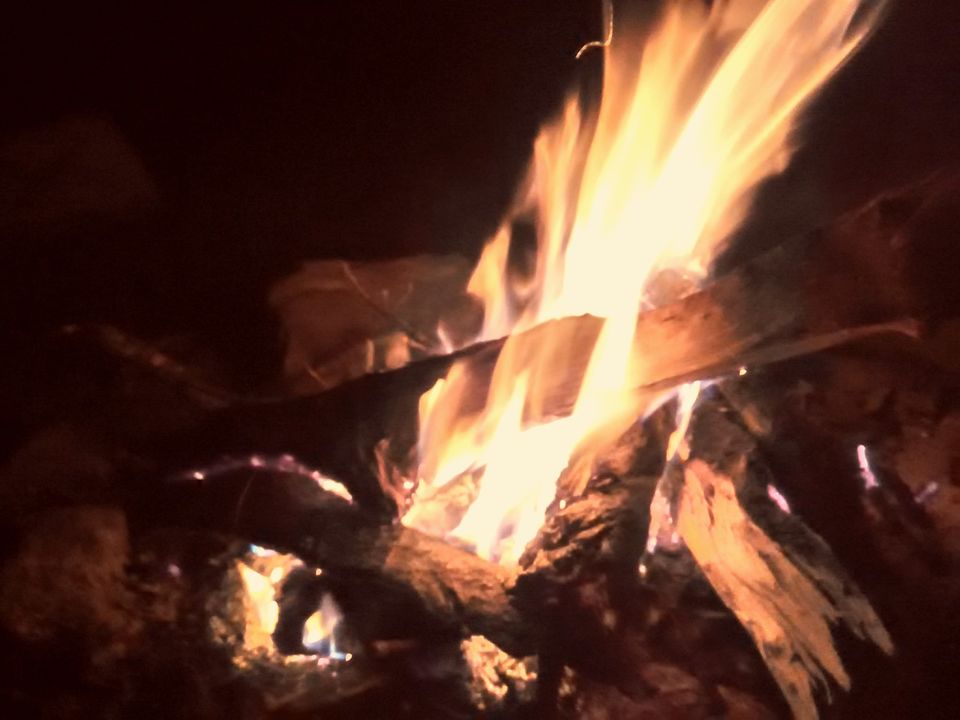 you should plan this day near to a New Moon Day , since the view of the Galaxy is just Mind Blowing. I somehow managed to sleep with a warmer, two jackets and a sleeping bag which I think was not enough to beat the chill.
I was so obsessed that i hardly slept and stepped outside at 5 (my daily alarm :)) but since it was dark, I extended the leisure till 7 AM and then started for Illaqa - Lahesh Cave-Indrahar Pass. If you are lucky enough, you might get to walk through a couple of herds of sheep and goats at Illaqa like a bollywood celebrity, for which I was unfortunately unlucky :(. Shepherds come all the way to this place Illaqa to graze their cattles.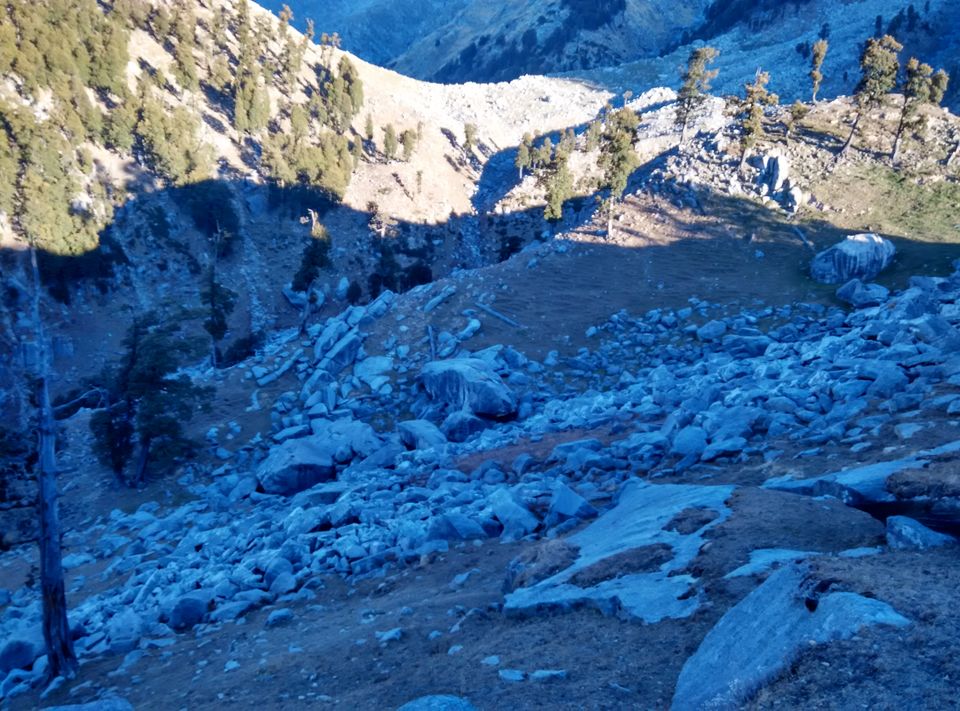 You will find the way ahead hopping from one rock to another, being a superhero or so…, I was so fast doing that and gained much elevation in seconds which might be the reason of altitude sickness………….making me realize that i elevated so much in a day (Delhi (1500 ft) to ~ 11000 ft). This is my first altitude sickness :) i should be frightened or something but instead feeling enthusiastic and excited from having it. The happiness having an altitude sickness of some newbie, hahahaha. I had my Ibuprofen tablet and sat on one of rock for like 30 minutes.
In next few minutes i found myself half inside a Snow Cave playing and saving memories of my first Snow and Glacier experience,,, aaaaahhhhaaaaa achieved Mental Satisfaction, now I can go back to my office tomorrow.....