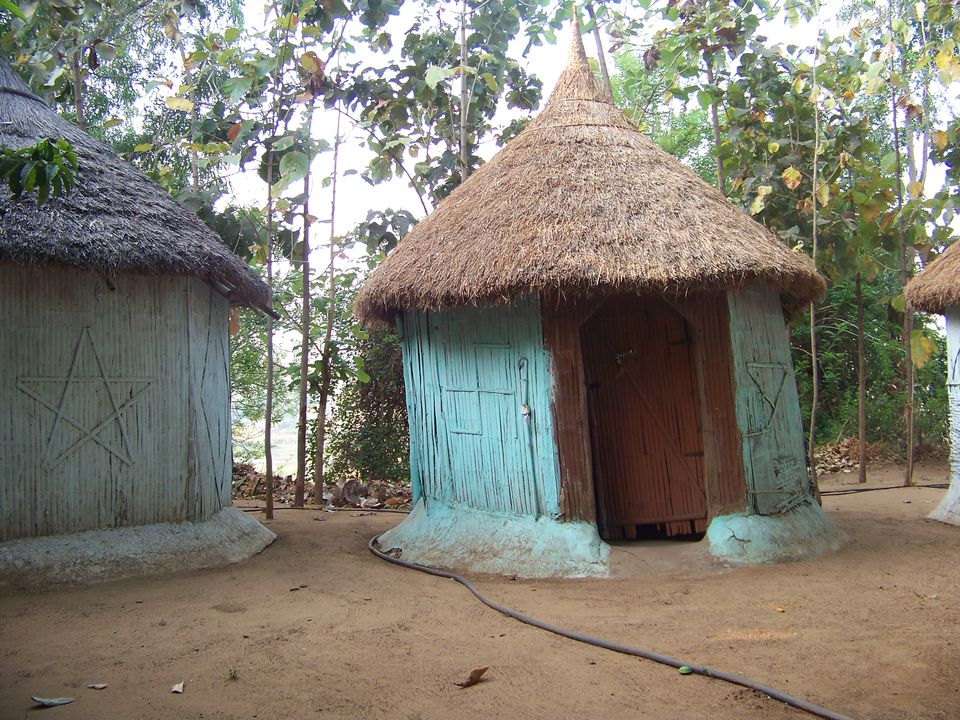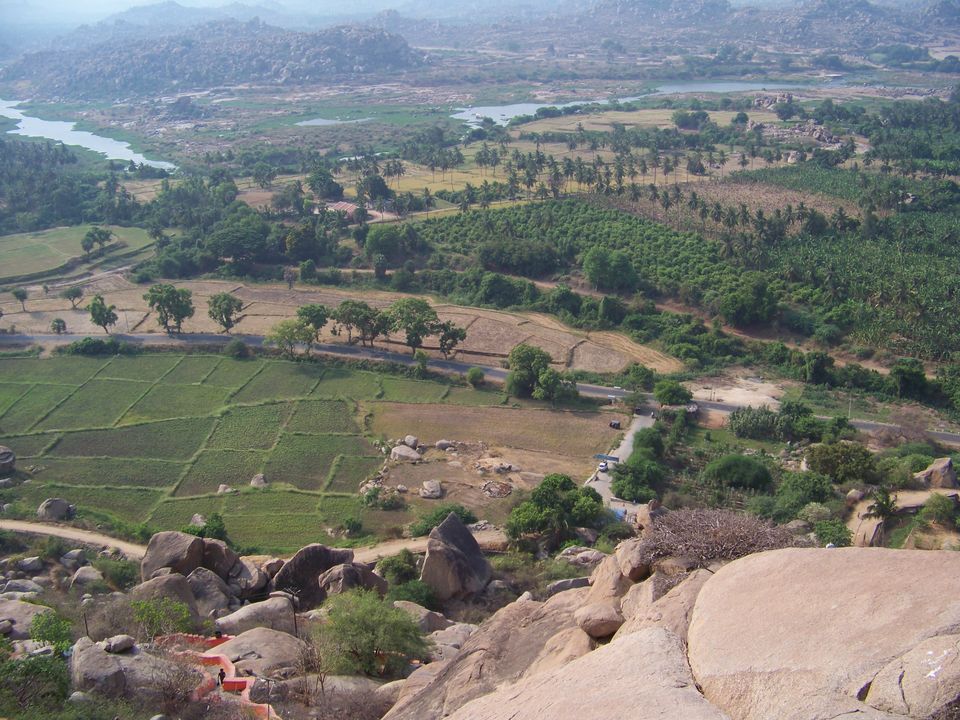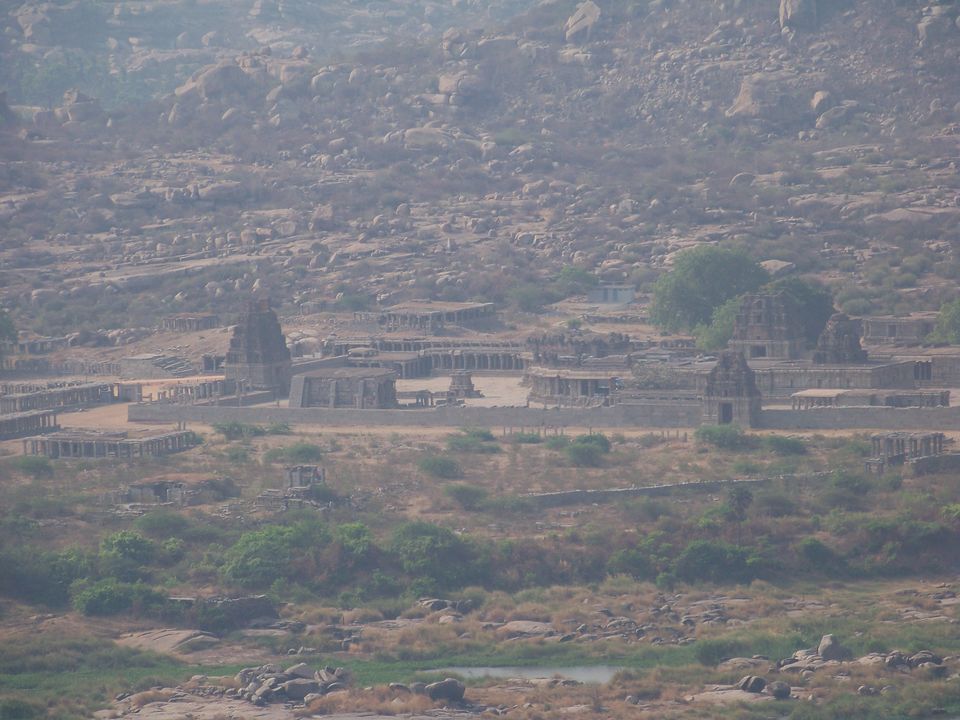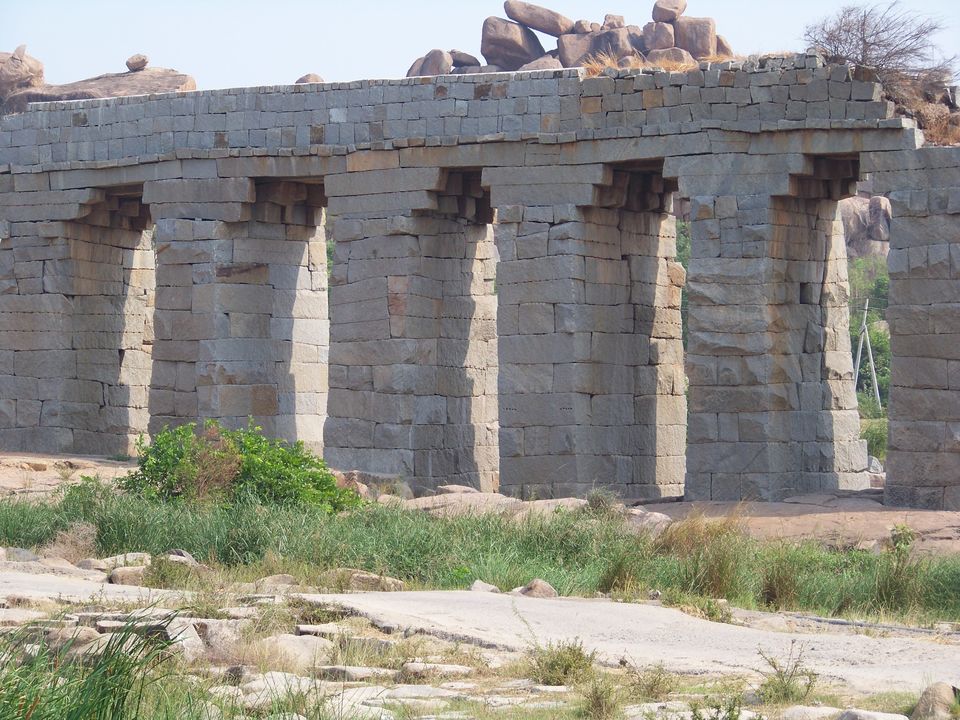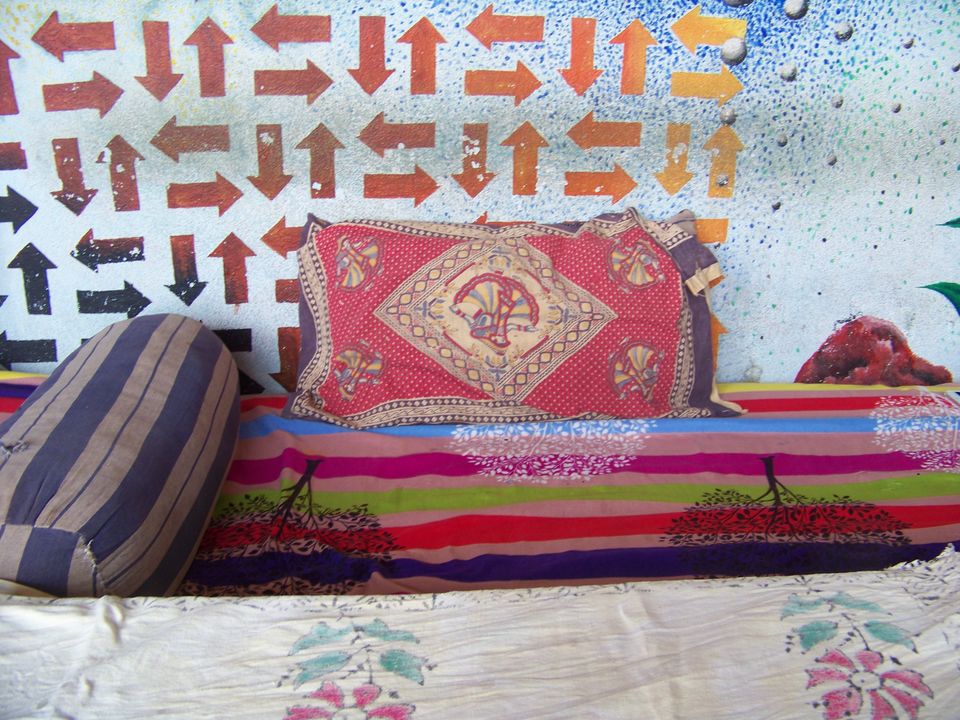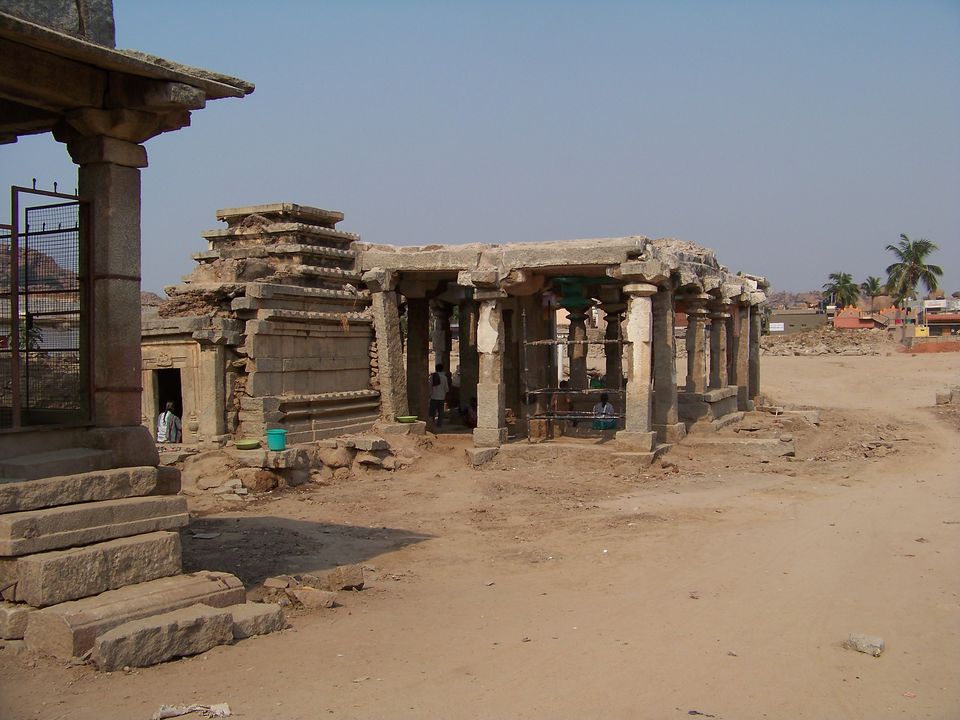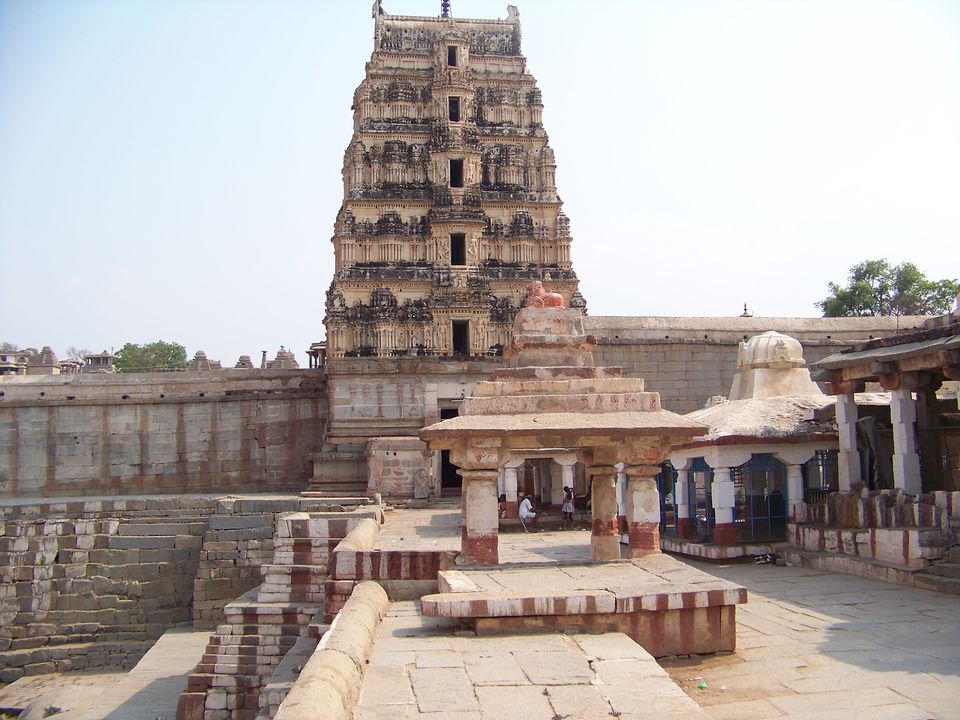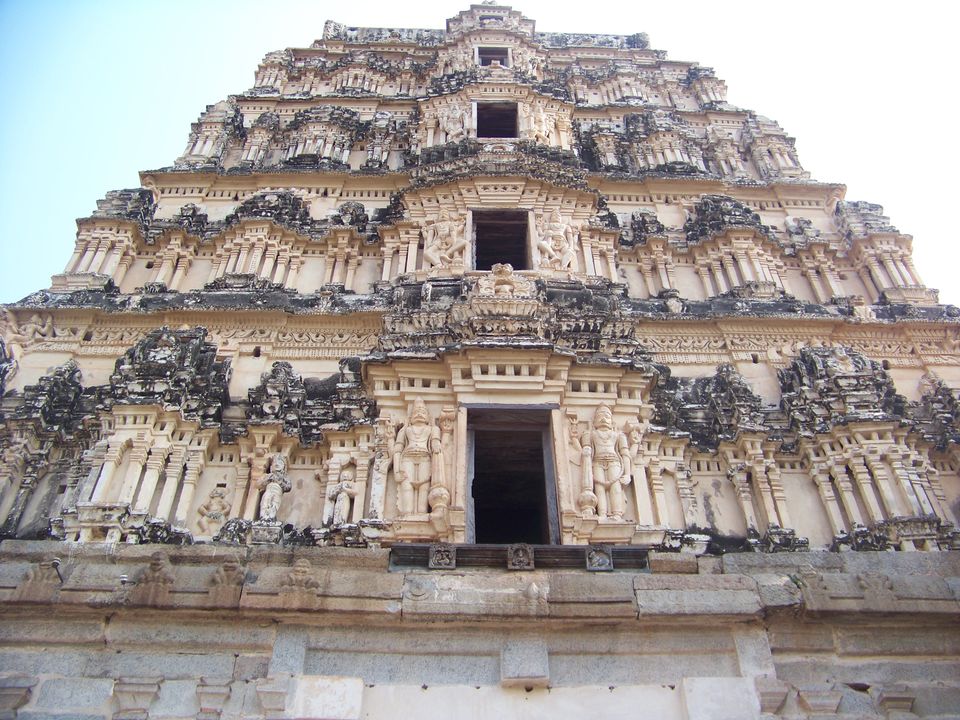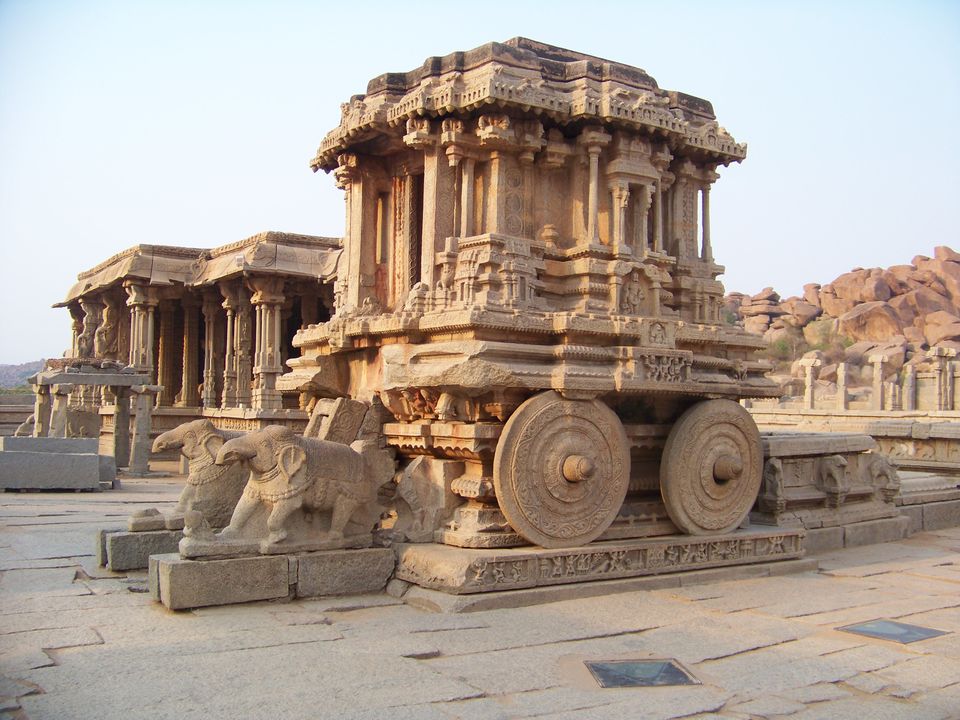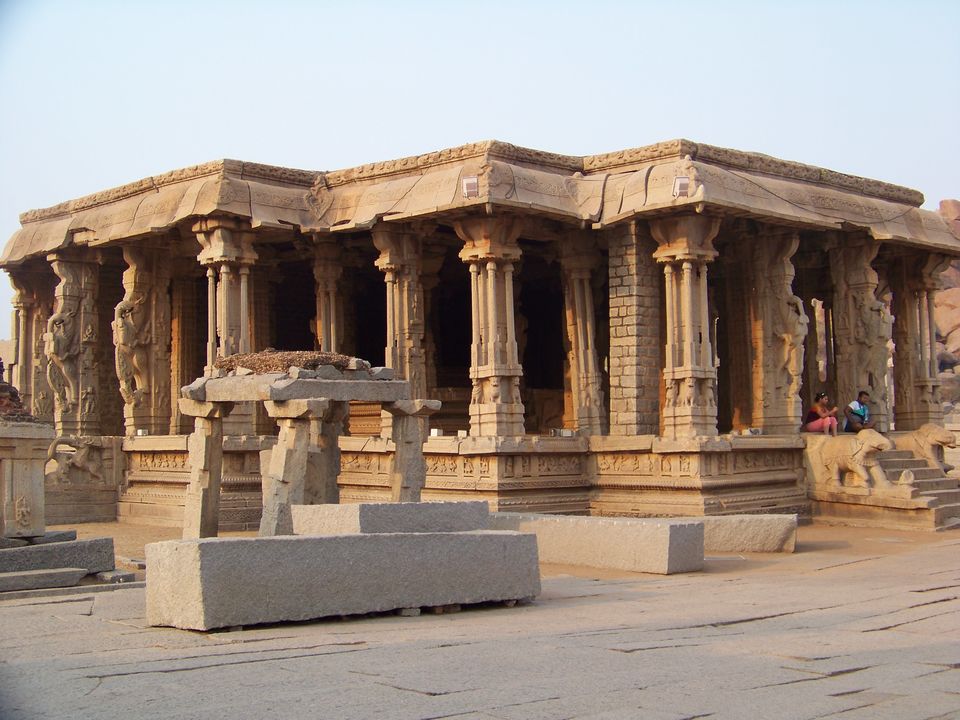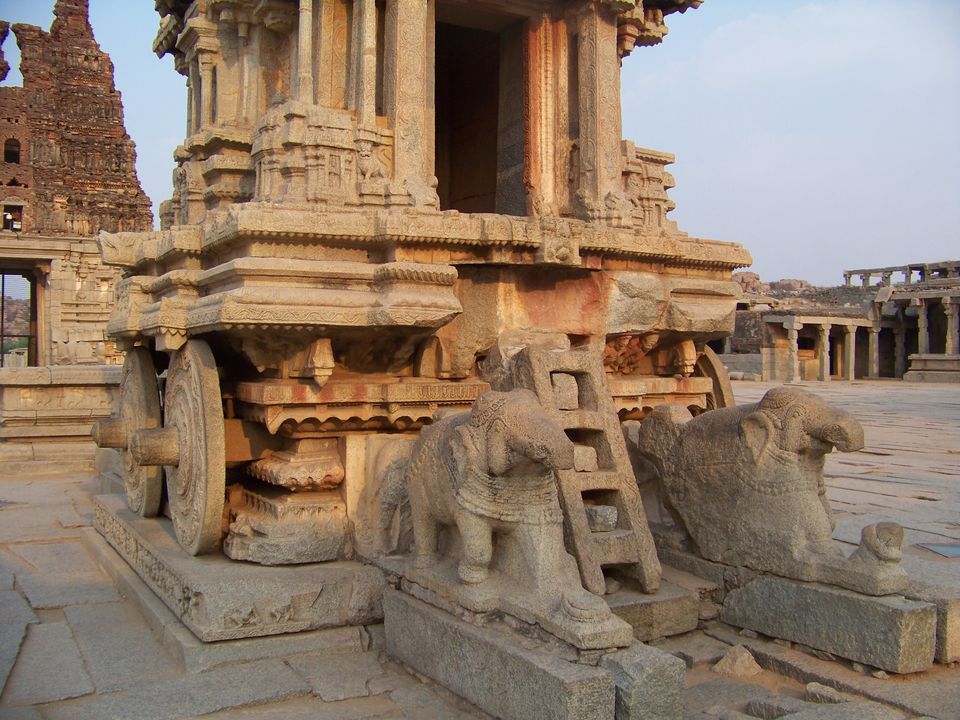 It was the rejection of one of my friend that prompted me to take this opportunity to plan a solo trip to Hampi. Situated at the bank of river Tungabhadra it is a quiet little village with lots of attractions for any travel freaks. As son as I called some of my friend that lets go Hampi the immediate answer was " What ? Hampi? In this hot summer?" everbody  screamed at me and it was for some very valid reason. This place has less trees so gets hot like real furnace in this month of April. But somehow I made it happen. Lets not go much details of how the trip was planned. Now a days any novice also can reasonably good trips with some knowledge of Internet.
The bus for hampi was at 6:30 pm from Kadamba Bus stand. It was sleeper non ac and the journey was quite pleasant. The bus got some problems at Hospet which was merely 20 km away from Hampi. I had to wait for 30 minutes as I was not going to spend any money on this last 20 km trip of the entire 350 km something trip from Goa to Hampi. The KSRTC staff were quite helpful and let myself arrange into a comfy seat of one of the bus coming from Bangalore (most probably) to Hampi. I reached finally to the coveted Hampi. It was extremely comfortable that time in the morning. But don't get flattered by this apparent calmness. This place becomes like a blast furnace at about 10 AM in the morning.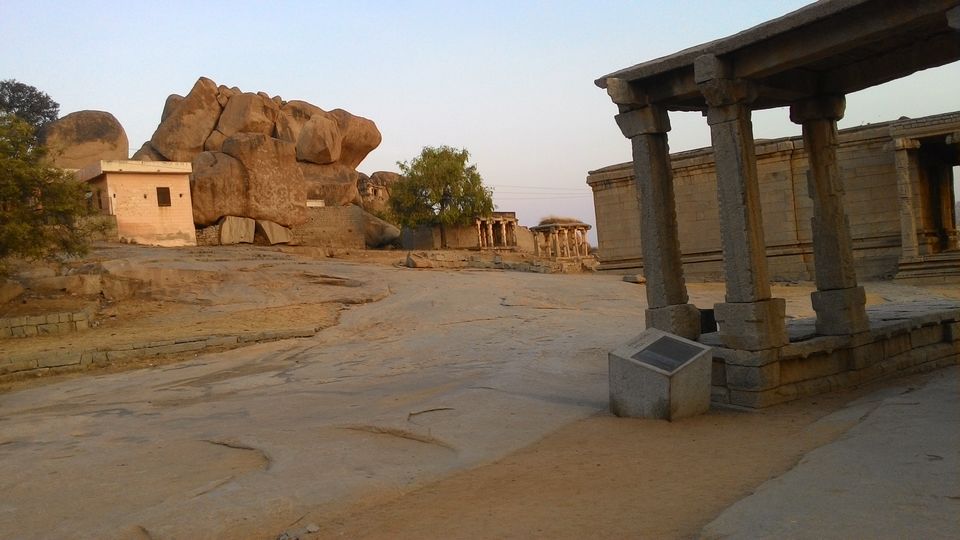 One girl was travelling all the way from delhi to Hampi all alone. She said me with a confidence in her voice " the other side of the river is much cool, you get to eat non veg and party like anything"  Her words helped me in making my decision to stay at Virupapur Gadde. It's the name of where I stayed for 2 days with merely 150 inr per day. The accommodation was done in a cottage with extremely minimal facilities. The room contains a bed with a mosquito net and a chair.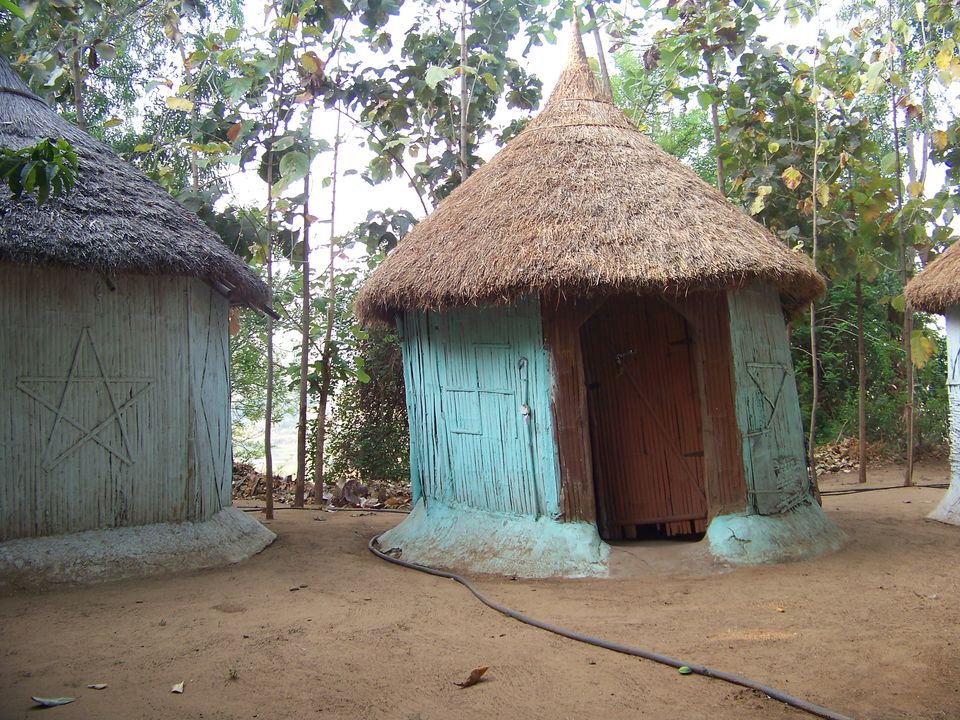 After a lot of bargaining I decided to take the cycle on rent. I had this love of cycling.There was a guy who stayed next to my hut was from Russia ( father from Russia and mother from turkey, so cool na?) I went for breakfast with him in one of the coolest places here. There were only foreigners there eating breakfast. I was slightly insulted by the Saniya restaurant guys but I did not pay any attention. This again happened the very next day and I had to say some harsh words for their behavior. After I completed the breakfast I was on my own. There were none to rule me. I were free to go anywhere I want, anything I can do without being disturbed. I first went to the water fall which was almost non- existent due to lack of water. That previous year saw a scanty rain fall which was why river were having minimum water. I went to the Sanapur lake which was actually the only good place I saw among these three. The amount of energy which was constantly losing from me was proportional to the sunlight. I quickly kept my camera and mobiles and went into the water. There were only one boat which offered me a ride for 50 inr. I could not resist myself from swimming into the crystal clear lake. There were warning sign that the lake has crocodile. But villagers told that that was just to prevent the drunkards from going into the water.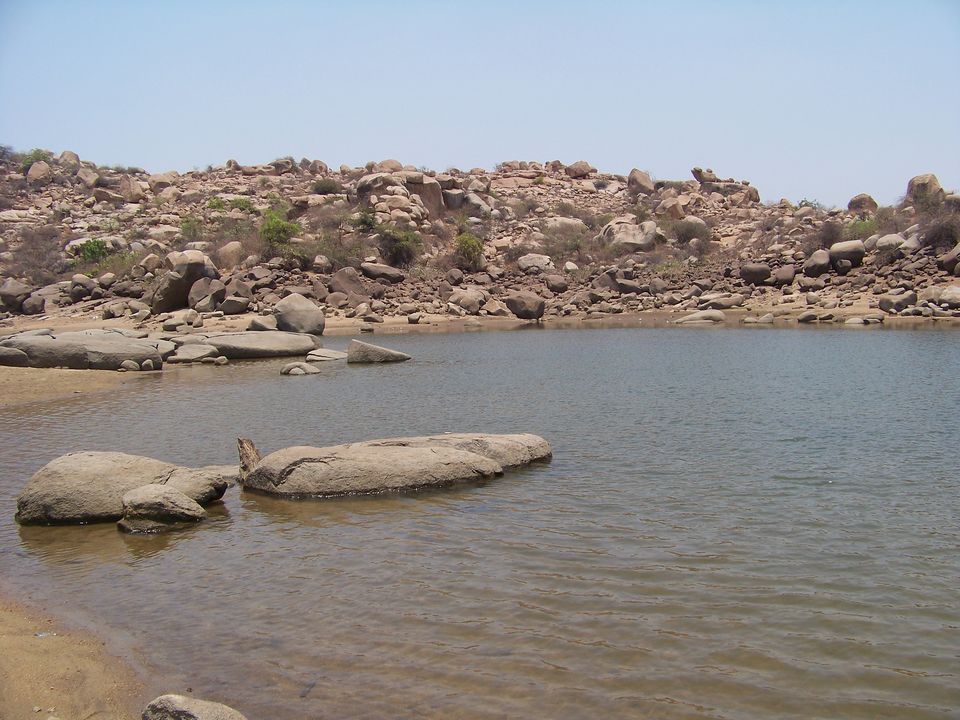 That evening I went to the monkey hill area which was around 5 km from the hotel Vijaynagar. It was getting dark so I decided to climb the hill next morning. Dinner was done at some restaurants.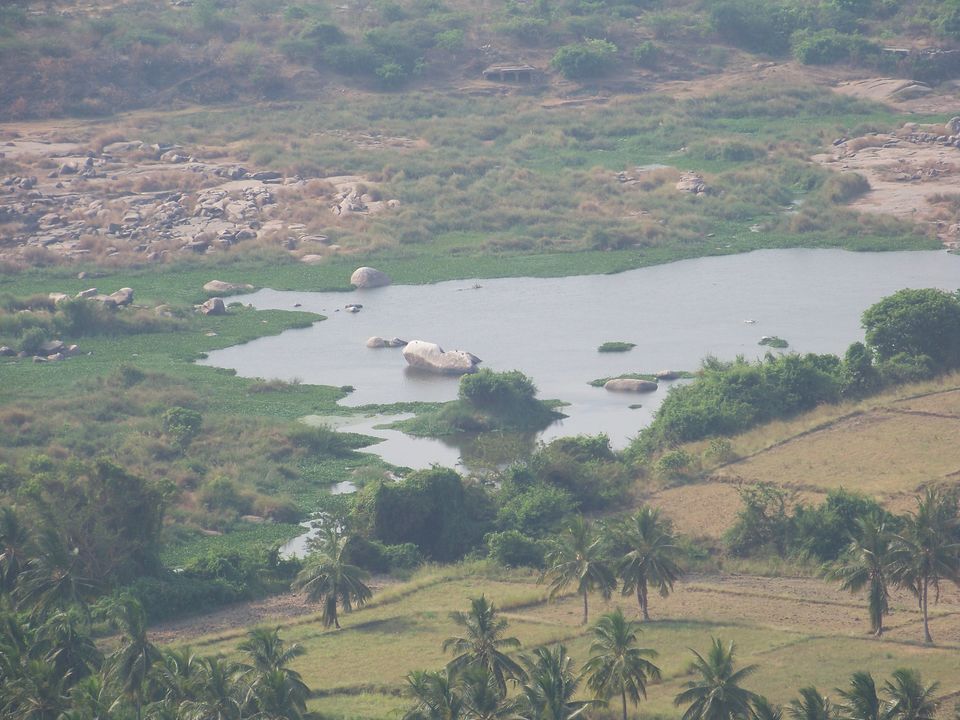 Next morning I woke up at about 6 in and started for the destination Monkey hill. There were 600 steps to the top and I climbed in around 20 minutes. There were many old people climbing that hill. Temperature was staggering 45 degrees and it was almost impossible for me to stay out. So I stayed in the hotel and enjoyed the Wi-Fi connection. Now a days these YouTube are becoming constant companion of people. Wait was finally over, the sun has lowered its intensity and I took the boat to the other side of river where the main temple called Virupaksha Temple situated.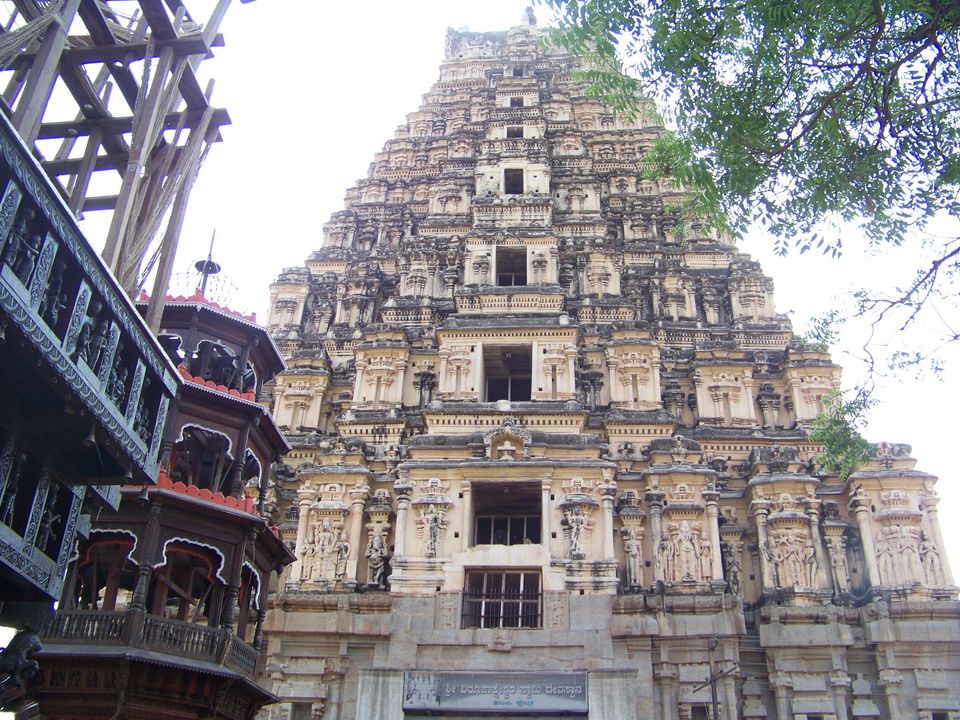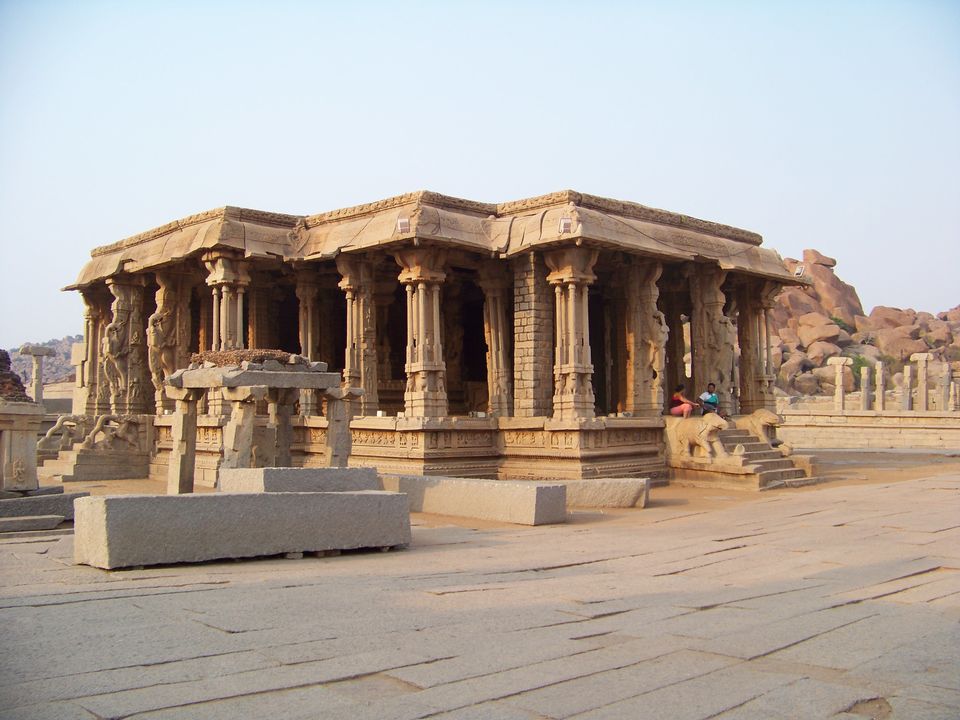 Vittala temple was almost 3 km away from Virupaksha Temple. At first I decided I will skip. That would have been a stupid decision. I enjoyed the beauty of this architectural splendor which is the official symbol of Kerala Tourism Department. I had the wish to come back through a diferent route so I took a coracle from cross the river. Made my way to through a less travelled path. Totally enjoyed the uncertainty of this route. Hitchhiked three times to the hotel where I stayed. The next day 8 am I left for hospet from Hampi by bus.
Trip Cost:
Bus to Hampi from Goa: 690/-
Room at hampi: 150/- per day
Food: 200-400/- per day ( Depending on the choice of food)
Rent of bicycle: 100/- per day
This restaurant serves various delicacies at reasonable price