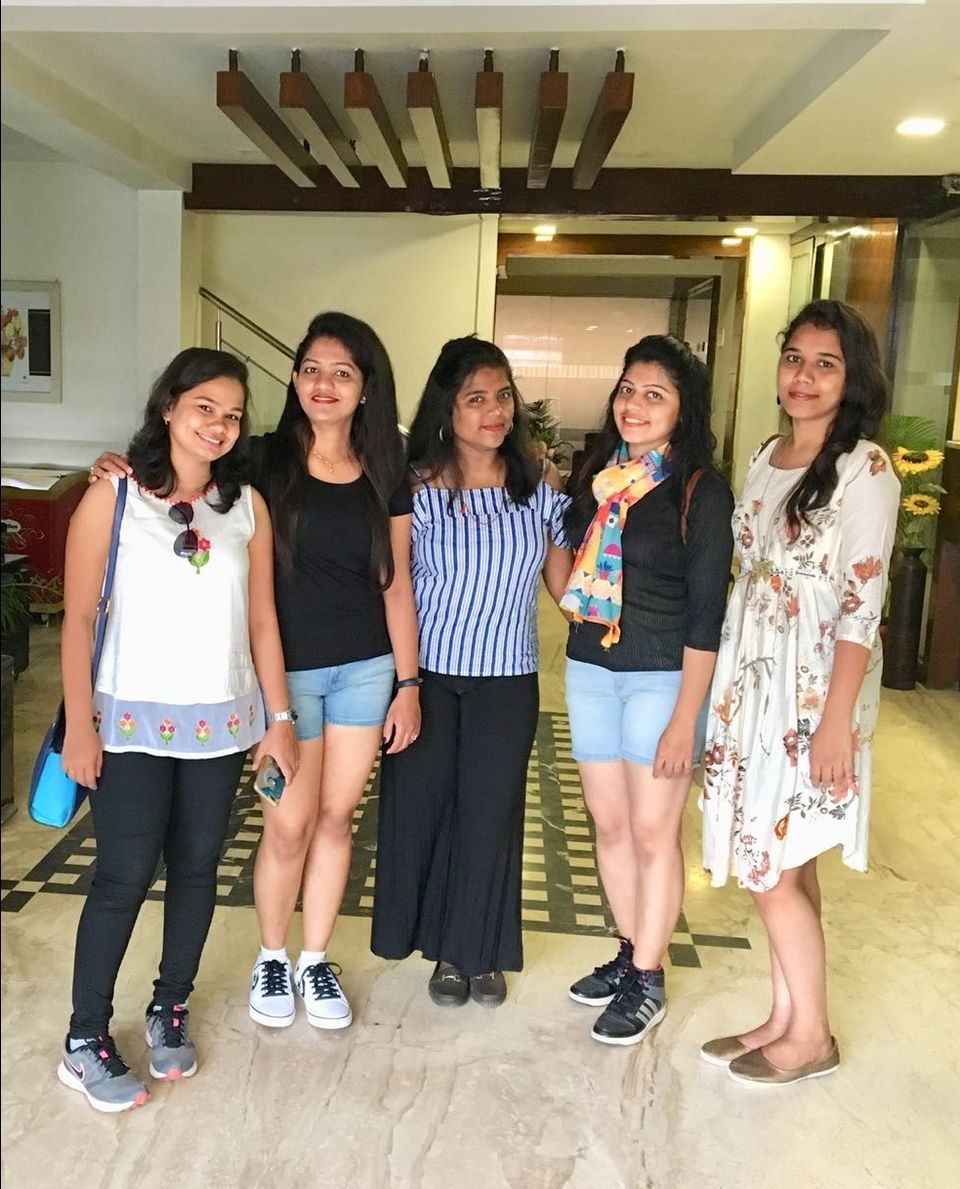 As Busy as a Bee...URGH 😖 !!!
The project deadlines were met and many assignments were still flooding though BUT I wanted a major break off now. And having said so, what must have been the very happening thing I wanted in life?... "Travel baby Travel" is what was hitting my mind since long. Just pulled out close numbers and started discussing the places to visit. After long call discussions finally the place approved was "HYDERABAD-12th to 16th July"
Meet my girls :
Supriya - my Namesake🤩
Shraddha & Rohini - our bargain Queens😎
Smita - Mute 😬
Almost 2-3 days before the trip we heaved a sigh of relief with all the essential bookings done completely unaware of further drastically funny situations.
Left home hugging my mother and her wishes to Supriya's place in Pimple Saudagar. Reached before time and relaxed for a while till we realized that the bus has left from our assumed designated bustop as per our bookings. The mere chaos we created was resolved at 10.30 pm. Running helter-skelter via Ola cabs for twice we finally managed to board the bus ahead of Hadapsar. Others were waiting for us in the bus and the Driver heated up ready to leave.
Our mistake : All 5 bookings were done under one single CR series from Swargate and as per the route info we were misleaded and tried to board from different locations and thus landed in great embarrassment.
Finally a relief to see all my 4 Bees😍 with me in my real trip. We started laughing over the whole chaos and spent the night in the bus introducing 2 new girls in the group and sharing all kind of hilarious stuff. It was for the first time that we were travelling together out of Maharashtra for the first time. Very happy and excited for the next 3 days.
Deboarded bus at Lakdi ka pool in Hyderabad at 6am in the chilling breezy morning, with many options of autowala's straight to our prebooked hotel "Rainbow International". We now realized it was a very local area but somehow tried to be as safe as we could.
As fresh as daisy we set outside to have our first breakfast in Hyderabad. "Idli Vada Smabar and saffron Tea (yellow textured tea) " what I referred it as!! People outside there staring us as unknown aliens was quite funny. As we didn't want to risk we booked an Ola Auto for the first visit.
"Golkonda Fort"
Steeped in history, thronged with people and buzzing with commerce, the Old City of Hyderabad is simply enthralling with this wonderful fort as a beautiful memory in the City. We toured the entire Fort with many picturesque spots for around 2-3 hours.
"25 Hours Multicuisine Restaurant" Himayath Nagar
After a tiring walk we were damn hungry and all set for the famous Biryani outlets of Hyderabad.
Booked a Ola Car and left for Snow World but later cancelled it and wandered across the streets. Came across this authentic cuisine restaurant with mouth watering Veg/ Nonveg Biryani and Tandoori Chicken. Ohh yaay it was simply the best Biryani we had ever tasted with correct proportions of spices which was way tempting. Believe me people whenever you plan to visit Hyderabad, mandatorily visit this hotel.
The combo of authentic green chutney served along with spicy chicken biryani is simply mouth watering and
Tangdi Kebab is a must try. We had a great lunch after hovering over in there.
My bargaining queen's started off lowering the prices as low as they could. The autowala's used to carry us all 5 in single auto with minimum 30-40 rs. All thanks to these 2 girls.
"Birla Science Museum "
Birla museum is a wonderful place with the planetarium, museum, science center, art gallery as well as a dinosaurium. It's so vast to go through and should be visited at early hours so that all the floors can be visited calmly. Very well preserved and systematically presented to the people.
"Birla Temple"
Birla Temple is equally astonishing built in white marble as far as your eyes reach out. The white marble adds up to the beauty of this temple being clean and marvelous and attractive at the top in the busy city. The chilling breeze and the drizzling rain is awesome at this place. Sometimes it is always good to experience the real moment than capturing in pictures is why the electronic devices are strictly not allowed here. Atop the whole city is vieweable and Hussain Sagar Lake too with the enormous Buddha statue in the midst of the lake. The view in the evenings is attractive.
"Pradise Biryani Outlet"
Frankly did not like the food at all, had just visited blindly following the charisma about this place.
" Street Food "
The authentic street food was much awaited and we finally landed at the best one. Bhonde - a newbie food for us which was very tasty, Medu - wada, idli chatni, dosa chatni, was a superb tastebud. Excellent batter properly ready to fry out the delicacies with garam garam chai. We thanked the mavshi for this tasty breakfast which lasted in our stomachs for long.
" Ramoji Film City "
An extremely enthralling day at this jaw dropping place is what you would definitely desire for when in Hyderabad. It's simply a luxurious tour of India.
The rides at the entrance are a fun experience along with mystique surprises beyond your imagination in the stretch of 2k acres and quantity wise food is served more enough. The online pre booking is to be done for smoother entry via official site as per the variety in trips provided. And if possible can stay at this place or stay for long in the evenings. Because if its arranged via hotel staff the timing of transport will be 9am -5.30pm only so we miss the fun environment at evenings.
"Peshawar Restaurant" at Lakdikapool
We were pleasantly surprised with the good taste of non-veg dishes here. It's a very good place for family dine out.
Kebabs and starters were a delight start.
Murgh jaffrani kebab is a must try.
Murgh shorba is very tasty and is served hot and tastes better when eaten with soft Laccha paratha.
The ambience is cool. Only there is longer waiting list so need to bear it. But overall definitely a place to visit with an excellent crowd around.
"Salarjung museum "
It's the National museum of India and largest museum in the world comprising a collection of sculptures, paintings, carvings, textiles, manuscripts, ceramics, metallic artefacts, carpets, clocks, and furniture. A whole day is to be dedicated to this historical place which depicts the beauty of many things we don't even imagine of.
" Chaarminar"
The 4 towers with intricate details of architecture in the beautiful domes, and from the top experiencing the panaromic views of bustling cities with surrounding markets which are filled with food and jewellery.
"Bawarchi Biryani outlet"
The place of Never Ever Ending Temptation for Biryani. The authentic taste of spices sparks the Biryani with mouth-watering flavour served with the green coloured chutney. Crispy Tandoori Chicken is also very yummy.
"Karachi Bakery"
Wrapped up our trip by rushing this shop for some delicious sweets back to home.
Finally Left to Pune the same night by RedBus with an emotional stint of superb trip together after long time. We also started planning for the future outings together for exploring the beauty surrounding us.
Hope to visit the next destination very soon 🤞
Signing out till we meet again...