We all love our homemade food. Well, from time to time eating out helps to break the monotony. Noida is rich in the number of great fine dining restaurants that serve food that dates back to the age of the Nizams. For those who love to eat out, you have a stuck gold.
This article will help you zero in on a few places that have been considered to be some of the best restaurants in Noida;
1. Going Rural at Desi Vibes -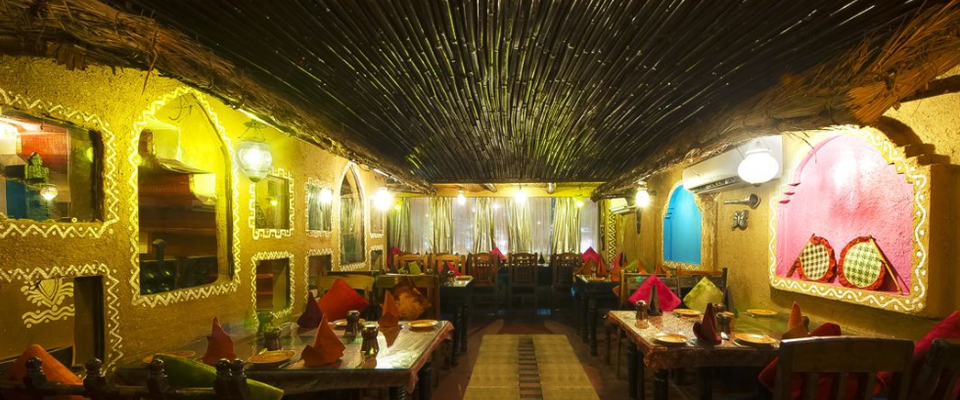 Pic by - DesiVibes.in
Located in Sector 18 of Noida, Desi Vibes is a casual dining outlet waiting to be experienced. The place has been highlighted for its Mughlai and North Indian food. While vegetarians can feast on their paneer malai makhani and choice of dals; one would be advised to pair these delicious lentil preparations with rotis straight from the tandoor. For non-vegetarians, the butter chicken and rara chicken cannot be missed. While the décor is that of a village, the food is awesome and transport one to the extreme rural areas of the country where meals are prepared on coal-fueled ovens, under the stars. The taste is simply rustic and that is why we have to add this restaurant on the list of top restaurants in Noida. The place serves food from 12:30 pm to 4:30 and then from 6:30pm to 11:30 pm. While you can order food to be delivered to your home for an order of Rs 300/- and above, this place doesn't have any bar. Meal coupons are accepted here and a bill for two could stand at Rs 1200/-. Those who have been here before recommend that one makes a reservation before they venture out to dine. A regular flow of customers and great food is the reason why we chose to highlight this place as one of the best restaurants in Noida.
2. Berco's Version of Thai and Chinese -
Pic by - Bercos.net.in
A petite little place, Berco's is a known name on the block that has been serving quality food to its diners. Just at Sector 12, make your reservation as you look forward to dining at this restaurant that serves Thai and Chinese food. The Thai red curry, and Chinese regular chilli chicken is a delight to dig into here. The place offers great facilities like a comfortable dining area, a bar (did we hear you say a yippee?), home delivery against an order of Rs 350/- or more. The place serves food from 12:30 in the noon till 11:00 pm. The prices are on the higher side and a meal comes for Rs 1100/-. However, reviews tell us that this place is worth visiting. You will enjoy every morsel and keep coming back for more, bringing a new person each time with you.
3. Indian Expedition Served Hot -
The Urban Chulha near Sector 5 is more likely to draw your attention for its extensive menu that covers the northern and southern states of India. Open from 8:30 am, you can expect to pick up a hot breakfast of dosas and idlis should you stop by to get a bite. The place closes at 8:30 pm. Dining space is what this place lacks. Nevertheless, with the bill being as little as Rs 300/- and a vegetarian menu that comprises of items like pohas, theplas, pach meld al, okra chilli curry, tangy salads and even a banana curry, you will come back for more. Their lauki halwa and chana based kebabs are what one would expect to get a five star rated eatery, yet this small place delivers and does so in a big way.
4. Lucknow Tales -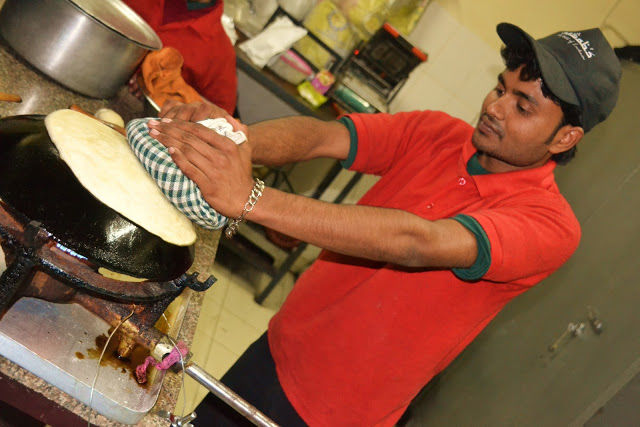 Pic by - Nawabs.in
Nawabs – The Taste of Lucknow Sector 7 of Noida, does exactly what it was established to do; that is to present the cuisine of the Nawabs and give the world a taste of what the rich city has to offer. Now, this is no expensive eatery yet it dishes out dishes fit for royalty, both in terms of quality and quantity. It is no compromises here as the management of the restaurant has gone out of its way to ensure that authentic spices are used in the food as the 'bawarchis' during the days of the Nizams would use. You can choose between eating at this place or have the food sent to your place when you order above Rs 350/-. Some items that deserve a special mention are the haryali chicken, chicken hussani, paneer nawabi, dum aloo and the kebab platters. You can drop into this place anytime between 12:30 pm to 11:00 pm for a taste of regal cuisine. The pricing of the dishes is economical and you will be happy to know that the cost for two here is just over Rs 450/-. A filling meal is what is guaranteed at this place. So hurry up and eat out at this place.
5. Buffet Mania -
Buffets that come with unlimited drinks are the talk of the town at Eden Kitchen and Bar at the Supertech Shopprix Mall is Sector 61 of Noida. Apart from the usual North Indian and Chine, this restaurant serves Lebanese and Continental fare as well. The buffets are priced between Rs 400/- to Rs 600/- and the place offers home delivery and free WiFi. Described as a hidden gem, diners recommend trying their biryanis, chili fish and whatever is the specialty of that day. It is truly an adventure when goes through the menu here. It is the cocktail kebab that truly does the magic for the crowd. Service begins by 11 am continues till 11 pm. Keema Mattar and bawli handi and the heart- warming gulab jamuns. This place is a great eating haunt and will leave your poorer by Rs 1250/- when you dine here. Eat along and be content. This is truly one of the top restaurants in Noida.
Check out other articles on -
Best Restaurants in Chandigarh, Best Restaurants in Gurgaon, Best Restaurants in Udaipur, Best Restaurants in Guwahati, Best Restaurants in Mumbai, Best Restaurants in Delhi, Best Restaurants in Kolkata, Best Restaurants in Pune, Best Restaurants in Chennai, Best Restaurants in Ahmedabad, Best Restaurants in Bangalore