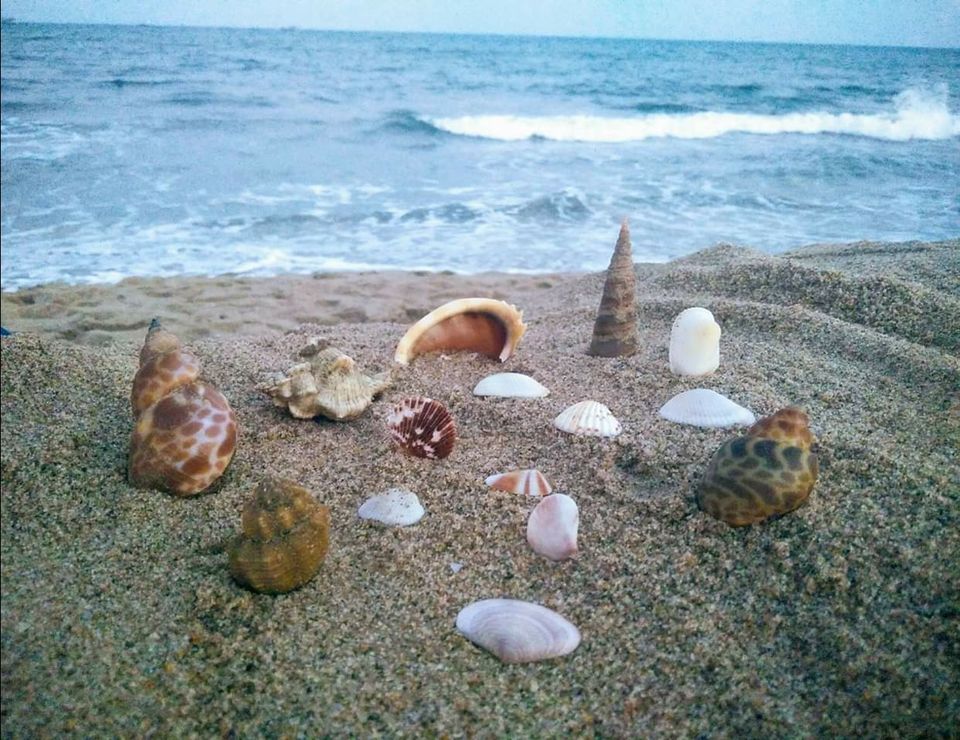 One day I got call from office saying I need to leave for Chennai on coming weekend for some urgent assignment. I was enjoying Bench time at that moment. (For those who don't know Bench is Term the used in IT firms when people get paid to do nothing. ;D In more sophisticated words when you are not assigned to any project.) So while the call was going on I had already imagined myself in Pondicherry, Mahabalipuram, Kanyakumari ( The South India Places on my list) and thought I was the chosen one :D ( But there were 4 other chosen people too who were flying to Chennai with me).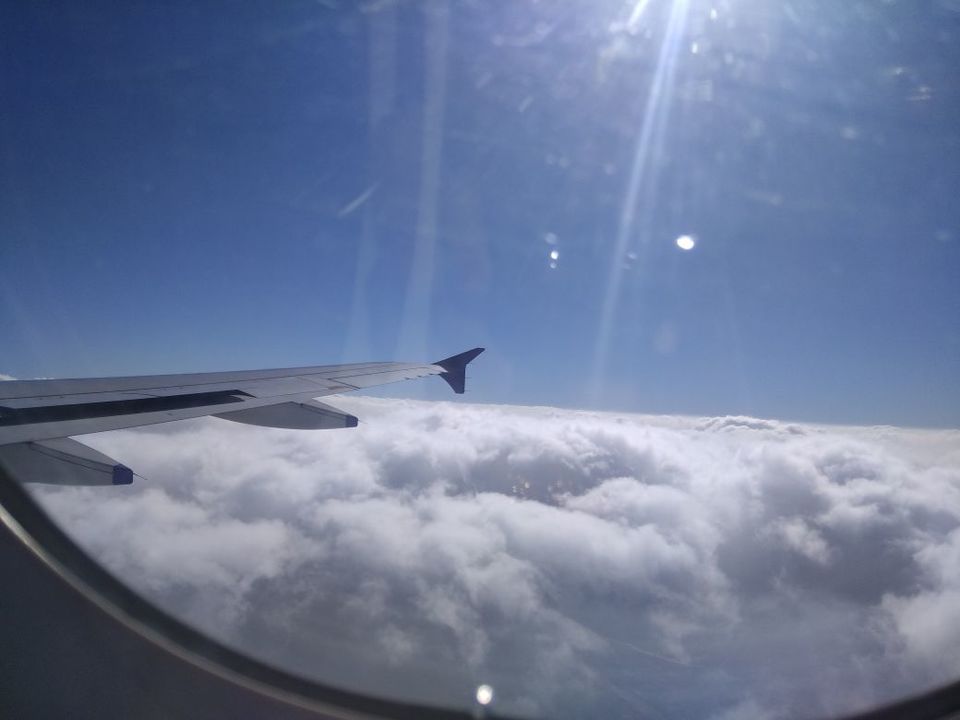 So we 5 people came to Chennai MCity and every one had their own list of places that they wanted to travel. So we chose the place which was common in every one's wishlist. Pondicherry. We researched possible and affordable commute options as it was going to be one day trip.
Commute options for Pondicherry:
Nearest Airport Pondicherry Airport : It is connected with Bangalore, Hyderabad, Chennai and Salem with very few airlines as it can't accommodate big air crafts yet.
Second nearest Airport Chennai Airport: Connected with all global airports and airlines. It's 143.8 km from Pondicherry.
Nearest Railway Station: Puducherry (PDY) Railway Station is well connected with Chennai, Mumbai, Delhi, Kolkata, and Trivandrum etc.
By Bus : Many private and state transport buses are the available form Chennai to Pondicherry (Aprox time to reach is 4 hours).
By Road: Distance between Chennai to Pondicherry is 152 KM, it may take around 3 hours to reach. Also the roads are in good condition.
We decided to travel by road as it was fastest option and we wanted to spend most of our day in Pondicherry than traveling by public transport. We booked Ola Outstation for a day. Our Estimated budget was 3000 Rs. We started from MCity at 8 am.
Our driver could not understand a word said by us, so it was fun talking to him in sign language. Another problem was he had all Tamil songs in his pendrive and all radio stations were in Tamil. Only Hindi song he knew was "Lungi Dance" (First time felt proud of Chennai Express Movie).
We stopped for breakfast in between, it was small and ordinary hotel, a family was running it. Language issue was very common for us by that time. We could not ask for the price as there was no menu card but later we assumed looking at the hotel that it must be reasonable and with kind heart we offered breakfast to our driver as well. All we could convey to the owner (the only person serving) was "Dosa, idali, wada" and showed the number of fingers for the quantity we wanted respective items.
Everything was served on banana leaf, initially even the sambar. When we asked them for bowl they looked at us very suspicious way, that I almost thought he would deny but his wife arranged the bowl. No wonder everything was so tasty, in Chennai even if you try south Indian dishes at roadside thela (Handcart) it will be tasty and cheap. So according to our previous experience we were expecting bill around 300-350 Rs and it was 650. We felt cheated, in addition to that our driver alone had bill for around 200.
We paid the bill and sat silently in car trying to digest it. Later we realized those were the moments (when something went wrong) we remember the most or we can laugh at. If everything was smooth I would have probably forgot this part by now. Those were the kind of memories which helped us gel up together as we were getting to know each other yet.
We reached Pondichery by 10:30 pm (it took us 2 hours to reach excluding breakfast time).
About Pondicherry :
It is the capital and the largest city of the Indian union territory of Puducherry. Also called as "Paris of the East" or Pondi. Official languages there are Tamil, English, French. You will often get confused seeing French people there, considering them as tourists But Pondicherry, is a French colonial settlement in India until 1954, is now a Union Territory town bounded by the southeastern Tamil Nadu state. Its French legacy is preserved in its French Quarter, with tree-lined streets, mustard-colored colonial villas and chic boutiques. So not them but we are tourists in Pondi.
We decided to visit beaches in evening as it was so hot outside. So places we explored are as follows:
Basilica of the Sacred Heart of Jesus: This 100 years old historical church. Is an oriental specimen of Gothic architecture. It contains rare stained glass panels depicting events from the life of Christ and saints of the Catholic Church. In recent years it has become one of the famous pilgrimage spots for Christians. It was Sunday Mas over there. We prayed and sat there for sometime.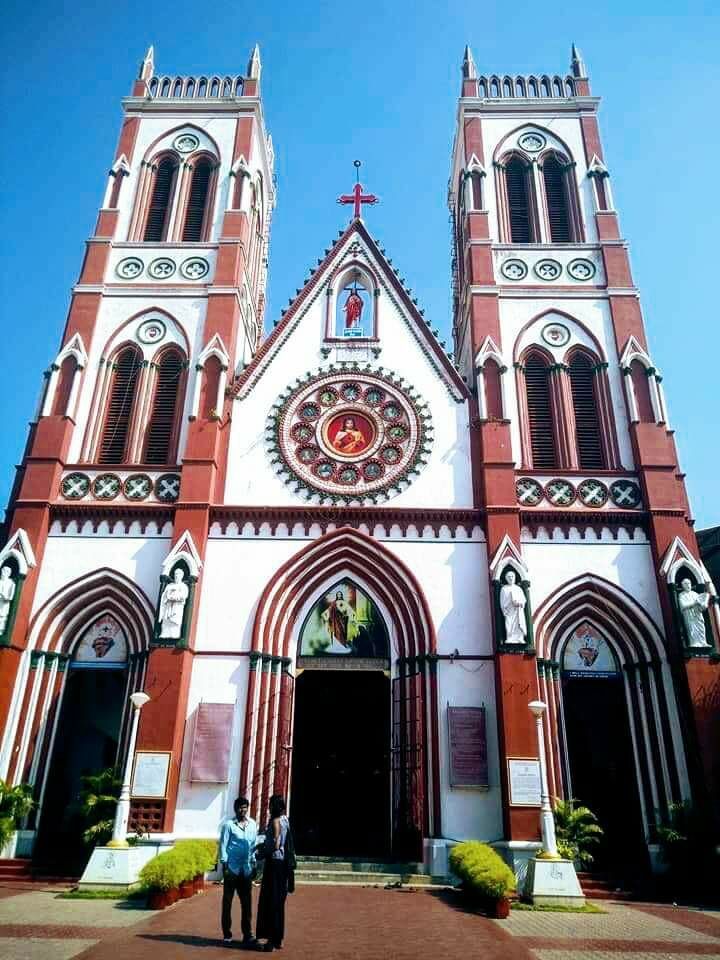 Varadharaja Perumal Temple:
We visited Varadharaja Perumal Temple, and one more Shiv temple which were so colorful. As if carvings on them had some stories behind it which I really wanted to know.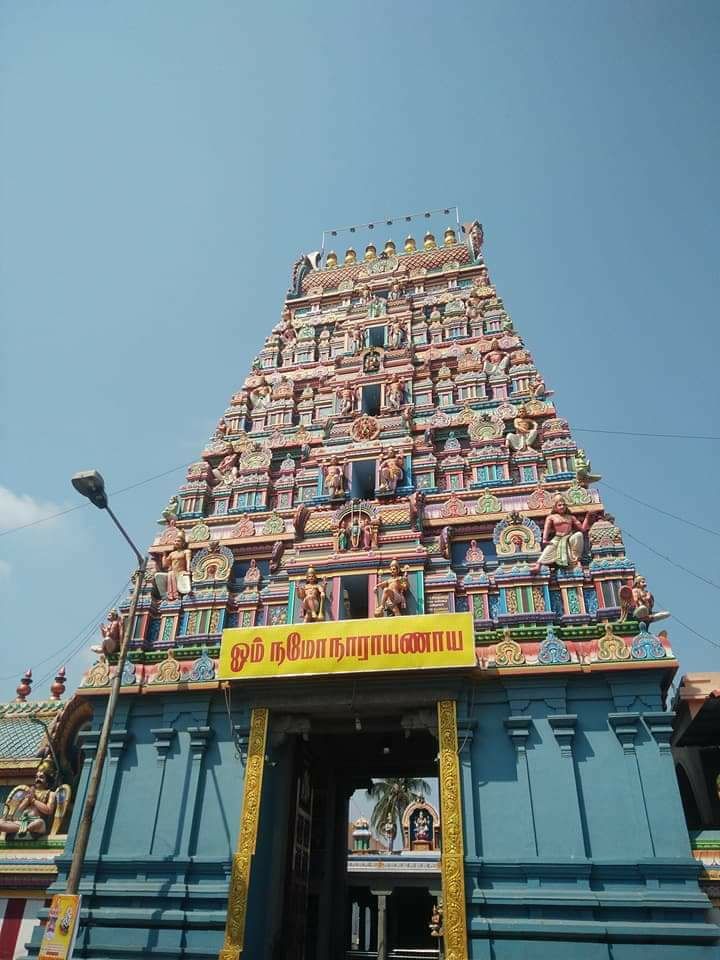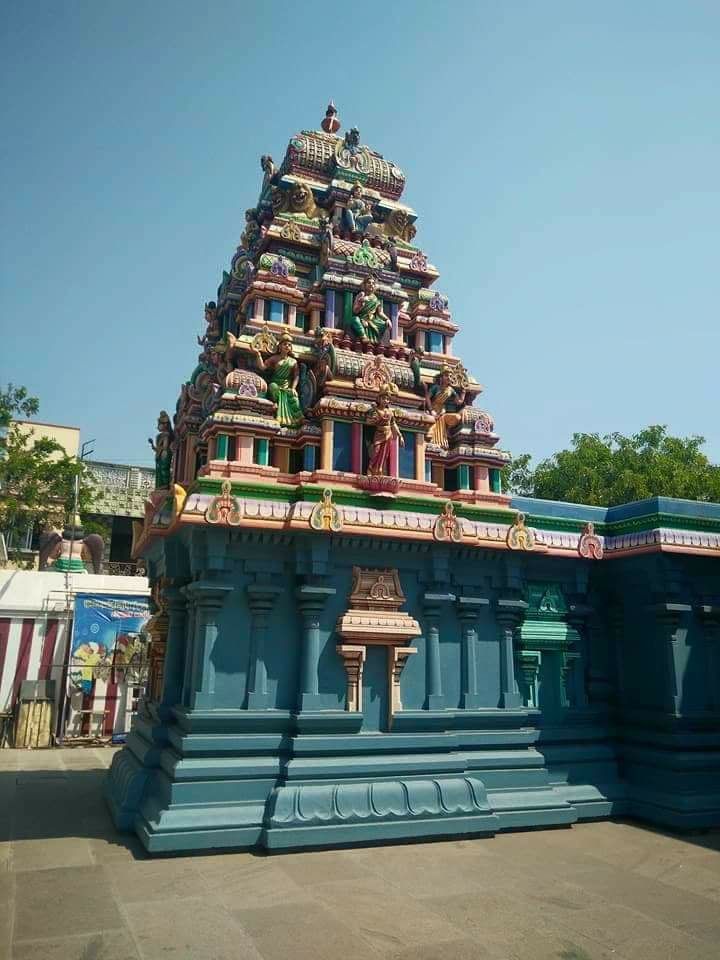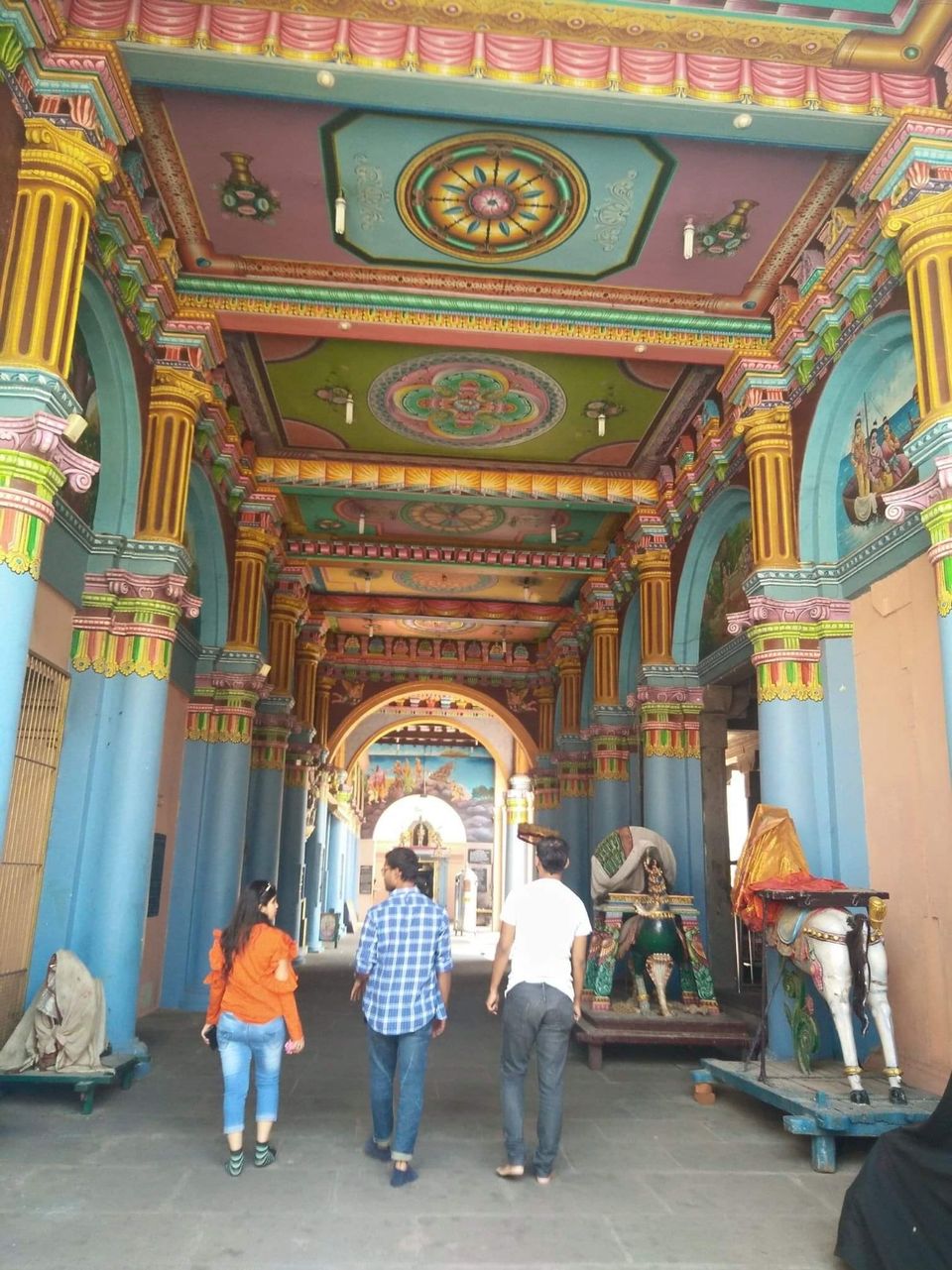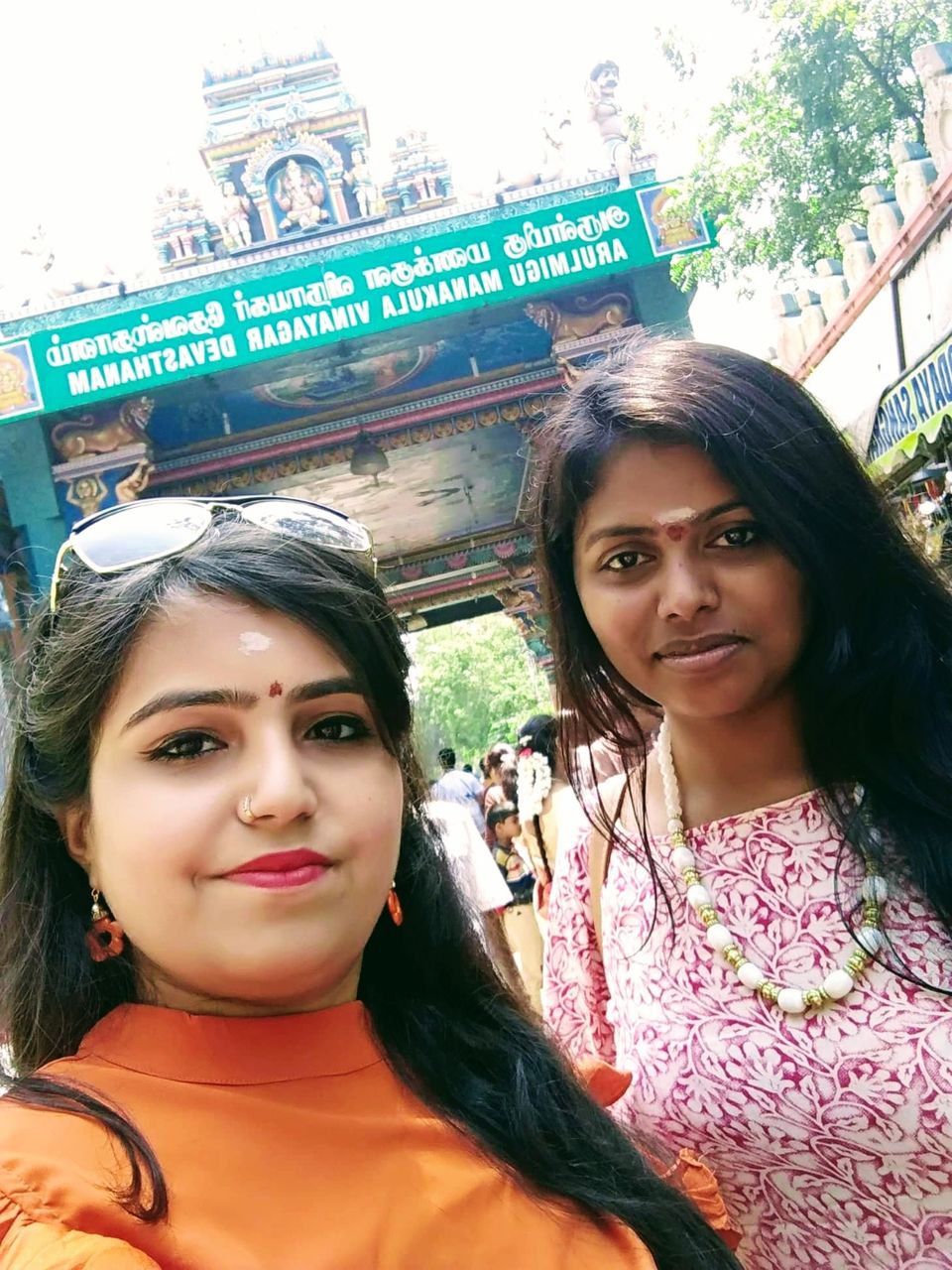 Spotted baby pomfret outside temple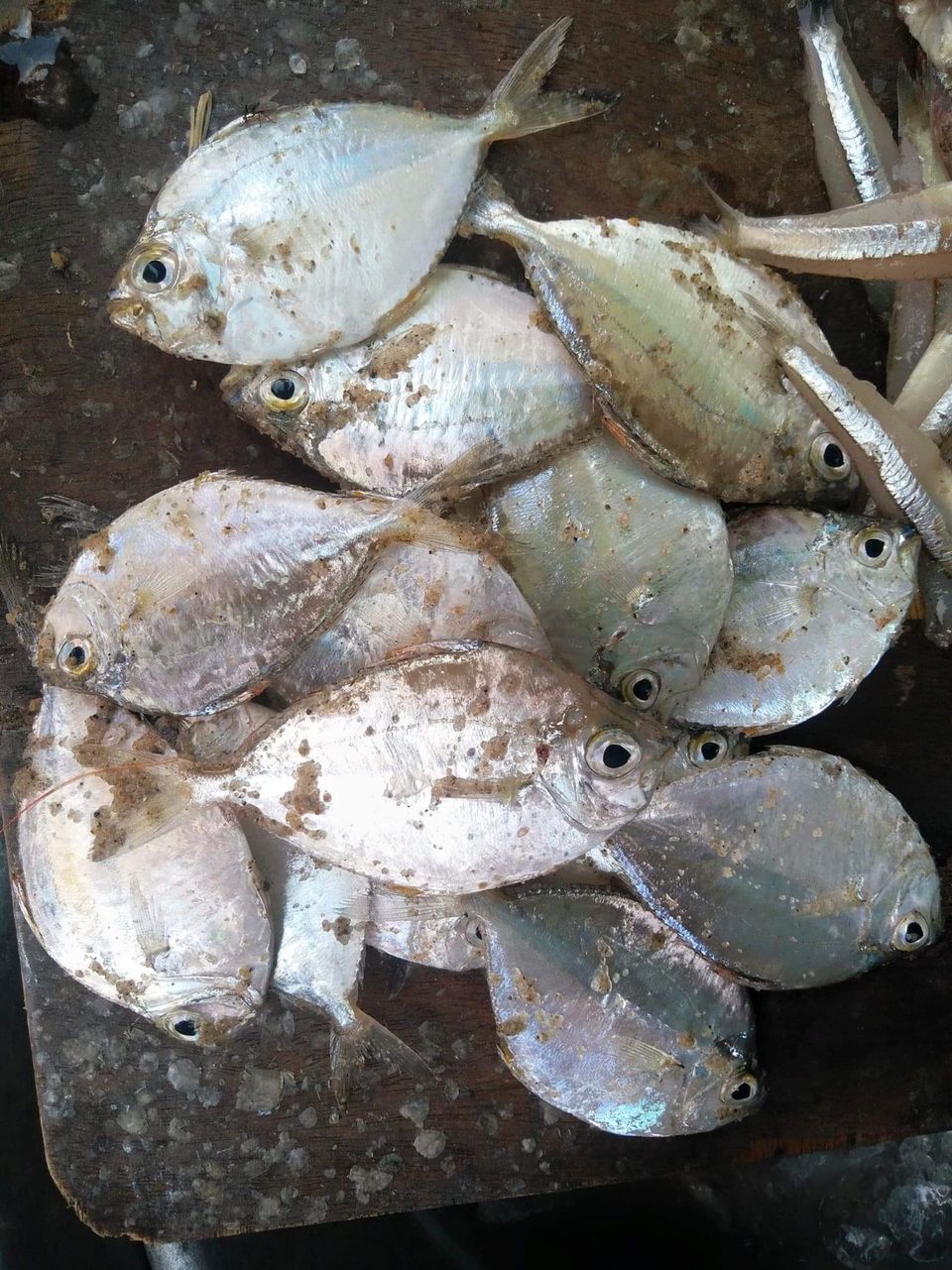 Auroville, The city of dawn:
Auroville is a universal town where men and women of all countries are able to live in peace and progressive harmony, above all creeds, all politics and all nationalities. The purpose of Auroville is to realize human unity.
Today Auroville is recognised as the first and only internationally endorsed ongoing experiment in human unity and transformation of consciousness, also concerned with - and practically researching into - sustainable living and the future cultural, environmental, social and spiritual needs of mankind.
Below shown is the top view of Auroville.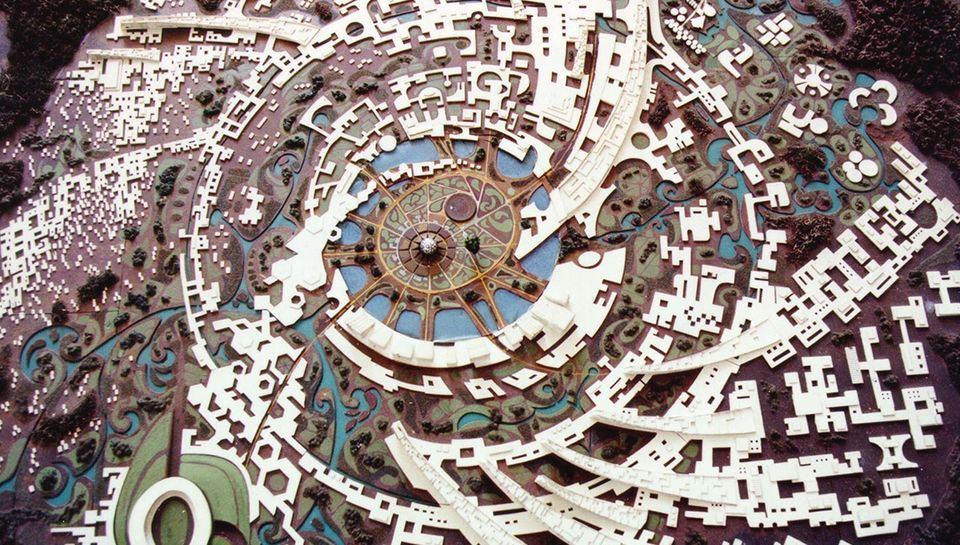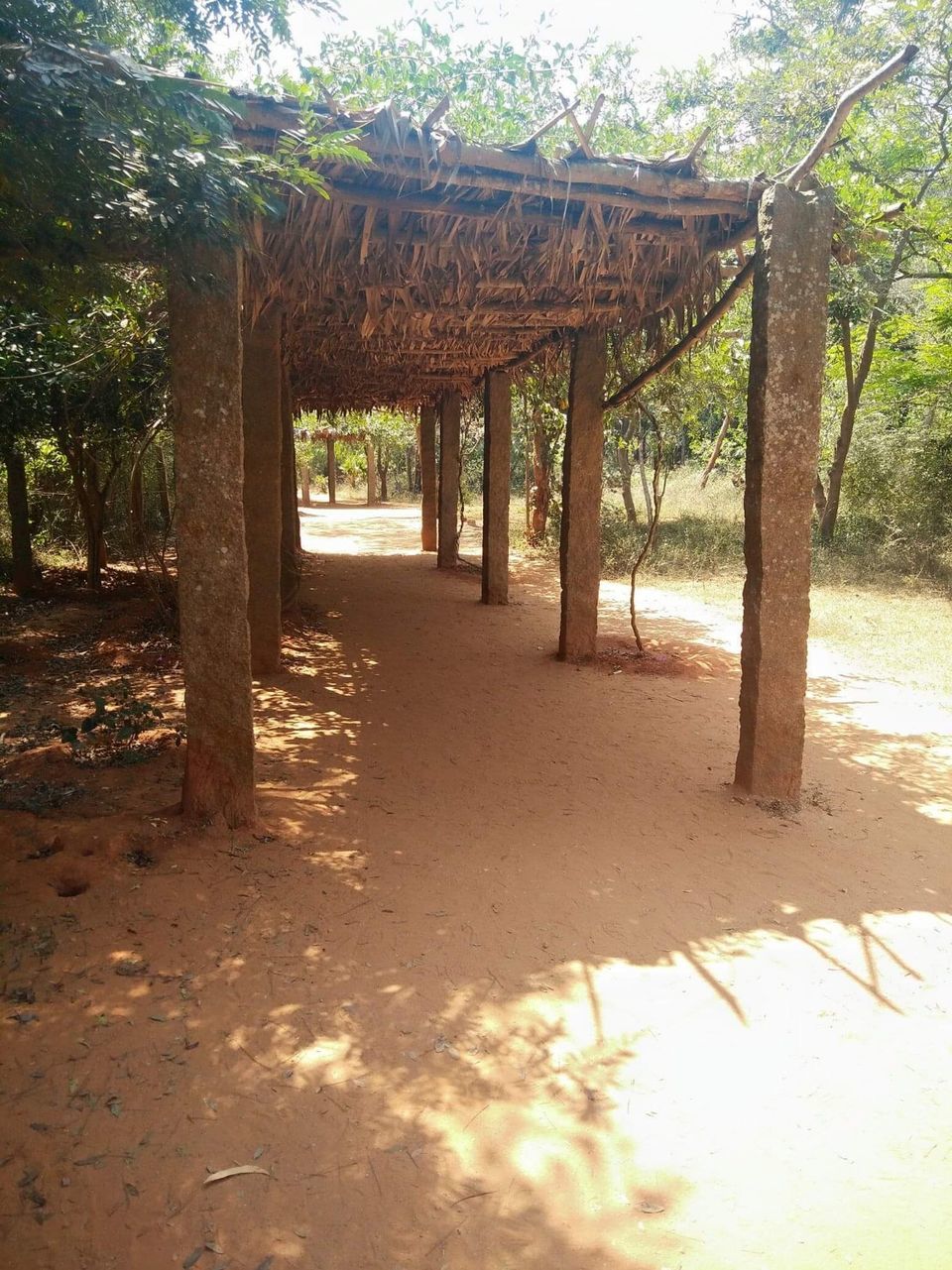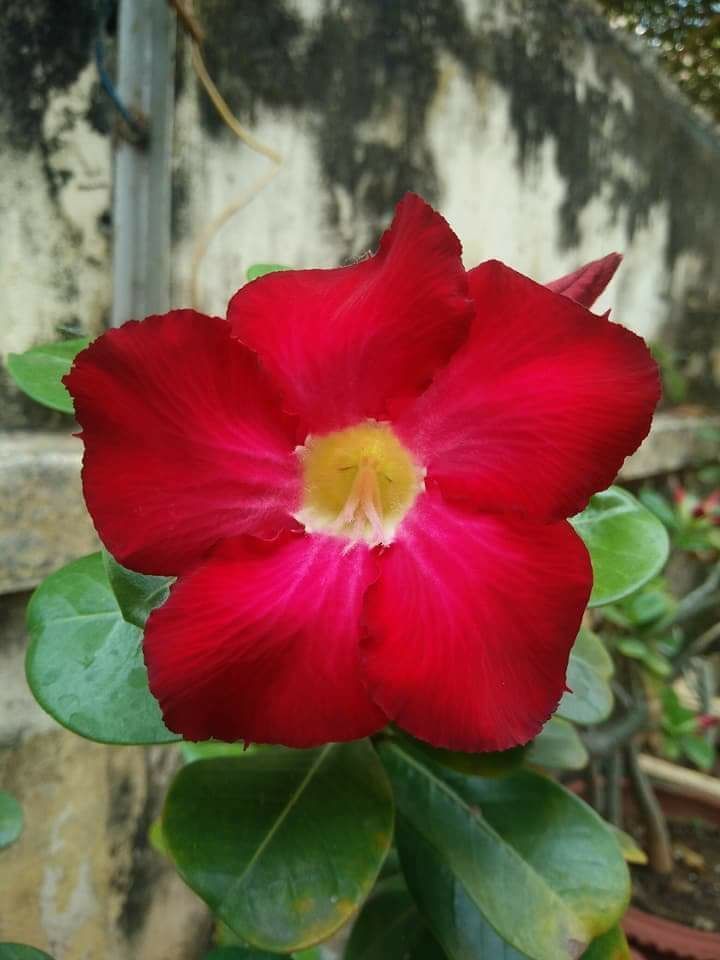 Maitrimandir:
Maitrimandir is one of the famous attraction in Pondicherry. Located at a distance of 8 km from north-west Pondicherry is the City of Dawn or Auroville. Matrimandir is a place for individual silent concentration and is situated in the center of Auroville city. It was a part of the Auroville City project designed by Roger Anger.
The architecture of Matrimandir can be defined as a 12 sided white marble inner chamber with a 70 centimetre optical glass globe in the centre. A shaft of sunlight is focused by way of a roof-mounted heliostat to give focal aid when the light falls on the globe. Matrimandir is a combination of modern western and traditional Indian architecture. It is linked to other buildings in the city via a narrow road and is set in a rural landscape of deep red earth and widespread forest.
For information regarding Matrimandir, one can go to the Auroville Visitors Centre situated near Bharat Nivas, the Indian national pavilion in Auroville's International Zone. The centre remains open every day from 0930 Hrs to 1730 Hrs. Boutiques, bookshop and cafeteria are among the few amenities available at the centre.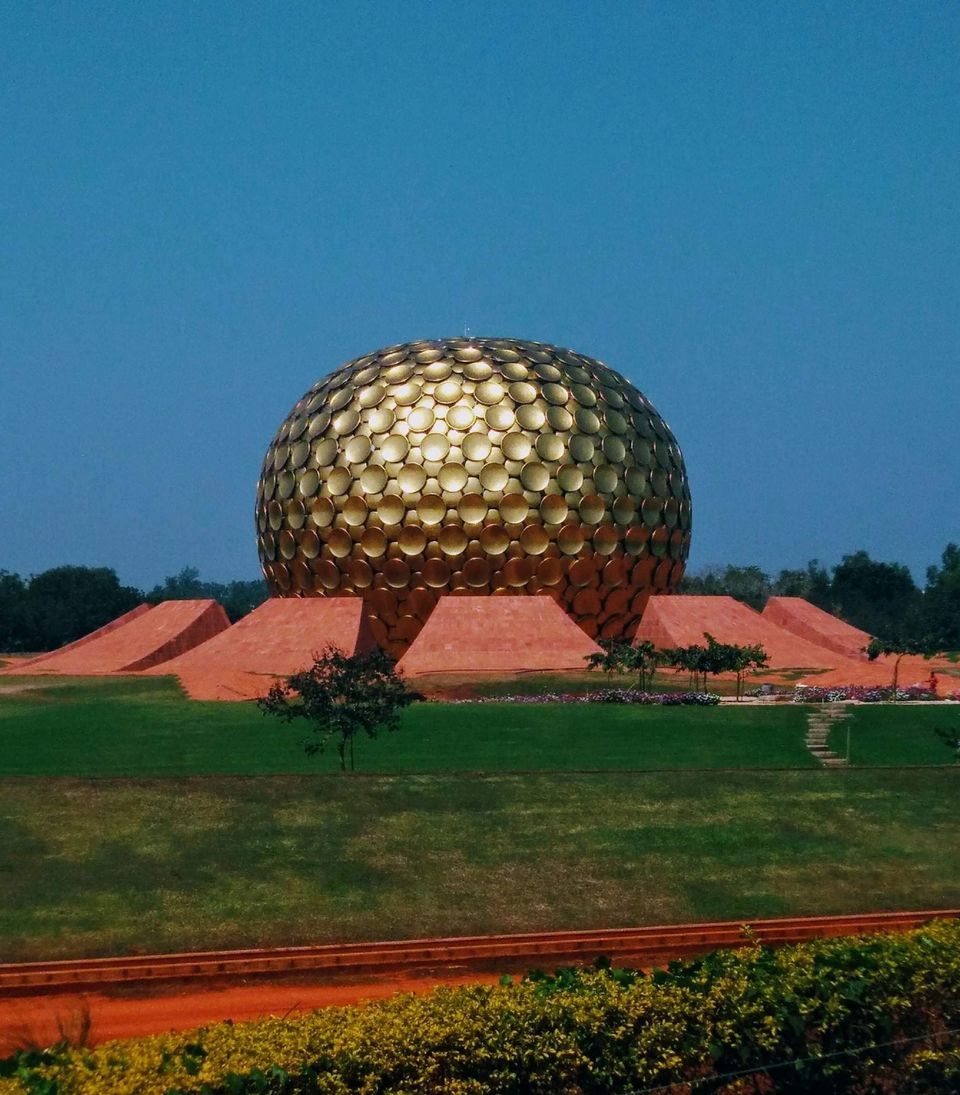 Spotted a huge Banyan Tree in Aurovile campus. Banyans have the peculiarity of producing aerial roots which grow down from the branches towards the ground and take root to become new trunks.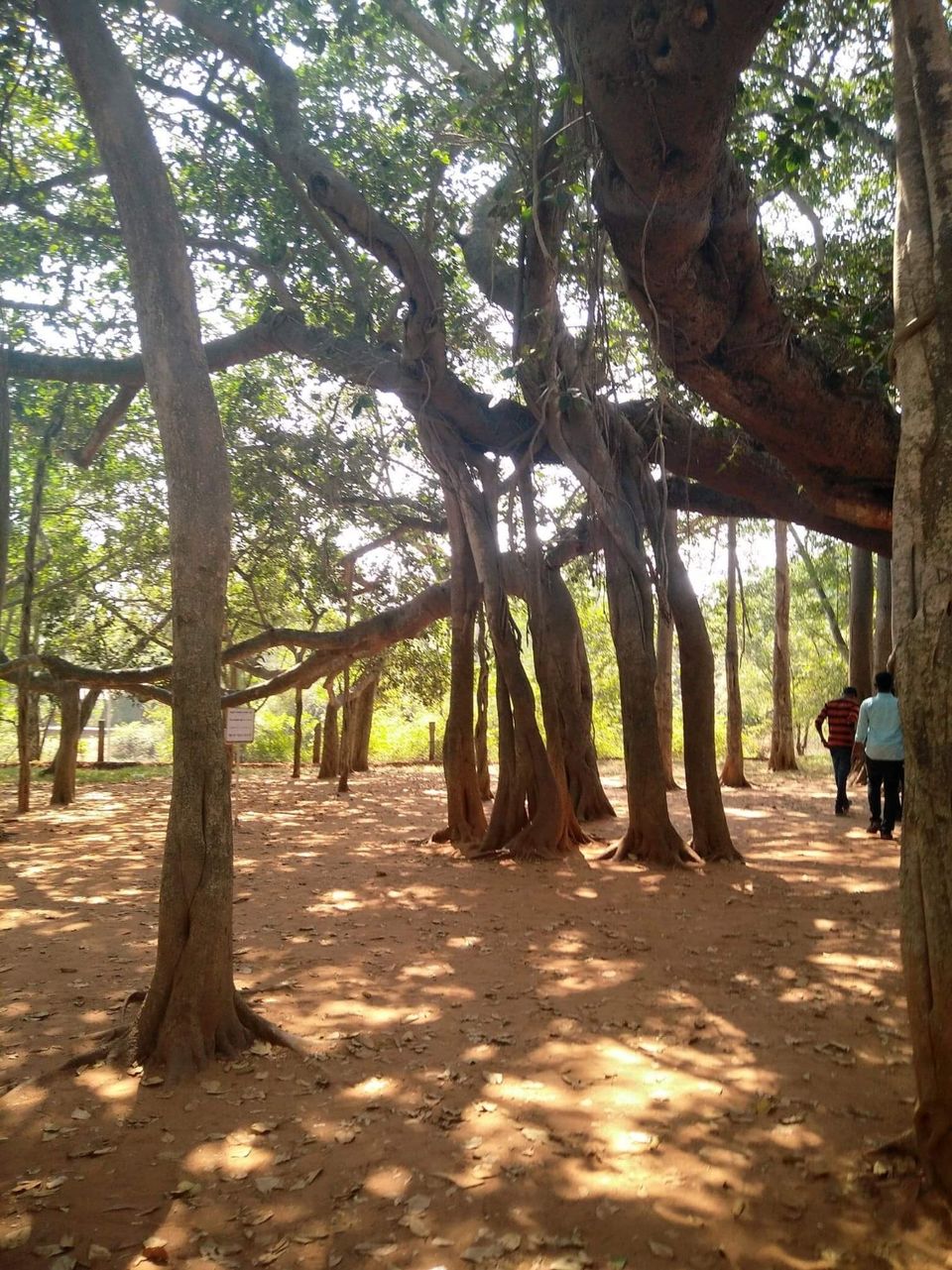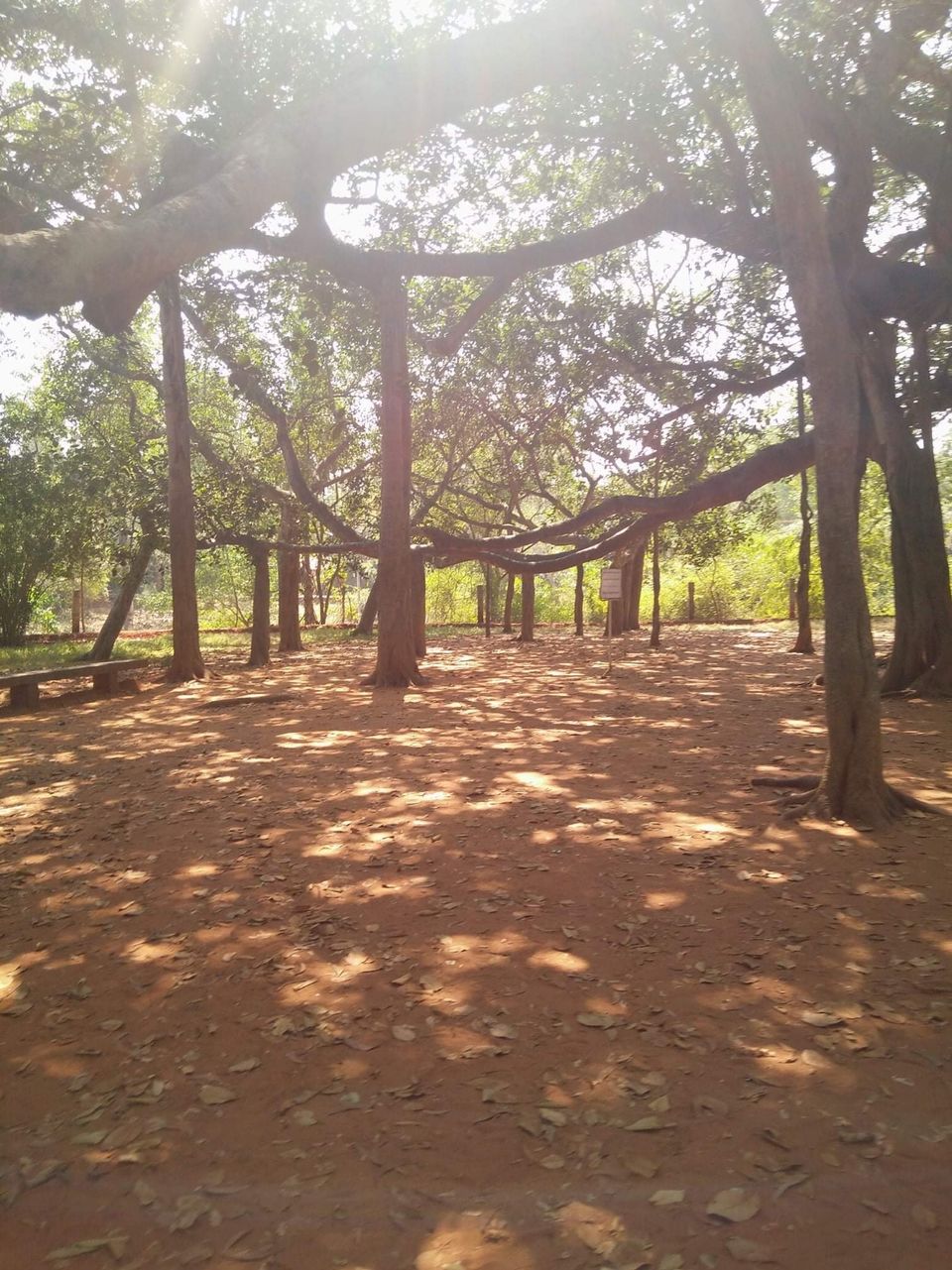 It was past lunch time already, We wanted to go local when it comes to food. So we had Fish chettinadu (cooked in coconut oil), Sankara fish fry, and prawns biryani #mademyday #lunchtoremember #bestseafood
It was so testy that I would say it is among the top 5 best sea food I had in my life.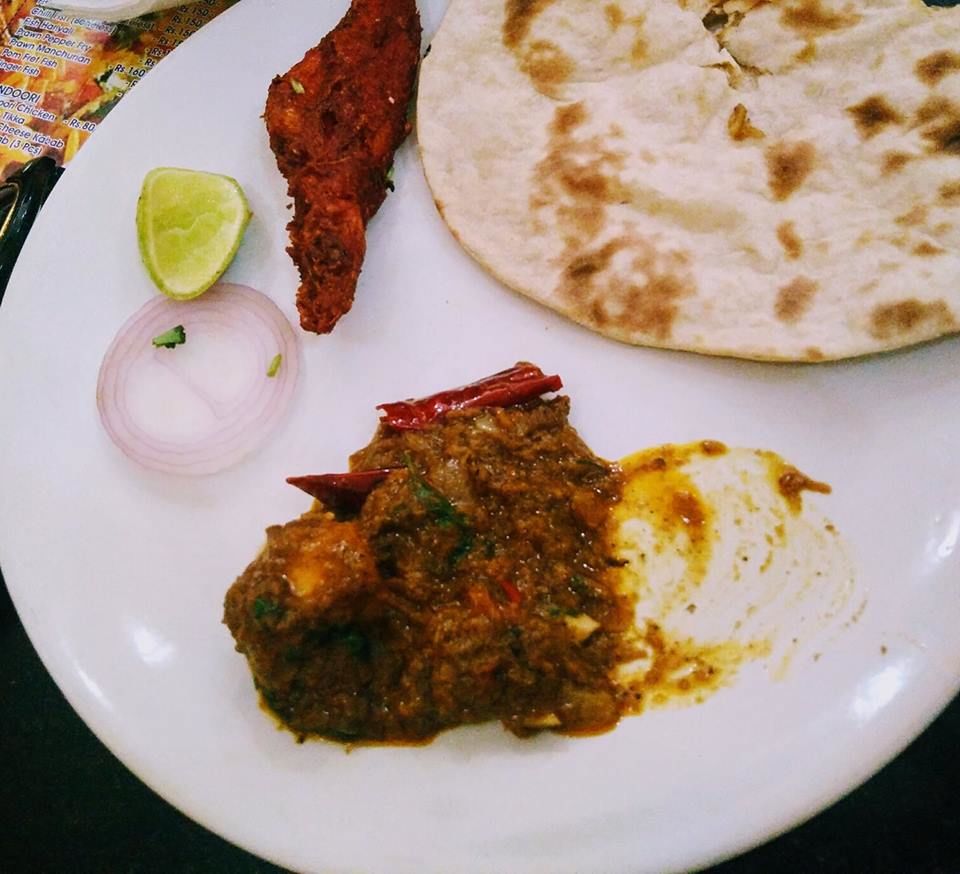 Best place to spend some alone time.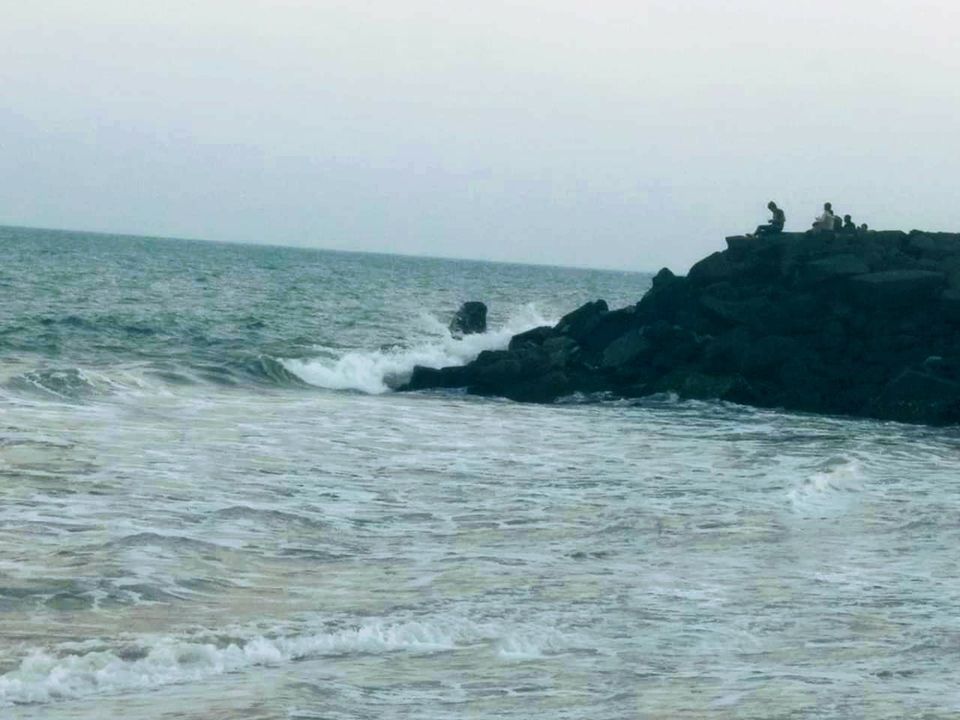 I was dancing with joy after seeing blue color sea and its crystal clear water.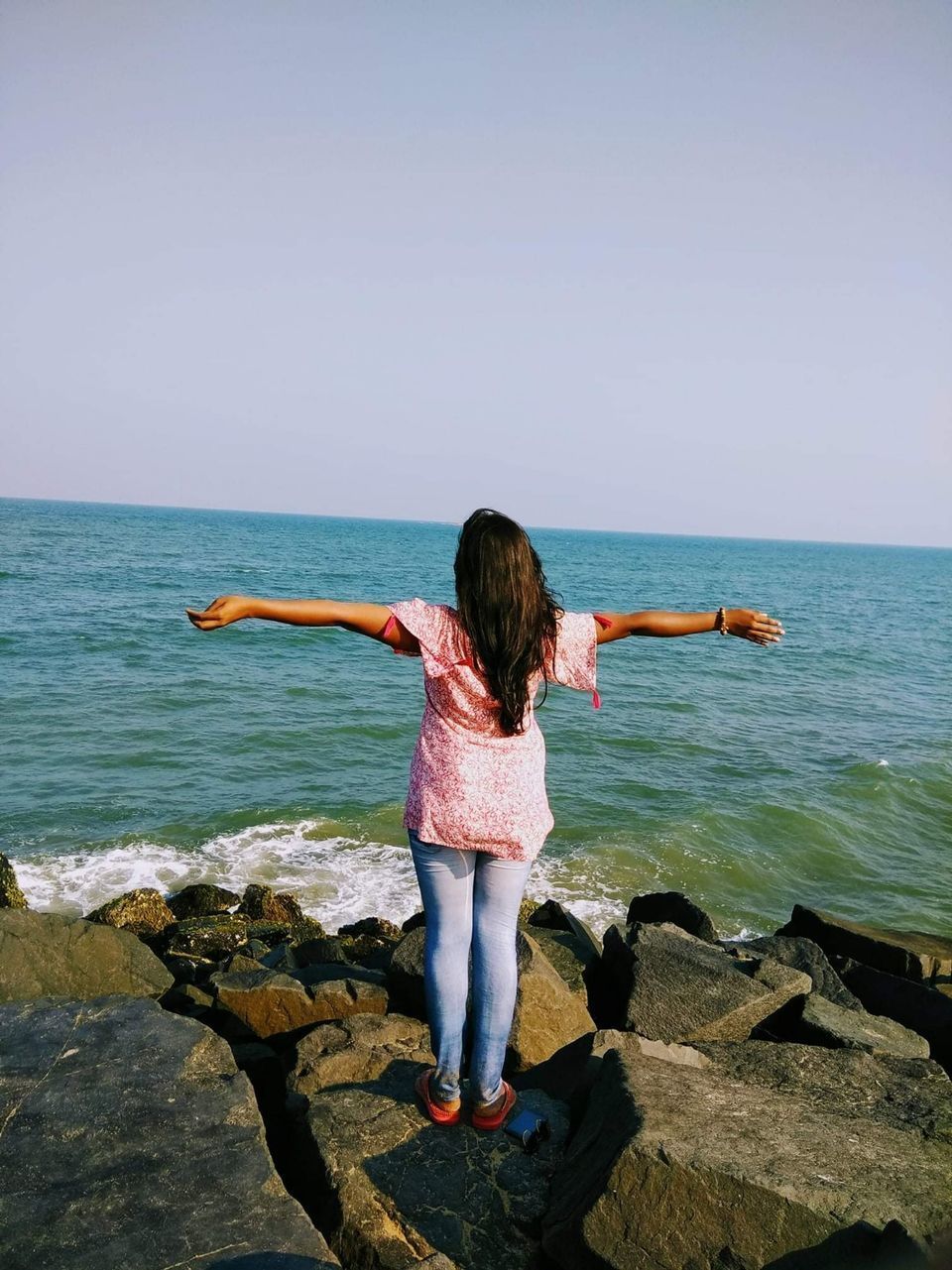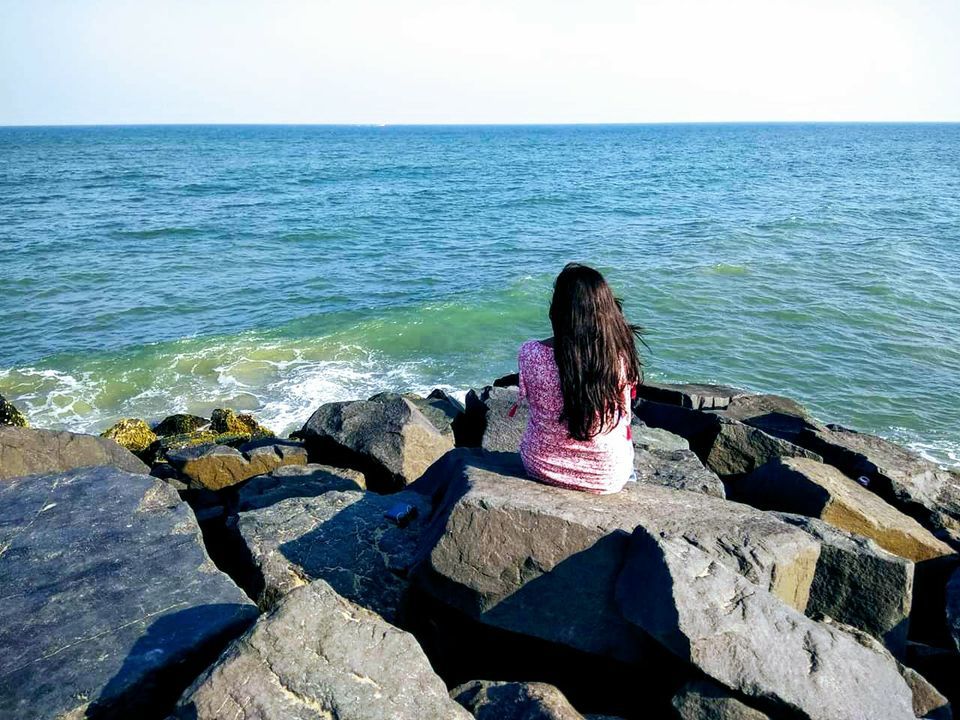 Like an idiot I was waiting for sunset but in Pondicherry sun doesn't sets in sea (realised late :P ). Usually I feel sad while watching sunset but that day I was missing it. Finally there it was the sun set
I found variety of sea shells over there as compared to beaches in Maharashtra which meant there sea had the healthy marine life in comparison with Maharashtra sea.
For those who don't know, sea shell, is a hard, protective outer layer created by an animal that lives in the sea. The shell is part of the body of the animal. Empty seashells are often found washed up on beaches by beachcombers. The shells are empty because the animal has died and the soft parts have been eaten by another animal or have decomposed.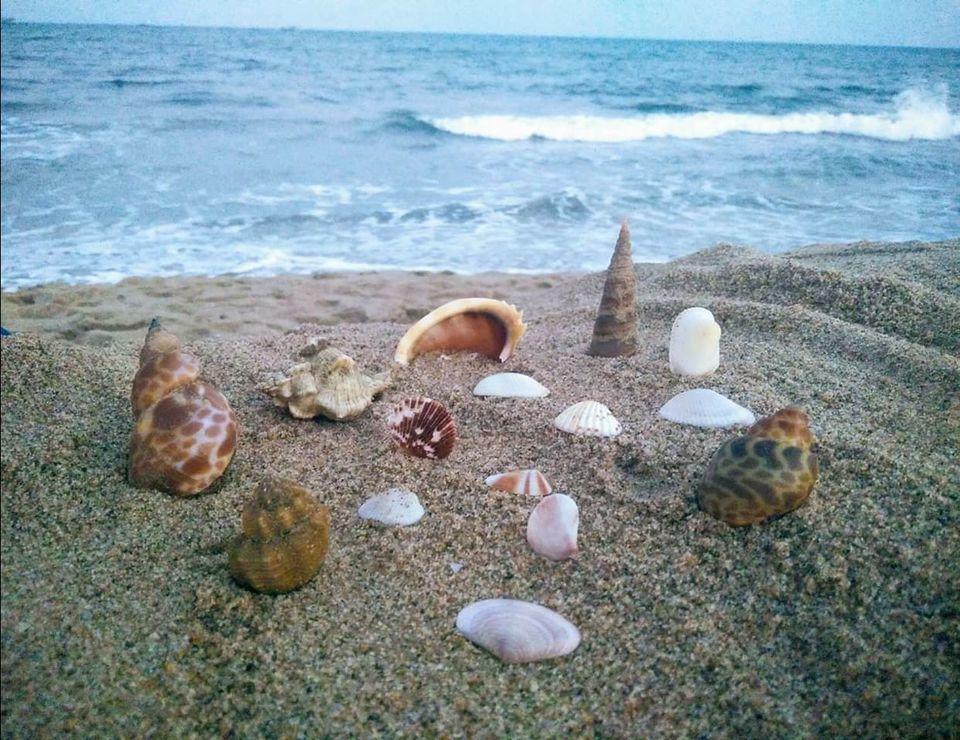 We headed back to MCity by 7:00.
Major Expenses are as follows (hope it helps):
Ola outstation from MCity to Pondi: 2600 /-
Breakfast : 600 /- (had breakfast at some dhaba was tasty but costly. Otherwise food is very cheap and tasty around Chennai)
Lunch : 700 /- (Tasty and cheap as hell)
Please leave comments. :)