Do check out our adventurous trip till Pang, travelling on world's most treacherous road, witnessing the marvel of milky way, and feeling numb after crossing zing zing bar, by clicking here.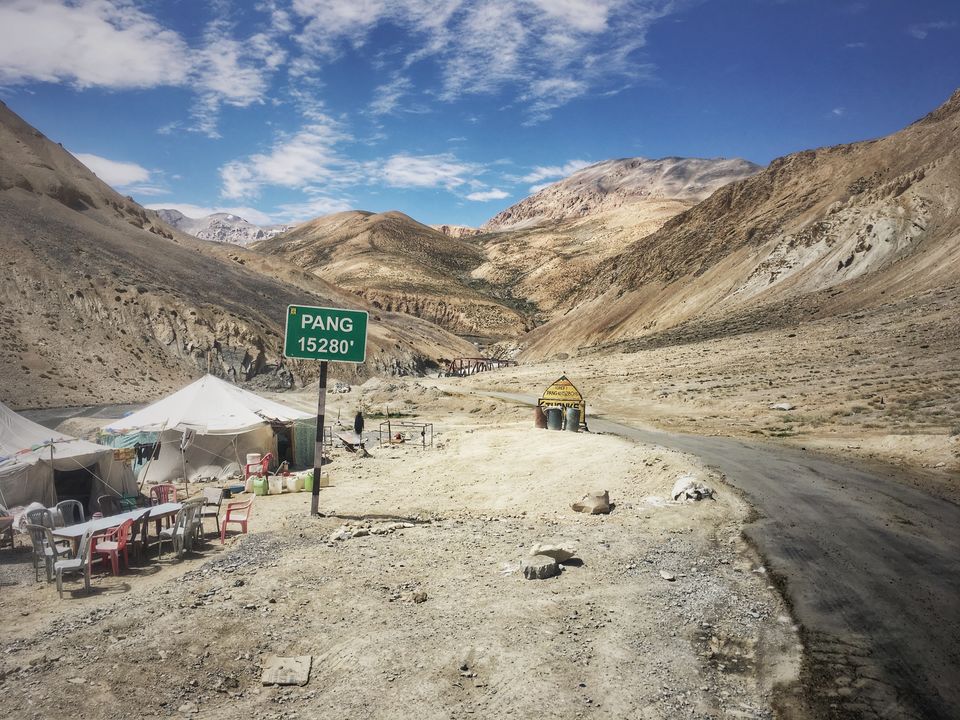 This was the day I had been waiting for. I was finally going to reach Ladakh. This made me so excited that I woke up as early as 6 and subsequently woke up my riding partner Anmol(many of you don't know him, because I did not introduce him to you in the earlier part). We started getting ready to feed our wandering souls with the beauty of Ladakh. We left Pang and were all set to reach Ladakh before noon. It was on this day that I perceived the scenic beauty of this journey.
We then started driving like maniacs and had no intention of stopping in between but then came Taglang La, which is the second highest motorable road, and we couldn't resist stopping here for a while. Clouds were kissing our faces and winds were hugging our shivering body.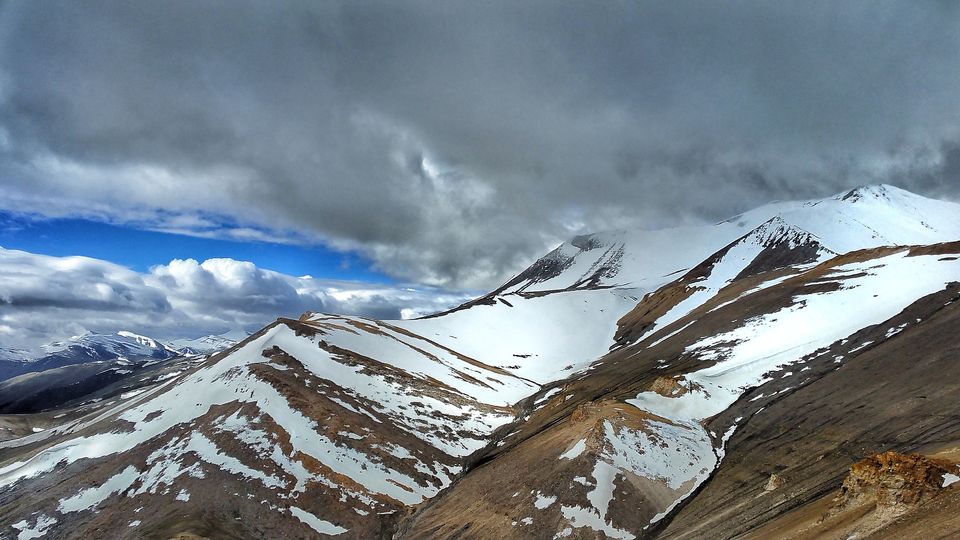 It was the most beautiful part of our journey, maybe because nobody was there except two riders or probably because of the weather. We left Taglang La and reached Leh before noon; took rest for a while after having paranthas, which is what you expect a punjabi to have. After resting for a while we decided to casually roam around Leh and enjoy the grandeur of this beautiful city. We went to Gurudwara Pathar Sahib, Magnetic Hill and then finally to Shanti Stupa. Shanti Stupa gave us a perfect picture of Leh city with a rainbow in the background. We then had our dinner and called it a day because next day was going to be jam packed.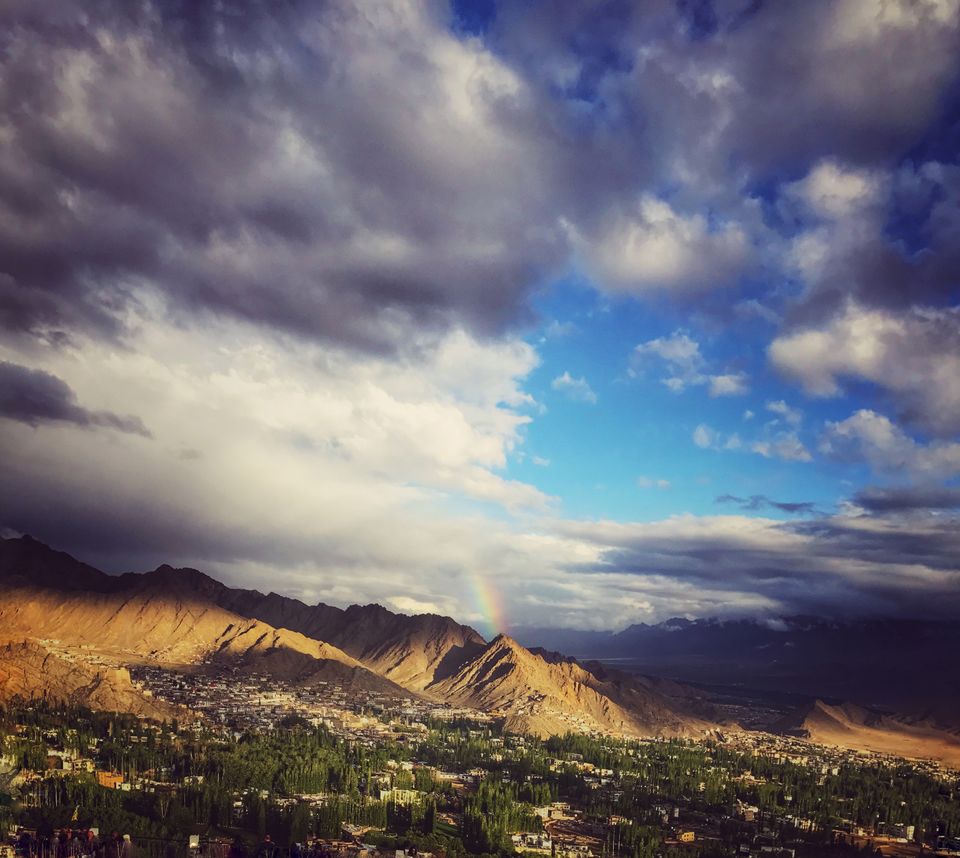 Today we woke up with a very relaxed body and started treating our punjabi taste buds with punjabi breakfast of all time. After getting ready, we went straight to DC office to get an inner line permit; a permit is required to go to Nubra/ Pangong/ Tso Moriri/ basically everywhere which isn't Leh city. We left Leh for Nubra but who could have guessed what awaited us. We reached South Pullu checkpoint where people are supposed to submit inner line permit to go further. There we came to know that we cannot go further as there was a blizzard yesterday and around 400 vehicles are stuck near Khardungla Top. The officer informed us that nobody is going any further till those vehicles reach back safely. The sun started kissing our faces as we waited for the safe return of those vehicles.
Everyone started leaving around 6 pm as the day was about to end but somewhere deep inside I knew if I miss K-Top today, I will not be able to go there in the near future.
Many people asked us to leave since the officer at South Pullu checkpoint had made it extremely clear that nobody will be allowed to go to K-Top today at any cost. But there was still hope. I checked with an army truck which was waiting there with us and they were not sure whether they will be going further or not. Two of the fellow bikers who were waiting with us for the past 6 hrs, now made up their minds that it was getting dark and they should head back to Leh. But I insisted on staying and went to the officer for one last try. I asked him and he said that he knows that I had been waiting for past 6-7 hours but it wasn't feasible. He said that if I want to go, I can, but at my own risk. I was thrilled hearing that.
We left South Pullu around 6:30pm and it took us around 45 minutes to reach K-Top. So this was it, the day when I felt the happiness of achieving something. The Happiness of making it because I believed in myself. That day I understood the value of hope.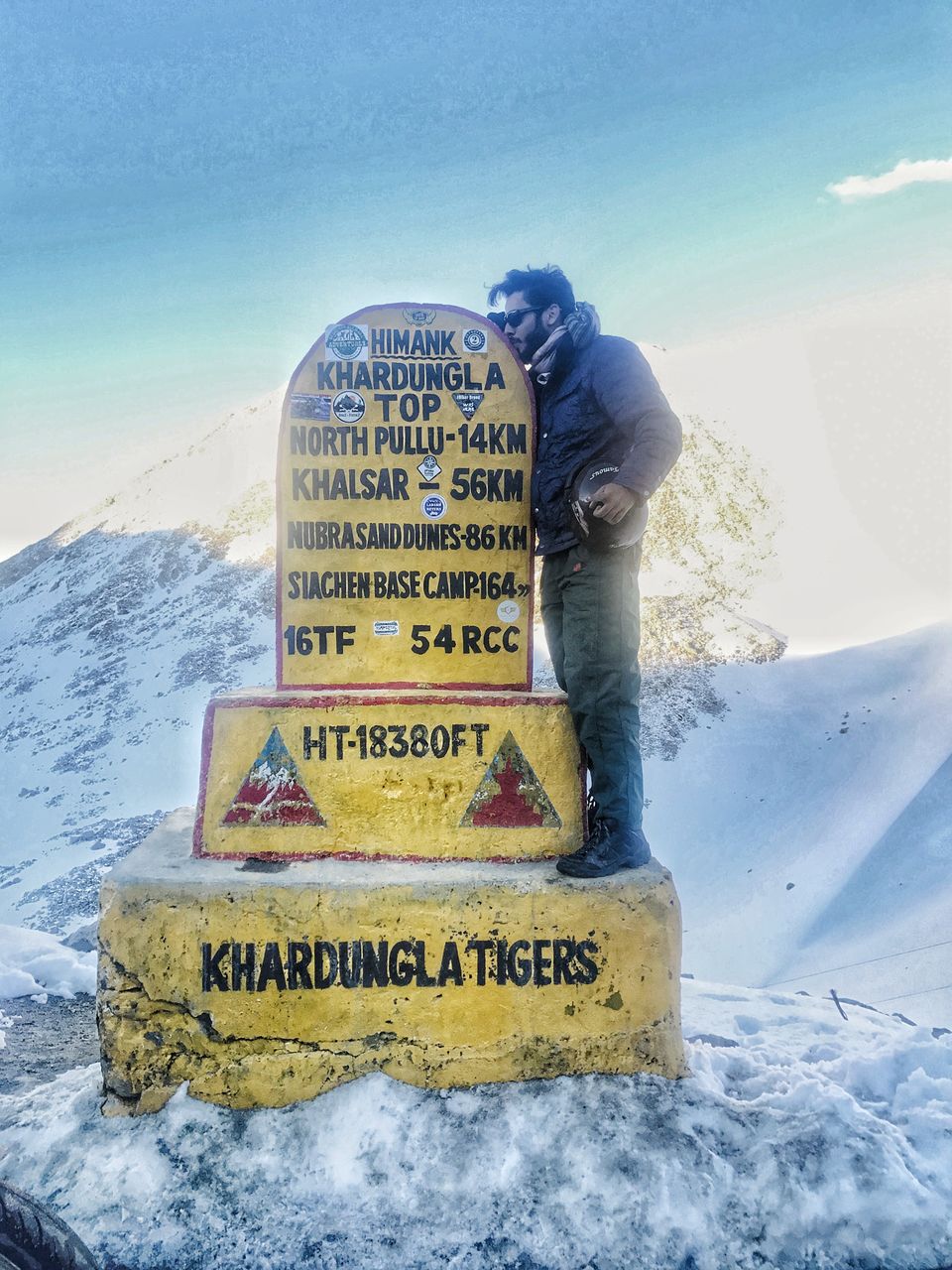 It was an amazing feeling. At that moment I was filled with so much excitement that I removed my jacket at freaking 0° C and was about to sit on the K-Top milestone, which was apparently a very bad idea because behind the milestone there was 18000 feet deep drop. We clicked some pictures and started our journey back to Leh. Once we reached Leh we realized there was no point staying in Leh as tomorrow we have to go to Pangong so we decided to go to karu, which is 40kms from leh, on the way to pangong. There we found a very nice home stay. We then ate dinner at punjabi dhaba and subsequently dozed off.
That home stay was so relaxing that I felt as if I was home and we procrastinated for a while before finally getting up. Pangong was calling our wandering adventurous souls so it took us hardly any time to get ready. In our mind we said lets do it and left for Pangong. We travelled in harsh conditions, lost raincoats and various other things before reaching Pangong Lake. However when we did reach it, everything before that had happened seemed worthless. It was much more beautiful than what they showed in the movie 3 idiots. We clicked some pictures and soaked in this beauty all around us. However, too soon it was time to leave.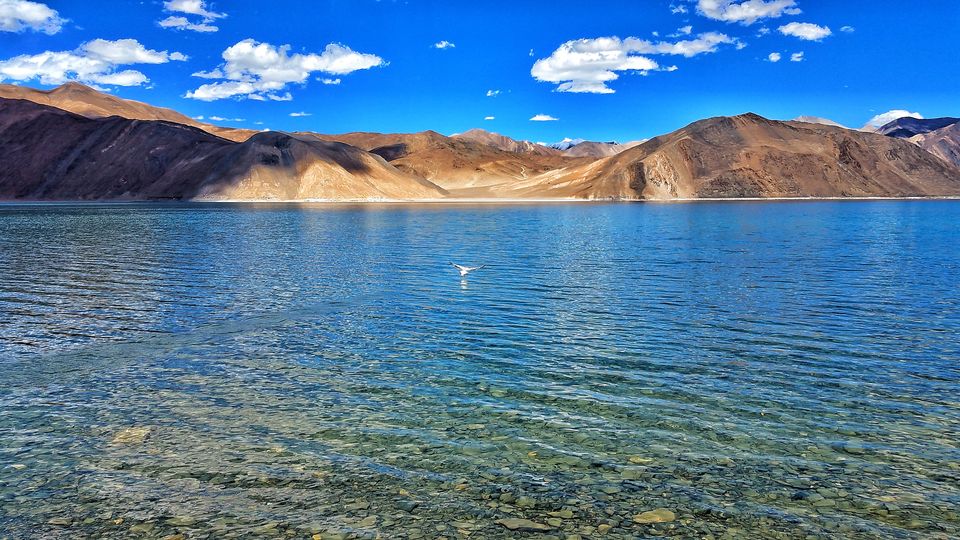 We had to go back to Leh, just when the mind had begun to feel lost. It was that perfect moment when the soul was out there, quietly appraising the reflections of mountains in the lake while the clouds were following the nature's order. But it was time, time to move on. Time to have new experiences, to meet people at new places and make new memories. It was time to start my bike and go but the whole scenery kept calling me back like a lost lover. Still I had to leave because moving on is a part of life.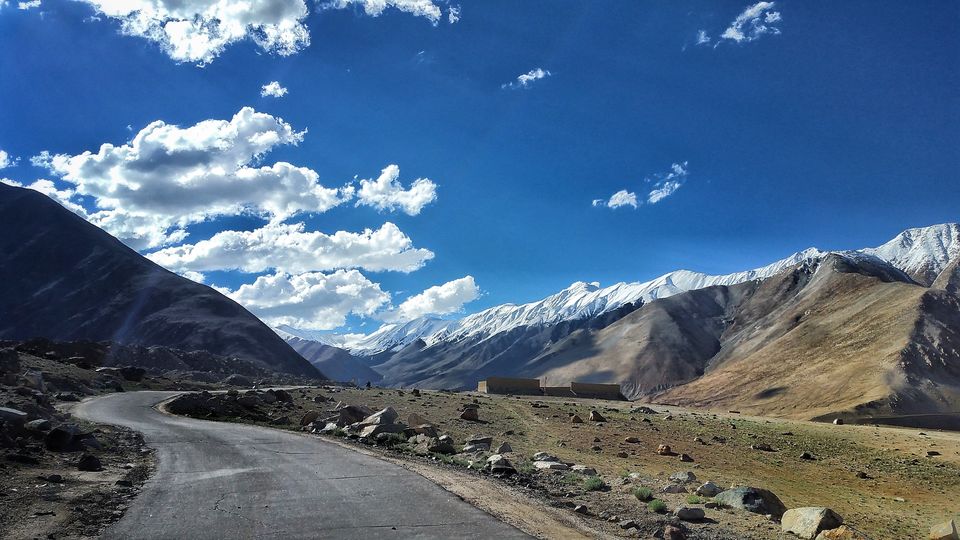 While coming back we found our raincoats which we had lost. On reaching Leh, we treated ourselves with a bonfire and a new cuisine. It was an amazing night in that cafe.
Bidding adieu to Leh was hard. We had to force our minds to leave now because our target destination was Srinagar and so it was going to be a long day. Everyone suggested us to stay in Sonmarg if we reached Drass on time as reaching Srinagar on time in a day was next to impossible. But we knew we have to reach Srinagar to see the beauty of Dal. People advised me not to interact with people in Srinagar. Listening to people was one of the things I am born not to do. We managed to reach Srinagar by 5:30 after taking a break in Kargil for a quick brunch. We took a wrong turn and we were lost in the streets of Srinagar. We asked someone the way to cross Srinagar and he said, "You looked tired. You should take some rest." Since we was looking scared, He continued, "If you're uncomfortable staying somewhere out, you can stay at my place and have a meal. Roaming Srinagar after sunset is not advisable." Such a generous act by someone who doesn't even know us made my heart melt and we promised our self that we will visit Kashmir soon. With this hope, we left Srinagar because next day we were supposed to reach delhi.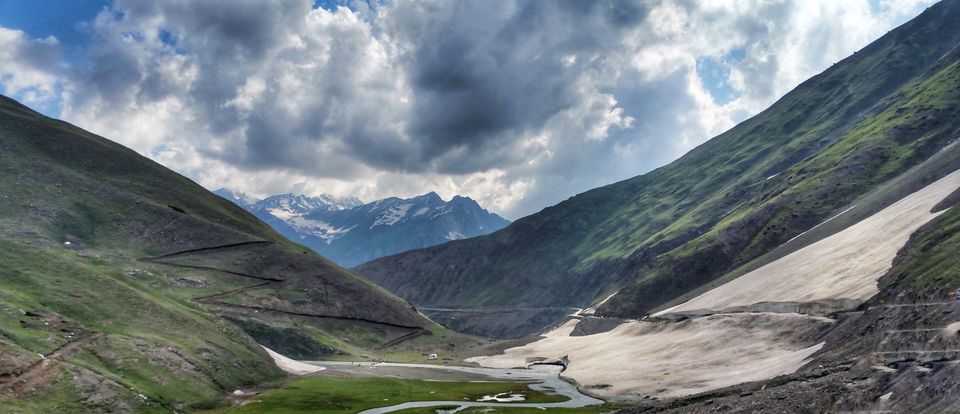 People have their own perspective about Kashmir and Kashmiris. If I would have believed that, I would have been lost in those streets looking for a way out and never would have made my own perspective about this place. I wish I meet that Uncle when I'm visiting Srinagar in future and have a meal at his place. We drove for 15 hrs that day till our body started giving up and we stayed at Qazigund for that night.