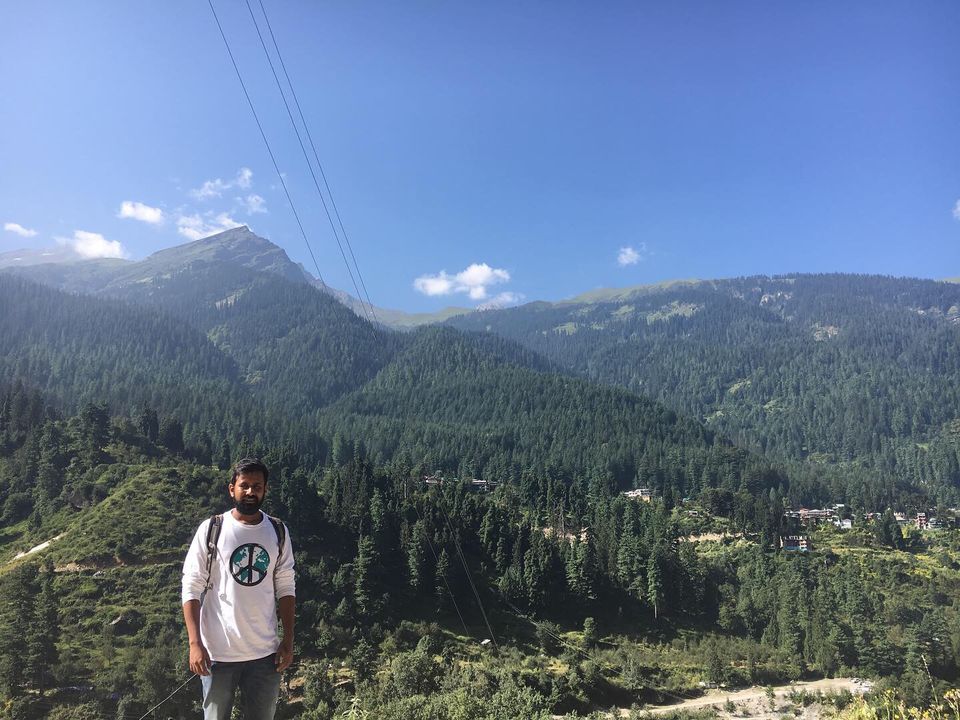 Hey fellas, Hope you guys are feel excited as i am, let me tell you about myself first, am Nikhil Talwar a part-time Travel Blogger | DJ | Producer & a Hippie Soul, i run this blog Voyageurs from Delhi to spread travel knowledge as much as i can. So my last trip was i posted about Goa | 22 Aug 2018 | North Goa, you should check it out on my Tripoto profile, you guys must be wondering about why i posted this blog so late, the reason is i was busy with some of my family things, my father got an massive heart attack, i was taking care of him eventually he passed away due to 2nd attack i was trying to deal with my emotions, sometimes i still believes that he's still there with me whenever i needed the most, its happens everyone has their own journey, you came in the world you have to go, my father used to say "one day you will leave this world behind, so live a life you will remember" am following his footsteps. I have been to other state as well but i couldn't post because that was all my work travel, Khir Ganga (Kheerganga) was my most awaited trek that i had to do because my last trip was Malana | Chalal | Manikaran | 26Nov2016 i did in 2016, so it was in my bucket-list also i hit the gym because of this trek, it was needed for my body.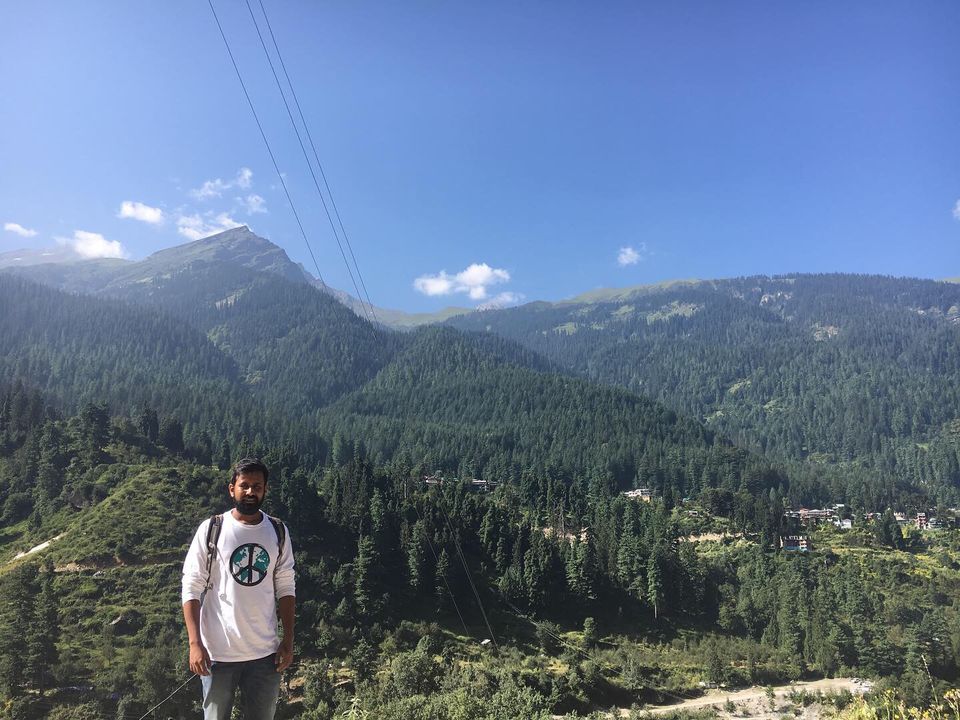 Khir Ganga (Kheerganga) is located deep in Parvati Valley (Kullu Valley) and is perched at an altitude of approximately 2950m.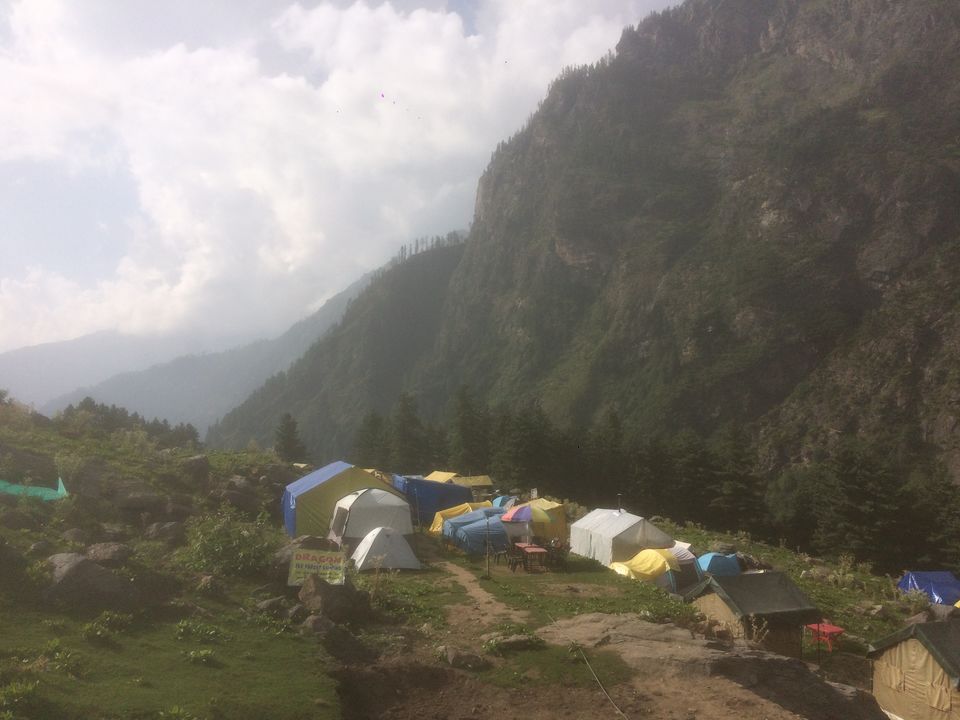 Khir Ganga is a small village set up through out the summers in Himachal Pradesh. It is open for 7 months in a year from March thru October. It is only accessible by foot. It is a beautiful day trek on a narrow cliff side path going by numerous waterfalls and few isolated villages. There is usually about 30-50 people at the village site during the high season.
Reaching Bhuntar on the Delhi-Manali Highway : To reach Bhuntar, one can take a private Volvo bus that leaves from Majnu Ka Tila or Rama Krishna Ashram Metro Station in Delhi. All the Volvos from Delhi leave in the evening and reach Bhuntar at around 5 am to 7 am in the morning.
Bhuntar is the village from where the road diverges for Parvati Valley, it is also the confluence point of Beas River with Parvati River. Ask the bus to drop you near the Bhuntar bus stand from where you have to catch a bus to Barshaini. Barshaini comes after Kasol, Manikaran and is the last motorable road in the valley. Buses from Bhuntar to Kasol to Barshaini are frequent and the distance is usually covered in approx. 2-3 hours. It is better to have breakfast in Bhuntar or Kasol while waiting for the bus.
I took a room in Siddharth Home Stay Kasol, i know the owner of this place very well whenever i have been to Kasol this place is feel like mine because of Arvind bhai ji haven't meet person like him so humble and kind.
One can rent a room in Siddharth Home Stay Mr. Arvind Kumar who is running this guest house you can contact him on +918219892436 to book his guest house show him this blog you will get a good deal also.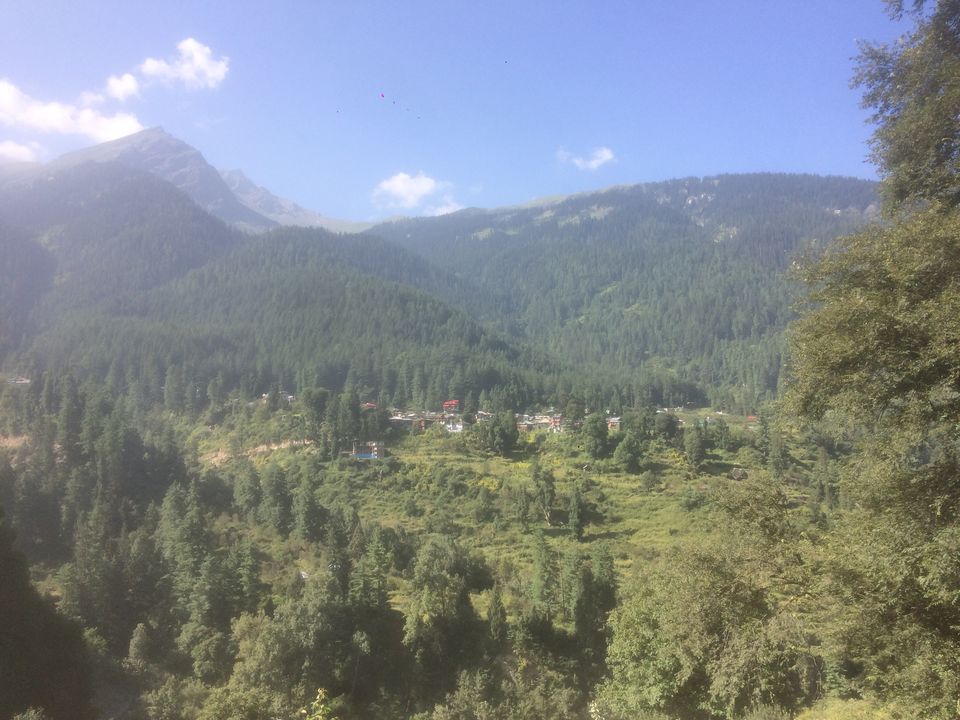 Day 2 : Barshaini : Barshaini is a small town with a few staying options, and has basic dhabas, a taxi stand and a wine shop. The road passes through the Sikh and Hindu pilgrimage town of Manikaran and terminates at Pulga, where the construction of the Parbadti Hydro Project, a hydroelectric dam, dominates the landscape. If you have to buy any supplies, it is recommended that you buy them from here. A small road from here diverges to go to Tosh village, which is around 3 kms from Barshaini.
Someone has told me the bus arrive at 05:00am in the morning at kasol but that isn't true, i got the bus at 7:30am in the morning, one of the best thing about backpacking is no one will judge you, where you came from, where you will go, just be in the present moment & feel alive, local bus fare is only 40rs it drop me at Barshani after 90min ride, i purchase the items i need because on the way things will going higher and higher water bottle of 20rs you will get at 50rs, buy things you need before start trek, i had a rucksack 20L small bag with me, so it won't hurt me while trekking.
Kheerganga has become so popular that these days a small supermarket store has opened there; it has a reasonable collection of essential products and packaged eatables that may be required. It is advised to carry a power bank to recharge your electronic devices. ATM services in Parvati Valley can sometimes not work, so it is best to carry the required cash or withdraw from Bhuntar/Kasol. Try to carry as less weight with you in the backpack as possible, and leave the excess stuff either at Barshaini/Tosh/Kalga or the homestay you are staying at.
The Parvati River thunders down the gorges and is visible from Barshaini and also flows adjacent to the village. The natural beauty of Parvati Valley has been adversely affected due to the hydro power projects on Parvati River near Barshaini & Pulga. Timing of the last bus from Barshaini to Bhuntar is either 2 pm or 3 pm, confirm the same with locals before deciding on the return journey.
Trekking routes to Kheerganga :
The trekking distance from Barshani, its a 11-12 km trek to Khirganga, thru Rudranag. There are two routes from Barshaini to go to Kheerganga. Village route and Forest route i prefer to go Village route, getting around the place is done basically on Foot, this is a non-roadable spot, most people trek to Kheerganga on the same day. The time taken to trek to Kheerganga is usually 4 to 5 hours depending on an average person's speed. It is a fairly easy trek – on the difficulty level and can be ideal for a first time trekker.
If you want to do a day hike to Kheerganga and come back the same day, it is possible to do it provided one leaves early. It is best to reach there anyhow by noon, enjoy the natural hot water spring bath, eat lunch and leave by 3. Remember that usually the time taken to go back is half of what you'd take while hiking up, so one can get back to Barshaini in 2 hours from Kheerganga.
Walk to the bridge after Barshaini and take the left turn, ask anyone the way to Nakthan village and Kheerganga. This is the shortest and most preferred route and takes 4-6 hours for a person with average trekking speed. This route is on the left side of Parvati river. The path through Nakthan is the most popular route to trek to Kheerganga and the trail is well marked.
Whichever path you choose, the beginning of the trek is a short gentle climb. The way to Nakthan passes gorgeous apple orchards but can get tiring and hot on a sunny day, in the absence of a tree cover. Nakthan village is a traditional Himachali village with small wood and stone homes and also has a few cafés for travellers and trekkers. In recent years, a few homes have also started offering staying facilities for trekkers.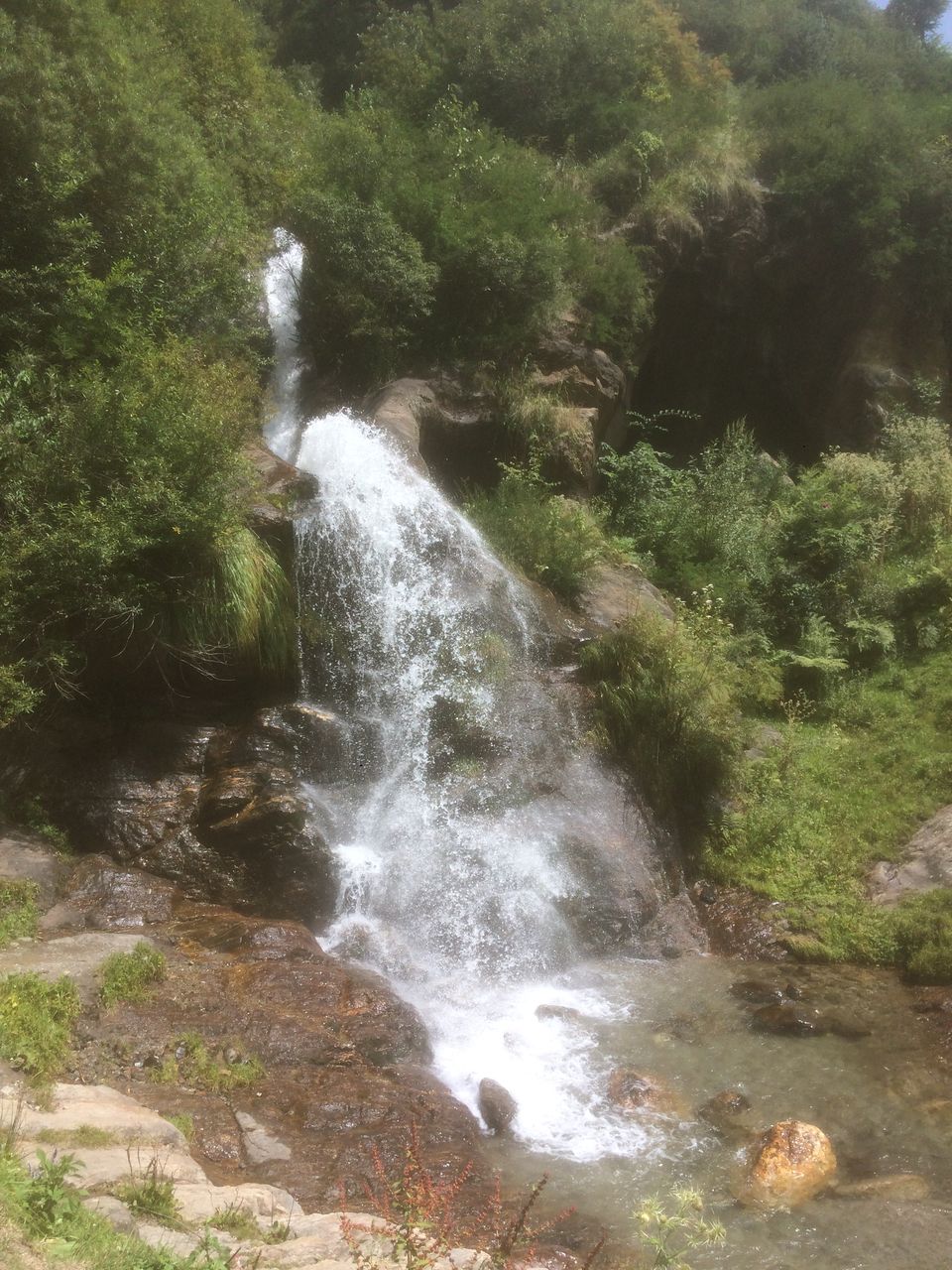 The footpath climbs to a temple and small dhaba at Rudra-Nag waterfall, apparently after its resemblance of a water snake. Beyond Rudra-Nag waterfall, the trail ascends further through thick pine forests to the spiritual site of Kheerganga where Shiva is said to have meditated for 3000 years. The hot springs at Kheerganga are extremely important for Hindu and Sikh pilgrims as well as many others who believe the waters have sacred healing properties.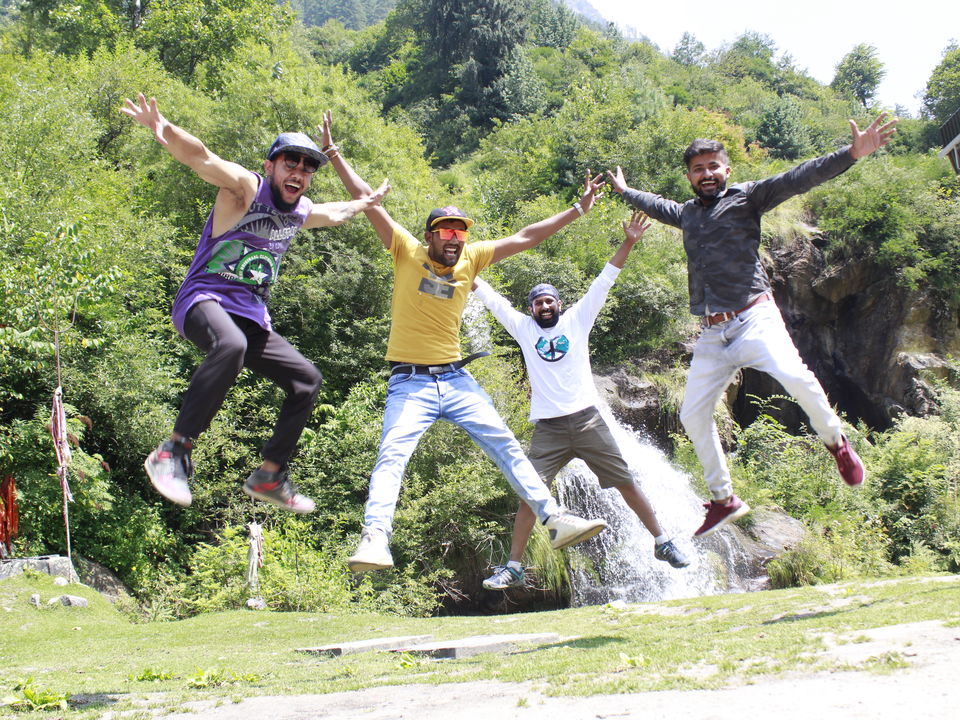 After crossing the village, Rudranag Temple is only a short walk away. A serene waterfall is very close to the temple and one can fill water bottles from there. Also for pilgrims, there is a staying hut nearby (dharamshala) which was closed when I visited. There are also two small cafés near Rudranag temple. The sound of Parvati river rushing through the gorges is like music to the ears. There are fine views of pine forests towering near the mountain peaks. Remember to carry some suger candies with you, which is a great choice on uphill climbs, it helps the throat to not get dry and also provides energy from sugar.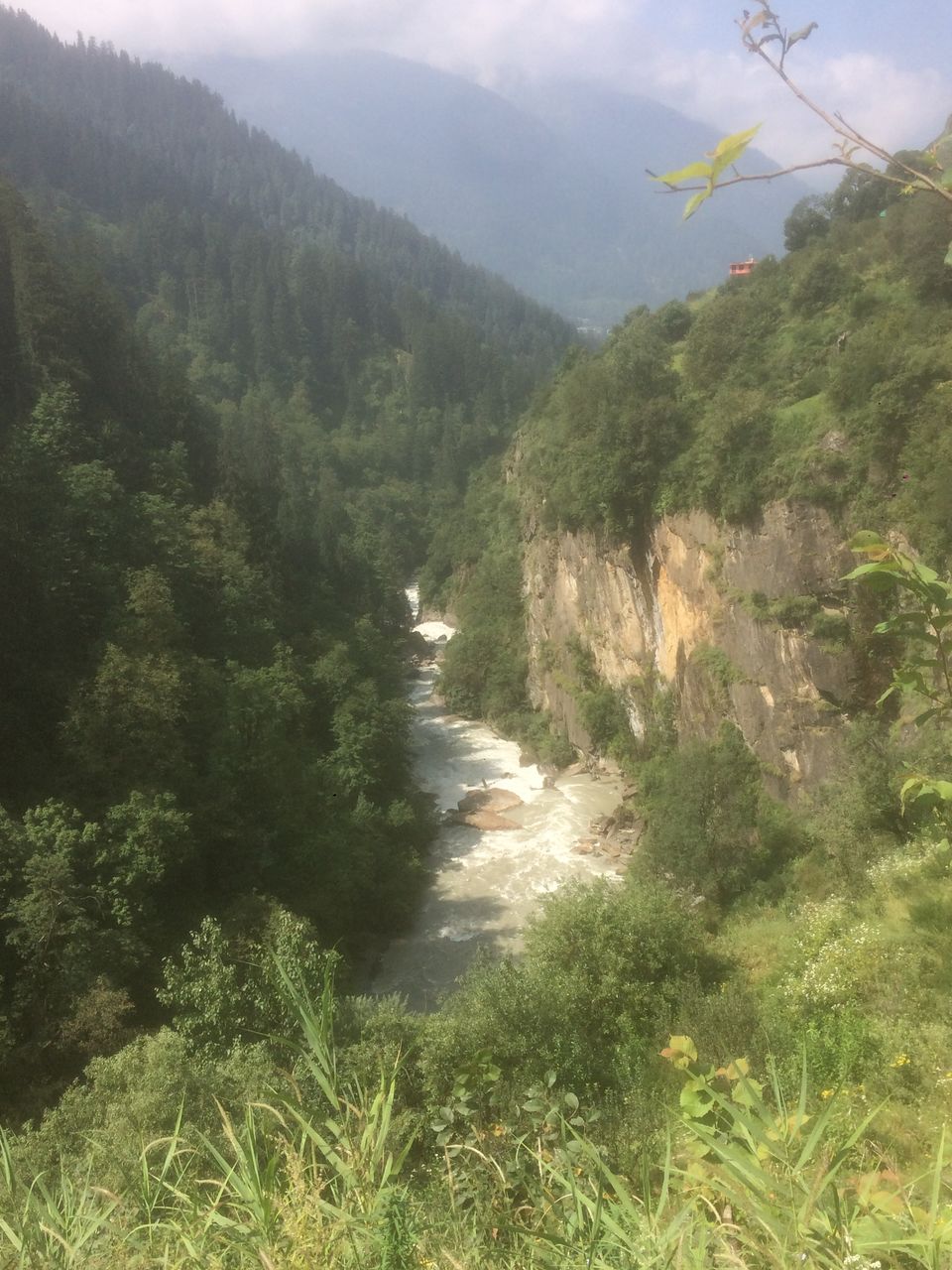 Around 30 minutes after Rudranag temple, the trail will reach a bridge to the right – just before the bridge is a lovely dhaba with basic staying facilities too; in case of an emergency or starting the trek late from Barshaini. There are sometimes shepherds going with their flock of goat and sheep (that cause traffic jam!) to the green meadows of Thakur Khan which is after Kheerganga.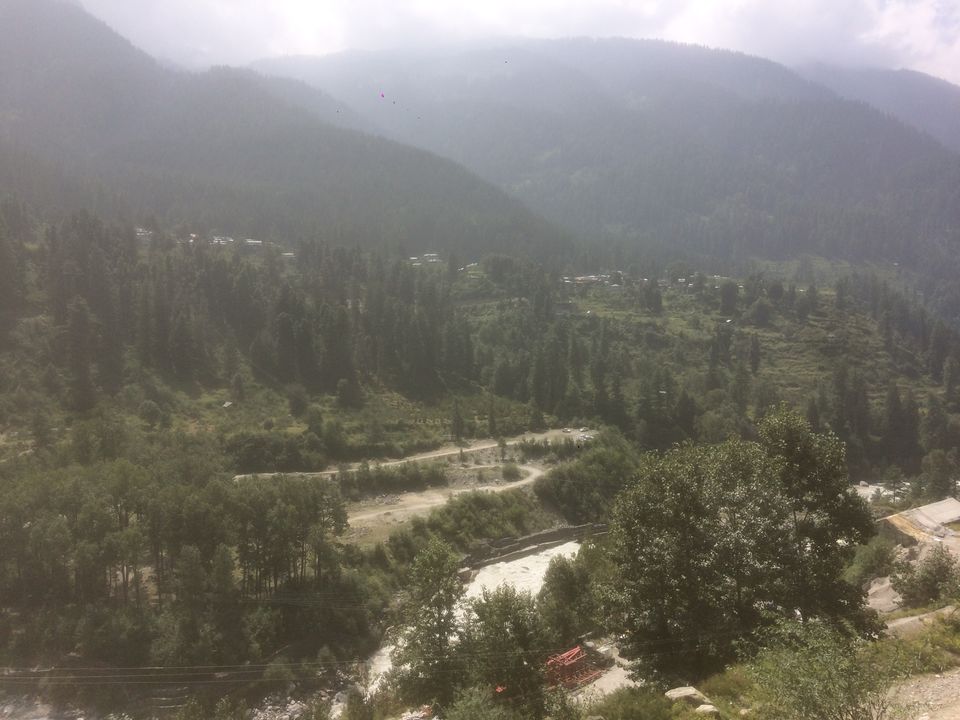 There are a number of shortcuts on the entire trek and it is well advised to not take any of them. These shortcuts are mostly used by the sure footed locals and trekkers have many a time had fatal experiences when they slipped and fell into the river after trying to take a risky shortcut.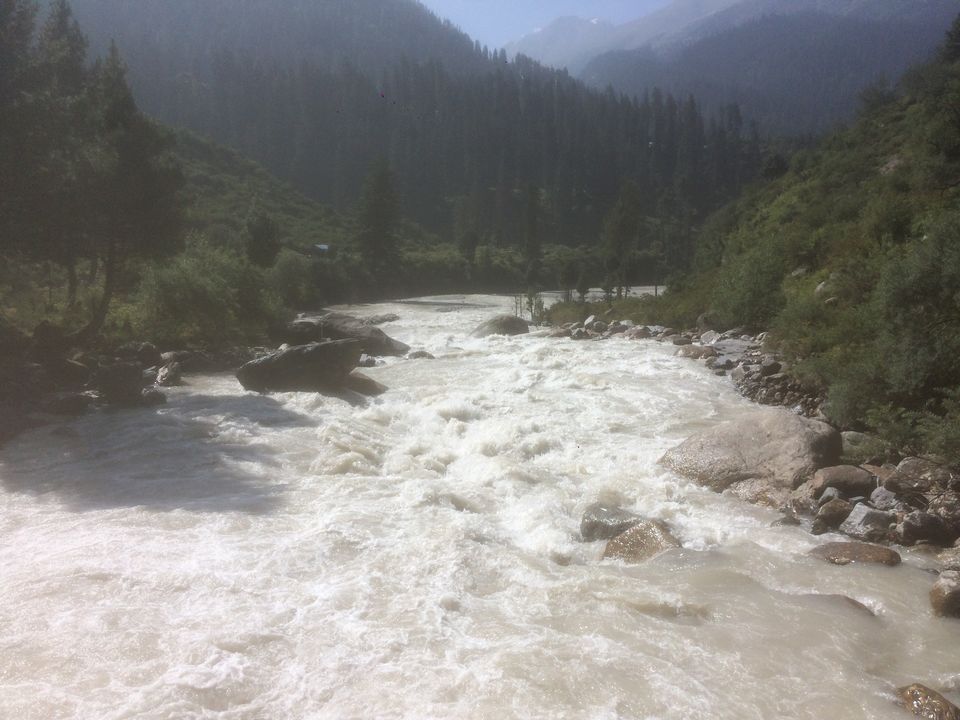 The trekking trail becomes a little difficult after the waterfall; a continuous climb begins which can be testing for first time trekkers. The path hereafter is well marked and there is little chance of anyone losing their way. Remember it is not a race and that everyone has their own pace, so walk slow and steady, enjoy the scenery of the forest and reach Kheerganga. The uphill climb is definitely tiring, the good bit is that there are nice spaces to sit in the shade of trees where the cool air helps much in relaxing. Remember to keep a lot of water with you and not empty it before you reach Kheerganga.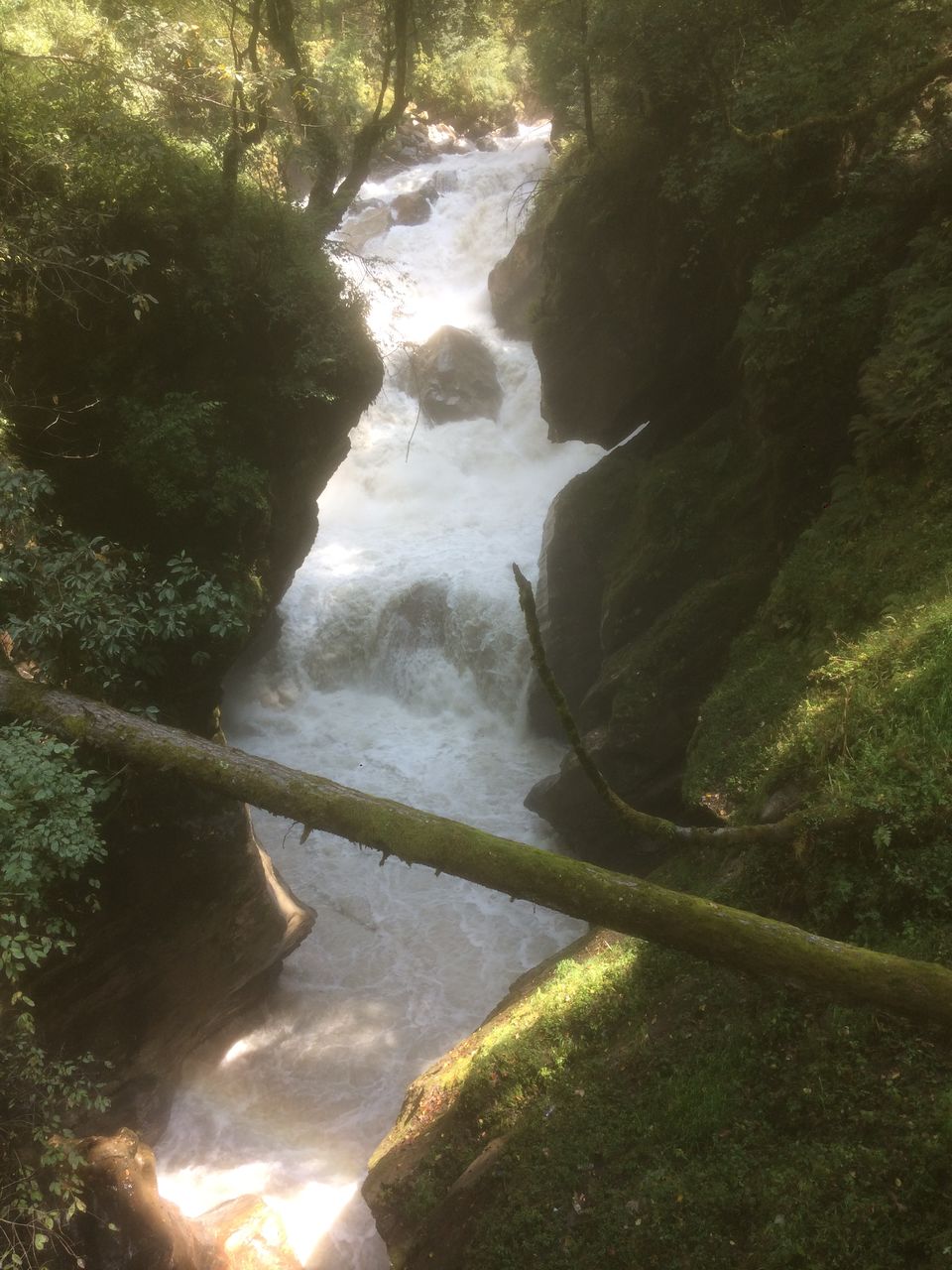 Around 45 mins before reaching Kheerganga, there is a beautiful view of a flowing waterfall on the path itself. There are two very scenic cafés with gorgeous views here. In case accommodation is not available at Kheerganga, one can sleep in the common space for a small charge.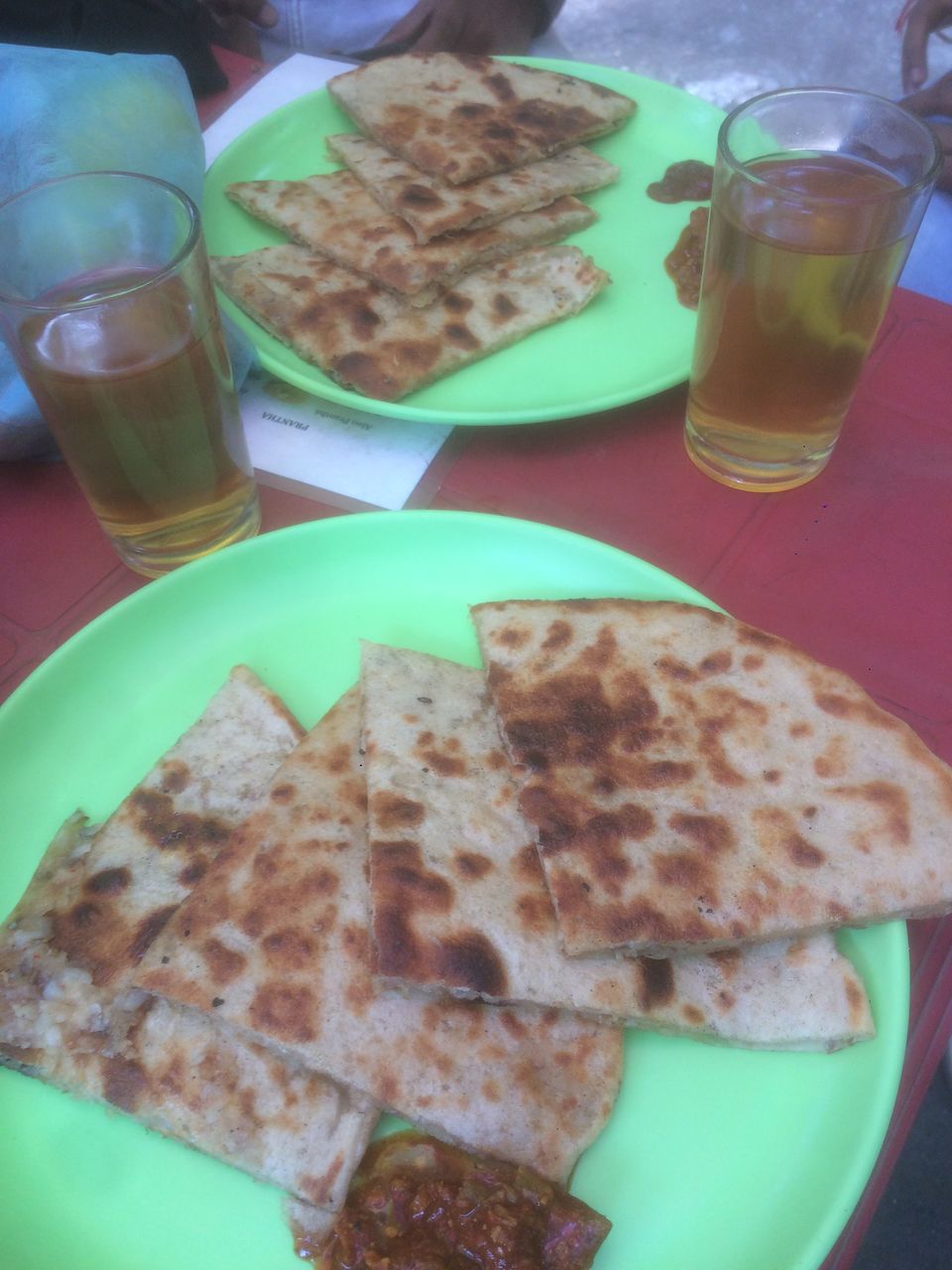 On route Than Baba Cafe : i had a break in than baba cafe for a while, there is a nepali guy who run this small cafe he rent from , than baba camp owner who running his camp at Kheerganga. we had a really good time at this cafe..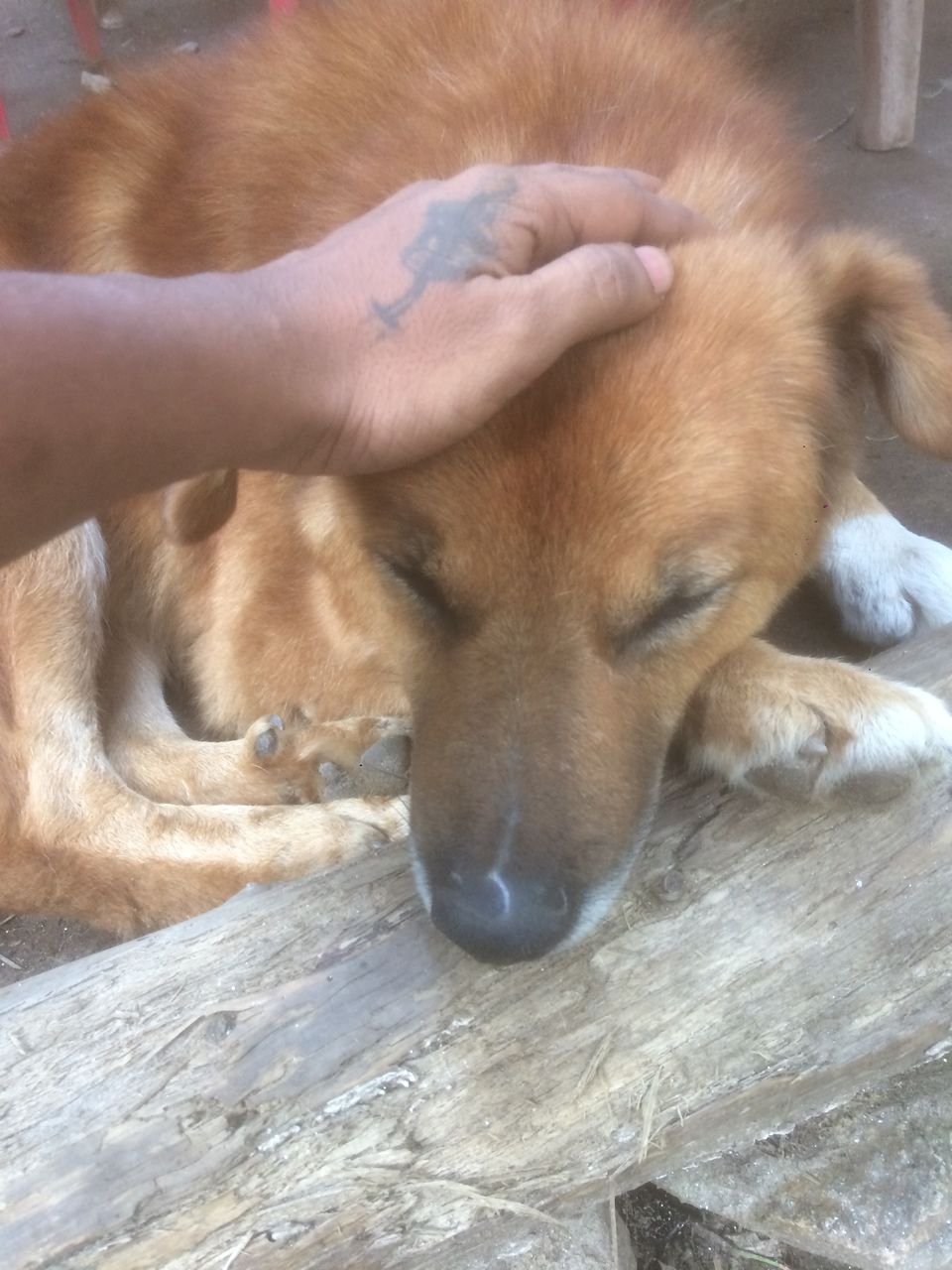 Mountain Dogs are really cool and friendly, but you should also be aware with them....
Please ensure that as responsible travellers you don't litter the place, and try to maintain it as clean as possible.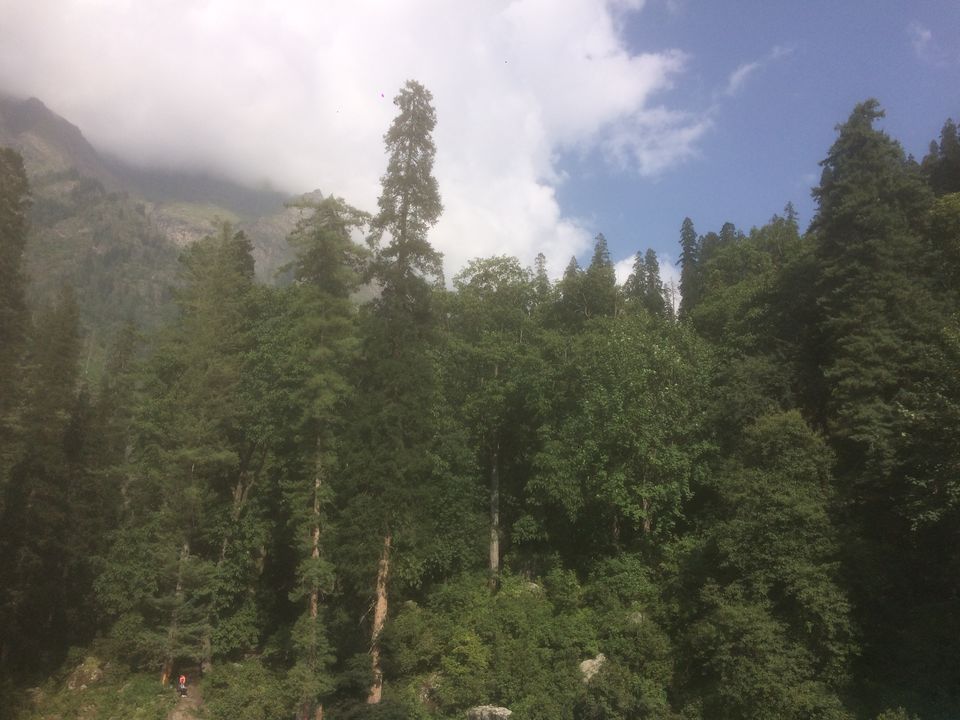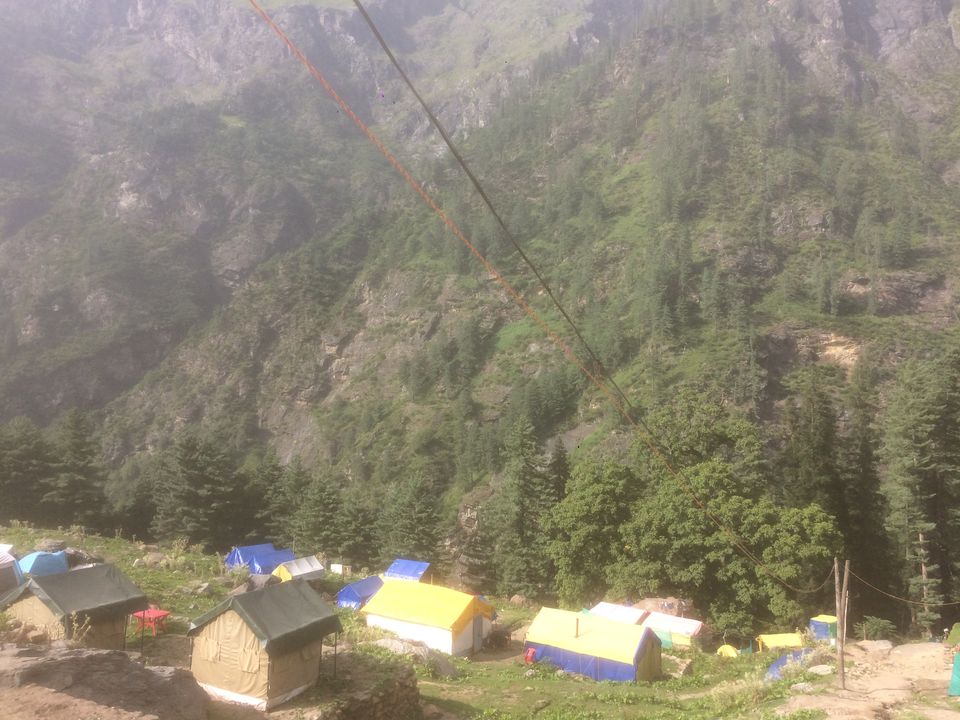 When you've walked and walked, the path will wind one final time and the first of the yellow and blue tarpaulin covered huts can be seen. This is the start of Kheerganga, there is a cluster of huts and cafés near the temple and natural hot water spring which can be covered on a 10 minute walk. The temple and hot water spring pool is located on top of all the huts and campsites.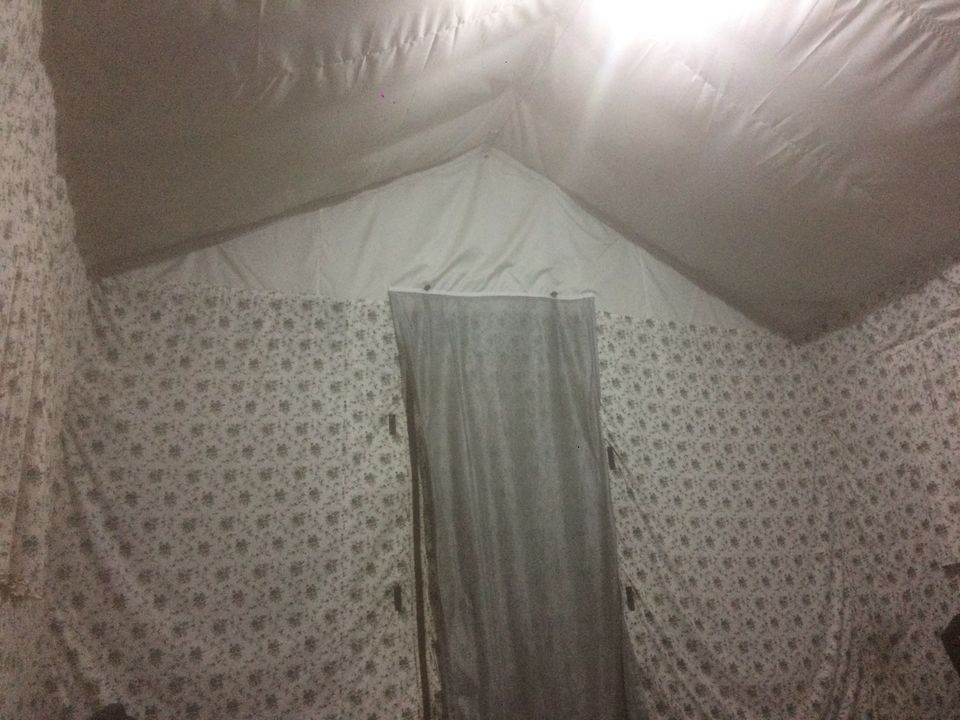 Where to stay in Kheerganga? : Kheerganga has become a very popular destination for young adventurers during the summer months. There are around 8-10 huts offering rudimentary staying facilities in Kheerganga. Depending on the season, weekend crowds and weather – it is easy to find accommodation in Kheerganga even if you haven't booked in advance. There are options of private huts and rooms for couples at 400-500 Rupees per room. Common sleeping space is available (a comfortable bed and blanket) at around 100-200 Rs. per person. Remember that the bathrooms are mostly shared ones and it is almost impossible to find a room with an attached bathroom.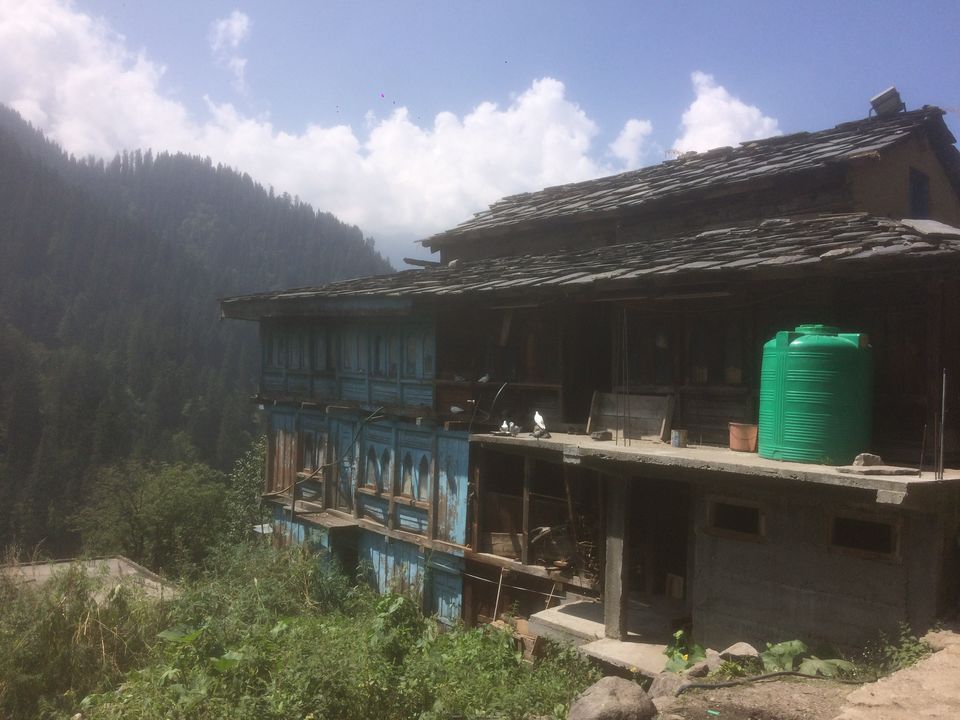 There are no hotels to stay at Kheerganga but simple places. All the staying places have either an open air café (during the day) and a closed eating space with heating arrangements for cold evenings. Some big cafés and restaurants have space for as many as 50-100 people to sit and eat at one point of time. Food is quite expensive at Kheerganga, so it is recommended to carry a packet or two of bread with nutella; and also carry chocolates to munch and provide energy while on the trek.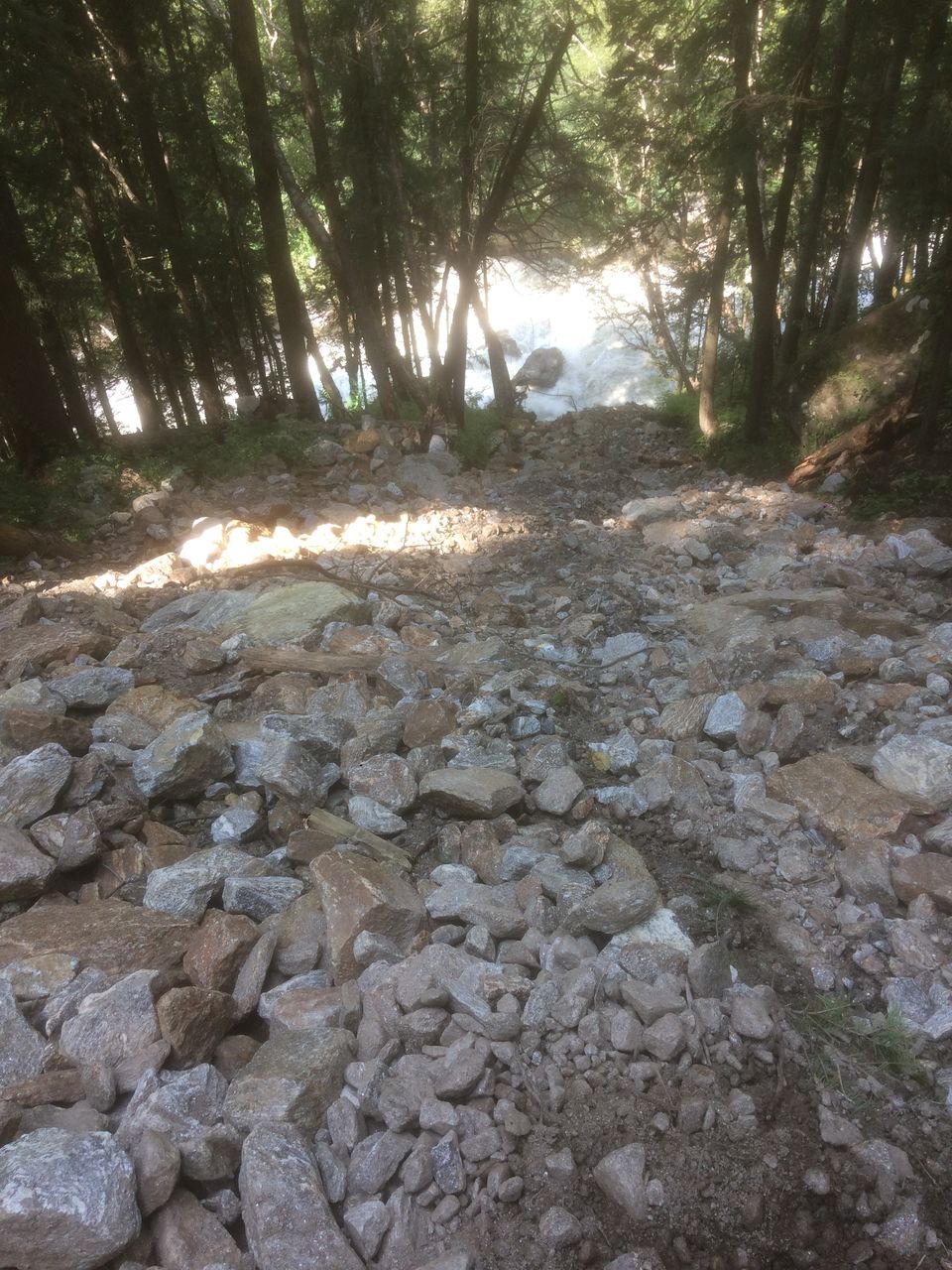 The water of the natural hot springs is indeed white like milk and a bath in the same is considered sacred and meditative. The temple nearby is believed to be quite ancient too, and Kheerganga is the abode of Lord Shiva (according to the locals.) It is a spiritual site.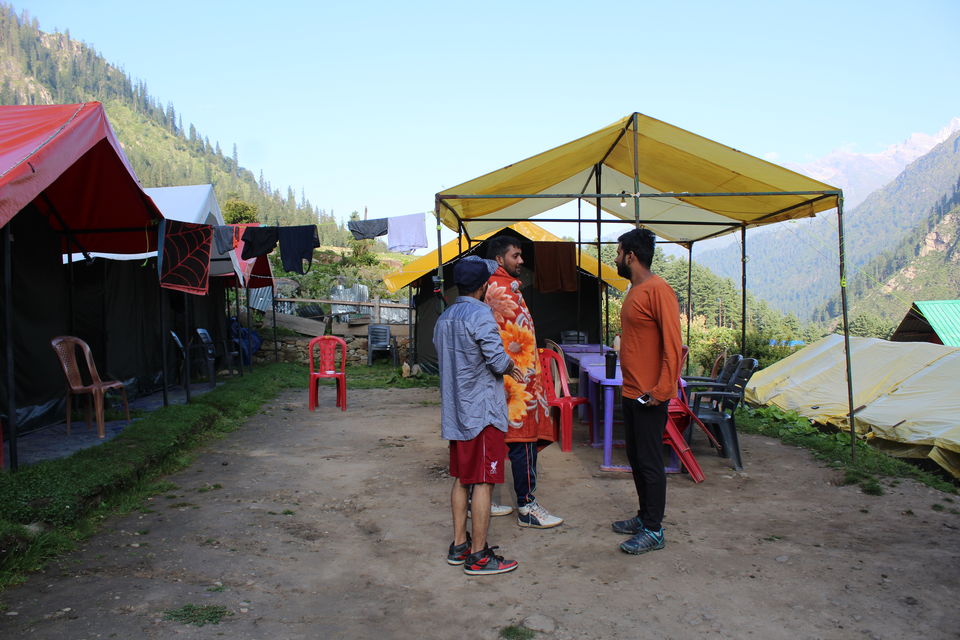 Important points : It can get quite cold in Kheerganga, carrying heavy woollens is advised even in the summer months. Mobile networks work in Barshaini, Kalga and Tosh. Kheerganga may have BSNL connectivity, but it is better to make important calls before you begin the trek. Water is available at dhabas at various points on the trek and location of waterfalls has been mentioned too in the trek route (to fill the water bottles.)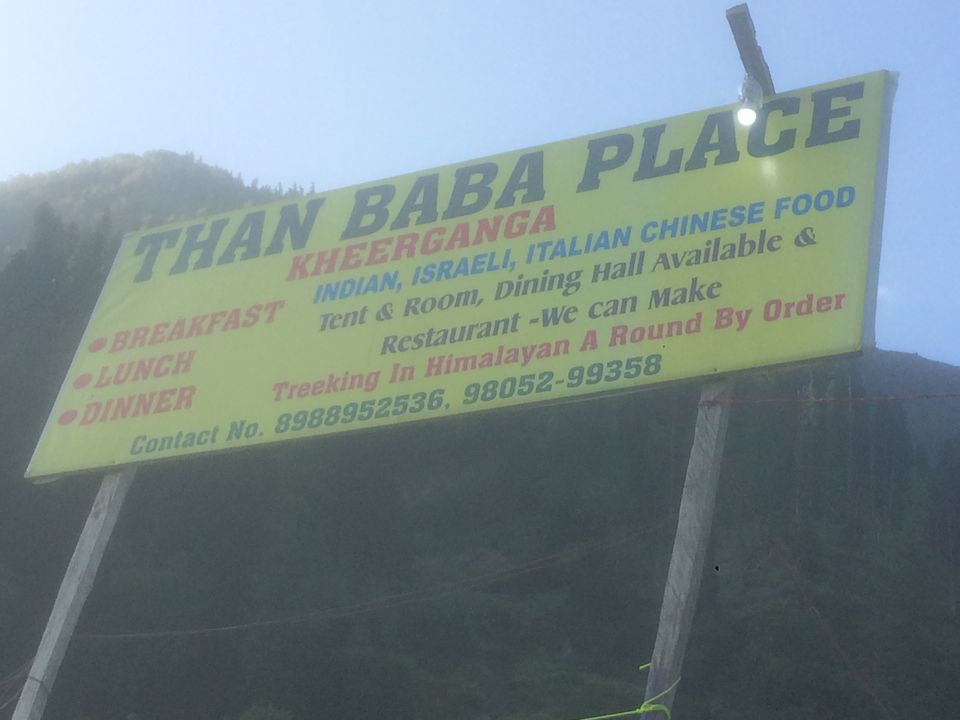 Some tented accommodation may also be available on the green meadows that is a short distance away from the other cafés. It is also possible to pitch your own tent by paying a small fee in Kheerganga. A few companies offer weekend trek packages to Kheerganga – with prices from Delhi, which may be a good idea for group travellers. Their common eating space is nice, and with an evening bonfire a packaged deal for Kheerganga may not be a bad idea.
Basic idea of the costs for trek to Kheerganga : Volvo tickets from Delhi to Bhuntar & back – 2200/-. Bhuntar to Barshaini (to & fro) – 200/-. Stay at Kheerganga (or other villages) – 500 per day. Food is expensive – Rs. 800 per day.
So for a 2-3 day trip, the expenses can worked to be roughly around 4500-55000 Rupees.