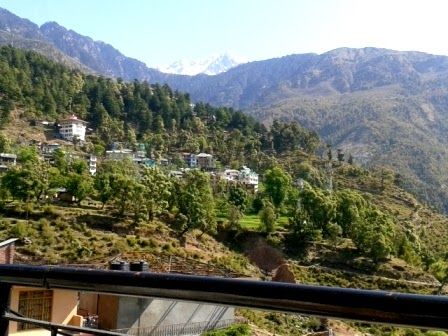 In the Kangra district of #HimachalPradesh, lies a village in suburbs of #Dharamshala, Mcleod Ganj , also slanged as "Mclo" . It was a quick 2 day trip sometime around May with my girlies to the place much known for it's #Tibetan culture.
We started our journey all the way from #Delhi to #McLeod Ganj via bus service offered by Himachal Pradesh Tourism Development Corporation (#HPTDC) covering almost 500 km of hilly road journey .The sight of morning sun in Mcleod ganj took away all my tiredness, the tranquility in the air, the serenity of the place just got me all pumped up for the trip ahead.
But the happiness all gushed out the moment we realized about finding a place to stay! After a 12 hour road journey, we were not quite happy about exploring the terrains at that moment, but a sight of almost 90 year old lady climbing up hill with such an ease had me in a pride clash and got my feet equipped with nitro engines! Moving far from the main street (or to say, commercialized street) , we made our way to a more secluded area and managed to get a room for us. An average room costs near Rs. 1500-2500 per night.
Quickly unpacking down and gearing up for the exploration, but 1st stopping for some food , we walked down hill and found this brilliant hidden #café"Habibiz" , a 3 floored café serving the best of coffee and omlletes ! With low flooring and wooden low rise tables, decorated with hookahs and handicrafts, the place lived up to it's Arabic name . Post our Brunch, we took the road back to main street, it's a go ahead for all those into shopping and some eye candies
Not quite enjoying the commercialization of the place we made our way to a St. John in the Wilderness Church , built in 1852 this Anglican Chruch holds memorial of British Viceory and an old graveyard. The place seemed abandoned and the air did feel dense, would suggest the light hearted not to visit this place after dark. Quickly making our way back to the hotel while exploring the "main street" , we decided to have our dinner at the very famous #Restaurant and Bar "McLlo" – a major attraction specially for typical Indians who don't have a palette for true coffee flavors and real American dining. From Chilly Paneer to chicken Manchurian, from a Pint to Vodka shots , this place has everything to offer ! Honestly, I did not quite it much, as it seemed that all of McLo was in "Mcllo" !!!
After a hearty meal in a crowded place and a lot of travelling and walking, I needed an early retirement for the night. We walked back almost 2 km from the restaurant to our Hotel, and P.s. It seems safe for girls to walk alone at night unlike our metro city, Delhi!!!
Waking up the next morning to a fresh sun and cool breeze, while 1 of friend was still in dream land, me and my other friend decided to make our way to Habibiz for a quick morning coffee and I got to say, it's the best coffee I ever had . Sitting in their home like balcony, sunbathing and sipping on some hot Irish coffee while overlooking snow cladded mountains, the view could not get better! In that moment I was owned by all the peace and calmness, with the clarity in my senses.
As our plan today's route was towards Bhagsu Waterfall. You get Auto service from the Main street to Bhagsunath Temple which is about 4-5 km of distance .
We being the explorers decided to walk the way, walking past the beautiful handicraft shops selling Tibetan products from their Chant flags ( I bought 2 ) , to incense sticks ,to various quotes from Dalai Lama ( I got 4 of them), and the perfect scenic beauty, the walk didn't seem long at all ! We made our 1st stop at Zilnon Kagyeling Nyingmapa Monastery , not quite sure what we are supposed to do ,we followed what people were doing, turning around prayer wheels ! Well not so religiously inclined then, I made my way out , but over a period of time I have a change in inclination towards Spirituality, as a result I have decided to get my self in some program on Meditation and plan a short stay at some monastery. This is one place I think one must give a look on : http://tushita.info/
Moving on we made our way to #Bhagsunath Temple, which was followed by a low range trek to Bhagsu Waterfalls! With a huge amount of crowd going that side, we preferred taking a way less traveled, the trek was narrow and about 2 miles high, and I had no idea where it was leading , but as they say "Hardwork pays off" it sure did! We reached #"Shiva Café", a heaven on earth I must say. Perfect to it's name. More like how Shiva's abode would be, surrounded by hills , amidst the nature , high above the sea level, close to Life! Not the place for party animals, it's a place for calmer souls like me who finds peace and joy in solitude
With sun setting in, it was time to head back down via Bhagsu street to Main street and finally to our rooms! It was a sure long day, but worth it all . We made our way to get a good night sleep for we had a long 12 hours journey back to our hometown, which really got me sad. But I did gain a memory to relish and a place never to forget.
P.s. Checklist for must see/ do's while in Mclo :
1. Visit the main street for some shopping ! . And for the foodies, don's miss the local street food especially : Momo
2. Try out various café's at roadside, they are special in their own way ! ( Coffee a must try )
3. Visit the monastery and try enroll in some meditation/ Yoga camp.
4. If you have medium/ long hairs ,do try the traditional hair braiding .
5. Don't forget to bring home Tibetan chant materials and Souvenirs !
6. Various treks including sighting at Bhagsu Waterfalls .
7. Try waking up early in morning to see various Buddhist monks passing by while chanting on their beads , it's a sight not to be missed !