A French colonial settlement earlier and now a union territory of India surrounded is by Tamil Nadu sharing most of its culture. This city still has french influences with rues and boulevards lined with Mediterranean style houses and bakeries. It has some stunning beaches which is well within the reach if you are staying in the city. Moreover there are few churches, temples, parks and museums which you can visit.
If you need sometime to get out of your crazy corporate life, this is one of the best places to visit. Also if you are travelling solo, you can a very different experience. Apart from general sight seeings, pondicherry offers walking tours to experience rural culture of pondicherry, cuisine tours,weaving workshops, musical trail, experiencing the local game ¨penteque¨. Also if you want to experience some serious meditation or bharatnatyam dance sessions, Aurobindo ashram at Auroville is the perfect place. Although to take these session you might have to book well in advance. Water sports like snorkeling and scuba diving is also a major attraction in pondy.
How to get there?
1. Air: Pondicherry Airport is located at Lawspet. It has direct flights to Hyderabad, Bangalore and Chennai.
2. Rail: Pondicherry is connected by train to Chennai, Delhi, Kolkata, and Mumbai, as well as other important cities such as Kanyakumari, Hyderabad, Nagpur, Bhubaneshwar, Bangalore, Visakhapatnam and Mangalore. Also, VM/Villupuram Junction which is at a distance of around 24 miles i.e.40 km(both by rail & road) is connected to several other Indian Cities.
3.Road: Pondicherry is connected to Chennai via the East Coast Road through Mahabalipuram. There are daily bus services from several main stops from Chennai. The Pondicherry Road Transport Corporation runs buses within the city and it runs Volvo buses to Chennai and to various places. The Tamil Nadu State Transport Corporation operates Volvo air-conditioned bus services from Chennai to Pondicherry.
Places to visit:
1.Promenade Beach
This is French church and the oldest one located in White town which has a wonderful architecture.This architeture is Greco- Roman which gives a very different feel. Inside the church you can find various beautiful paintings and sculptures which will leave you spell bound.
3. Le Cafe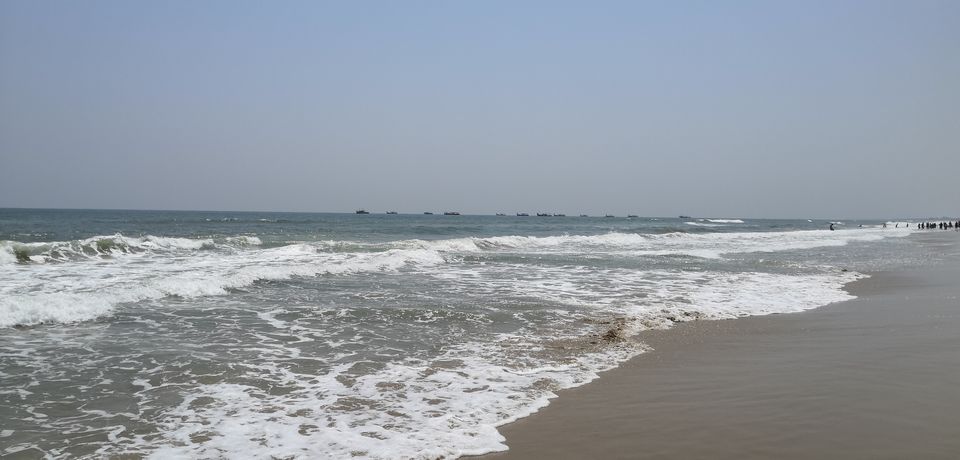 It is a 1.2km long stretch which starts from War memorial and end at Dupleix Park on the Goubert Avenue. This beach is not open for taking dips in the sea or any water sport activity, but a long walk, jog or a stroll on this beach is very refreshing especially during the sunsets.As this a a major tourist attraction, sometimes the place gets very crowded. This beach is clustered with tetra pods along its coastline which enhances the look. There are cafes, restaurants and pubs overlooking this beach which serve different cuisines including French, Arabic, Indian and chinese. You can experience this good food while listening to the gushing waves of ocean. Some of the places also have live band performances which you can enjoy. Apart from restaurants, there are shopping places which sell handicrafts, home decor, statues, toys, tools, beads, models made of stone, clay and wood which you can take home.
2. Eglise de Notre Dame Des Anges
One of the first cafe's in pondicherry built in 1950's, this place is situated just next to the beach. Le Cafe not only make it a perfect food joint but also a popular place of tourist interest in Pondicherry. Originally, Le Cafe was the port office when the railway was used to operate from South Boulevard to the old Boulevard along the Beach Road. In 1952, a strong cyclone destroyed the pier which used to connect both the destinations and the remains of the pier can still be seen. This place also has live band music with beautiful ocean background.
4. Pondicherry Museum and art gallery
This museum has collection of all stone and bronze sculptures from Pallava and Chola dynasties. One of the main attractions of the museum is the fossilized remains of a prehistoric tree trunk that can be found in the courtyard. The museum also has a Geology room which displays old coins, shells, fossils, French furniture and remains from ancient churches as well.It is also a home to a rare collection of old and intricate bronze lamps and statues dedicated to different gods and goddesses.
5. Paradise beach
One of the isolated beach of pondicherry which has soft sand on the shores and very peaceful hence the name¨Paradise¨. The beach route between Pondicherry town and the Paradise Beach itself is mesmerizing. You can also get beautiful pictures in the evenings. Also if you want to take a dip in the water or experience some water sports like jet skiing, canoeing or Kayaking. You need to check for their availability as these activities are not designed to be all available round the 365 days.
6. Serenity beach
A mesmerizing place to see the sun rise in Bay of Bengal and also a major attraction for photographers. A 20 min drive from northern pondicherry, which has palm trees on it's shore giving a beautiful view. This beach has fishing boats anchored along its shore. You can just laze around enjoying the view of the ocean in sunlight.
I am sharing this experience based on the 2 day itinerary planned. However there are lot of other places to visit and enjoy.
Happy travelling :)