You must have come across my views about Pondicherry in Pichavaram post. So, you already know that I am not so amazed by the place. But, you know what? In spite of not finding it very impressive, I keep landing to this tiny territory again and again!
Why??
When I read posts about Pondicherry or see instapics , I feel may be I don't have that perspective to look at things. How come people capture the beauty in the simplest things like a door or a colorful building or just the roads.Why do people find it so beautiful whereas for me it's just another normal destination. So, I go there again and again to find out what I don't see that others do.
The only memory about Pondy which will never fade away is of 'waffles'. We went to Indian Koffee Express in White town for breakfast during the first visit to Pondy. A small cozy cafe in French colonies. We had the most delicious waffles with caramelized banana which urged us to plan trip to Pondy again. Now, we do take a drive just to have waffles???? No Kidding!
I grew up in Aurangabad. A base location for trip to Ajanta and Ellora caves. There is also Daulatabad fort nearby , few hills for a short hike and many more such locations. There was no dearth for weekend gateways. Then I was in Pune for almost 6 years. I need not mention about the dozens of destinations for weekend or one day trips. Now, for past one year I am in Chennai. There are hardly any destinations nearby for one day trip which I would love to go. (I am not a Temple loving person) So, the best bet is Pondicherry. It's a 2.5 hrs drive from my place with the smoothest road till Pondy. Absolutely worth the time if you love long drives with unending chats and countless songs❤
By the way East coast road, the highway connecting to Pondicherry and Chennai is supposed to be the most scenic road. Try any of those ' 10 road trips not to be missed' kind of posts. And, it's over hyped and I would say a MYTH. Yes, it's one of the nicest roads I have been to but definitely not the MOST SCENIC road.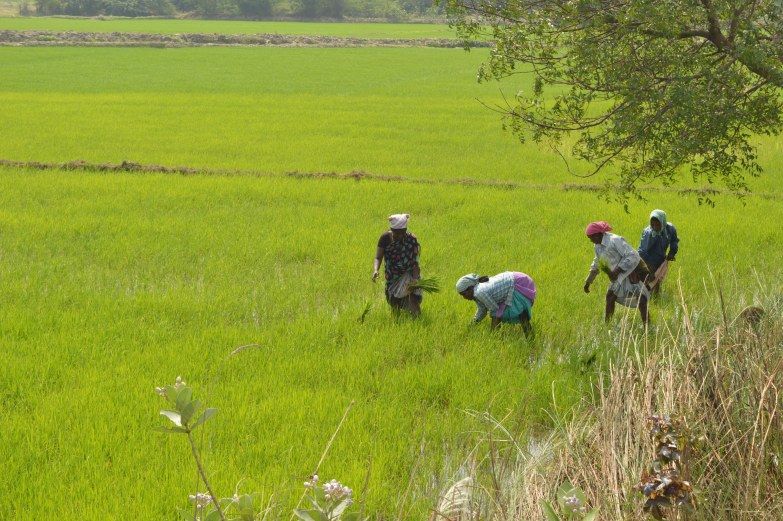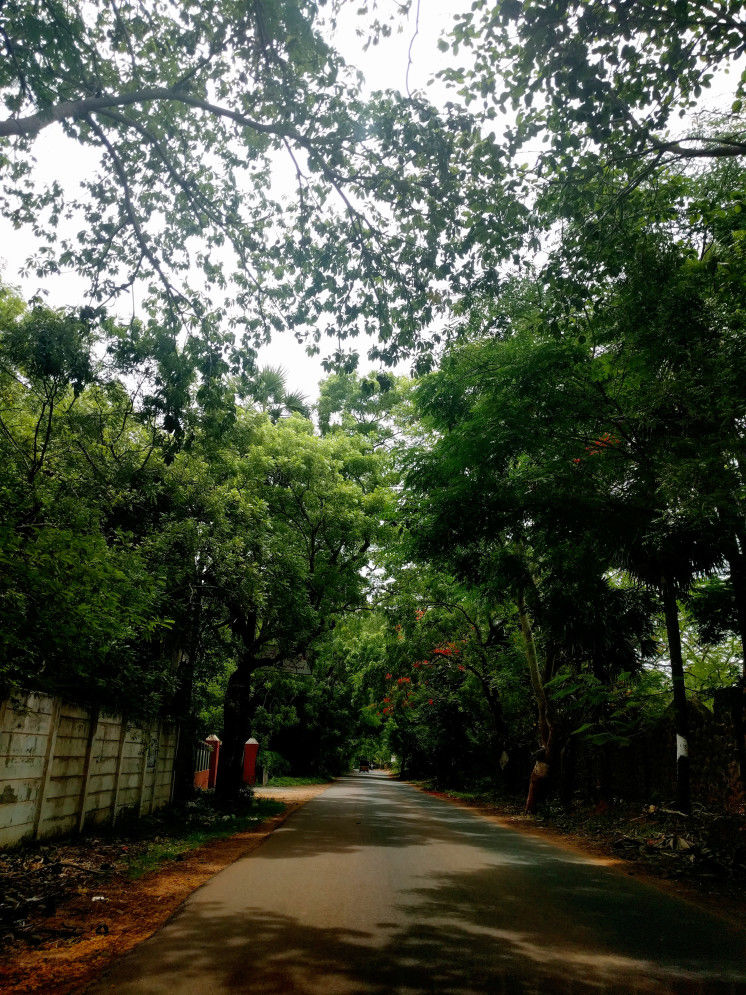 You do enjoy the green shades of the paddy fields along the way. I also like taking short breaks for the coconut water. Then there are patches when the sea is just next to the road. So in all it's an exciting drive. I was just setting expectations right????
In Chennai, you hardly find restaurants with outdoor seating. Even if you find one, the sweating will make you switch to AC dining rooms. I love to have meals outdoor. May be by the sea or may be in the garden or something like that. Pondy is the best place to experience this. There are n number of restaurants, cafe and hangout places to explore. As you know,Pondy is popular among foreigners and hence international cuisines are served in almost every restaurant.
I have been to Tanto Pizzeria relying on Zomato and again was not worth the ratings. Then once we went to Roma's kitchen which was still a better place to go.
Just to remind you, the Asia's second largest mangroves are only 80 km away from Pondy. So, leave early morning from Chennai, have breakfast in Pondy and take a boat ride in Pichavaram. How does the plan sound ;) Here is the detailed post.
This was one of our excuses to go to Pondicherry :)
We made a mistake when we considered Pondy to be Goa.We were counting it to be one of those best places to experience night life, reason being super cheap alcohol. Well, night scene is quite different there. It means that you can enjoy the beauty of Pondicherry in night by taking long walks on Promenade, a road and pathway next to ocean. It's banned for vehicles after evening. It's very clean and well maintained road.There is only one cafe on the shore that is Le cafe which is open 24/7. People stay there till late , sometimes spend night cherishing the beauty of sea. Not sure if boozing is allowed or not. I must agree Promenade has its own charm especially for people who have never been to places like Nariman point,Mumbai.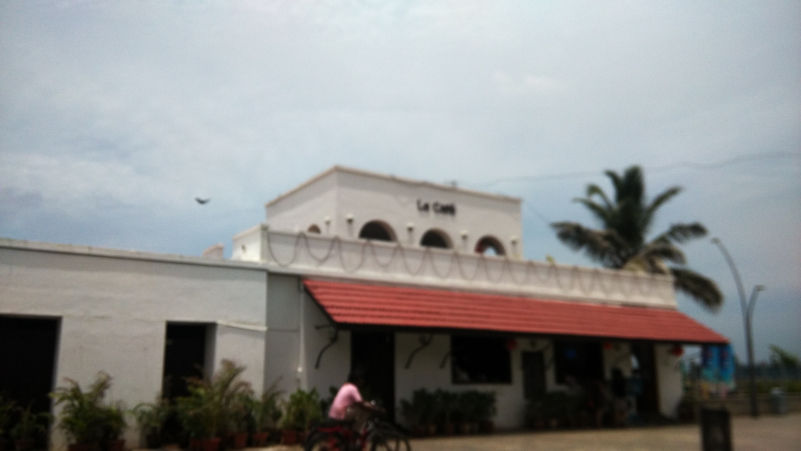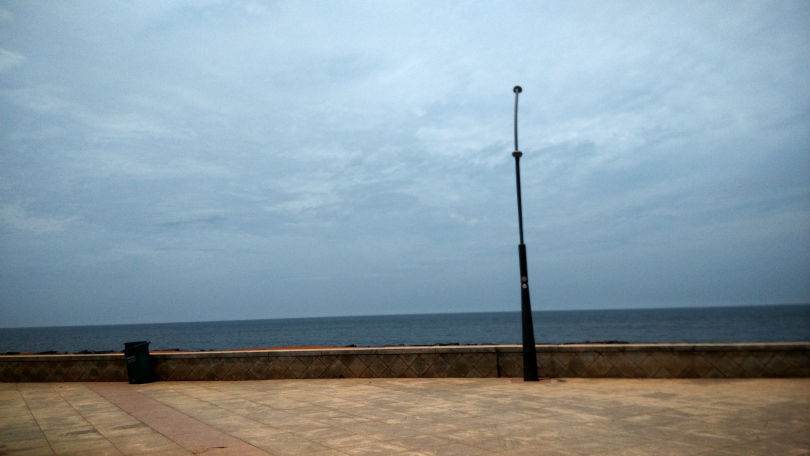 There is only one beach where you can go into waters is Paradise beach. You won't believe but there is entry fee for a portion of the coast, some 150/- per person. The entry is to an area where there are 2-3 shacks which serve alcohol and some snacks. The beach is nice but the shacks are disappointing. If you are planning to have beer on the beach , better not to go in this paid area.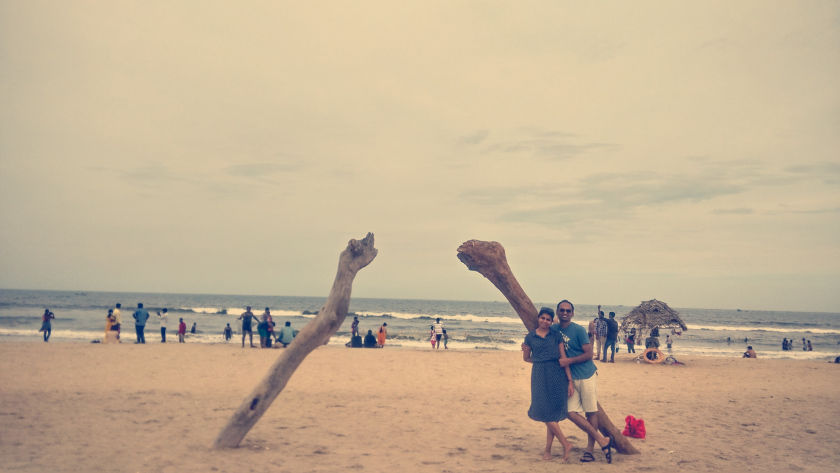 This time when I went to Pondicherry, I explored a new side, SHOPPING! Yeah girls,now I am talking????
There are some boutique shops which stock designer wears, quirky jewelry, aroma candles, essential oils, perfumes, soaps and also home decor things like antique stuff, vintage furniture.Personally I found all of them way too costly but were a must visit just to see what people buy???? By the way, the popular Hi Design leather brand was born in Pondicherry. Find address and details of shops here.
But what made me happy was the street shopping. The main market street of Pondicherry has all these vendors selling t-shirts, tops, dresses for Rs. 250/- to 500/- . You need to have eye for good stuff because not all the clothes are in good condition. Most of the clothes are part of rejected export material still not too defective. Also, sellers are too seasoned to budge for bargain so don't waste your energy if you really like something, just buy
I have not been to Matrimandir, Auroville, the most important destination in Pondicherry. People from all over the world go there to practice Yoga and meditation. I have read and heard that people have life changing experiences after spending a considerable amount of time there. I guess that will be my next reason to visit Pondy again????
I think I have confused you enough to decide whether to go to Pondicherry or not. Well, I just kept all the facts on the table. I would say, you should go to Pondy at least to prove me right or may be wrong????
Bonne Chance!
p.s: That's 'All the best' in french. I didn't speak about the French side of the place because I am hoping to hear it from you
Frequent searches leading to this page:-
pondicherry best hotels, pondicherry tour packages from ex delhi, pondicherry family tour package, pondicherry itinerary for solo trip, pondicherry budget package, pondicherry tour cost for 5 days, pondicherry island tour package, pondicherry rameshwaram kanyakumari tour, pondicherry mahabalipuram tour packages, pondicherry tour packages from mumbai, pondicherry solo package, pondicherry local tour package