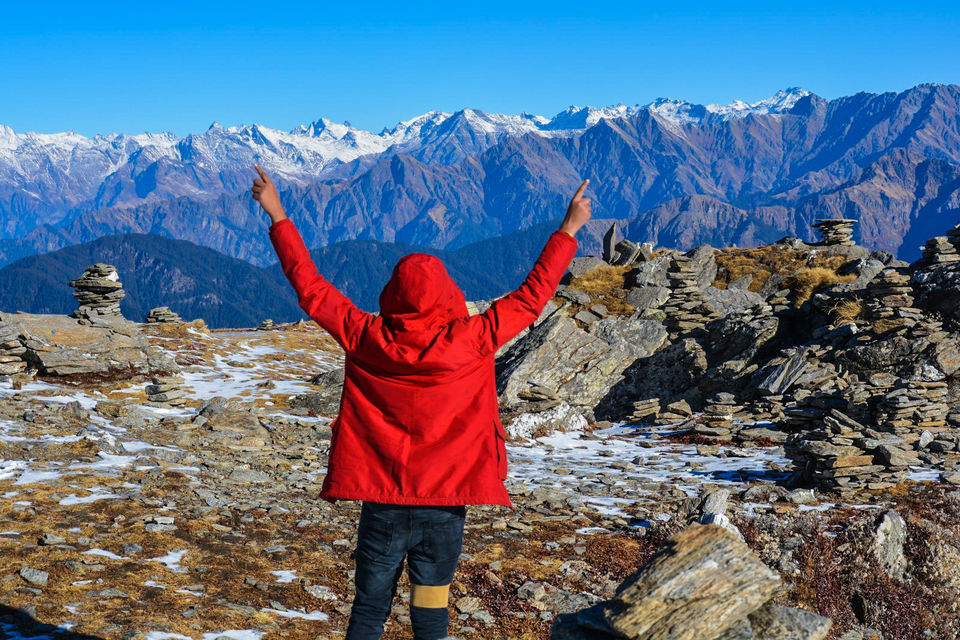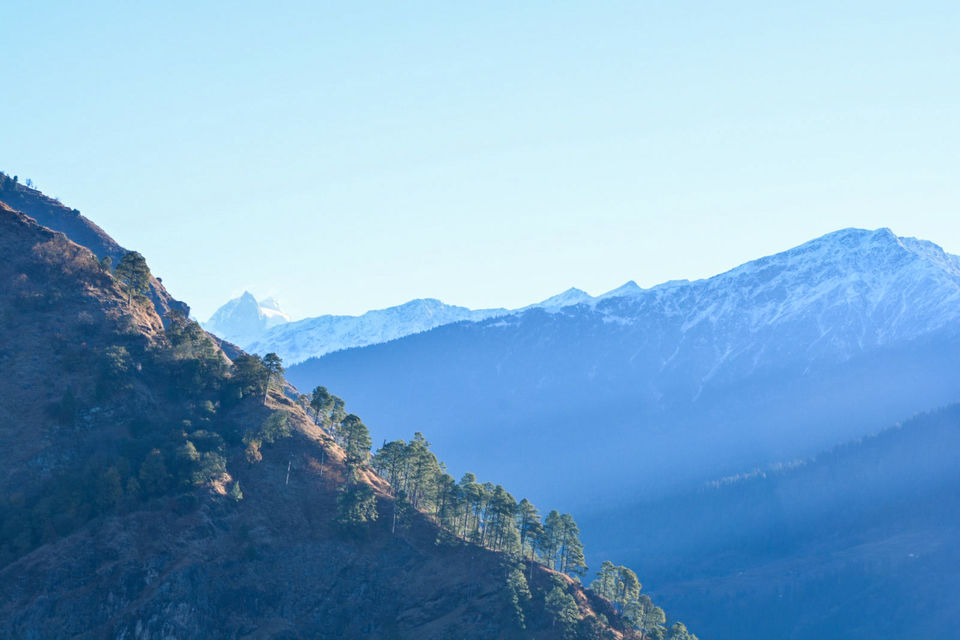 The next morning, I was up and ready to start my trek. I took momos from the counter and started off by having an early breakfast and tea. I was willing to cover maximum distance possible on the first day itself and aimed to complete it in two days. But I was told by the locals that it would be very difficult, or rather impossible for a newcomer to do it. After the entry into the national park, I thought the trek to be comfortable after seeing the road from the entrance to the point where it all actually started. I started off at 8 in the morning and reached the first base camp at around 2 PM. I started off slow, and the steep climb was taking its toll over my body. By the time I reached Juda ka Talaab, I was exhausted to the core. The locals kept referring the climb to be as 'Meethi Chadhaai,' but for me, it seemed to be 'Teekhi Chadhaai.' Mustering all my strength, I started off towards the base camp. I had an apple, a packet of energy biscuits and momos to keep my energy level up. With a struggle, I reached the base camp by evening 5:30 PM. As soon as I reached, I set up my tent in a jiffy and slept off without having dinner. I could not muster the energy to gather some logs to light a fire and keep myself warm for the night. I knew I had to have a good night sleep as I hadto leave early in the morning towards the summit. I slept, but woke to my aching stomach around 8PM to have momos and apple to satiate my hunger. I slept soon after. The minimum temperature for that night was around – 18 degrees, cold enough to render me sleepless in the night.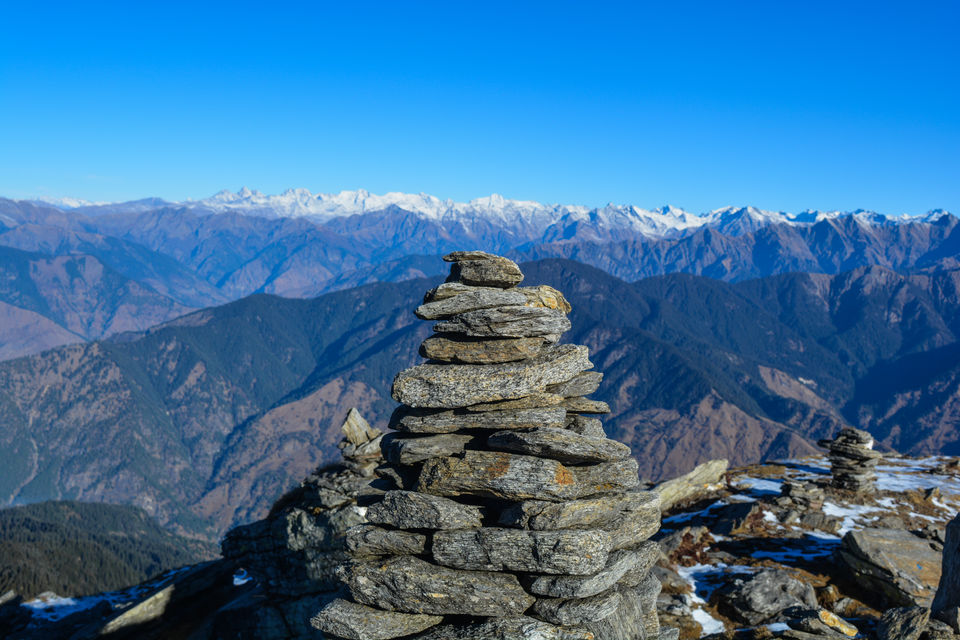 On reaching down, I immediately took a bus to Yamunotri, via Barkot. I reached Janaki Chatti and pitched my tent at a place after consulting the locals and police. I went to see the idol, which is worshipped at Yamunotri, at Janaki Chatti. After staying the night, I left early morning, before sunrise, to Yamunotri and reached the temple to pray to the lord, before returning back. On reaching down, I rushed to get a bus to Dehradun and immediately got into the train back to Delhi.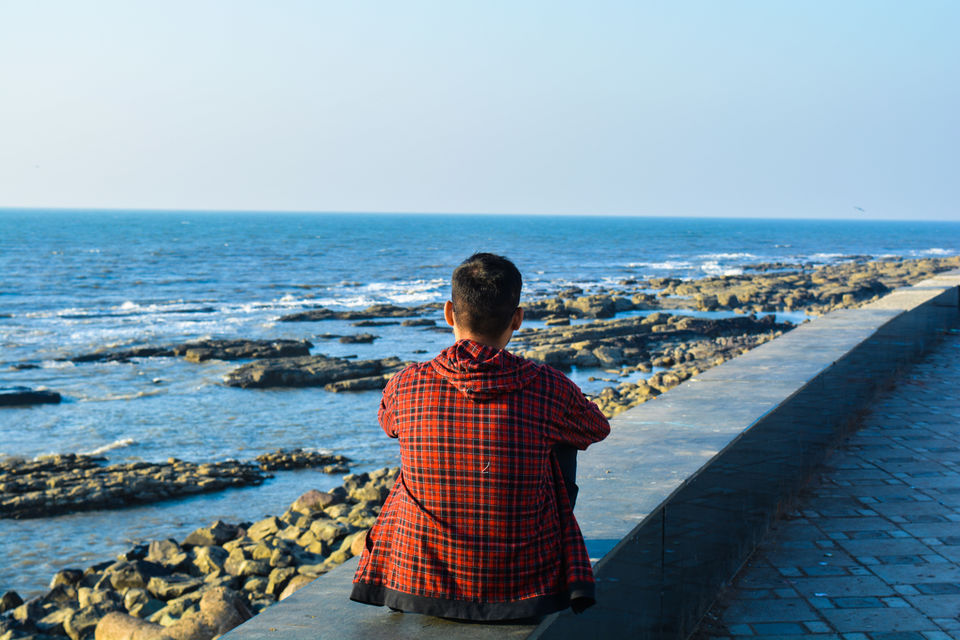 Having few more days to spare, I thought to go south and touch the Arabian sea before returning back to Nagpur. So on reaching Delhi, after half a day's rest, I left for Mumbai. I was touching the land after a gap of 20yrs. The last time I was here, I was a kid in early 1998. The first day, I took a tour bus at Churchgate and covered all the important places of Mumbai. The second day, I dedicated to Siddhi Vinayak Temple and Haji Ali Dargah, before resorting to Marine drive. I caught my train at night towards Nagpur, marking the end of my journey.
This short trip was memorable in many ways. I fulfilled my wish to do a summit trek, before I touched the sea in the same week. Going to Mumbai after a long gap was something really amazing. For me, its always - 'The mountains are calling', but this time the seas called as well, and am glad I answered..

Kedarkantha trek  - After my exams at IIM Nagpur, I boarded the train to Delhi, caught a connecting train to Dehradun and reached Dehradun by late night. The first bus directly to Sankri for that day was supposed to leave at around 6:30. Since I was ready and Bus was available for that route, I hopped on to the first bus towards Purola. On reaching Purola, I withdrew money, as there was no ATM booth ahead. I changed bus from Purola to Mori and then to Sankri. By the time I reached Sankri, it had started raining. I was a bit worried as trekking solo would become difficult if the rain continued for the next few days. I booked a room, freshened up and went for dinner. I bought a rain cover to prep myself for an onslaught by the clouds. I also ordered some Momos for the next day to carry for the trek and bought some fruits. With food sorted for next few days, I hit off to my bed.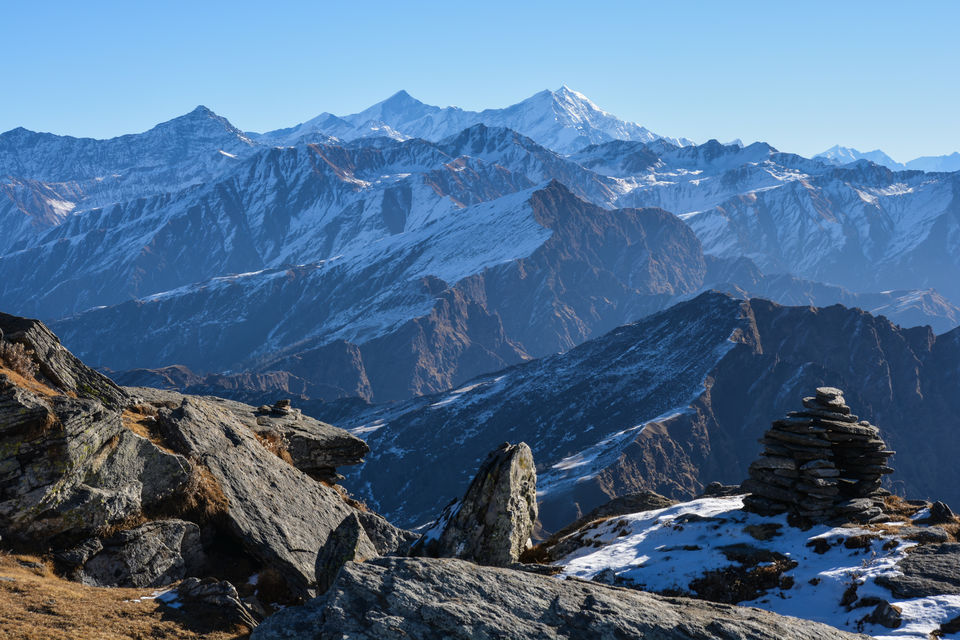 With the half-sleep that I could have at night, I got up early in the morning to start my summit climb at 4AM. With a light in my hand, I started my summit climb. The sky lit bright before sunrise as I crossed the last canteen before the summit. Seeing the summit so near, I thought I can quickly cover it. But what we see, is not always what it is. Every step seemed a war, which I had to win. Panting into the last step, I finally reached the summit. The feeling that I had cannot be described in words as I conquered a mountain at last. The view from the top was surreal with peaks surrounding on all sides. I went to the Trishul, a separated place to pray, and gave persimmon mango as an offering, before having it as a prasadam. Later, I did my customary ac.t to take off my clothes at any freezing cold place, to breathe in nature and feel the warmth that sadhus used to feel when they meditated in solitude. After some time I acclimatized with the coldness, only to be given a reality check by the flowing wind. I sat at the corner of the peak to enjoy the sunrise from behind the mountain peaks. I felt a new light entering into my life with sunlight touching my soul. After enjoying my time at the summit, I dressed up to start my return journey. I began my return journey at 8 and reached Sankri by 12. I rushed through the woods running and utilizing all the tips provided by Bear Grylls to climb down a mountain.
Some Takeaways For Kedarkanth trek -
1. For individuals who are fit enough, the trek can be done in less than 2 days ( I did it in 28hrs). The locals complete in less than one day.
2. For solo travelers, the trek is a bit tricky. The trail is difficult to notice, but there are rocks placed indicating the direction and flags tied onto the trees to indicate the path to take.
3. One need not worry much about the food, as there are dhabas/canteens before Juda ka Talab and after base camp. One will not get full fledged meal, but Maggi and Egg are readily available. So carrying fruits shall suffice for the trek
4. Water is available in the two food junctions, apart from these, some water source is present in between.
5. The trek is difficult but doable. A solo traveler can even camp on top of the summit, so prefer that if one can and wishes to.
6. If someone has not enrolled with any agency, he can still get all the facilities and amenities there on ground. The total package comes to around 5000, but is subjected to availability. So if going in off season, u can avail the trip at a very low price.
7. All the gears are readily available on rent basis. one can book pre-pitched tent at the campsites for the night.
8. The entry cost into the forest reserve will cost u around 210 per head, withh additional 100 for carrying a tent with you. But no prior checking is done.
9. There is a dearth of hotels in Sankri. so book the hotels beforehand to prevent any problem. Also eatery option is limited, so take any fancy and luxury food before Purola.
10. Only BSNL works in Sankri, and there is no reception throughout the trek.
11. Be well ready with cash, medicines, and any other accessories before Purola. The last ATM on route is in Purola.
12. Its a safe and easy-moderate trek and one can enjoy the beauty of nature in its purest form. So keep cameras Handy.