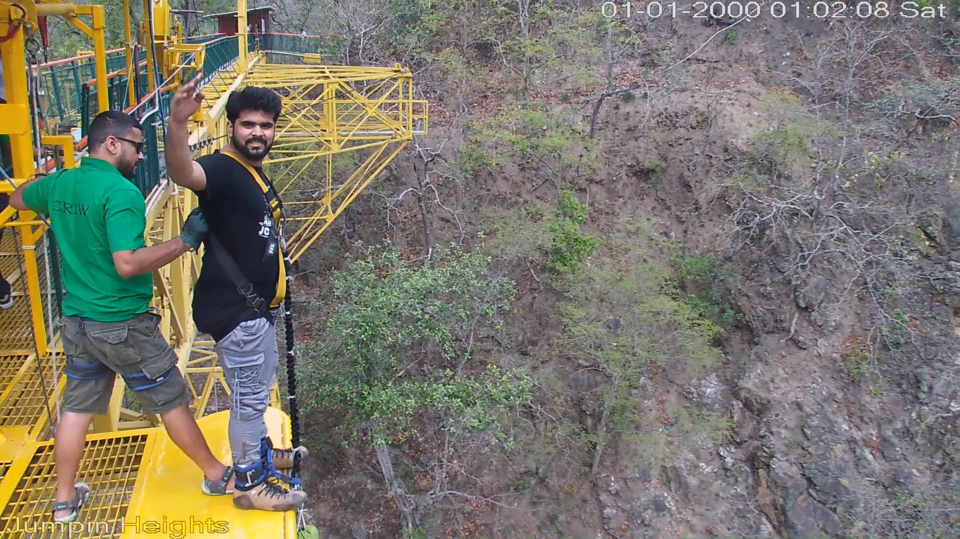 This trip is the baap of all the unplanned trips I have ever had! It started when my mother woke me up @7:50 to book a ticket for her colleague. I didn't get the ticket but I got a sense that my vacations are being wasted. So I called up my mother and told her that I'm getting a tatkal ticket for myself for Delhi. I hadn't met all my relatives since ages so I booked. On the same day I thought of going to Rishikesh for bungy jumping. After enquiring a bit, I came to know that it had to be booked in advanced.
So I booked my ticket for 16th, reached Delhi on 17th and directly went to ISBT Kashmere gate using metro from Jangpura which was the nearest station to Hazrat Nizamuddin Station using a battery 3 wheeler. I got into the first bus I saw which was going to Haridwar. Without knowing about further availability of the buses, I was on my way to Haridwar. That journey was amazing. Whole journey I was sitting with the driver troubling him with n number of questions like will I get a bus to Rishikesh, will I get a tempo? I had booked my bungy jumping for 18th and I HAD to get there tonight! The bus had a nude wire which the driver connected to the terminal to blow horn. Weird. He told me to shut up and said he'll help me get the bus. And he did. I reached Haridwar @8:45pm and then immediately got a bus to Rishikesh. Both the buses were unregistered buses with together cost me 244 + 39 = ₹283
Here is the challenge now. I reached Rishikesh @9:30 and if you have been to rishikesh, you know that all the shops close by that time. I was hell hungry, I went to a shop and the shop said kitchen is closed. I begged them to give me just a Maggi and they did. Then I walked towards Parmarth Niketan ashram through Ram jhoola and the narrow streets and boom! The closes at 9. Now I had to arrange for a cheap accommodation for a night. I went into the hotels and the rooms were costly af. Now hotel person told me to go to a guest house and I got one at ₹600/night. I also hired a scooty for the next day which was ₹400/day to go to the bungee jumping site. I had read that you have to reach there early to be able to jump. So I woke up @6 and left at 7:30 for the site. The view from the route was really scenic with the Ganges flowing below and temples on its banks cutting the green mountains.Now this site is 1hr from Rishikesh and I had to wait for an hour. NO REGRETS AS I WAS THE 1ST ONE!
There, I met 4 people from Karnataka and because of language barrier, I was acting like a translator for them. The counter then opened and we had to buy the ₹100 entry ticket and I gave a ₹500 note and as expected, they did not have change. My new friends from Karnataka then paid for me as well and we got in. I made sure I'm the first one to fill the form and complete all the formalities.
After the jump, there was a 20 minute trek back to the office where they had our video which they were playing on the TV and after seeing that I knew that I HAD TO BUY THAT! The video was additional ₹750 but I wouldn't let this once in a lifetime video go for that so I bought it. After coming back to the guest house all exhausted, I requested the manager to let me charge my cellphone in my room and rest for a bit since I was very much exhausted. I then requested him to drop me on my scooty till the bus terminal. He didn't agree to that since there was no one in the guest house that that time to take care of it. Then he himself offered to drop me till the boat which crosses the ganges and drops at the other end of the Ram jhoola right in front of the rickshaw stand. There I got a share rikshaw which usually takes ₹10 but since it was me alone in the rikshaw, he requested ₹20.
I personally prefer ending my trips comfortably, so I was searching for an AC bus to Delhi, so I asked in the counter and the person directed me towards a person and the person was shouting about the AC bus to Delhi, I was the lucky one because the bus left after 5 minutes I boarded it. But did the day end there? Obviously not, these are my vacations! My uncle who lives in Gurgaon kept calling me asking for ETA to Delhi. Why was he doing that? Because he had arranged Delhi Vs Chennai IPL tickets for me for the very same day and this was a huge surprise!
Reaching the stadium on the time was a challenge since traffic on the way is unavoidable in India. So instead of going all the way till the end by bus, I alighted on the 1st metro station I saw as I entered the city and rest of my journey till the Feroz Shah Kotla stadium was by metro which is the best mode of travel present in Delhi. Delhi was already out of the tournament and so all the supporters were cheering for Chennai in Delhi. But Delhi emerged victorious and the crowd started cheering for Delhi. That was funny. I on the other hand was the only one who Cheered for Mumbai and Sachin XD. So there ended my trip to Rishikesh.
Frequent searches leading to this page:-
waterfall in rishikesh, kempty fall in rishikesh, neer fall in rishikesh, rishikesh snowfall, free fall in rishikesh, neer water fall in rishikesh, heavy rainfall in rishikesh