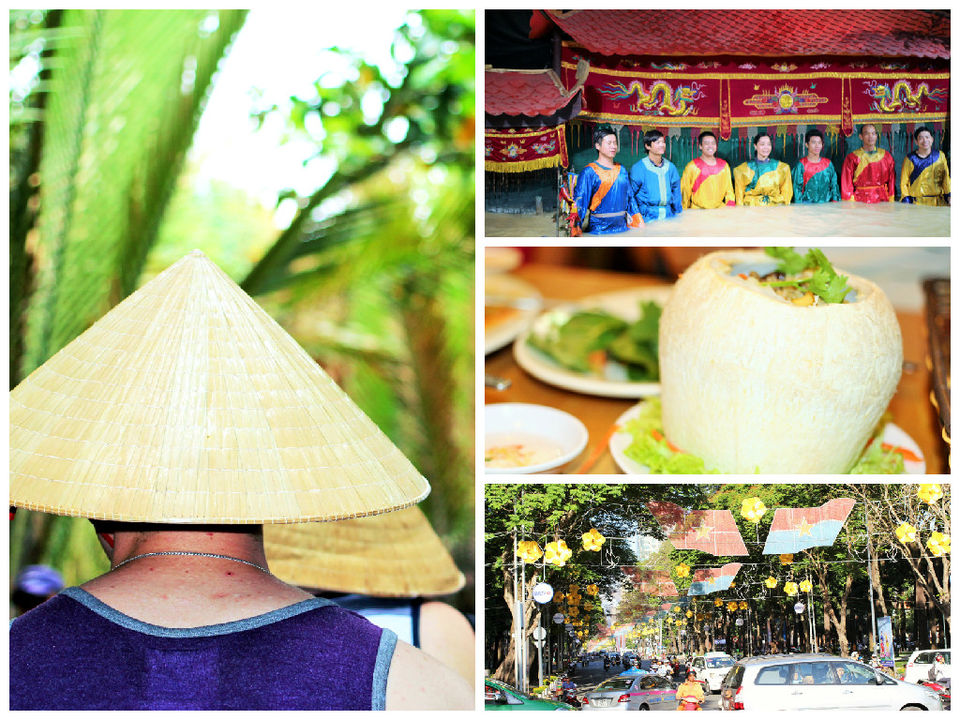 What do you expect of a country invaded by Chinese, French, Japanese and American, repeatedly? Reasonable history and abundant beauty, may be.
A country of contrasts, Vietnam is a jewel of South East Asia waiting to be discovered. Perhaps that explains Vietnam's bevy of colonial admirers.
We landed in Ho Chi Minh City, the largest city in Vietnam with little expectations. Singapore spoils you. When everything is orderly and systematic, it loses spontaneity. I also love naturalness in people, places and generally in life. Amidst the bustling streets, disorder and chaos, I rediscovered spontaneity. In Saigon.
Here's how my Vietnam diary reads-
Day 1:
I usually draw a rough sketch of what we can do before any travel, thanks to fellow travel bloggers. However, I don't quite follow it to the T. Isn't it better to flow with the tide, many times?
Having heard (also read) rave reviews of Vietnamese cuisine, this was something I wanted to explore. Though not quite first. As we got off to a rather lazy start, we wanted to walk around the backpacker's area at a stone's throw away. Strolling through the streets, our senses were awakened. 2 wheelers whizzing through in all directions, bikers almost driving through you, loud honks, and sights of tables on the roads. Tables on roads? Yeah, right!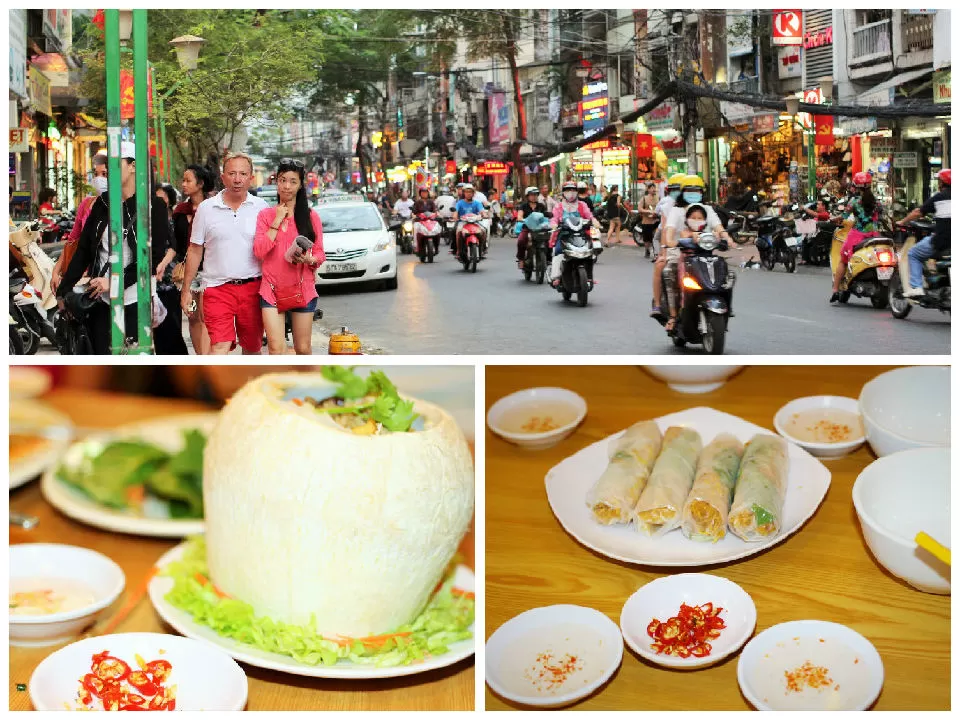 The Khao San of Saigon was discovered quite serendipitously. Like match boxes stacked next to each other, were hostels, inns, hotels and restaurants. Sprinkled generously on the roadside were low tables, and stools. All set for an impromptu brunch, lunch or a drink. Whatever you are in the mood for. The quirky sight was so Saigon. Winding through alleys and back alleys, we found Ngoc Tho, the vegetarian restaurant. Originally wanting a veg Pho, we ended up ordering exotic looking Vietnam food. The pictures will tell better!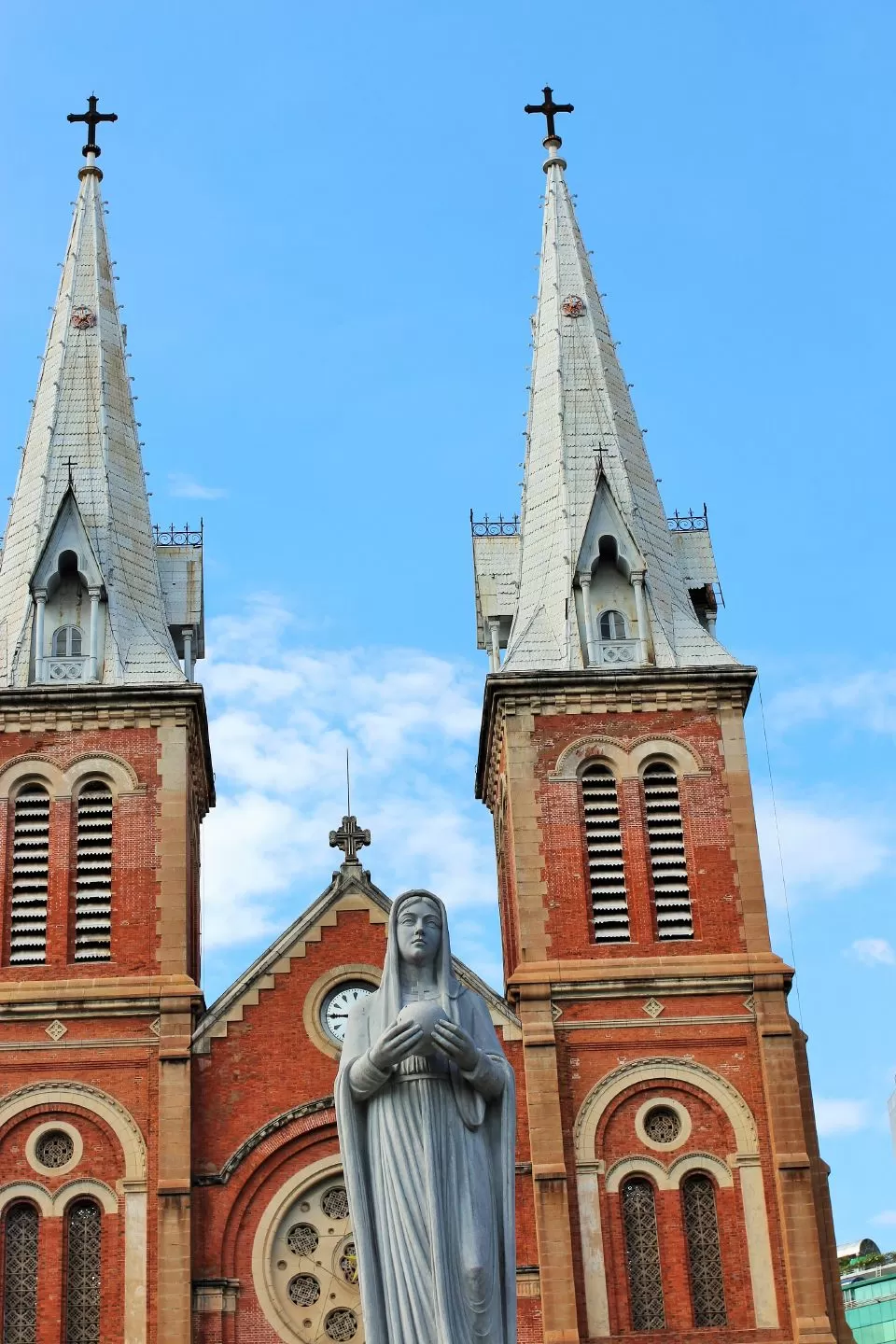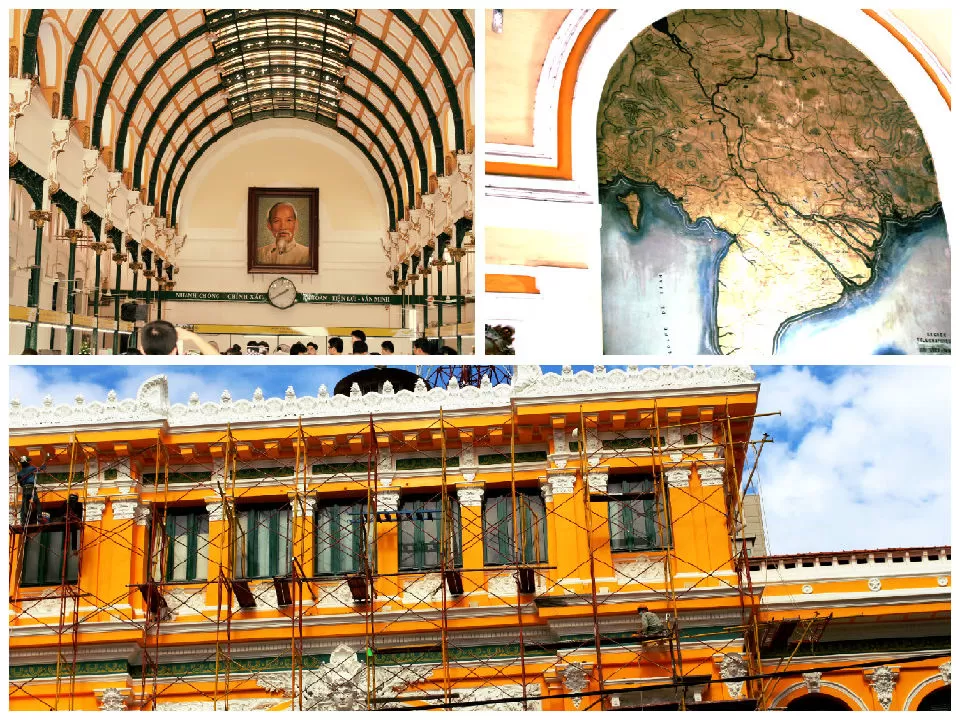 3. Saigon Central Post office
Designed and constructed by the famous architect Gustave Eiffel, it is situated close to the Notre Dame Cathedral. Saigon Central Post Office was under renovation when we visited it. Dazzled in yellow hues with generous windows, the gorgeous structure also has 2 quaint telephone booths. I was taken in by beautiful pieces of street art on pavements outside.
A landmark in Ho Chi Minh, this is the place where South and North Vietnam reunited, ending the acrimonious wars and hostility. We didn't explore much here as time was ticking away for booking tickets for the much awaited Water Puppet Show in advance.
Day2:
Mekong Delta
The 'rice bowl of Vietnam', the scenic Mekong delta is sandwiched with stunning hues of greens, between soothing blues above and below. We had two options for the day trip- a full day trip or a half day one. We chose the former.
1. Vietnamese artefacts showroom
Fact: Vietnam's arts and crafts use a lot of processed egg shells. We made a brief stopover at one such showroom and were in awe of the stunners that ranged from plates to dining tables and even sofas. Didn't buy any as the prices quoted seemed on the higher side.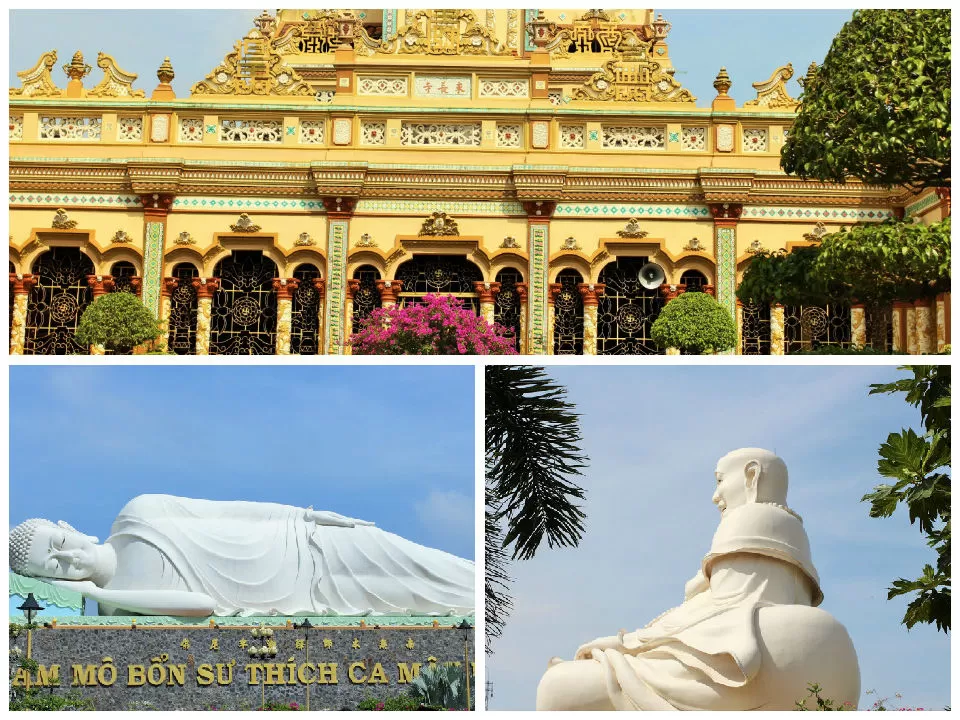 2. Buddha temple
Going through the rubble filled roads, we detoured to a sleepy Vietnamese hamlet. The silent and beatific structure stood majestic among the paddy fields and humble homes. Spent about an hour here.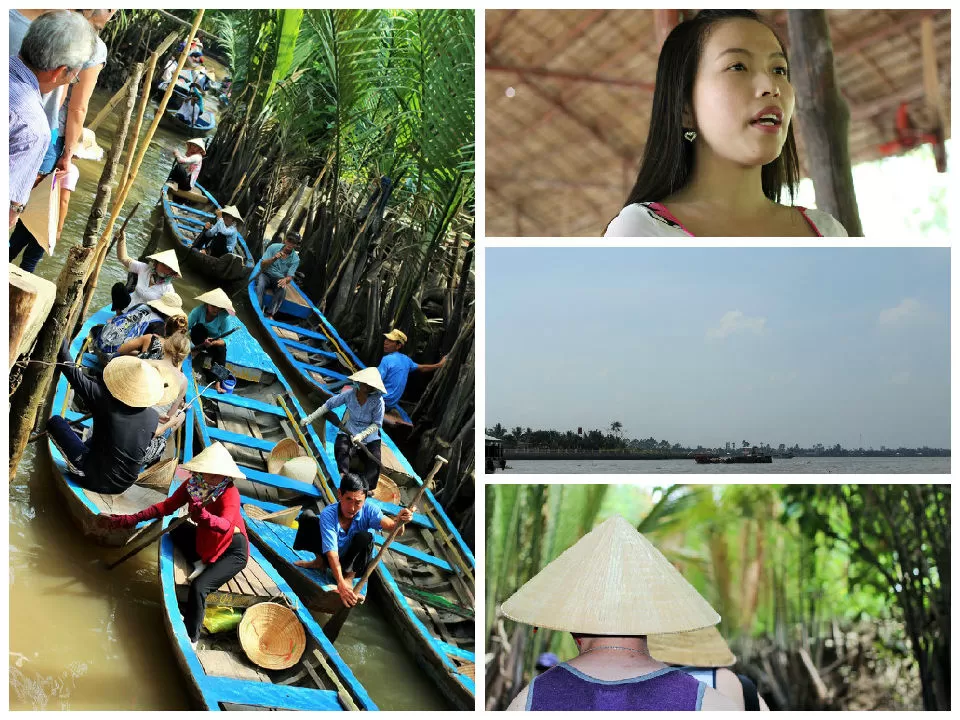 3. Mekong Delta
Mekong is also called the 'Nine dragons' (Cuu Long in Vietnamese, culmination of the nine rivers at Mekong). The vicinity looked right out of a geography textbook. Complete with lush paddy fields, coconut palms, fruit orchards, the highly fertile Mekong flows south of Saigon before merging with the South China Sea.
One cannot but picture Vietnam without the conical hat wearing farmers. You will see candy making, coconut coir art, coconut sweets being dished out at Mekong islands. We were taken to a restaurant that served a plethora of Vietnamese cuisine and meat. Actually live animals like crocodiles, turtles, snakes and of course the less exotic ones like crabs, fish etc. were among the picks. Being vegetarians, and having experienced the tough time we had in Maya Bay, Phuket, we were better prepared, this time. The cold Biryani that was cooked at the hotel seemed like heaven to us J.
Locals use narrow boats to hop islands and the skilled boatwomen row you through packed traffic effortlessly!
After some hammock perching and cycling, it was time to board the big boat back for the 2 hour ride back to HCMC.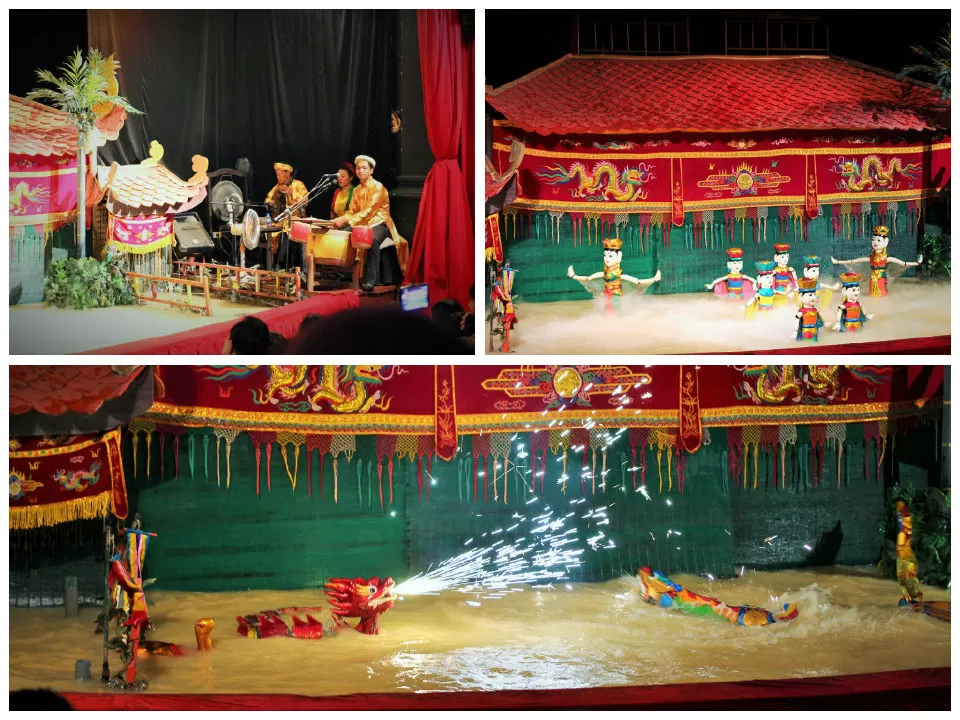 Golden Dragon Water Puppet Theatre
This was on the top of our HCMC agenda. So all of us were excited about this unique water puppet show, especially the kids. However, the reviews were mixed. What better way than review it yourself? So we headed to Golden Dragon Water Puppet Show with high expectations.
The performance commenced with melodious Vietnamese music, drums and a medley of instruments , performed live by artists on stage. The commentary though in Vietnamese, you can understand it, thanks to the accompanying leaflet shared. Ever watched fireworks in a puppet show, leave alone one inside water? The Golden Dragon had it all. What a spectacular show it was! Spellbound, we walked out with our lasting memory of Vietnam.
Day 3: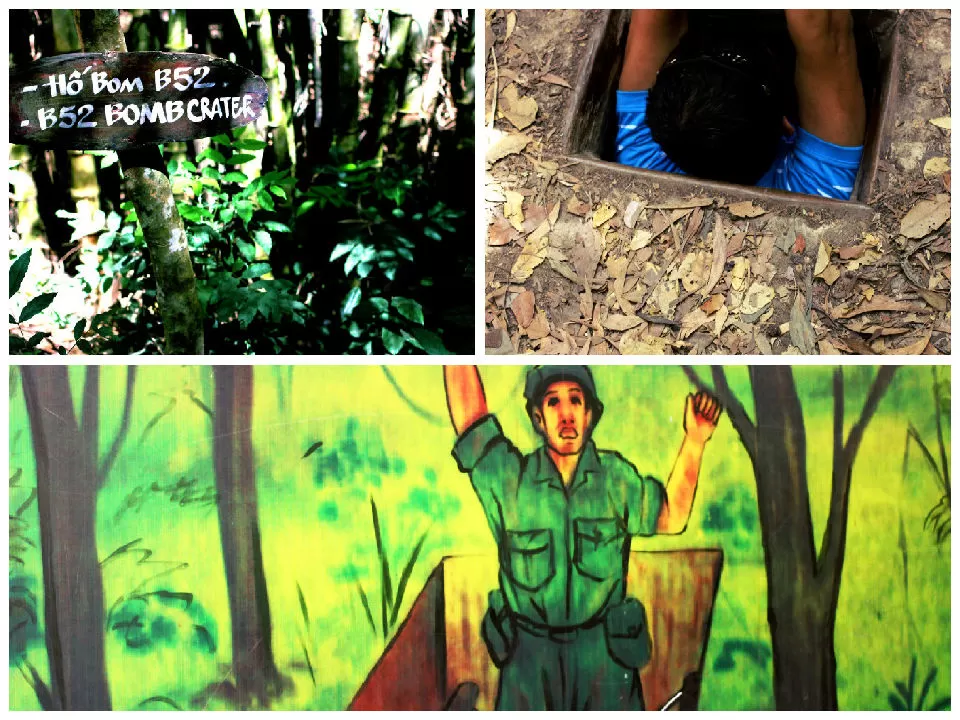 No trip to HCMC is complete without a visit to Cu Chi tunnel. The heroic 250 km spider web tunnel underground has places for dining, living, fighting and meeting. Farmer by day and fighter by night, Cu Chi tunnels glorify the revolutionary spirit of Vietnamese people in their bitter war against the Americans.
Squeezing through the narrow tunnels, a bigger realization dawned upon us. Freedom is the biggest gift one could have. Imagine living with near suffocation (air doesn't flow in these tunnels, only small holes made on the ground keep the ventilation going)! Phew. How relieved we were to be breathing in fresh air and strolling freely on the same ground where a revolution occurred. I would like to believe we emerged with more empathy of the diversity around us.
A gun shooting range at the Cu Chi is a much sought after activity by tourists. The loud shelling kept us away from it. After a heavily loaded day, we yearned for some light moments.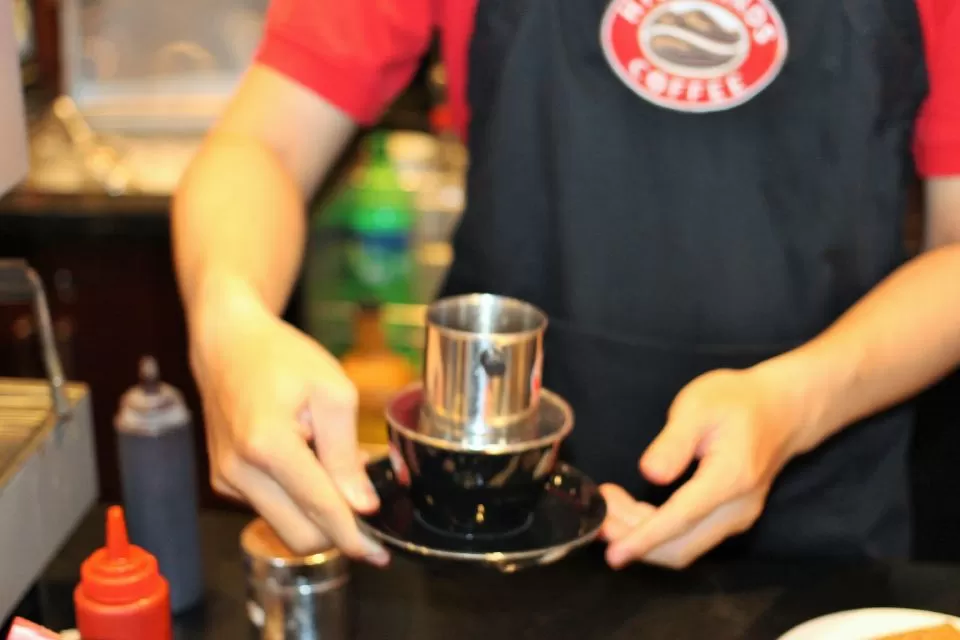 2. Coffee at Highlands
You will be bombarded with coffee ads as soon as you land in Ho Chi Minh City. One of the little known facts about Vietnam is their gourmet kind of coffee. Coffee shops at every nook and corner, coffee could well be the staple diet of Vietnamese folks J .We headed to the Trung Nguyen Coffee owned and highly acclaimed Highland coffee for our dose of caffeine. We were not disappointed.
Kopi luwak or Civet coffee is known as the world's most expensive coffee. And there's an interesting story behind it. Asian Civets are fed the coffee beans which after passing through its digestive tract lose much bitterness. These beans are washed, dried, roasted and brewed to produce a nicely aromatic coffee with less bitterness. (Didn't try it though :)) Highlands coffee beats Starbucks hands down. So while in Vietnam, do as the Vietnamese do. We thought coffee would be a good idea for a souvenir from the trip. We picked up a few packets of freshly ground coffee for friends and family.
To end, it is quite tough not to be dazzled by the Diamond of the Far East in its multi colored contrasts. A city where steel and glass skyscrapers rub shoulders with ancient pagodas, French boulevards and the vibrant street food culture and hidden alleys. Quite contrary of Western media perception, Vietnam is a country of fascinating contrasts.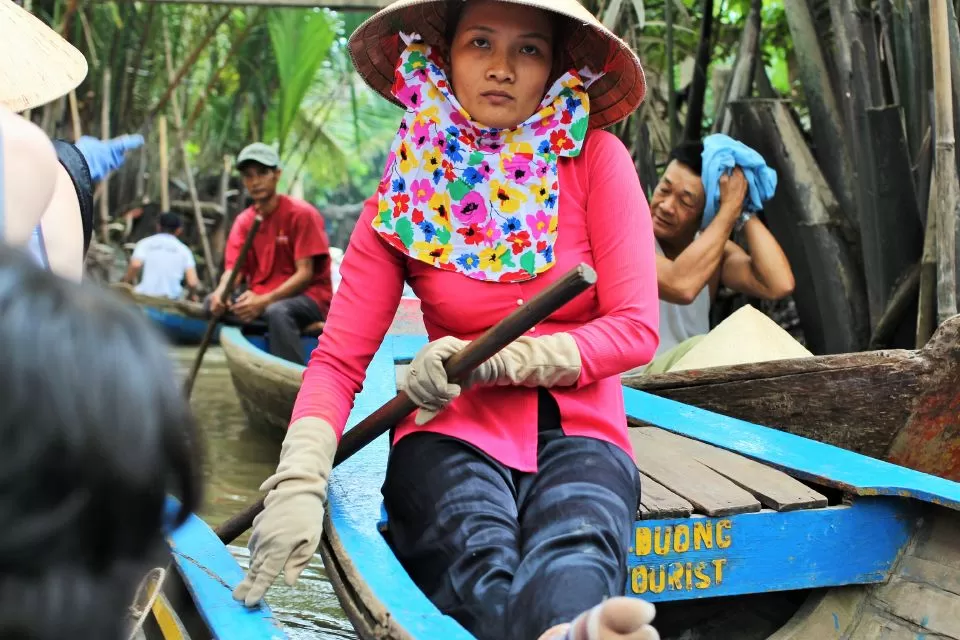 Vietnam basics-
Currency- Vietnamese Dong
Language- Few people speak English. Clarify questions with your hotel 'welcome desk'
Visa- Required before arrival.
Stay @-Elegant Inn, a comfortable budget hotel on Cong Quynh Road. Centrally located.
tunictraveller's tips-
December- Jan is a good time to visit Vietnam. Weather is pleasant, no rains.
Stick to the more reputable taxi operators in Ho Chi Minh City- Vinasun and Mailinh. You can just hail one from the road. No need to book.
If you are a vegetarian, there are a lot of Buddhist vegetarian options available. Carrying Cup noodles, instant food also helped us.
This trip was first published on https://thetunictraveller.wordpress.com/.
Frequent Searches Leading To This Page:-
India To Vietnam Flight Cost, Hyd To Vietnam Tour Package, Vietnam Travel Package Deals, Northern Vietnam Tour Package, Cheapest Vietnam Tour Package From India, Vietnam Tour Package From Kerala, Vietnam Tour Package For 3 Days