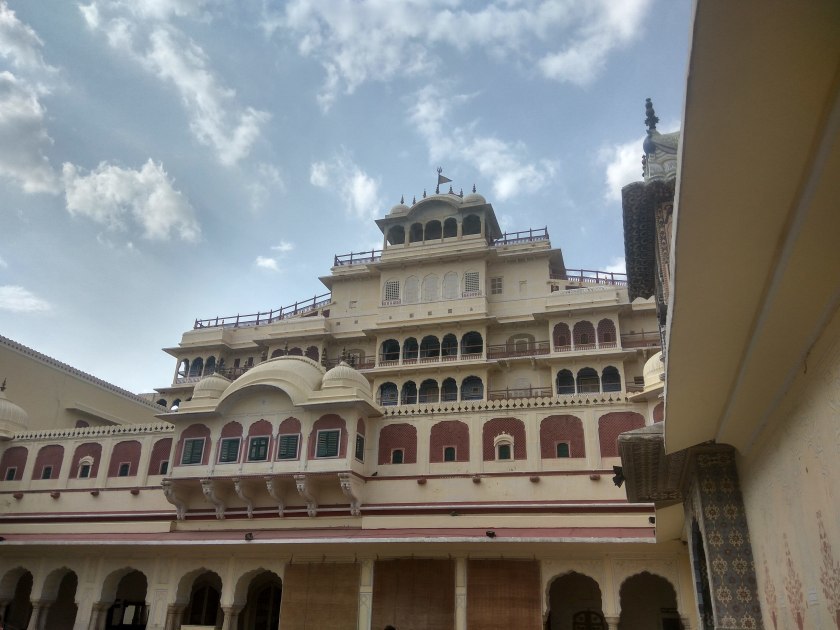 (Blog 5 in my series of blogs - Delhi Delight)
The Royal Land? If you're an Indian, you have probably guessed the place I am talking about. You're right, the sudden plan was to visit Jaipur, the capital of Rajasthan. It was not on my to-visit list. The idea of visiting places outside Delhi never crossed my mind. This idea was implanted into my head by my Mom.
It was a Friday night. I had just finished talking to Mom over the phone. I sat excitedly in front of my laptop booking a seat in a bus to Jaipur for the next morning. Yay! A solo trip to Jaipur. The plan was to witness an important religious function that was happening in Jaipur and come back the very same day. After the seat was reserved, I called my project partner to ask her not to expect me at the lab the next day. She got very excited when she heard I am going to Jaipur.
"Are you going alone or with your relatives?", she asked.
"I am going alone."
"Can I come along with you?"
"I am going there for a religious function. If you're fine with that you can surely come with me."
"Yeah. I like visiting temples. Also I've always wanted to visit Rajasthan."
"Just so that you know. I am going to a Jain Temple. And it will be very crowded there for this function holds great importance in our religion. People from far and wide have come to witness it."
"Yeah. It's ok with me."
This is how the conversation went. Next thing, I booked a seat for her on the same bus. And next morning, we were at the bus stop eagerly waiting for the bus. I explained to her what the function was all about and why was it significant.
"There's an ancient Jain Temple in Sanganer, Jaipur. In the midst of underground portion of the temple, there is located an ancient small temple. The sacred temple has seven underground floors which are kept closed due to old religious beliefs and visitors are not allowed to see them. It is said that only a Digambar saint can enter in it and bring out the idols of this underground temple for a limited period, which is declared and decided previously. The idols thus brought out for viewing, must be placed back within a pre decided time. This time the idols were brought out after a gap of 18 years. Since this is a rare opportunity, devotees come to worship these idols from not only across the country but also across the world. I had been to the temple twice before. Once, I was very young when the idols were brought out before 18 years, and second, a few years later."
She heard the story with great interest and seemed excited to visit the ancient temple. It was a 6 hour ride from Delhi to Jaipur. We arrived at Jaipur at around 4:30 pm. We had about 8 hours until our return journey. Surely, we wouldn't need so much time at the temple. Also the temple was open throughout the day while the function lasted. We decided to visit Jaipur City Palace. On checking online, we found that the closing time was 5pm. We had to hurry. We were famished, but food was secondary in that moment. Reaching the palace on time was our primary concern. We caught a rickshaw to reach the palace. We had little time left. We didn't want to miss the opportunity. We decided we would see the palace in a hurry without wasting much time on photos.
Jaipur City Palace was magnificent. Showcasing the lavish lifestyle of the Rajputs, their bravery, their culture. Parts of the palace are still the royal residence, while some parts are now made into museums. Admiring the various structures and clicking pictures, we managed to cover the entire palace in 20 minutes. We were amazed at our skills of visiting a palace that huge so soon.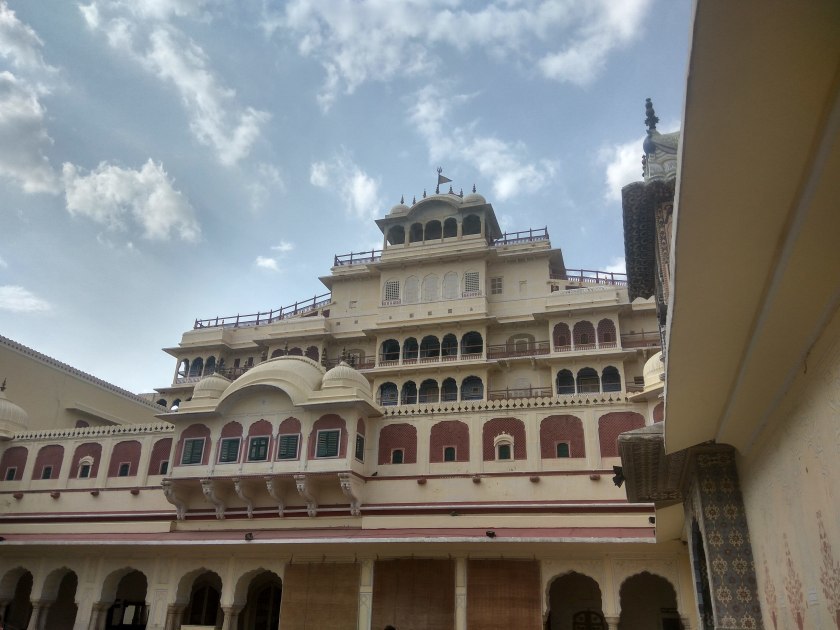 Now was the time for some Rajasthani delicacies. We had Rajasthani Thali. I liked it. She didn't. Probably because she was not used to their food. I had eaten Rajasthani food many times. Next stop, Sanganer Digambar Jain Temple. We decided to take the Metro. In Sanganer, the area of a few blocks close to the temple was prohibited for vehicular entry. The entire area was decorated. Though, it was very crowded and the queue went up to a few kilometres at times, the arrangements made for the ease of devotees were impressive. Tents were put up, to save the devotees from the scorching heat of desert dominated Rajasthan. Drinking water was being served after every few hundred metres.
There was a separate queue for ladies and gents. The both of us got separated. We had agreed to meet at a pre decided place after we were done viewing the idols. After about an hour in the queue, I was close to the place where idols were placed for public viewing. But, it was time for the idols to be shifted from the tent to inside the temple premises. After sunset, the idols were to be shifted inside the temple. So, by the time I reached closer to the dais, the idols were taken away into the temple. I couldn't view them. It was announced that now idols will be available for viewing after an hour inside temple premises. I went back to the place where we decided to meet and told her this. She convinced me to rejoin the queue and wait for another hour, so that I could view the idols properly. She understood the significance and she didn't want me to miss the opportunity. She assured we had enough time for me to rejoin the queue and come back in time for our return journey to Delhi. I also was not satisfied to have come this far and not be able to view the idols properly. I had only viewed them from far before they were taken inside the temple.
I joined the queue. After about an hour and a half I made it inside the temple, viewed the idols and made it back well in time. All this while, she was outside, window shopping at the market. It was about 11 at night, when we got back to the bus stand. Had our dinner, and waited for our bus. It was an hour late. Waiting at the bus top, we decided to pass our time by playing some word games. The time flew and the bus finally came at 1 am and we reached Delhi early next morning.
Within less than 24 hours, we crossed travelled through three states (Delhi - Haryana - Rajasthan) to reach Jaipur, visited the City Palace, witnessed an important religious event, came back to Delhi. It was the shortest and the most sudden planned trip ever.
Date of visit : June 24, 2017.