Click Here to visit my YouTube Channel:
Bhangarh, people generally get shivers when someone suggests this place for a trip, but this was one of the reasons why we planned a trip to the "Most Haunted Place in Asia". We actually had many images in our minds & we were looking for those super spooky places & ghost encounters around there, but it was completely opposite of what we had thought about it (at least during the daytime). So you will now probably come to know about a completely different perspective of this haunted place, that you might not have thought about.
LOCATION OVERVIEW:
Bhangarh is a a pre-historic site between Jaipur and Delhi known for its ruins. The most remarkable of its buildings are the Hindu Mandir of Gopinath, Shiv (Someshwar), Hanuman, Ganesh, Vishal Devta, Lavina Devi and Keshav Rai. Other buildings include shops along the main road, several havelis, a mosque, and a palace. The town was established in 1573 & since the famine of 1783, the town has remained uninhabited.
Entry to Bhangarh is legally prohibited between sunset and sunrise. A signboard in Hindi posted by ASI (Archaeological Survey of India), specifies the instructions. The instructions on it roughly translate into, "Entering the borders of Bhangarh before sunrise and after sunset is strictly prohibited. Legal action would be taken against anybody who does not follow these instructions".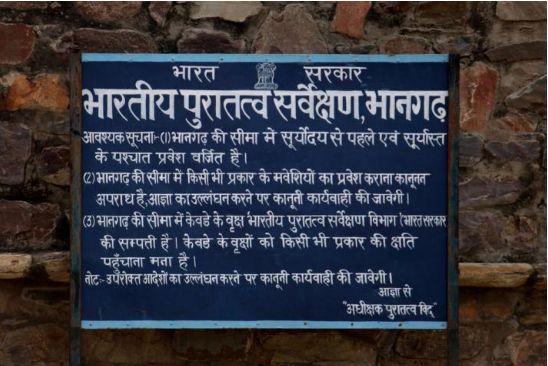 HOW TO REACH:
Bhangarh is situated about 86 KM from Alwar & 74 KM from Jaipur. The connectivity to Bhangarh is fairly decent and this place can be reached via multiple mediums.
-The nearest airport is Sanganer airport in Jaipur, at a distance of 56 KM from Bhangarh.
-The nearest station is the Dausa railway station junction, at a distance of just 22 KM from Bhangarh.
-Regular bus services are available for Bhangarh Ruins, but the nearest bus stop is not directly at the ruin. Hence a small walk of about 1 km is required to reach the destination.
-Private taxis are also available that can get to the site faster and drop up to the ruins.
-You can drive to the location as well & reach there quite comfortably via NH8.
OUR EVENTFUL DRIVE FROM DELHI TO BHANGARH:
As we were just 4 friends visiting the place (which is quite a small number, as compare to my other trips), so we decided to drive in my car at around 3:00AM. The beginning of the drive was very dramatic actually, as the GPS started misbehaving just after we crossed Gurgaon & after few more minutes, we got ourselves a flat tyre. Anyways, we jacked the car, unscrewed the tyre & it got stuck, which is a common problem in i10. We tried & tried & tried, but it won't come out. So we somehow managed to borrow a hammer from a nearby gas station. Hammer did it's job in just one hit and the tyre was out & just when we took the spare tire out from the trunk, voila, it was also flat because of being there for a long time. Now we took the spare tyre to the gas station to get it filled with air, & we had to fill it ourselves, as the guy over there was real dizzy at this early in the morning & was not willing to do the job for us.
Anyways, the drama ends here and we finally got our car up and running. We mostly decided to drive on NH8, as it is the best Highway available on the route. We had to leave NH8 just around 50 KM before Bhangarh & remaining road was not very impressive. We parked our car in the parking area after reaching there & walked in.
A QUICK TOUR:
There is a big metal gate at the entrance and a small Hanuman temple on the right, just after entering.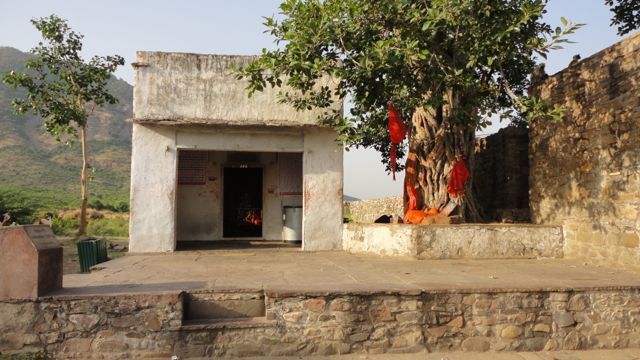 After walking for few more meters you can see the Jauhari Bazar, all ruined but surprisingly it seemed more beautiful then spooky. There are streets on the way and rooms on the both sides of the street which would have been occupied once.
After walking further, there is a big garden with a temple in the center, accompanied by another temple after walking few more meters.

The Royal Palace is located at the farthest end of the fort area & the Aravalli Range stands against the backdrop of the Royal Palace. It has four gates - Lahori Gate, Ajmeri Gate, Phulbari Gate and Delhi Gate. At times wild animals also come down from the mountain ranges at night.
THE PICTURE PERFECT LOCATIONS:
This is for sure one of the best locations, if you are also fond of photography like me. From beginning to end, from Jauhari Bazar till the Royal Palace, there are many locations that you can capture in your camera. The Jauhari Bazar specially attract because of the way it was built. The ruins have their own charm that you can't resist yourself from admiring their beauty. Although, there are few areas among the ruins, where you can go and feel a chill in your spine if nobody is around, but capturing moments in such areas has a different feel to it. You can also have the view of the whole city, standing on the terrace of the Royal Palace.

CONCLUSION:
If you are planning to visit some famous place in Rajasthan, e.g. Jaipur, Alwar etc., then you can take out some time and visit this place as well. I would suggest to go there and return in the daytime only. Not because it is a haunted place, but you won't find any good hotels, eateries or dhabas around, so staying overnight is not really fun, unless you have a strong urge to hunt some ghost by illegally staying in the ruins at night.
You can enjoy the surrounding & capture the moments here. Properly laid out markets, palace & temple makes you think, how planned this city was. Although you will not see or feel any ghosts around, but you will appreciate it's beauty and the way the town was built.
There are many myths & stories available about this place & I would not really comment on anything. You can search it on the internet yourself and decide if you want to believe them or not.
You can also visit the "Stepwells in Abhaneri" while returning from here, which is about 50 KM from Bhangarh. I had not really been there, as we were not aware about this location at that time, but I thought I should mention it here. You can google the location for more details.
I hope you have now got some courage & motivation to visit this place, if you were not able to in the past. Please also share your story with me after visiting here & let me know if you have any questions for me.
And please don't forget to click here to FOLLOW me for more updates on my upcoming trips.
Until then, stay tuned.
Cheers!!
MY OTHER ARTICLES:
- Triund: Amazing Trek, Hypnotic Panorama & A Pleasant Surprise
- Bir-Billing: Ultimate Destination for Paragliding in India