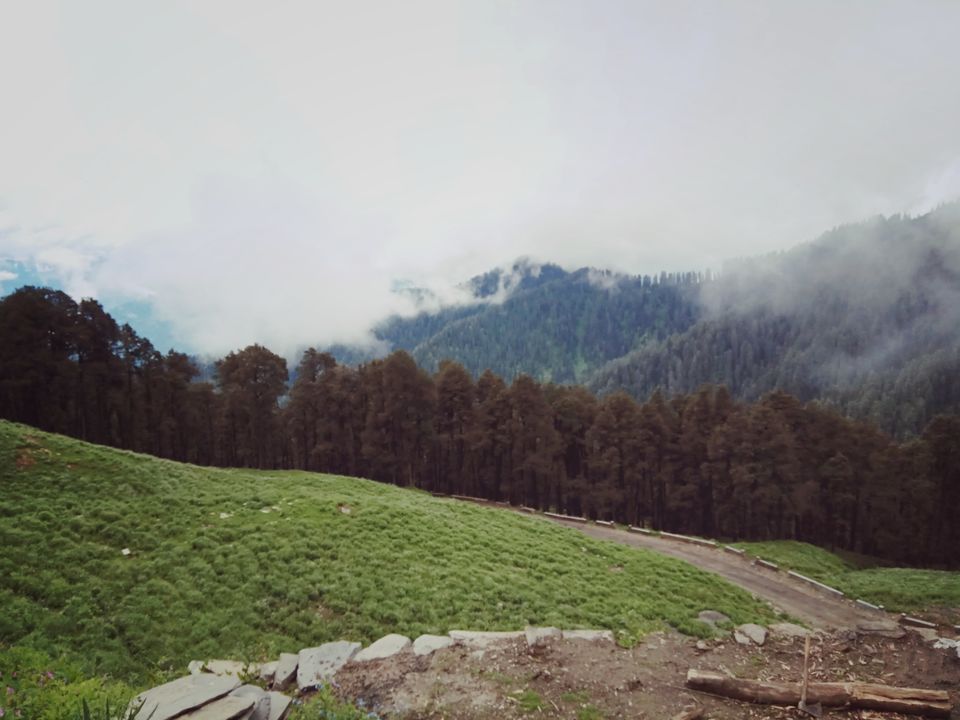 "I would rather own little and see the world,
than own the world and see little of it."
Right when I was a little kid, my father imbibed inside me the difference between a tourist and a traveler.
So, before you start onto my journey, here is something about me...
A 22-year-old lost soul. That's the best part, because when you are lost you discover the most enthralling places. A B.Tech. graduate (because why not !????), working in an IT firm (duh!), mother of a notorious dog, novice photographer and a stubborn perfectionist (It's a Capricorn thing!).
Now that, you know me dear Reader, lets get started with this trip. My first attempt so bear with me.
Tirthan Valley was in my bucket list forever, and coincidentally I bumped into Travel Triangle, an organisation that happened to be in telepathic sync with me in terms of travel destination. So, I took three friends with me, booked tickets and was equipped to feel Nature.
From time to time I will also share my experience with Travel Triangle, so that all the novice travellers can figure out whether or not to take this service.
We started our journey from Majnu ka Tilla (Delhi) at 7:30pm. The busses were quite nice. The short journey, approximately 3 hrs long from Majnu ka Tilla to Karnal was perfectly timed for a stoppage for dinner.
We had packed some food for ourselves, so we served ourselves the same. After 30-45mins we resumed our journey. Oh! We did have an amazing session of J (Shivratri feels), so the night journey was amazing.
Loads of laughter, stories, gossips and memories allowed us to sleep at peace.
Adventures lined up for the next three days...
We woke up at around 8am finding ourselves still continuing the journey. Approximately after 30mins later we stopped at Pandoh. There was a small restaurant (more like a place for breakfast, tea etc.).
Pandoh is situated along Beas River. The view was something to be mesmerized by.
Light rains and lush green hills painted a beautiful canvas all around me. Few cups of hot tea and coffee and we were back on wheels heading for our destination.
It was 9:30am and we were stuck in an hour-long traffic due to landslide. Cranes were called and the debris were removed as soon as possible.
I must say I was a little disappointed when it came to keeping up with the schedule. There were many unnecessary halts and instead of reaching our resort at 8:30am we actually arrived at 1:30pm.
The journey was quite long. Almost 17hrs instead of the usual 8hrs that you would find on Google Maps. But! You forget all those really small annoying things on a trip when you have something really precious on the other end.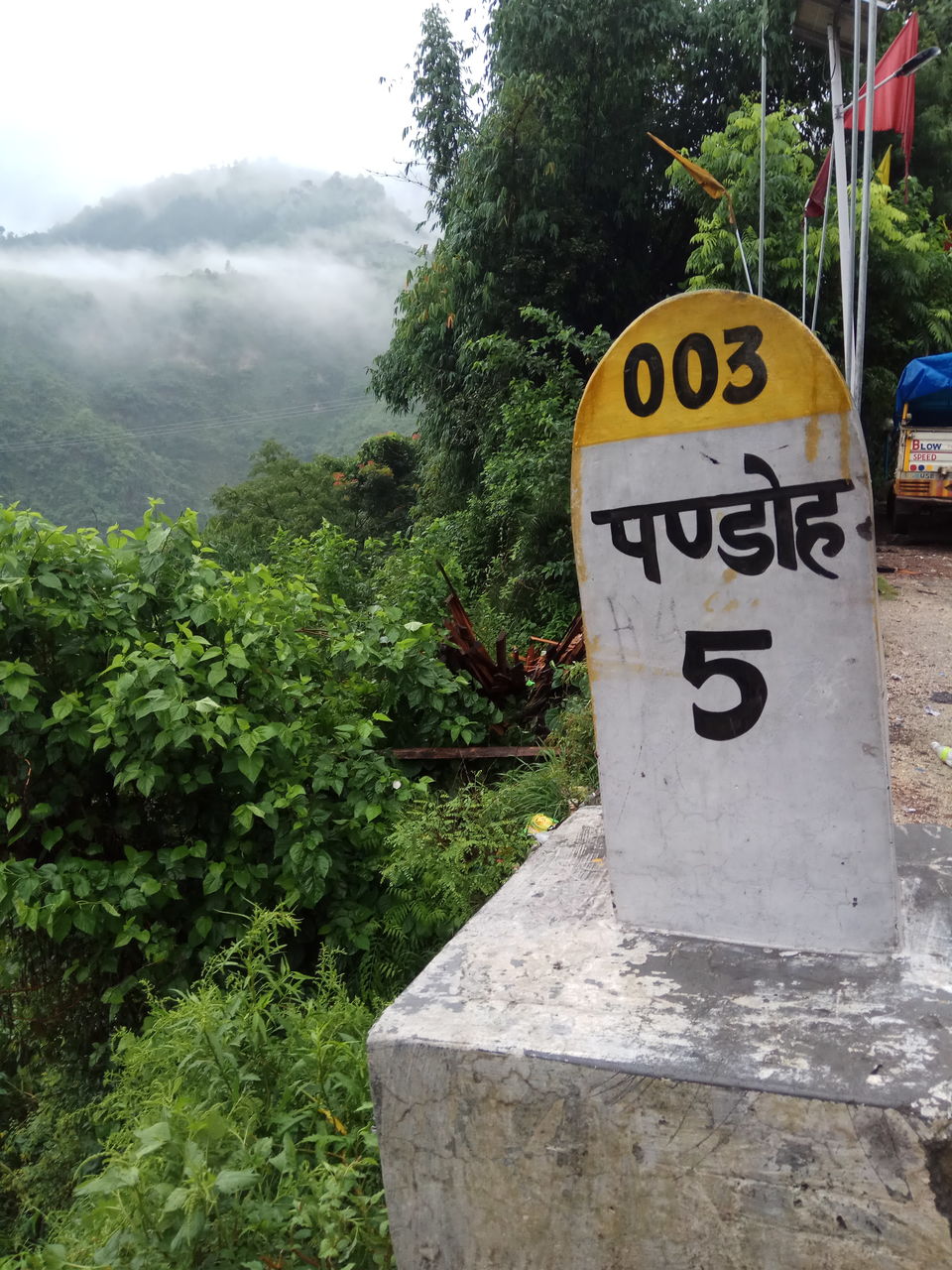 When we reached Trishla Resort (at 1:30pm), my eyes couldn't believe, my mind couldn't settle. My eyes were stuffed with wonderment and that very moment I came to knew that I've come to my happy place.
Trishla Resort is not just an ordinary resort. It is built exactly near the Beas river. So close that a part of the river is also a part of the resort. Aman (I'll further address him as Aman Bhayyia), is the owner of the resort. The resort has very limited rooms - 12 to be precise, but I believe that there is nothing like it in Tirthan Valley. Red painted huts, noisy brook, lush greenery had painted the most beautiful picture.
We were quite tired, so we rested for an hour. Since we selected the most isolated room, we were gifted with an amazing portico having a river-side view. Four of us were staying together (to quadruple the fun).
Next, we had lunch and do believe me when I say this, Aman Bhayyia has the best cooks! Simple lunch - dal, roti, rice, sabzi, raita and a nice plate of salad. We got ready and then headed for the first trek of this journey at around 4:30pm.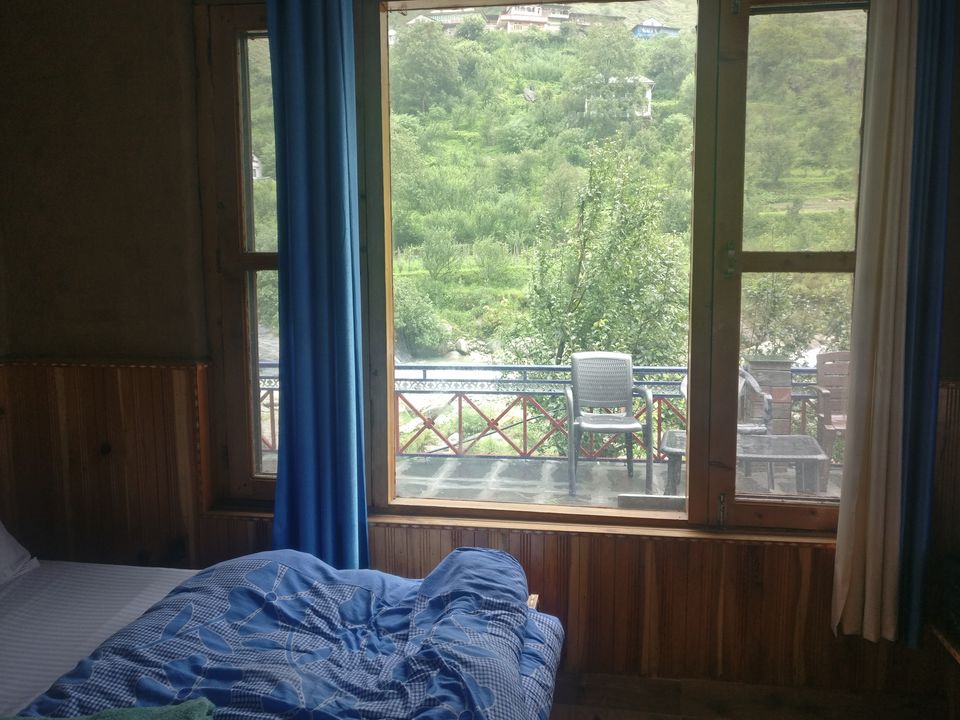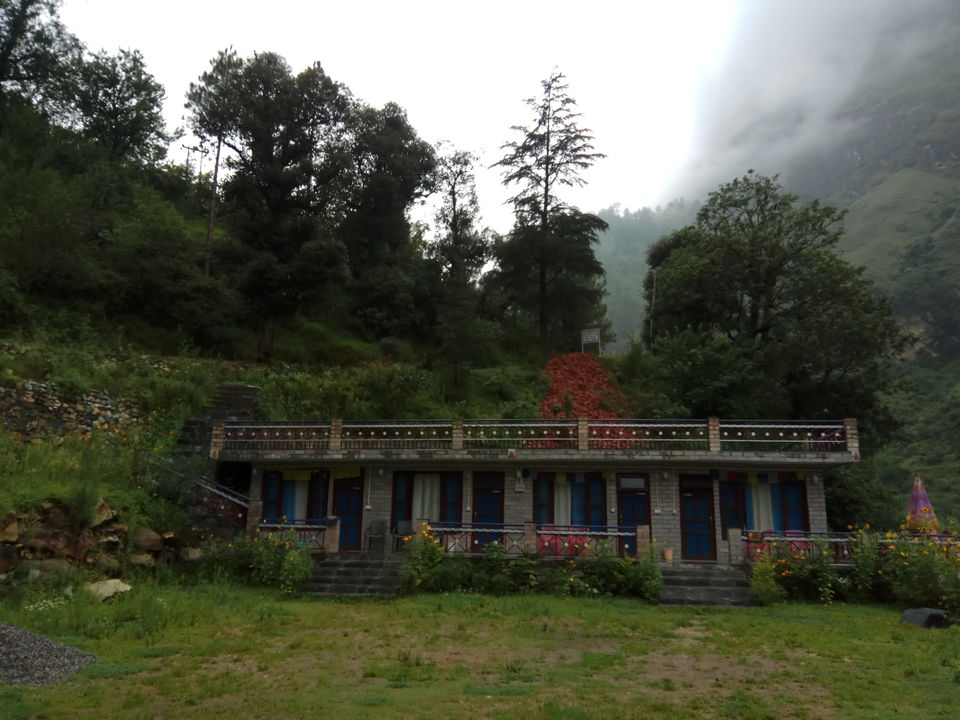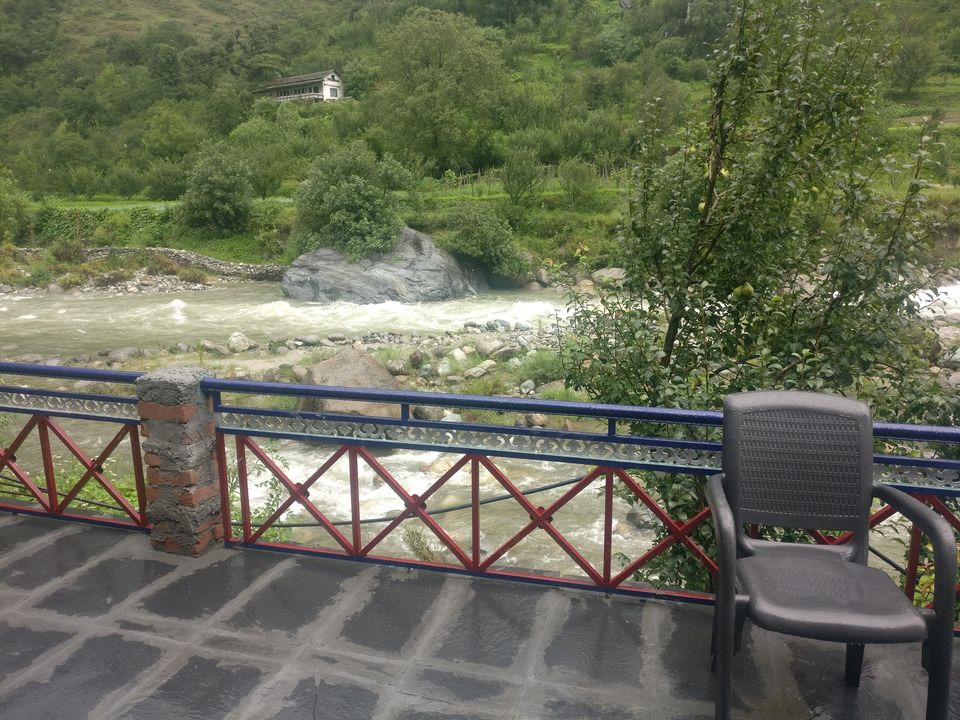 Usually mountains, lakes, waterfalls are considered sacred in such places. We trekked 5kms back and forth. The trek was really exciting for me. It warms up your body to the extent that you have a blood rush, your heart starts pounding and the sweat feels great. There are steep steps, slippery paths - wide only enough that your both feet can be adjusted. We were 13 people in the entire group. Initially the first 20mins were exhausting and it felt as if I have had an hour-long gym session. I tied my hair up, and resumed again. Felt almost like Spider Man while climbing huge rocks. My friend on the other hand was panting like dog. The trek is quite difficult, but having said that it is still doable, even for first timers. The journey was adventurous and it took us approximately 1.5hrs to reach our destination. We even took breaks in between to catch our breath. Do remember to keep some water but drink only after your breathing has slowed down.
Chhoie waterfall is a sacred one. Right before the water there is a tree with red bandanas tied to it. Locals say that the tree is the God/protector of Chhoie.
When I reached there, I was overwhelmed. The waterfall was massive and flowing with full thrust. The chilly water felt like a gentle breeze on our skins. The beauty of this waterfall is that it is so secluded that only travellers and explorers can be seen here and no tourists (else the place would be a garbage dump).
We had ample time to click photos in different poses and feel the water. You can even drink it, because it's so clean. Remember not to litter the area. Feel free to go as close to the waterfall as you want. You may even stand directly under it (I didn't because it was shit cold). It's important that when you travel you cherish the moments. Often, we find ourselves engrossed in taking pictures and capturing digital moments. My point here basically is that put down your phone, sit on the rocks and listening to crackling sound of water flowing past by you. What you will feel in that moment is divine. Nature has its own way of making your soul happy.
Aman bhayyia even narrated a few mishap stories of people falling down because they were not careful or engrossed in their phones taking pictures. We all decided to enjoy the trek and nature and take pictures only when we reach the destination.
After spending 40mins at Chhoie Waterfall, we decided to return since sunset had already begun and it is really not very safe to trek this kind of path in the dark. Coming back was really easy as it was downhill. Didn't feel like we were putting any efforts. On our way back we tried some wild berries - sweet and sour taste filled our mouth. Don't eat them all the way, just chew to take in their juices and then throw away the residue.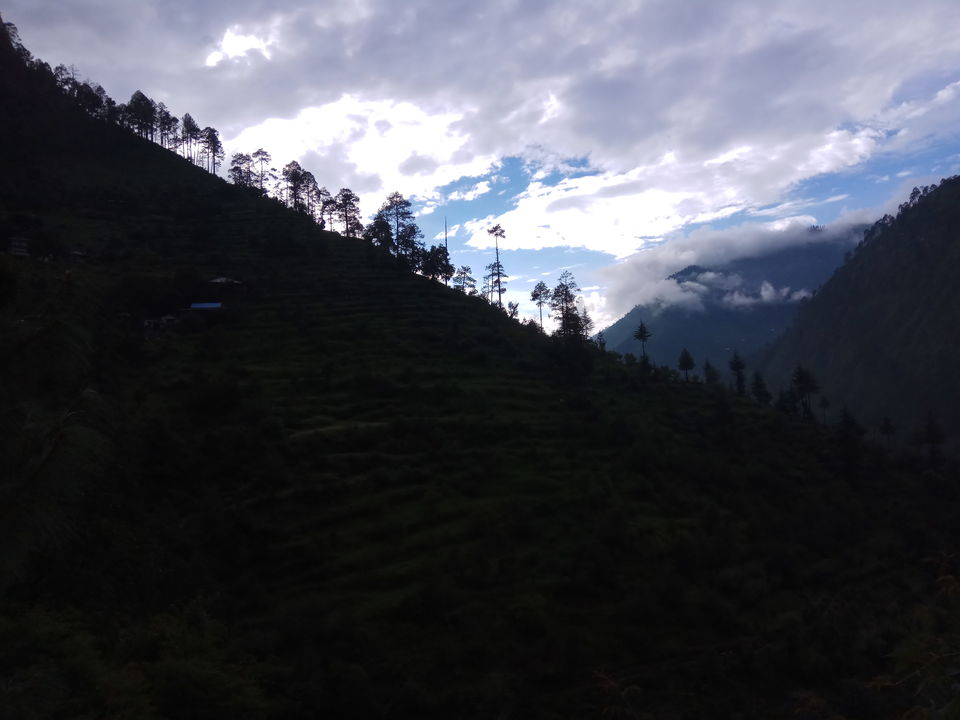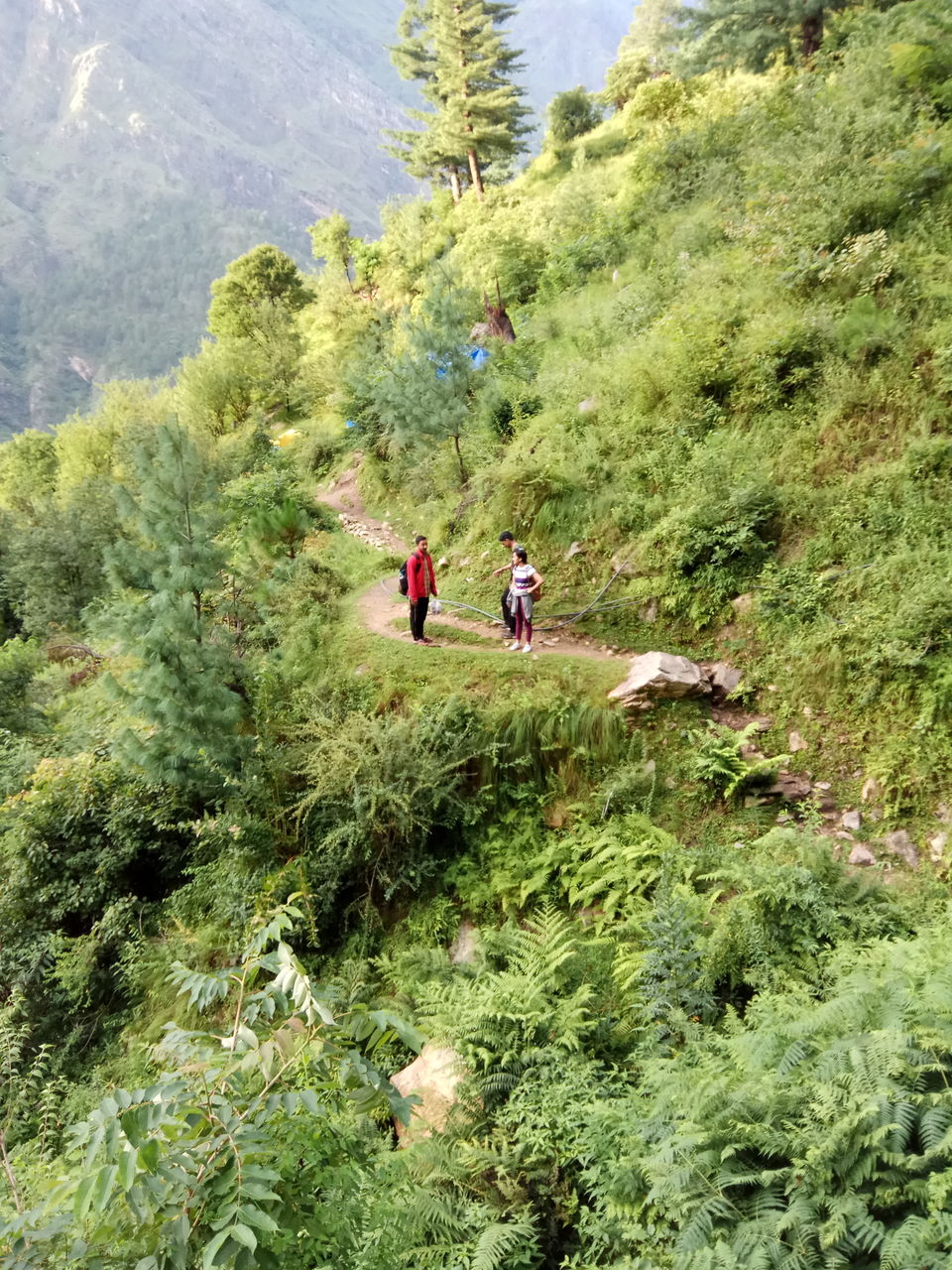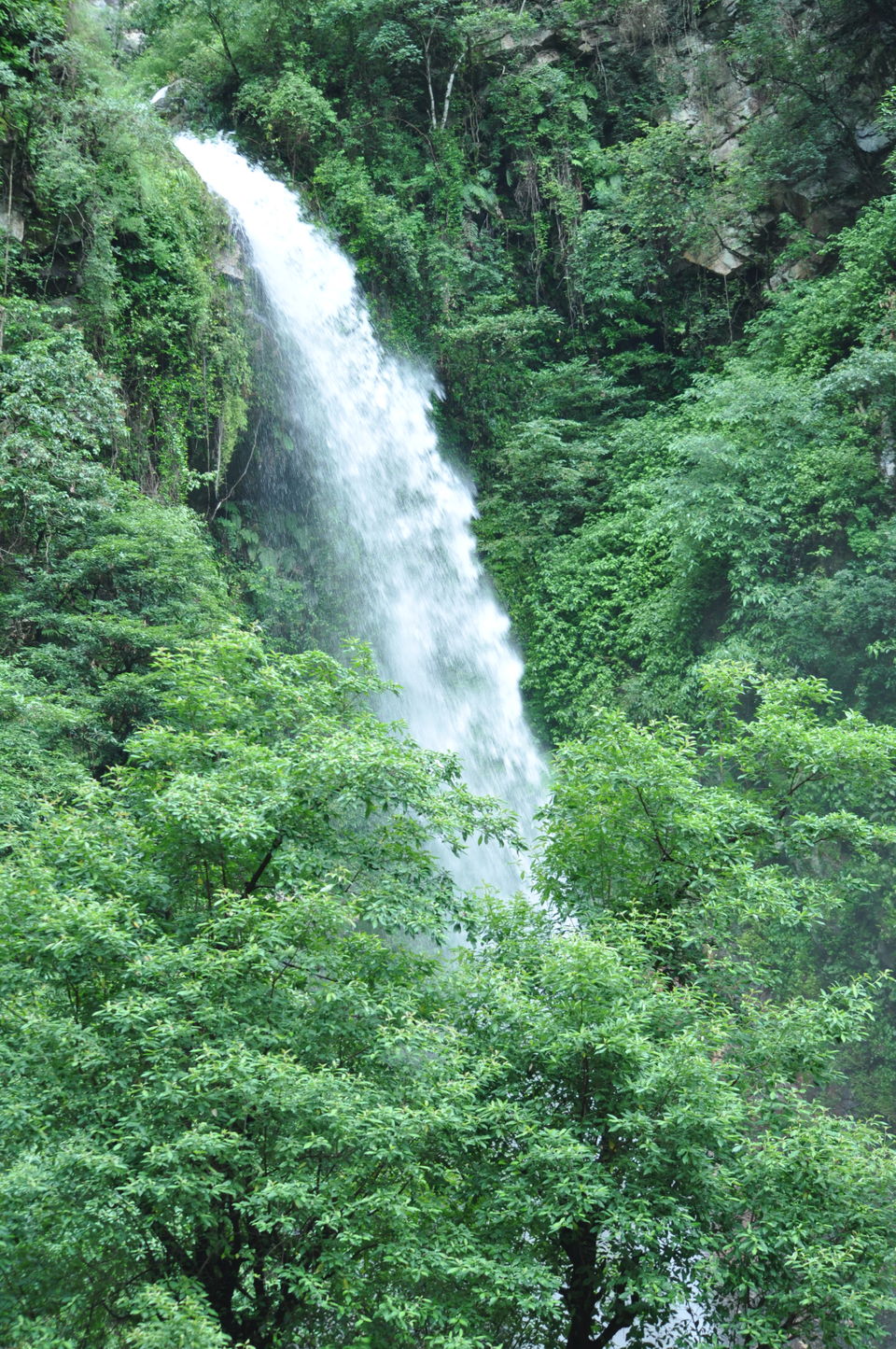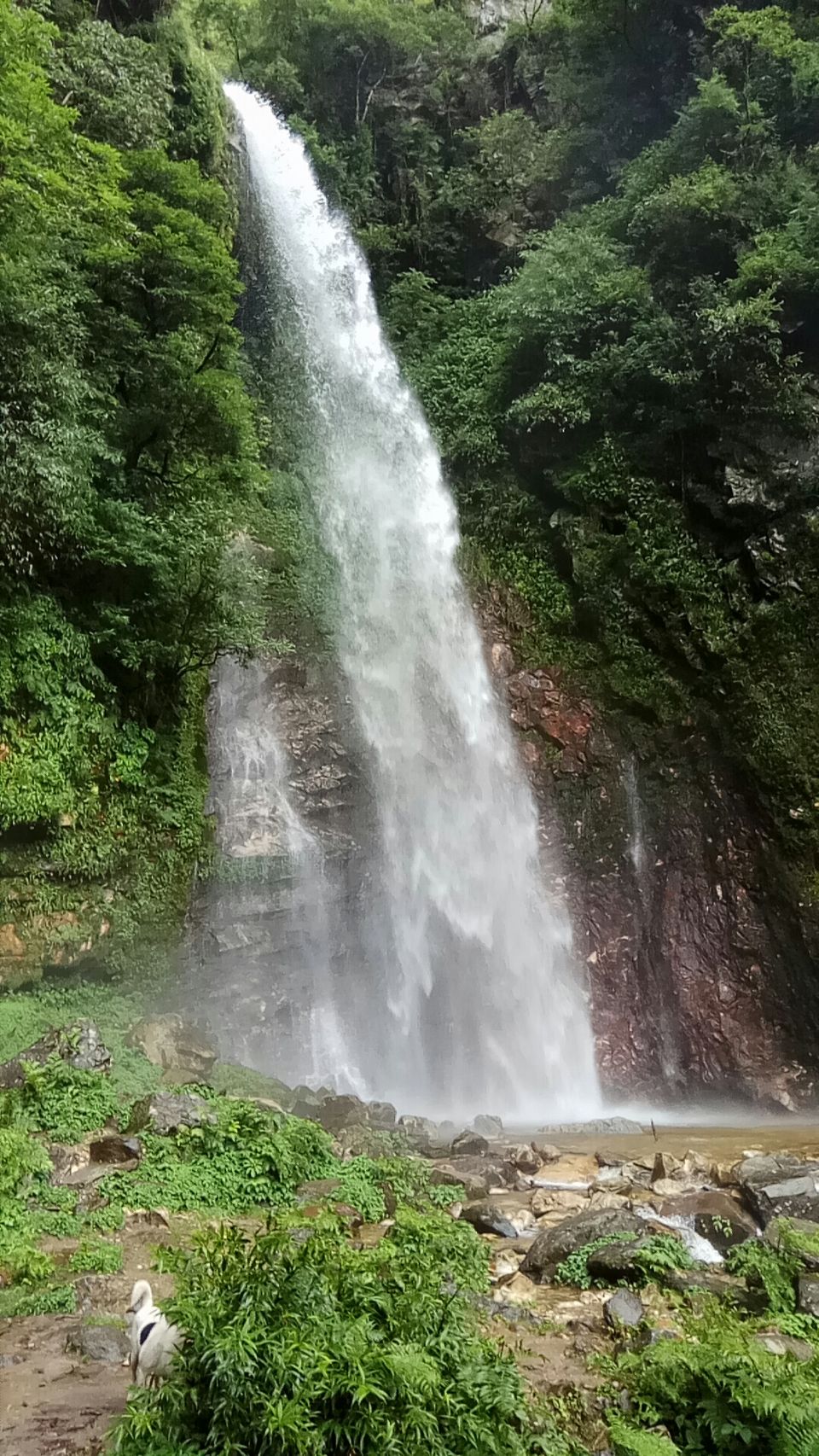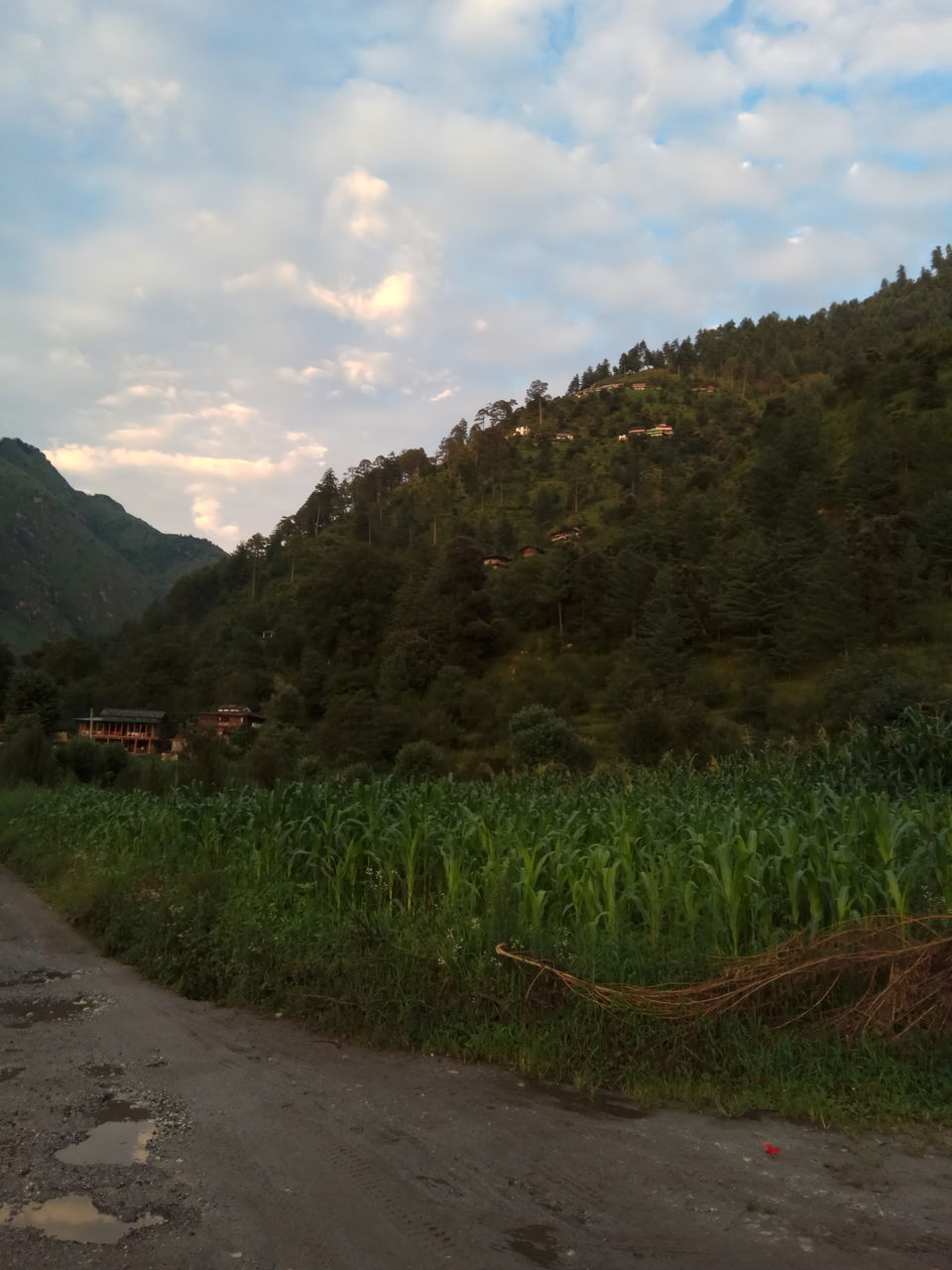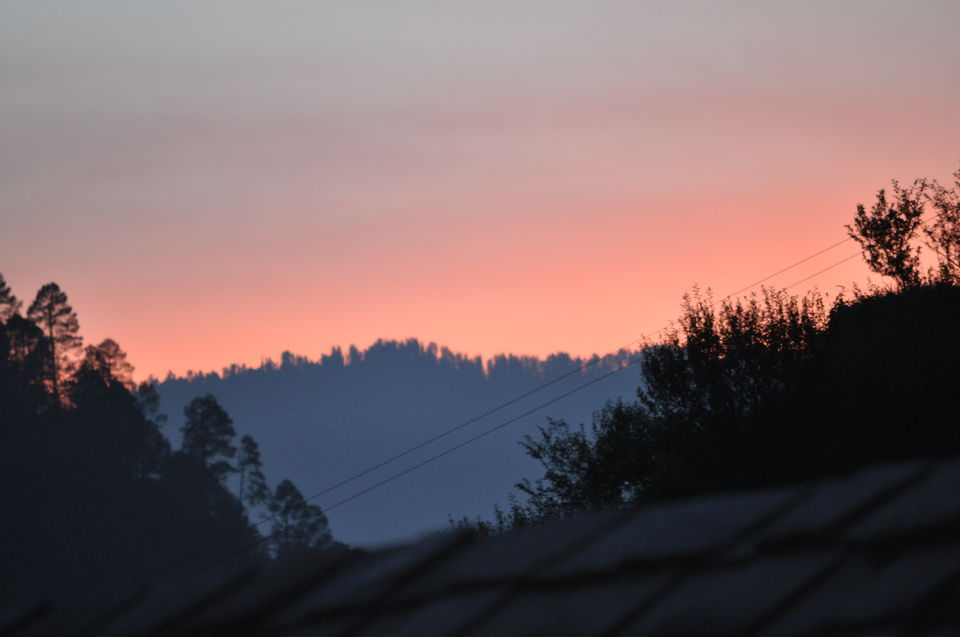 On reaching touch base we fed ourselves some 'pahadi maggie' and walked back to our resort. An hour later of refreshment we found ourselves enjoying a bonfire with some whiskey/rum/vodka and loads of chakna!
Travel triangle will arrange the bonfire for you as many times as you want (we fired a bonfire thrice the very first day!), But the hard drinks are our own responsibility. You can find a liquor shop near the resort, so either you can buy from there or carry liquor all the way from your home (we were carrying our own liquor from Delhi).
The bonfire was so much fun because of the architectural aspects of the resort. River flowing beneath you, fire lit on the portico, stars gazing upon you, hills wrapped around like a blanket and glasses clinging with happiness was the most perfect closure to this day.
Oh! I almost forgot to mention that the dinner they serve is foodgasmic! We were served - chicken, paneer, rice, roti and some hot chocolate custard. Eat as much as you want because it's a buffet and do over eat and overwhelm yourselves because you will have a foodgasm!!
Day2 was done and dusted and we had the most soundless sleep since we are all very tired.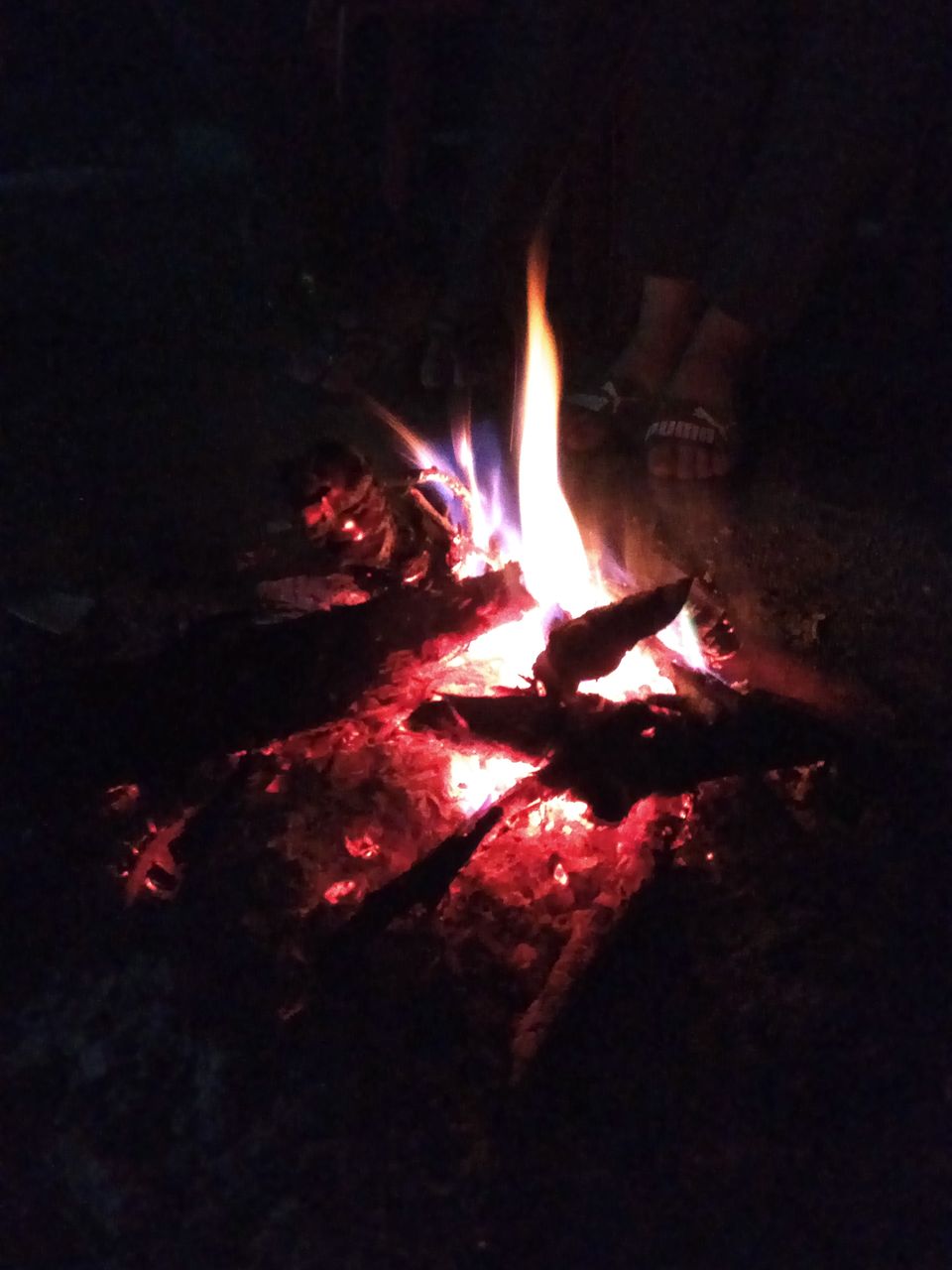 I woke up at 7:30am finding my friends snoozing. I walked out of my room into the portico and found my furry friend anxiously waiting for me. I grabbed a chair and sat with my feet up on the railing. I kept listening to the sound of the water while I slightly patted Jumpy (the dog who accompanies you on treks). I was so lost in nature. No memories from the city life. My soul was finding its oxygen in the nature. My soul felt like there are places where it can breathe, places like Tirthan!
We had a long trek aligned for today. Jalori Pass - a 10km trek that had great adventures and experiences waiting for us.
Gaurav (our coordinator) asked us to get ready by 9:30am, and we ate breakfast and left at around 10am. It was an 1.5hr long drive to Maa Kaali Mandir, which was our starting point of the trek. Do grab a few bottles of water as you won't find any halts/stalls until you reach the top.
Trekking is all about the journey. The destination is only a bonus. Usually I am high on photography while travelling, and am constantly clicking pictures. Today, I didn't care about frames and shadows, lightings or poses. All I cared was how amazing this place is. How amazing everything around me is actually happening in the very moment. Diabolical creatures have not been able to destroy this one little heaven and for that I am truly thankful to God.
We didn't care about the rain or the weather, the muddly path or the crooked path. We were high on life today, and we had decided to stay blazed. The trek was long. We started at around 12noon. Dead leaves made it a little easier at some places by increasing the friction. Although at some points we were experiencing some difficulties especially when one had to cross some mini waterfalls.
Halfway through our trek, Aman bhayyia made us climb a small hill present alongside our trek path (you would always have a lucrative experience with Aman bhayyia). This hill had the most amazing view. Dense clouds surrounded us. Tiny wild flowers covered the entire hill and the grass was greener that any filter present on any social app! After a few clicks later, Aman bhayyia suggested that we must meditate here. I took off my shoes. My friend fired up her portable speakers. Aman bhayyia played a spiritual track. We all sat on the moist grass, crossed legs and closed our eyes in the hope to connect our soul with nature.
We meditated while the track was playing in the background. Trust me when I say this. I felt surreal. I felt liberated. I really don't know about others, but I was in my spiritual/divine place.
Before I started this trip, I was in a mess. To the extent that only my best friend knew every hardship I was going through at that moment. When I met her at the bus-stand I hugged her tight and thanked her for being there for me. Couldn't include family for the very obvious reasons - did not want to be a disappointment.
I am writing this very personal piece of my life here in this social blog because I want to convey this to the world that when Kate Douglas Wiggin said - 'There is some kind of magic about going far away and then coming back all changed' she was hell right.
That session of meditation and divine connection with nature changed me a little. I got down that hill and strolled further leaving my crew behind. Found a rock to sit on, and stared into the sky through the tall pine trees. I felt peace. I realised what peace was. It was an emotional moment for me. All those bad/weird thoughts I had before I was here felt like a big mistake. I was glad I did not go through it. My karma and destiny were giving me hope and I was ready to be hopeful. I felt powerful and positive. Something I haven't felt together for quite some time.
My friends joined me after a while. We played some new songs on our portable and continued out trek. On our way to Serolsar Lake, Aman bhayyia narrated some interesting ancient stories - more like what locals have been saying over the years.
The lake is a place of worship. Many years ago, a 'tantrik' came here to dry up the lake (Initially it was so massive that no one had access to it). The lake got its holy aura when Lord Shiva visited Serolsar. It is said that there are two birds who are always looking after the lake and do not let even a single leaf fall over it.
While we were engrossed in these stories, we realised that it had started to rain. Carrying umbrellas or raincoats was a very wise decision. We had almost reached our destination. Everyone stopped at the tea/maggie stall and decided to rest (bad idea, always rest once you have reached the final point). Loads of hot tea, chocolates and maggie was consumed.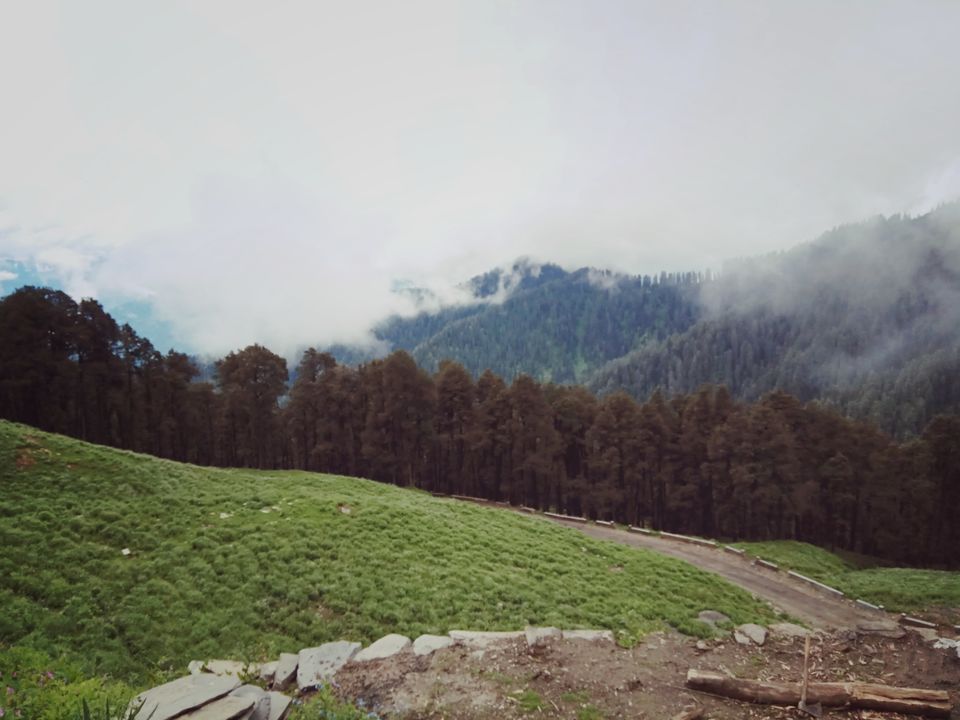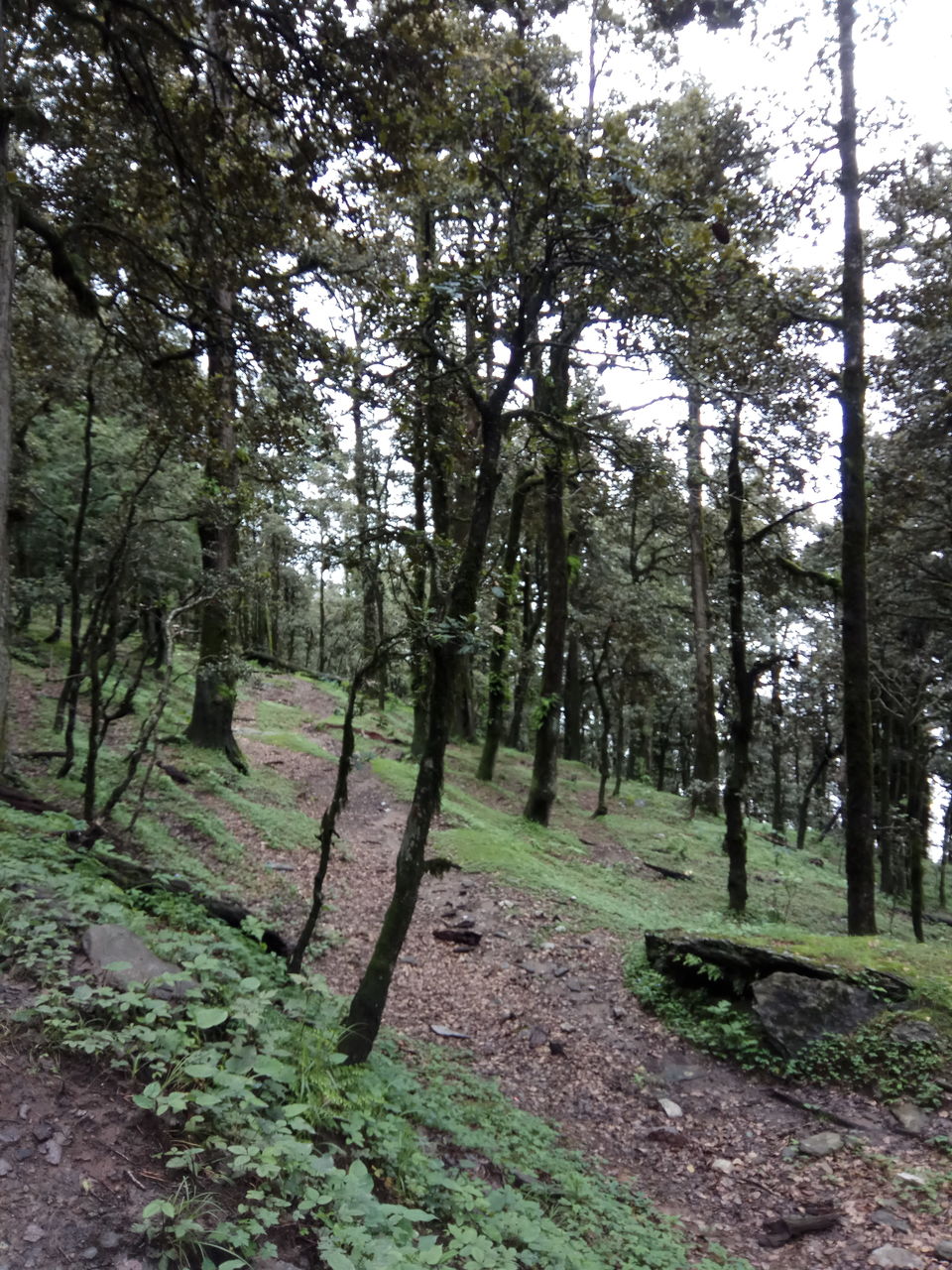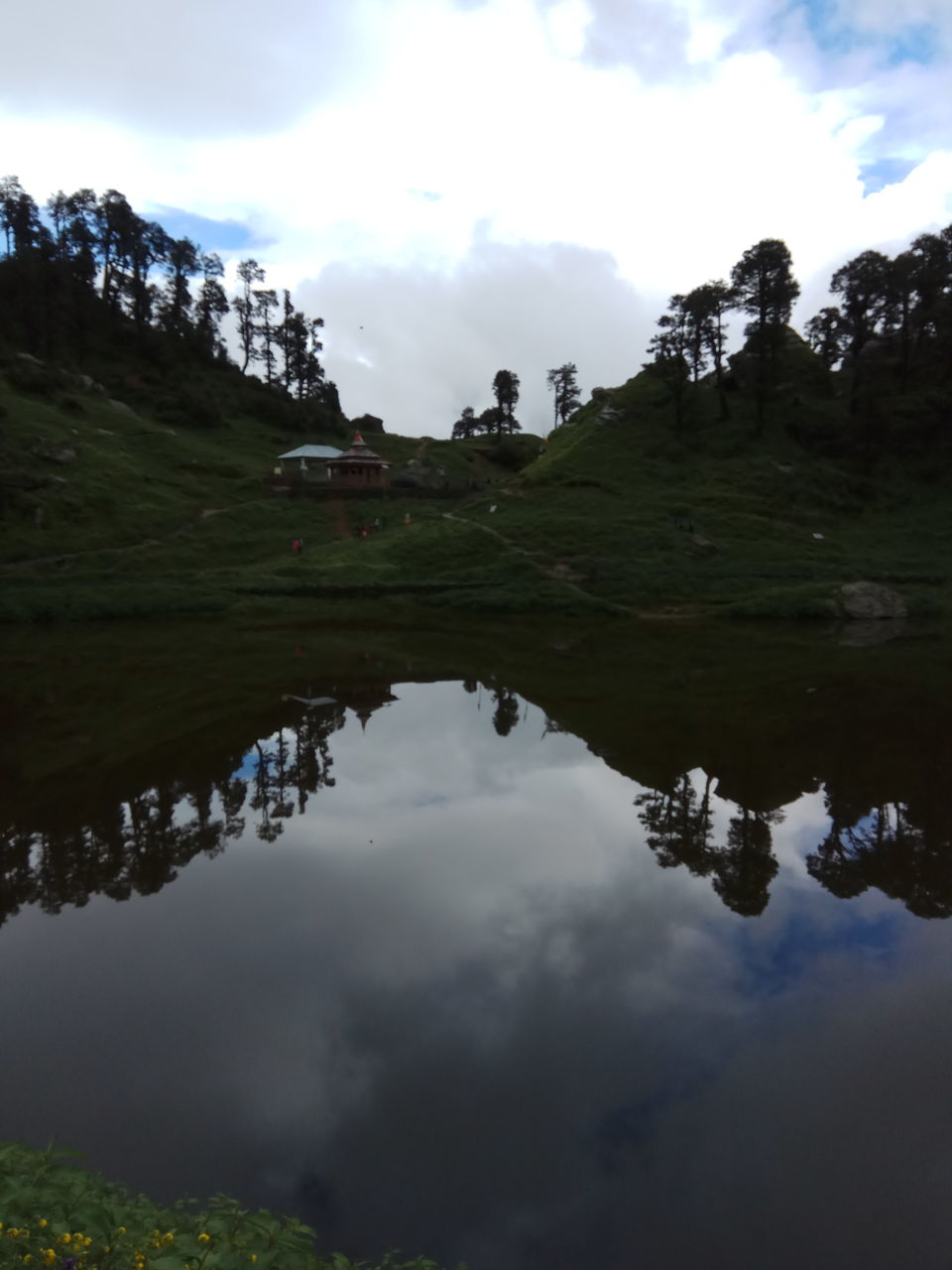 Once everyone started feeling 'okay' we started moving again. 5mins of downhill trek and there it was! The lake, pure and magnificent. Towards my left at a higher altitude was Mata ka Mandir and all around me there was this splendid aura that was wrapping around me. Its forbidden to enter the lake. We walked along the entire circumference of the lake. It started raining heavily and heavenly. I decided to get drenched in the rain and capture this moment. Every raindrop felt pure here. Every bird chirping felt like a melody. There was the sound of the breeze and the rain that felt like an orchestra. Indeed, it was nature's way of playing some music.
We climbed up the stairs to the mandir and halted until the rain stopped. In the meantime, me and my friends tried 'bidi' for the first time (all credits to Aman bhayyia).
Once the rain stopped, we climbed back to the place where we ate maggie, chocolates and tea. And the drill was repeated again. We also rolled some 'malana creme' (Hash). There is a different kind of fun when you trek after smoking up.
On our way back laughters didn't stop, stories were narrated again, memories were made. My friend fell down on the staircase and we just couldn't stop laughing. Her ass was artistically covered with mud.
Trekking back was also a task. The reason this trek is also difficult is because it requires mental stamina more than the physical stamina. On our way back we did make a few halts. In fact, plenty halts. We didn't rest at one place for more than 3-5mins (so that the body does not relax too much) but we did take breaks after every 20mins. Finally, we were back to the basecamp at 6pm.
I was really hungry (didn't eat when we were at Serolsar). Maggie and chai it was.
Soon we were back in our Traveller and was now heading back to the resort.
The drive was exciting. Aman bhayyia is preparing for a Rally from past four years. He is planning to drive or race or journey on one of the most dangerous roads in the world - Shimla to Ladakh. His practice sessions are with people like us. It was quite exciting for me and my best friend. Others on the other hand did seem to be worried or concerned.
On our way, Aman bought chicken for us to cook. Others stacked up their alcohol stash. We reached at around 9pm, refreshed ourselves and in the meantime the bonfire was lit. Some light music today with whisky drinks in hand.
Me and my friends bumped into two Royal Enfield lads. There bike was a beauty. They were too I guess :D. A boomerang joint session with them, and we were set to stuff ourselves with loads of good food and great sleep.
I resorted back into my room finding my friend soaking her feet in hot water. I joined her.
We both rewinded our day and felt blessed to have experienced this. Tomorrow is the last day and we both knew we didn't want to go back to reality. This was a happy place. This is where our souls were at peace.
Since me and my gang didn't plan to end it so soon, we decided to take a stroll in the night. At around 1am-2am we grabbed our cell phones, switched on torches and left to explore. I must say it was scary. We kept walking and suddenly felt something besides our legs. My friend screamed and when we looked around it was Jumpy! A sigh of relief and we knew now we are safe. Everything felt spooky and creepy at this hour of the night.
Other dogs kept barking - a sign for Jumpy to stay away from their territory. Jumpy was on high alert and I think so were others. My other two girlfriends saw something and they decided to go back. I didn't see anything, and I totally believe they had gone nuts. We came back halfway to the resort and then had a huge discussion as to whether they were nuts or well they were idiots !
Trekking makes you tired and you sleep within seconds. Day3 had officially ended for us.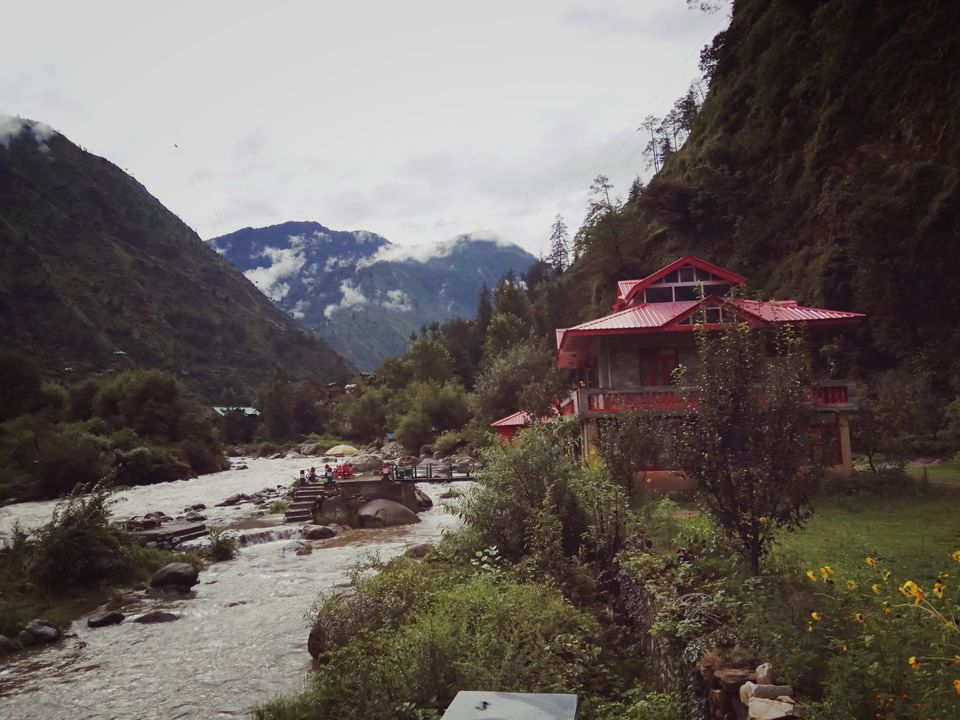 I woke up at 8:30am and started packing. I was interrupted by Gaurav (he had become somewhat like an acquaintance). We smoked up a joint together and then my girlfriends joined and then we lit up two more.
We decided to eat first and then get ready. It was checkout day for us so we did not waste time.
Everyone wanted loads of pictures at the resort so even though everyone was ready we wasted an hour in photo shooting.
A few group photographs were taken and our bags were loaded into the Traveller. We left for Chaini Fort. I had read a little about it, and it was restricted for girls/females to enter the fort. Also, it was more of a temple tower rather than a fort.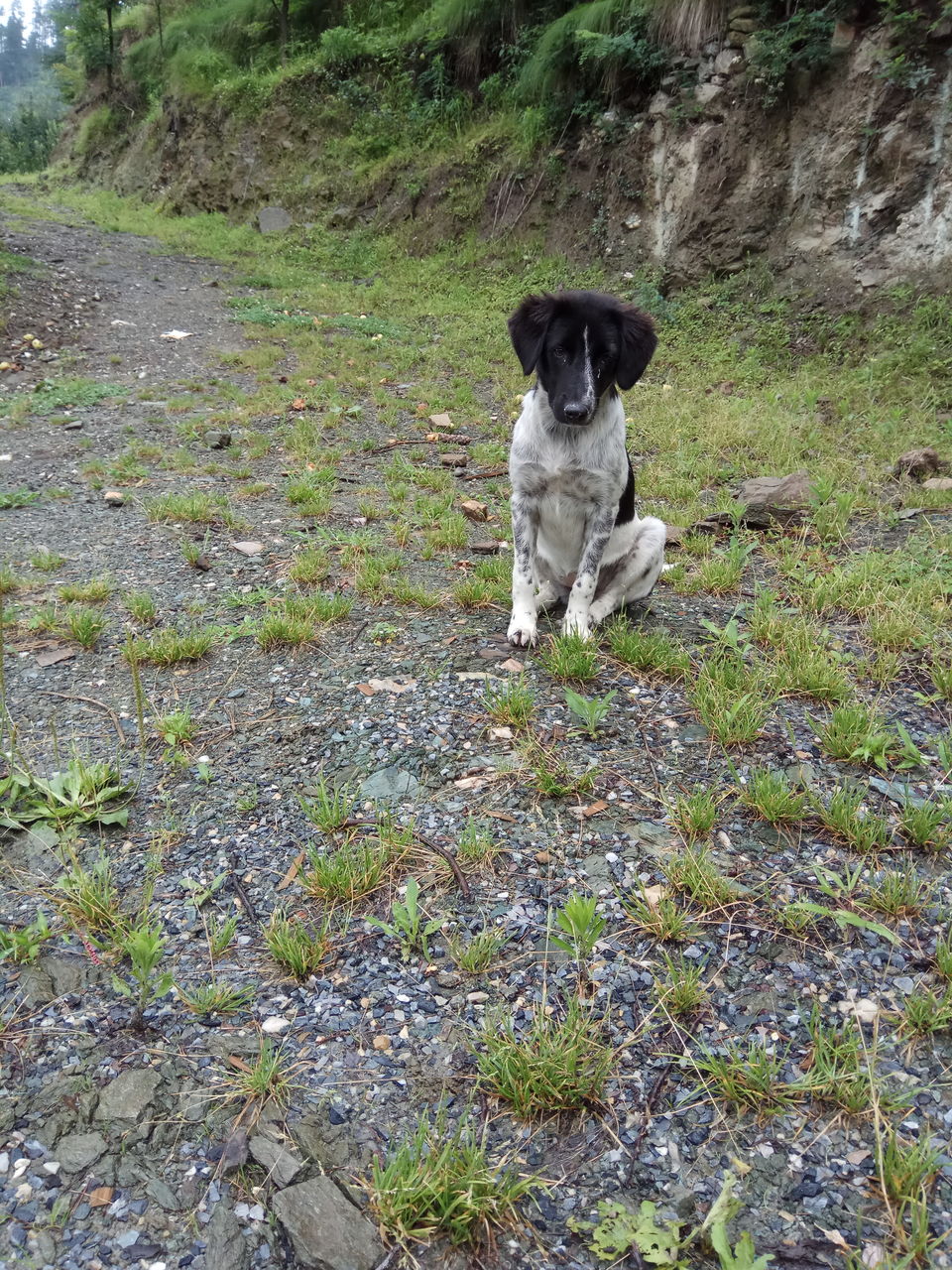 Anyway, I won't be describing anything about the fort, because I never went there. We were short on time and also really tired. We did climb up a huge staircase to find a temple at the end. From this point we had a 6km trek back and forth for the fort which in no way could have been done in 2hrs without any buffer time.
Although, we always have backup! Instead we trekked a little further. Found an amazing spot. Put down our belongings and started crushing stuff. My friend mixed some whisky and coke. I took out my dslr and we started photo shooting. Good music on the portable speakers and great company. Felt like the best possible closure to this trip.
We left from Jibhi at 4:30pm. Halted for lunch. We tried a local dish called 'Seedu'. The bread was the softest bread ever. Yummy spicy stuffing with some red coloured onion chutney. Looked great and tasted even better. We also ate local pizza which tasted much better than Dominos or Pizza Hut. Try everything and anything from this place and you won't be disappointed.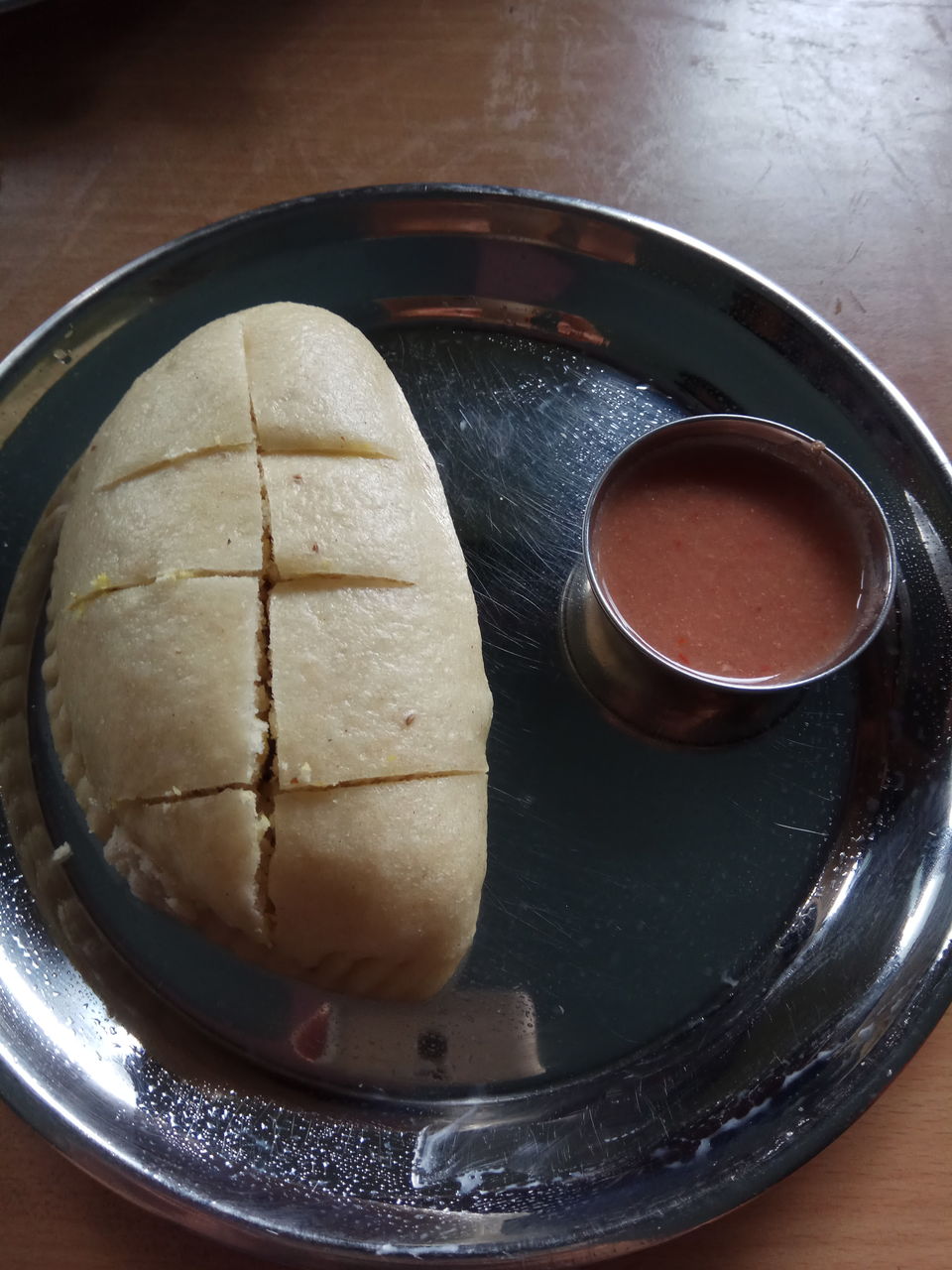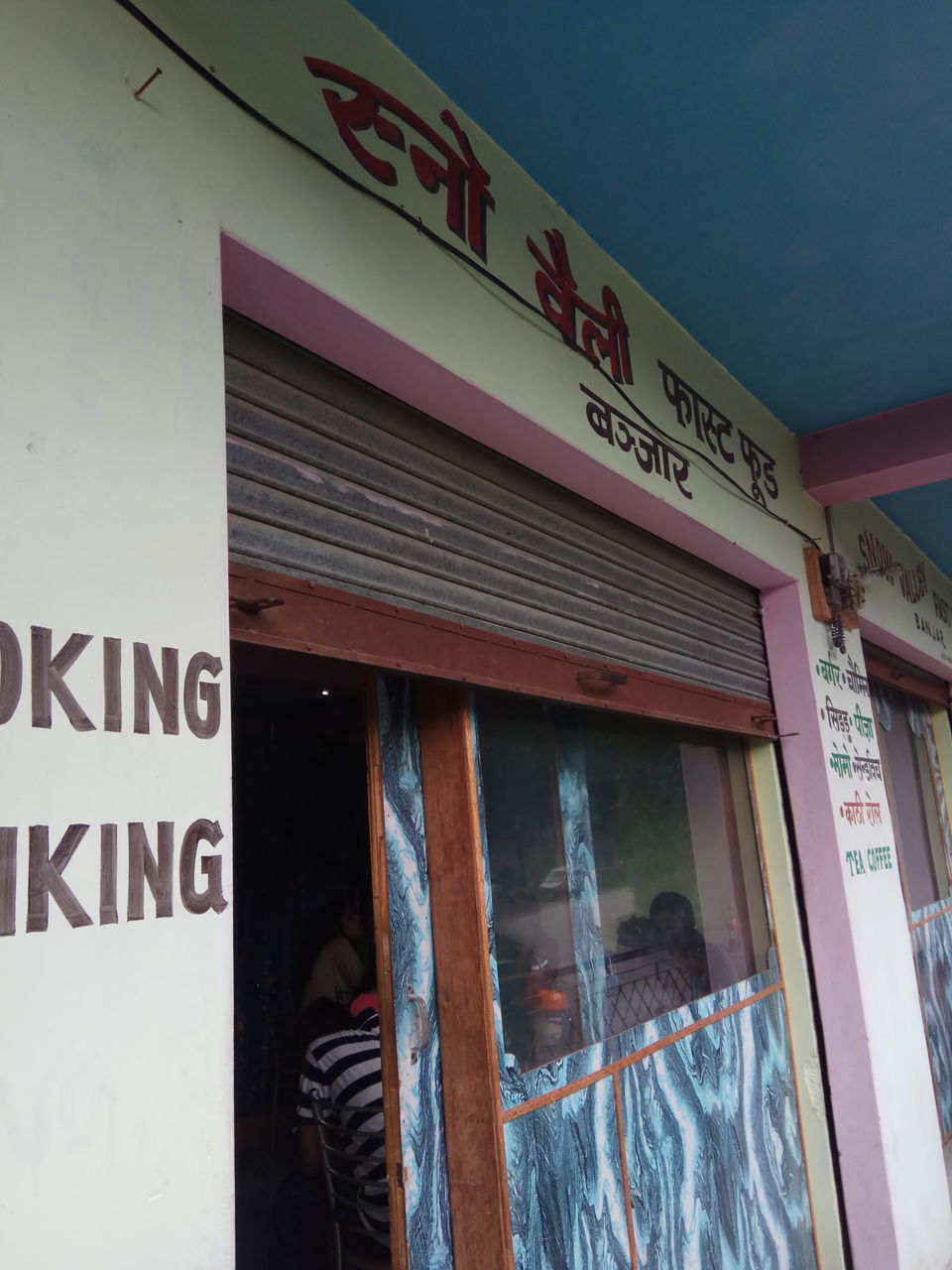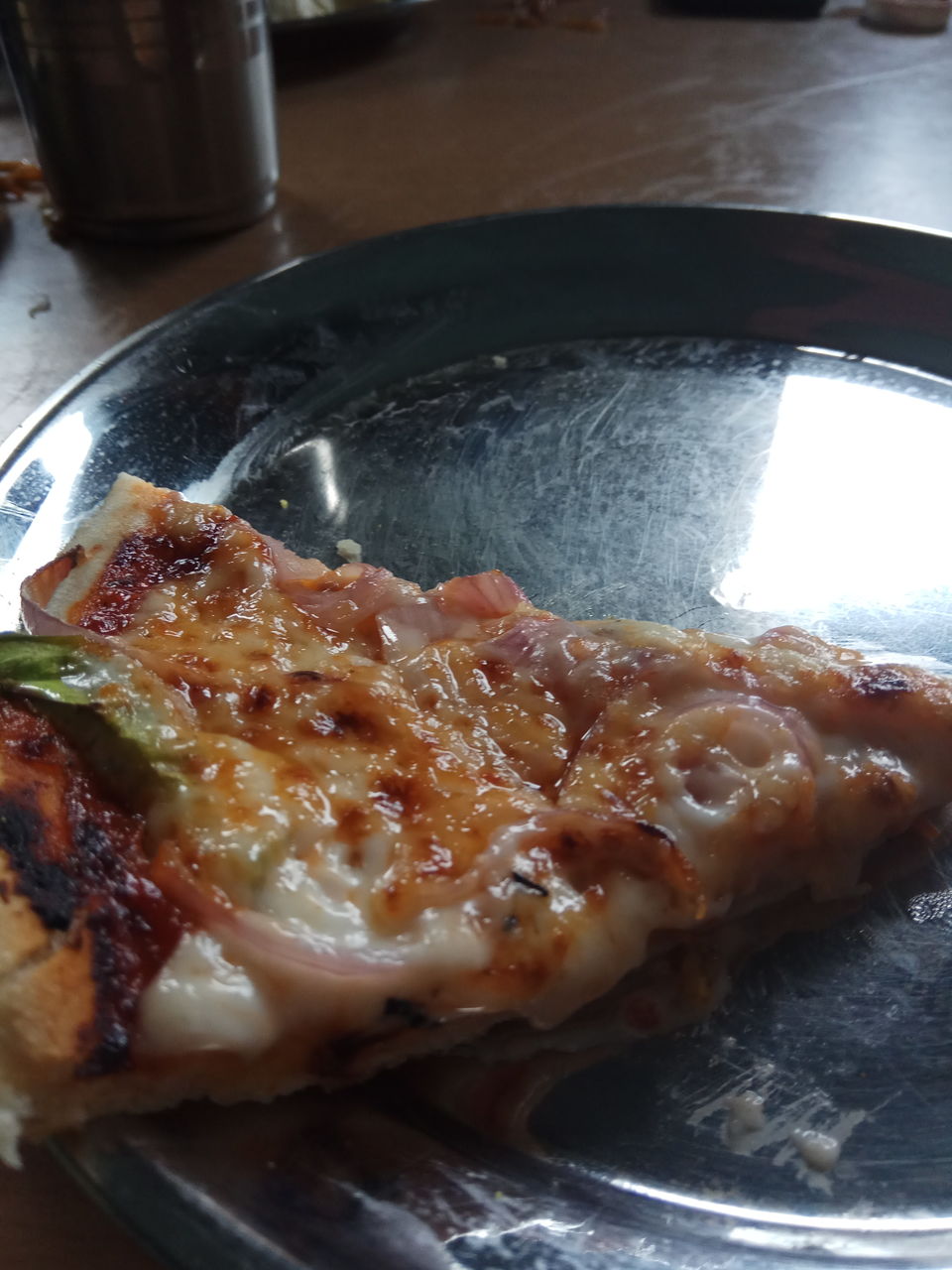 The Traveller halted in Aut market. This was the pickup point for our Volvo. The bus was coming from Bhuntar. We had around 2hrs to spare so I decided to blog. The market is a general market. Nothing you can really shop from here. You would find guest houses, homes, grocery stores, tea stalls etc. No 'maal roads' or main markets to shop like tourist.
We boarded the bus and left to go back to the city life reluctantly. Pandoh was the last halt (for dinner) we had before we reached ISBT Delhi.
The trip had come to an end and Tirthan was still not struck off my bucket list. There will definitely be a second visit to this little heaven.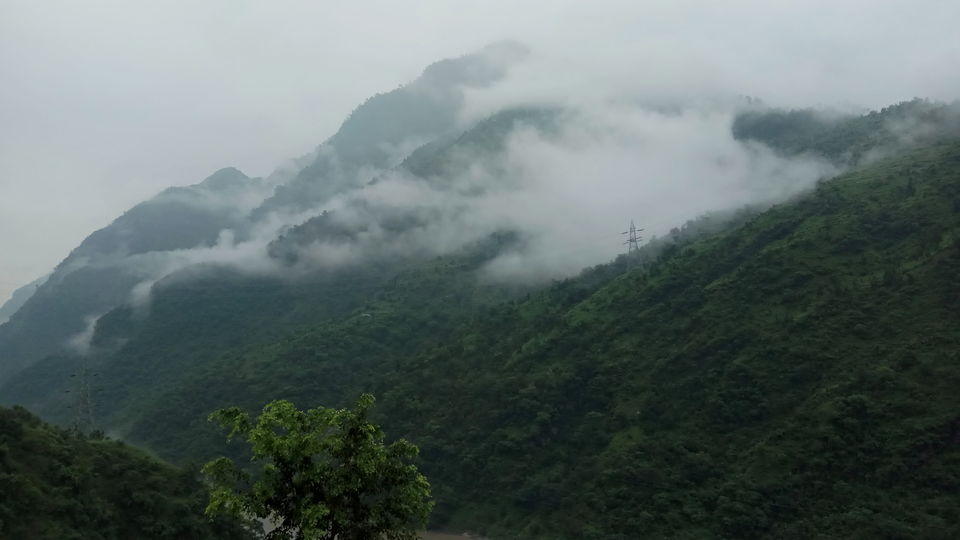 "Traveling. It leaves you speechless and then turns you into a Storyteller."
This was my story folks!
(To get your ads featured in my blog email me at blogitraveller@gmail.com)