When two millionaire weddings take place, one expects glitz and glamour galore. In the recent weddings of millionaire Atul Gupta's sons, Suryakant and Shashank that took place from June 18-20, 2019 in Auli, there was everything that defines a high profile event–Bollywood stars, politicians and flowers imported especially from Switzerland. While the wedding received wide coverage for its grandeur, there was something that the millionaires conveniently left behind – 4,000 kilos of garbage! Yes, you read it right.
The wedding has created a garbage problem in Auli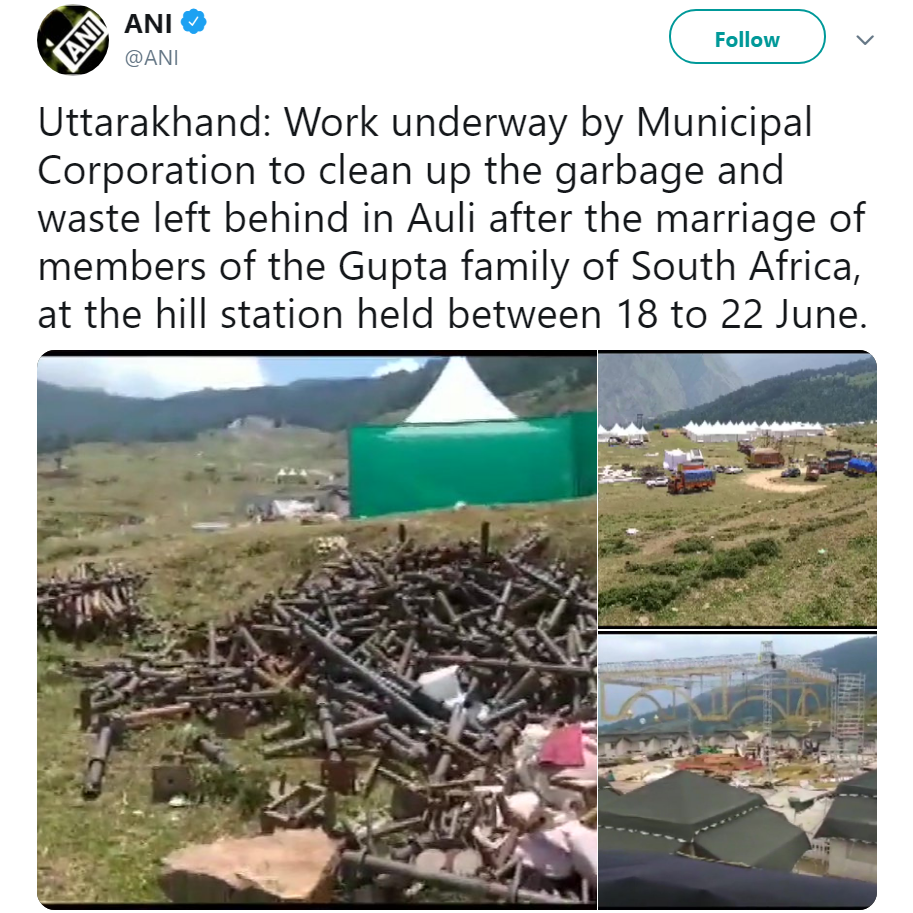 For those who don't know, Auli is a ski destination located at 11,000 ft. in Uttarakhand. A pristine tourist destination that remains fairly protected, Auli is known for its pure, unspoiled ambience that sets it apart from other hill-stations of the state.
The four-day extravaganza even received a green light from the Uttarakhand CM, Trivendra Singh Rawat, on account of the fact that it would boost tourism in Auli. However, even before tourism could be boosted, the wedding left the town trashed.
According to reports, supervisor of the Nagar Palika Parishad of Joshimath, along with a team of 20 men, 10 workers and one engineer have been deployed to manage the waste that has amounted to more than 4,000 kg till now. The waste constitutes of leftover food, plastic packaging, construction material and more.
In fact, every day, the trash generated in Auli comes up only up to 2,00o kg per day, however, thanks to the wedding, the garbage has straightaway doubled.
Not only has the garbage problem resulted in an inconvenience to the Municipal Corporation, but the locals too, are suffering due to this crisis. The wedding venue is a grazing ground for cattle, however, it is now strewn with hundreds of plastic bottles and packets that could be fatal if consumed.
Meanwhile, the vigorous cleaning drive continues and is expected to be complete by July 30, 2019.
It is disheartening to see families spend millions on weddings with complete disregard to the enchanting destination that it is being held at. Here's hoping that our destinations are respected in future.
Have travel experiences that you'd like to share? Create a blog on Tripoto here and inspire travellers.