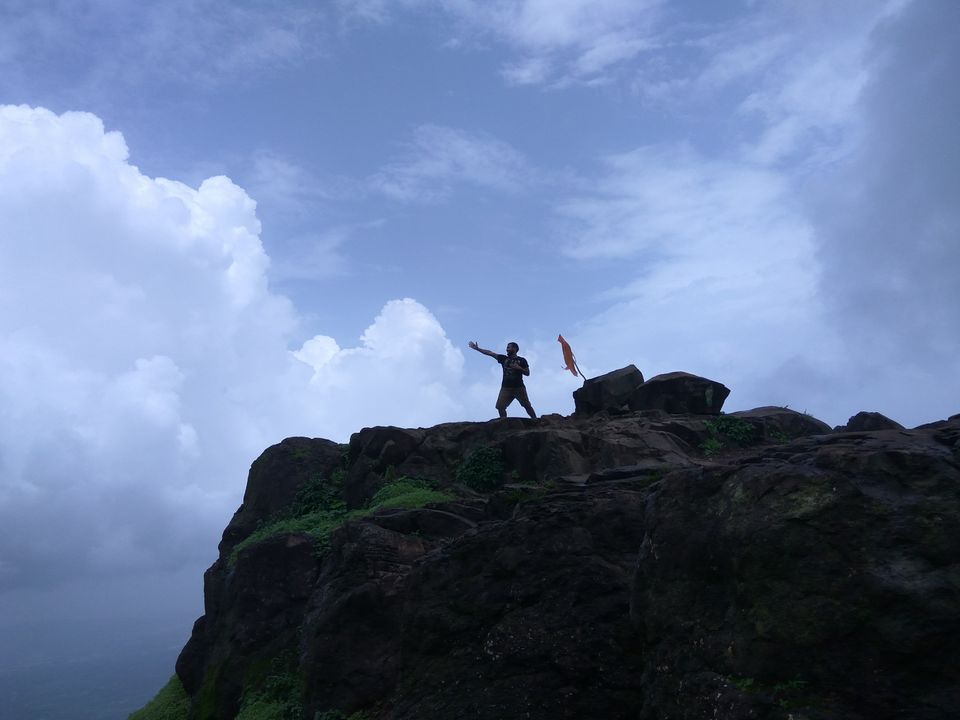 From having a spectacular panoramic view at its base camp, to a more than moderate almost eighty degree steep climb at the top. This short trek at Kalavantin durg makes for a perfect unplanned trek on weekends. An ascend timing of one and a half hour or two for seasoned trekkers and add an hour more for others this trek can easily be covered in a span of 5-6 hours including sitting time at the top and be back at your place before evening.
The trek starts at Thakurwadi village near Panvel in Raigad district which serves as a cornucopia of other short treks like Irshalgad and Karnala.
The public transport facility for this place is better than expected and buses ply continuously at an hour's interval from Panvel bus stop to this village. The Panvel bus stop is at a 5 minutes walk from Panvel railway station. An auto to Thakurwadi will charge ₹250 for a one way ride to Thakurwadi. For someone driving to Thakurwadi, Google maps is your god.
Here's a short video I made on Kalavantin durg- https://youtu.be/pADcs6C0sqc
***** This monsoon the admisitration has started charging ₹50 per person as entry fee and ₹100 as parking fee, so take care you have that extra cash. The trek has sprung up with never seen before eateries and non chargeable guides too on the weekend.
So how did we start our trek. We were undecided about Prabalgad or Kalavantin, as both have the same base camp. Prabalgad is a higher elevation but easy and longer trek, while Kalavantin is a shorter but more challenging trek. Both are juxtaposed, while Kalavantin stands out like a thumb, Prabalgad looks like the other part of the fist. It hadn't been raining for a week now so it was the right time to trek Kalavantin as rains would have made it doubly dangerous to trek Kalavantin.
So, we took the 6:30AM train towards Panvel and reached there around 7:15. After having snacks outside the Panvel station we took the 8'o clock bus for Thakurwadi, it takes roughly 35-45 minutes to drop you there. We started the trek around 9 and were at the top by 11:30 given my newbie roommates had been with me for the trek. Unfortunately, if you have been to Kalavantin earlier you will be disappointed to not be able to do the peak as due to rainstorm it isn't allowed for now and the way is blocked by the guide there. It would be better if one does the Prabalgad route as it is at higher elevation.
Trek description:
The crowd was more than expected, the bus drops you until the end of road. There's kutcha road for the village until the start of trek. You will also find a stream of clear water where if you wish you can bath too. The route is pretty straight forward and marked. As with other treks the usual route obtains elevation gradually, but you can take the shortcuts easily as it's very unlikely you will get lost. At every turn you can enjoy the beautiful view of the surrounding ranges and the city (I guess it's Panvel but not sure). Once you arrive at the base camp you should take some time and rest here. It's a small meadow and you get the isolated view of both Kalavantin and prabalgad. There's also wide and beautiful stream of water here through the rocks, so you can get some respite from the heat and also get yourself clicked. Also, the trek gets difficult from here on as it gets slippery and muddy and the climb gets more steeper. After moving forward from the base camp, ask the guide for the route towards Kalavantin as here you have two different routes for prabalgad and Kalavantin. From here on you have around 30-45 minutes of climb left, but it's more daunting than the earlier walk and one should make use of both legs and hands for the ease of it. Towards the end of the trek you will find a structure of huge rocks and narrow stairs carved into it and many get scared here as it's a steep climb and the stairs are taller and narrower than usual without any protection or railing also given the rains it's slippery with all that algae formed over time. Take some time to enjoy the breathtaking view from here and get exhilarated. Look down and your heartbeat gets faster and then again move up. After you reach the top you can proudly tell your chaps you did something great today. Take your time to rest and enjoy the view of Prabalgad and how the clouds play there little own game here.
While coming down take care you don't get overexcited and descend with care as it's slippery and you can easily hurt yourself.
I hope you enjoyed this write up are motivated enough to do the trek. You can ask me any questions related to the trek and I will gladly reply if I can.
Thank you