Since the day we started the trip till today- when it's been 4 days that we are back- I kept thinking about the start of this post. I wanted it to be interesting or a little funny, basically something different than my usual style. I am afraid, I couldn't come with anything intriguing. So, I am going to answer few questions about the trip and keep it simple.
Where,When, Why ?????
Answers to these questions will be enough for you to be on road and explore this part of India????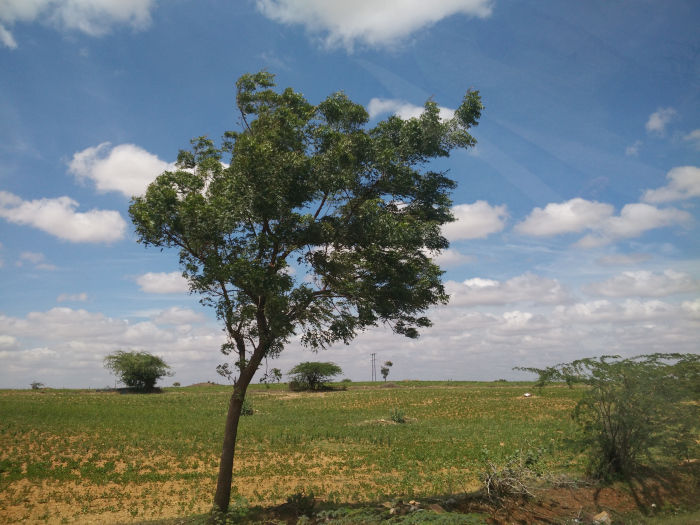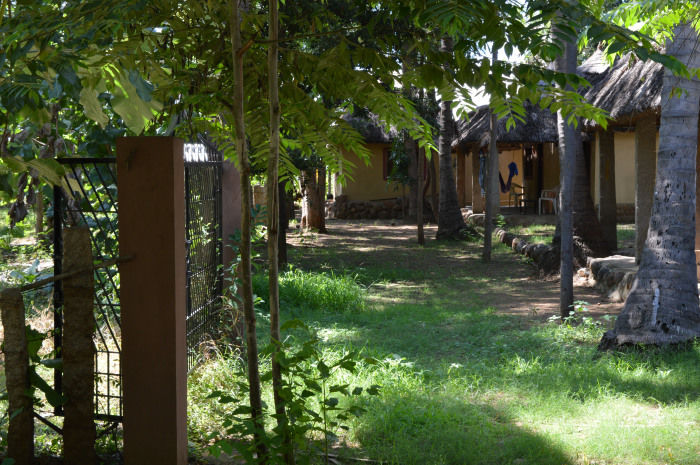 Where
We went to Hampi on a road trip from Bangalore. We had planned to go to Badami from Hampi and hence going by own vehicle seemed convenient. Here is the route that we took.
Onward journey:
Bangalore->Hiriyur->Chellekere->Torangallu->Kamalapur->Kampli->Gangawati->Hampi
The route after Hiriyur is via villages which does affect the speed but the view is amazing. During one stretch of the road I wondered if I am really in India. The farms never leave you even for a kilometer. This was the time when I realized how rich our country is in terms of farming. Sunflower, rice, cotton, beetelnut,pomegranate, chilies and what not.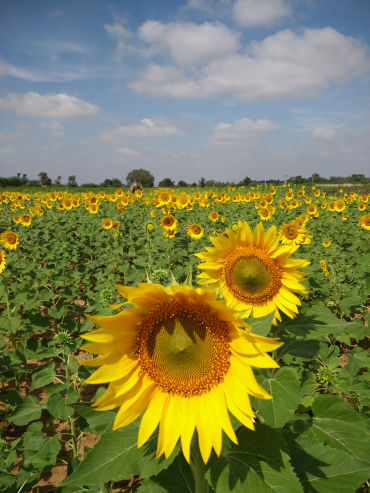 By the way not just the village part of the route but even highway from Bangalore to Hiriyur is worth the drive. Highway is bordered with acres and acres of coconut trees. I still don't get it why coconut water is so costly in Bangalore????
Forgive the quality of pictures. I couldn't take better pictures from moving vehicle.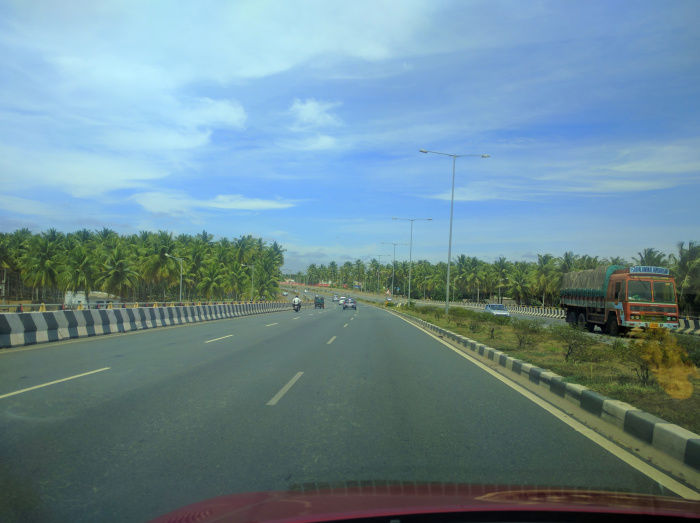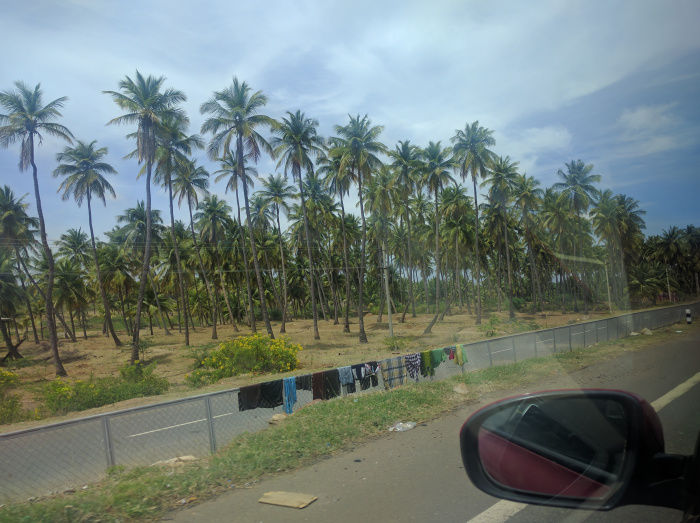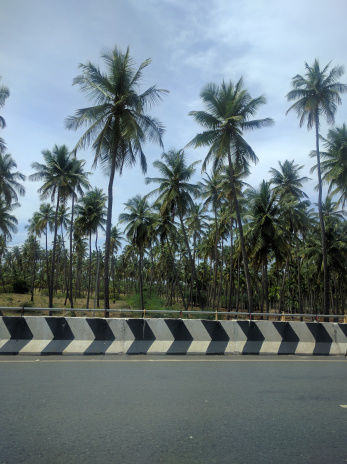 Remember how we used to draw pictures of nature in childhood. Yeah the one with two mountains, 3-4 clouds in the sky , a tree and some grass. Ever wondered why we drew like that, here is the reason!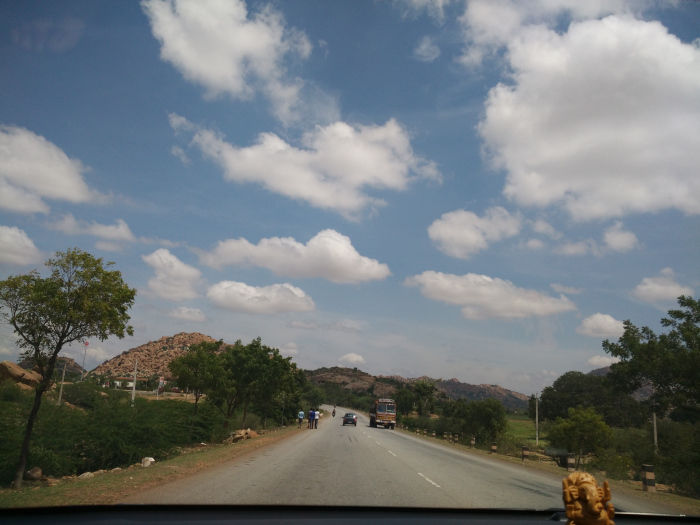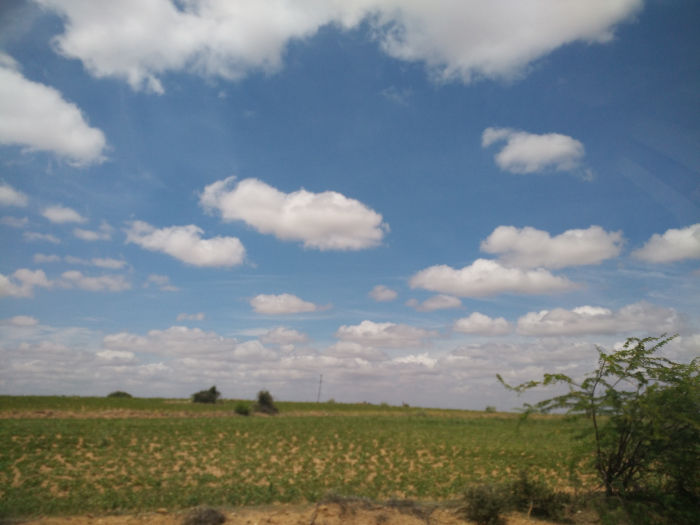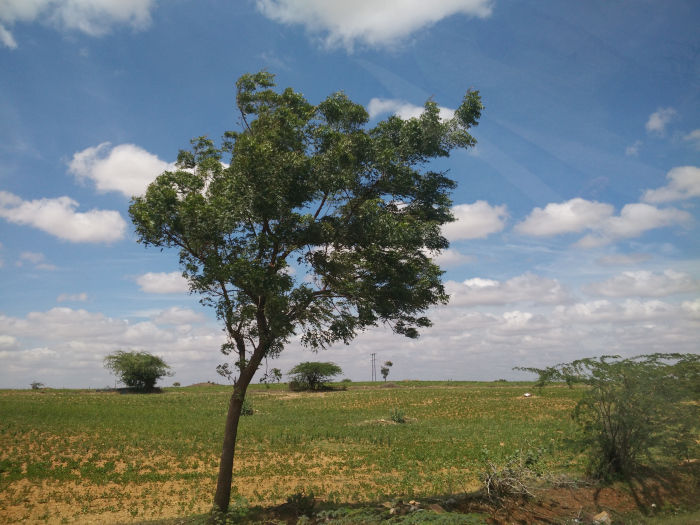 The best part of the road trip was to see the sky. Clear, infinite sky! The color of the sky changes as the day passes, as weather changes!
Unfortunately,this route was quite lengthy and there is hardly any motel to halt so better carry food or at least some snacks with you.
While coming back we followed route via Bellary, which again goes via villages but you have state highways to make the journey a little more speedy.
Hampi-Gangawati-Kampli-Koppal-Kurugod-Bellary-Hiriyur-Bangalore
The national highway stretch from Hospet to Chitradurga is undergoing some work (proposed to be completed by 2018) so better be avoided.
We made a trip in the month of October which is supposed to be the best season to visit Hampi. Although days were quite hot so good to carry sunscreen, sunglasses and sun-wares.
Even if you forget any of the above things, you get everything in Hampi! This was my buy in Hampi. How's it?????
Why
Here comes the question! WHY? Why did we choose to go to Hampi. Well, because we are lucky. As Indians, we are lucky! We have many many more options than any other people from any other part of the world to explore in own country. Deserts, beaches , mountains, lakes and still we have got more to experience. This time it was time to go into world of boulders!
Hampi is known for the Vijayanagar's devastatingly beautiful ruins and temples spread across the boulder covered landscape. The history enthusiasts will have a time of their life here and so will the photographers. I will not bore you with the ancient history anecdotes but will definitely show you a glimpse of the architecture.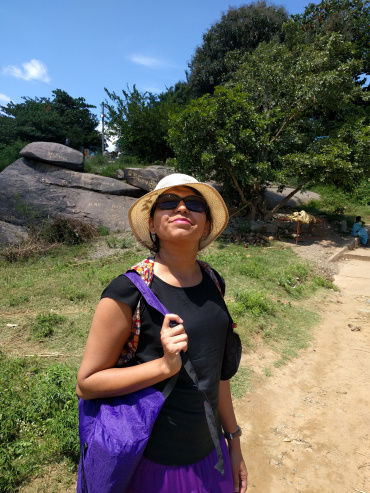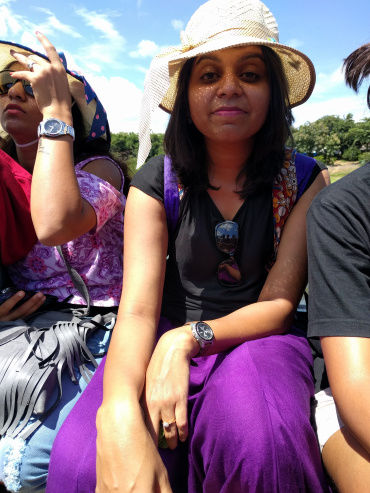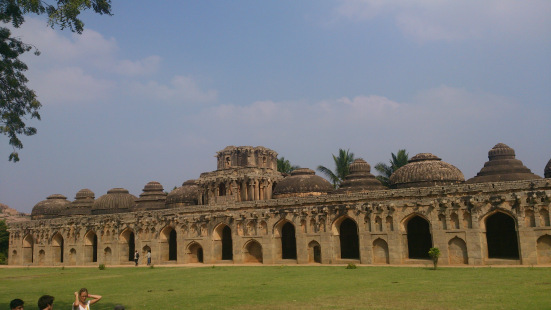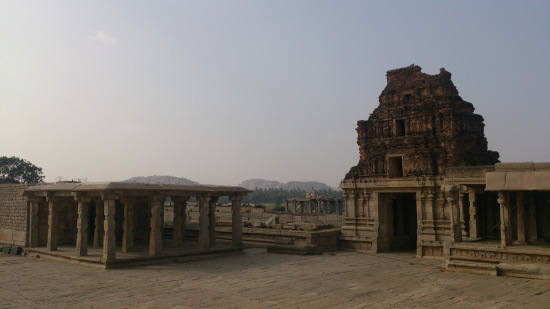 I keep saying that I am a mountain person. What keeps me grounded is the mountains, hills covered all over with greens. Be it Munnar or Triund, it's the green carpet of tea leaves or the tall trees which soothed my senses. But, this time it was neither the tall mountains nor trees but the greenish yellow carpet of paddy fields which made me go, OOOH MY Gawddd!
What people do not propagate is the laid back ambiance of Hampi which is on the other side of the Tungabhadra river. We experienced the contrasting cultures at the same place. The temple side of river depicts the rich, traditional culture of Vijayanagar empire while the other side is for the hippies. The short lane crossing the village offers river view and paddy field view restaurants. By restaurants I mean Indian relaxed style sitting with trans instrumentals playing in background. And to my surprise, it was not the foreign crowd which made this quite village a hype place but it was the majority of Indian young crowd. They have just found a different kind of substitute for Goa. The vibe is exactly like any hippie place in India. You will see what I mean when you are there!
Thus, this is one way of relaxing amidst of hukkah and booze, which you can do in any metro. What makes Hampi a special place is the road which goes towards Goan Corner/Bobby One Love restaurants. (ignore the names and ask any local for these places)
Goan corner is the place to experience the peace, in real way. The owner couple welcomes you with warmth so do the staff and the dogs. It's a quite huge property surrounded by boulders and paddy fields.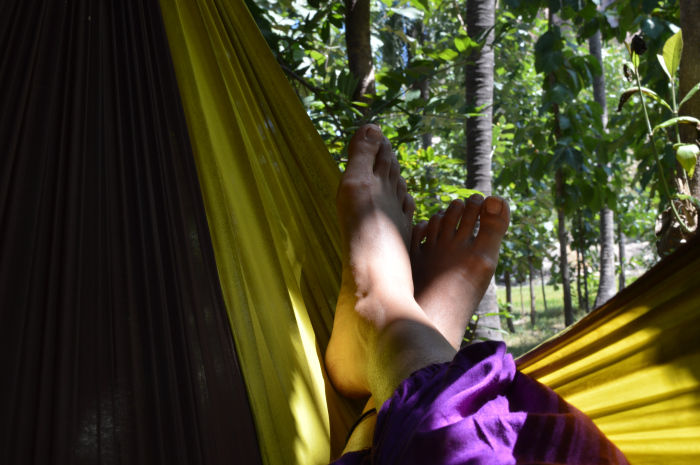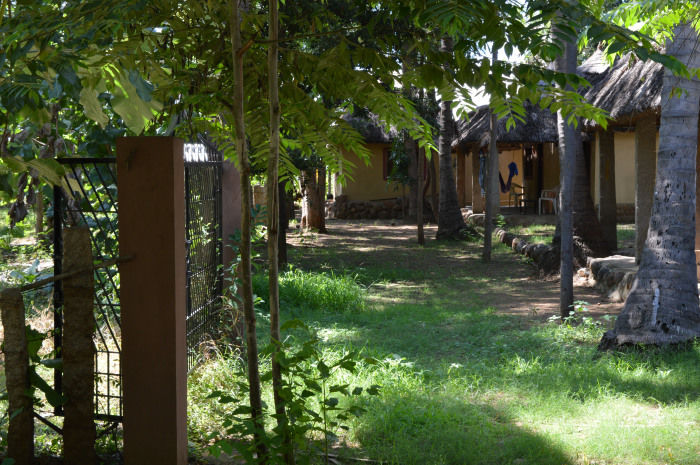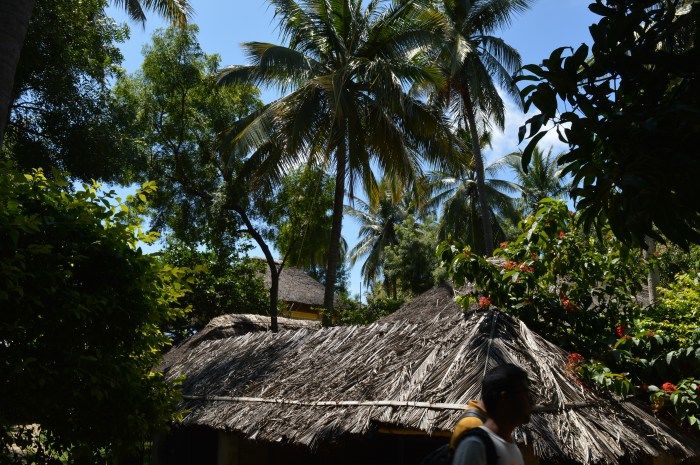 I must tell you , we had the best cuisines here, right from Israeli,Mexican to Indian. We were not sure of how evenings would go as there are hardly any entertainment options and if it starts raining and electricity is available only in dining area then do what?
Well, the homely vibe at Goan corner is the answer to it. People come under one roof and without any hesitation mingle with everyone. We were 3 different couples/families on one table from 3 different countries and had the best chat over a meal. There are one of the few perks of traveling. You meet new people, introduce yourself with different cultures , smile, laugh, talk, share and pass time in the best possible way. Having long conversations with complete strangers is my favorite pastime and I can't explain why.
A hill nearby is turned into a sunset point, not by locals but I guess by the travelers. Anjani hill/monkey hill is the popular sunset point in Hampi but we preferred walking few meters and a short hike nearby. Let pictures speak for the view.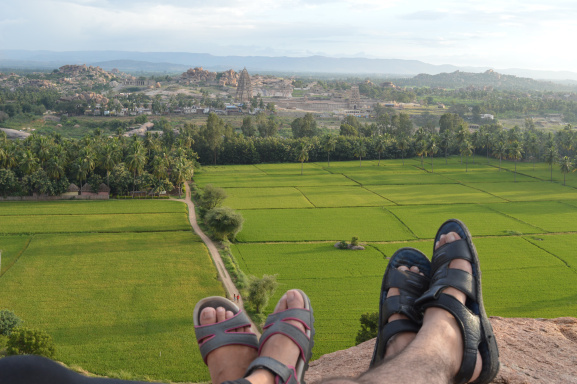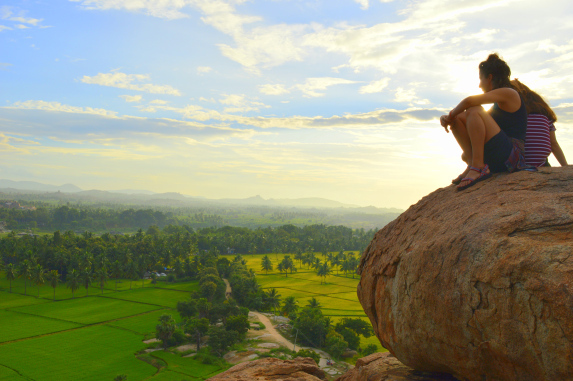 Also , there is a Sanapur lake , 8 kms away from Hampi which is again one of the peaceful places to go to. We didn't try the coracle ride but I would love to know your experience of the uncomfortable ride????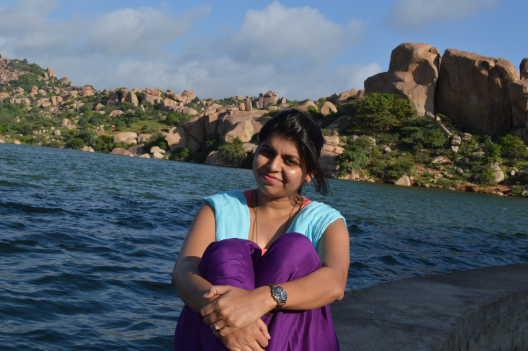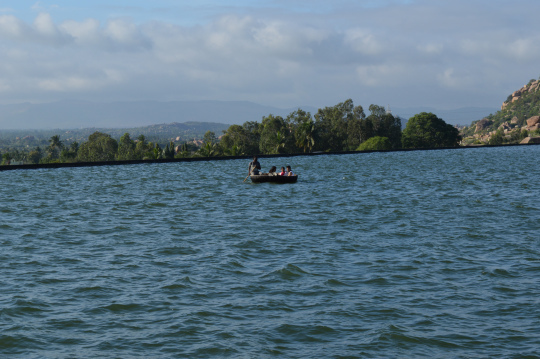 Well, you would have observed, I don't have much to write about this particular trip. I have just given is the facts and know hows. Sometimes the pictures or even the words do not do justice to the overall experience.
I can't describe the feeling of looking at the setting sun , carpet of paddy fields and a temple far away. All this with complete group of strangers sitting on huge boulders. While walking down the hill, almost 20-30 travelers especially Israelis gathered and started playing random music. How exciting it was! I could not capture the vastness of boulder-strewn landscape. On another note-I absolutely love rice. I can have three meals of rice everyday and walking through the paddy fields made me fall in love with rice even more. No Kidding!
Traveling 1100 kms with my spouse for 4 days was like reviving our relationship. Every trip, every experience brings us closer and we grow stronger.
Hampi was special and will always be. I would suggest not to do the same thing which we do in cities. Loud music, alcohol, hukka is available in cities and almost every touristy place. Go and experience the peace, learn the simplicity of village life, walk in the fields, hike the boulders, observe the carvings and yes gorge on multi cuisines.
Hope you have a wonderful trip!
Here are some random pics which I could not fit into the post above.