I have always been in love with travelling ever since I can remember. And no matter how or when - if I get an opportunity, I am almost always game for it. It was but a chance encounter that this trip happened. Without getting in to the last minute details and other such boring stuff, let me just get on with it. Although, it was my third trip to Kasauli, I enjoyed it nontheless.
Kasauli is one other destination (apart from the 'mighty' Lansdowne!) which holds a somewhat special place in my heart. Its where I have had some of the most wonderful memories, just after I arrived in Delhi (I think it was the year 2005-06). I have been to Kasauli a total of 4 times now, and not to mention the innumerable times I thought of going there but couldn't because of the daily chores of life. Still, each time I visit Kasauli, it seems just as timeless and beautiful as ever. Kasauli, as a place has helped me in my personal growth too, not literally but otherwise, ofcourse! Kasauli is perhaps the nearest metro station from Delhi, if we don't consider Lansdowne that is. It is also one of the most serene and picturesque hill station (or rather a little town) lying in a cradle of clouds in the beautiful state of Himachal Pradesh. The weather there is almost always perfect, the locals ever so cheerful and helpful, and ofcourse the ambience is just perfect to spend a lazy weekend.
Like Shimla, Kasauli was also developed by the British and hence you would find a certain colonial charm to it, but it sure is not quite 'changed' like Mussoorie or Shimla has over the years. It has not been commercially harnessed for tourism and hence it still maintains that beautiful green cover.One other reason which I could think of for the extreme cleanliness of this beautiful town is the fact that it is a cantonement area and because the defence forces maintain it, the place is bound to be so neat and tidy. The first time I went to Kasauli was the winters of 2006 when, during the summers I just wanted to break free from the hot and humid weather of North India. That is when I discovered this beautiful place and have been hooked on since then.
At 6000 feet, located amidst tall and slendering pine trees, and wild and beautiful flowers, Kasauli is sure to drug you as a visitor with its beautiful scenic beauty and cooler climes. Major attraction in Kasauli are ofcourse the Christ Church, the sunset point and the wonderful beauty of the place. I mean, look anywhere, shoot from any angle you want to or take any road you can find, just exploring this place can be such a wonderful and satisfying experience, overall. What's more, as you walk through the unknown roads,you feel a sense of reasuurance which is the result of the gorgeous ambience - a feeling which surely permeates into the skin and onto your brain. All of a sudden, the energy that the urban life just sucks out of you seems to come back, and it all bounces back and how! Having your closed ones near you during such times is pure bliss, and there is no better place where you can share some of the most intimate (and quiet) moments with your better half.
If you are wondering what one can do in Kasauli, then, I will love to write 'NOTHING' here, because it is a boon for people like me who come here to just relax and do nothing, but for the sake of others, here goes. The best thing U can do in Kasauli is go for long and leisurely walks.
- You can also take a long 4 km walk from Bus Stand to the Monkey Point, the highest point of Kasauli which also has a temple dedicated to the Hindu deity. It gives a lovely view of the Satluj river and valley and the Chandigarh town. The view is spectacular especially on a clear starry night.
- Walk to the Christ Church on the Upper Mall Road, Kasauli
- A small market is there at Mall Road, Kasauli selling mainly daily needs stuff. One can get some fast food stuff at Awan Complex.
One other thing which I CAN strongly recommend is the fruit wine , which is made by a local brewery known as the Sutter House, now known as the Waterfall Wines. There is this famous shop in the main market of Kasauli (called, quite aplty "The Daily Needs") which you are sure to visit time and again if you taste the burgers and sandwiches they have there. As for the wines, it comes in many colors and flavors like peach, strawberry, apricot, grapes, rhododendron and apple. The best part is, however, the price. At Rs.350/- odd it might seem a little steep, but there is nothing quite like it. I don't drink, but this is what I have been told by MANY people who have bought these wines and tasted them as well. If you are thinking, "Why so cheap?", then, that is because of the tax exemption is what I got to know.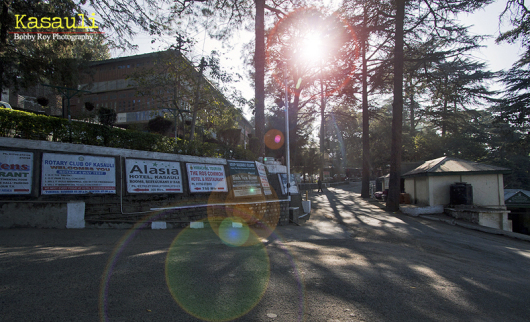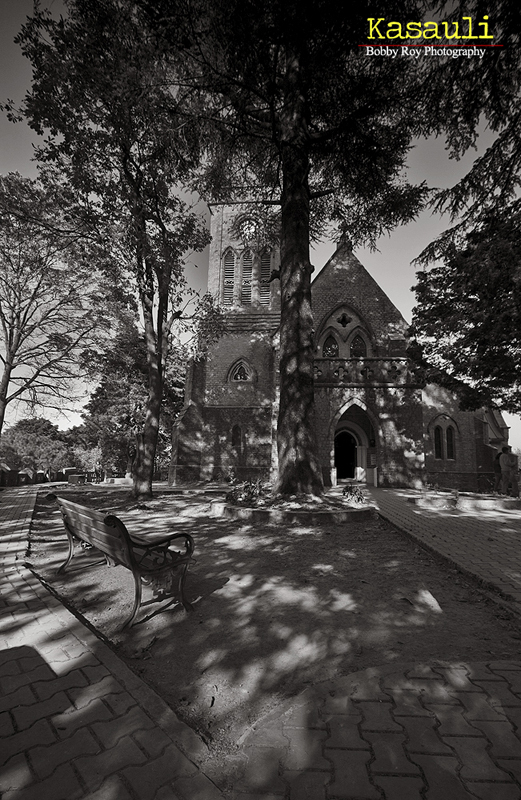 I would not really bore you all to death with my words. Rather, let me just say that I had gone there with a few good friends, and it was a trip worth remembering. Go there, relax, take a walk, photograph, and be with your near and dear ones. And one thing I can guarantee is that you'd be a different person altogether when you get back.
How to Reach KasauliBy Air: Chandigarh, 60 km away is the nearest airport, which is connected by daily flights to Delhi, Jammu and Mumbai. You can hire a taxi or take a bus to reach Kasauli from Chandigarh.By Rail: Kalka, 34 km away is the nearest railway station.By Road: Kasauli is just 300 kms. from Delhi and is very well connected by the National Highway-1.
I would now let the rest of the pictures do the talking. ????