While on travel I always have the quest to savor that one recipe that is long-established and exist as a part of tradition. I cannot settle down for less in terms of food, especially if the landing place is multi-ethnic and multi-cultural. I am talking about Malaysia, the South East Asian country which is well known for its beaches, shopping districts, iconic skyscrapers and great food. The population here is a mix of Malay, Chinese, Indian and European people, so the touch and essence of multi-ethnicity can be felt in the air of Malaysia.
I grabbed the chance to walk around the streets of Kuala Lumpur, the capital city. I believe that the real beat of a new place can be felt by walking down these streets. Bukit Bintang is one of the main shopping arena of the city. Also it is the place for many hawker stalls selling street food. The hawker stalls of Malaysia is a perfect place to explore local cuisine without burning hole in the pocket. The night life here was the best and I saw many oriental kitchens coming alive when the Sun goes down. I got the glimpse of many Chinese, Arabic, Iranian and Malay food which were in display. There were many outdoor restaurants serving delicacies.
Out of the many dishes I tried during the visit, Rice noodle soup, Nasi Lemak and Chicken Satays were the best. Rice noodle soup were soothing for the taste buds. Nasi Lemak and Chicken satay deserve to be the national dish of the region. Nasi Lemak is a mild fragrant rice dish cooked in coconut milk. Anchovy fish chips, traditional Malay curry and some salads proved a perfect combo for the rice.
Chicken Satay is a seasoned, skewered, grilled chicken served with traditional peanut sauce. Each bite of it was so juicy and succulent because of the special marinade that has gone into the chicken.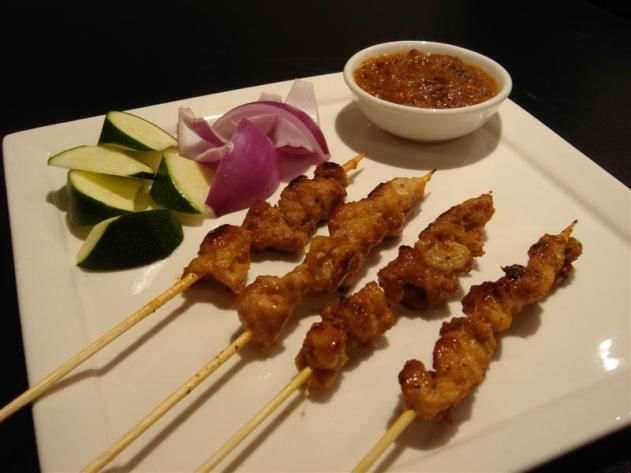 Mixed fruit juice shots, natural fruit ice-creams and vegetable juice mocktails remained as worthy refreshments from the region. Fresh baked breads, croissants, rolls, chocolate fudge cakes and unique Malaysian desserts were a feast for my sweet tooth.
I will say I had the best food journey in Kulalumpur of Malaysia. The journey doesn't end with just tasting some of the best foods from the region but it also opened the doors of exploration to multi-cultural food on this planet.