Kheer Ganga is a romantic and energizing trek @ 13,052 feet in the Parvati valley of Himachal Pradesh. It is also famous as the hippie-trippie trail of the magic valley. It is an easy drifting 11kms trek from Barshaini village, which is the last motorable point. The best time to trek are the seven months from May to November. During winters the snow makes the trek slippery and dangerous.
I have always heard the stories about Kasol and Malana in the Parvati valley. Kheer Ganga was one of the first treks in the valley I did in September 2015. The first day started with bright soothing sunshine and the air felt extra fresh especially to someone like me from the most polluted Delhi. There were mostly small groups climbing up with their tents and sleeping bags. We made friends with some of them. It is an easy ascent throughout as we passed through the trail with trees, innumerable colours of green, water streams, and quite occasional waterfalls. It is always amazing for me to drink water from the openly flowing water streams on the way. The water never tasted so refreshing.

Trees after trees were laden with bright red apples. It was so difficult to resist plucking one of them. But the red apples made the scenery more colourful. I kept turning back to see the enchanting tosh valley on the right – distant mountains, clouds forming patters, sun plying hide and seek, waterfalls, mountains changing colours, changing display of sun and shade on mountains - très romantique!!!
The first stop was Sahil guest house at Nakhtan, 4 kilometres from Barshaini. We refueled with sandwiches, burger and yummy Lemonana. Lemonana is a local cold drink made from concentrated fresh mint, lemon and sugar. A must try! All through the trek the landscape keeps changing. I remember the colourful butterflies, birds and wild flowers all along. The next stop is Rudra nag. There is a temple and a water fall, which comes out like a snake (nag) and hence rudra nag. We stopped again to chit chat and to enjoy a cup of hot tea. Old wooden bridges always remind me of untold stories, unforgettable moments and lots of romance as people try different poses to get just the right frame with bridge, river, mountains and sky. There is one soon after Rudranag. After this the hike follows into dense forest which clears out in a lush green open meadow surrounded by mountains. As we stepped onto the flat landscape we lucky ones saw a double rainbow above us. We made it there in 5 comfortable hours. There were series of make shift tents and modest accommodation available on the top.
During dinner time I was reminded of the dum maro dum song filmed on Zeenat Amman. In our version of the film they were mostly Israelis. There was a layer of fine cloudy smoke in the dining area where the seating was done in a Himachali style with a tandoor. It was very cold and I remember clinging around the tandoor. Kheer ganga is actually a mini Israel. I woke up in the morning by the clinging bells of a herd of sheep and goats. The morning view outside was stunning - slightly misty, mountains, clouds, trees, sun coming up. It was like a dream.
The holy hot spring bath afterwards was a delightful experience. There are different areas for men and women. The water was nice and hot and natural and full of healing properties of white sulphur. It was no less than a private pool experience. It is believed that Kheer ganga got its name because of white sulphur flakes in abundance in the spring which appeared to look like 'kheer'. We started the descent after a wholesome breakfast with the promise to come back in early summers when it is covered with snow. It must be amazing to experience hot spring bath with snow around. We touched down at Barshaini in just under 3 hours on the same trail. Light showers while coming down made it even more romantic for me. A cute mountain dog followed us all the way from Rudra nag to Barshaini. Filled with love, new hopes and dreams we said bye to the dog. C'est la vie!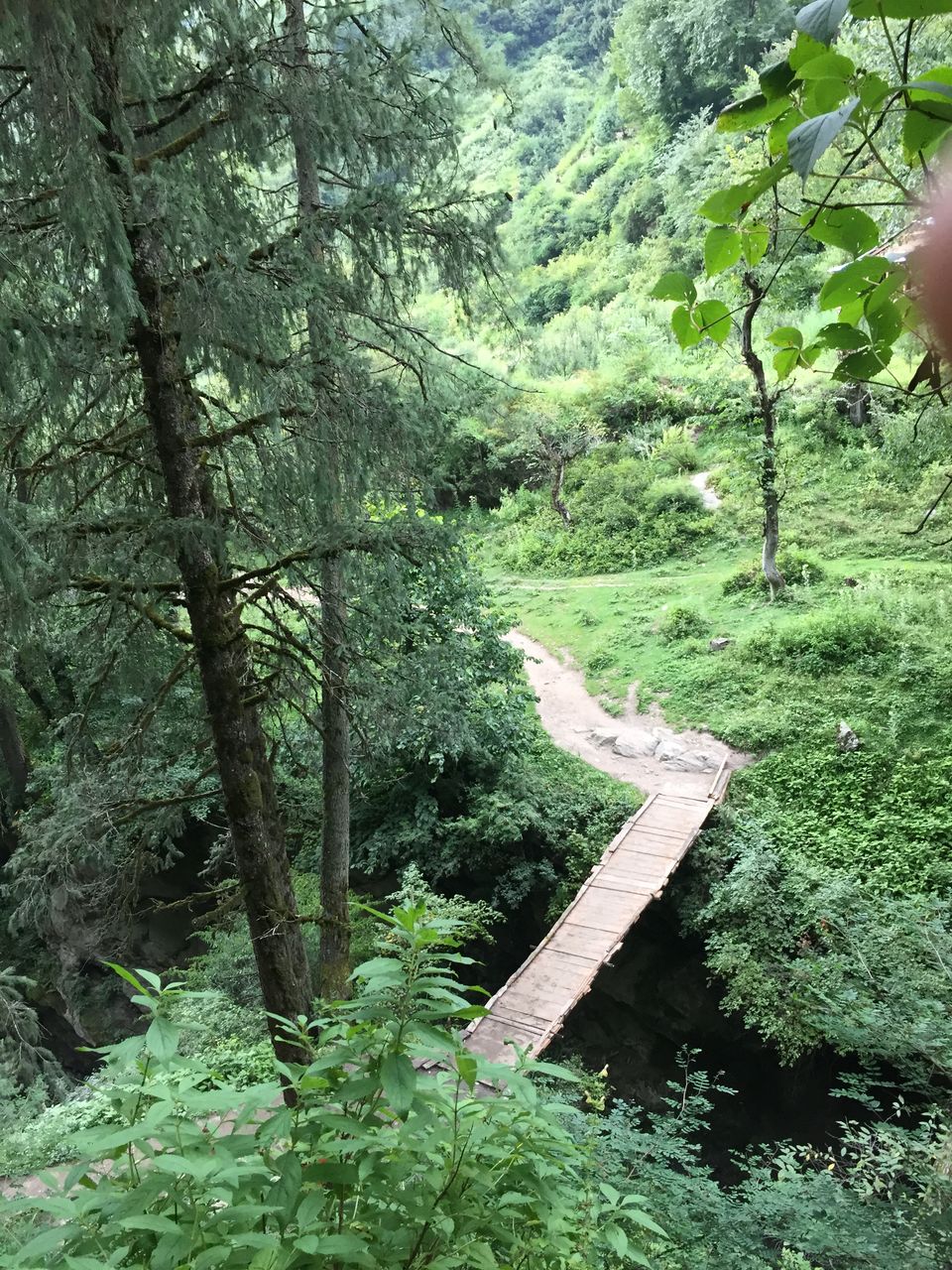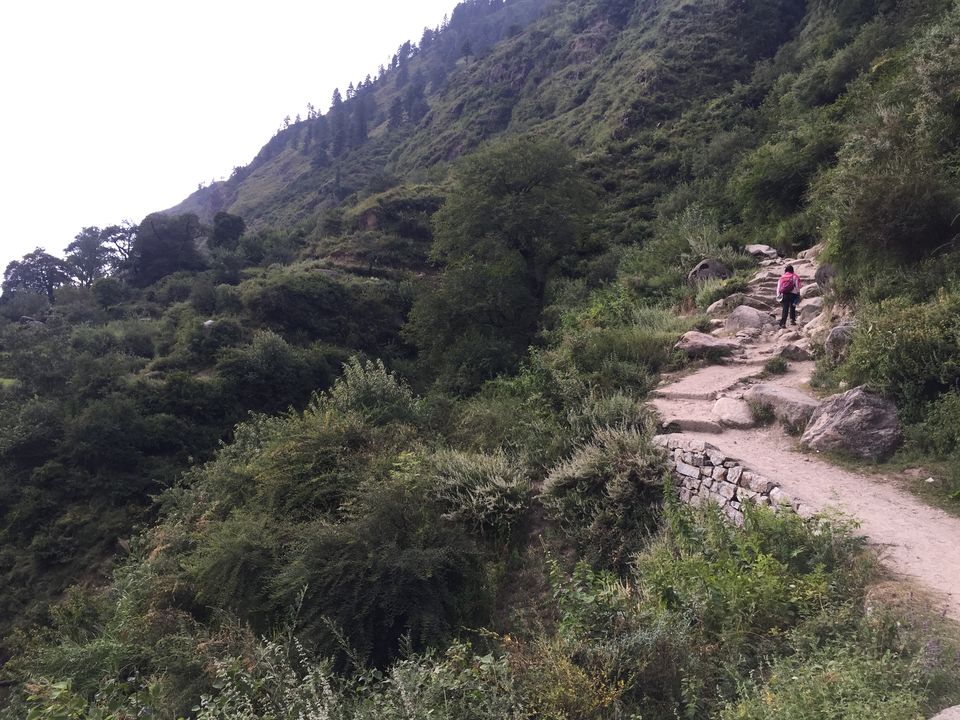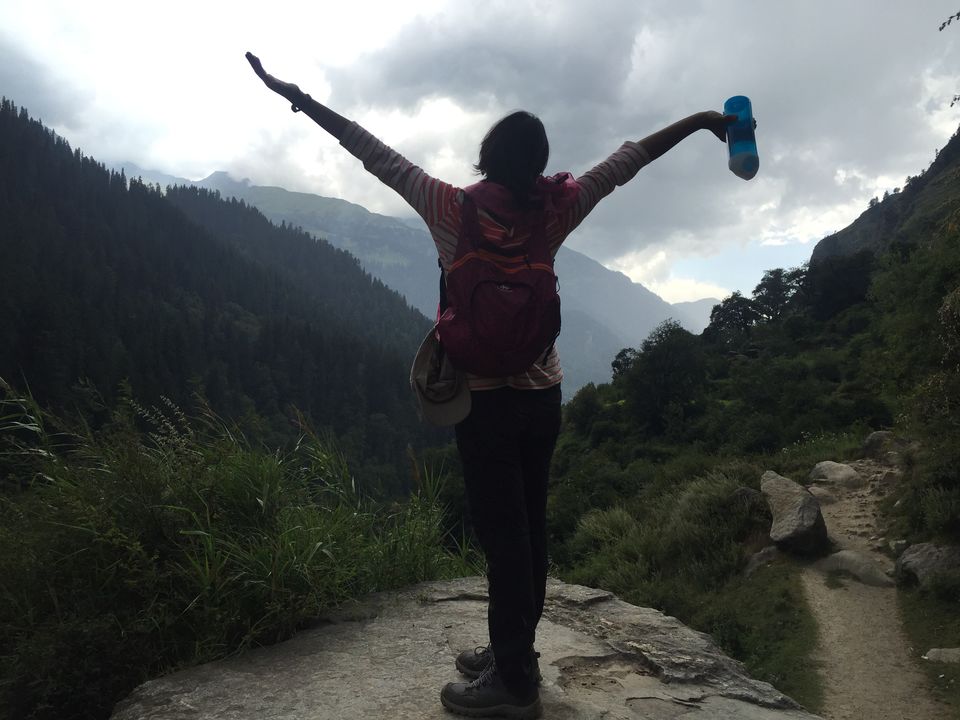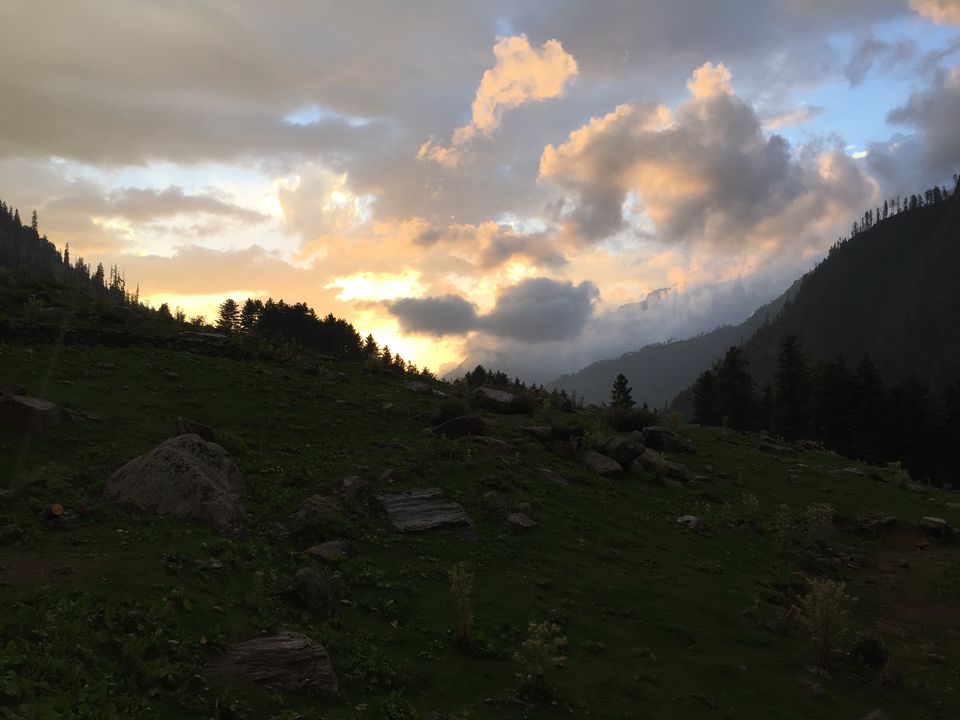 It is also an amazing trek for solo travellers, though a guide is always recommended for trekkers new in this area.
Visited September 2015.