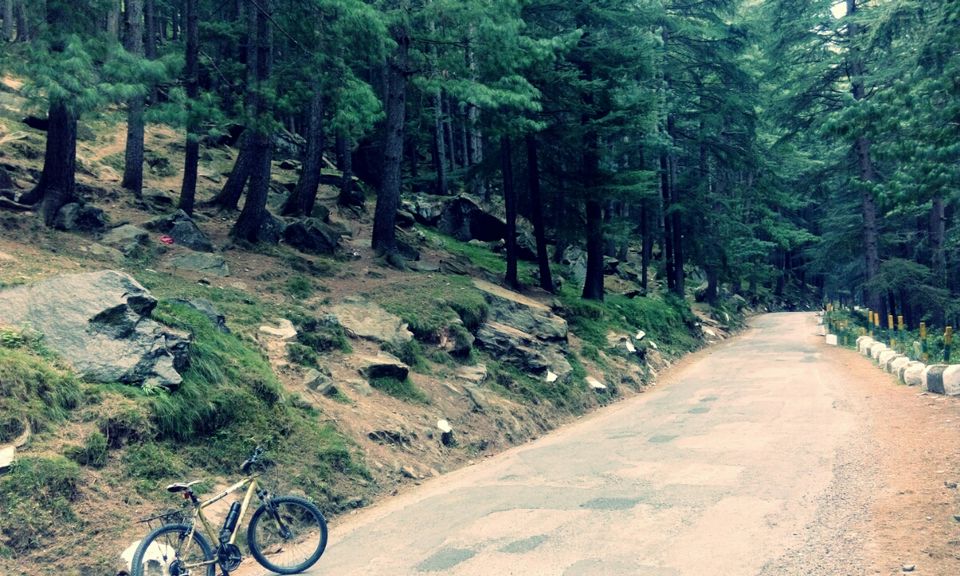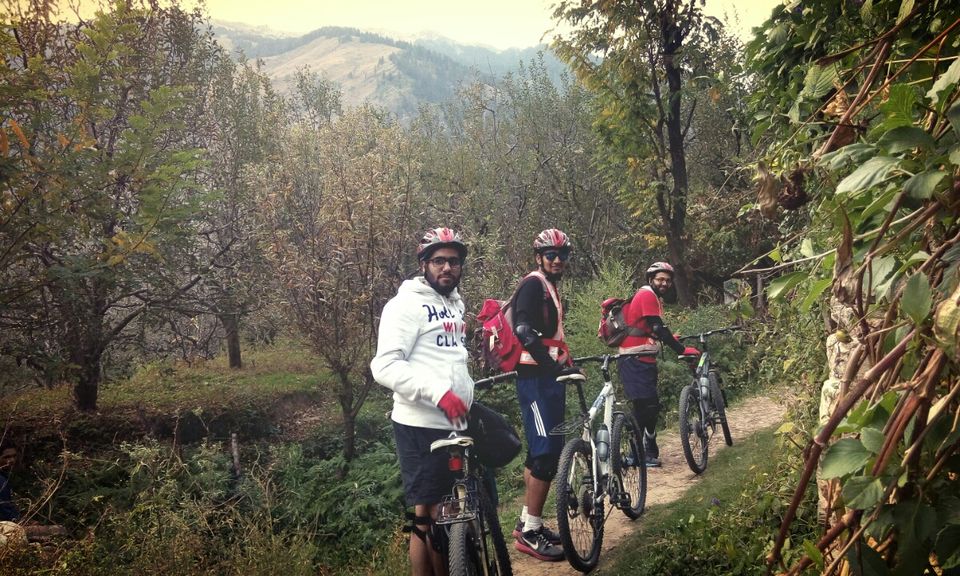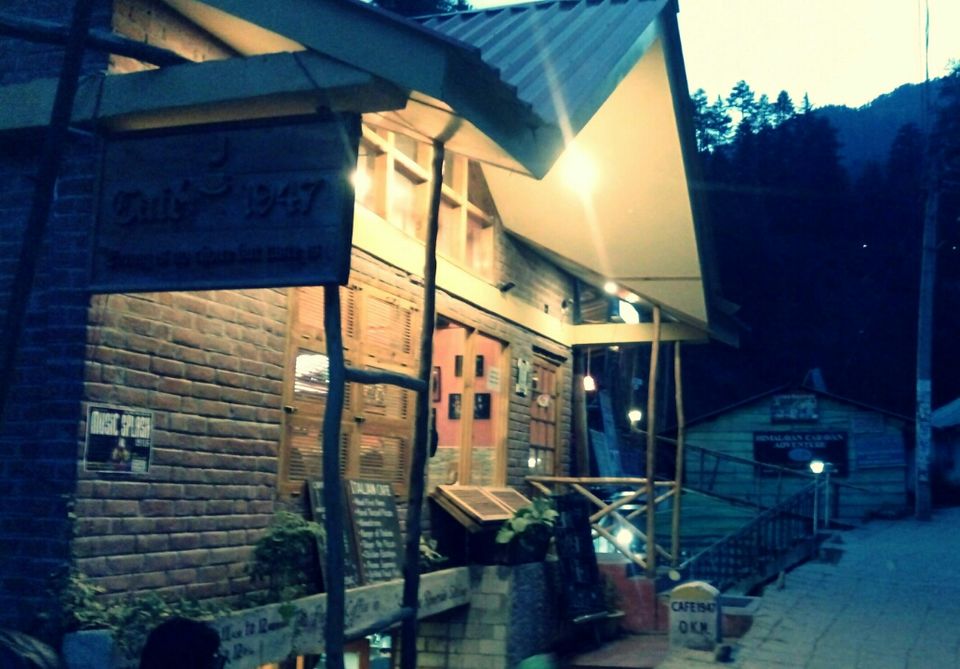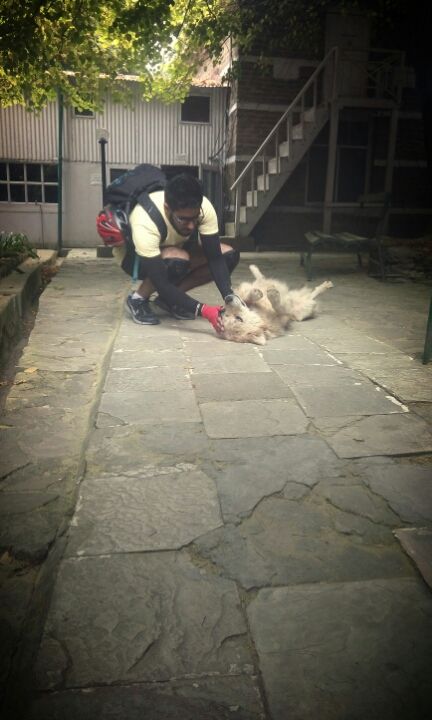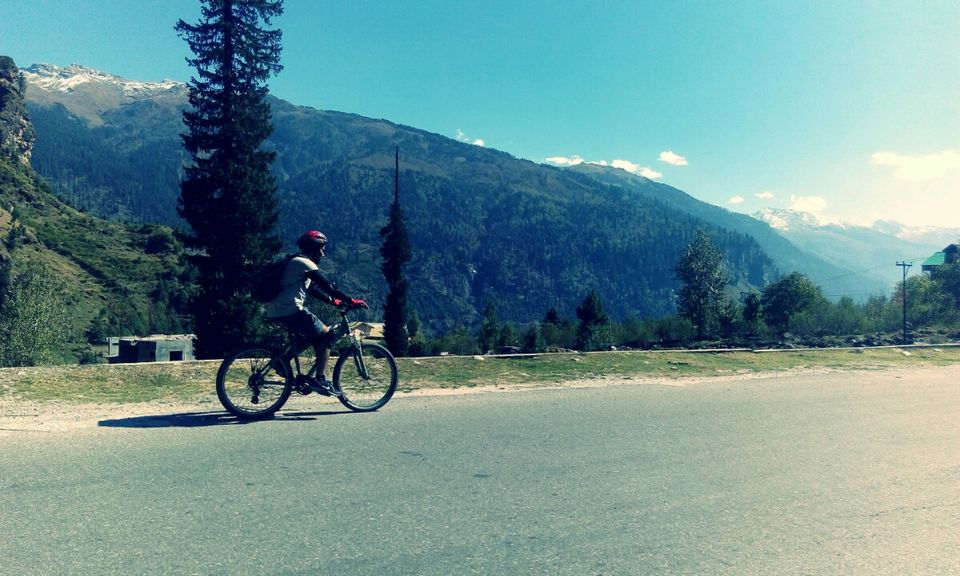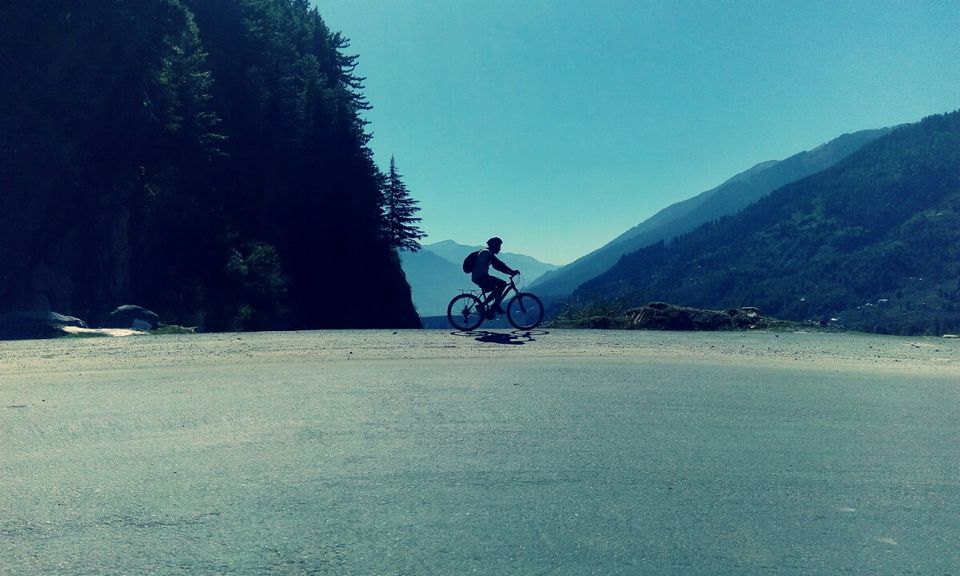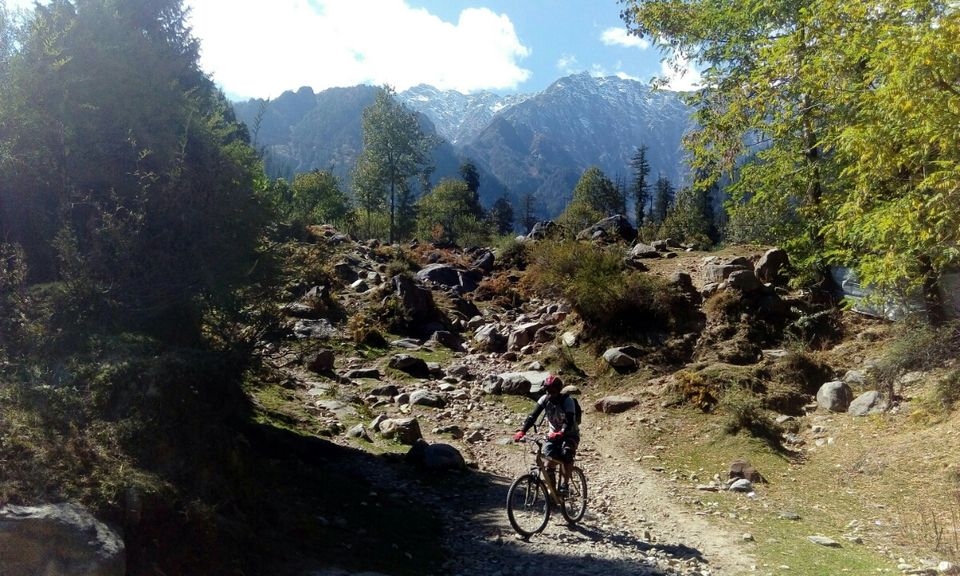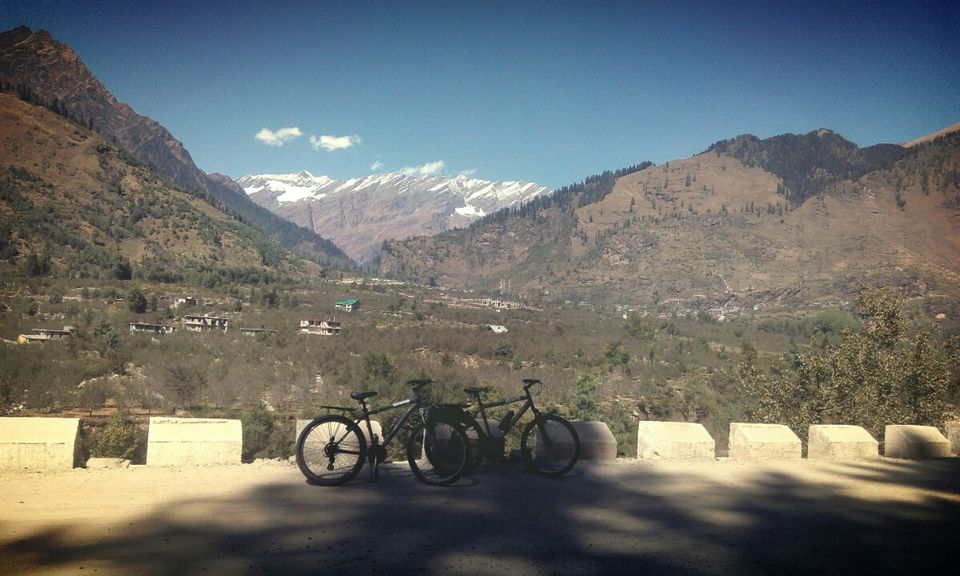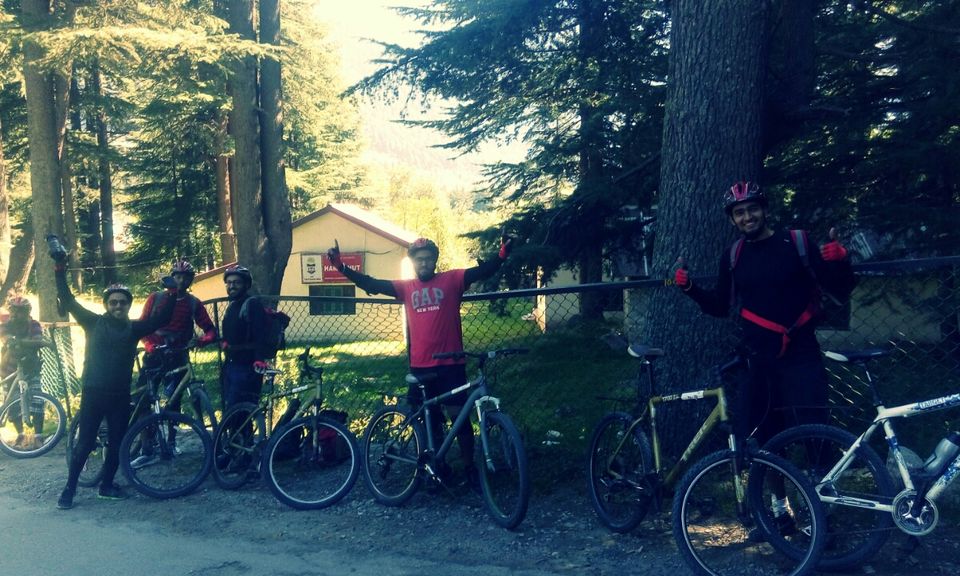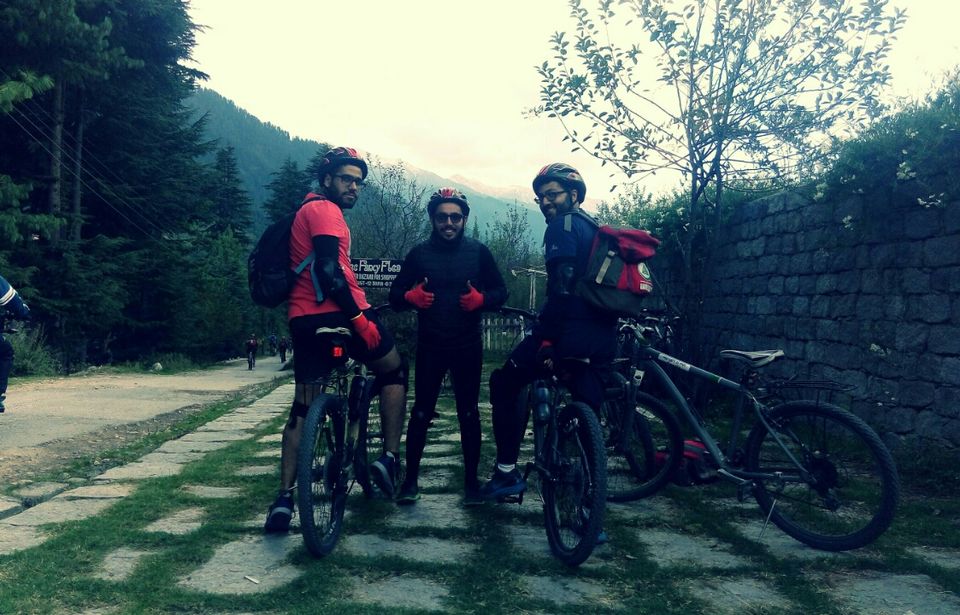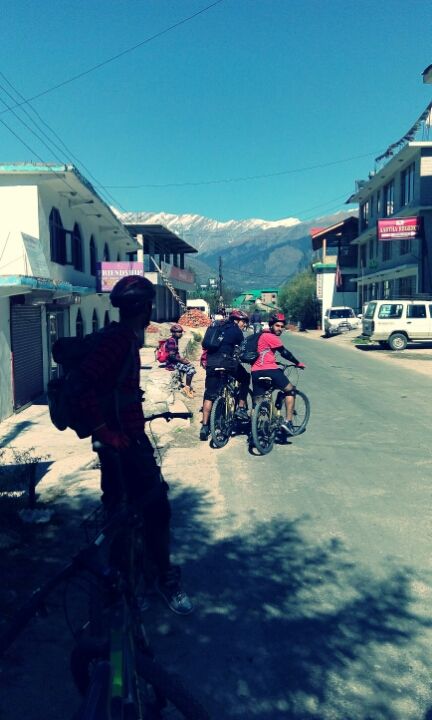 To begin with, the thought of cycling in mountains sounds stupid at first when you imagine yourself paddling uphills as it is a herculean task. But wait, now Imagine yourself sitting on a Firefox and coming downhill with your legs relaxing and eyes capturing the beautiful view. Wonderful. Isn't it?
I was declared 'CRAZY' when I asked Sahil - A good friend, to accompany me as I wanted to do something interesting to break the monotony which when deciphered comes out to be STUDIES. Well, reluctant Sahil agreed somehow. Thanks to my convincing skills.
In the last week of October ,I booked our trip with YHAI - Youth Hostel Association of India and our accommodation, food , cycles, safety gear and rest everything was included. So, we both boarded a bus to Manali and reached the beautiful city next morning. Our accommodation was a few kilometers away from manali bus stand and we easily managed to reach Youth Hostel.
Upon our arrival, we were given our Dormitory room keys and as expected Sahil gave me a weird expression because of the 2 reasons. First, he didnt know what the hell Dormitory was. Second, he was set aback because he was completely oblivion of this fact.Lol .Now, we headed towards our room and luckily we were the first ones to check in and later, 2 more people joined us and hailed from Karnataka. And after some time, the last two came in and were Bengalis. So, now the introduction part started. Everyone started sharing their traveling and life experiences and we all had a good conversation and got to know about their culture and lifestyle.
The first day of our trip was kept for leisure and the evening was set for Camp Fire albeit it wasn't what I thought. The show started like this - FIRE FIRE, CAMP FIRE. We all were asked to repeat the phrase after our Camp Leader.In short, we were asked to scream to the best of our capacities. Lol. Apparently, my throat did a good decent job. Kudos! Now, everyone was asked to introduce themselves and perform whatever they like. The motive was simple -CONVERTING STRANGERS TO FRIENDS. So, people came up with songs, jokes - though some were really bad but I still displayed a good laugh and didn't stop clapping. Probably, this was the part which made me realise whatOVER EXCITIMENT is. Upon our turn, we did the famous - BHANGRA, Balle Balle! 
Next morning, after a sumptous breakfast, we were alloted cycles - FIREFOX and TREK. The first day was supposed to be 18KMS Cycling and the places to be covered were HADIMBA TEMPLE and surrounding areas. After cycling for some good 2.5-3 hours including photo sessions and breathers, we reached our destination. The day was well spent and after our reporting back at the hostel we were asked to show up at the Camp Fire late in the evening and to interact with the new batch that arrived and share the experiences of the first day.
Similarly , next day started. The desination was different and the path was rigorous.The destination to be covered this day was SOLANG VALLEY - approx 34KMS. Most of the path to be covered was uphill and after some time everyone started struggling and eventually started walking. Here, I thought to help myself and Sahil and came up with the idea of gulping Red bull . Lol. So, I bought REDBULL in the hope that we would get some WINGS. Lol.  But no energy drink works when you've cycled for 3 hours uphills with all your energy depleted. We both got to interact with a group of 3 people and in a short time we were all were good friends. With this new group we shared our will to visit some famous cafes in Manali and everyone agreed to it. So, by evening we reported back ,took some rest, and left for the famous CAFE 1947. As soon as we reached the place, everyone got back to their party mood and luckily, we were able to enjoy a live performace.
The third day started similary and the destination was a village situated approx 20Kms away. This was the day when we felt like we shouldn't have come here for cycling. Lol. The thoughts were just temporary arising out of tiredness of the previous 2 days. We crossed some beautiful villages and valleys on our way. The experience was good as we cycled through some of the best routes around Manali.
The day ended well with a Participation Certificate from YHAI. It was a nice gesture from YHAI and especially for who is seldomly awarded certificates. Lol.  The entire trip went well and we made some of the best friends and memories of our lives :) Undoubtedly, everyone should give a try to cycling in Montains. A big thanks to YHAI. Keep up the good work! Cheers! :)