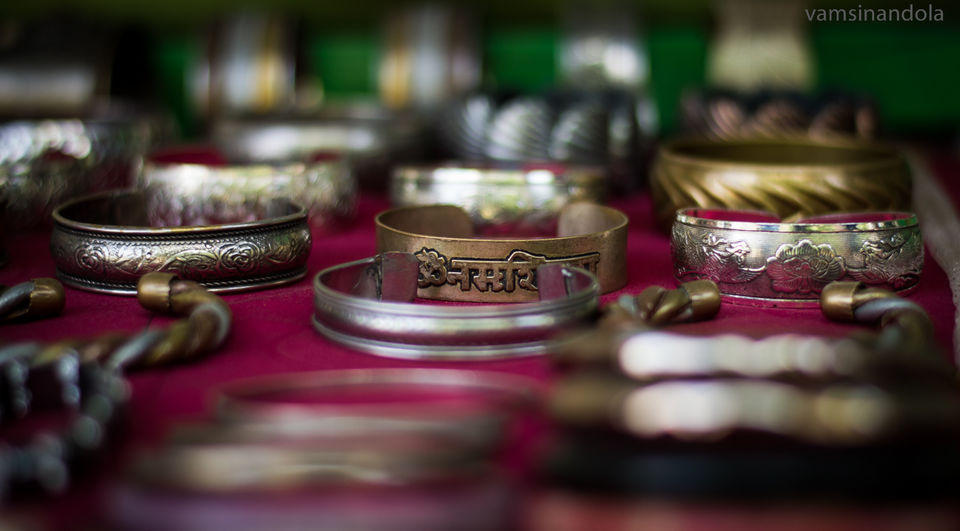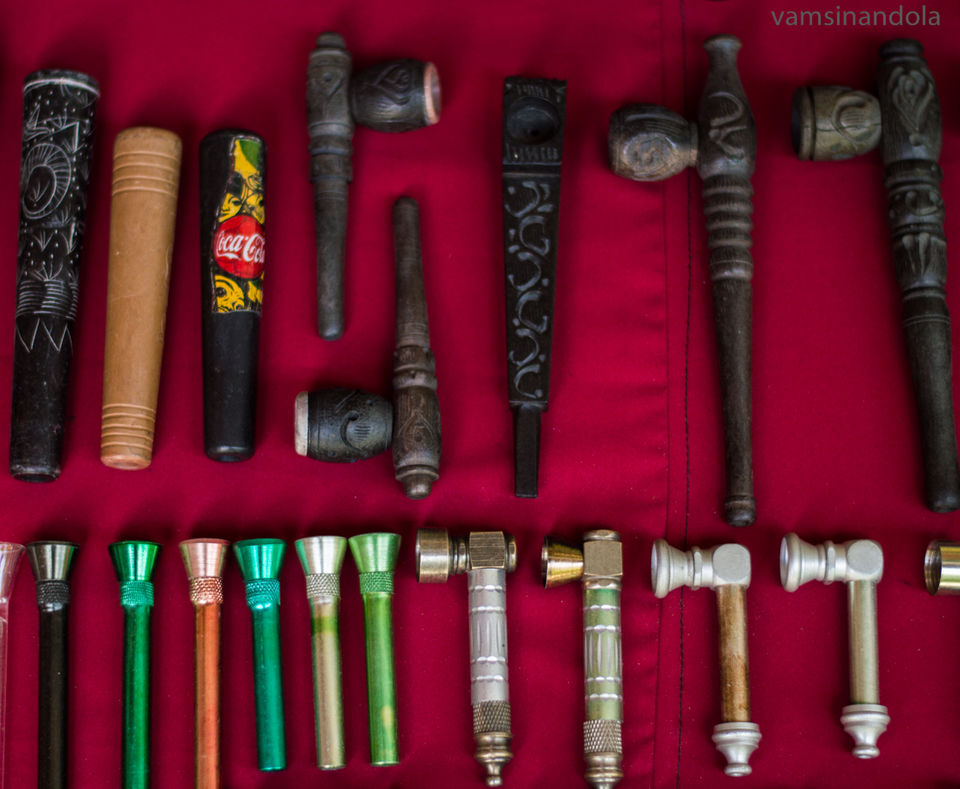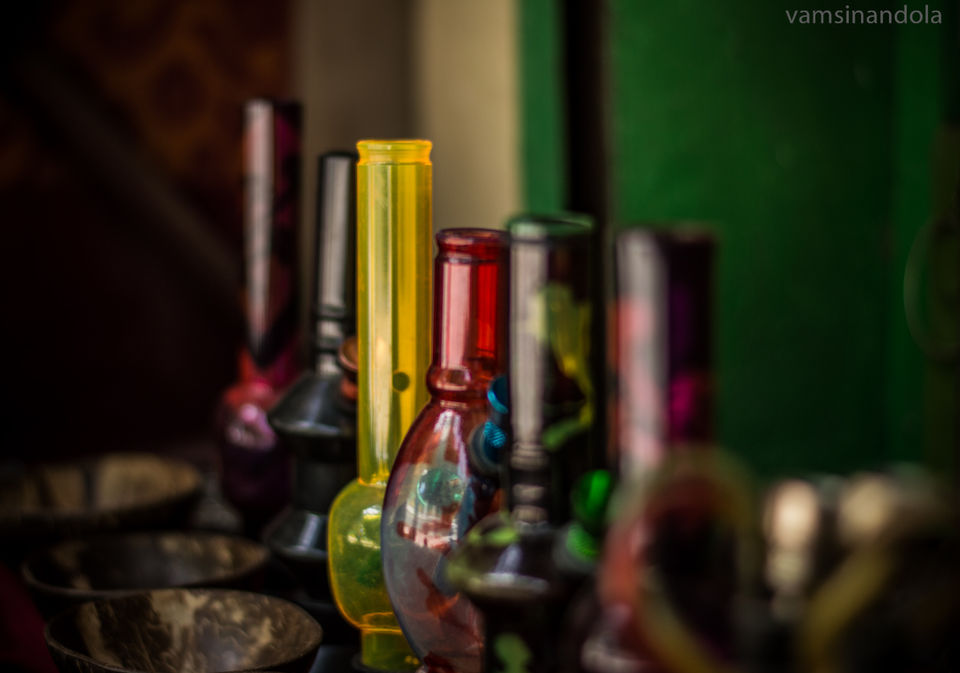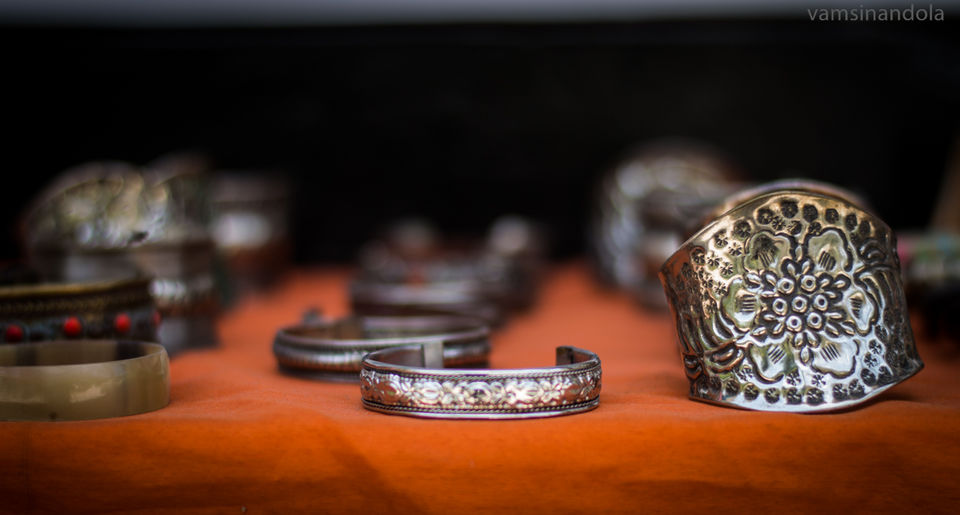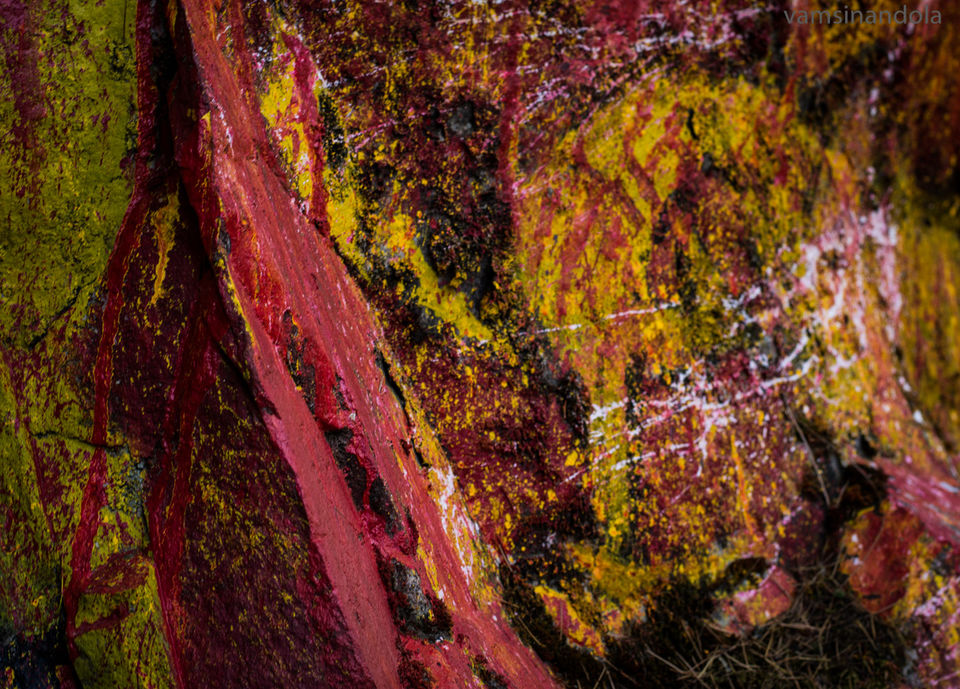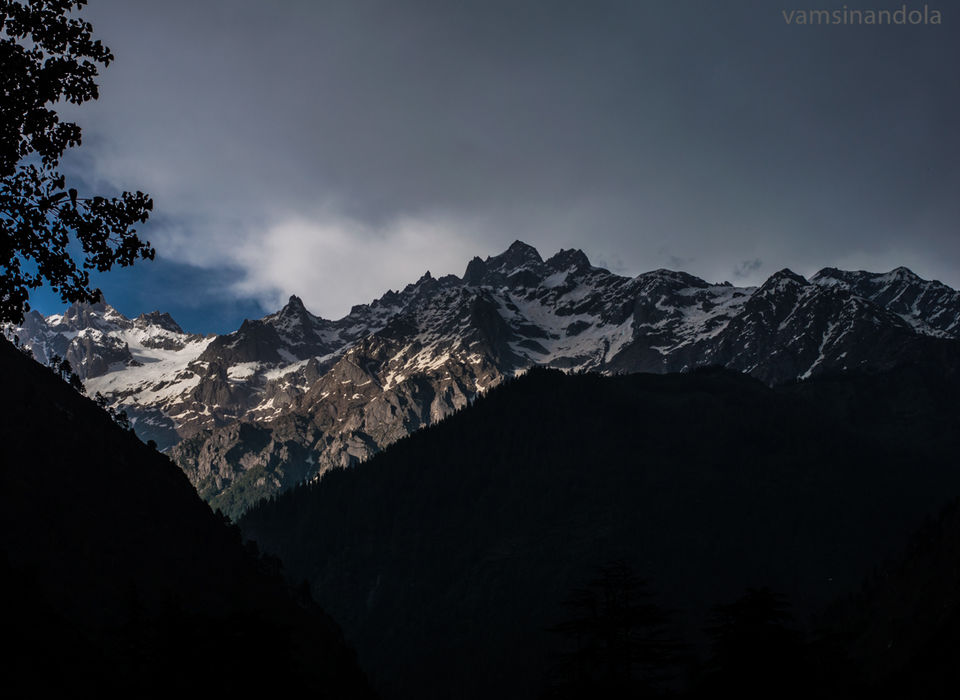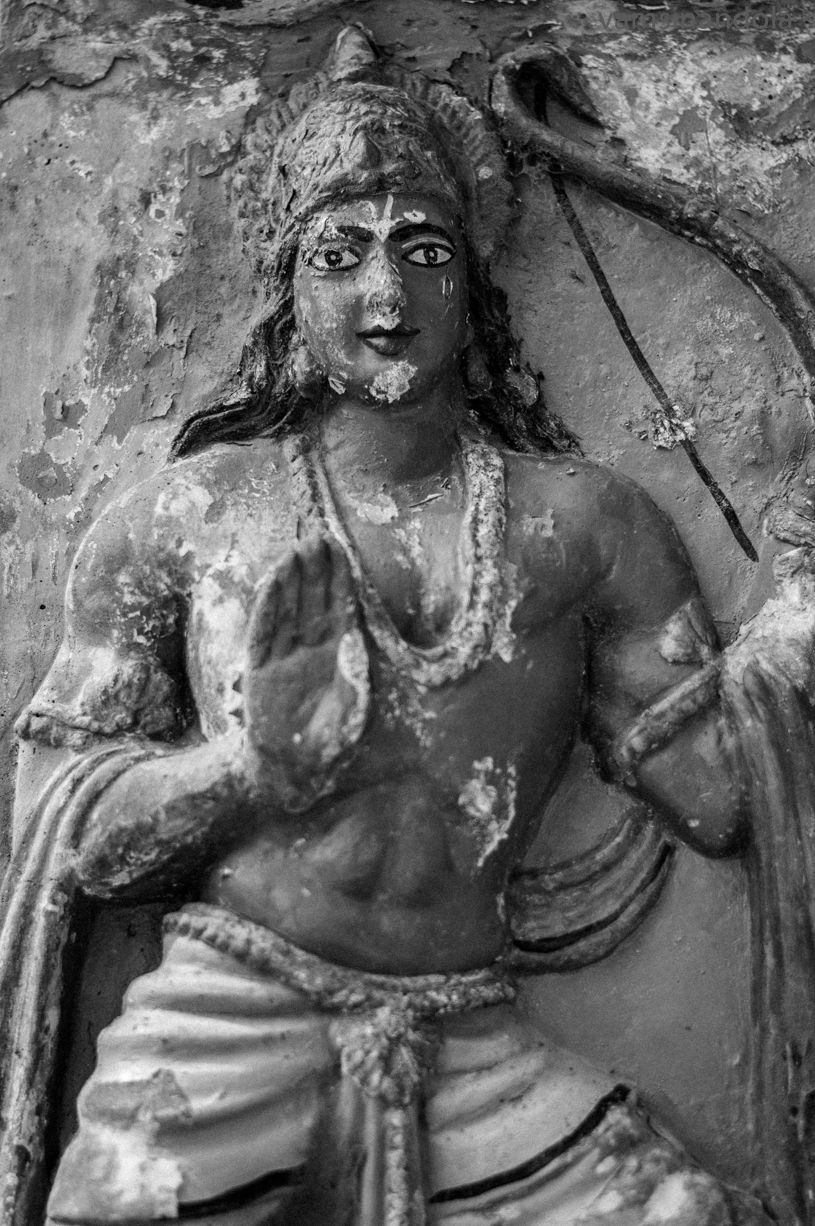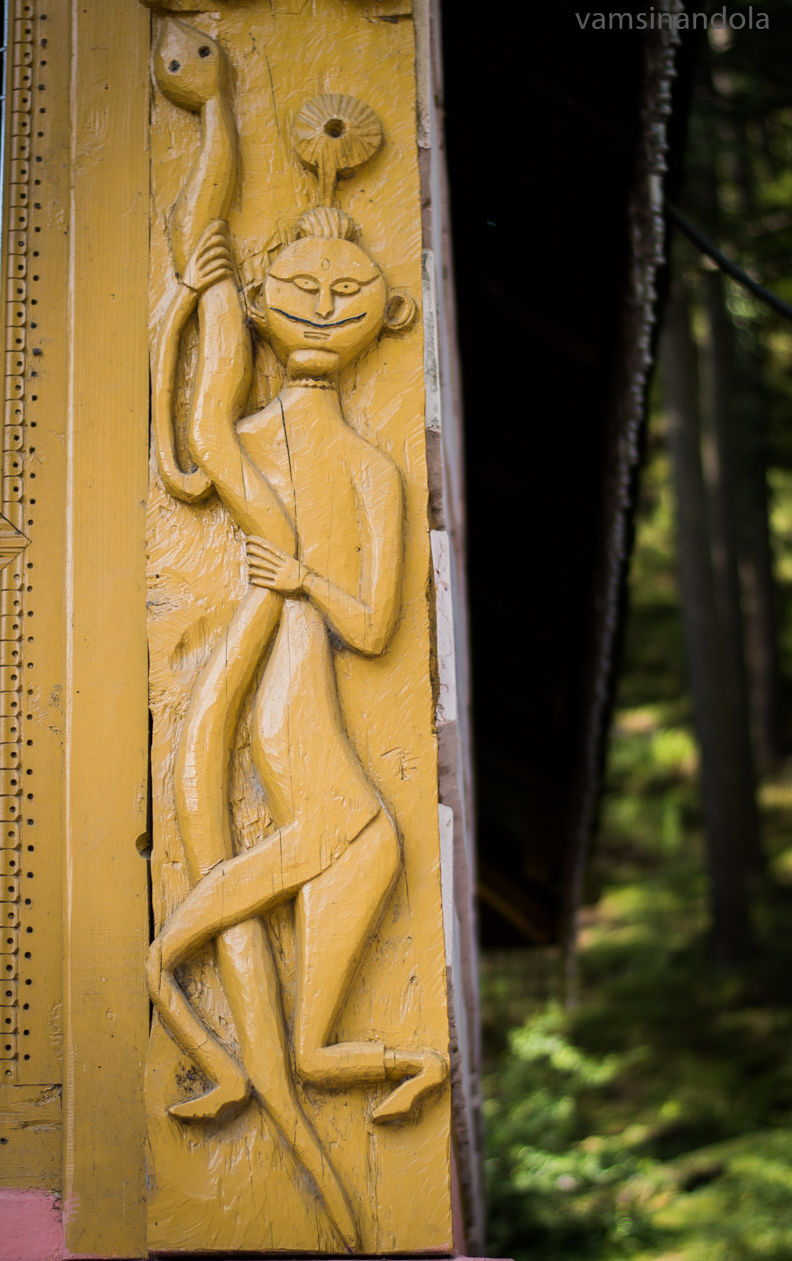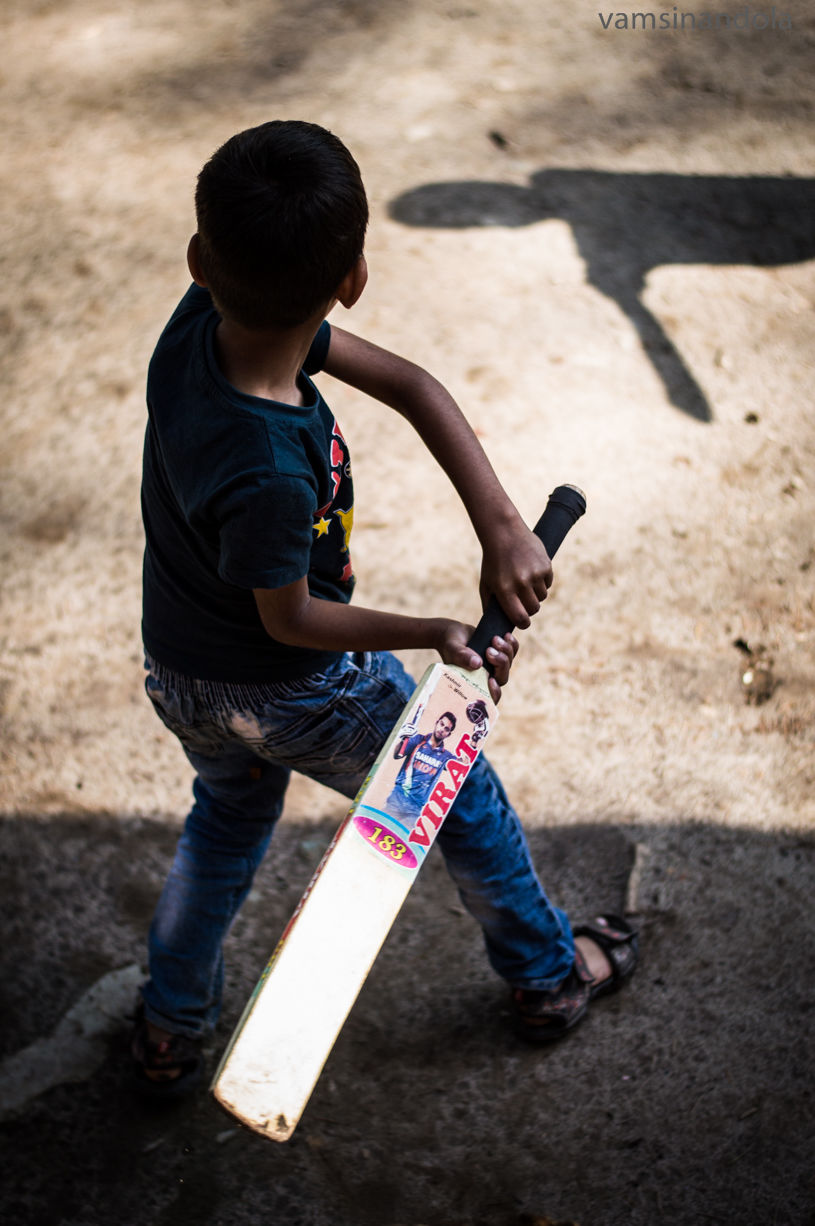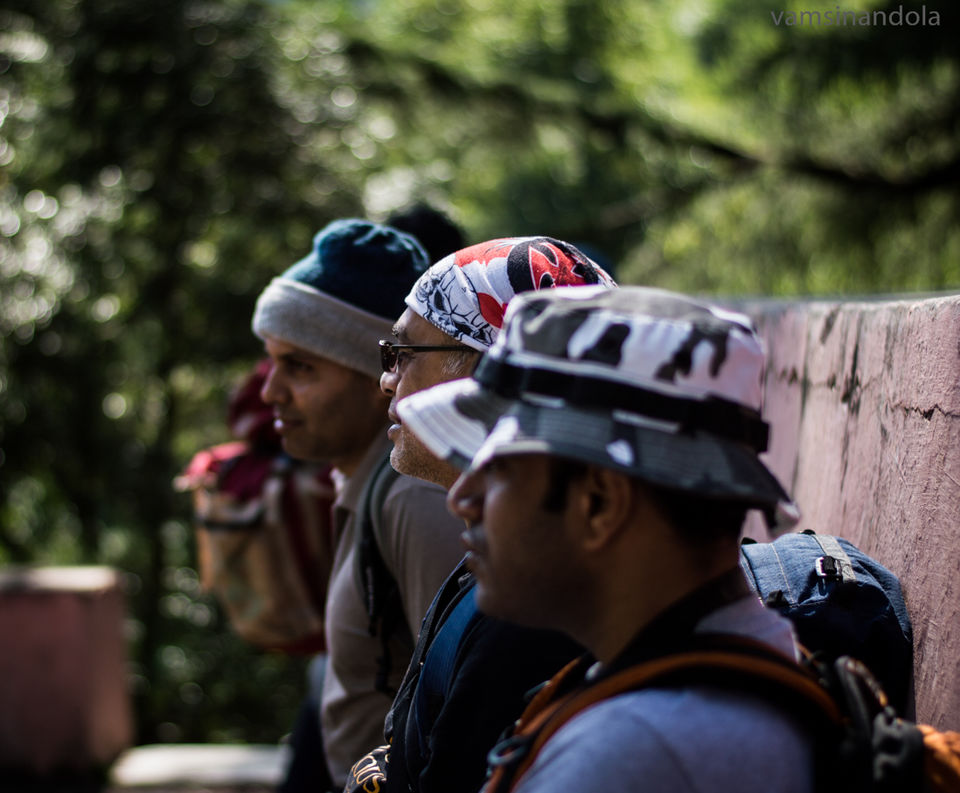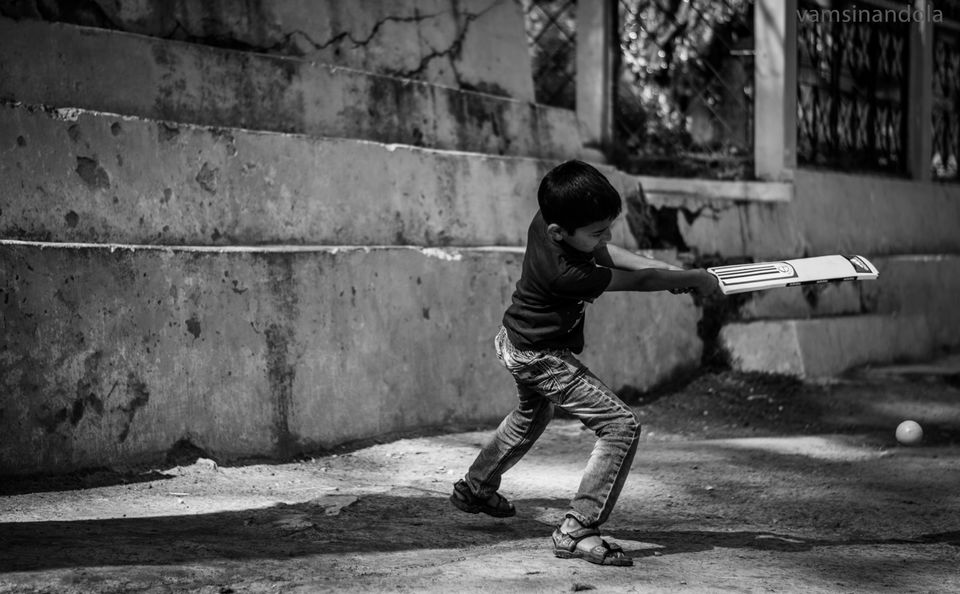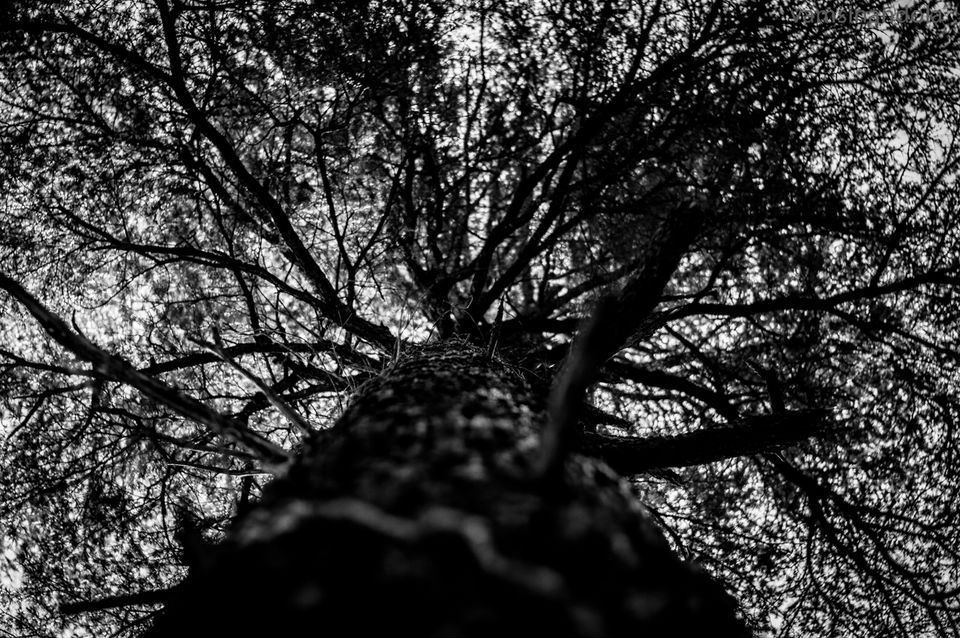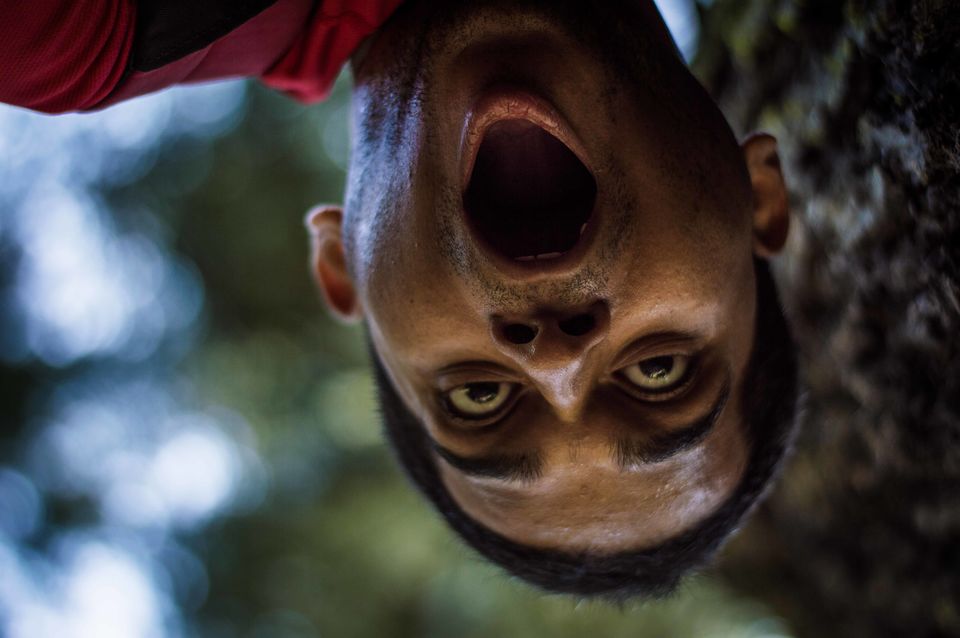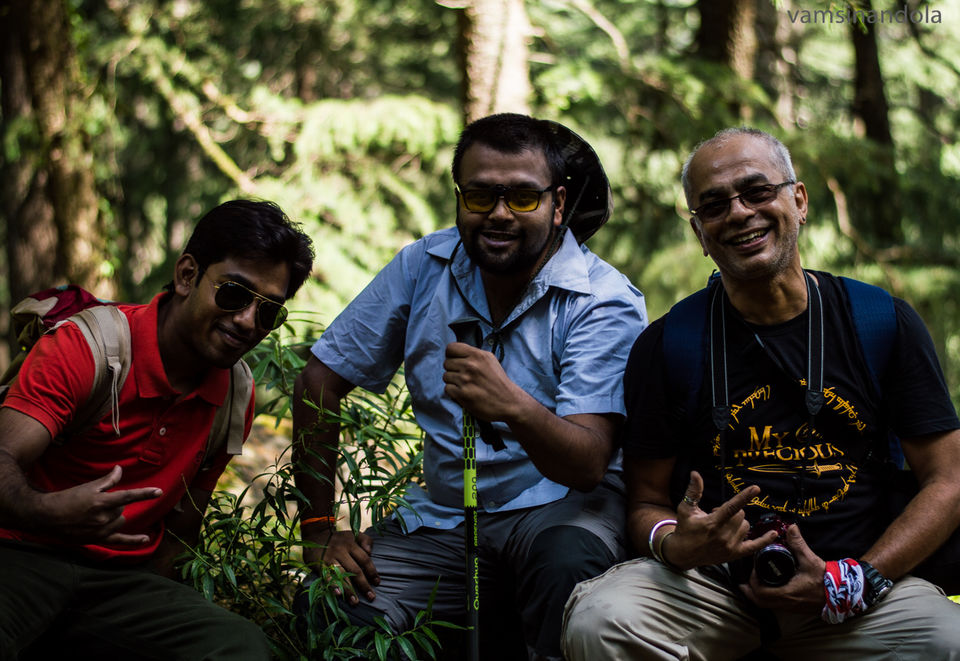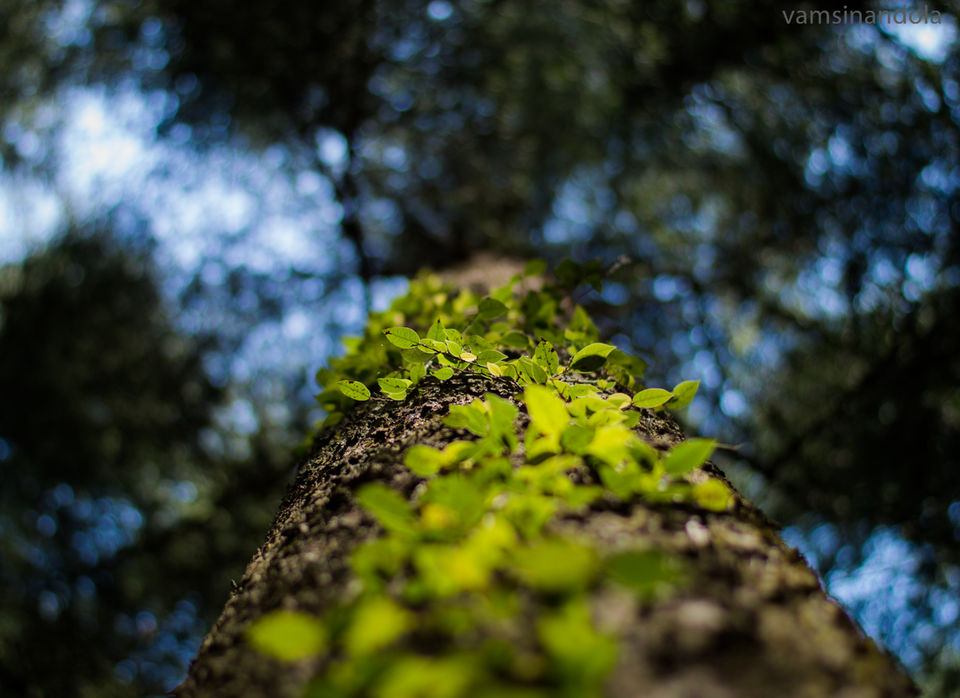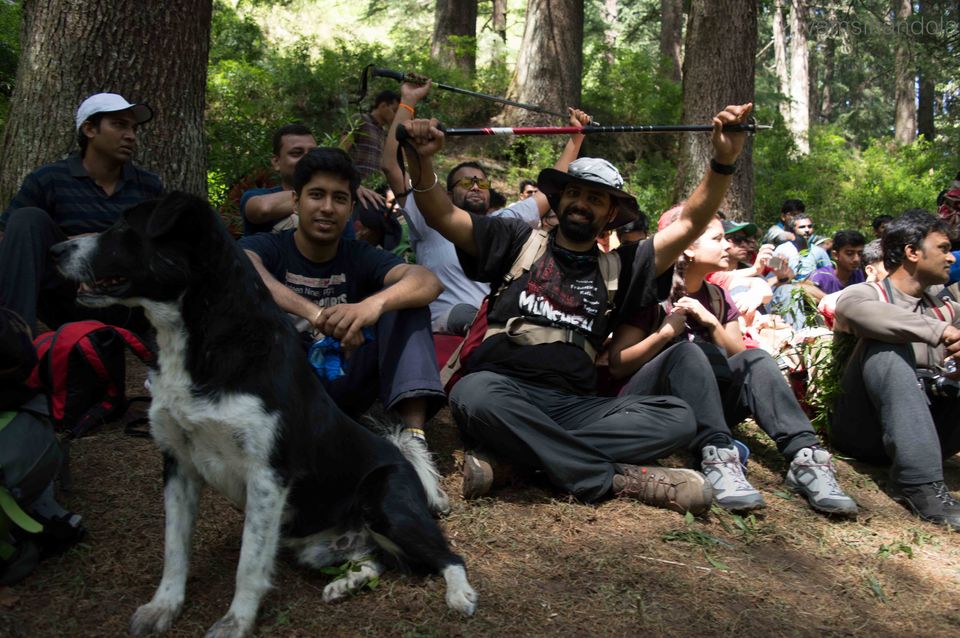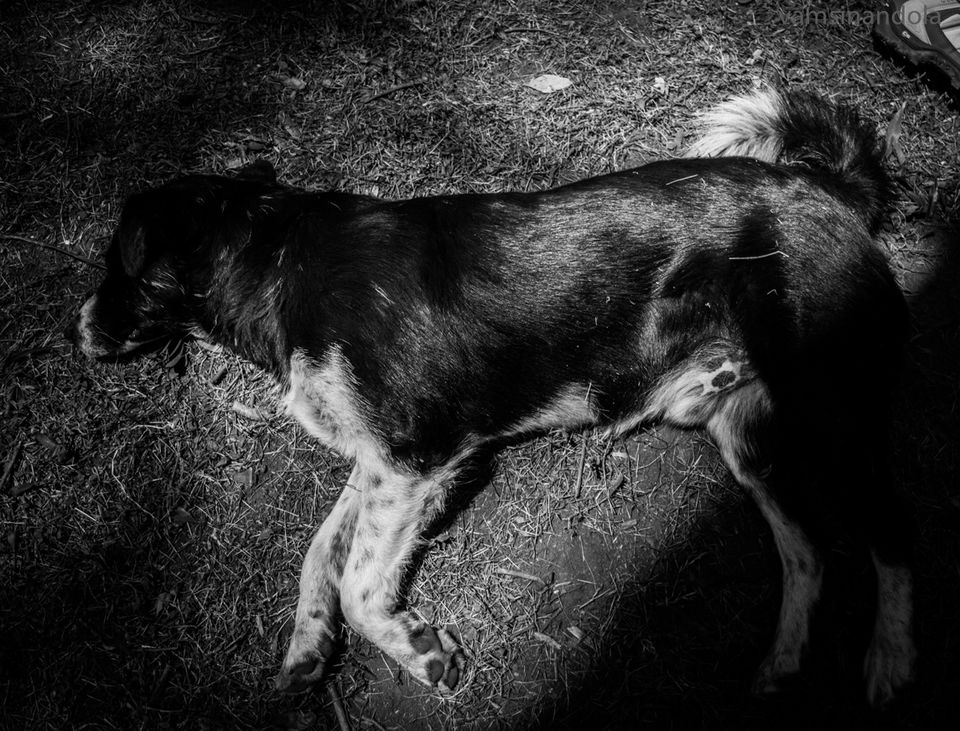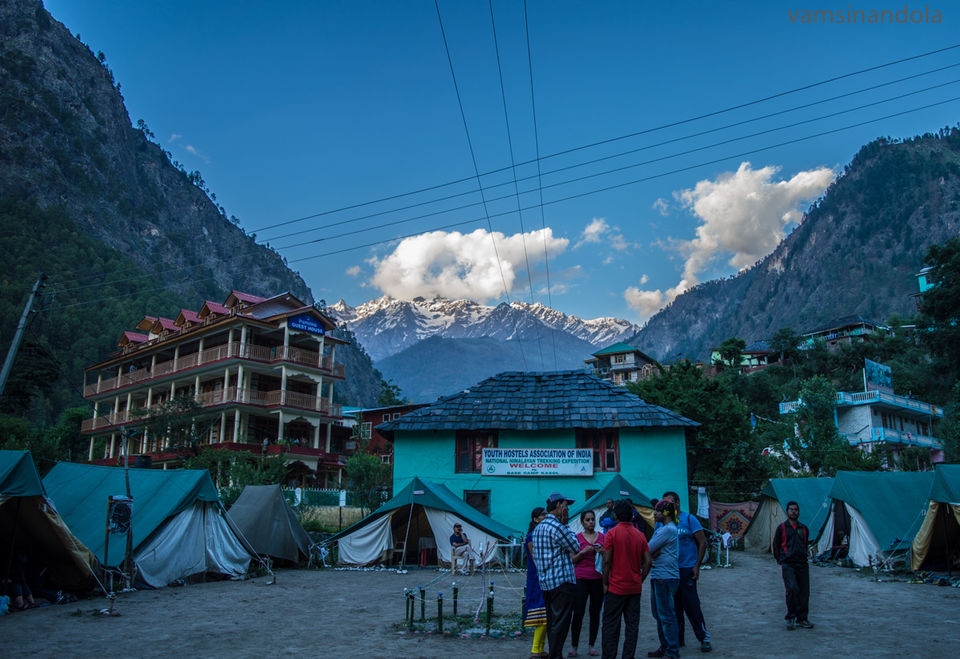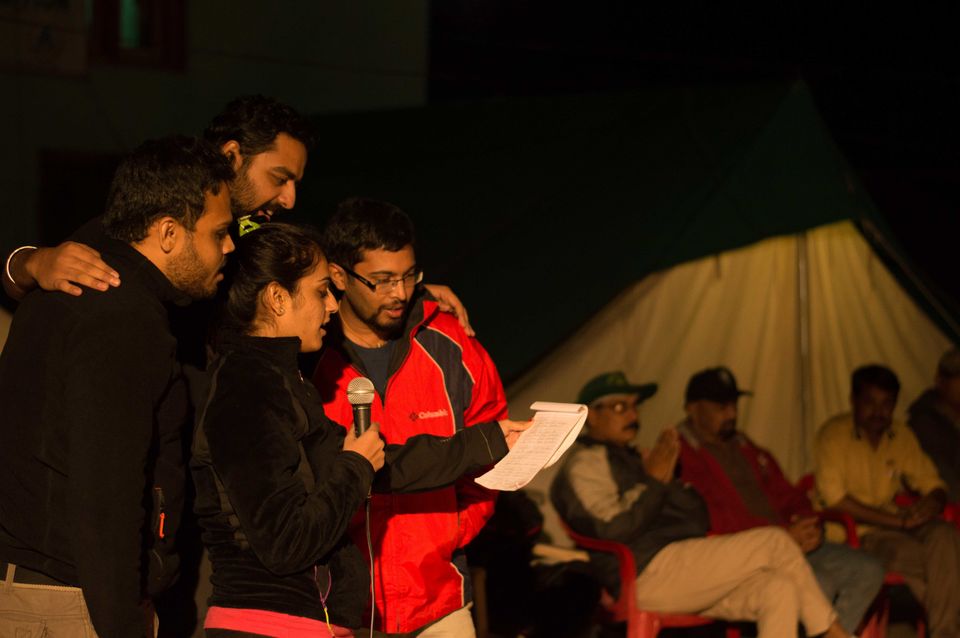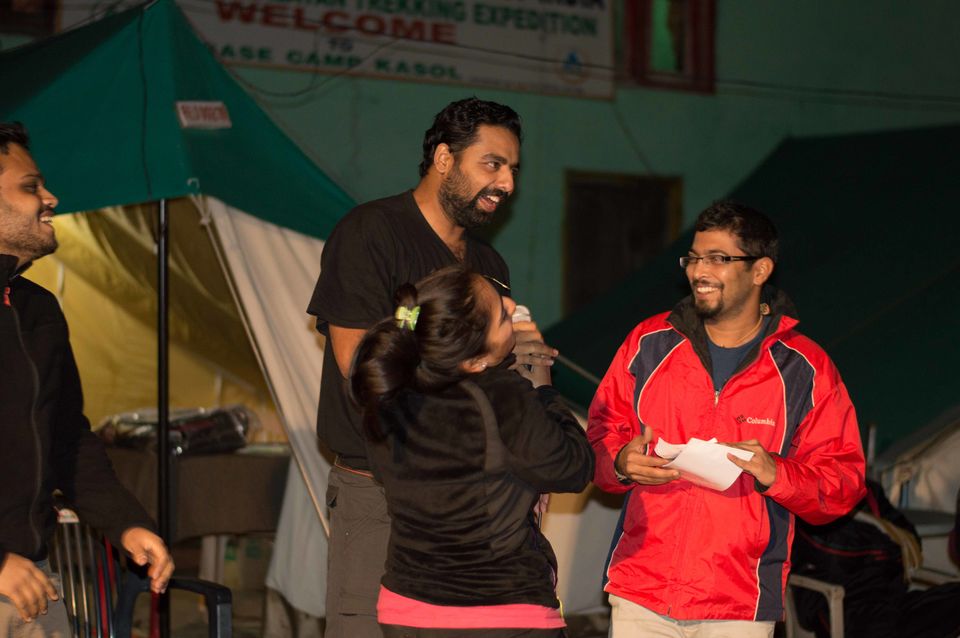 Day 2 in the mountains.
Feeling comfortable in the coziness of the sleeping bag, wrapped around in a sea of blankets, in this case 2 of them, I woke up to the scent of the smelly socks, wet towels and Kamal snoring nearby with his grizzly beard moving around suspiciously.
Location: Tent #6.
A total of 12 fully grown male homo sapiens were stuffed inside a single tent including the full package of shoes, bags, small bags inside big bags, and more bags. Jesus, it was a mess. Felt like hostel all over again, and I was wondering if I took the right decision in coming here to YHAI.
On the other hand, it was the best sleep I have had in a long time. It was peaceful and I felt as fresh as a freshly plucked carrot. I didn't know if it was because of the journey or the realization that I was finally here, just below the snow clad mountains. I felt rejuvenated and determined to complete this journey no matter what. 
The moment I stepped out of the tent, I was speechless for a moment. I looked up to the sight of the beautiful snow clad mountains in front of me with the river flowing in a trance of its own in the background. The doubt I had a moment ago cleared and I knew this was all worth it!! I could go through any kind of shit to experience the beauty Himalayas had to show and to rediscover myself.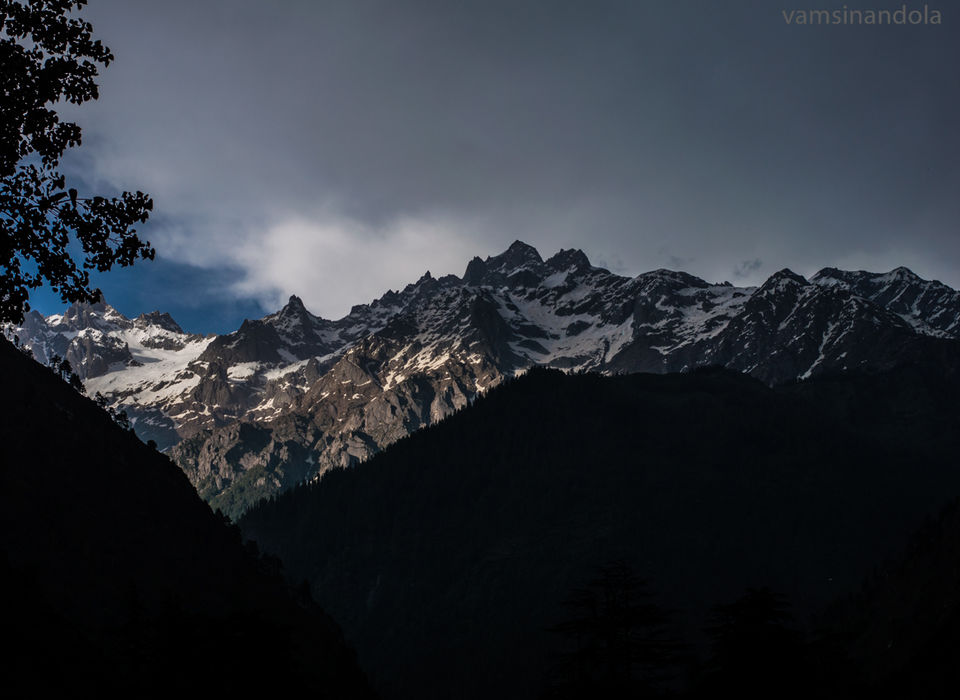 We were served smoking hot tea, which felt like heaven in the morning chillness of the mountains. We were then asked to go for a run and do warm up exercise with Lakshmi leading the line (strict exercise teacher, in pic below). Last time I had such a workout I was 15 years old, and this felt like punishment. After the work out, we had to drag our asses all the way back to the base camp, which felt like a trek in itself.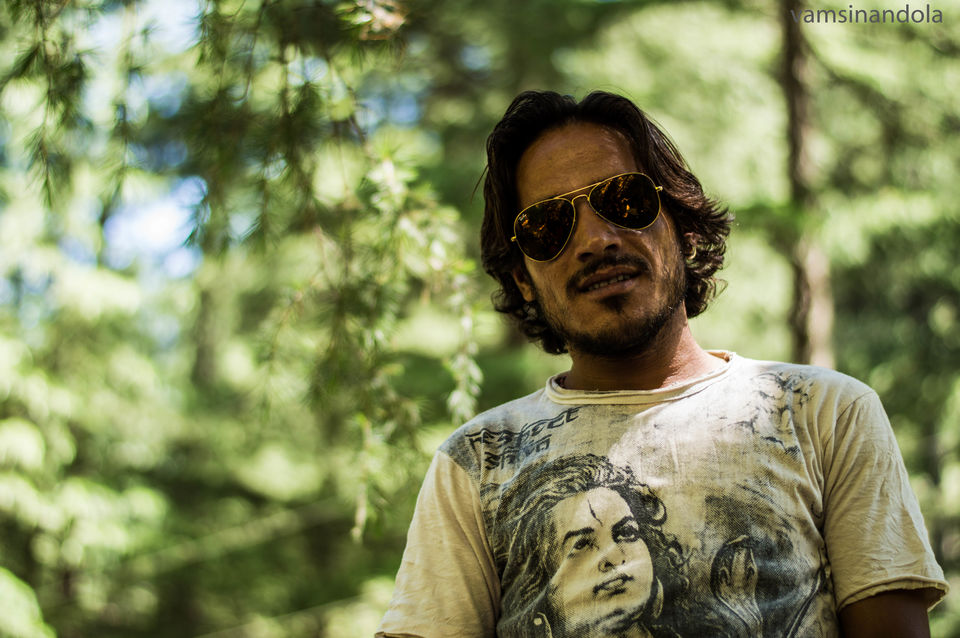 Back into base camp, the POA for the day was to have small hike on the nearby hill, which apparently was a warm up walk for the journey ahead. We had a couple of hours to freshen up and fill our stomach with good hot food and get ready for the walk. I decided it would be a good time to have a shower after the long journey from down South. To my dismay, I did not have a bar of soap or shampoo so I had to walk back into Kasol market to buy it. While walking, I was wondering if I was fit enough to climb to higher base camps, and complete the trek without a fuss. I thought it would be a wise idea to load up the bag given by YHAI as much as possible for this small walk, to test myself. 
In the shower, the water was punishingly cold. I had never felt this frozen in my life. I was in shock. I was stuck for a moment and almost on the verge of choking. If this was a "Game of Statue" we used to play as kids, I would have won. Once I could move again, I screamed my lungs out and an unknown person asked me if I was alright. I did not feel like honoring that stupid question with an answer, so I thought to myself "Dear unknown kind gentleman of the YHAI sandaz. No, I was not alright, that is why I was screaming you dumbass." After the shower, once my body temperature was up again, I felt like a new born baby. It was a blissful feeling after the shower. 
We were given a small backpack from YHAI, which was smaller than the one I took to school in 10th std. I filled up mine with a water bottle, my cameras and some random stuff like a torch, my scarf, the jacket to make my bag a bit heavy.
There was an inspection of sorts before we could start the walk by the "Camp Leaders". They were trying to be funny( they were not) and said they would add a couple of small rocks if they found if our bag was not heavy enough according to their standards. It was silly really, making us behave like school kids. Before serving tea, or breakfast, lunch etc., they would blow the whistle and everybody comes running with their plates and mug, which included a dog named Rocky wagging his tail and expecting to be fed by someone.  Here I was worrying about my fitness, now these guys were making me worry about my patience.
So off we go on our "Acclimatization Walk". Its just about 5 kms(I think) walk from the base camp. We took so many breaks to the point of return, at one point I wanted to run above ahead just so I could feed my adrenaline. The breaks were actually tiring, it felt better to walk. Upon reaching the spot, we had an introduction session where we got to know  each other and elected a team leader in Kamal Tilani. We were led by a local lad name "Jaggu" whose father owns the place where YHAI had put up base camp. We were given a bottle of juice mix, and were asked to bring a bucket along. All of us contributed some water to the bucket and mixed the juice mix in it and the result was a refreshing drink after the not so tired walk here.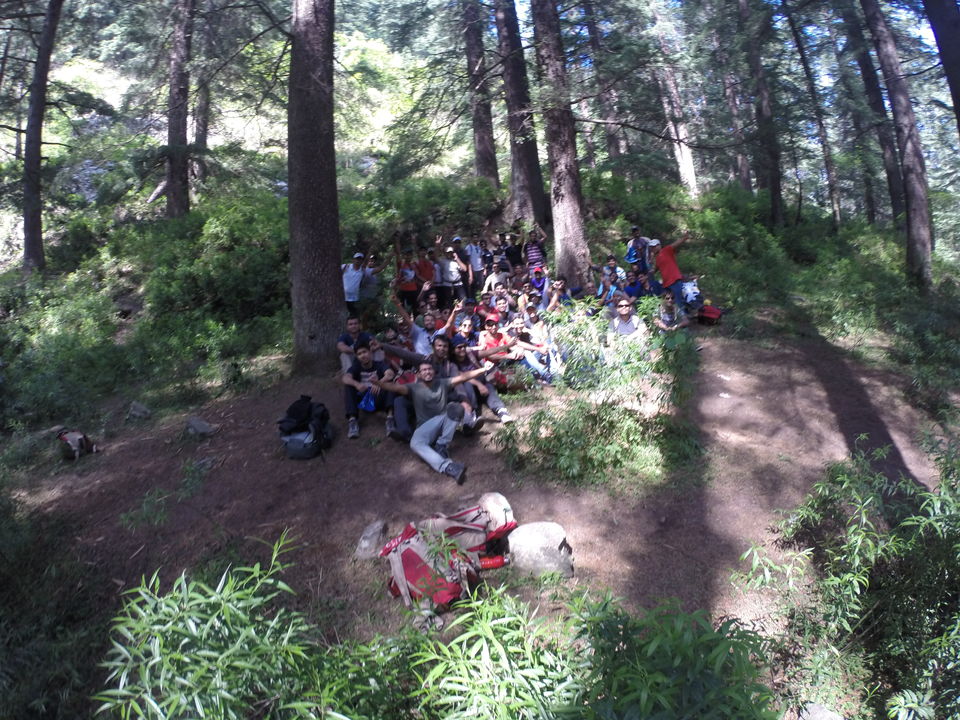 While walking 2 mountain dogs joined us for company and it was much more fun walking along with them. They were at their playful best, running in between peoples legs and trying hard to contain their excitement at seeing so many new faces that could pet them. The dogs in the mountains are like the best ever!! I absolutely love them!! We went on a nearby hill and we asked to take a break near a temple where kids were playing. Some of us even joined along to play with them.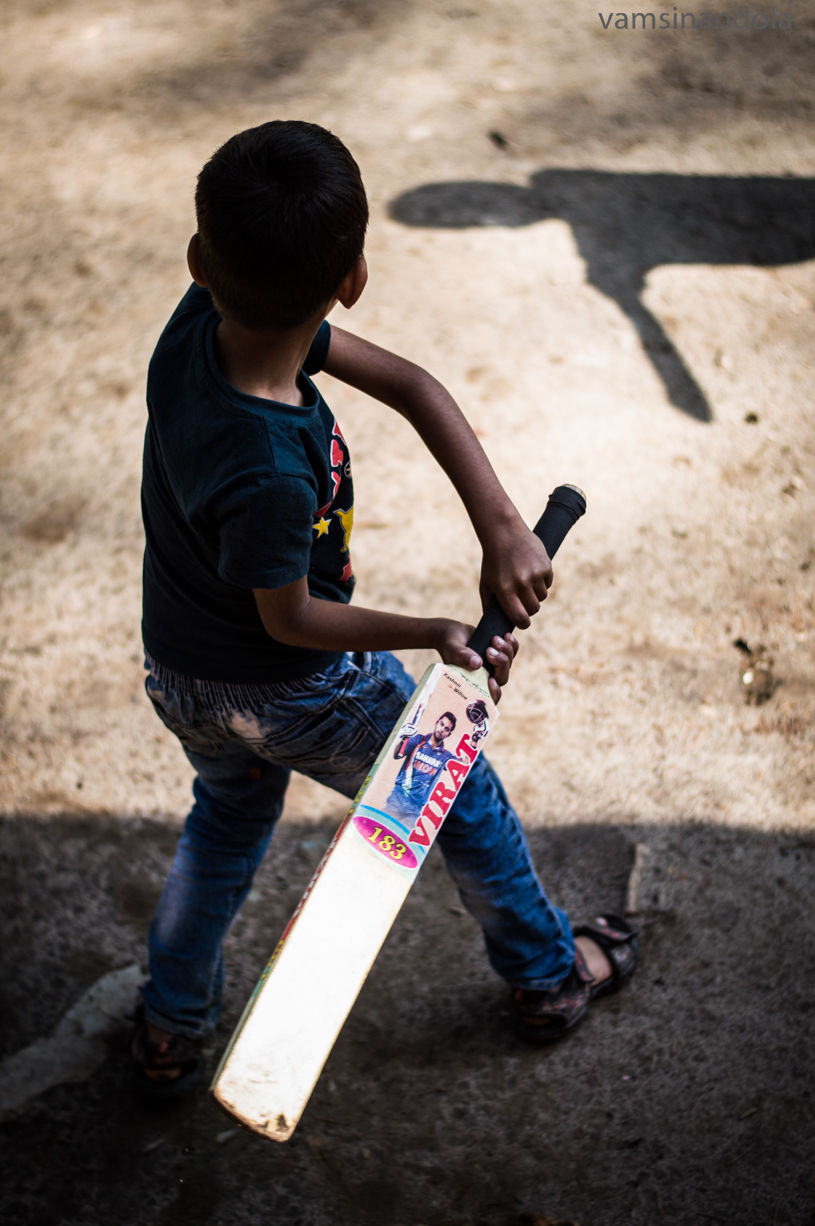 The wooden carvings on the temple nearby were a bit new and funny to me.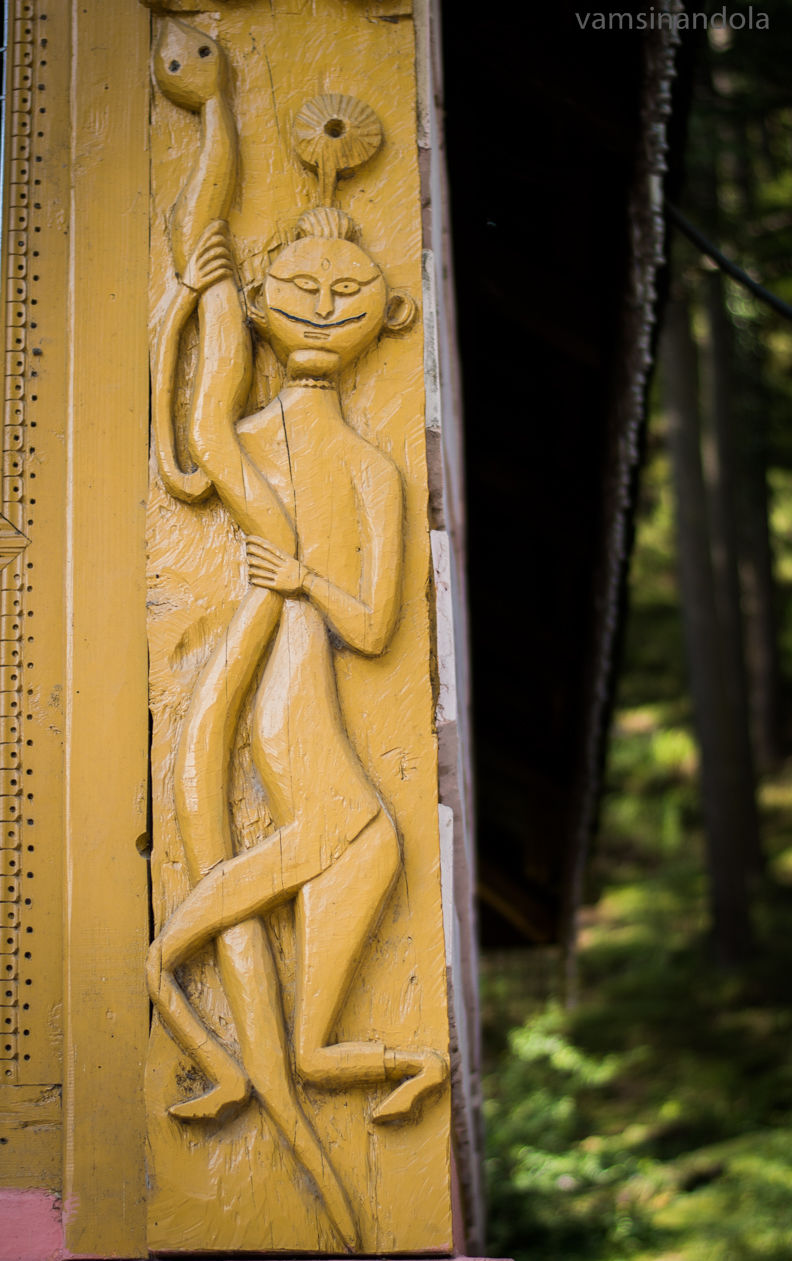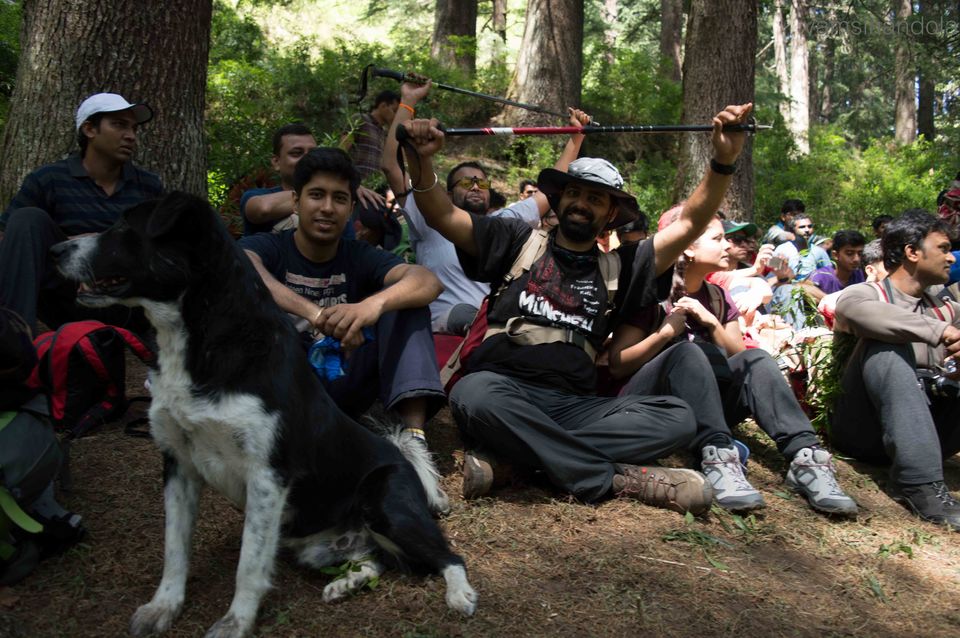 After the introduction session and stuff, we came back to the base camp and we had nothing else to do for the rest of the day, so Jatan and me went into Kasol market again, but this time we came back sober-ish. 
This being our second day, we were supposed to do sort of cultural thing after dinner as an introduction of our group to the rest of the people present there. Basically ice breaking session, in real felt like head breaking sessions. It was like a bunch of school children get to run the show and feel happy about themselves after an impressive/embarrassing performance. In my case it was the latter. 
Fat guy Jatan was hosting our performance,  and he called me to sing a song with the group, which I was totally unprepared for. To my worst nightmare, they had a paper with lyrics written on it in Hindi. I don't know to read and write Hindi. So I just sang along and pretended that I too knew the song singing only the last few words.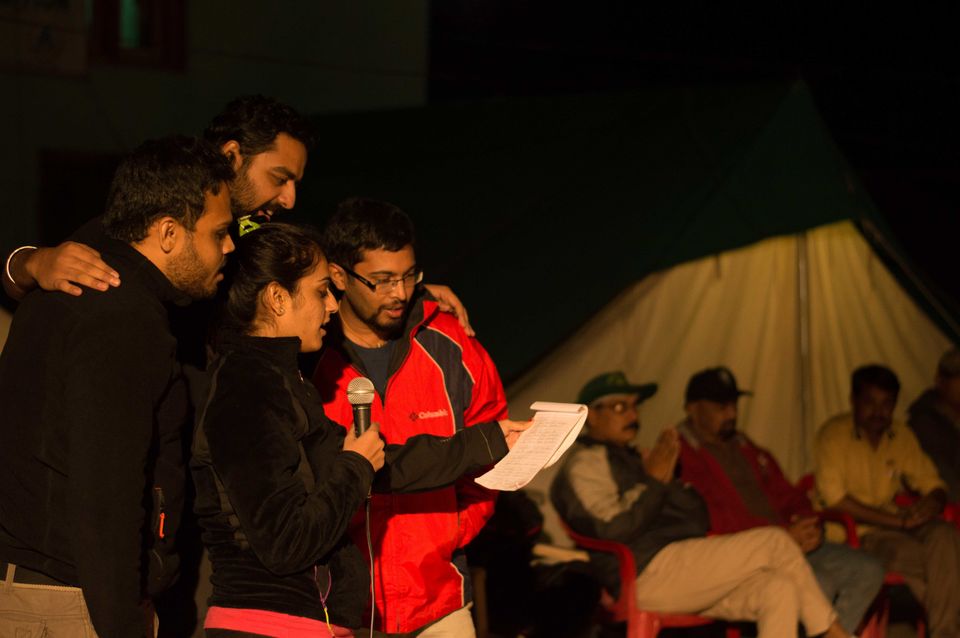 If you look at the above picture and see my face (in red), you can notice how I am absolutely clueless about what the hell is written on the paper and hoping people wouldn't find out that I don't know what the flak is going on. 
The only good part this camp fire was the Sanjay sir had a tangy African song that he made us sing along with him. 
Once the embarrassment was over we were asked to retire into our tents and be done for the day. 
Back in the tent, the atmosphere was much more better than the previous night. Everyone was happy to be in the company of each other and getting to know other people of the group was interesting too.
I went to see sleep knowing I still had one more day to wait before I could start the journey in the mountains. I had butterflies in my stomach by the time I went under the blankets, feeling excited that I was one day closer to touching the snow for the first time in my life.