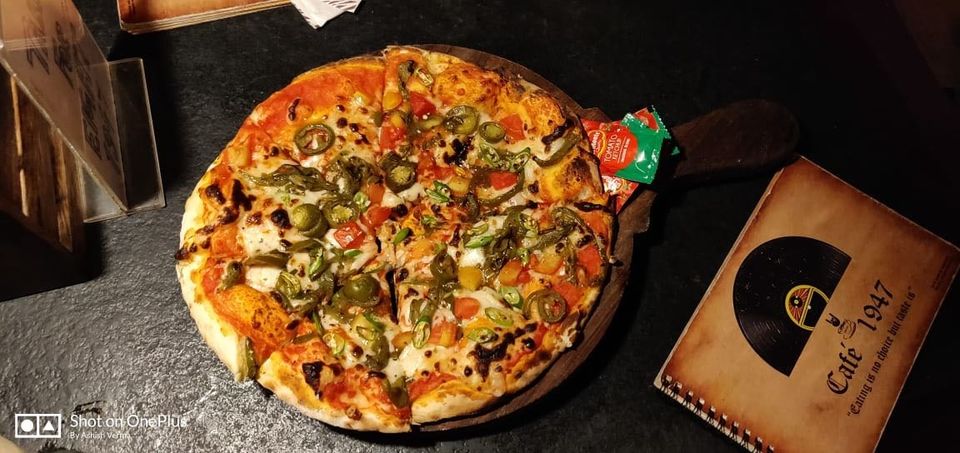 We were coming back from Leh and our long road trip finally coming to an end. Everyone in the group was exhausted and just wanted to rest and catch up with all their lost sleep.
But the two of us rather decided to explore Old Manali and ended up being at Cafe 1947. The place was jam packed and had only one vacant table by the time we reached and we wanted to sit outside by the Riverside but that too was fully occupied even though the evening was getting chilly.
It had a beautiful ambience and they had their usual Saturday Live music performance beginning at 8 pm and we were politely told to enjoy that rather than the Cold outside. They artist sang some beautiful songs and we ordered a few hard drinks and the combination of both helped us relax a bit.
Alongside, we had ordered some starters. We ordered Cheese Bruschetta as an antipasto along with our drinks. It had the right amount of cheese, hint of garlic and perfectly toasted. But what really won us over was the fried trout that they served. It looked appetising the moment it came to our table with the sauces, dips, veggies and the French fries as sides. Not only the presentation but the taste was great and we devoured it as soon as it reached our table.
We got done in a couple of hours time but more people still kept coming in be it Indians or foreigners and even at that hour the place was alive and there were people outside dying to enter. Overall an experience at Cafe 1947 when in Manali is not one to be missed.