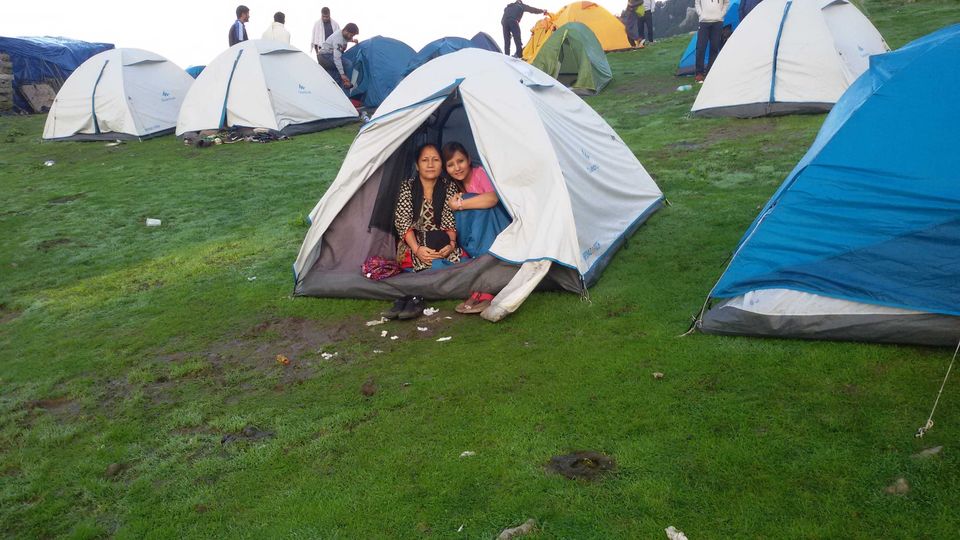 This was my first trek with my mother and elder sister and that too an unplanned one.
As it was a rainy season, and I was with two ladies who were not so fond of trekking, I was already prepared not to go on the Triund trek during our trip to Mcleodganj.
However, as soon as we reached Mcleodganj (on 13th August 2016), looking at the pleasant and clear weather, I could not resist myself from giving it a chance so I convinced both of them and we started our Triund trek at 11 am.
It was the most unusual trek of my life till date. Let me tell you why –
- Firstly, because I never went on a trek with my family members before.
- Secondly, I was accompanied by two ladies – my 50-year-old (or shall I say still young) mother and my elder sister who was wearing slippers during the whole trek.
- Thirdly, we didn't plan to stay up there at night, but we had to (due to incessant rain).
These uncertainties made this unplanned trek as difficult as it could be. We completed our trek in 6 hours which might have been finished in 3 hours (if I was alone).
You might think that I was pissed off by all these complexities, right?
But let me tell you, this was one of the best experiences of my life because I got to know –
- From whom I got such a strength for all my adventures (my mother).
- You just need the zeal to complete your trek and nothing else (no expensive shoes, no perfect age and no previous experience).
We sat in many spots during our trek because my mom was tired, but we enjoyed those breaks by making fun of each other and clicking photographs.
When we reached the peak of the Triund trek, we encountered other issues there. Here are some of them –
- There were no toilets (not even makeshift). We had to walk a lot to find a place to relieve ourselves (it wasn't easy as people where everywhere).
- Due to heavy rain, it was muddy everywhere (beyond your imagination). We had to submerge your feet in the thick mud to walk there.
- We reached there late in the evening and were so tired to go back to Mcleodganj (as per our plan). So we had no option left except staying there overnight.
- Everything was so expensive there (in comparison to my previous trek to Kheerganga).
- Insects and cold made it more difficult to sleep peacefully at night in spite of being so tired. We did not even bring extra clothes and warmers there (unplanned trek as I told you).
Unaffected by all these troubles we had fun. There were lots of experiences I gained from this trek –
- I got to know how can we have a good time even in the most problematic situations.
- I learned how to keep calm when others are slower than you. How not to get pissed off of little things in life.
Never underestimate the power of anyone (not even your elderly mother and the girl in slippers).
There were many things I found mesmerizing during the trek including –
- There were greenery and lots of flowers all around. Mini water falls were full with water, making the route more scenic. Rains make trek quite difficult but beautiful.
- That blue sky at evening and starry sky at night were breathtaking.
- I love sunrise and sunset in the mountains.
- Sleeping in that small tent with my mother and sister – a wonderful experience for all 3 of us.
- Watching my mom smile and that too at so many moments – what more could I ask for?
In spite of so many difficulties, this trek will remain unforgettable for me always. I must say that everyone should take their mother on a trek once. Don't underestimate her strength!